Part of a revitalization of downtown Montreal and the iconic Place Ville Marie and its esplanade, Sid Lee Architecture presents the Sid Lee Biosquare, a luminous architectural makeover of a space within three quadrants formerly occupied by the Royal Bank of Canada.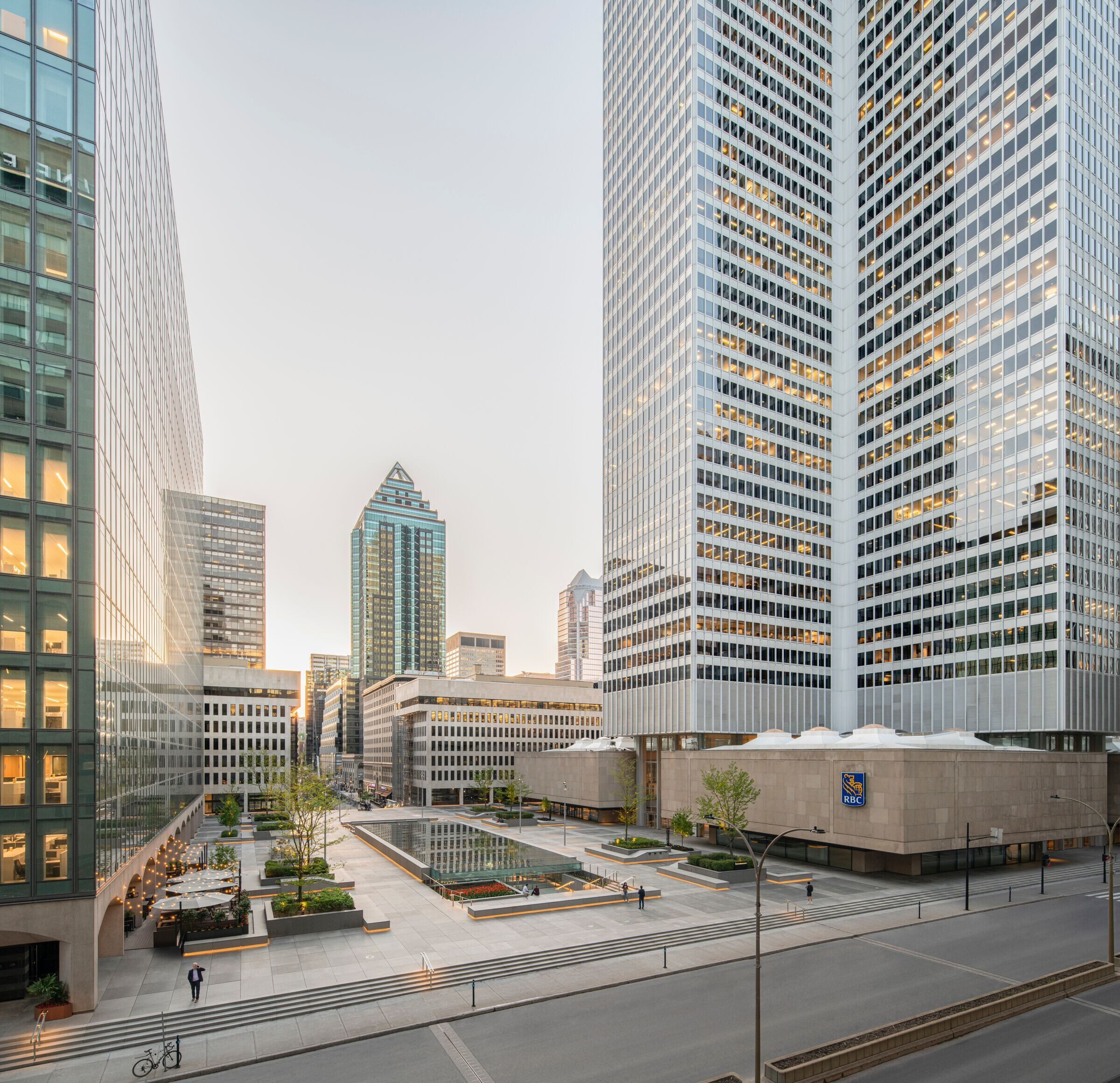 Intending to achieve continuity between the city outside and offices within, the campus is designed as an extension of the urban environment. This sense of continuity is carried over to the infinite grid structuring the organization of the space. The grid makes it possible to conceptualize an open zone where different functions co-exist easily and freely rather than within compartments or workspace silos.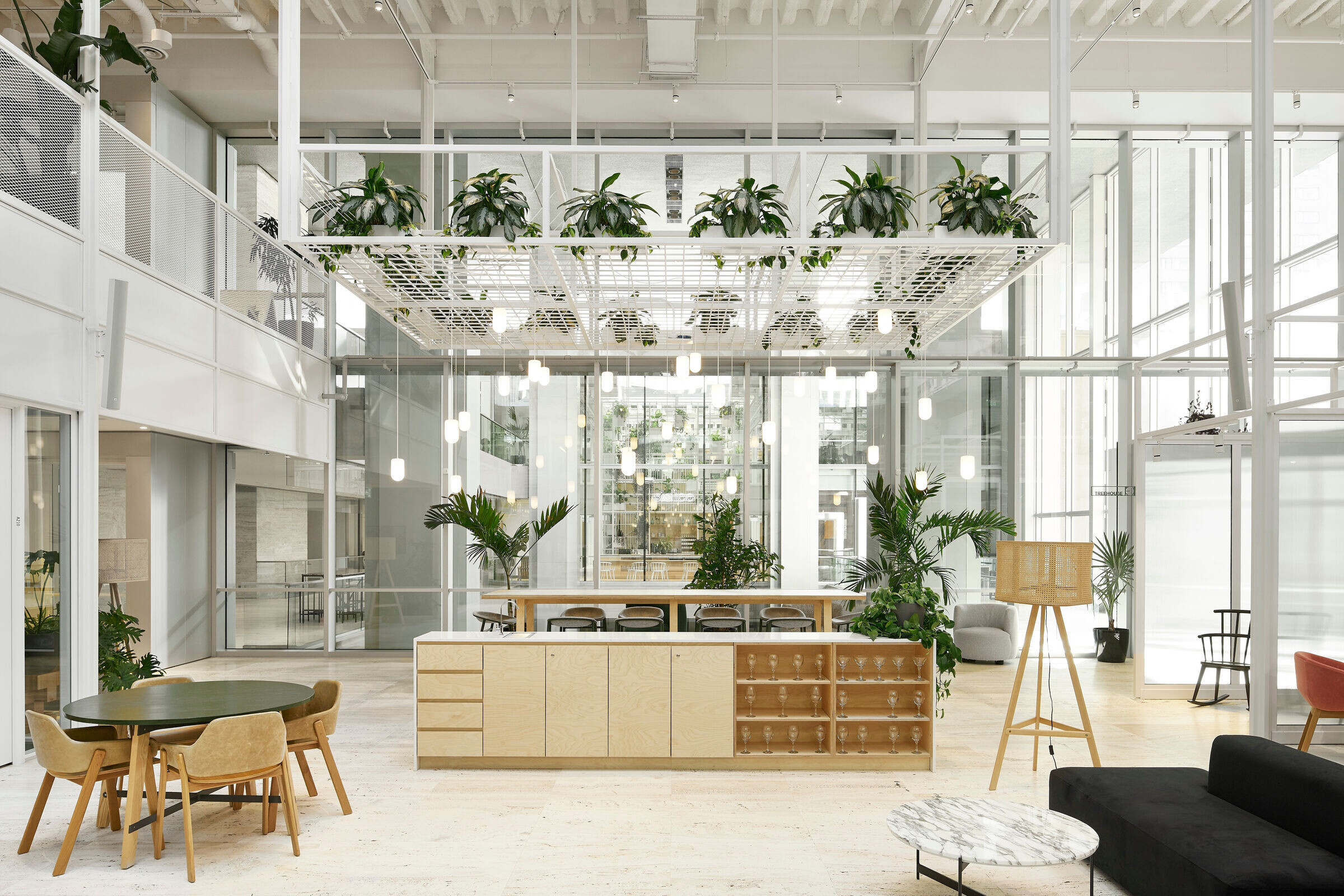 Offering uninterrupted views of the public plaza, the main entrance, and the ground floor of the Sid Lee offices create the impression of functions arising from the ground, referencing the expansive underground urban infrastructure of Montreal. Mineral materials include monoliths of bush-hammered stone rising to clad the café, kitchen, and washroom spaces.
At the first mezzanine, there are two large stone quadrants where Sid Lee's leading creative and working spaces are located, echoing and bringing to the fore the use of natural elements suggested on the ground floor. Also on this floor, the grid as an organizational concept becomes apparent, whether architectural or aesthetic.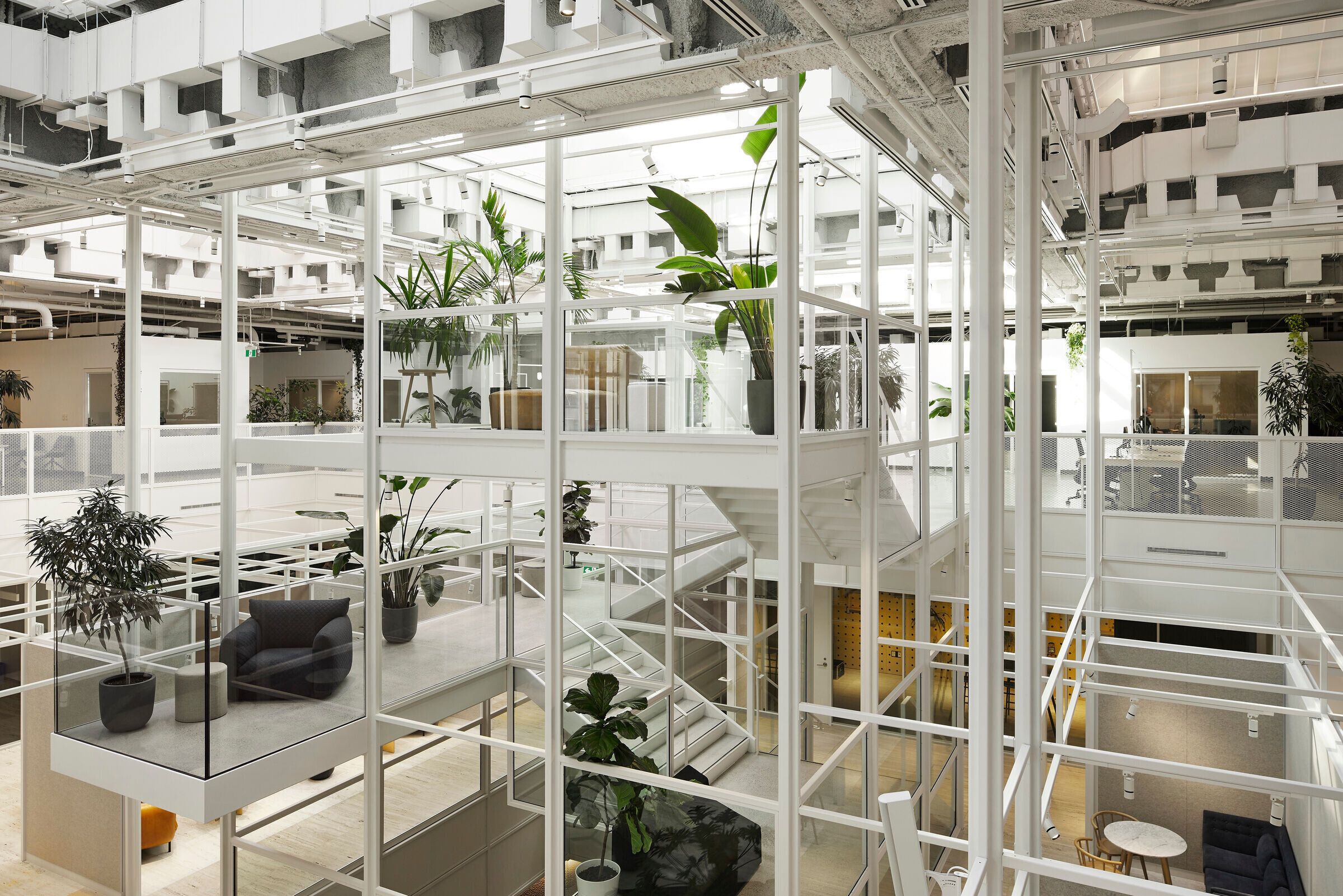 The grid structure is a framework for bringing together different worlds in a single ecosystem. The centre of each quadrant serves as an agora, offering a welcoming environment for people to gather. Around the symbolic core of shared space, rooms become smaller and more private. In particular, a series of rooms displaying strong and distinctive conceptual identities stand on the periphery of the main grid and agoras. Providing inspiring environments for the firm's teams, these rooms are intended to operate s immersion rooms for imaginative work.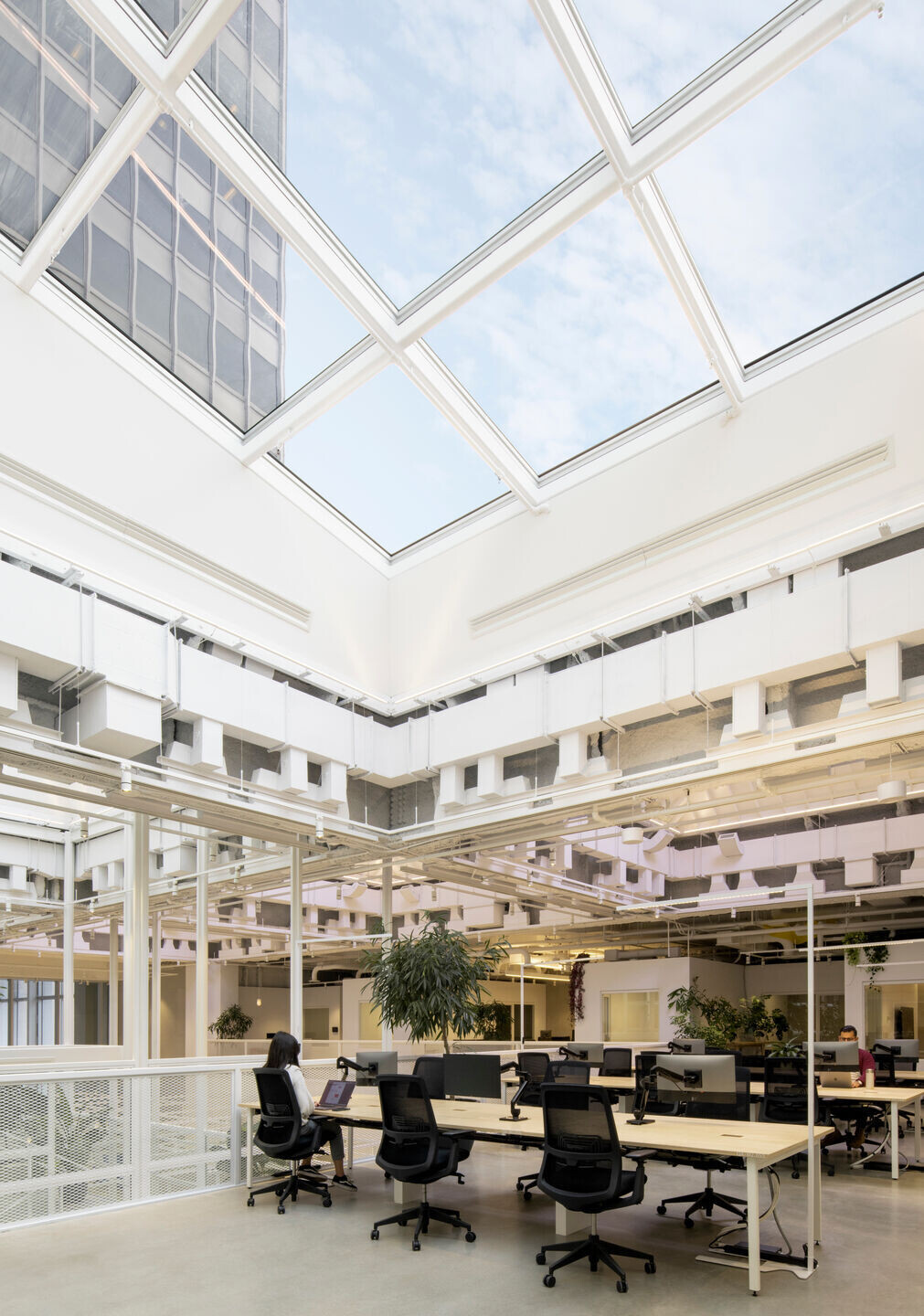 As part of the makeover, original travertine floors were uncovered and enhanced, while existing skylights were stripped to reveal their structure. A number of these skylights were also strategically enlarged. The space throughout is accented with light fixtures by local design studio Lambert & Fils.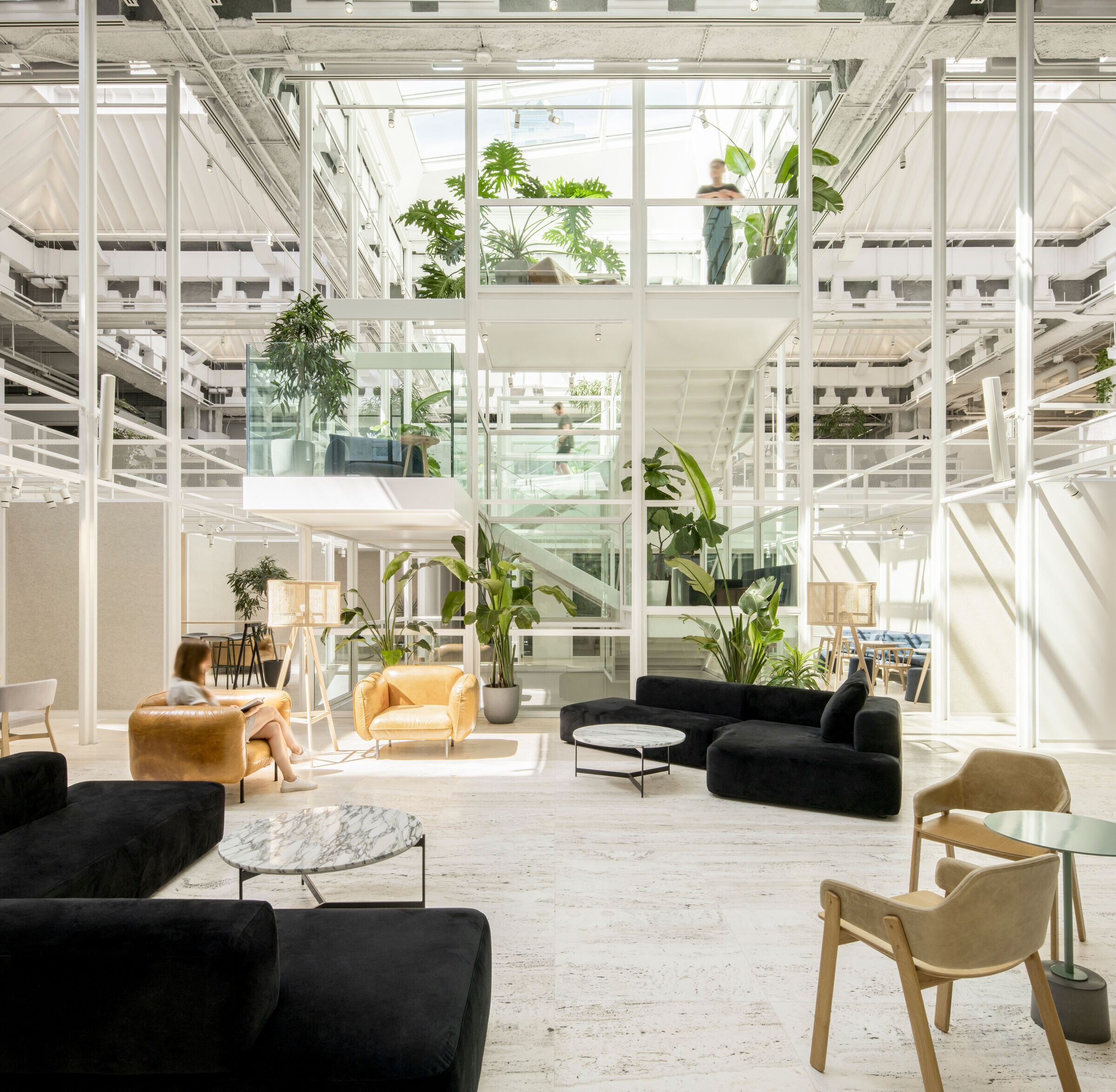 "We envisioned the space as an extension of the city and its energy," said Jean Pelland, architect, and principal partner at Sid Lee Architecture. "By anchoring the architectural elements in human interaction, the campus becomes a platform that is active at all times of day, a place where artisans can gather, collaborate and create."