Nella cultura moderna, l'esperienza di vendita al dettaglio è passata da visiva a esperienziale. Le visioni di successo vengono presentate agli investitori attraverso ambienti immersivi, portandoli nel futuro dove possono sentire e immaginare le possibilità. Seguendo questo metodo, per lo sviluppo di Central Park a Toronto è stato costruito un Padiglione di Presentazione. È stato progettato come una capsula del tempo, un suggestivo edificio di forma triangolare che trasporta i potenziali residenti nella loro vita futura. Attraverso un percorso curato, i residenti immaginano come sarà la loro esperienza in questo complesso orientato al futuro e al benessere.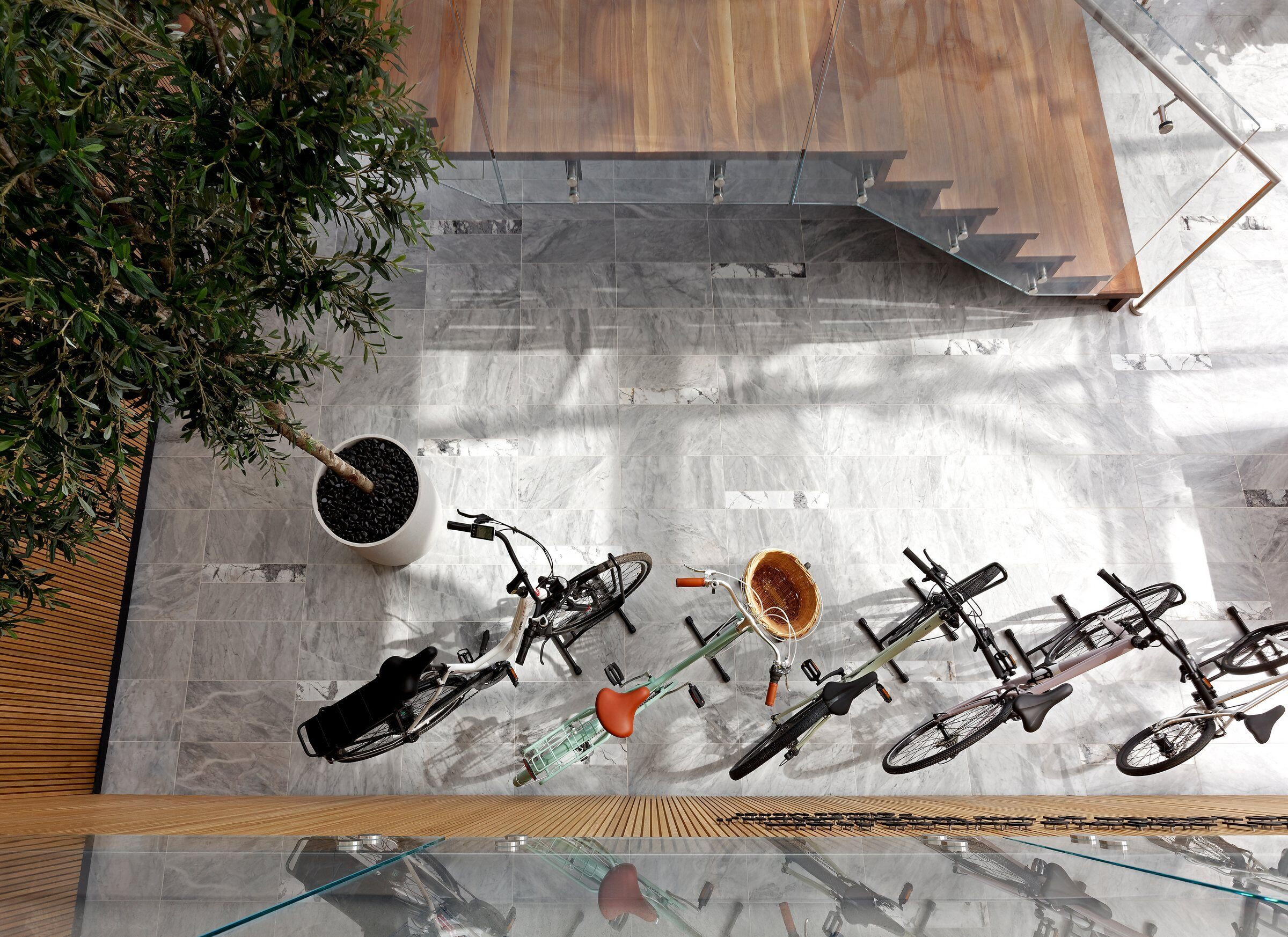 Destinato a diventare un vivace centro culturale per la comunità, il Presentation Pavilion è stato progettato e costruito come una struttura permanente. Questa permanenza conferma l'impegno del team per la sostenibilità. Offre una visione promettente: perfezionare lo stile di vita contemporaneo attraverso la connessione con la natura. All'interno, arredato con materiali naturali e prototipi ecologici all'avanguardia, un percorso di vendita al dettaglio orchestrato intreccia momenti di teatro, installazioni interattive e una serie di vignette.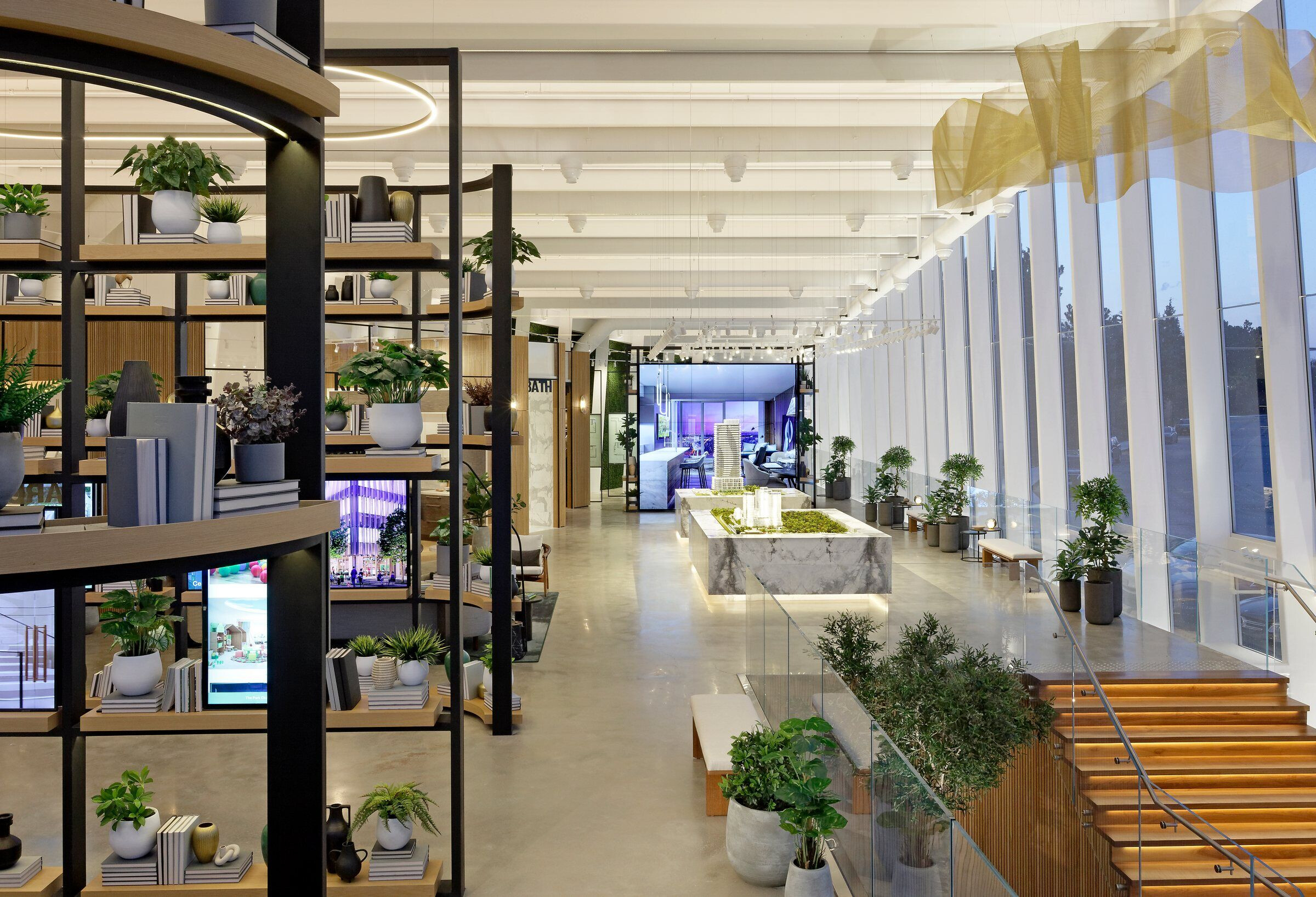 I visitatori hanno la possibilità di toccare, giocare, sentire e visualizzare la loro promettente vita nel complesso previsto. Imparano l'importanza del contatto con la natura, trovano la disposizione delle unità, vedono i servizi, si entusiasmano per i vantaggi e personalizzano la casa dei loro sogni. Questa strategia di design coesivo calma visivamente i sensi, offrendo un'esperienza piacevole e rappresentando l'etica del progetto.
Team:
Interior Design: II BY IV DESIGN
Sviluppatore: Amexon
Architetto del progetto: Core Architects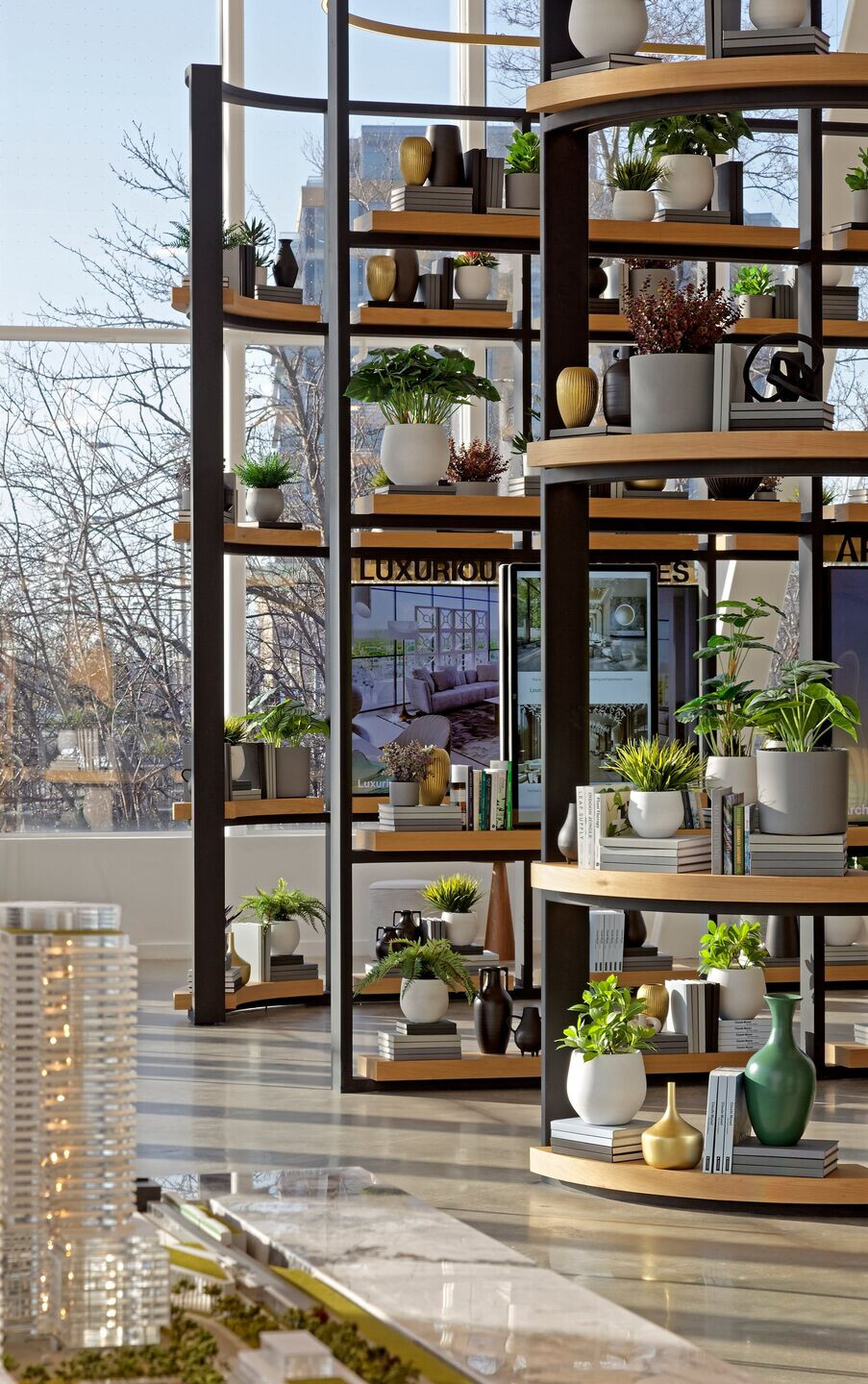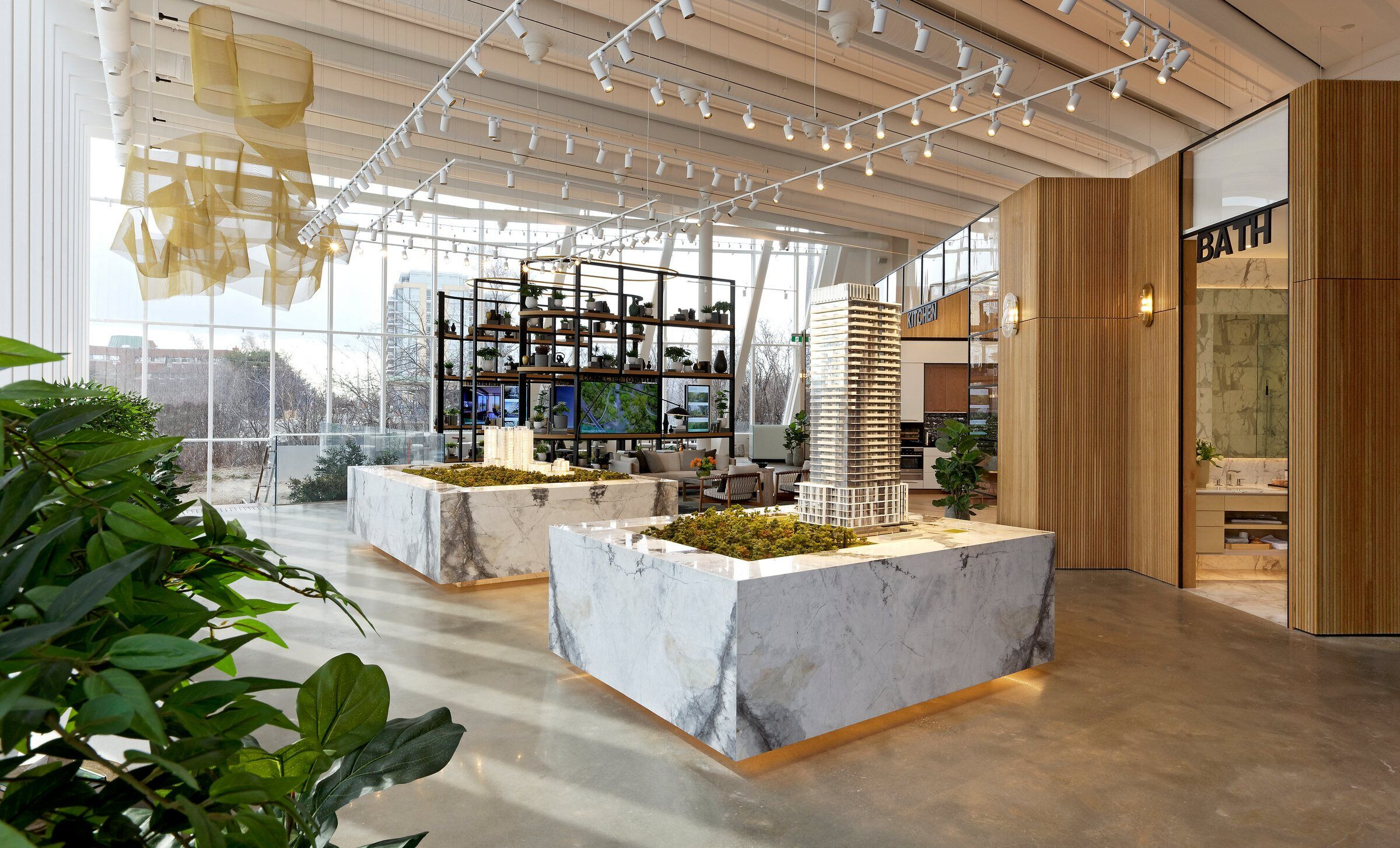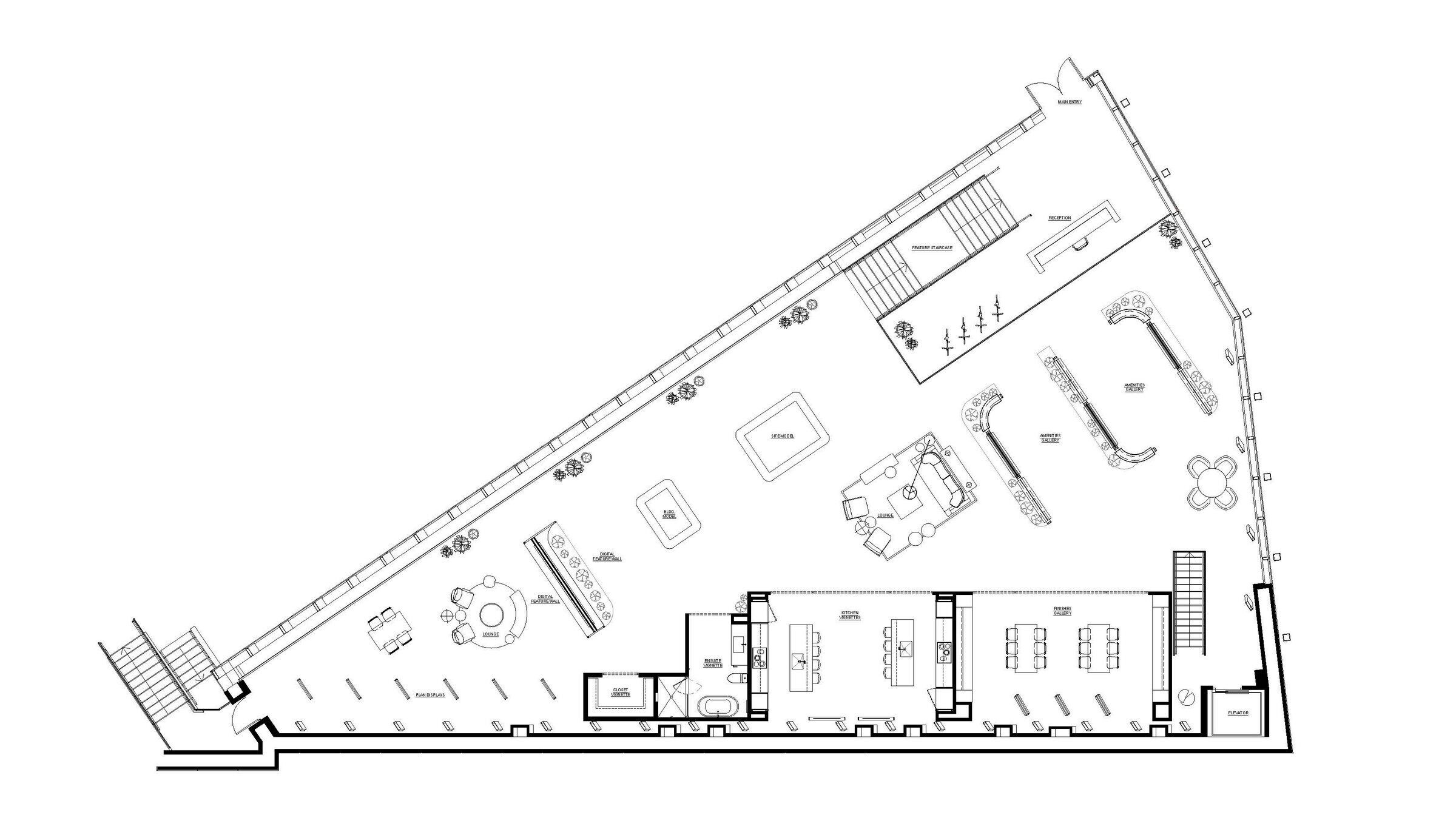 Materiale Utilizzato:
1. Pavimenti degli interni:
Piastrelle di marmo: Bardiglio Nuvolato Light, Olympia Tiles
Pavimenti in legno: Paletta, Olympia Tiles
Piastrelle: Ciot
2. Arredamento degli interni:
Divano: Design Within Reach
Tavolino: Sunpan/RH
Poltrona: Herman Miller
Tappeti: Mist Collection di The REPUBLIC OF II BY IV e ShawContracts
3. Illuminazione degli interni:
Pendente decorativo: Rich Brilliant Willing
Lampade da terra: Design Within Reach/GIBI
Pendente decorativo: Nemo
Applique da parete: Tracy Glover Studio
Lampade a sospensione e faretti: Lightform
Sistema di illuminazione lineare e illuminazione a pavimento: Lightform
Faretto singolo montato a superficie: Delta Light Canada
4. Altri elementi interni:
Parete verde: ByNature
Metallo perforato: Ferrier Wire Goods Company Ltd.