Known for its design flexibility and visual appeal, concrete is without a doubt a favoured material - if not the favourite material - of architects. We've taken a look at the evolution of concrete in the field of architecture over the centuries in our Compact History of Concrete. Here, we take a practical look at the use of concrete in current architectural practice and some of the key points to consider when designing with concrete.
Colour and Texture:
Colour and texture are perhaps two of the biggest ways to make an impact with concrete.
Concrete is of course known and loved for its smooth mid-grey tones. But many projects in latter years have made a statement by adding colourful pigments, including bright red, yellow, or even black to the mix. A great example is David Adjaye's striking pink flagship store for The Webster in Los Angeles. Adding pigment is a relatively simple and inexpensive way to make a statement as the pigment itself makes no impact on the properties of concrete when it is added to the mix
Using Formwork to Create Texture (Or No Texture At All):
The type of formwork selected is key to the finished look of the concrete and options for finishing are endless. Wooden formwork is by far the most common formwork used, followed by metal formwork.
Wooden formwork typically consists of boards or planks. The surface and nature of these boards or planks dictate the resulting character and finish of the concrete. By its very nature, wood grain creates a completely unique and organic result. Boards can also be pretreated with laminates or resins to amplify a texture. Alternatively, resins or laminates can be used to achieve a more smooth finish.
While less commonly used than wooden formwork, metal formwork offers key advantages. The nature of metal means that metal formwork can achieve a super smooth finish more easily than wood. Furthermore, metal formwork is quicker/easier to set up and can be reused after the build. The upfront cost of metal versus wood balanced with the speed and ease of putting up metal formwork means that metal formwork is used primarily on larger scale projects where its use is most cost-effective.
Aggregates:
Aggregates are a great way to influence the finished look of your concrete and many intriguing options are available today.
Aggregates make up around 60-80% of the concrete mix, providing compressive strength and bulk to the material. Typical types of aggregate include: gravel, crushed stone, sand, slag, glass, and geosynthetic aggregates. Becoming more popular in the green building industry are aggregates made of recycled concrete and recycled glass (in various colours).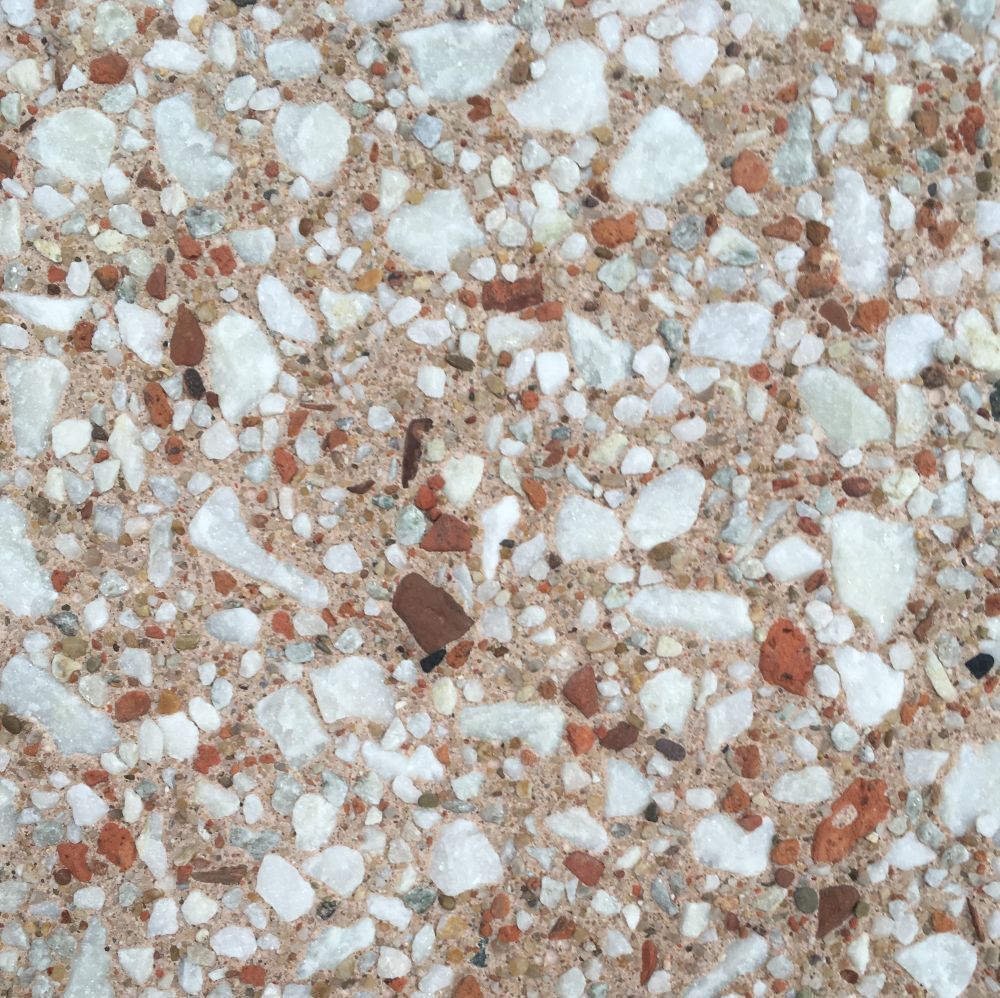 Aggregates are divided into the categories of coarse (approximately 9.5 – 37.5 mm in diameter) and fine, being less than 9.55 mm. The nature of the grain size, along with the colour of the aggregate chosen has an obvious and immediate effect on the end result.
Get Your Detailing Right:
Careful attention to detailing and consideration of expansion joints and ties is also essential. If the cracks aren't designed by you, they will be designed by the concrete itself (and at your risk!). But even here the pragmatics leave room for creativity. Carefully planned spacing and location of even very functional expansion joints can add a dramatic sense of rhythm and texture to concrete while ensuring there are no unsightly crack lines that emerge down the road.
Design for Your Climate:
The elements can certainly have a detrimental effect on the finish of concrete, particularly in cold, rainy climates or areas subject to acid rain. The nature of concrete is very different in Brasilia versus Vancouver.
Normally informed by local contractor knowledge, ensuring that the composition of the concrete mix is right for a particular climate is key, as is the consideration of architectural elements such as overhangs over large façade areas in wet climates.
Minimizing gaps and crevices in the finished concrete product leaves less opportunity for water ingress and damage. But gaps and pores will inevitably occur. As such, numerous varnishes, resins and waterproofing products are used to mitigate this. Some of the products are not noticeable to the eye, but others can add a tint, sheen or gloss that beyond the practical can create an interesting effect.
In summary, the popularity of concrete in architecture endures for good reason. It's flexibility and range of design possibilities leave the architect with a vibrant palette of choices to work from.
Happy Designing!