Recently completed in Mumbai, the One Green Mile project by MVRD and StudioPOD transforms a series of neglected spaces below the city's Senapati Bapat Marg flyover into public space for the entire local community. In addition to adding much-needed greenspace and amenities, the project improves mobility and brings a strong visual identity to the area. On a broader scale, One Green Mile presents a sustainable urban development model and illustrates how underused urban space can be reimagined.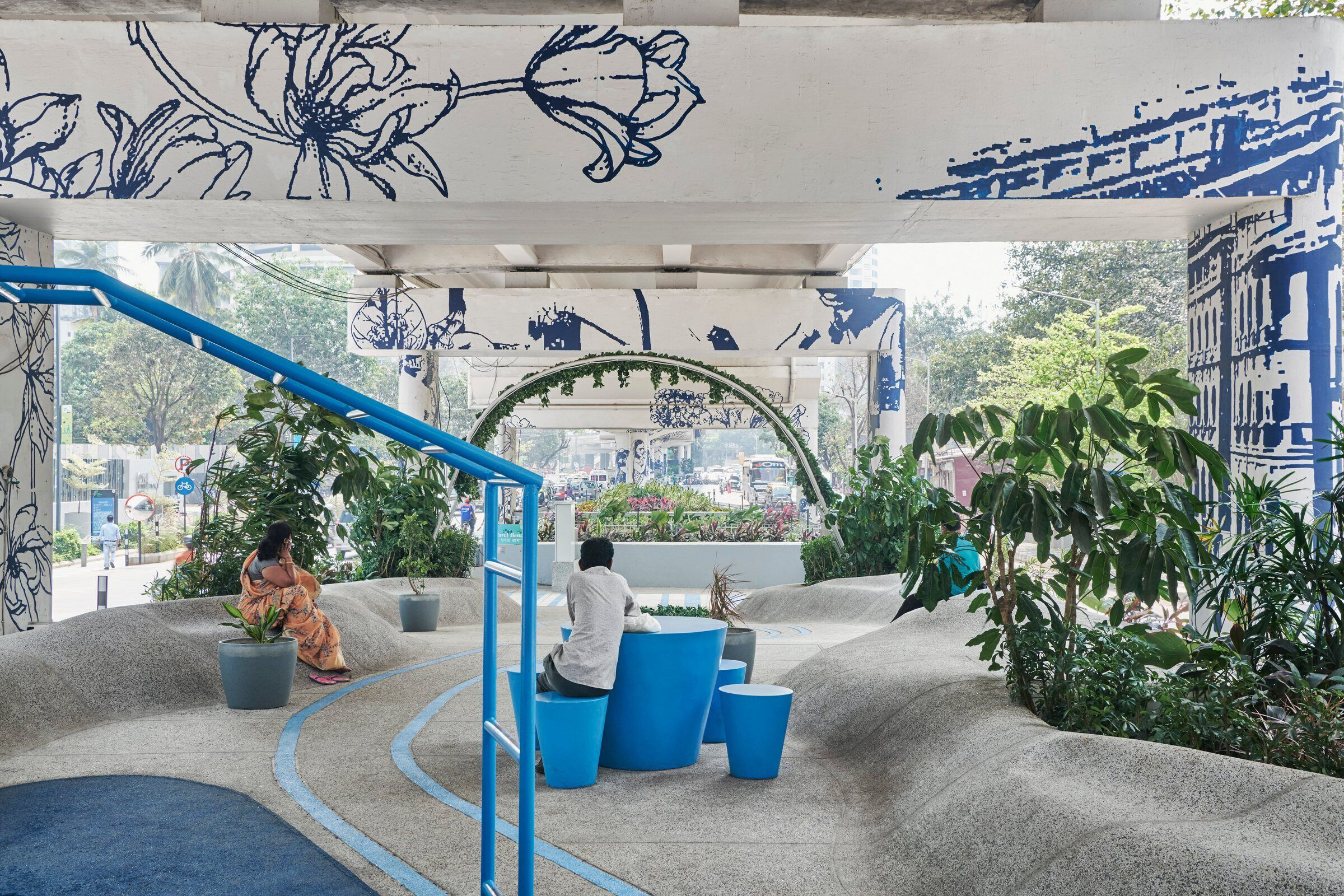 The Senapati Bapat Marg flyover is part of a series of major roads that extend for over eleven kilometers. The infrastructure generates significant noise pollution, creates a barrier between neighboring areas, and limits mobility. For a 200-meter-long stretch under the highway, StudioPOD developed preliminary concepts and programming before inviting MVRDV to collaborate in the further development of ideas. MVRD built upon StudioPOD concepts with a design that includes sinuous blue stripes for a cohesive visual identity.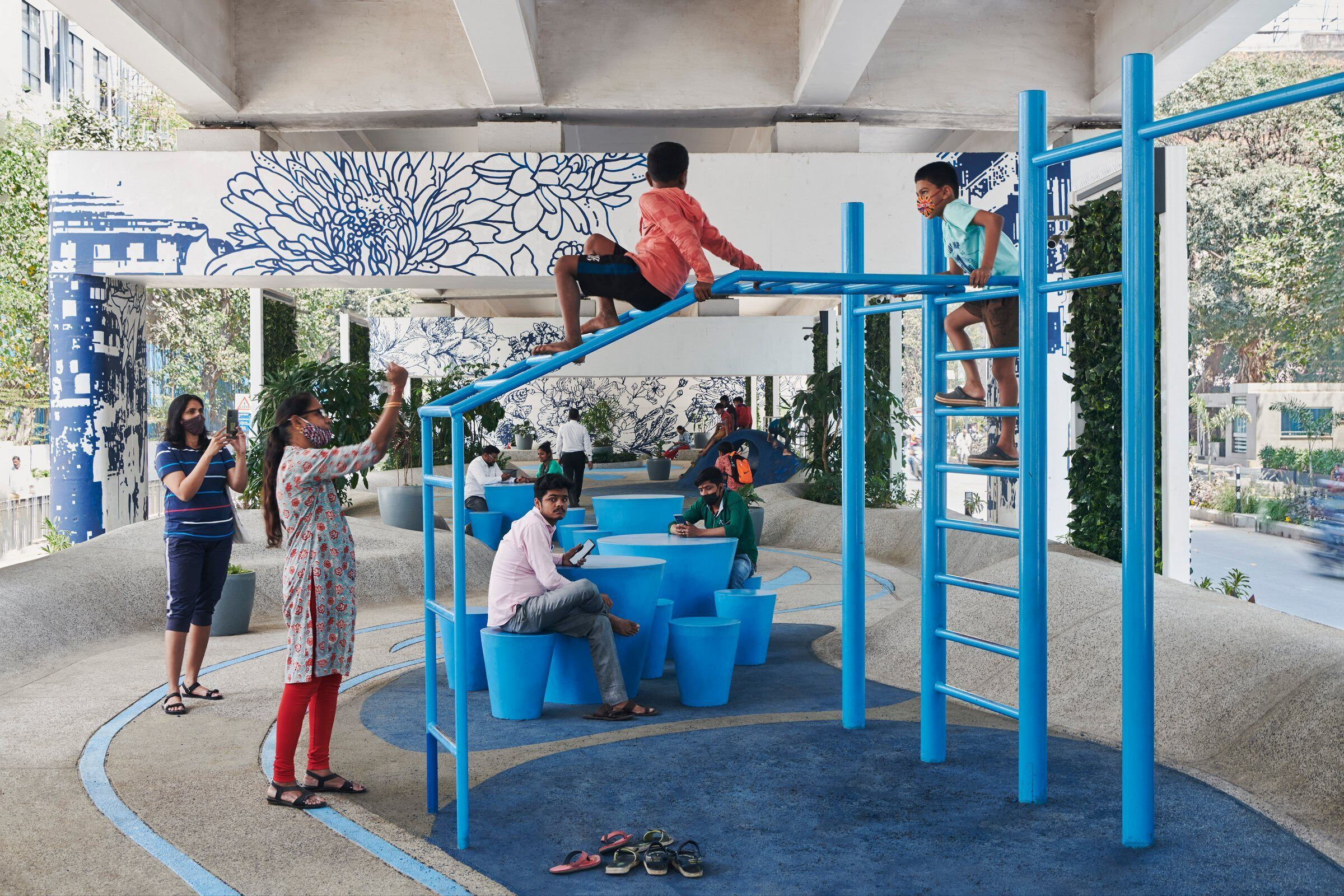 A hilly paved landscape turns the two-dimension visual features into a 3D spatial experience, accommodating a range of different uses divided into a series of public 'rooms' with programmed spaces that include a lounge area, gym, shaded seating, performance space, and reading room.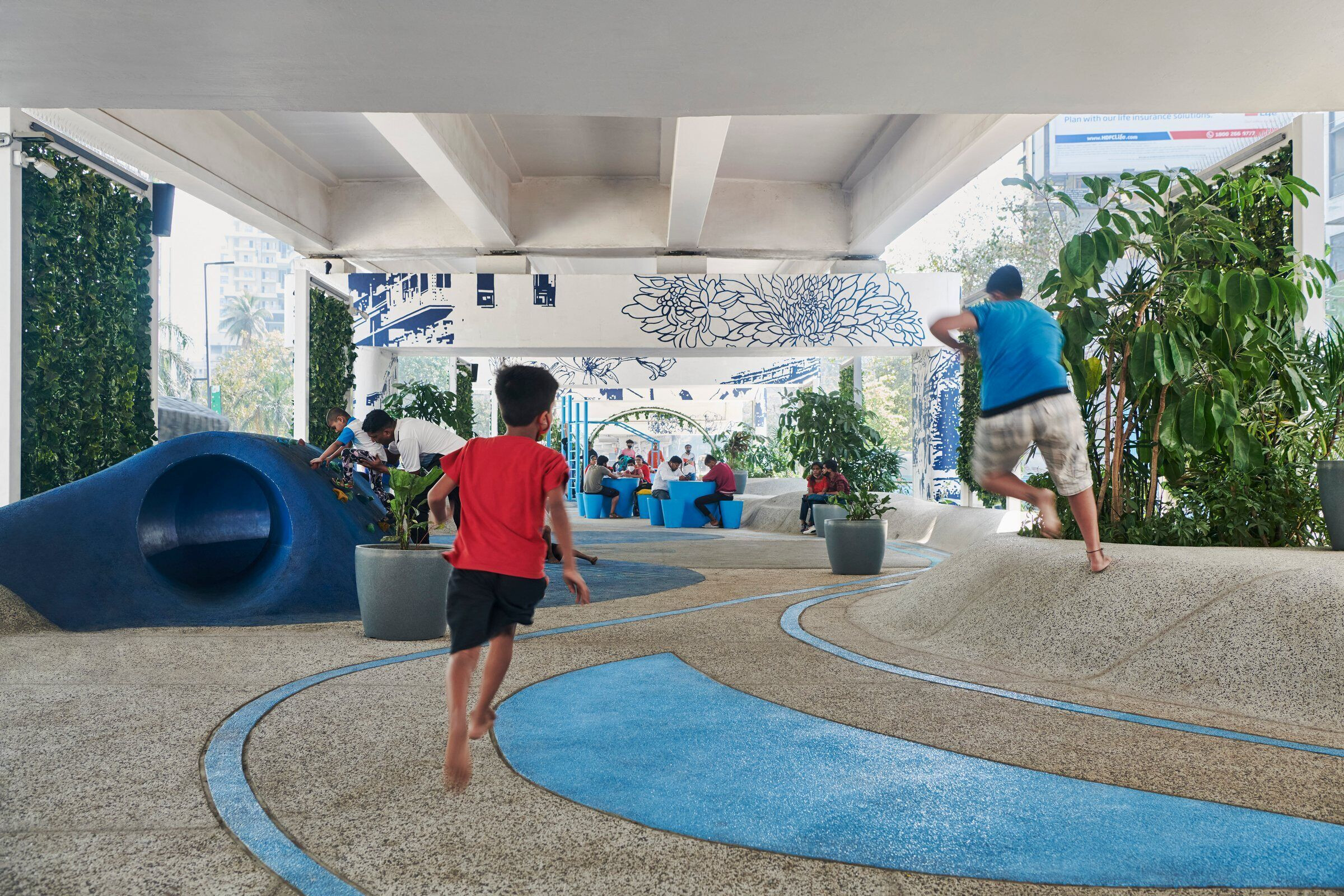 Greenery extends throughout the space with plants growing on a series of screens and in retaining walls and planters. This introduction of vegetation serves to promote biodiversity while also providing cooling. In addition, engineering features to store and filter monsoon water help irrigate the extensive network of plants.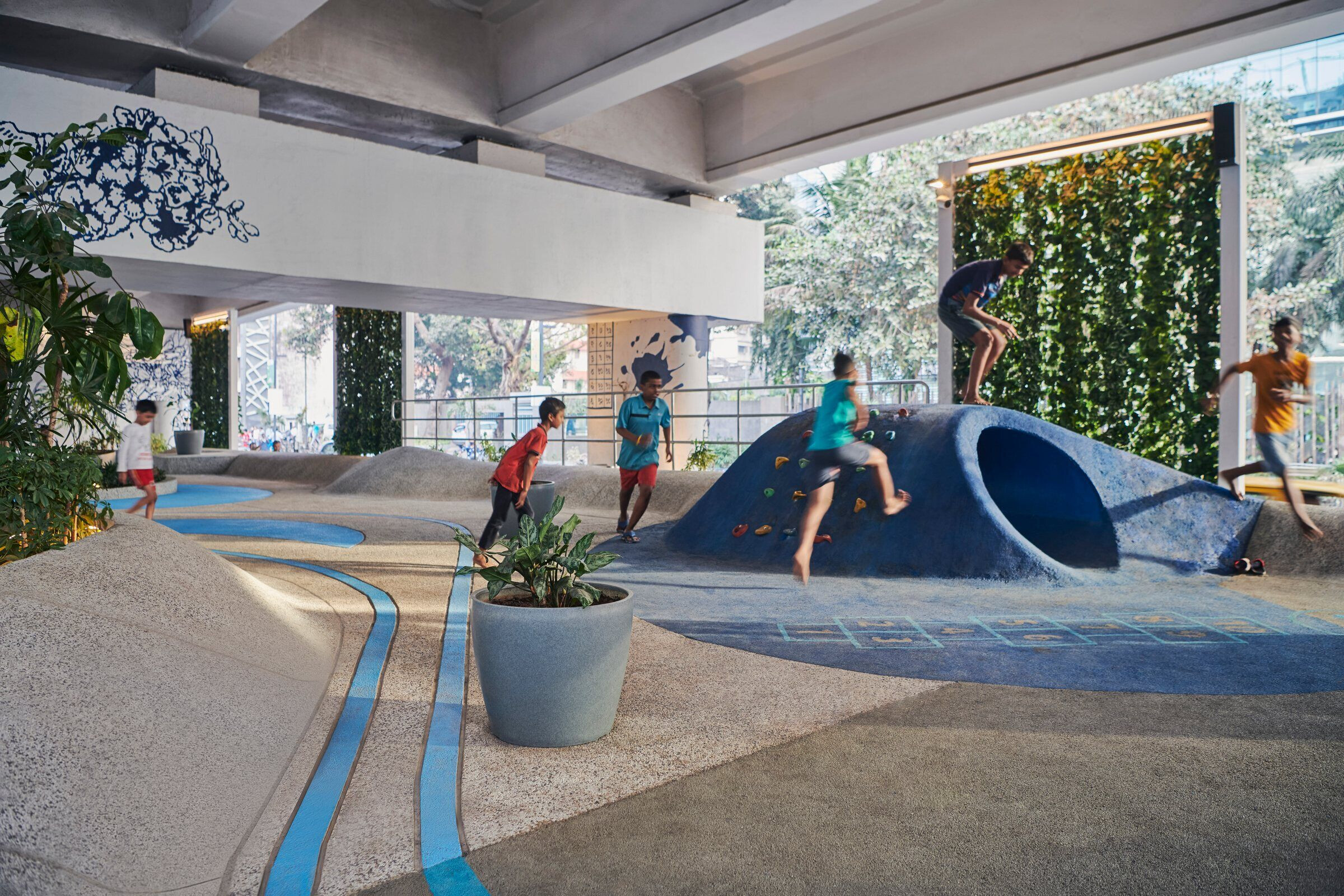 Bicycle paths and large-scale zebra crossings promote access and safety for pedestrians and cyclists while improving accessibility by incorporating an uninterrupted mobility network.
MVRDV notes that the project exemplifies a circular economy approach. By reusing space beneath, the flyover increases its value as it transports cars and functions as sheltered, occupied space.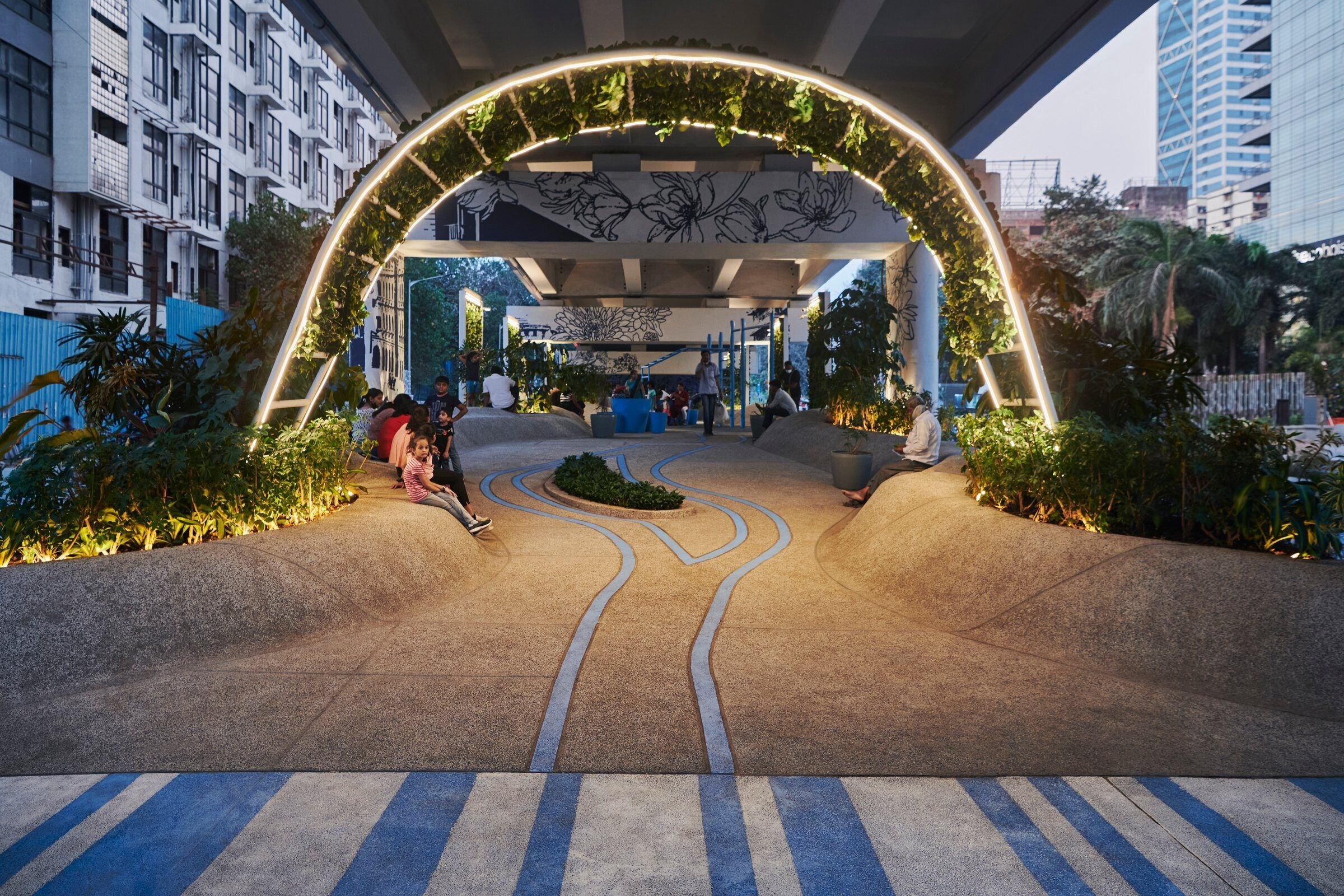 'Perhaps one day we will see the end of noisy, unpleasant highways carving up our cities, but for now they are still unfortunately a necessary evil – one you can see in Mumbai more than most cities,' comments MVRDV partner Stefan de Koning. 'One Green Mile asks the question: what if we expected highways to give something back to the places they cut through? A flyover can provide some shade in a hot city, and creates a small area of land that can't be developed with tall buildings. It's not such a crazy idea to make that into a public space.'