An apartment of Nikita Vykhodtsev, a founder of the Arcanika architectural studio, is located in the southern-west district of Moscow (Russia). The space reflects his lifestyle and perception of the world. There are a lot of art pieces and paintings with a history, decorations brought from travel. Minimalistic interiors in monochrome colors have colorful accents of custom-made furniture and accessories.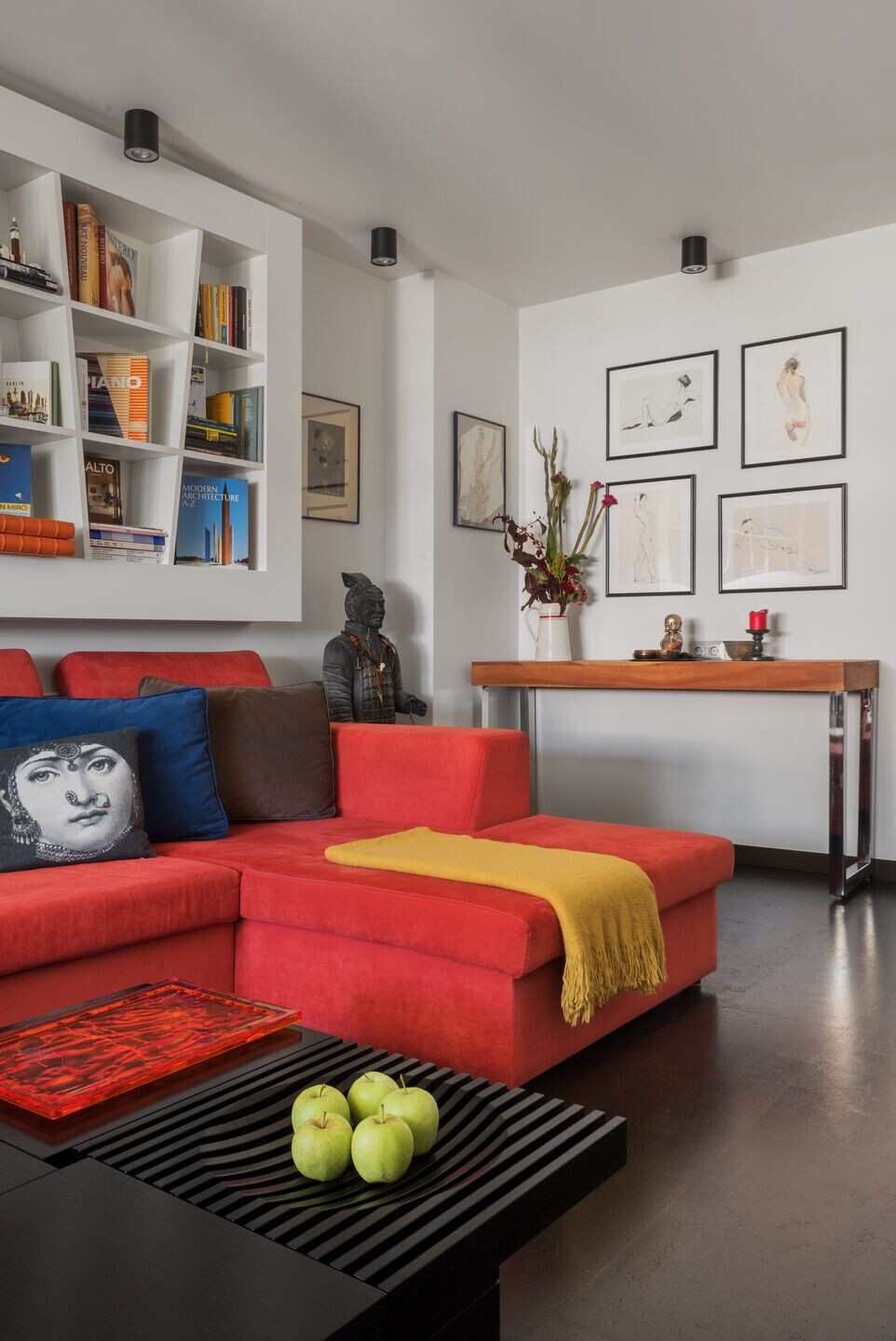 As any architect, Nikita designed plans all by himself: an option with an open-plan and a separate bedroom attracted him, however rational thinking took over. All the spaces: kitchen, living-room, bedroom and kid's bedroom are separated into different premises. This decision is based on insolation and orientation of the building. In the morning sun softly fills both bedrooms and in the evening you can enjoy fantastic sunsets from the living room or kitchen. The planning allows to invite guests and at the same time public and private spaces do not intersect. All the decisions are dictated by rationality.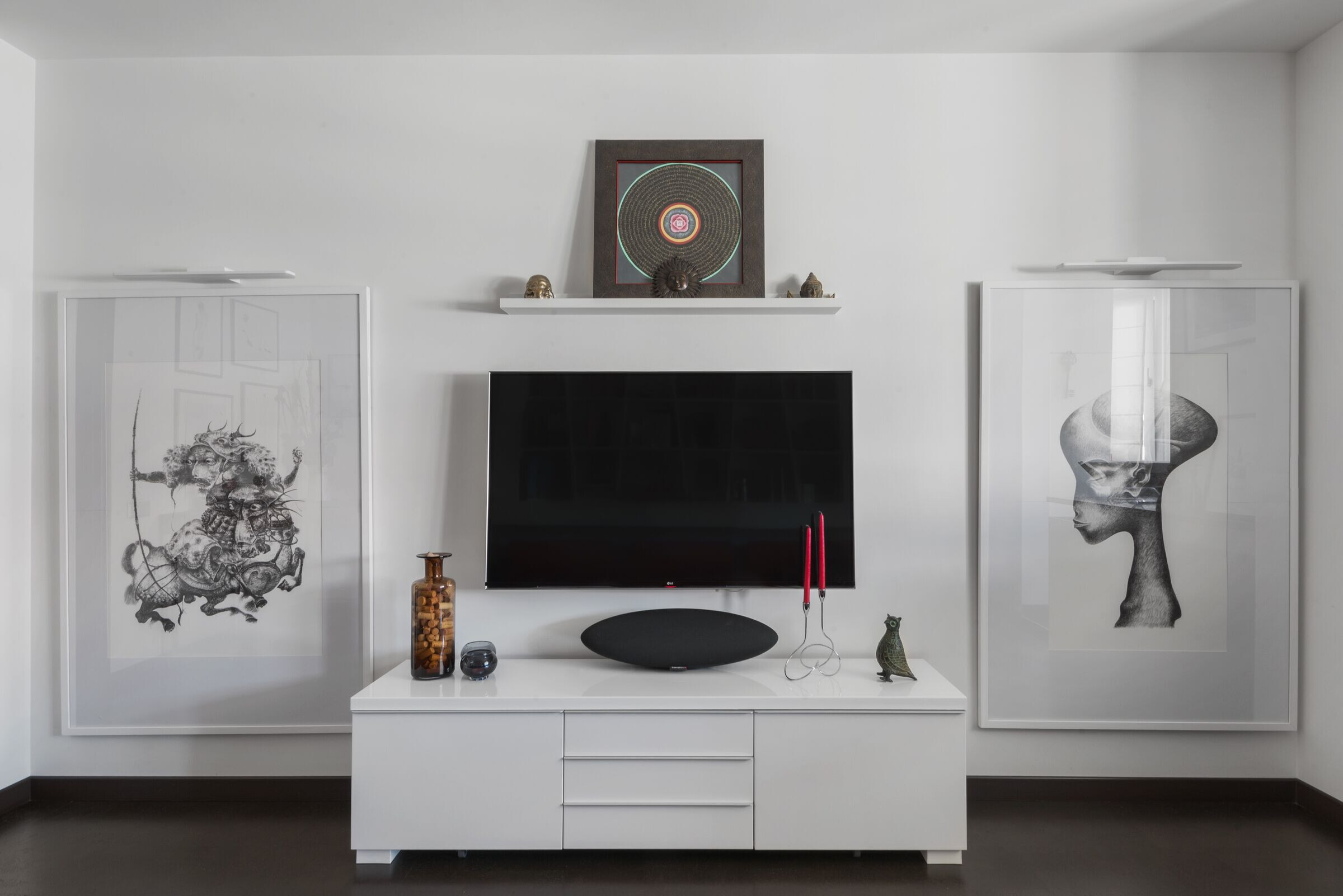 The reflecting surface of the black storage system unites the corridor with the living room, visually widening the space and creating a peculiar game of reflections. The hall is filled with light coming from kid's bedroom through a matt glass door. While working on a project of kid's room each millimeter was on count. Kid's room is only one of the functions. From time to time this premise becomes a cabinet or a guest room, so the space has to be extremely efficient. The width of the room is only 2 meters, so everything besides Artemide Tolomeo lamps is custom made furniture. A work desk is united with a wardrobe, on the other side of the room is a 2 level bed with a storage system.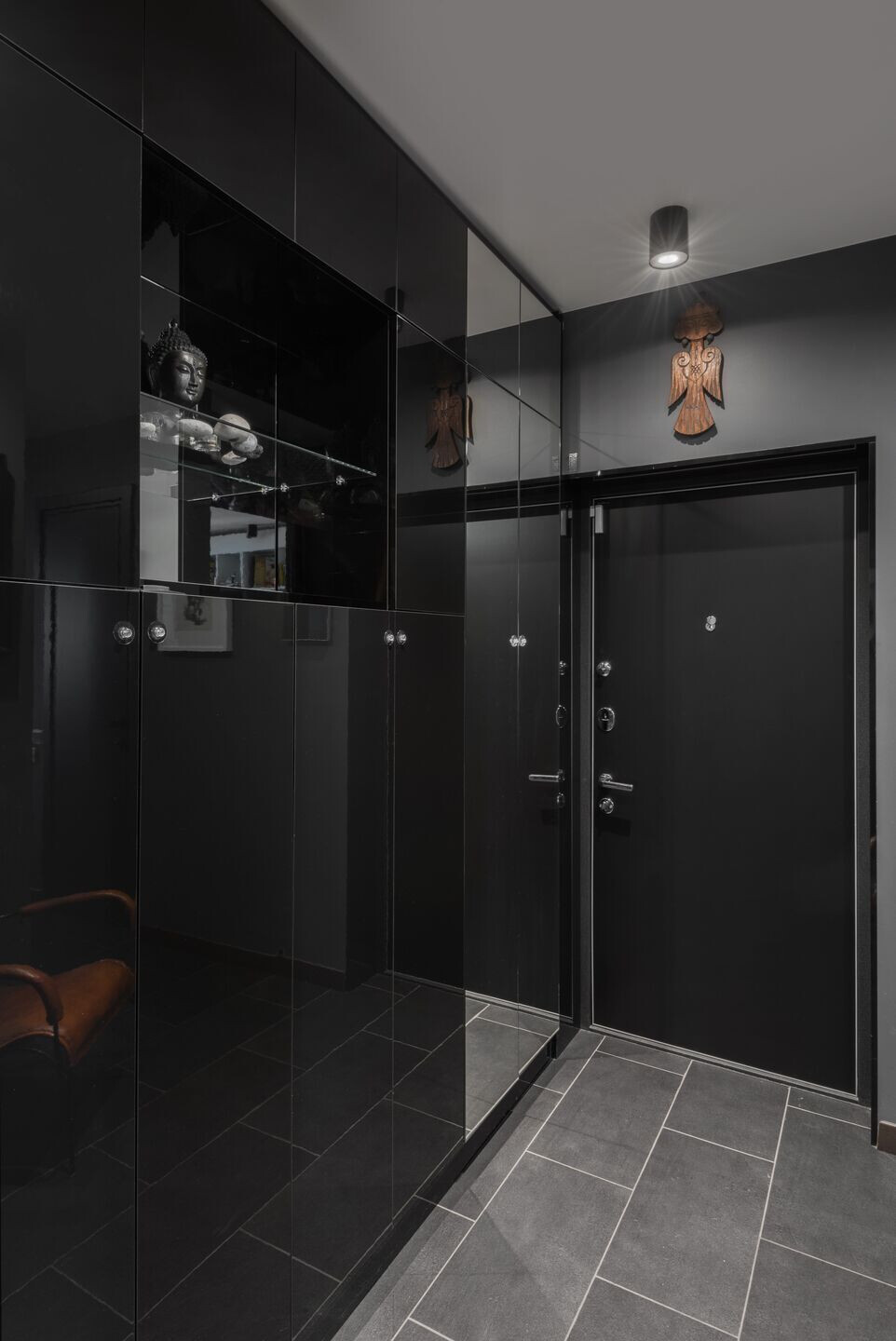 A short corridor with pictures from travels and family portraits leads to a bedroom. Amount of graphics there grows. You can notice duality of sacred and physical: in the center of the exposition is an antique Buddhist thangka, bought in Nepal from a grandchild of a Tibetan monk. This artwork is surrounded by family portraits and orthodox icons. On the contrary, there is a playful print by Dmitry Shorin above the bed. This space is functional as well: wardrobe in a niche, chest of drawers, and a colorful ladder Kartell that works as a stool.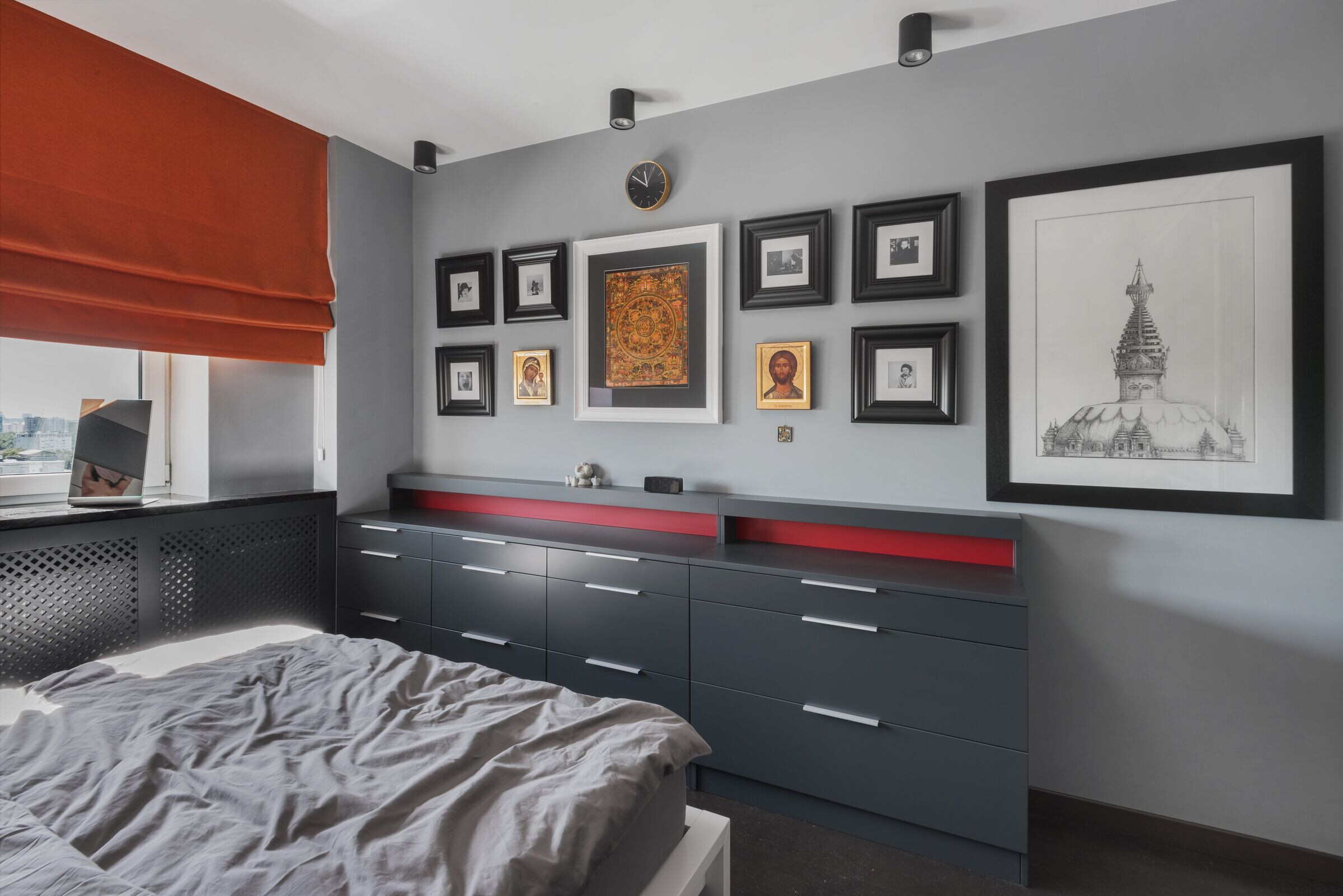 red sofa is a dominant of the room with a custom bookshelf above it. These elements created an axis of the room – the owners is keen on movies and spends a lot of time reading. There are prints of Dashi Namdakov, a Buryatian artist, on the wall with a TV. A dialog between artworks can be noticed: a warrior on the horse firing an arrow, and a muse, a metaphor of wisdom and calmness. These prints became a start of acquaintance between an architect and a sculptor, which led to a work offer from Nikita to create a sculpture for the urban planning of a quarter in Almetyevsk, one of the recent projects of Arcanika. On the other wall – graphics of his friend, a painter Victoria Udaltsova. There are 2 desks in a balcony's niche for sitting and standing types of work. This area has proved its importance during quarantine.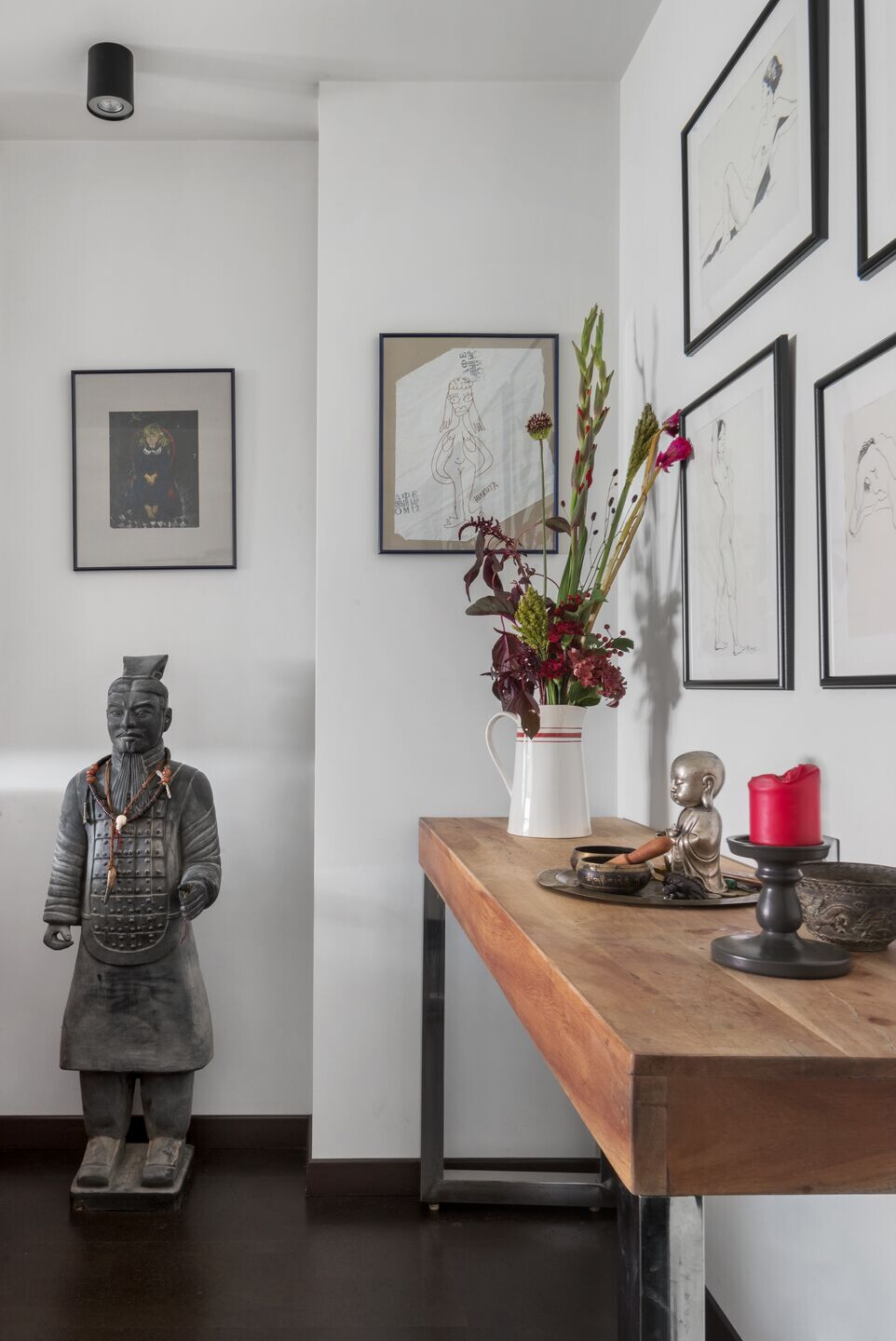 Kitchen is a soul of the apartment; architect's friends regularly gather around the table. There is a peculiar story connected with a palisander table. To make sure that the table fits the space, architect made 1:1 model of cardboard. It was tested for 2 months: Nikita had breakfast and gathered friends for supper, while the wooden table was crafted.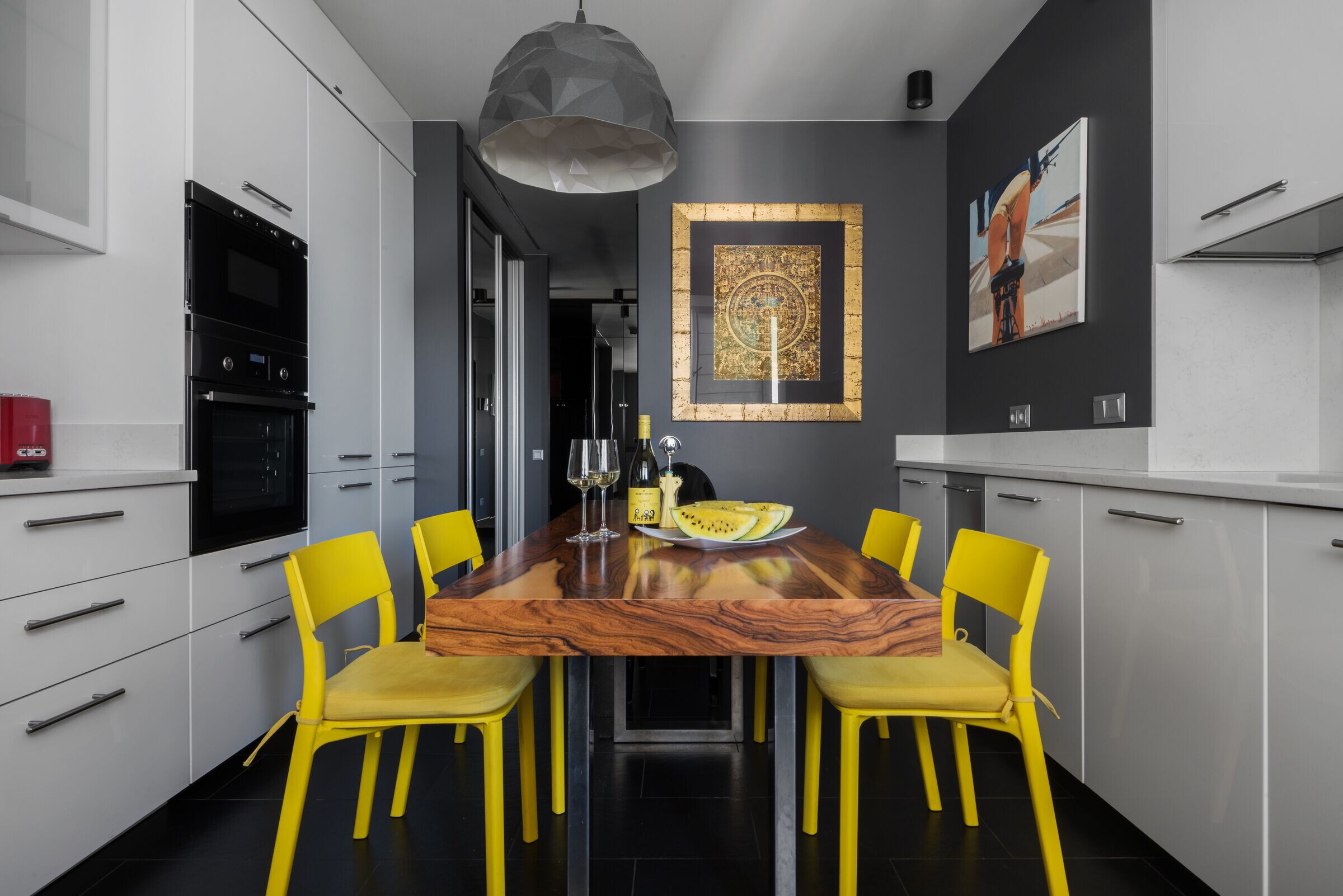 Final accent of the kitchen is a Buddhist thangka in a rich golden frame and a print by D.Shorin, already familiar to us from the bedroom.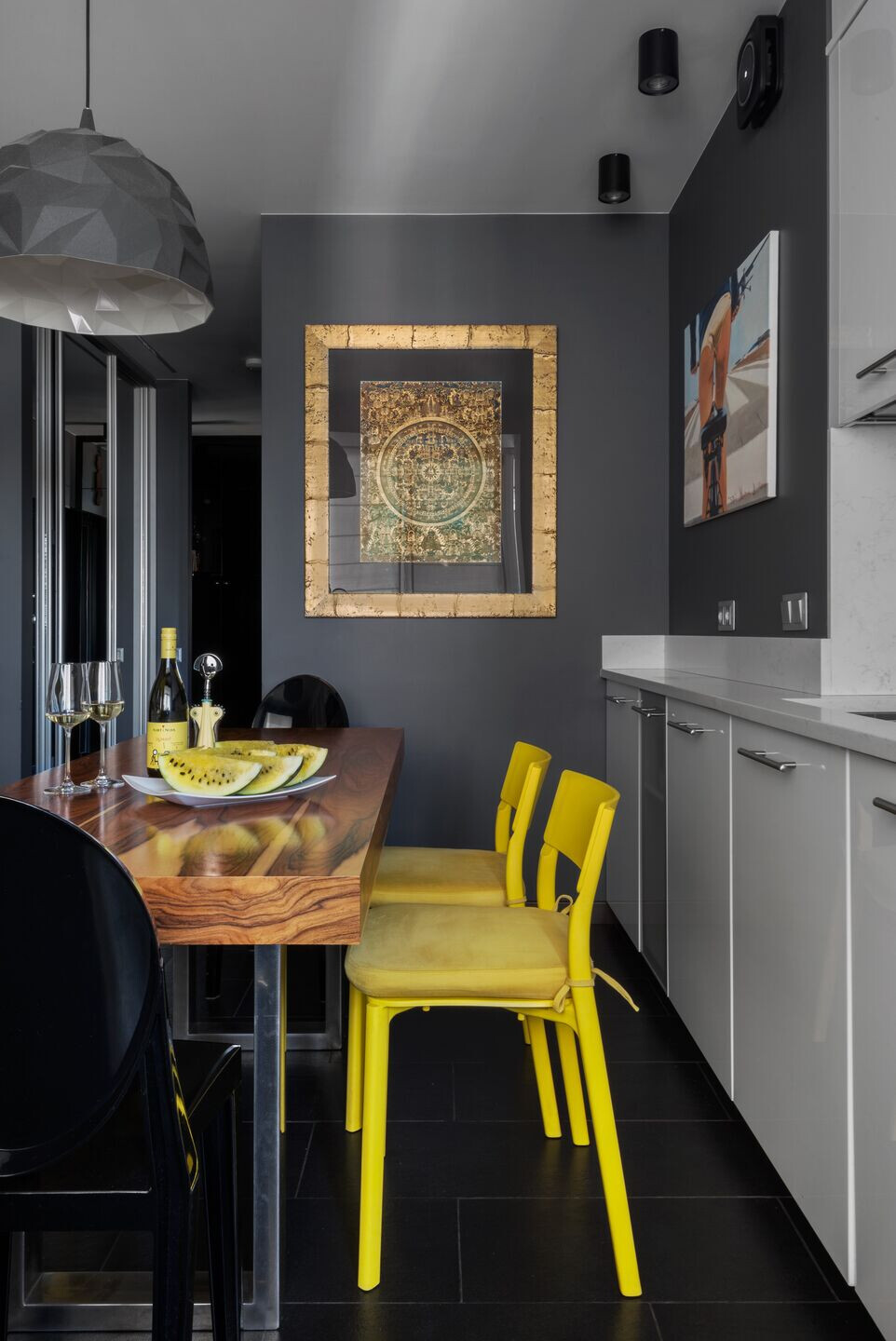 Even in shower or toilet you can find artwork. There is a poster with Copenhagen view, bought from a French artist there, while posters in the toilet tell us rules of drinking French wine and physiology.