Buckley Gray Yeoman's work at Ancora 40 breathes new life into a former car garage to create a sustainable and vibrant office hub in central Madrid to create a 'sustainable campus' comprised of workspace, café, outdoor terraces, and events space. The design involves the refurbishment of two existing buildings (built 1955) adjacent to Madrid's central Atocha railway station, and the insertion of a new hybrid cross-laminated-timber (CLT) and steel structure to connect these two existing buildings. The development also includes terraces, a new central courtyard and new car and bicycle parking below ground.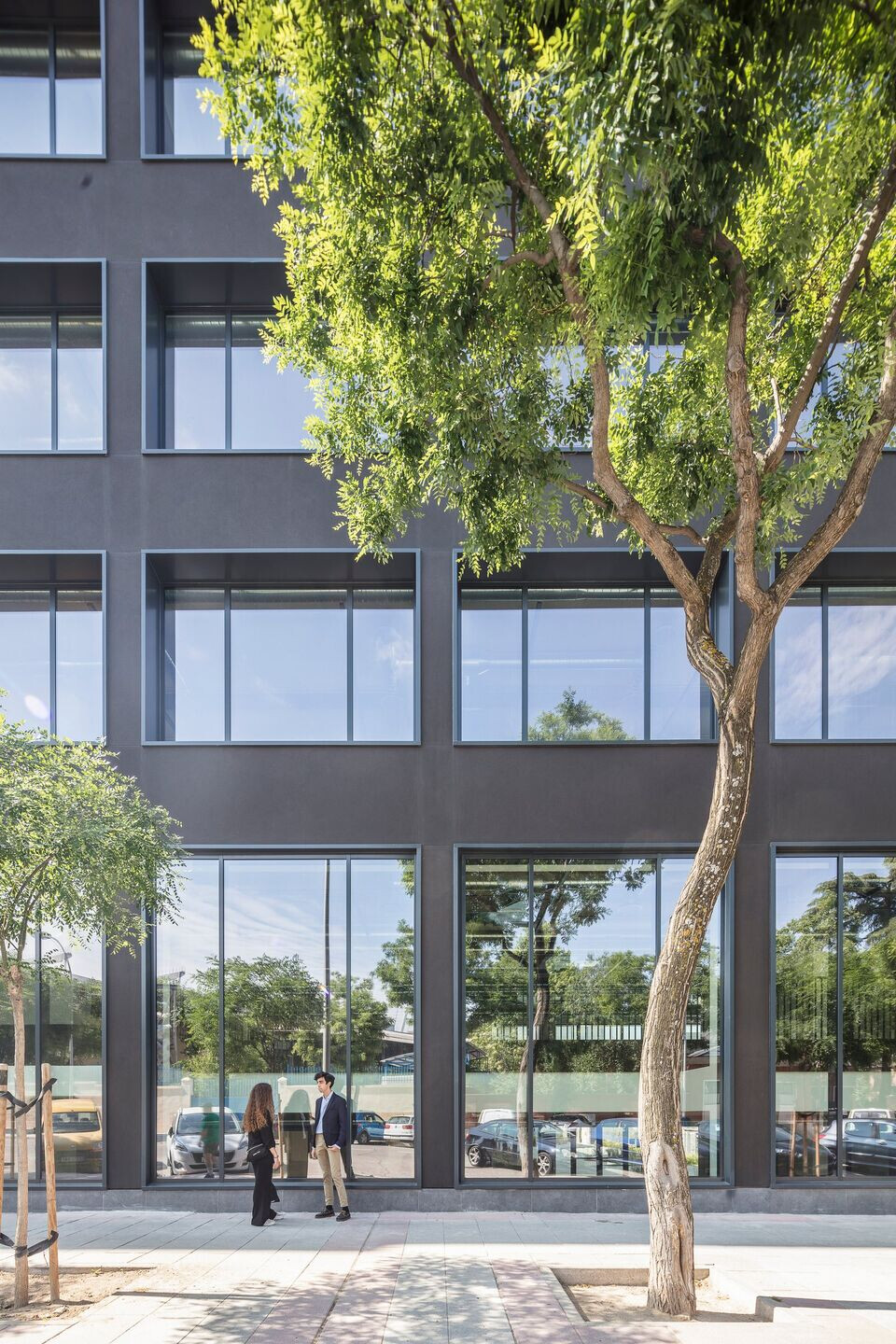 Connected by a shared central reception and private courtyard, the workspaces at Ancora 40 are adaptable to suit a range of tenants and can accommodate up to 5sqm per employee. We have ensured that the new floorplates are spacious, flexible, and abundant with natural light - with some spaces benefitting from 4m floor-to-ceiling heights. Over 500m2 of landscape terraces connect the two principal buildings, creating breakout space for meetings and events. 57 underground parking spaces and 61 bicycle stations sit beneath the building.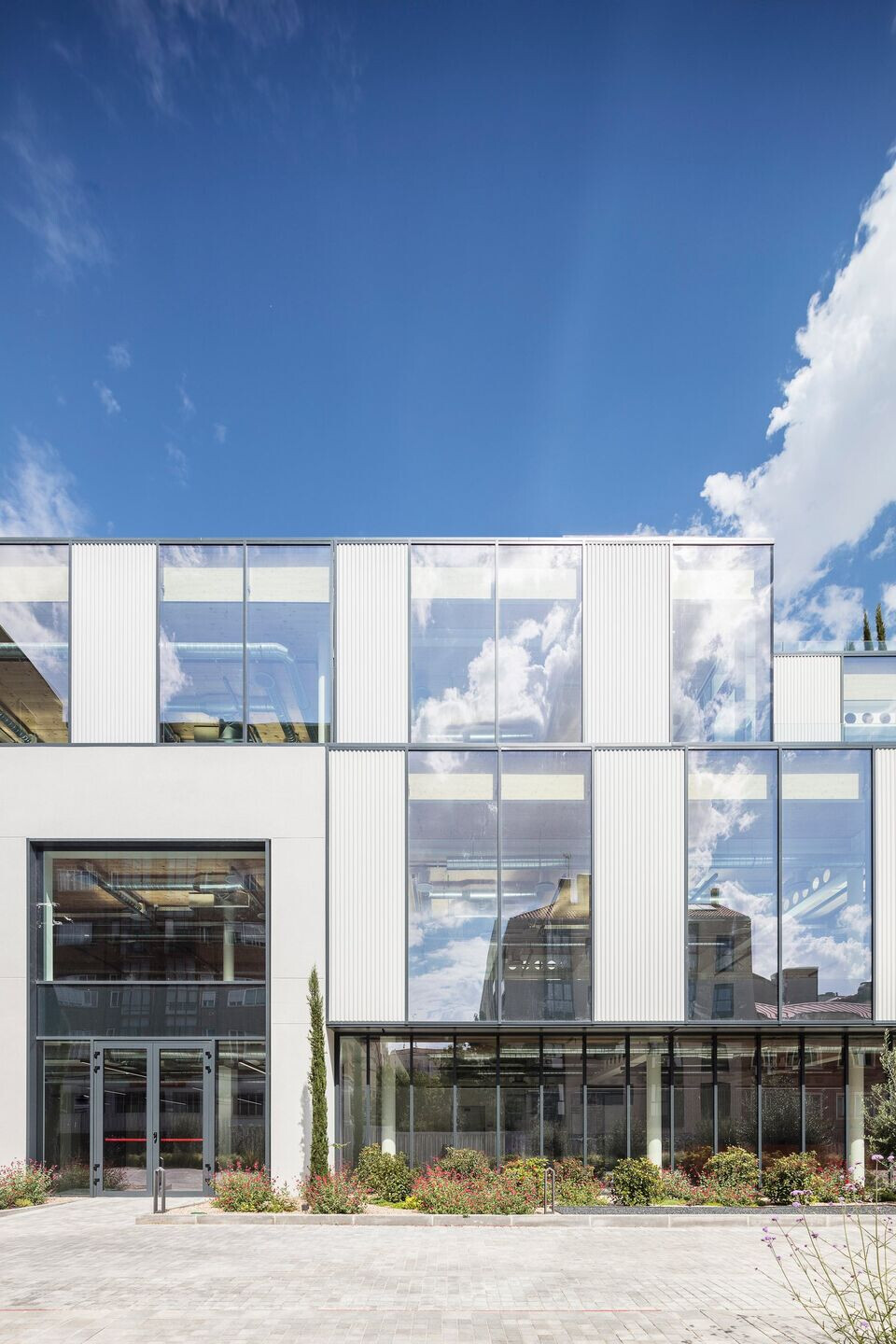 The project was designed to incorporate more than 50% of the existing structure on the site, with other materials responsibly sourced and carefully selected for their low environmental impact. Upon completion Ancora 40 was awarded LEED Gold Certification, recognising its environmental credentials, such as the use of a composite steel and a CLT structural frame, high-transmittance glass to ensure maximum natural light, quiet zones with noise reduction technology, extensive terracing, bikes storage and changing rooms for the convenience of all users.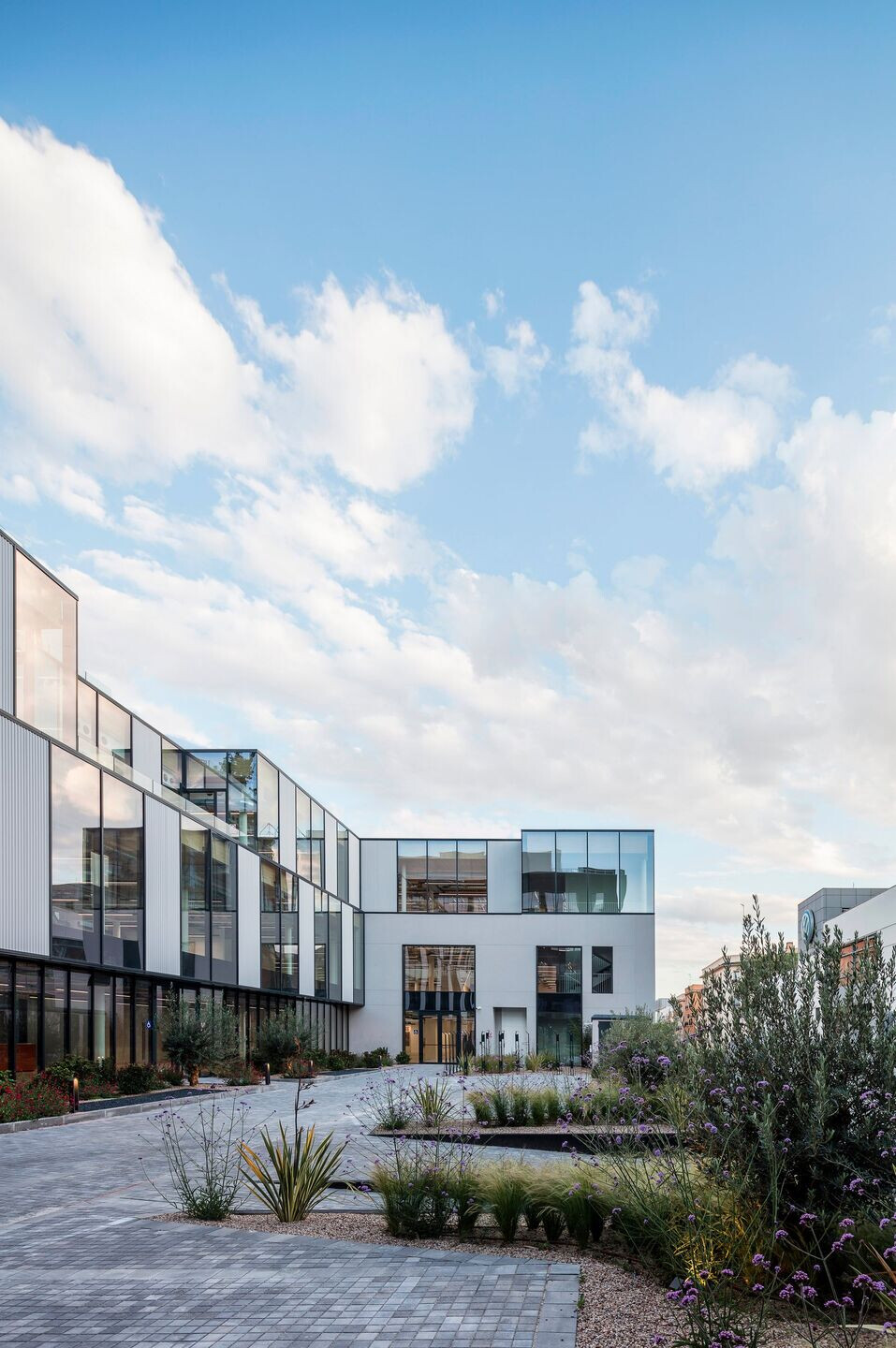 The building has built-in strategies to keep the air inside the building as pure as possible, resulting in a 30% improvement based on ANSI/ASHRAE Standard 62.1-2010 that far exceeds RITE standards. These include a silent ventilation system with RESET air-quality certification that allows for humidity control and air filters capable of screening out viruses and microscopic particles. We worked with lighting designers to develop a lighting system that cuts out glare and optimisescolour reproduction throughout the interior, whilst all outdoor lighting has been calibrated to prevent light pollution. The building has been designed to alleviate the "heat island effect" by using light-toned flooring and maintaining plenty of green space. High-performance bathrooms, showers and tapware produce water savings of over 45%, while selective specification of outdoor planting has cut outdoor water use in half.
The building also incorporates smart technology, to promote technology, efficiency, security and sustainability. The result is one of the city's most future-proofed office properties, operated through a central computer at reception, a bespoke tenant app and touch screens at the entrance to each floor. These control the working environment, monitoring of communal areas, finding and booking meeting rooms or parking spaces. Security includes passes, touch-free automatic doors to rooms and service areas, environmental monitoring, visitor management system, and number plate recognition.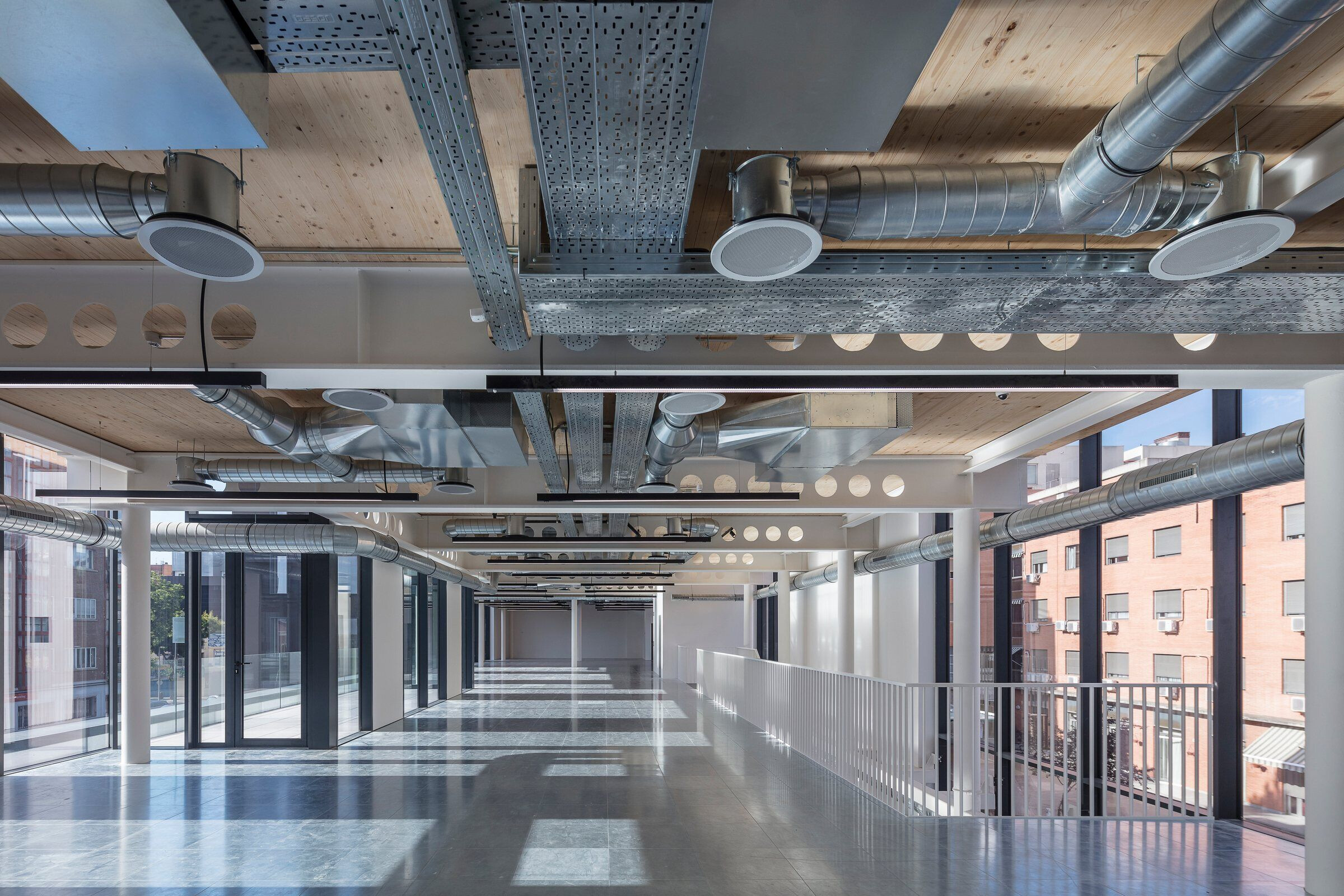 Material Used :
Structure: The buildings' original concrete-and-iron structurewas upgraded and strengthened to conformto modern standards. For the new middle core(section C), a frame of cross-laminated timberand hollow steel beams was chosen. The new basement, which liesbeneath the buildings and the surrounding plot,was accomplished using a perimeter screen madewith concrete pilings.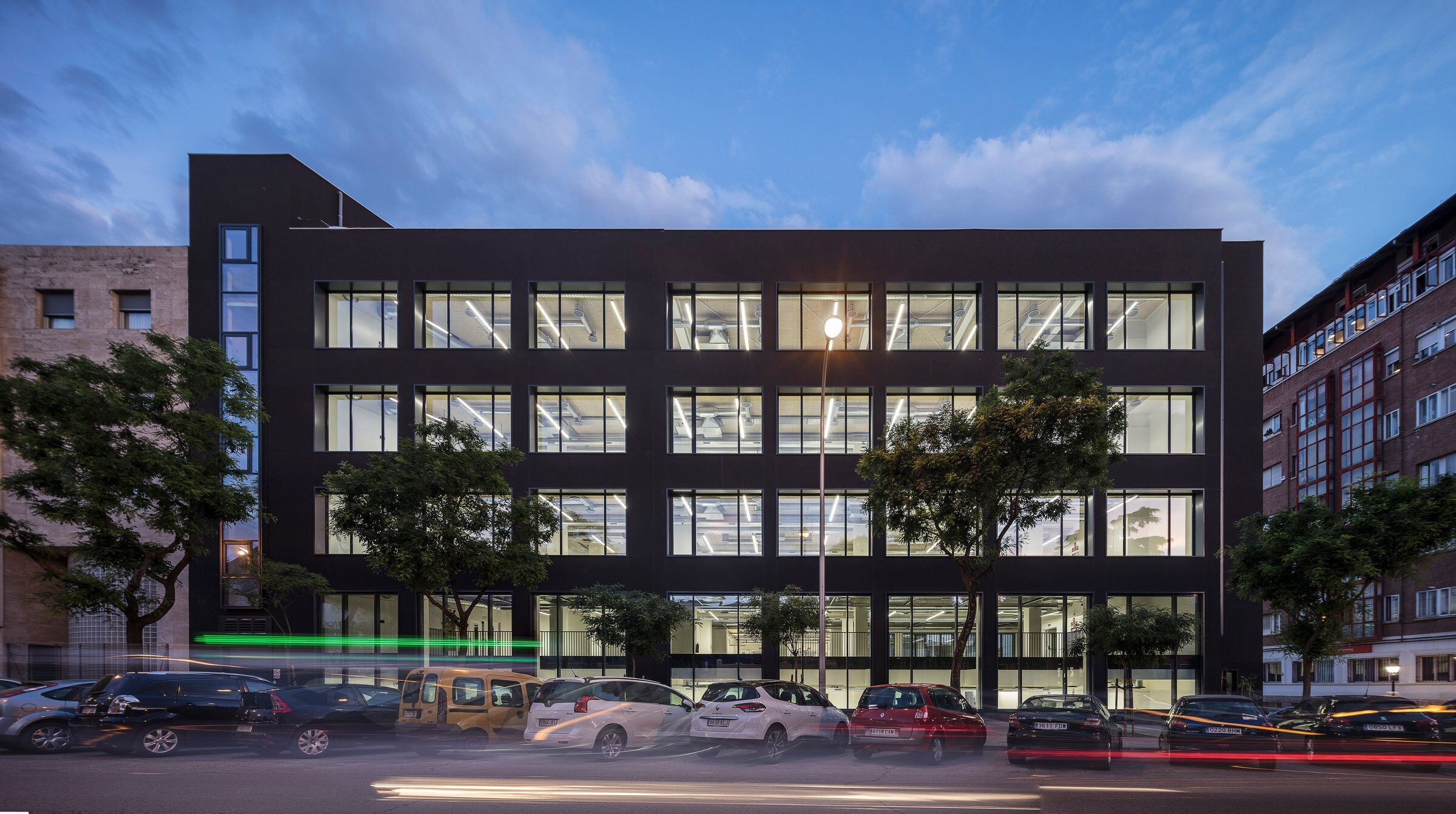 Electricity: The building will have a transformation centrelocated in the basement that will serve the wholebuilding. It will also be divided into a body-typegenerator with a diesel engine. The building will haveemergency lighting and signage.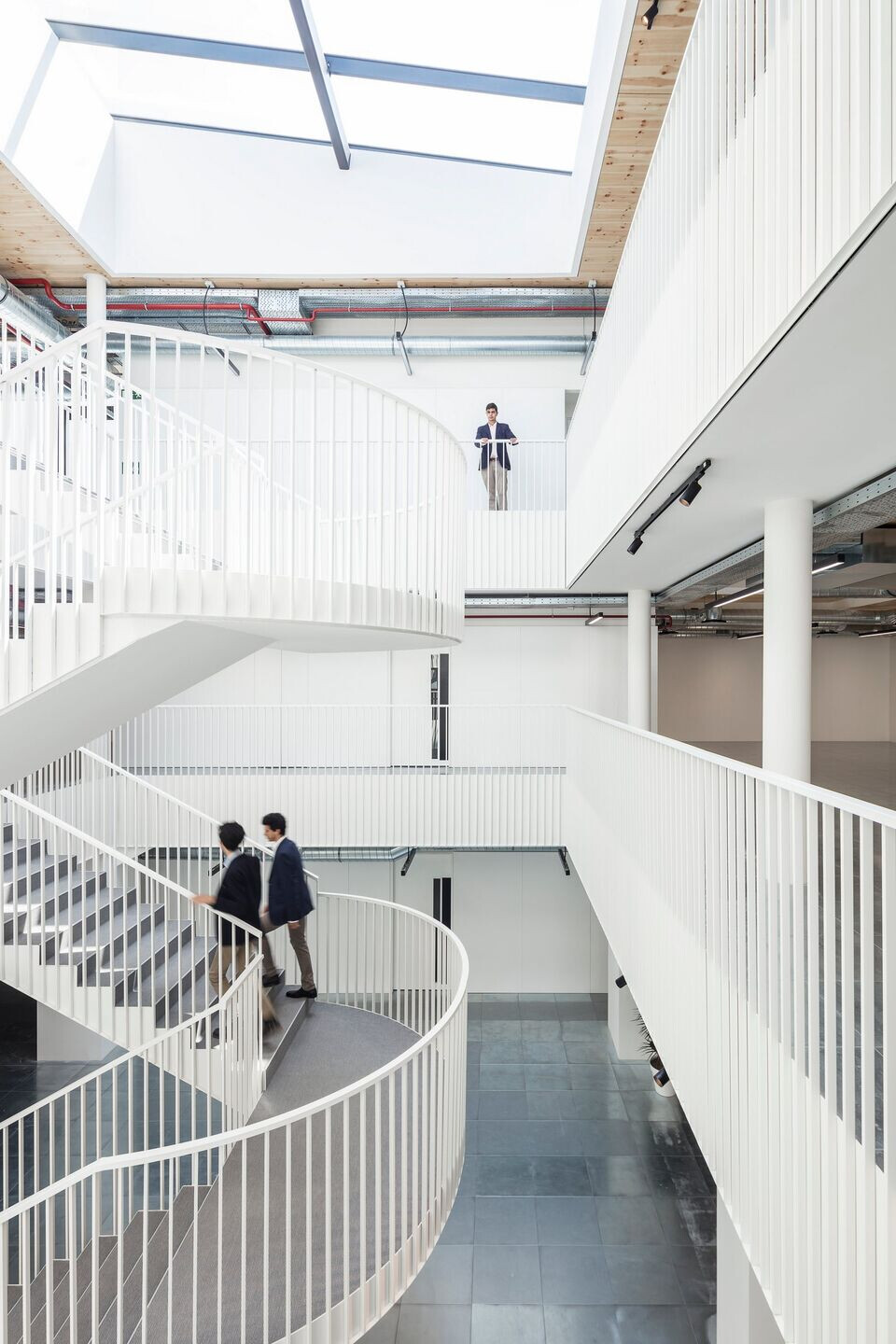 Air-conditioning and ventilation system: To climatise the office floors, a four-pipe fan-coil system, carried out as a visible installation, will beused.The contribution of renewal air is made throughthe air-conditioning system. Other planned improvements include a new air-circulation systemin bathrooms and other areas, so that air canbe extracted directly through linear grilles and extractor vents. For the ventilation of the parkinglot located in the basement, the installation of two fume extraction networks has been plannedin order to remove both the CO that comes from vehicle circulation and fire smoke. In parallel, aventilation and extraction network will be installed in the carpark.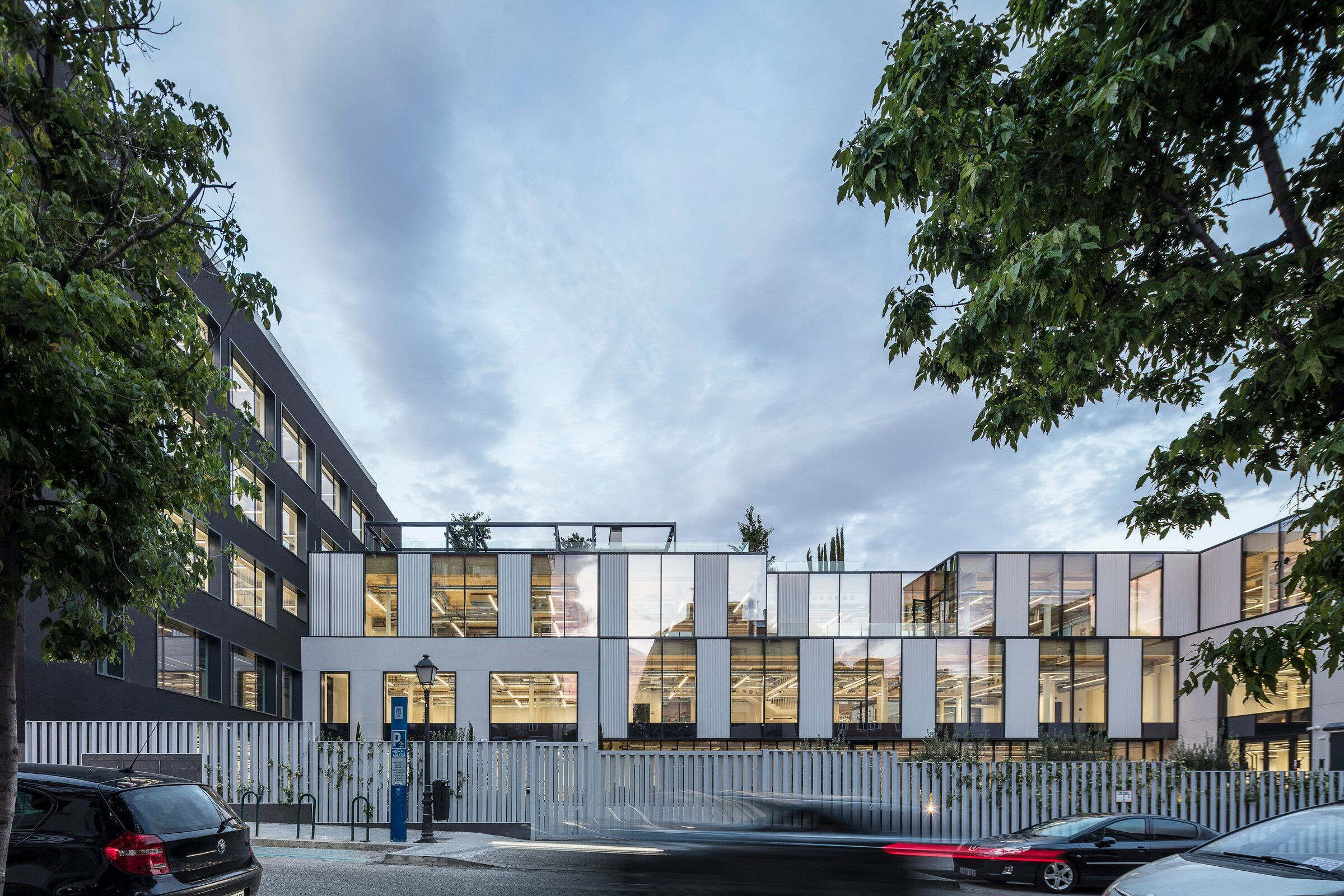 Interior layout and finishes: The original vertical communication cores wererefurbished and others added, to ensure anefficient flow of foot traffic through the building.
Plumbing and DHW system: A pressure group composed of three electric pumps will be installed. Each pump will have 1,5kwof unit capacity and an elastic membrane 50l hydro pneumatic tank. The building will have adrip irrigation system and a hot water production and distribution facility to provide water for theshowers and toilets in the changing rooms.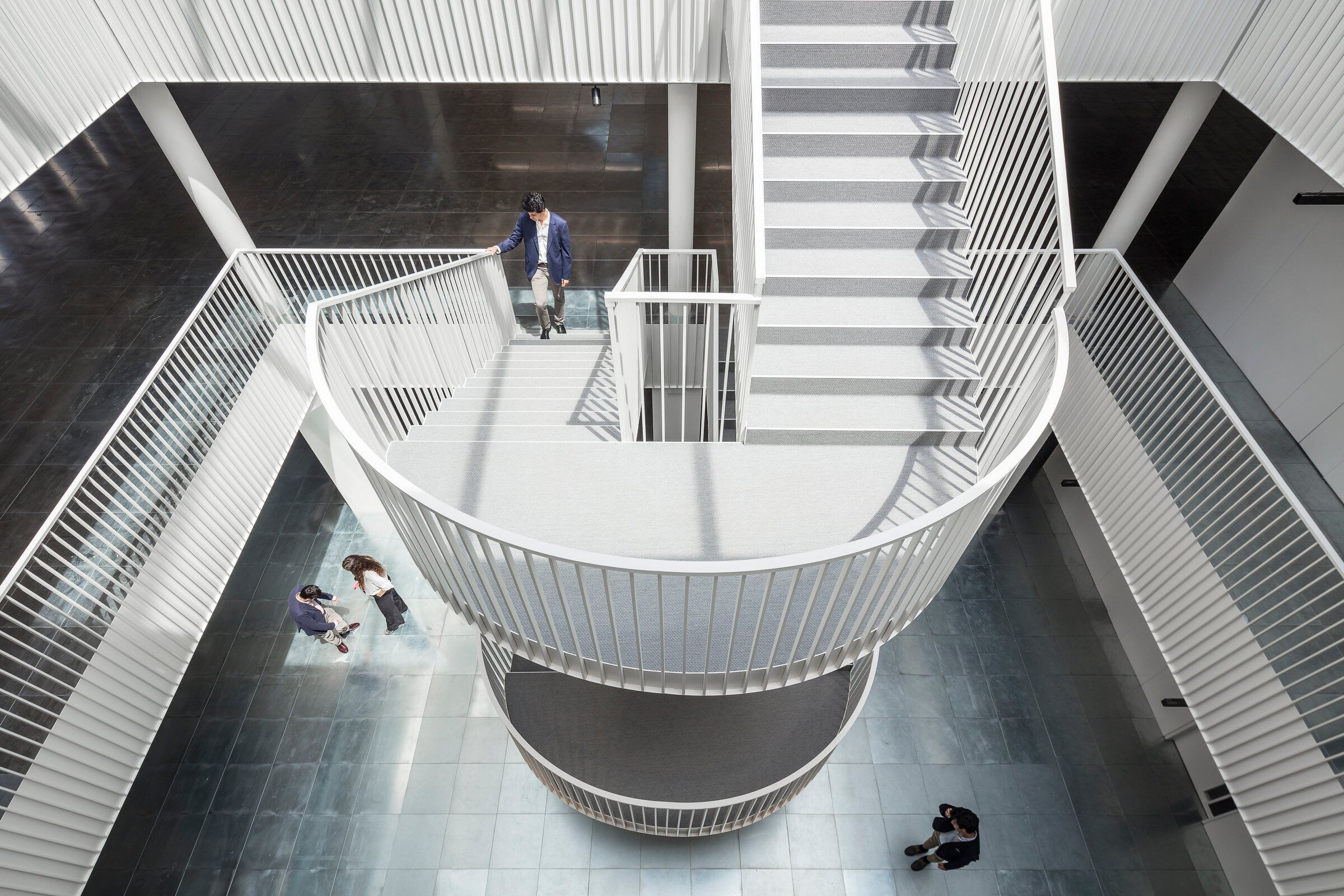 Façade: The thermal and acoustic insulation of theexisting façades were upgraded and doors and windows were significantly enlarged using high efficiency glazing, to achieve the highest possible environmental quality and natural light. The newmiddle core (section C) was fitted with a floor-to-ceilingcurtain wall. Every office space is multi-aspectand has its own atrium and skylight, resulting in an incredible quality of natural light,while unbroken sight lines in all directions create a luxurious sense of space.