"Beach Slice" is a holiday home an hour's drive from Melbourne, and a five-minute walk to the shore of Western Port Bay. Sitting on a bush block, it is humble and relaxed, designed to holiday. A place to hang your hatand also suitable as a place to retire. This house was designed for three parties to holiday together effortlessly. It is split into two halves: a communal area on one side and private bedroom wing on the other.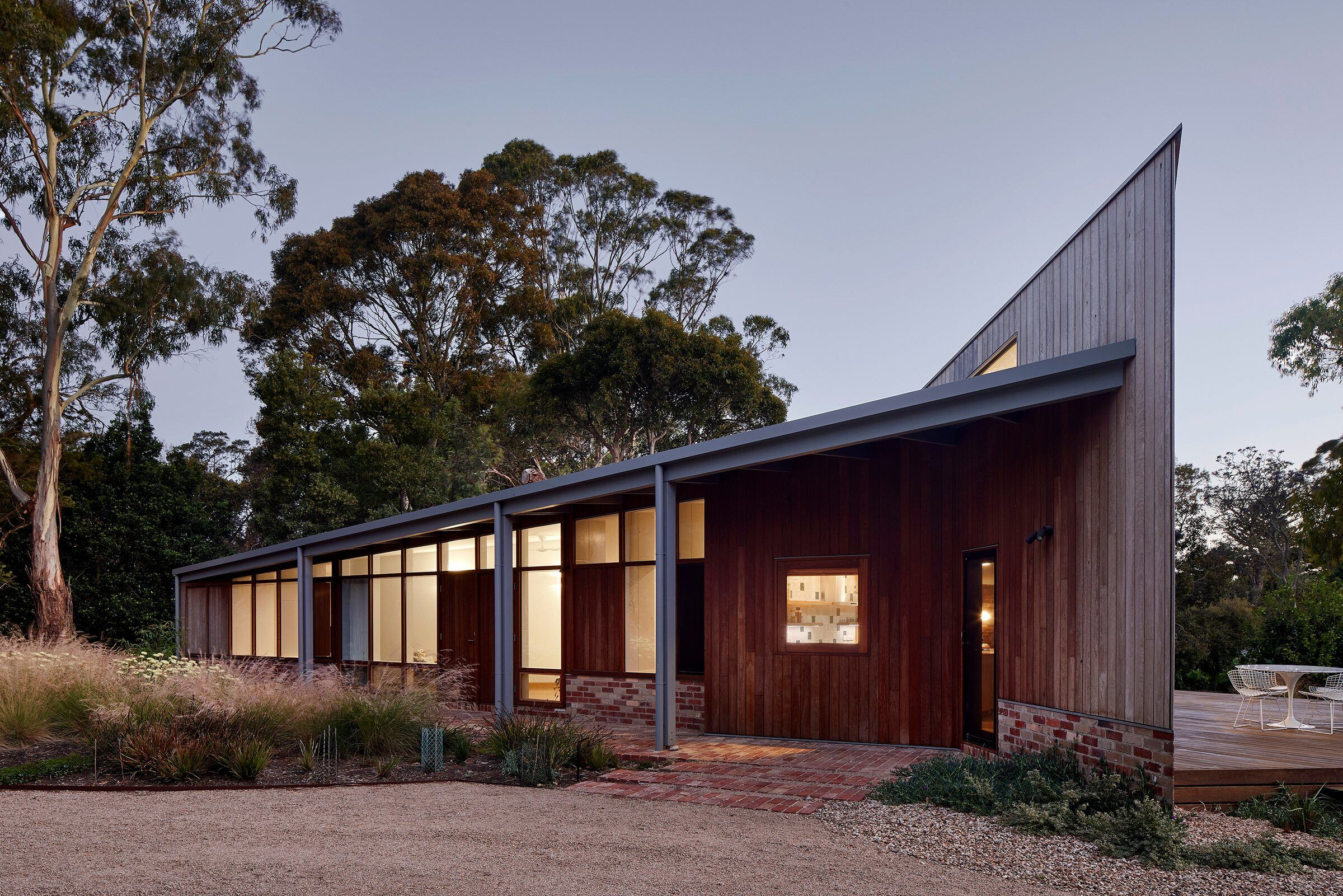 Beach Slice sits amongst bush blocks with casually placed holiday homes varying in setbacks and having low visual impact. Gum trees and grassland are still the dominating features. We wanted our building to be recessive, modest, and evoking the familiar. The triangular base is covered by a split roof consisting of two generous custom orb planes tilted against each other. It creates a simple but nevertheless non-conventional form with recognizable elements like extensive verandas and curtain walls. These are part of a familiar vocabulary that articulates a building as contrasting its natural surroundings.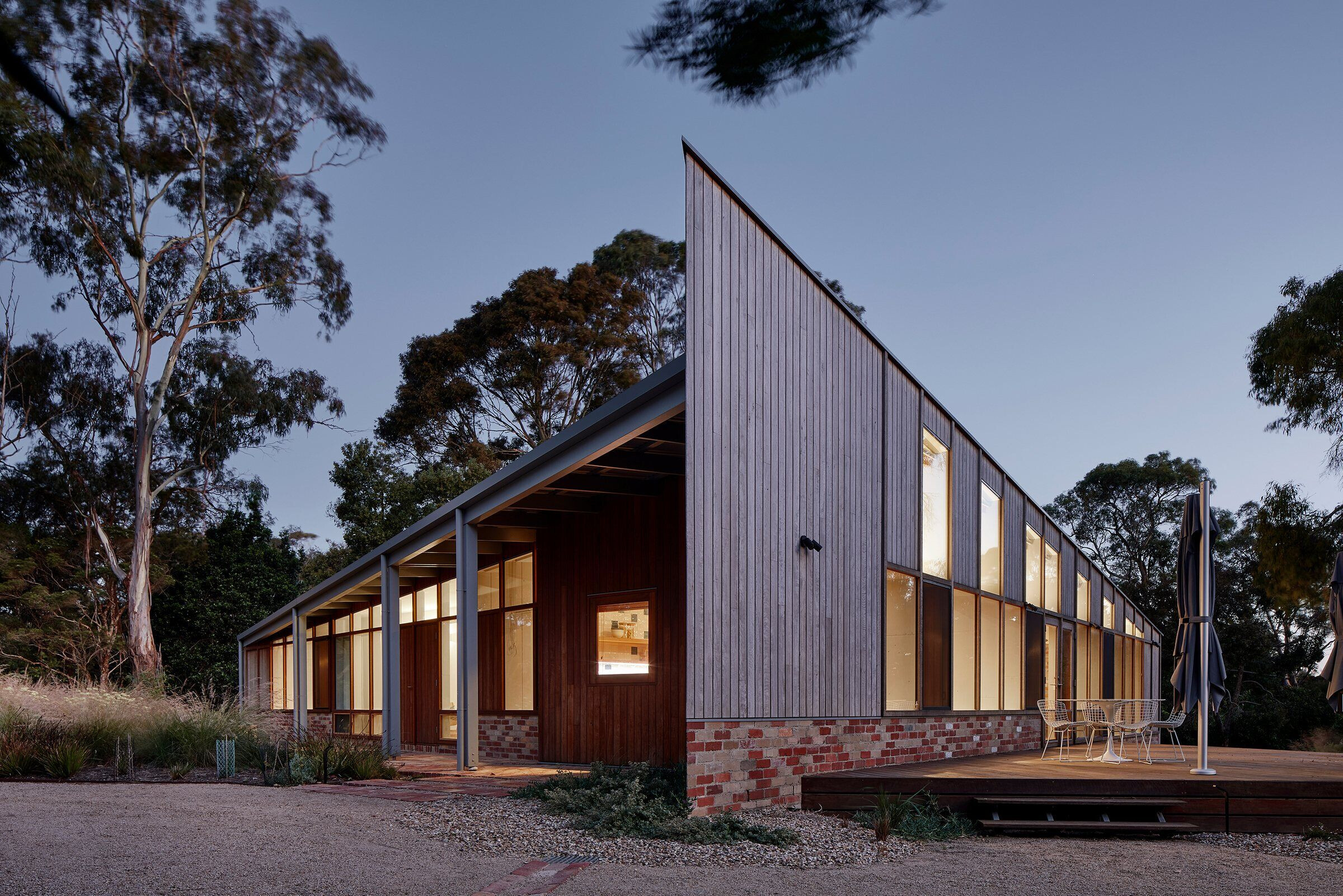 A home away from home serves two main purposes: enjoying a place somewhere else, and escaping daily routines: nature instead of town, stars instead of lights, quiet instead of noise, casual instead of organized, social instead of insular (or vice versa), leisure instead of work.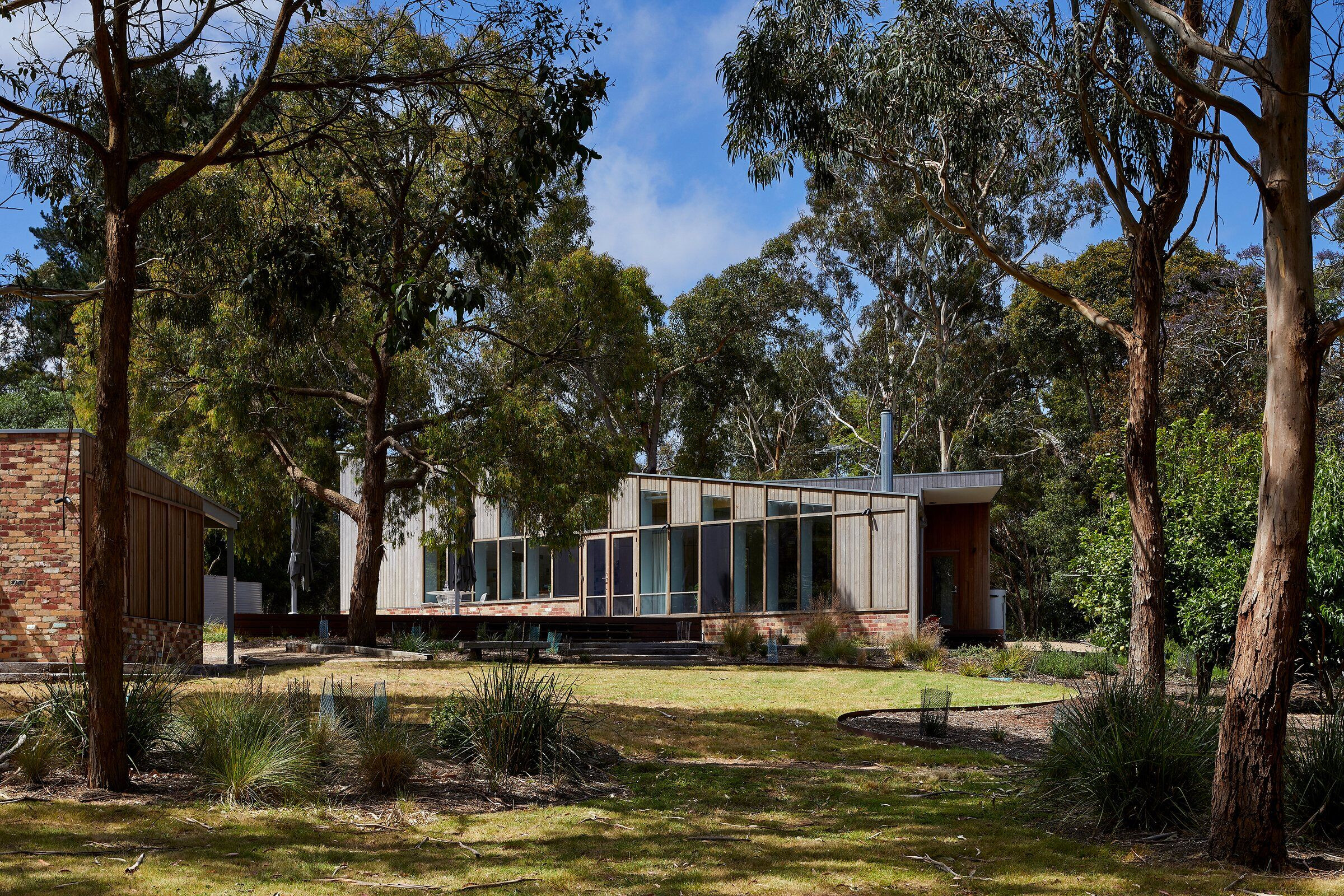 Given that holiday homes sit on prime real estate, there is a temptation to move away from the traditional fibro shack towards an oversized 'substantial' building showcasing sophisticated details and a sense of luxury that may as well be an extension of the place one is trying to escape from.
"Beach Slice" resists that temptation. Our building almost hides in its bush setting and appears effortless and simple - although it is far from that. It is a manifestation of 'quiet architecture': a building that may go unnoticed at first sight but reveals itself gradually and becomes appreciated over time.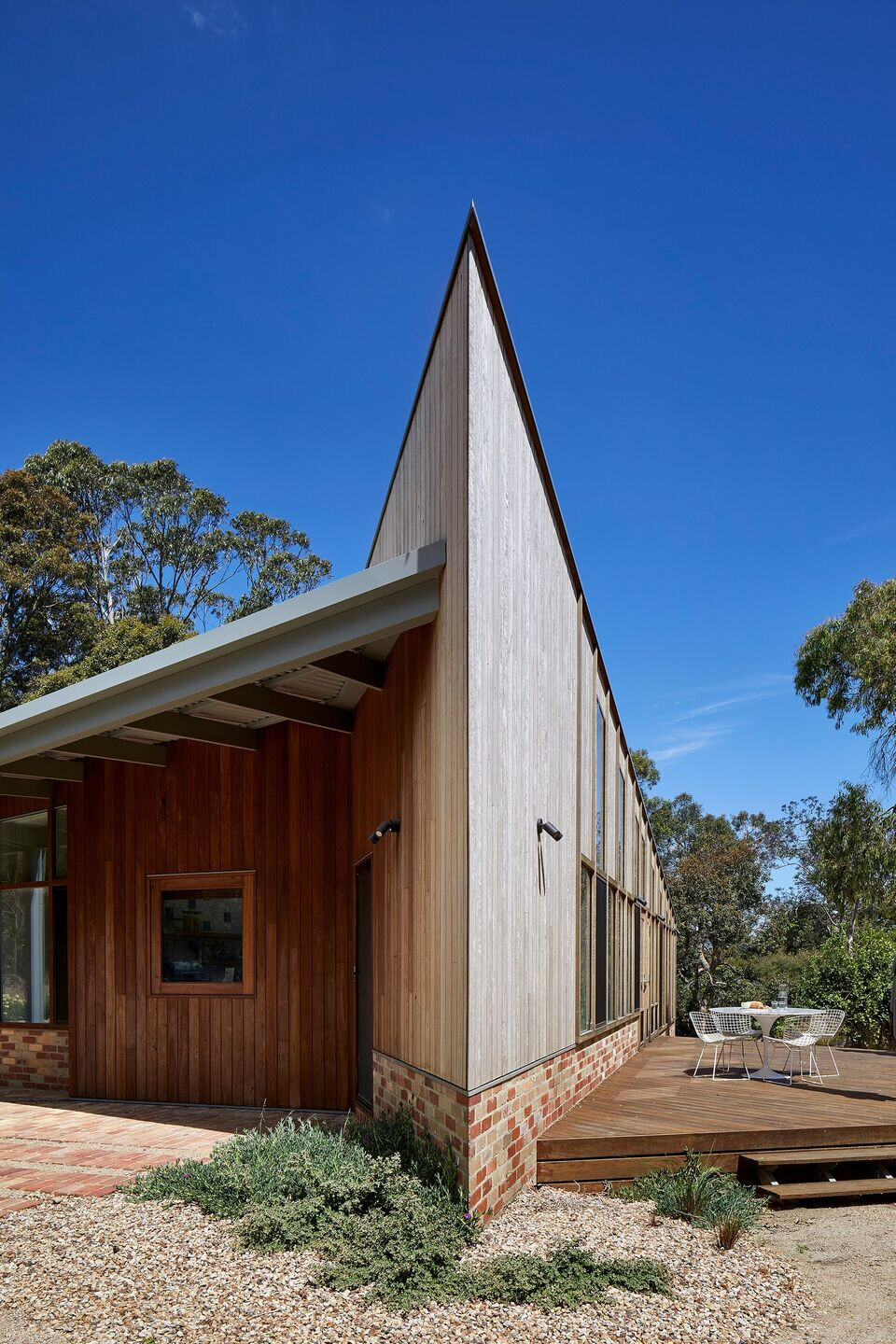 The design of this house applies principles of passive solar design, solar control, zoning and compartmentalization, high thermal mass, insulation and cross ventilation to maximize sustainability while maintaining comfort. It is highly insulated, featuring high-performance, double-glazed doors and windows and is high in thermal mass by using a concrete slab for the floor and recycled bricks for internal walls.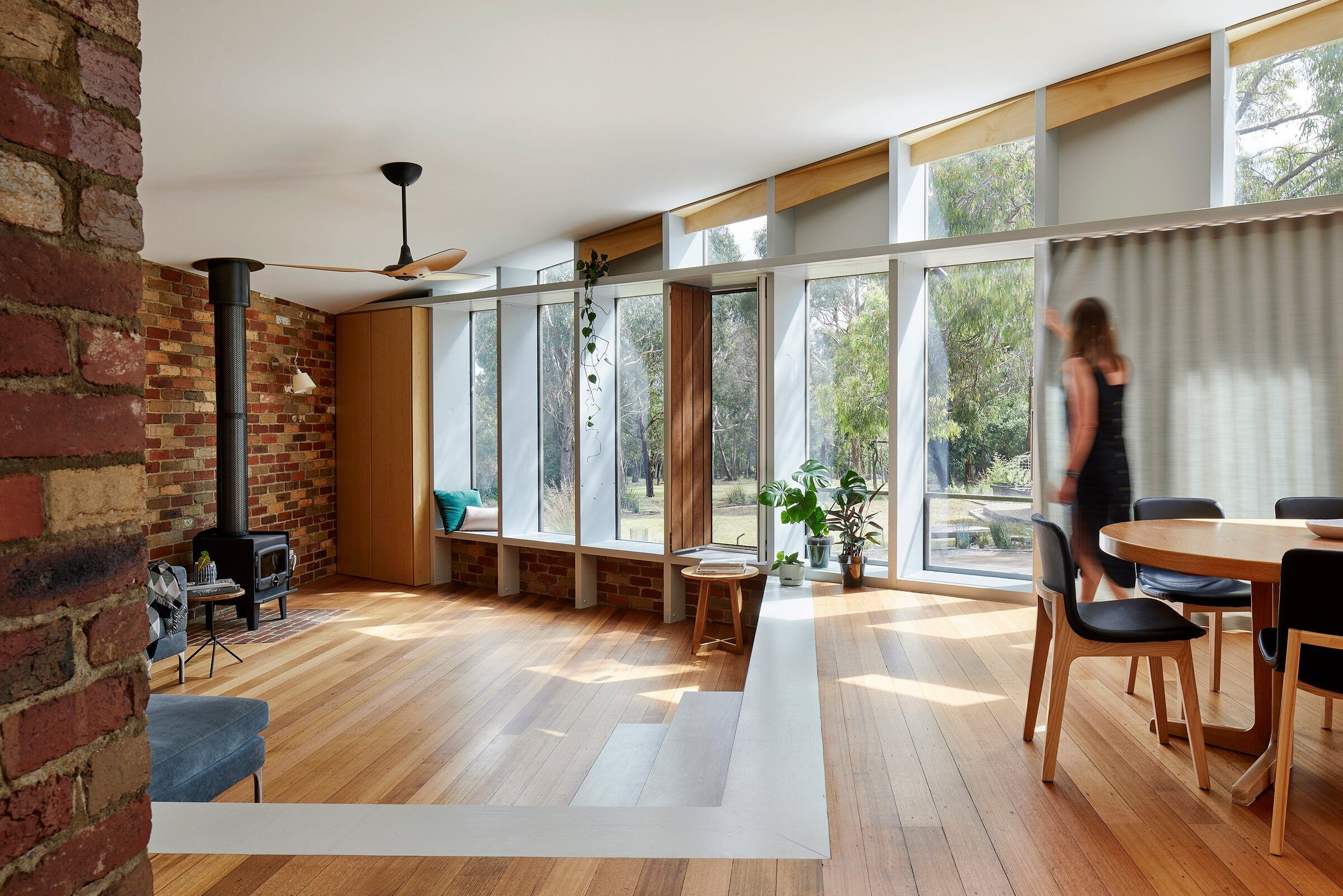 A fundamental design decision was to develop a compact form. The external wall is constructed as a curtain wall from LVL's and build in additional functionality. Their depth can accommodate internal storage, window seats to commune or reflect, it frames and curates views and facilitates both engagement with and protection from outside.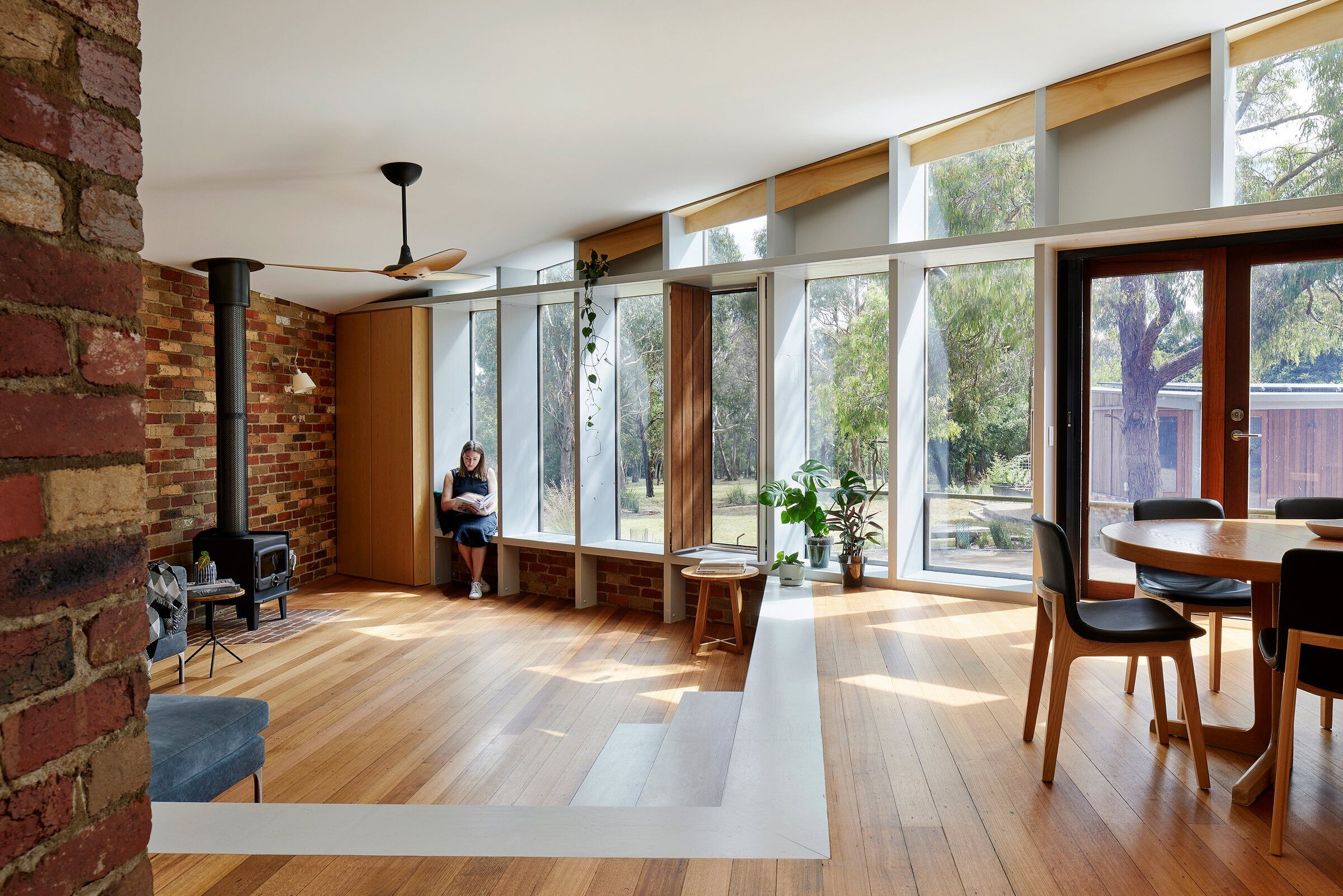 By default, this reduces materials used during construction and therefore lowers embodied energy. The triangular shape of the building and minimum circulation areas allowed the program to be achieved using a smaller than average floor area for this program, as well as reducing the resources required to operate the building.
Team:
ESD Consultant: Floyd Energy
Landscape Architect: Henry Landscape Design
Structural Engineer: Maurice Farrugia & Associates
Building Surveyor: Metro Building Surveying
Bushfire Management: Terramatrix
Builder: Frank Built
Cabinet Maker: Woodcraft Mobiliar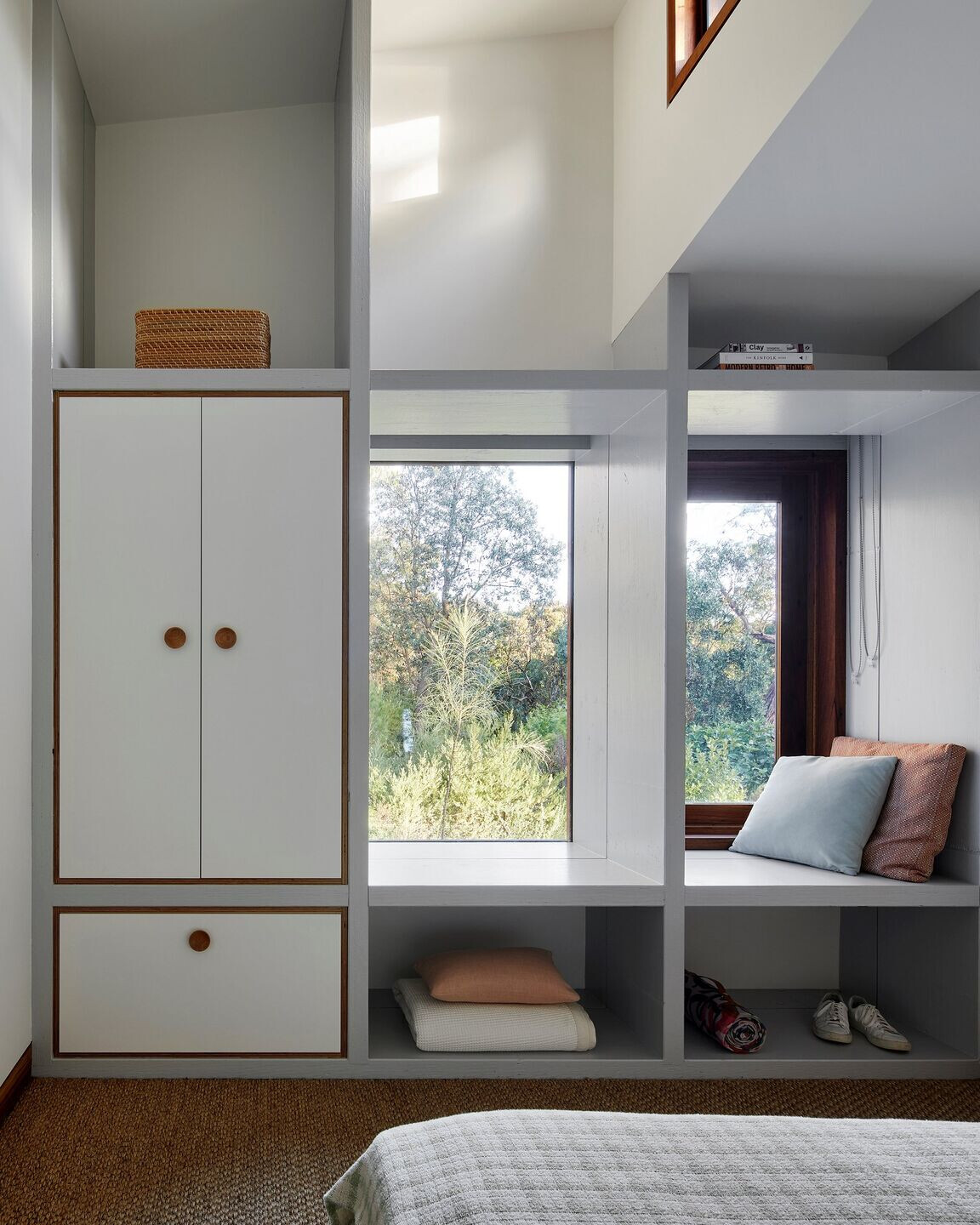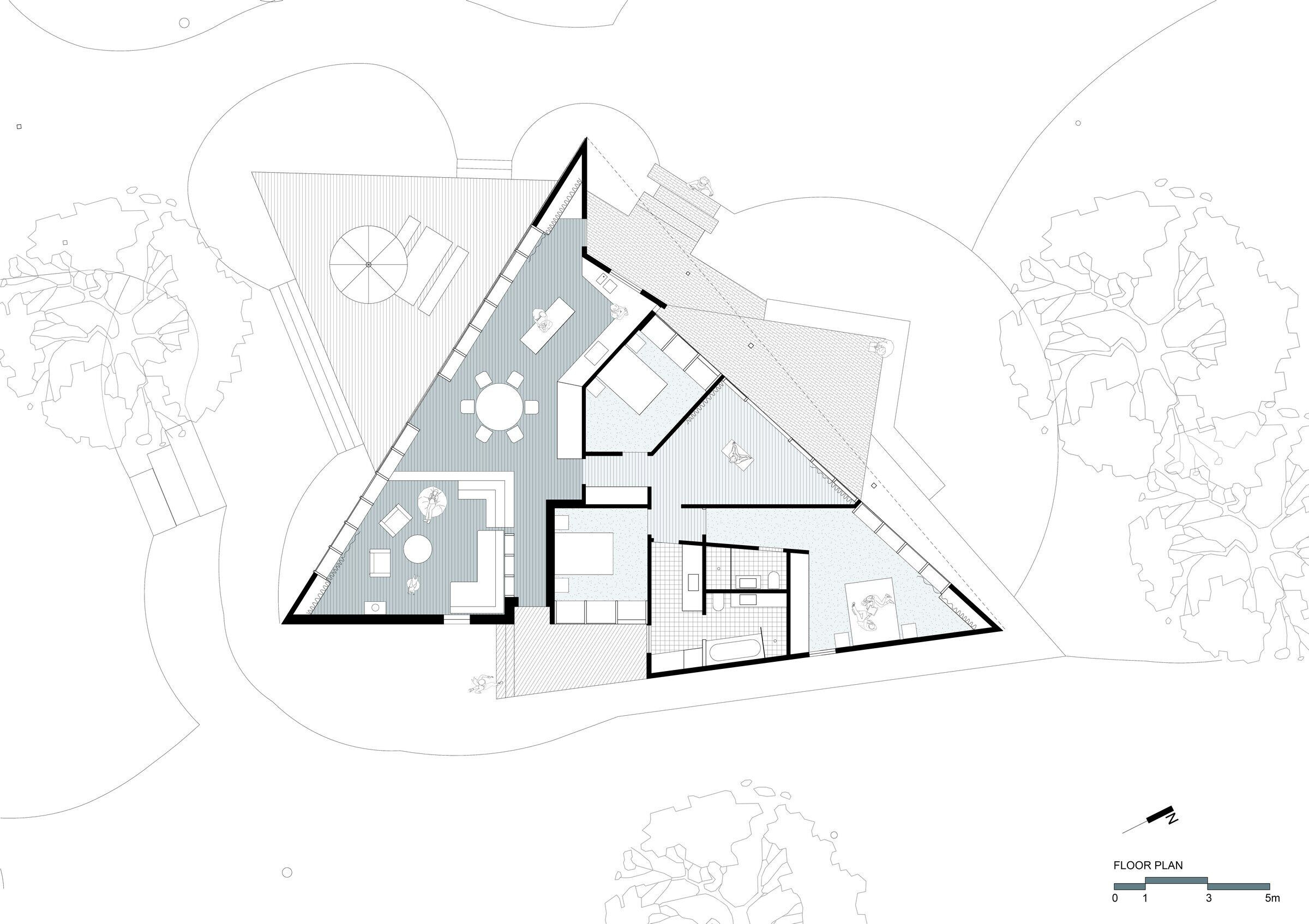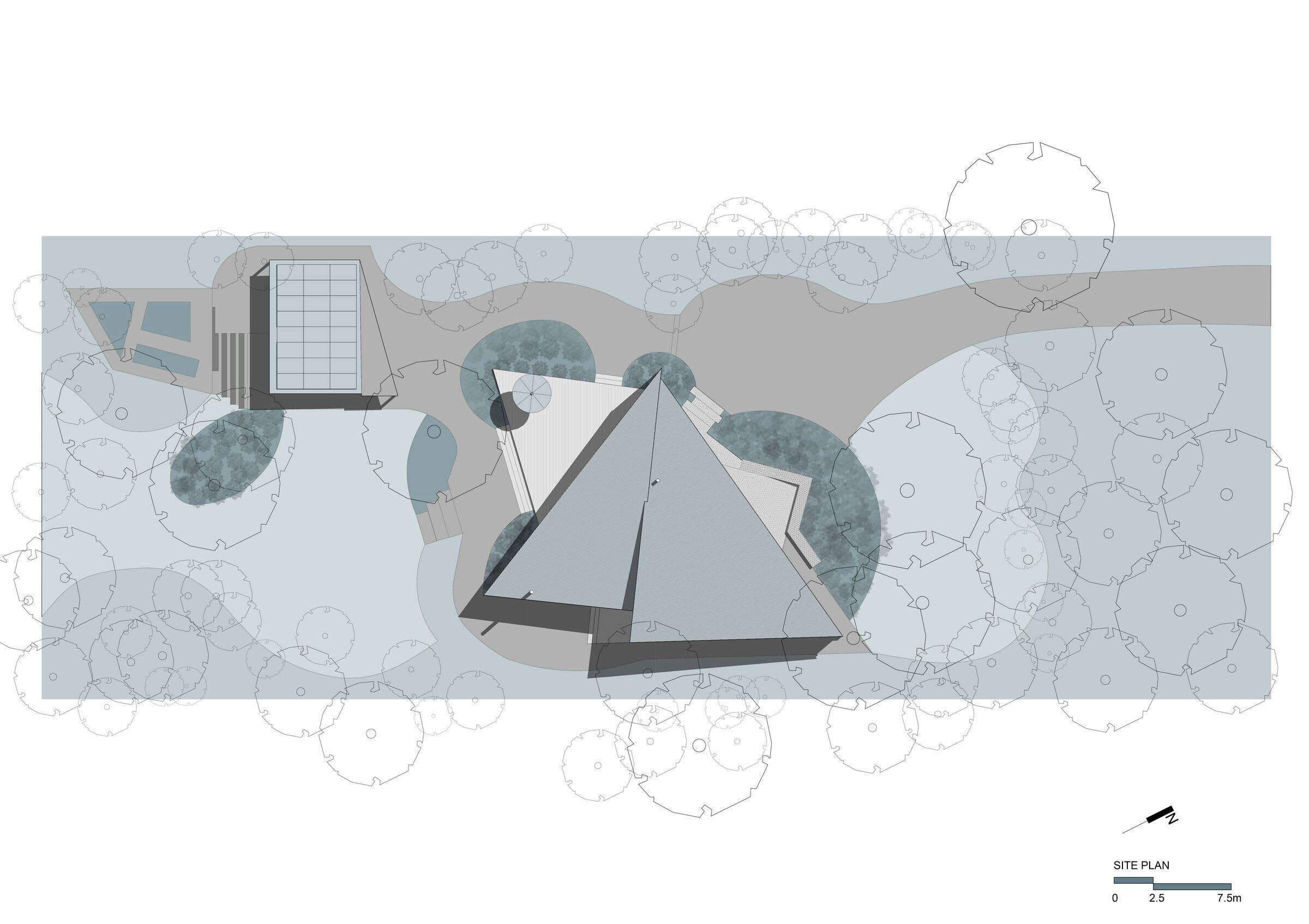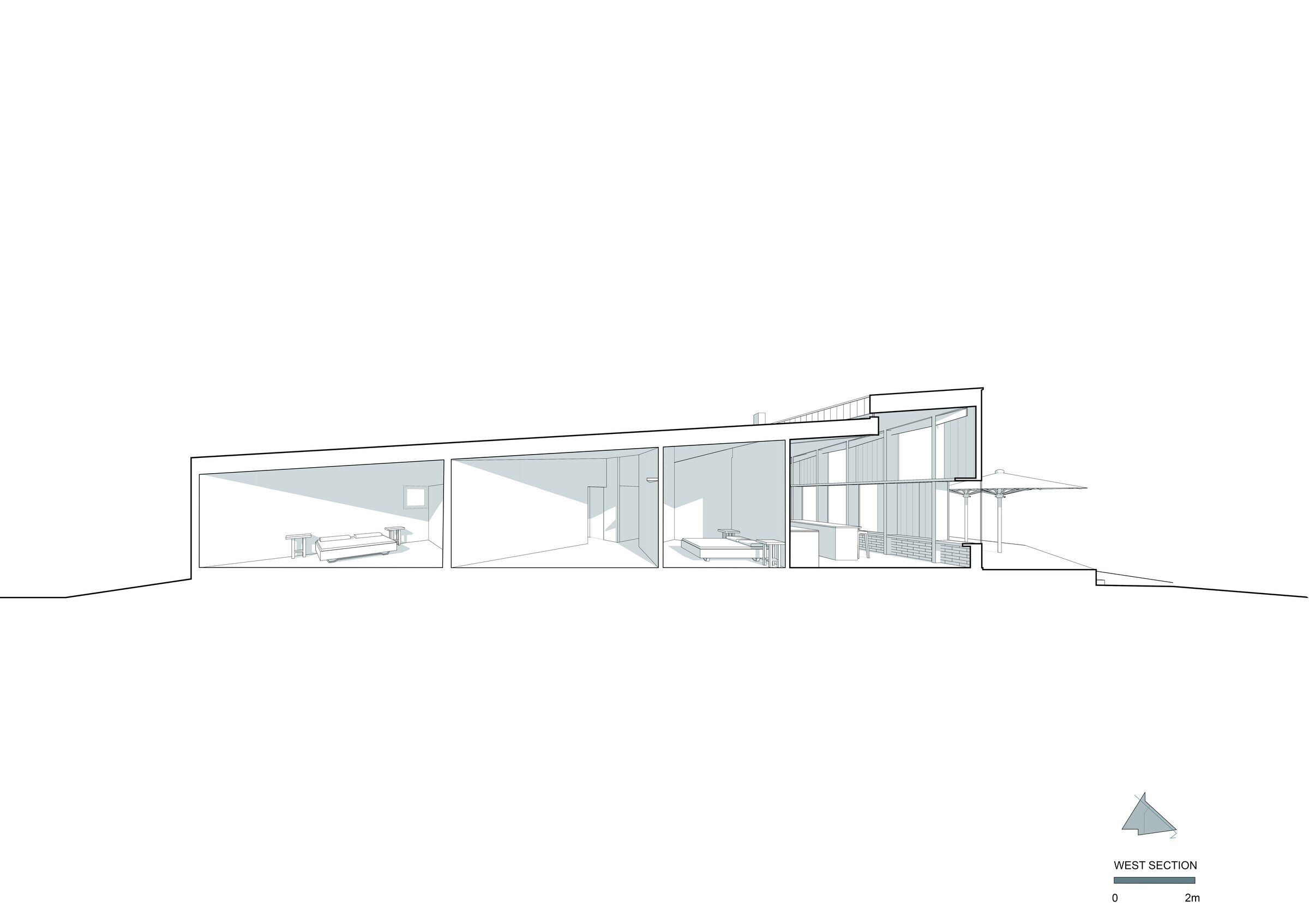 Material Used:
1. Facade cladding: Timber cladding Recycled Blackbutt by Britton Timbers
2. Flooring: Reclaimed Timber Floor Boards by Urban Salvage
3. Plant Oil Finish: Kunos Natual Oil by Livos Australia
4. Carpet: Carpet, Heavy Rustic Sisal by Floorspace
5. Bricks: Recycled Bricks by The Brick Recyclers
6. Interior lighting: About Space
7. Kitchen Joinery Finish: Timber Veneer, Steeple Oak 10% Polish, by Elton Group