Who is Board of Innovation?
Board of Innovation is an international consulting firm specializing in business design and innovation strategy. Their consultants prioritize impact and use each client's unique strengths, which results in unconventional solutions. The team's creativity is fueled mainly by diversity; they have people from more than 20 countries with working experience in a multitude of industries.
With offices in Antwerp, Amsterdam, New York, and Singapore, they're on a mission to inspire 100 million people to innovate for a better tomorrow.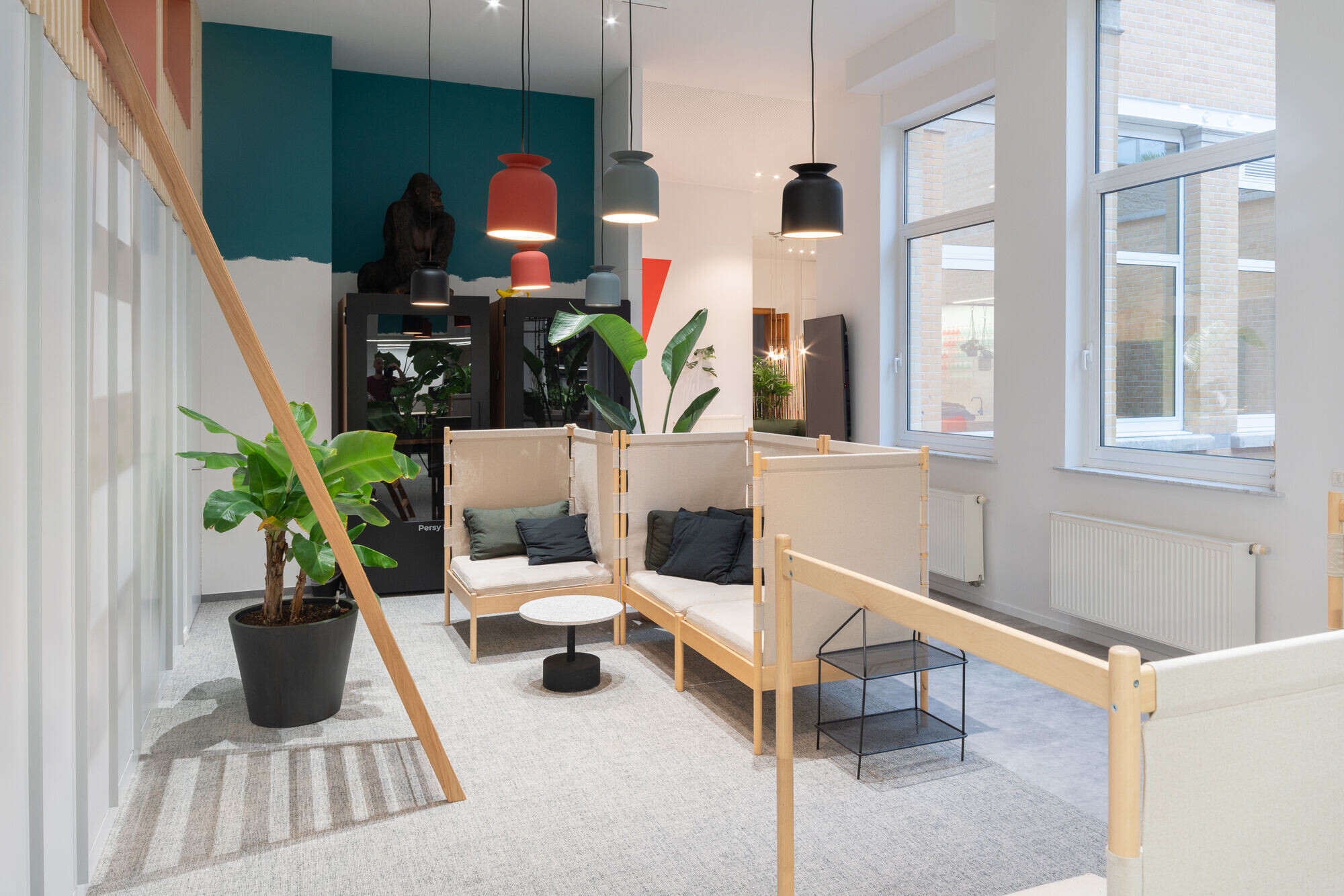 The challenge
Board of Innovation's new HQ had to reflect their culture of dynamism and non-obviousness. And it needed to support a variety of activities: focused work & meetings, collaboration & innovation, and relaxation. It goes without saying that the team also wanted to feel at home in their new space.
The building they chose is located in the heart of Antwerp and was built in the 1900s. It has a classical style with ample character, featuring a grandiose entry hall and marble staircase, 4-meter high ceilings, and a protected historical bookcase.
Our mission was to transform the interiors of this unique structure, with all its character and history, into an inspiring & modern workspace for an innovative company of today.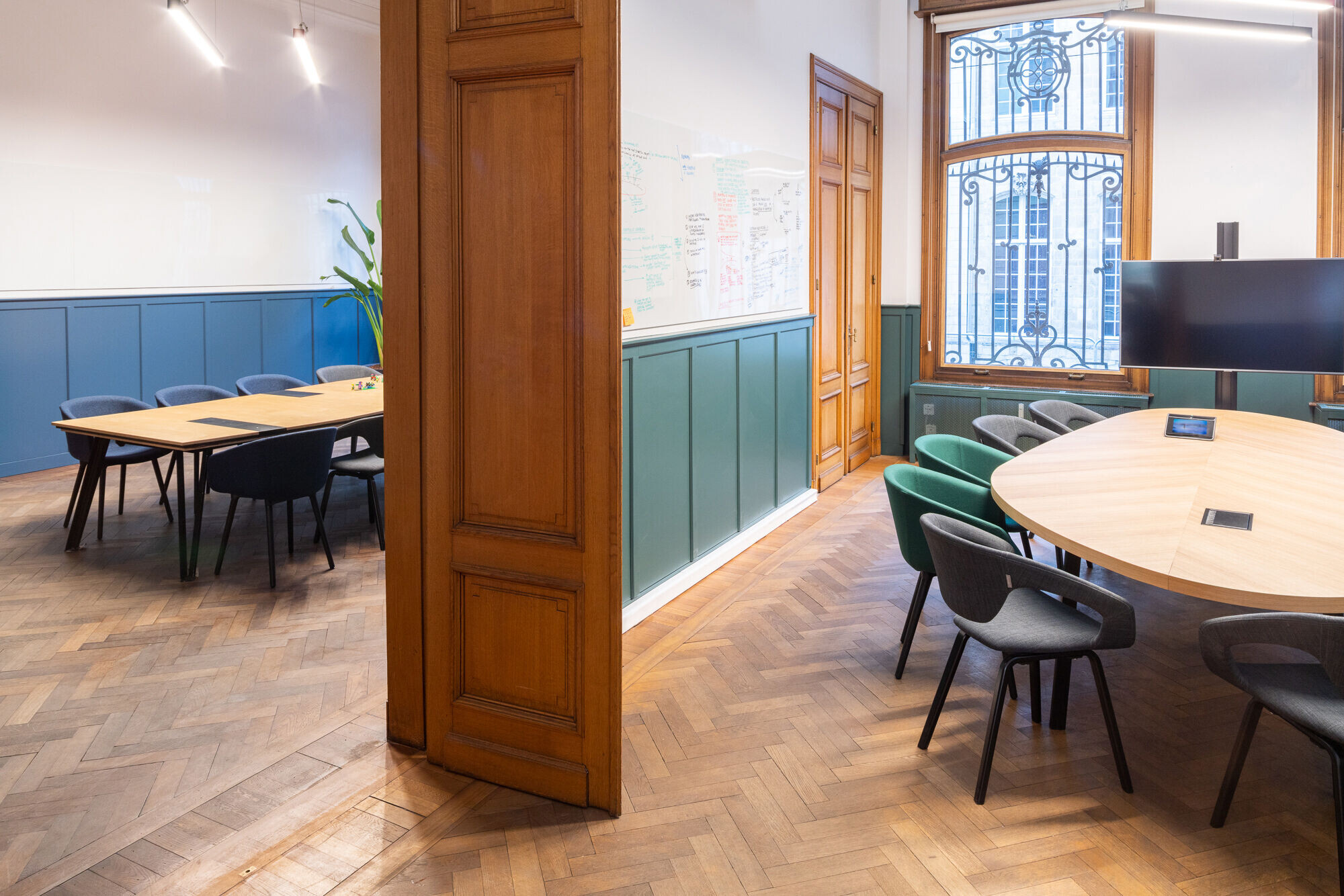 The outcome
To connect the existing elements with our design, we decided to celebrate the old in a new way and give it a new meaning. Throughout the space, you'll find custom made furnishings, bold colors, natural materials, and plenty of plants.
And, of course, some unexpected things: plants growing out of walls, a life-size gorilla, and a red mustang (cut in half) – just to name a few.
We had to reflect three keywords in the design: international, innovative, and non-obvious. We worked closely with the team to infuse the spirit of their culture through unusual decor elements, graphics, and custom solutions.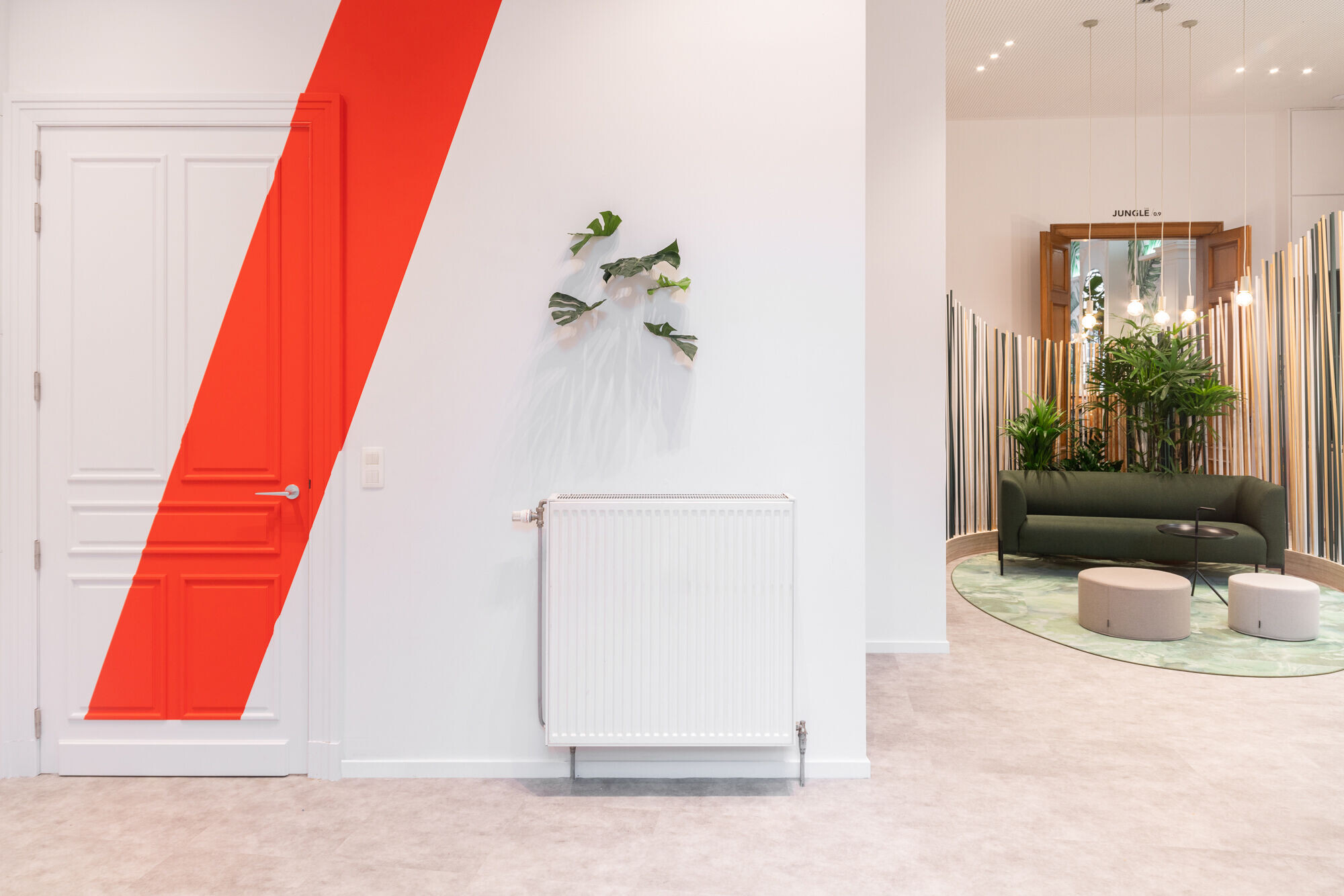 Over the three floors, we created spaces that both support Board of Innovation's activities and make clients and visitors feel welcomed.
On the ground floor, you'll find a welcome cafe alongside two meeting rooms in the front wing of the building.
The entry area is inspired by Board of Innovation's welcoming & playful culture. The key elements here are the 10m long coffee bar, the red A-frame high table, and a lounge area surrounded by a one-of-a-kind trellis.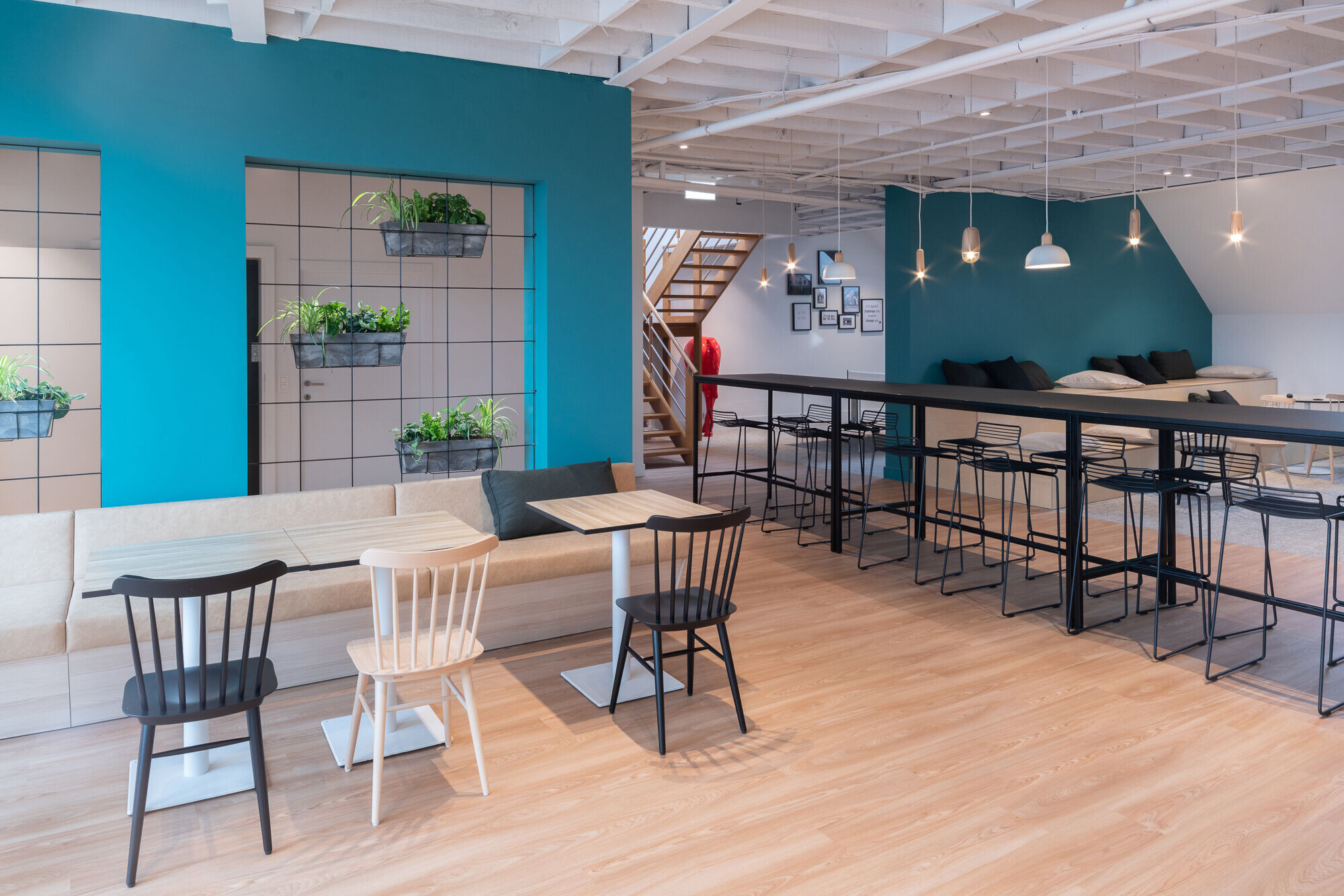 Above the coffee bar, we built a display made of 90 Erlenmeyer flasks that represents Board of Innovation's experimental approach to business design. The red forward slash is a nod to their brand identity.
On the left of this bar, you can relax on the comfortable sofa of the lounge nook. It's ringed by 190 wooden sticks assembled into a curved partition and features several pendant lights and plants to round off the atmosphere.
As you walk to the back wing of the building, you'll pass a treehouse overlooking another cozy lounge with canvas seats and jungly plants. Larger than the other lounge, this one is dedicated to the team.
The facade of the treehouse is embellished with wooden planks and a pop of terracotta color, creating fresh & welcoming vibes. Inside, on the right, a napping enclosure features a Japanese-style floor mattress, shutter windows for privacy, and all you need for a refreshing nap. On the left, an open space is set up with floor mattresses and soft pillows for a comfortable unwinding or contemplation.
A few steps further, you're in the open space where the team spends most of its time. It's defined by metal trellises and climbing greenery.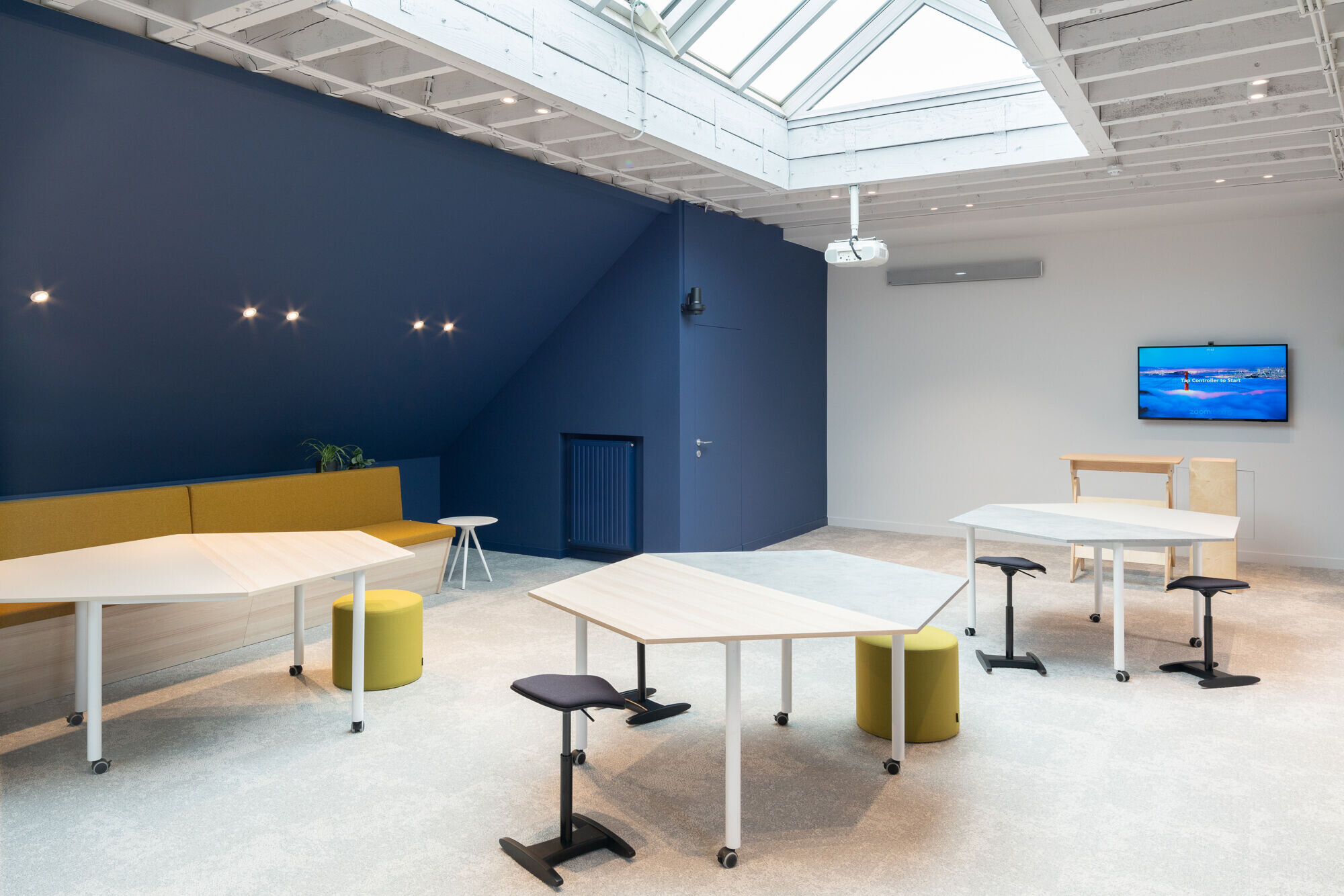 Board of Innovation is fond of plants, as they liven up the interiors, come with notable health benefits, and even have a positive impact on creativity. Here, we integrated some into a custom-designed metal structure. It adds privacy, as it separates the work areas from the circulation, but it also serves as a visual connection spanning between the two sides of the workspace. The main goal here was to create a comfortable work area for the team, in an airy and uplifting feel.
The red forward slash you see in the back is painted across the entry door and wall – as the Erlenmeyer display, it's inspired by Board of Innovation's logo.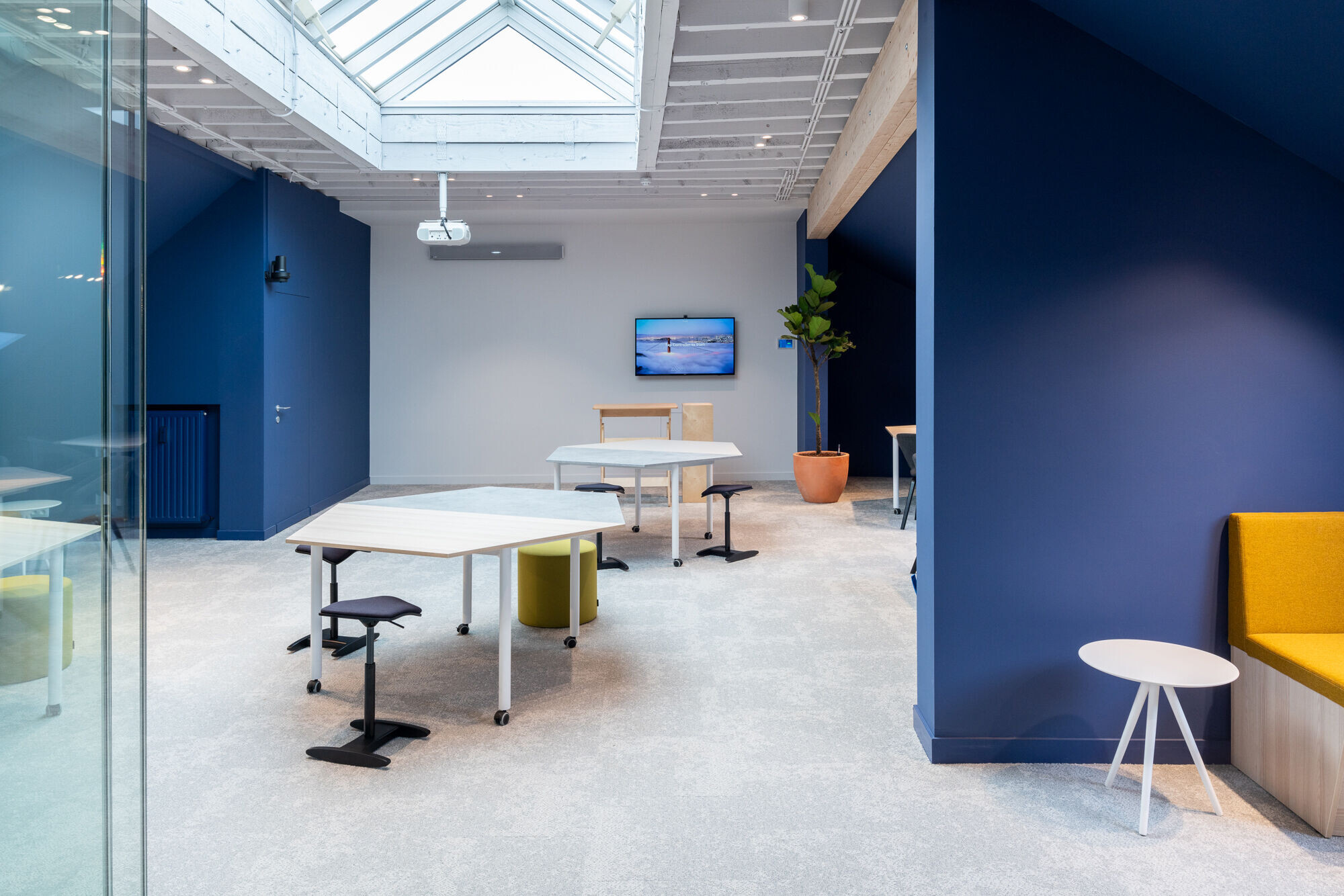 All the way in the back of the building, you'll discover a custom mezzanine featuring a beautiful spiral staircase. It's carefully built in front of the historical bookcase, which apart from a fresh coat of paint had to stay untouched. The design of the mezzanine draws inspiration from renowned classical libraries where this type of bookcase can also be found. The metal structure allowed for adding another floor and hosts several small rooms equipped for impromptu calls and meetings.
In front of the mezzanine, you can recline and read in a cozy area furnished with couches and rocking chairs. The rocking chairs represent a playful twist on its classic design, and the marble tables and wool upholstered sofas use traditional materials in a modern form too.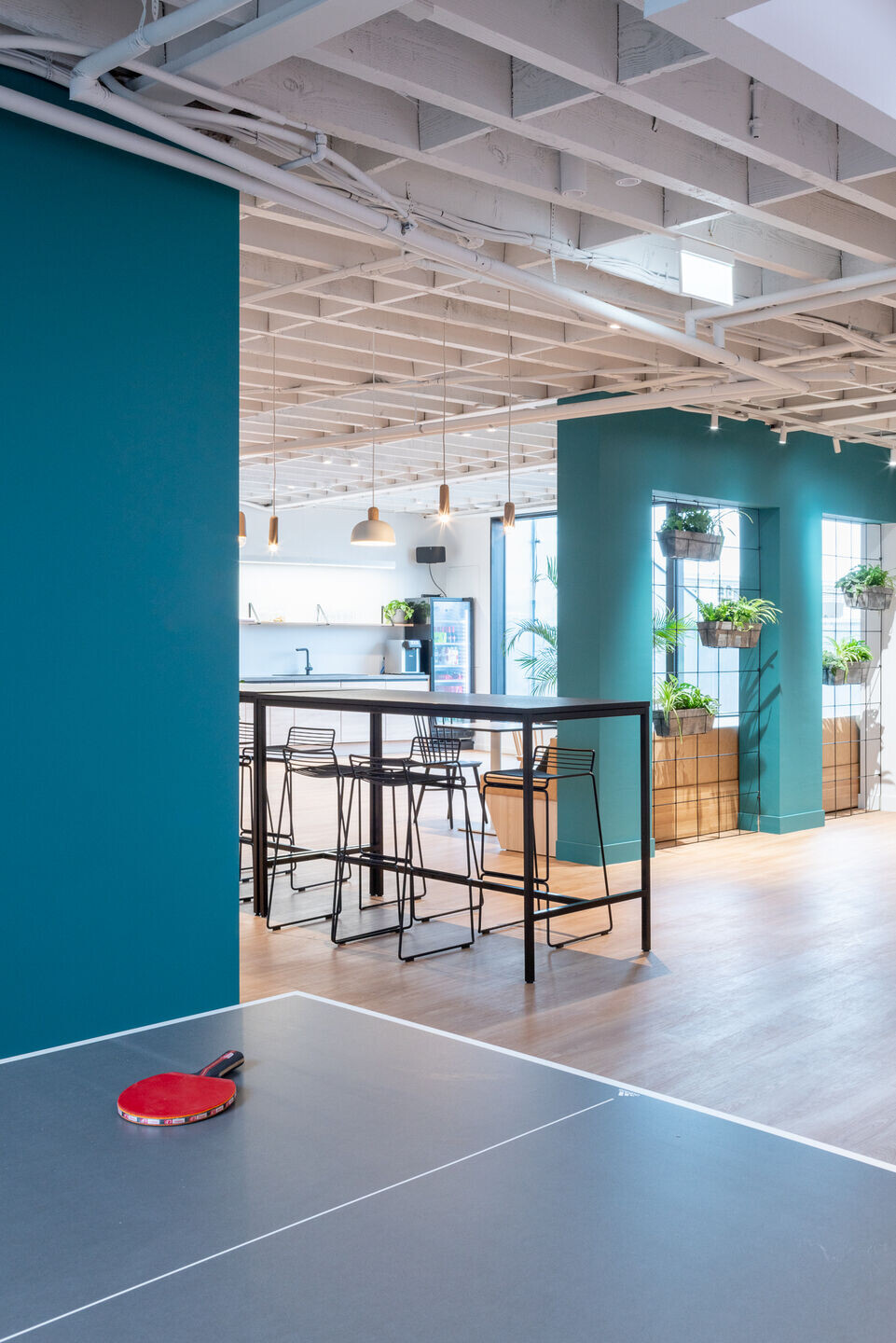 The display of flags you can see in the bookcase celebrates all the nationalities of Board of Innovation's team.
Upstairs, the third floor of the building is designed for disconnecting from work, re-fueling, and relaxation with the team.
One of the highlights here is the newly created terrace. It's the perfect spot for sunset after-works, sunrise breakfasts, or simply stepping out with a cup of coffee to enjoy the spectacular view of downtown Antwerpen.
The blue-green accent color we chose here is complementary to Board of Innovation's brand red, and it can also be found in the open space on the ground floor.
This floor also features a large cafe-bar and a closed kitchen for catering, a tribune area set up for informal meetings or projecting movies, and a play area to get the ping-pong game on.
The fourth floor is set up for interactive workshops. This attic level comes with its distinguished character – a large central skylight, wood beam ceiling, and sloped walls with several side windows.
It's a place to exchange ideas, so the team nicknamed the room "The Arena." With its high energy feel and flexible furnishings, it's always ready for both internal and external business design sessions.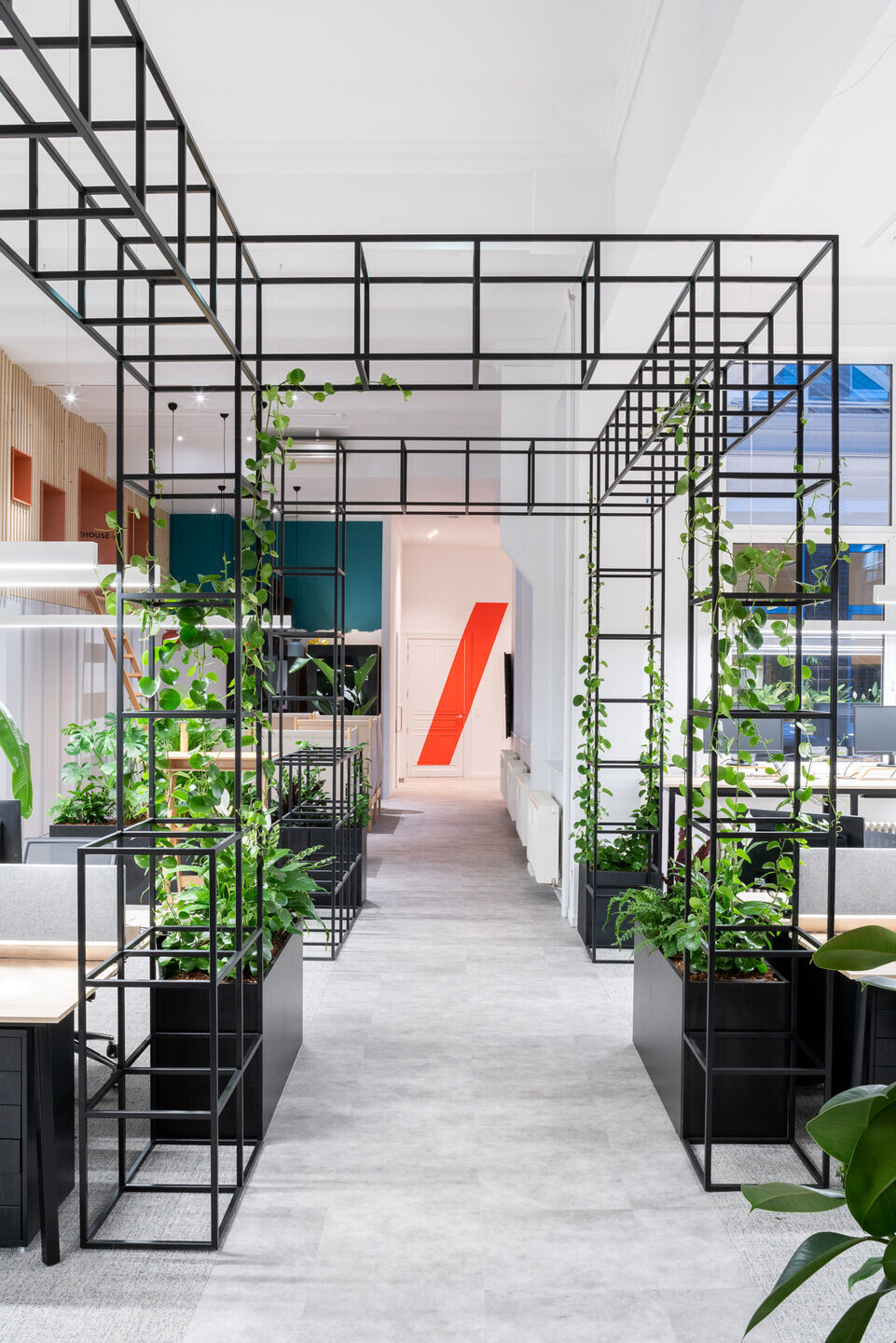 For better usability, the floor is covered with acoustic carpet that reduces echo and helps to make this space suitable for larger groups. And the walls are painted in cosmic blue, suggesting that "sky is the limit."
This floor was previously separated into several rooms and had storage areas underneath the sloped ceilings. Removing the majority of these walls created the desired large open space, which we then furnished with modular furniture to encourage creativity.
We also designed custom-sized benches that fit perfectly under the slope, providing extra seating for workshop participants.
Board of Innovation's new workspace was designed to welcome a team of unconventional thinkers and doers, and support their wide range of activities. We're thrilled to hear that the team already feels at home and is inspired by our design.
And the best part? Knowing the wit and creativity of the team, we look forward to seeing the space get shaped over time into something that's even more unique, and genuinely theirs.