The project involved the complete renovation of a 65 m² 4th-floor apartment in a typically Haussmann style building built around 1855 in the 5th arrondissement of Paris. This two-bed apartment had not had any major work done on it for several decades. It had no real bathroom, just a small shower tray, a toilet and a handbasin.
It is a tale of layering. Or how to apply current uses to a 19th-century space plan.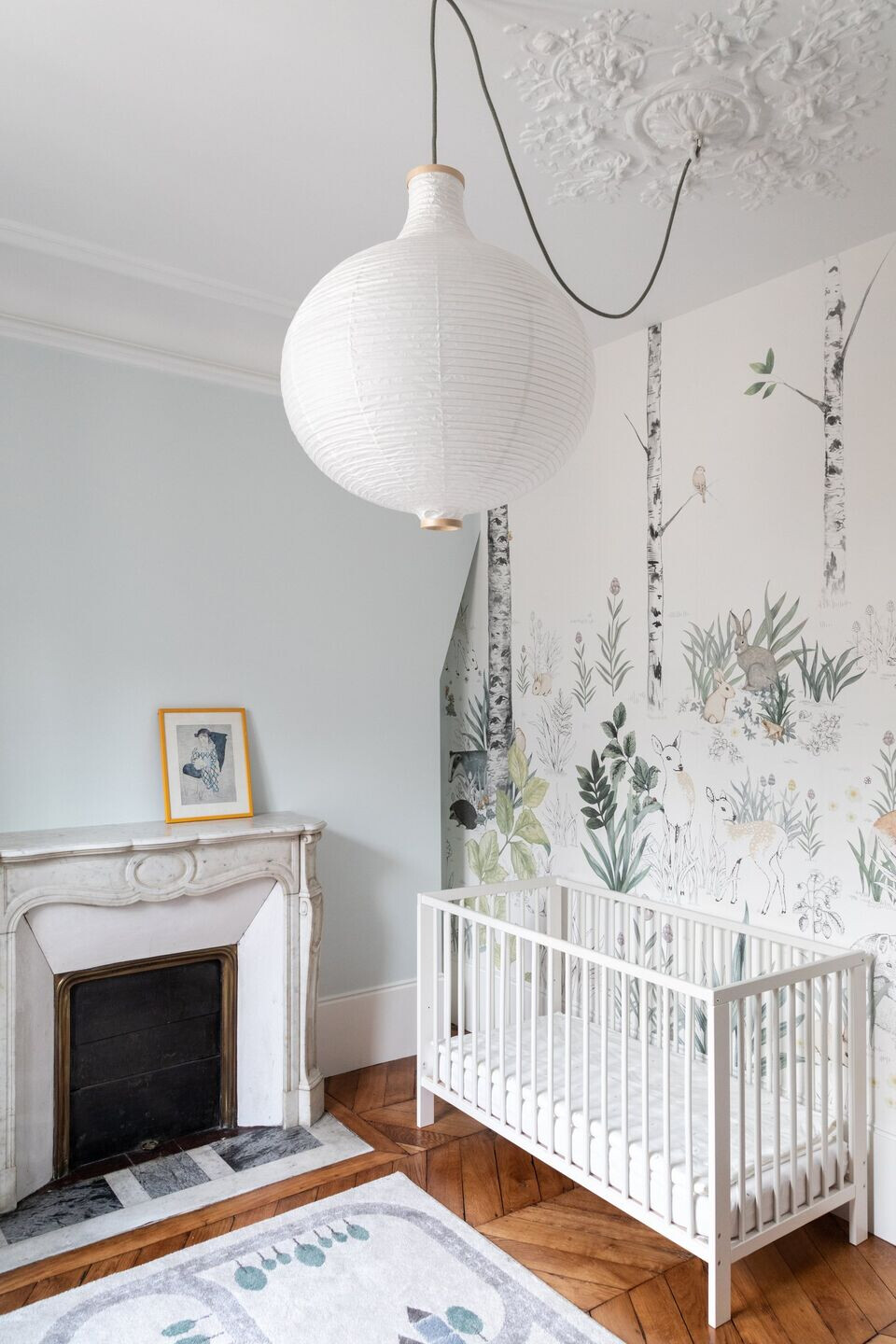 We quickly decided to partially open up the load-bearing interior wall to place the living space perpendicular to the building's facades. Unlike how this type of renovation is usually done, we did not opt for a floorplan where the kitchen-living room is placed along the facade, next to the road, while the bedrooms and bathrooms are located on the other side of the interior wall next to the courtyard. We chose to liberate ourselves from the structural constraints of the load-bearing wall and instead take advantage of the east-west-facing dual-aspect space and the pretty view over the rooftops offered by the centre of the block.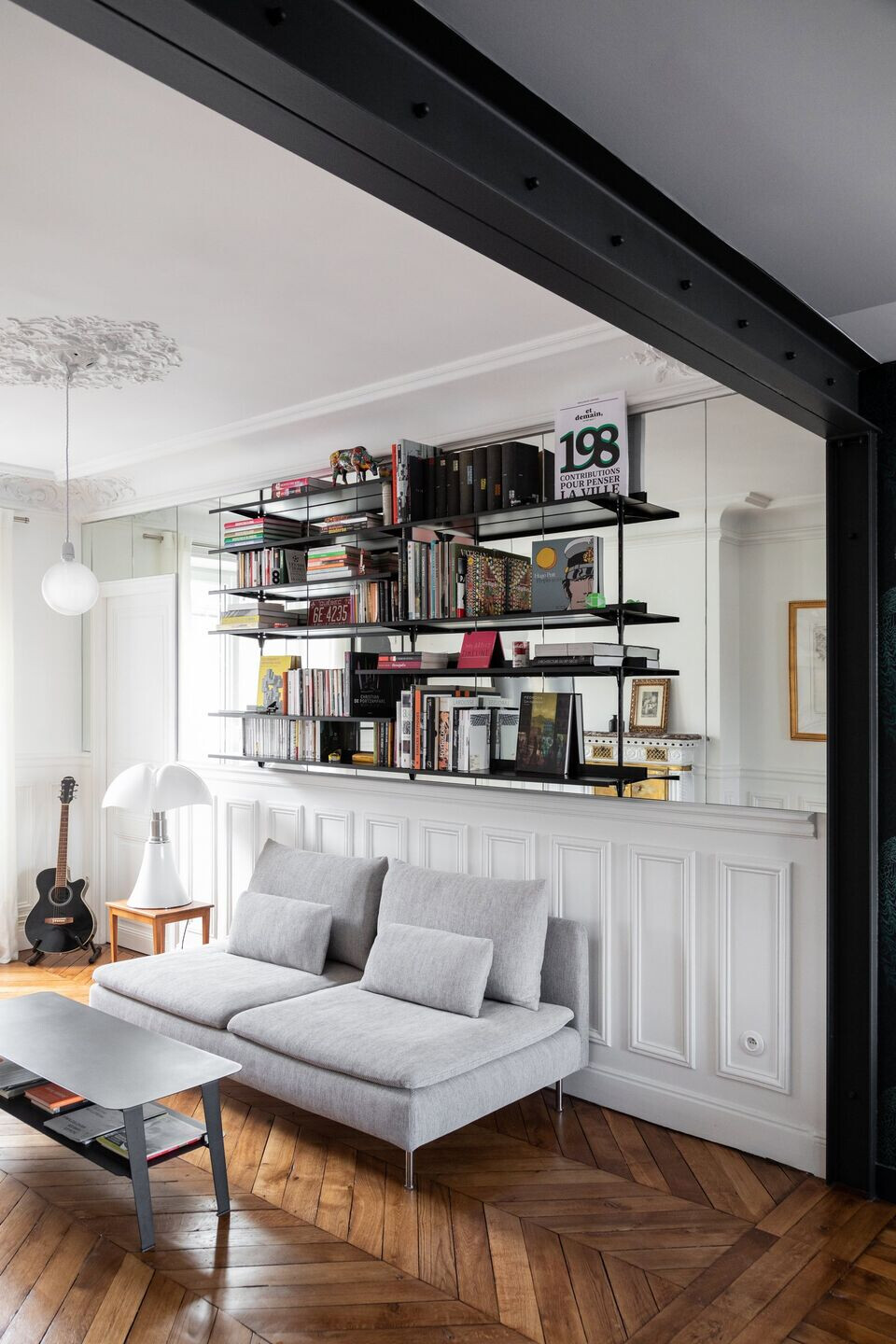 This enabled us to group the living room, dining room and kitchen together in a vast dual-aspect space that gets direct sunlight in the morning and evening. The theme of layering is also reflected in the choice of materials and finishes. We used very bold wallpaper combined with midnight blue paint to highlight the presence of the former corridor and the interior wall, creating the historic backbone around which the entire project revolves. The steel and mirror bookshelves, the polycarbonate partition, the stainless steel and birch kitchen, and the Ceppo di Gre bathroom are the contemporary touches we arranged within the existing space. While the herringbone parquet, the Prussian stove and other fireplaces, the moulding and other wall decorations remain in pride of place. This is what we like to call "contemporary overlay", creating a new architectural identity.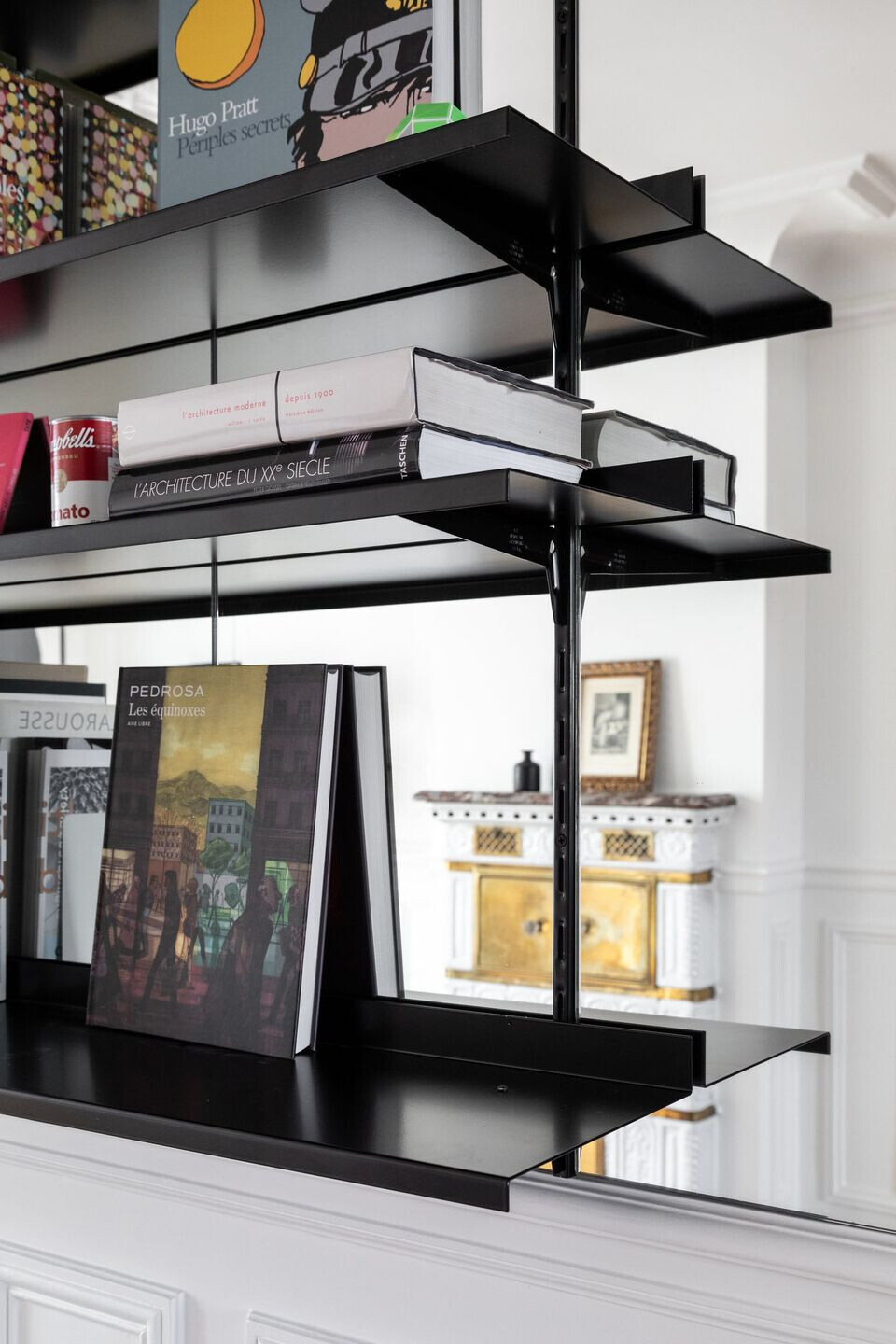 The apartment is now rid of its Haussmannian shackles. It can once again house a family by offering a few new benefits that we now all have a right to demand in the centre of a hyperdense city: views, room to breathe and more natural light throughout the day, all year round.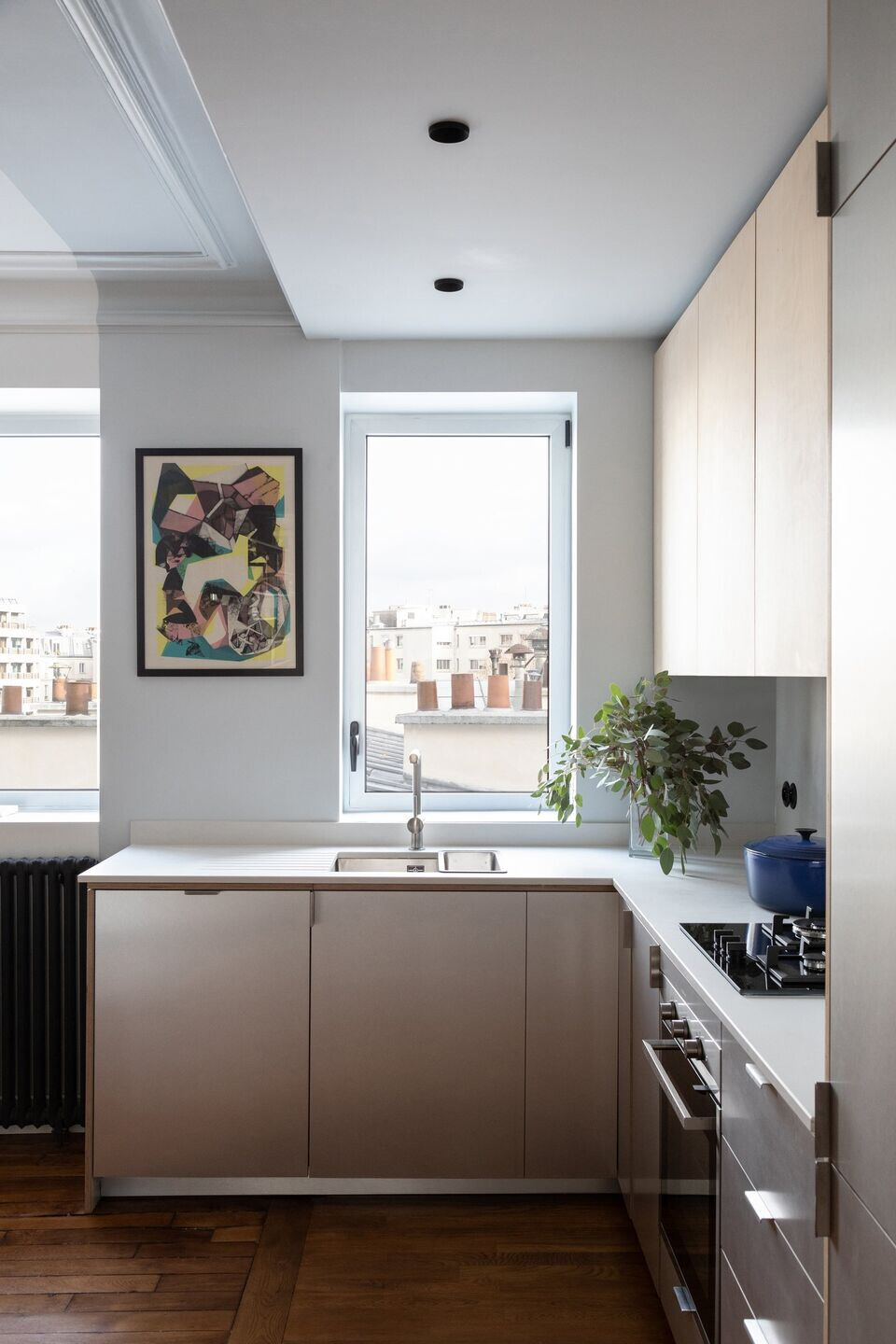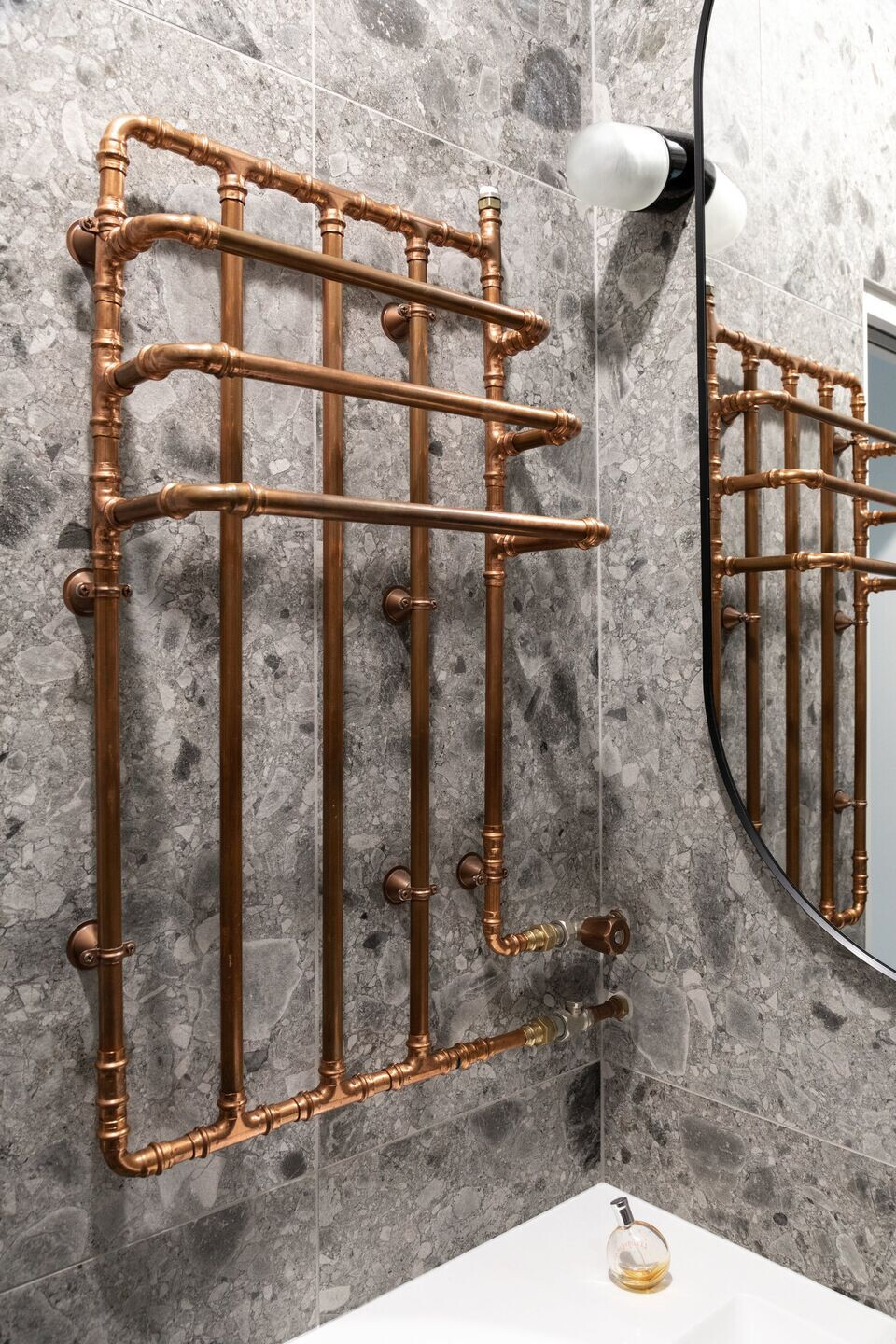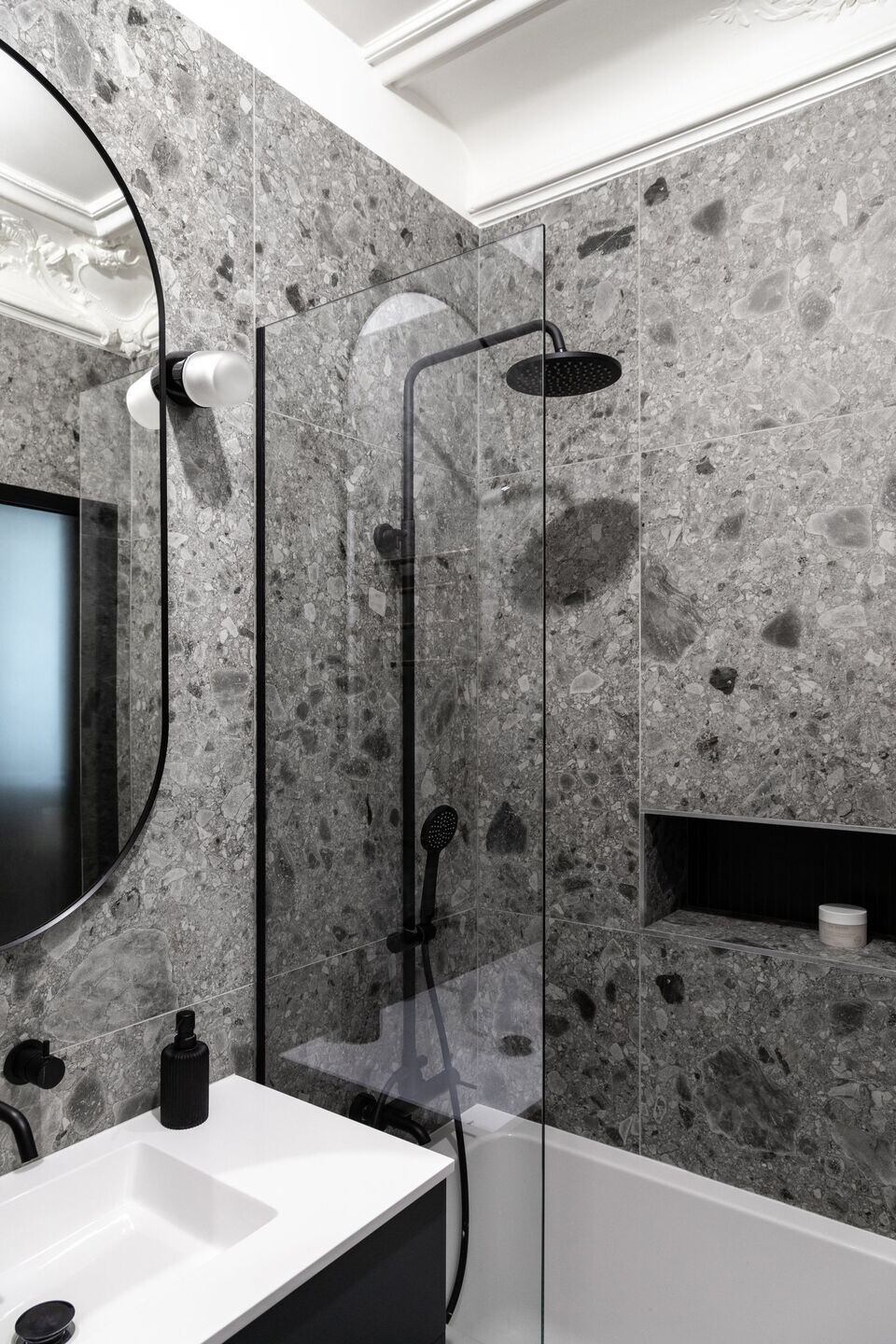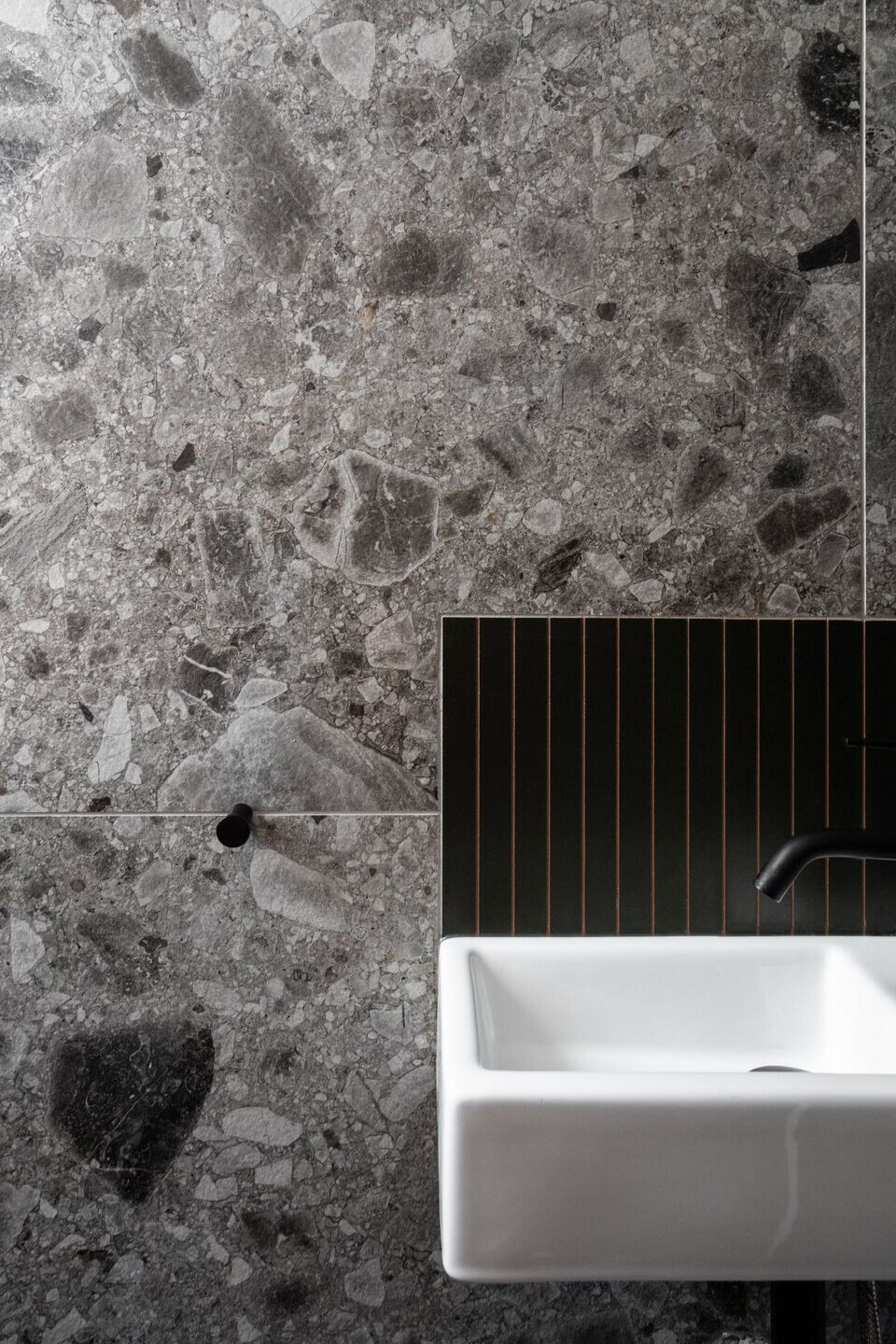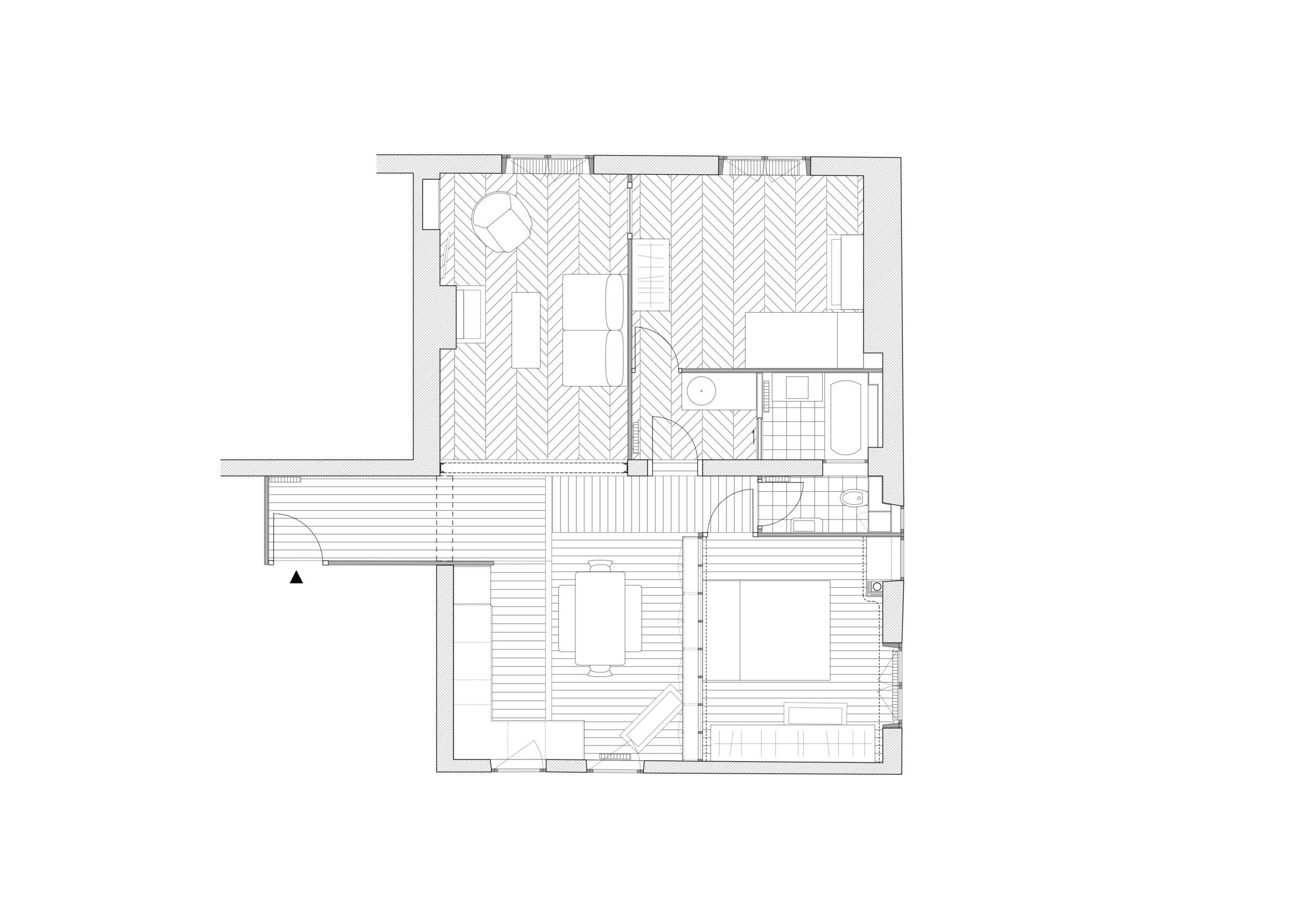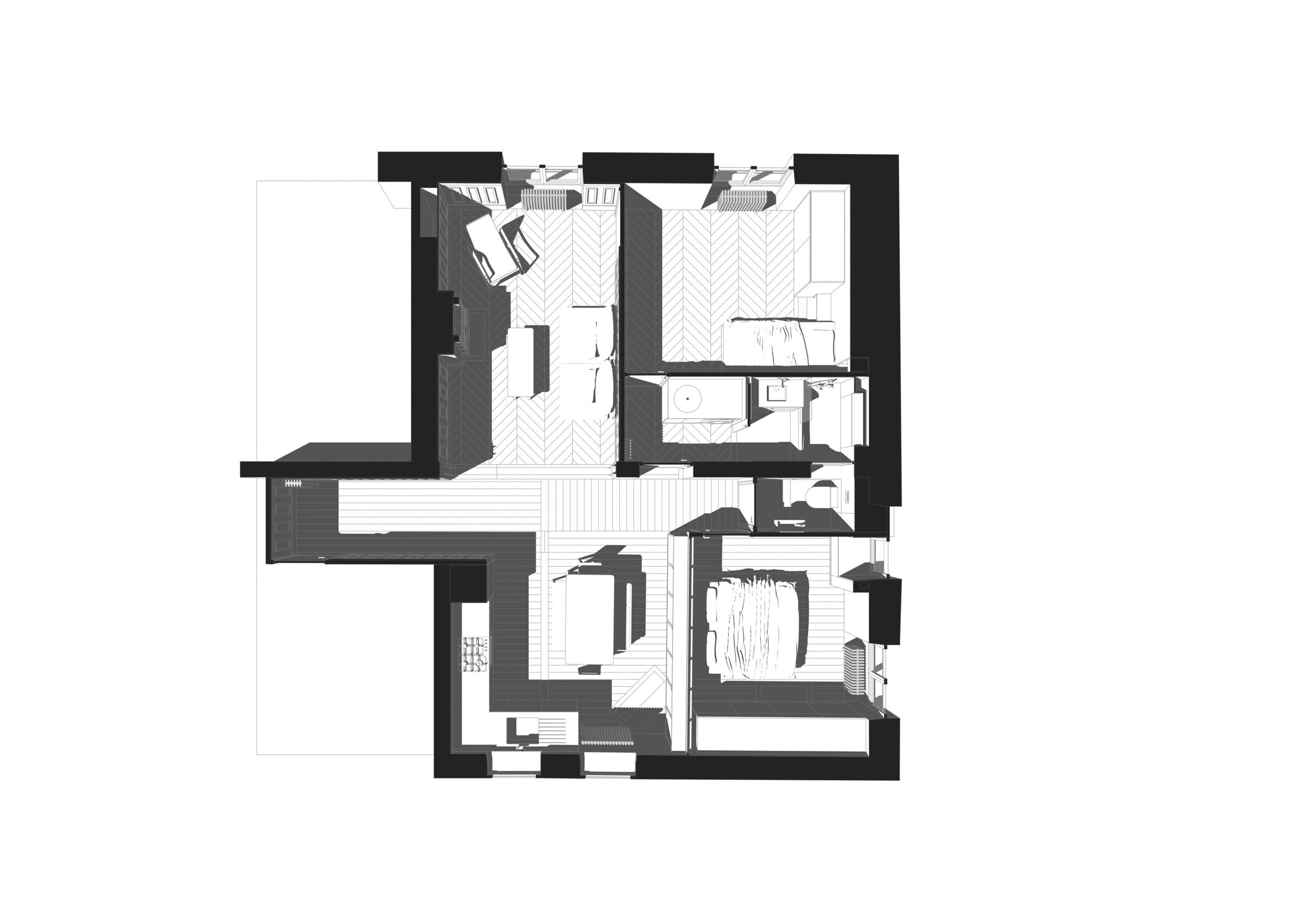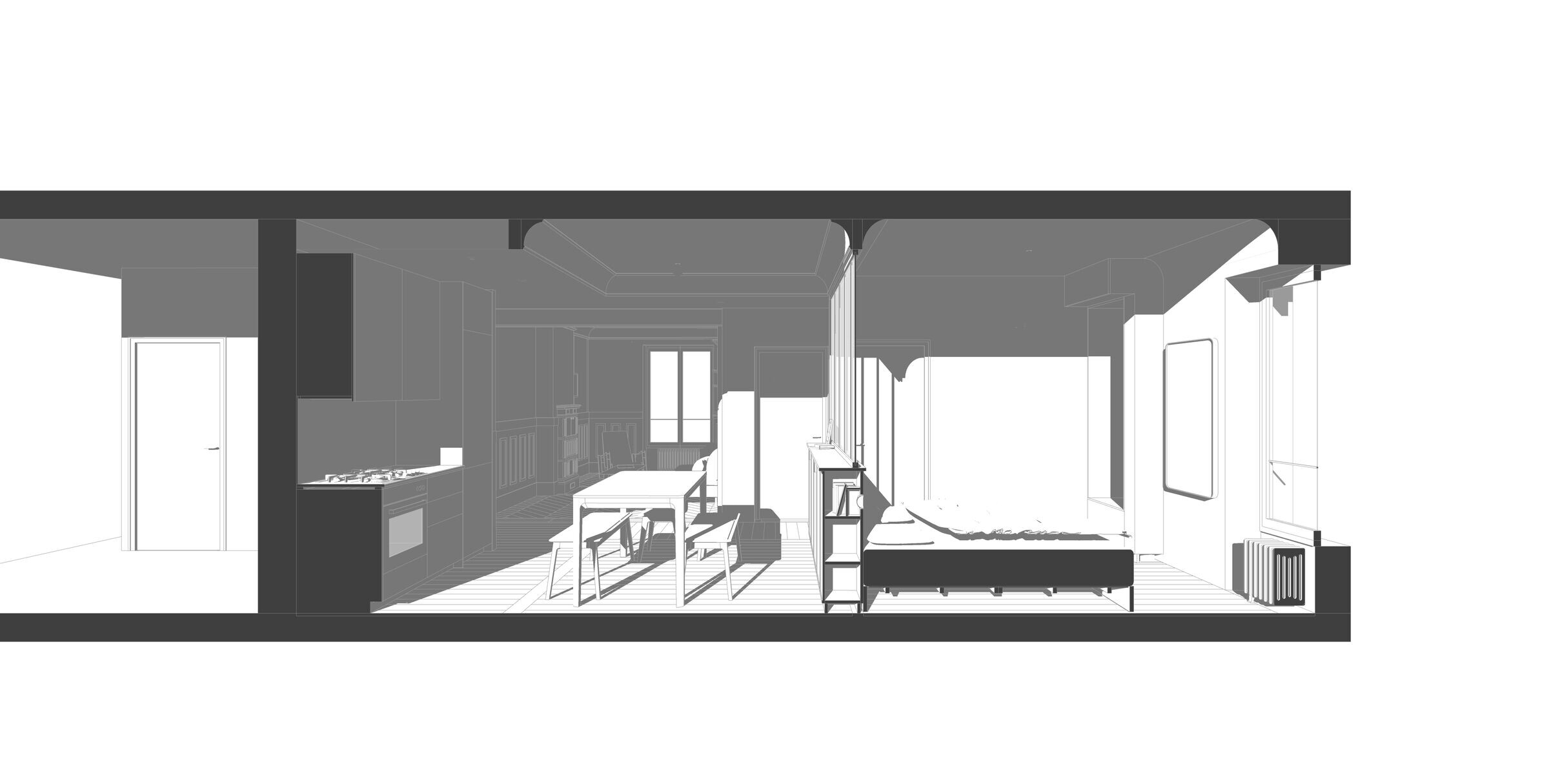 Material Used:
Floor covering:
• Parquet (former parquet and new parquet)
• Tiles (new tiles)
Walls:
• Wallpapers
o Supplier: Au fil des couleurs
o Cole and Son
o Borastapeter
• Paint
• Tiles
o Supplier: Linea carrelage
o Living ceramics in the bathroom
o Ceppo di gre in the bathroom
Ceiling systems: Classic suspended ceiling, Placo
Lighting:
• Zangra
o Switches and sockets
o Lights
• Modular
o Hollow
o Smart kup
Furniture:
• Dining Table & Bench Set, Asuna by Made.com
• Pipistrello lamp
• Kitchen cabinets: Cubro
• Kitchen quartz countertop: Pierre de plan
• Couch: Ikea
• Coffee table: La Redoute
Ironwork: Bespoke steel bookshelves
Sanitary equipment:
• Roca (bathtube)
• ASM taps (bathroom taps + shower)
• Grohe (kitchen tap)
• Siemens (gas hob + kitchen extractor)
• Ikea (oven + built-in dishwasher + fridge)
Sanitary installations:
• Ventilation (bathroom and laundry room): Atlantic - Ventilation simple flux
• Cast iron radiators: Frederic Matt
• Gas boiler: ELM Leblanc
Light switches/ building management:
• 70% Zangra
• 30% Legrand