Rammed earth building becomes first new addition to Jewish cemetery in 50 years London-based architecture studio Waugh Thistleton has completedthe extension of Bushey Cemetery in Hertfordshire,creating two new prayer halls and a series of service buildings for the United Synagogue.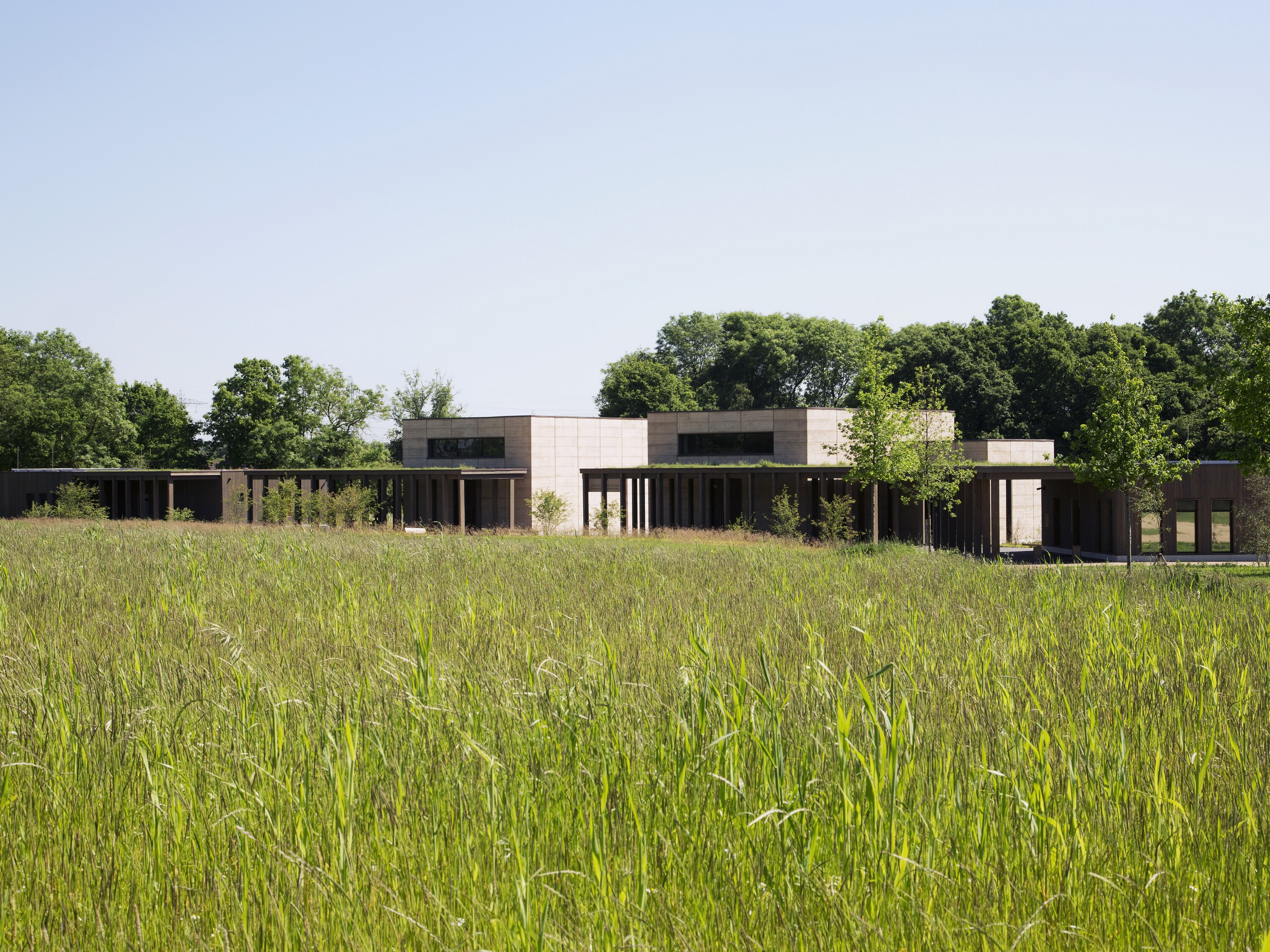 The £6.12m scheme, which has enlarged the UK's most significant Jewish cemetery,represents a milestone for the local religious community as it marks the first new consecration of a United Synagogue burial site in the UK in 50 years.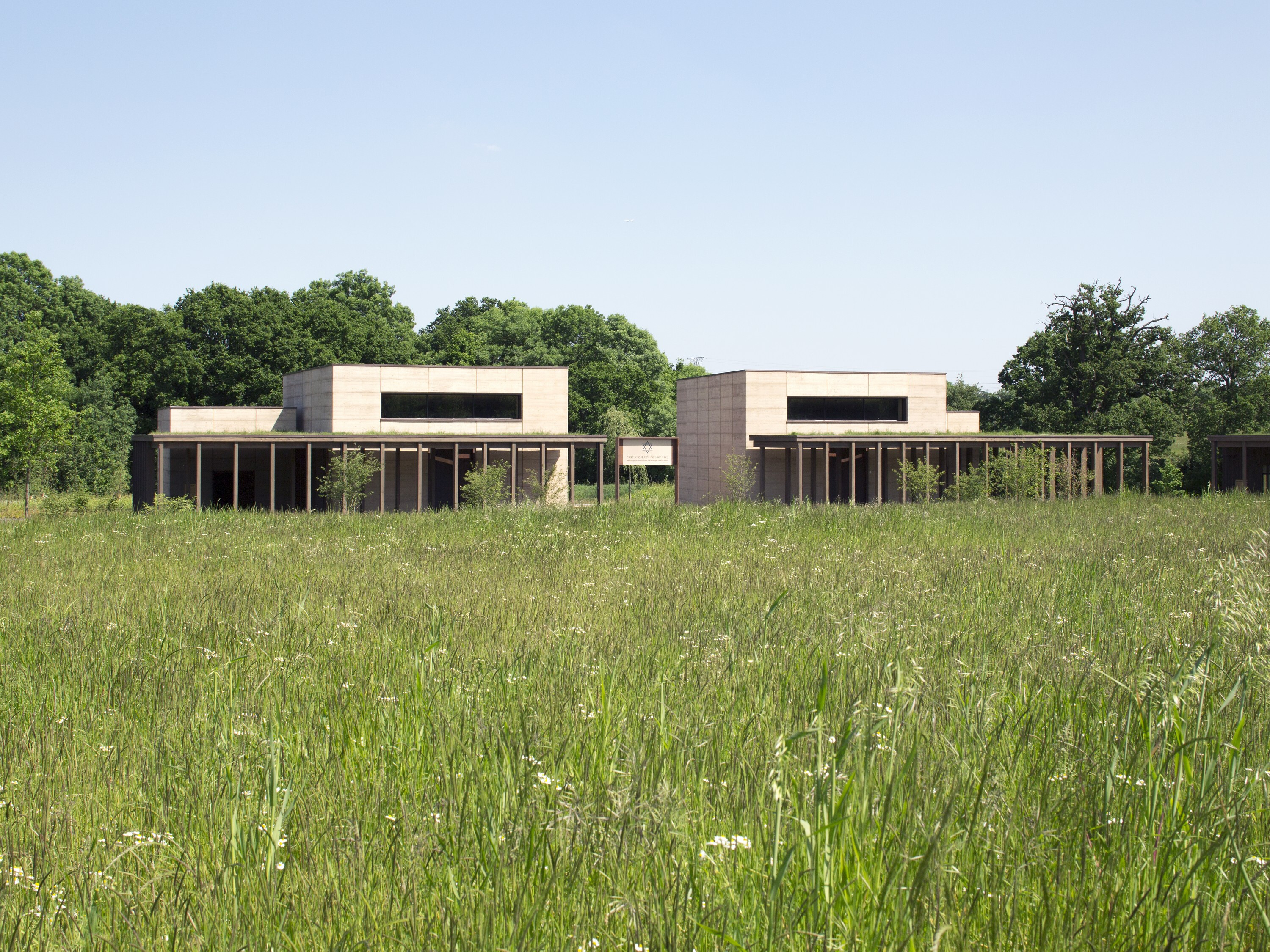 A sensitive, considered design, Bushey Cemetery's main ceremonial space wasformed from rammed earth and clad internally in English oak, creating a calm environment accentuated with indirectlighting. Rammed earth, a natural mix of compressed soil excavated on site, lime stone and sand, creates a durable yet biodegradable structure, echoing the return to the earth by the departed.
Andrew Waugh, director at Waugh Thistleton, said: "In order to create an understated, yet impactful space that supports the flow of the funeral procession through its layout and design, it was necessary for Waugh Thistleton to work closely with the client to gain a detailed insight into the Orthodox Jewish burial practice. Through their materiality the prayer halls offer a natural space that enhances the spiritual nature of the cemetery, despite the absence of any implied typology. The use of rammed earth as the main building material creates a strong connection to the cyclical nature of life and death, while simultaneously addressing the sensitivity of the Greenbelt site."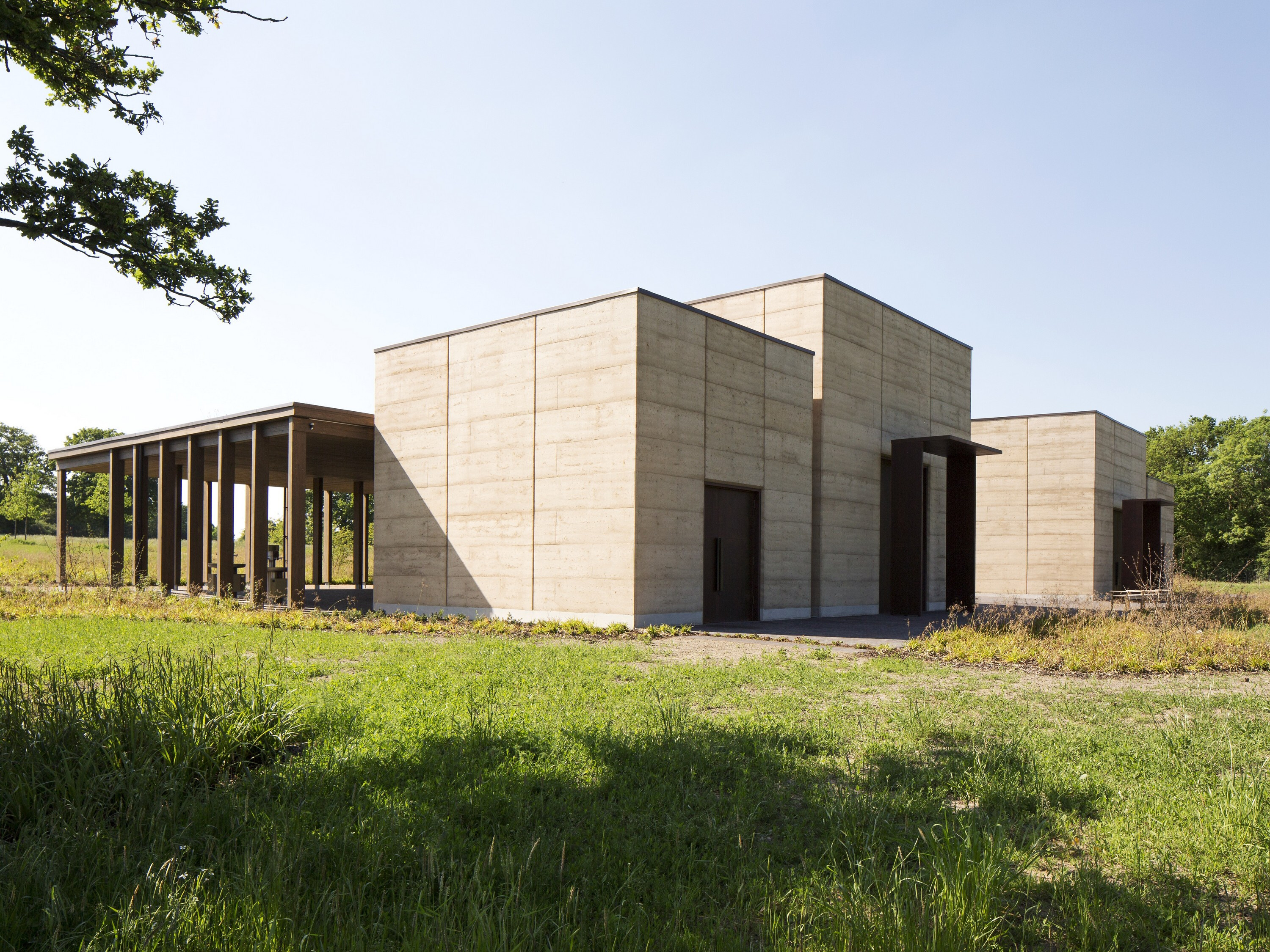 Members of the funeral procession enterthrough large cortensteel doors into the timber reception building. From there, along colonnade acts as a clearly defined route leading towards the prayer hall buildings. Thefloor of the halls slopes gently, guiding the eye towards the front of the room. This area, flooded withnatural light from a clerestory window is designated for the rabbi and the coffin. Upon exiting the prayer halls, atapering path between the buildings marks the route to the graveside, which is lined by ancient oaks.
The landscape surrounding the religious buildings was designed by landscape architects J & L Gibbons.Set within London's Greenbelt, the site's landscaping acts as a natural setting for each step in the processional ceremony, providinga contemplative environment and subtle guidance to mourners and visitors.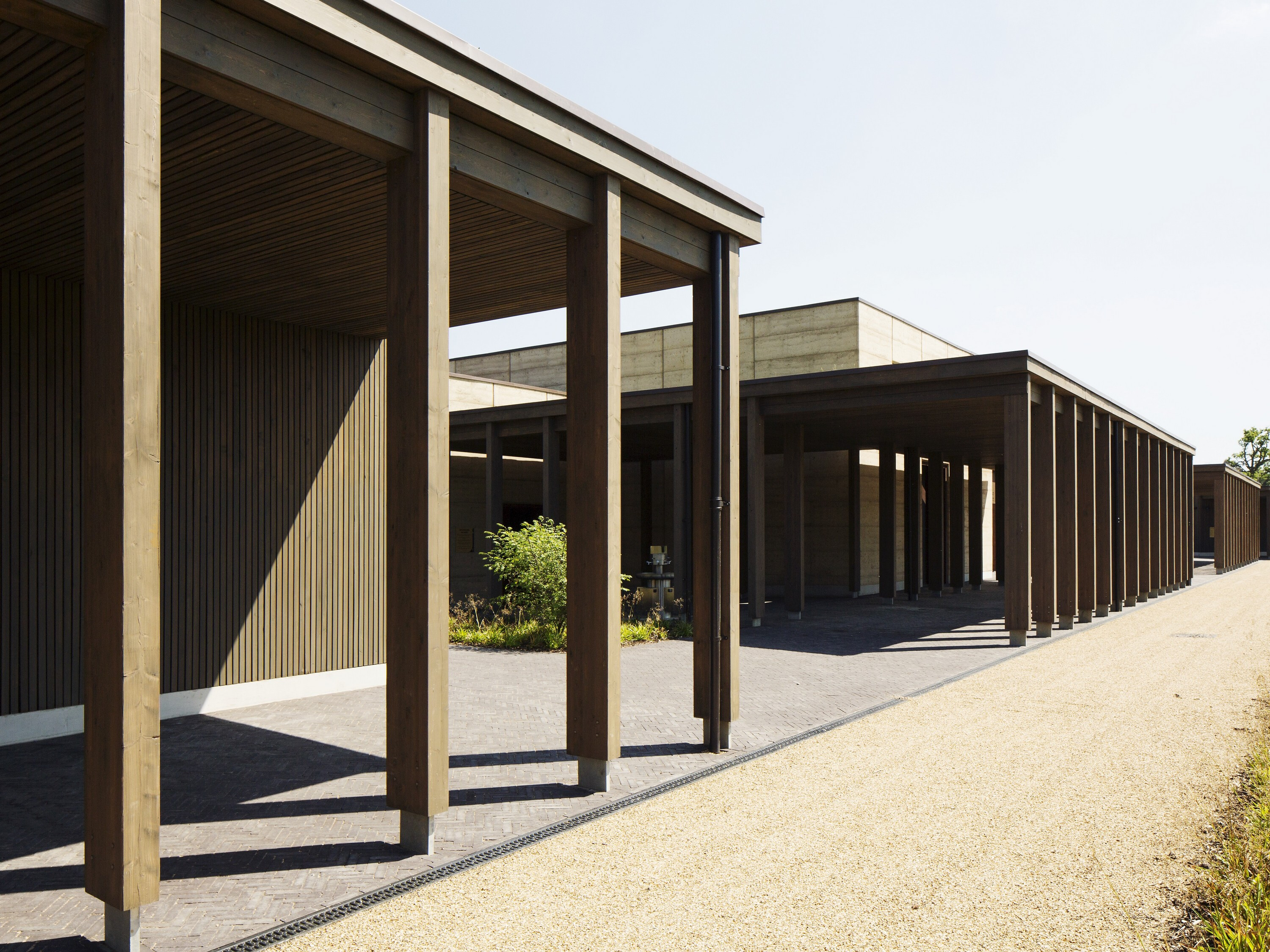 Bushey Cemetery was created in collaboration with engineers Elliott Wood.James Souter, Associate at Elliott Wood, said: "This was a fascinating opportunity to work with a construction technique seldom employed in the UK on one of this country's most significant Jewish burial sites. We worked closely with Waugh Thistleton and rammed earth specialists to provide a robust solution that delivers the ambitious 7 metre high structures for the prayer rooms with simple, elegant detailing."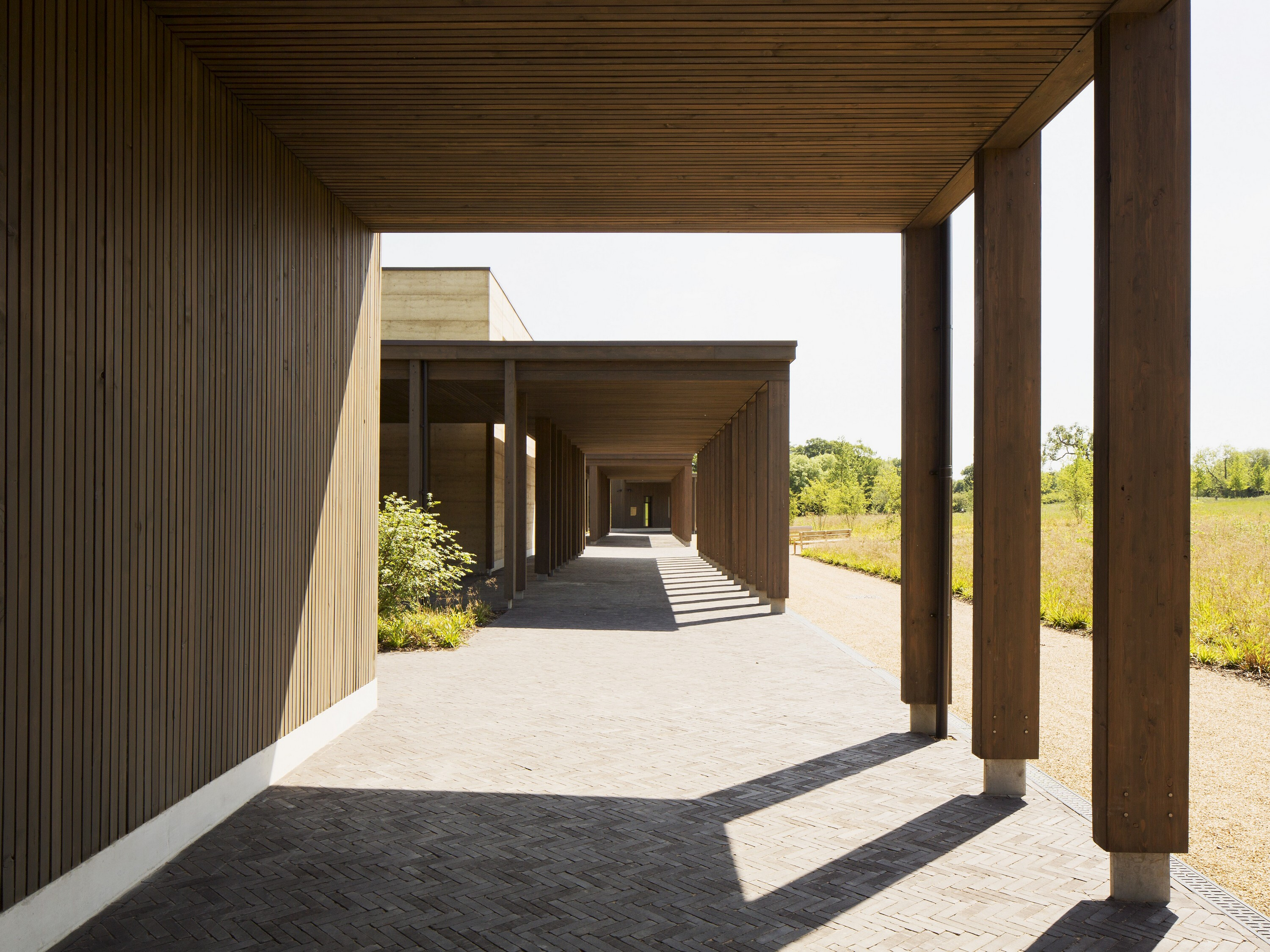 LaliVirdee, Property Director at the United Synagogue said: "The expansion of Bushey New Cemetery is a visionary project for this sector, it makes creative use of natural materials in a way that recognises and harmonises with the cycle of life. We would like to thank all those involved in the project for creating a unique space that will help us continue to care for our members and their families in a dignified and respectful manner for years to come."