Café Teatro is a place that invites you to look outside the screens of cell phones and televisions, to immerse yourself in the proposed body-architecture and body-space. The appreciation and experience of plural stimuli, visual, form, sound, danced and tasted, sharpens our senses through an immersion. It's about seeing the magic that's available to us, waiting for us to appreciate it.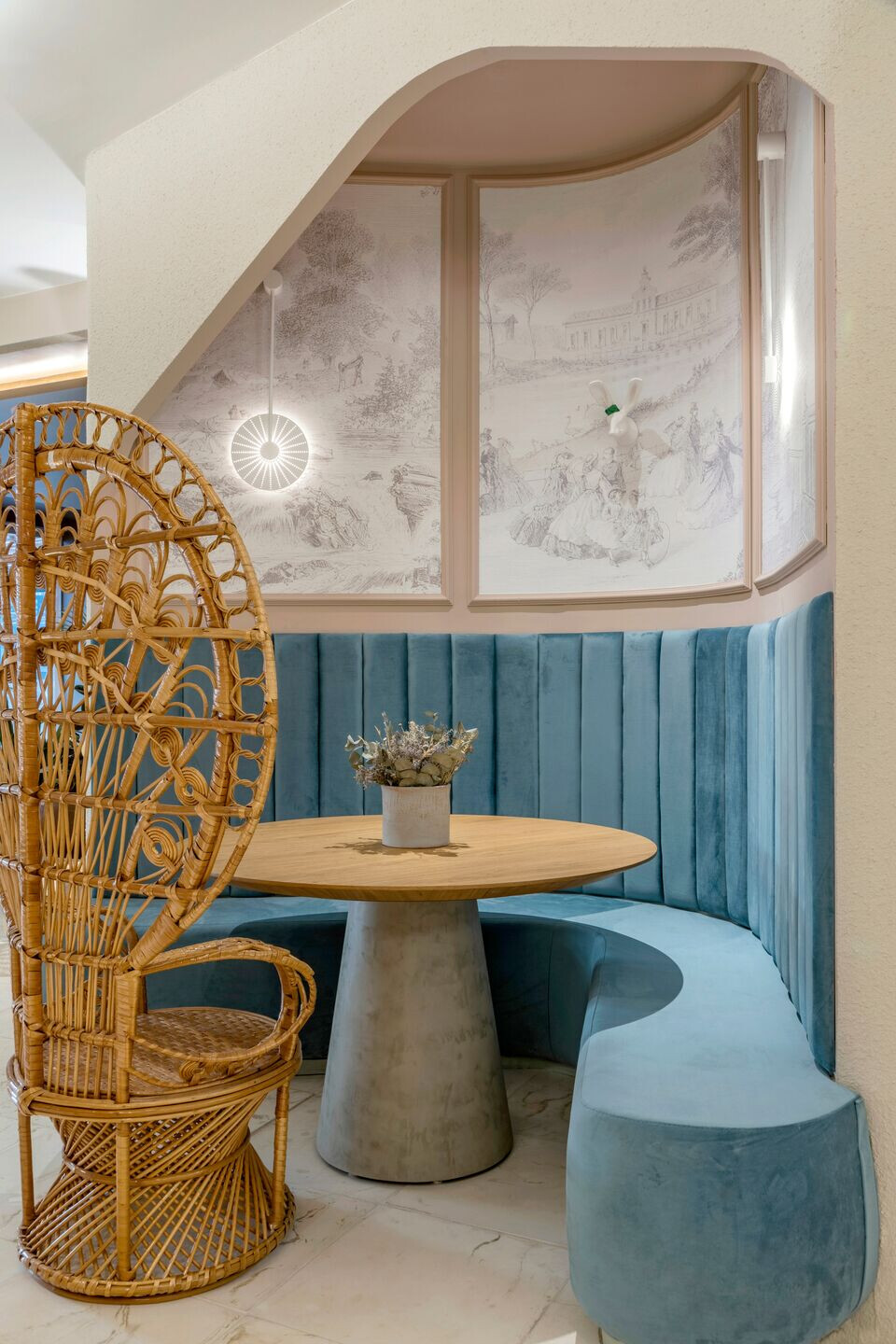 We, Rodrigo Ferreira from @rodrigoferreira.arq, Isabella Tonelli from @istoarquitetura and @studioorbitta, invite you to our exhibition/immersion at "Café Teatro".We are waiting for you in this space of encounter with ourselves, the other, art, color and form, where the daring and charm of being present in our body-spaces and in diverse pluralities, will make a home in our lives.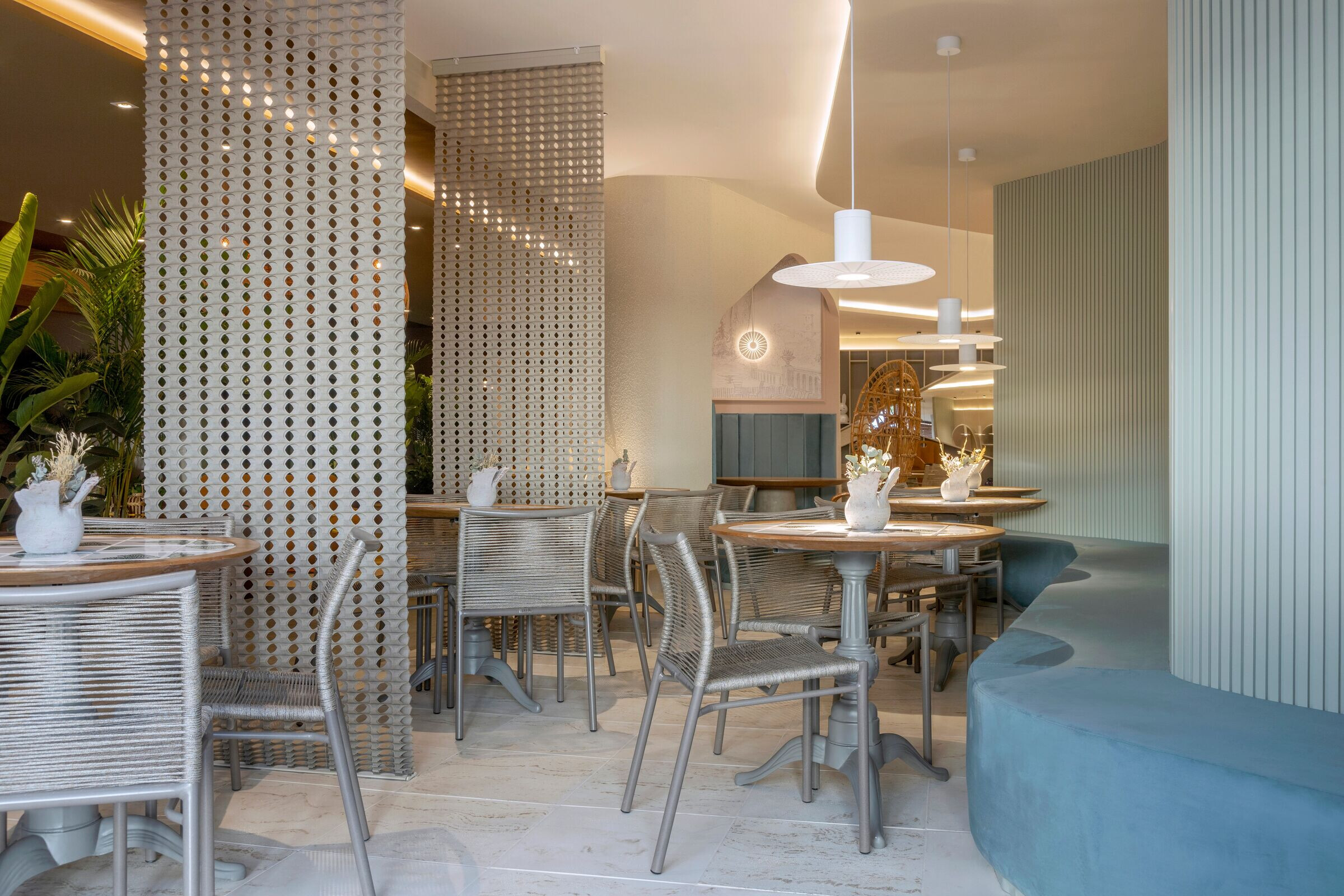 With minimalist influences, the environment is designed in pastel tones, where scenic lighting will give color and intensity to the environment during the performance moments. Tidelli's furniture and the exclusive design of the tables, benches, walls and ceilings, remind us of the playfulness proposed by the architects. Pieces signed by the artist Marcus Camargo bring life and personality to the space.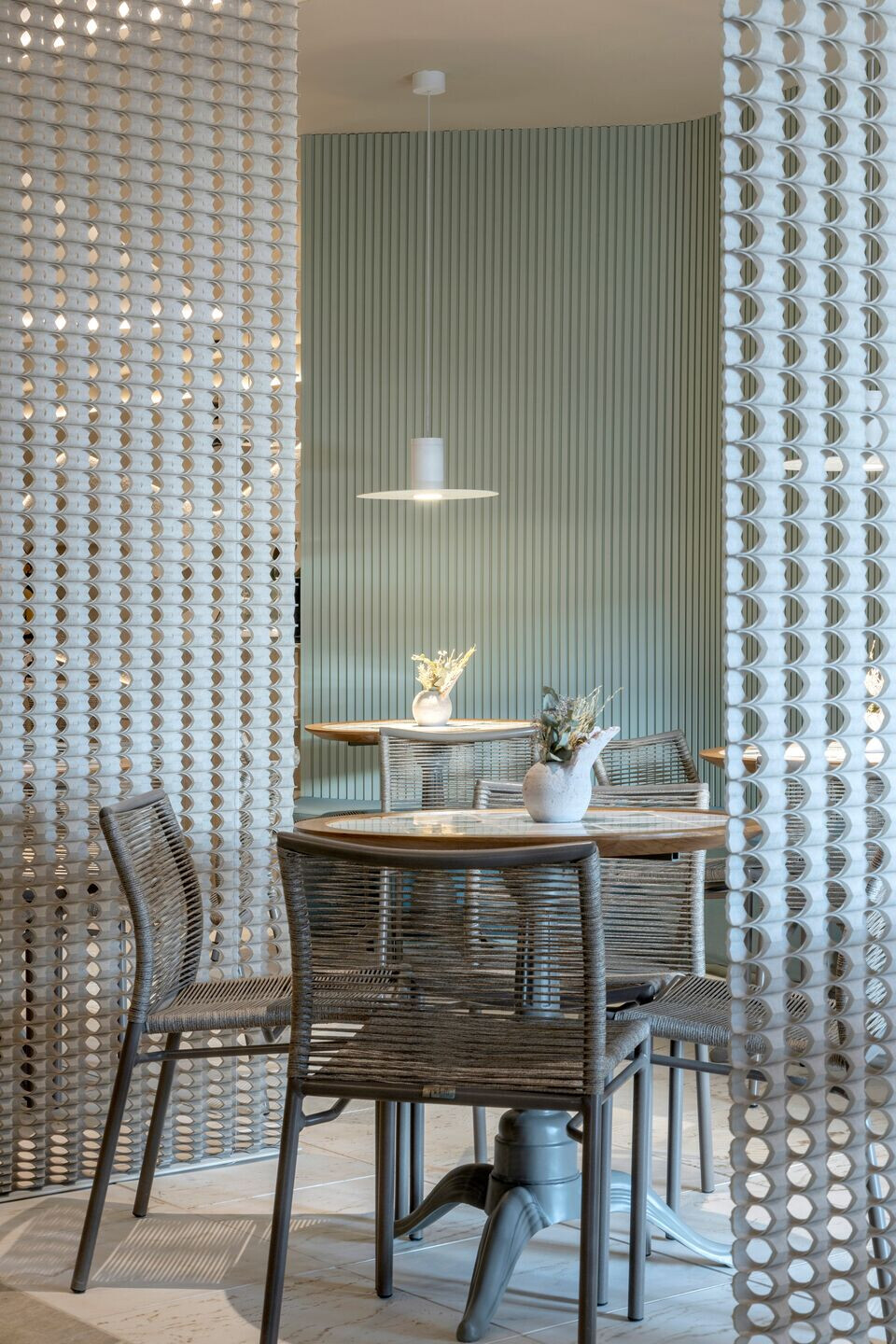 The organic stage breaks the rigidity of the space in order to meet the style of pure forms (Studio Rodrigo Ferreira's identity). The Peacock Chair, from the 1940s, together with the table set in the center of the room, reinterprets the Mad Hatter's tea ritual from the movie Alice in Wonderland, where a special piece will be produced especially by the artist Ieda Garden for visitor interaction. The cabinet piano, collection of our client Elizabeth Ribeiro will make the stage scene in composition with the Wunda Chair (Pilates chair, Adriano Bittar collection).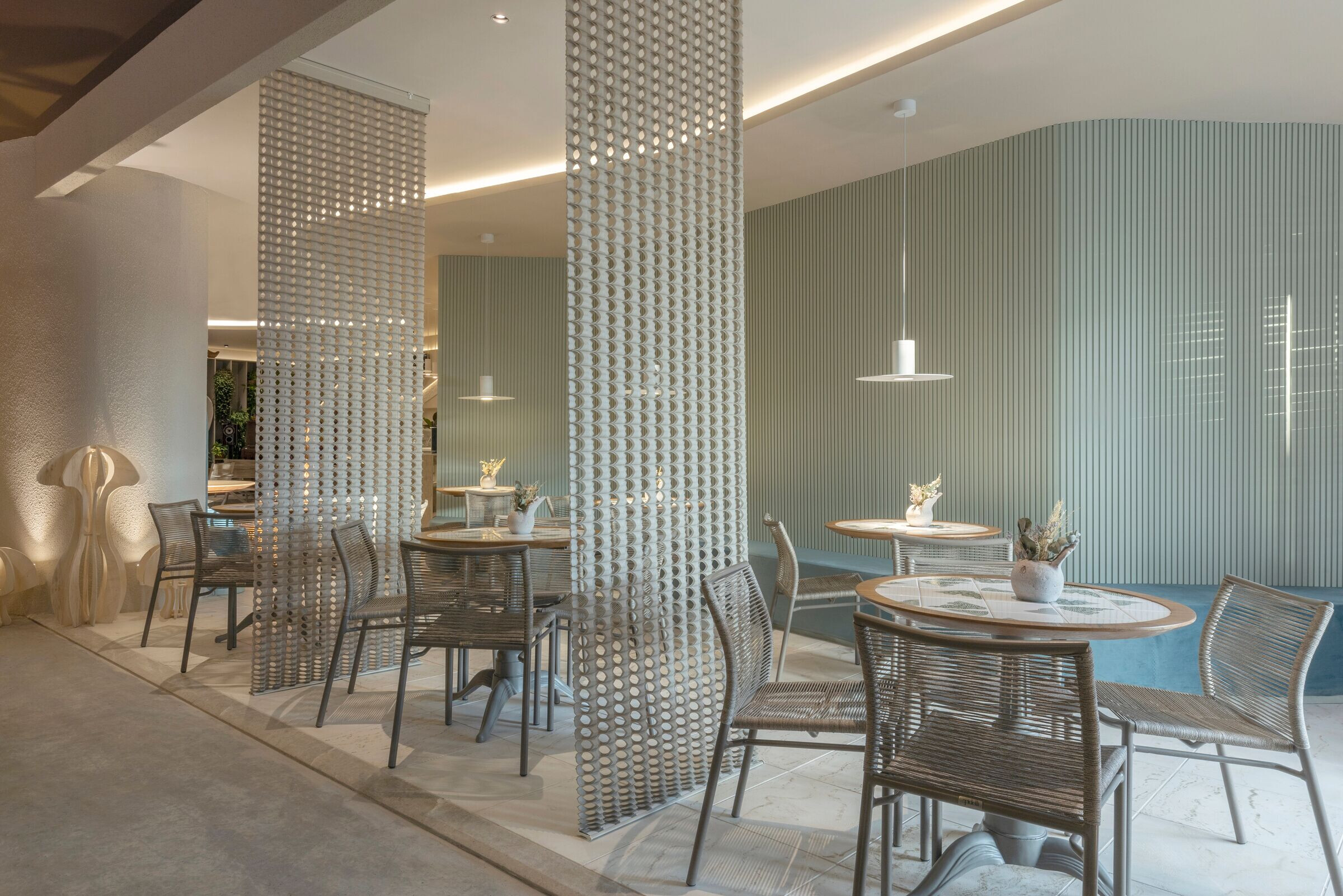 For the external space, we have the mismatched coffee table from the drop line by architect Leo Romano, together with the sofa by designer Roberta Banqueri. On the façade, Davi Sabino's work with steel pieces sets the scene and invites visitors to enjoy the space.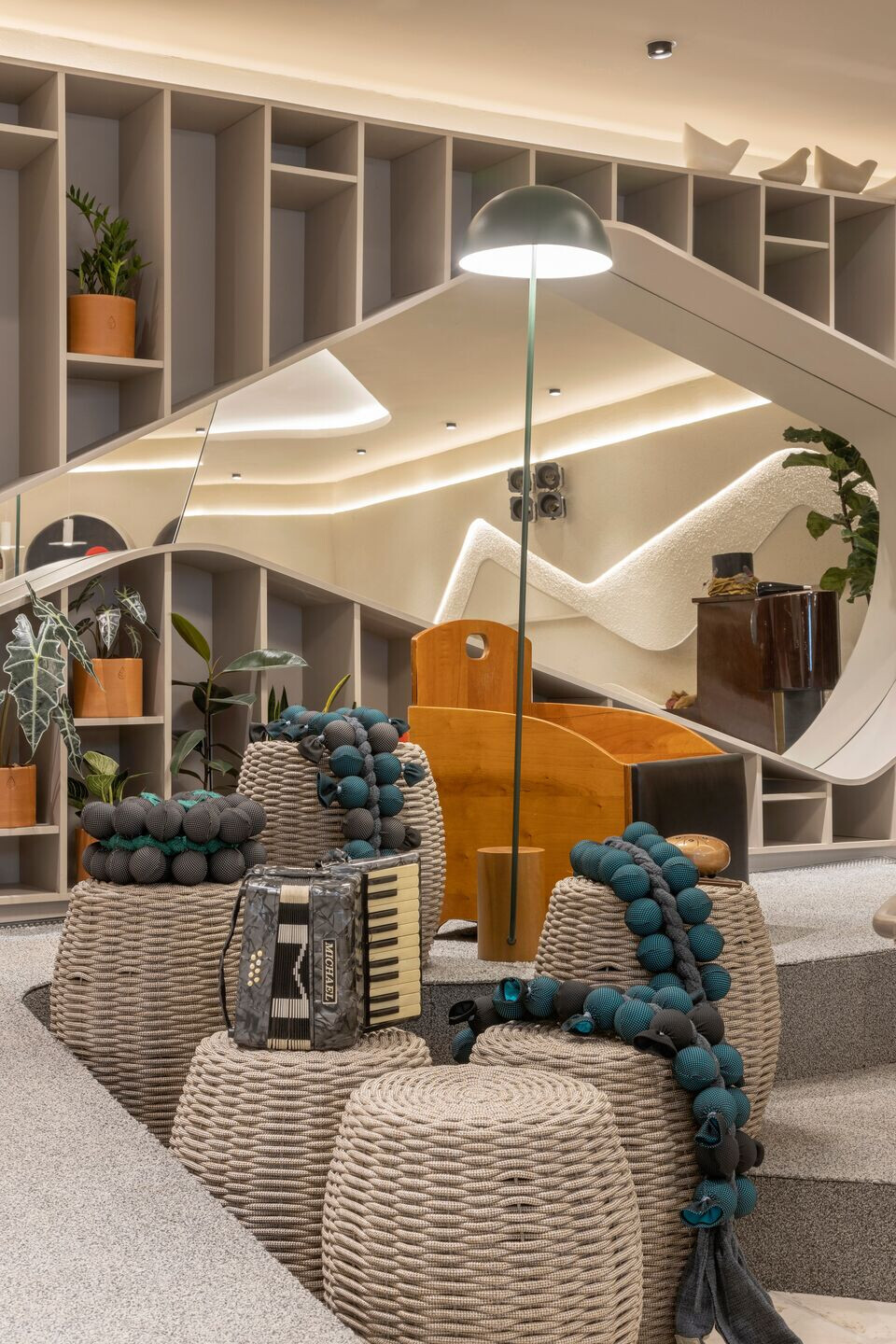 Team:
Architects: Studio Rodrigo Ferreira + Isto Arquitetura
Other Participants: Rodrigo Ferreira, Isabela Toneli, Adriano Bittar
Photographer: Edgar César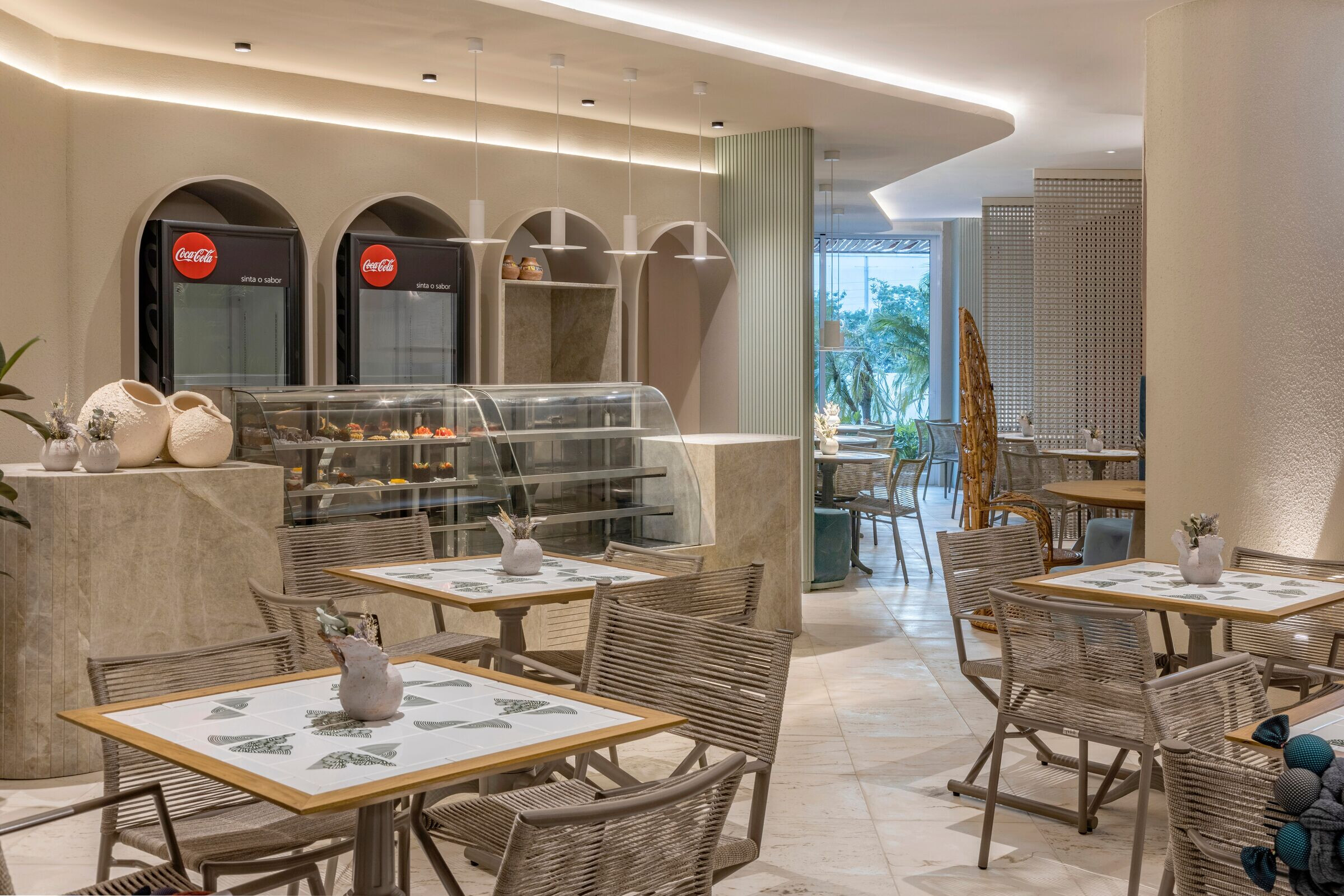 Materials used:
Execution and Engineering: Complete House
Carpete: Coreto Móveis Para Escritório
FLOOR: Munó Acabamentos
Paints and Finishes: Coral Tintas
Planned: Bartzen – Ambientes Planejados
Slatted Panel In Coated MDF: Barreto Acabamentos Em Madeira
Engineering and Air Conditioning: Multi-Ar Engenharia
Lamp: Illuminato
Scenic Lighting: Rodrigo Horse
Espaço Musical Scenic Lighting Location
Automation / Audio And Sound: Automatize Engenharia
FURNITURE:Armazém Da Decoração
Custom furniture: Movelaria Brasileira
Planned Furniture: Madeira Santa
Fabric: Casarrica
ART Facade: Davi Sabino
Art Tiles: Marcus Camargo
Art: Ieda Jardim
Centopeias: Isabela Moody
Internal Landscaping: Verdô Atelier Botânico
Granite: Marmorarte
Frames: Seax Esquadrias
Glasses and Mirrors: Vitral Vidros Planos
Glazing: Arte em Vidros
Adornments: Acervo
Radio Orbitta: CriaCorpo & Som do Corpo
Body, art, fashion: Orbitta
Crockery and Metals: Deca
Confectionery and Confectionery: Doce Doce
Refrigerators: Coca-cola