The Comcast Media & Technology Center is a visionary collaboration between Comcast and CU Denver's College of Arts & Media (CAM) and College of Engineering and Applied Sciences (CEAS). The Design Team envisioned a collaborative research lab suite to accommodate multi-departmental users and a hands-on environment where students can come together to combine their courses in arts and technology. Through careful understanding of the programmatic needs the entire space was designed to cultivate the growth as a transdisciplinary center for innovation.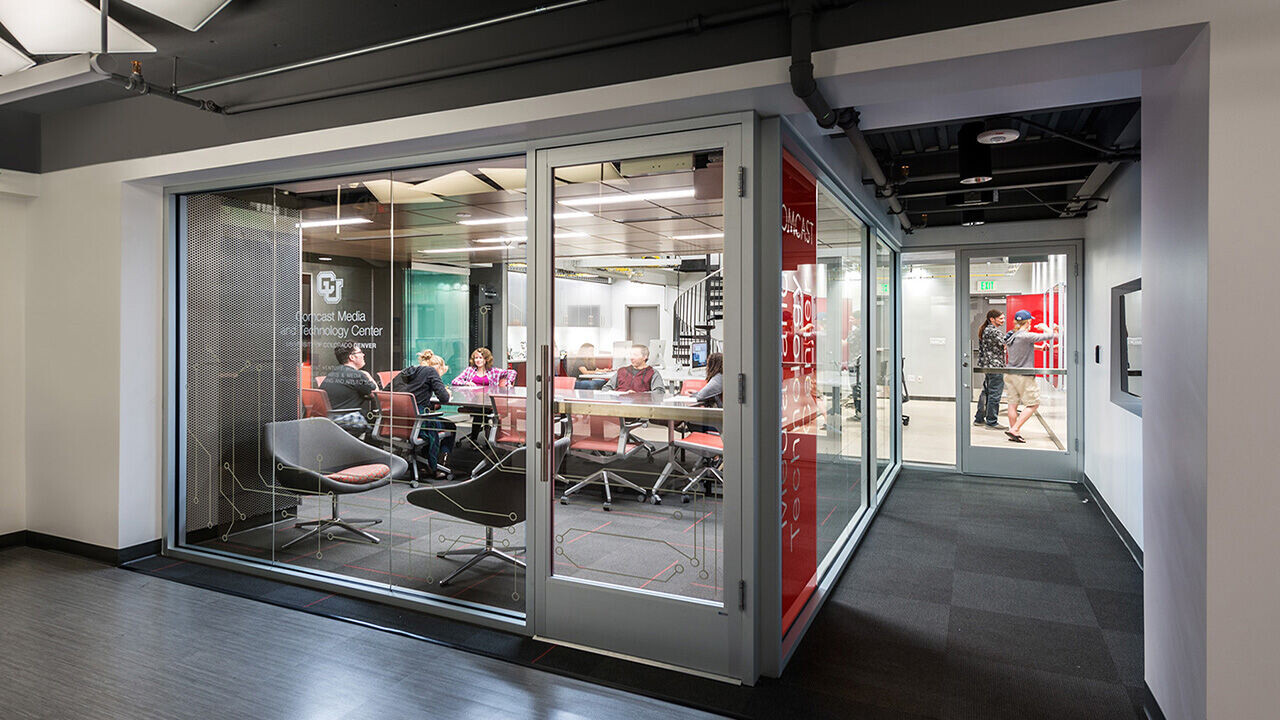 The existing floor plate was 1,200-sf; however, the required program space was greater. The multiple types of activities identified; i.e. conference area, office, collaboration, individual study and work tables totaled just under 2,000-sf. To accommodate the additional needed square footage a mezzanine level and catwalk were designed into the overall space, maintaining the 2-stories of vertical height needed for use of drones and other robotics. The need to access IT and power from all areas with the request to not interrupt the open floor lab space led to idea of hinged 'arms'. These custom designed extension arms provide power and IT drops to the open work space in a 180-degree rotation. When not needed, they can be tucked back along the face of the catwalk to clear the 2-story space. Along the perimeter a cable tray hanging from a drop soffit with recessed lighting supplies power and IT to the rest of the space.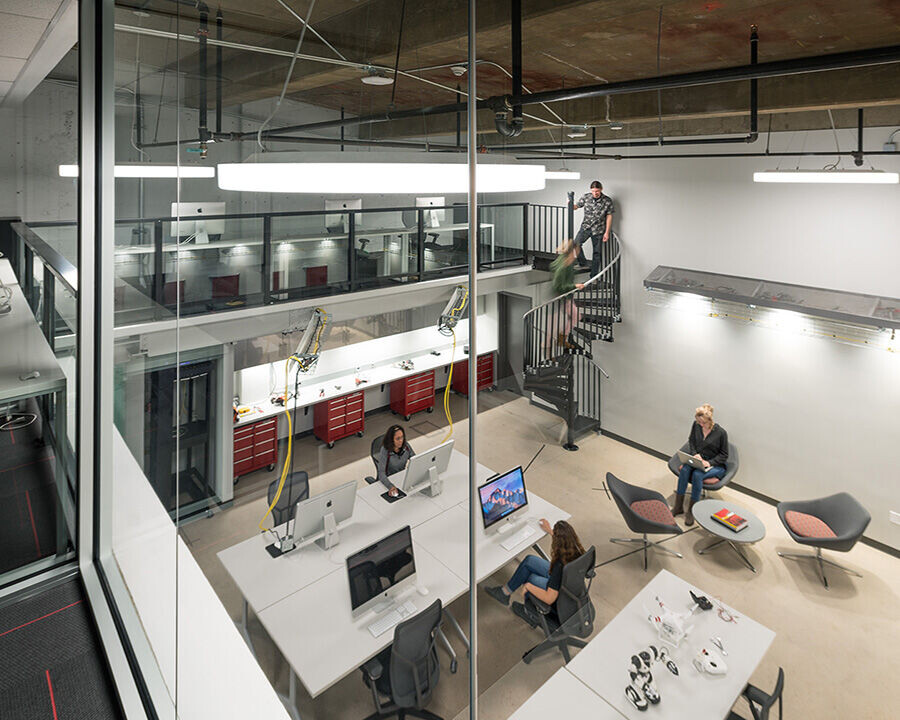 Previously an old theater, the Innovation Lab is located in the basement of the historic Tivoli Theater on the AHEC campus. Converting this old, dark space into a high tech, stimulating and creative environment to inspire students, staff and professionals called for careful selection of all fits and finishes. Movable glass partitions are incorporated into the design to provide visual connection throughout while offering physical separation when needed for conferencing or lectures. The new lab space opens to the existing basement spaces and captures borrowed light. White walls, exposed concrete ceilings, and sealed concreate floors along with glass partitions and railings give the space a clean urban industrial feel. A variety of mobile furniture systems and configurations allow for maximum configuration possibilities. The conference room incorporates a warmer palette with the use of soft materials such as carpet, wood panel ceiling and furniture but keeps its industrial edge with perforated metal wall paneling.