The new single-family residence is located in the historic Crestwood Hills neighborhood, an area with strict regulations enforcing a mid-century ideal of rustic modernism and a collective approach to planning and design. The initial idea to expand an unremarkable 1940's house on the property was soon abandoned in favor of building from the ground up.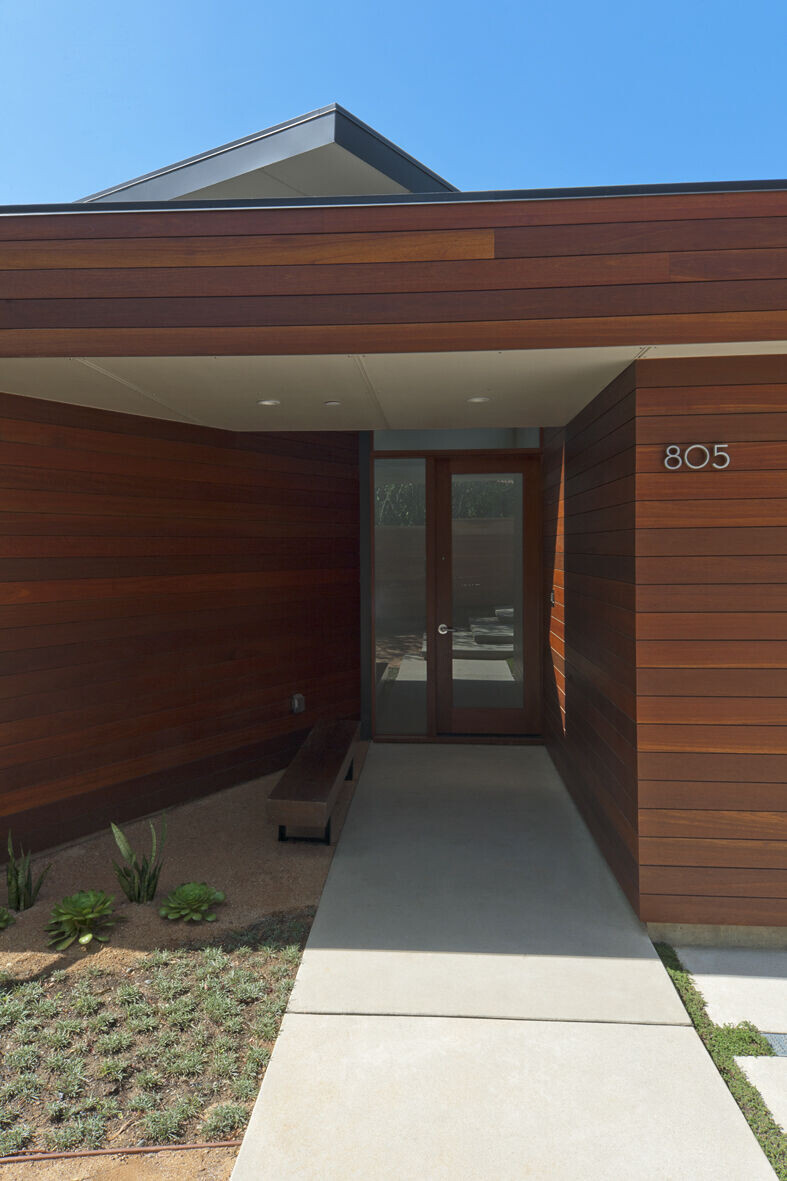 The massing concept includes a simple glass volume for the shared living spaces, wrapped around three-dimensionally with a solid band of private rooms that maintain the owner's privacy from the public.
The preservation of views and a sensitive approach to the down-slope site dictated a one-story elevation from the street. In keeping with the neighborhood, a low profile and the careful positioning of the volumes makes the relatively large home appear modestly scaled.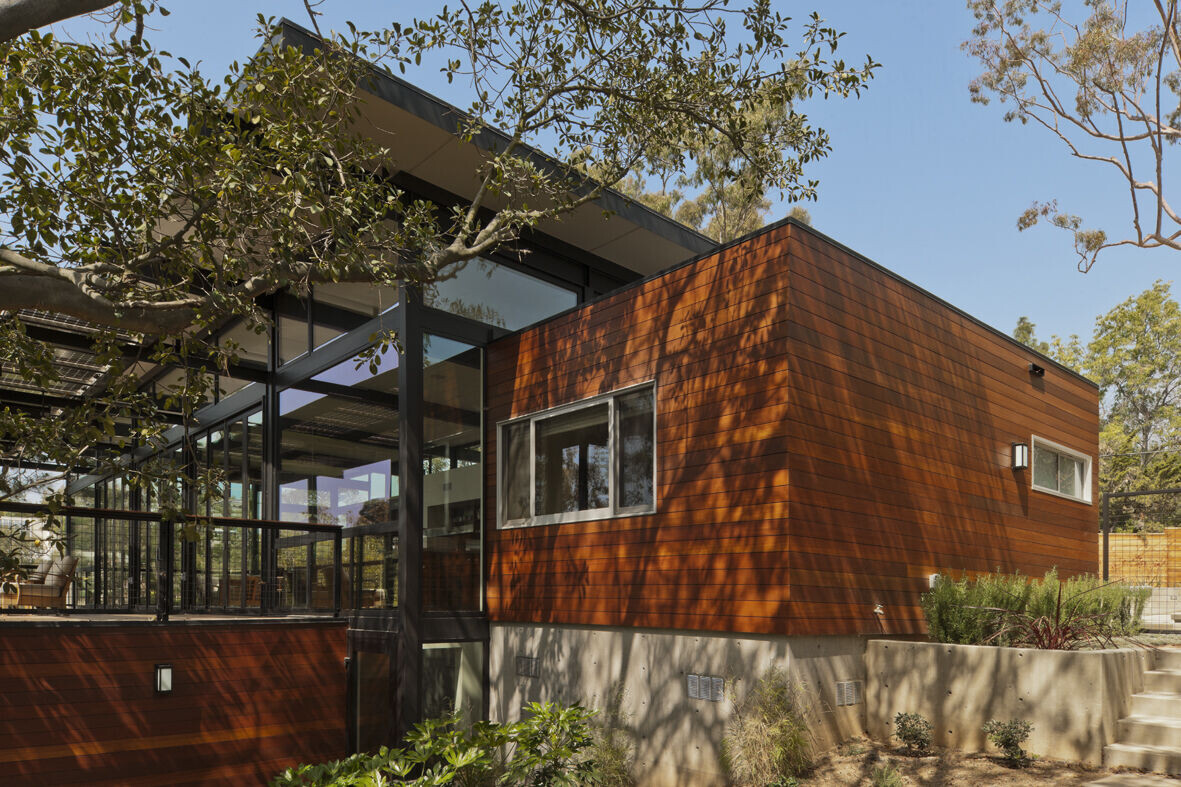 The living room, dining room and kitchen are all placed in the open volume, which extends onto a large deck through folding glass walls. Throughout the house, views of the canyon, the trees and the distant shoreline are carefully framed for maximum enjoyment as well as privacy.
Closely integrated into the historic surroundings, the ground floor features a typical transparent clerestory above the opaque walls and a floating flat roof with exposed steel beams. The solid exterior walls are clad in wood, contrasting with the large expanses of the steel and aluminum framed high-performance glass. The desired strong interior-exterior relationships, maximum openness and a focus on craft and detailing were achieved with a glazed post and beam structure.Built-in mahogany cabinets and shelves, including a rotating shelf wall, help to keep the tall space open and uncluttered while adding warmth to the interior environment.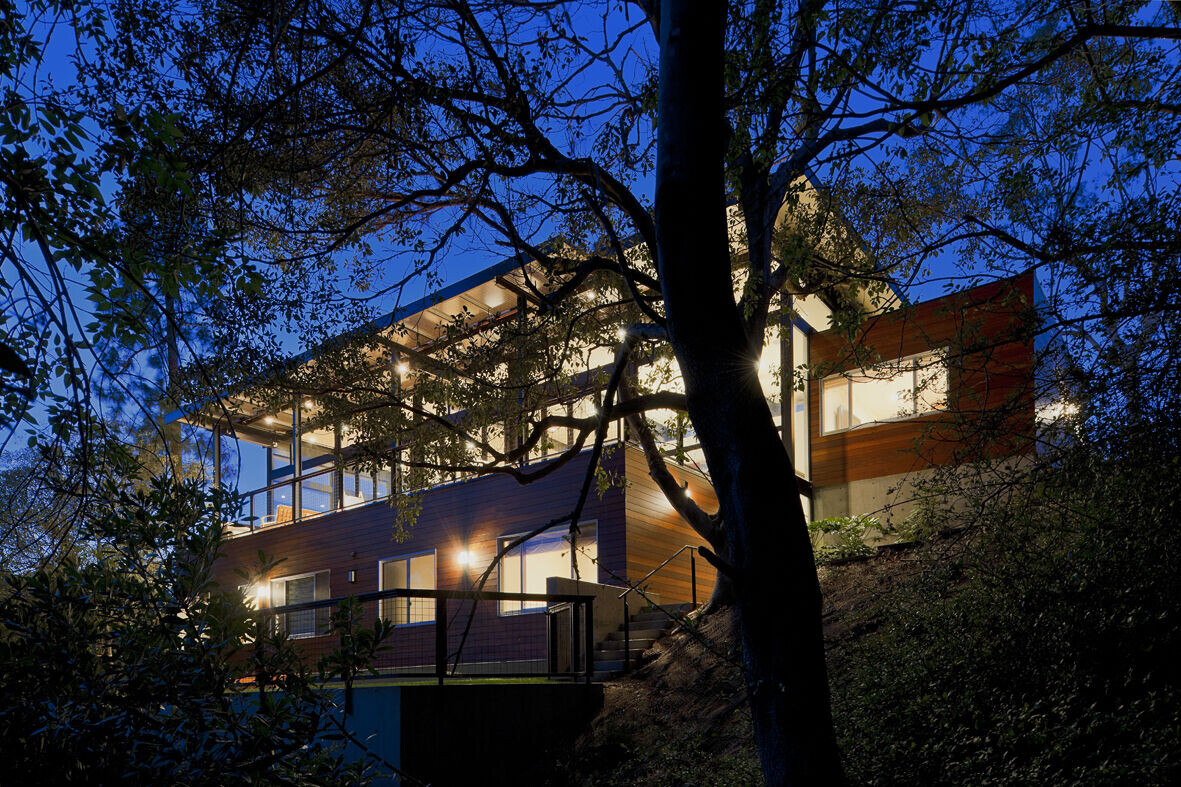 The lower floor is dedicated to the bedrooms and bathrooms, a private study and a large usable multi-purpose basement space. The exterior patios on this level activate a previously unused hillside and make it more accessible from the house.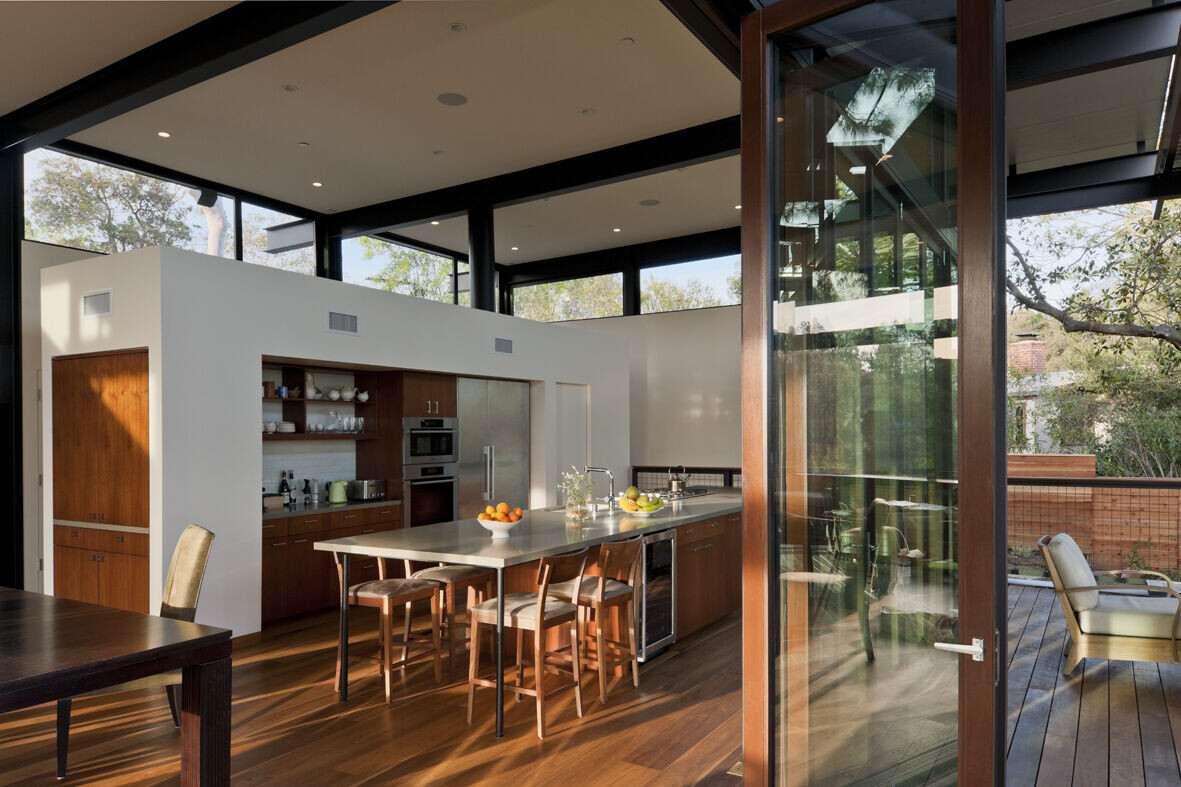 The environmentally efficient house features photovoltaic solar panels that shade the deck and allow dappled daylight to filter through. The house is protected from the summer sun with roof overhangs and exterior shades. Natural ventilation is facilitated through the placement of operable windows and folding glass walls to the large deck, along the path of the prevailing breezes. Roof beams from the old house were repurposed as steps and benches throughout.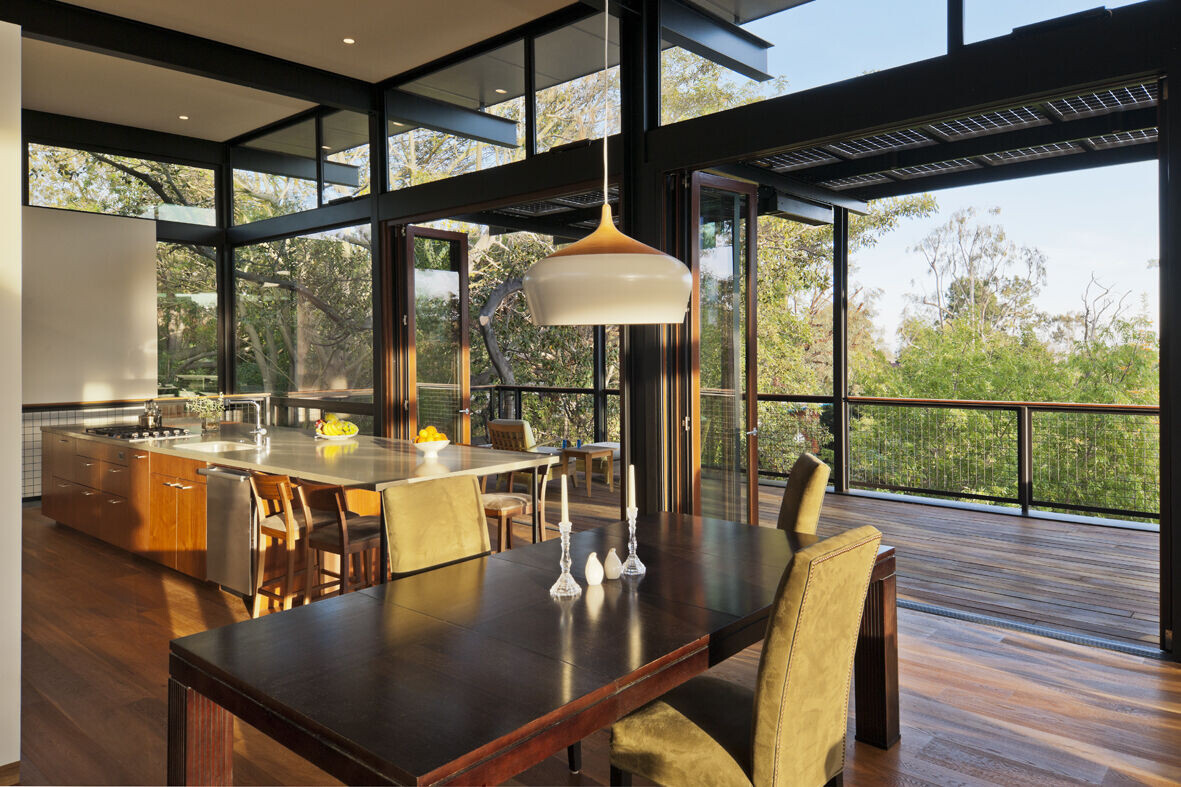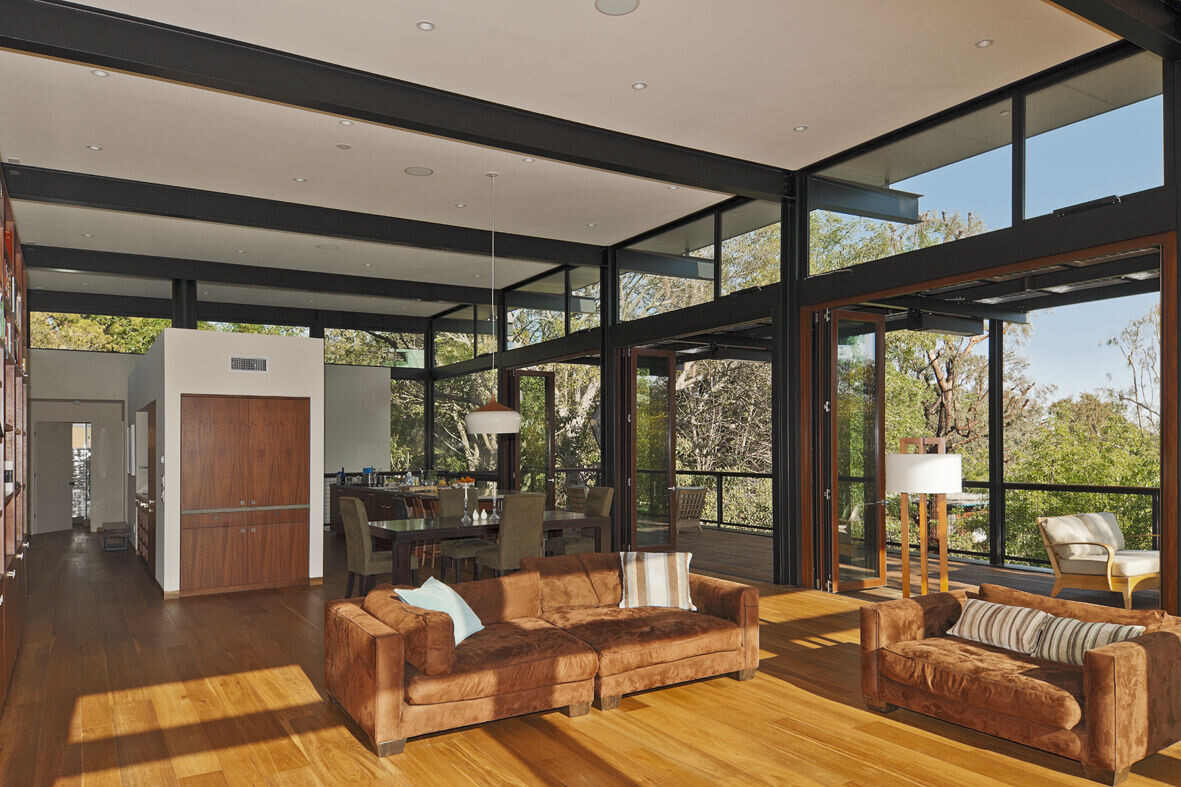 Material Used :
1. Facade cladding: Mangaris Hardwood Siding; Hardiepanel Cement Panels
2. Flooring: Engineered Oak Flooring
3. Doors: Exterior Folding Doors: La Cantina. Fleetwood Doors; Hurd Doors
4. Windows: Fleetwood Windows
5. Roofing: Sarnafil
6. Interior lighting: Elco; Lightolier
7. Kitchen Appliances: Miele
8. Faucets: Axor; Hansgrohe
9. Sinks: Kohler; Duravit
10. Exterior Heaters: Sunpak
11. Solar Panels: Sanyo