Emeraldas is awater bus that sails along the Sumida River connecting Asakusa and Odaiba. It is the third ship in the series designed by Leiji Matsumoto, a manga artist who created Galaxy Express 999. As with the main body of the ship, we were asked to create new value in the interior design beyond that of conventional ships, and our response was to challenge the stereotype of neatly arranged seating.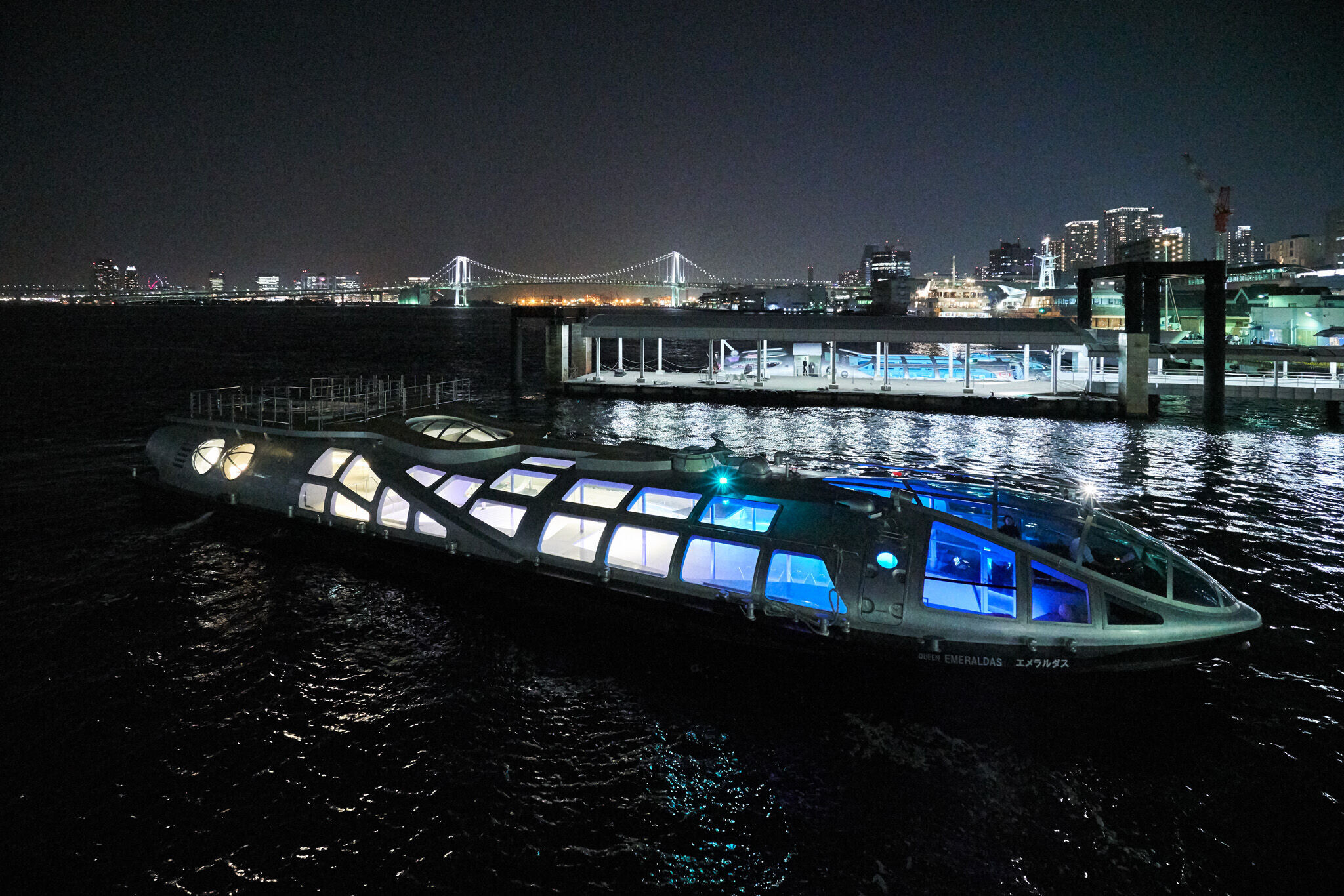 Upon noticing that the floor of the front cabin was the same height as the level of the water, we envisioned an intimate waterfront space where we can dip our feet into the water and feel connected to the river. We also thought that we could create a space that would evoke excitement by encouraging passangers to move freely on the water bus, especially with the rapidly changing scenery.
Our idea was to organize the front cabin as a contoured structure, like an abstracted river bank carved by the gentle flow of water, that can be used as a bench, table, and counter. By making it more like a kind of landscape than seating, we aimed to create a space where passangers can freely move around, following the view they want to see, or looking for their favorite position.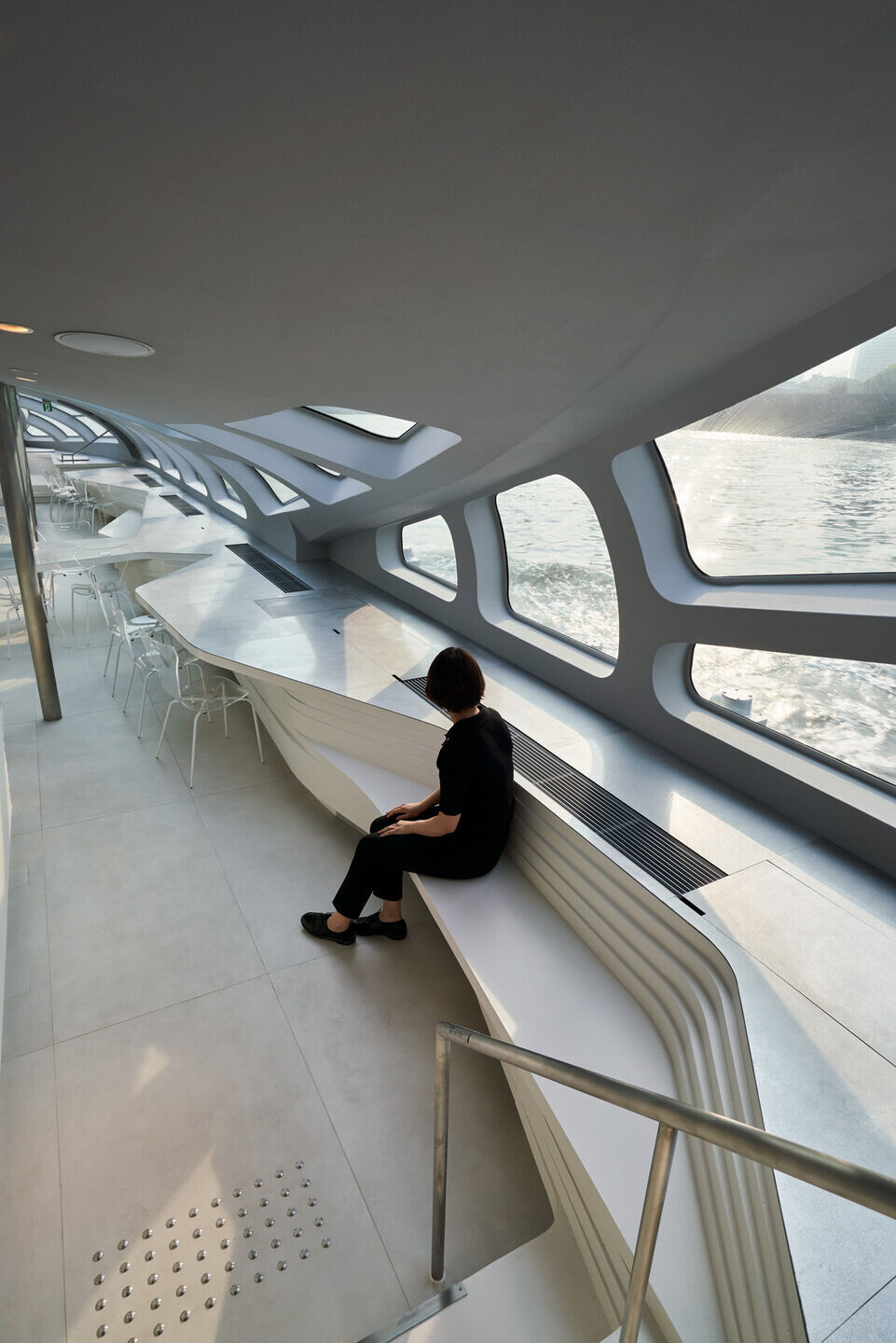 Flashing multi-colored indirect lighting is installed at foot level. The addition of flowing light, rippling light, various movements, and colors to the program enhanced the intimate feeling of immersing oneself in a flowing landscape.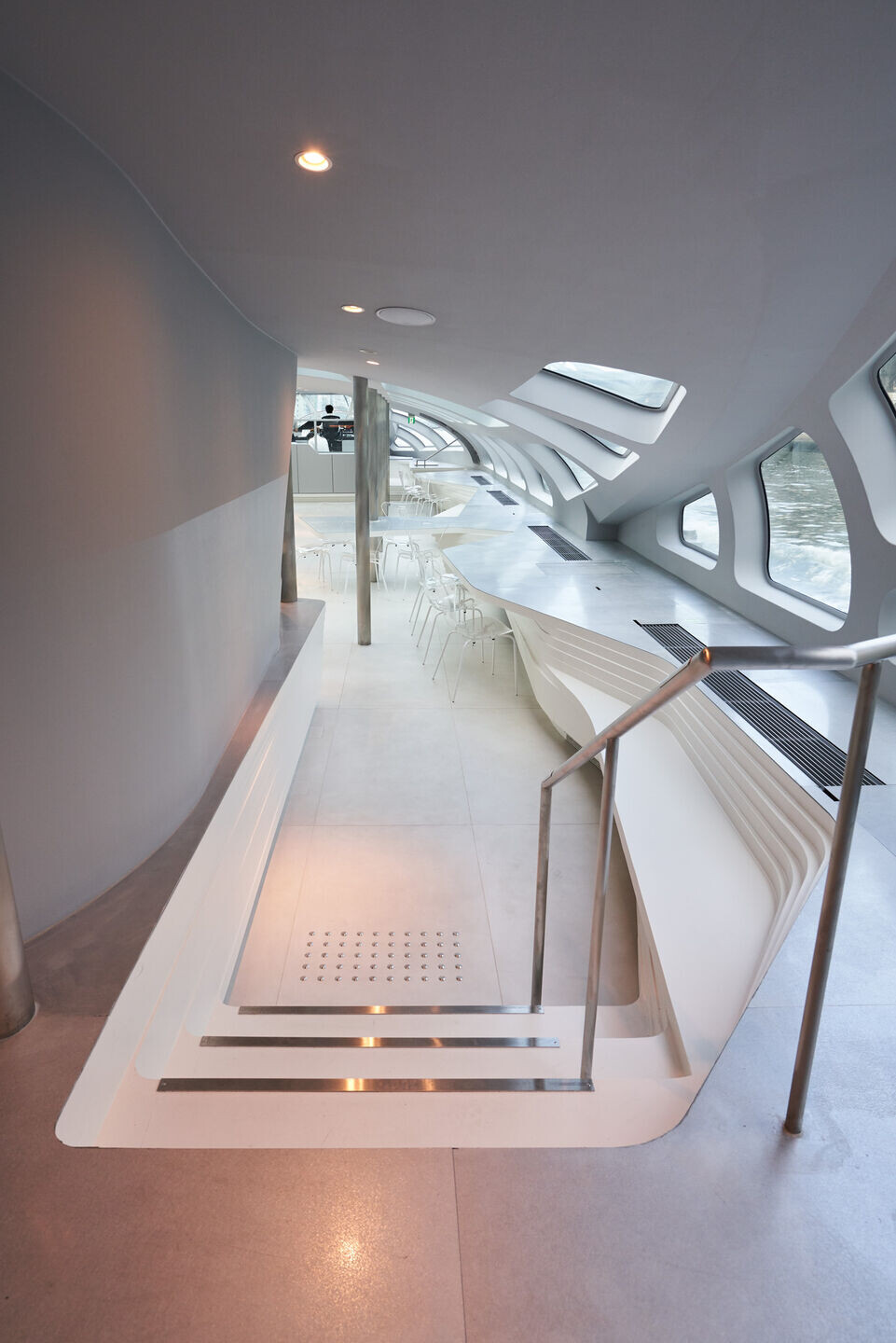 According to the safety regulations of the ship, the installation of handrails are required near the entrance to ensure the safety of passengers should the ship rock violently. We proposed recessed handrails, which are rarely used in the ship industry. While the shipbuilder was skeptical about the idea, the client's support of new values made it possible. Indirect lighting was installed in the recessed areas. The lines of light attract people's attention when they board the water bus, and create a spatial sequence that leads passangers to their seats.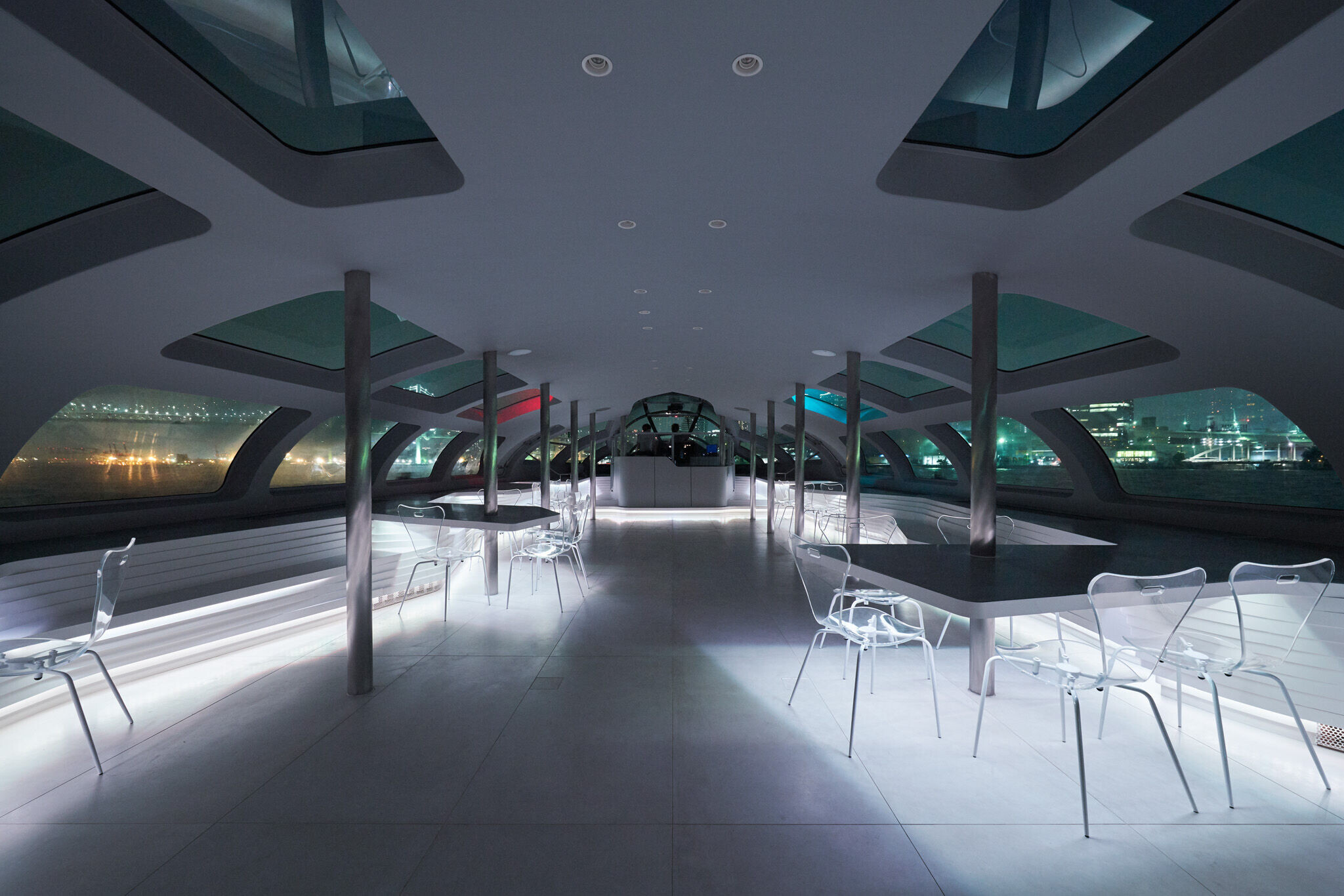 From the ship, one can see shimmering reflections of the water's surface, the momentary darkness when the ship goes under the bridge, and the transition of light that can only be experienced in a moving space on water. Meanwhile, buildings and water transportation facilities appear altenately and sometimes mixed together, offering a dynamic and dramatic landscape unique to the Sumida River.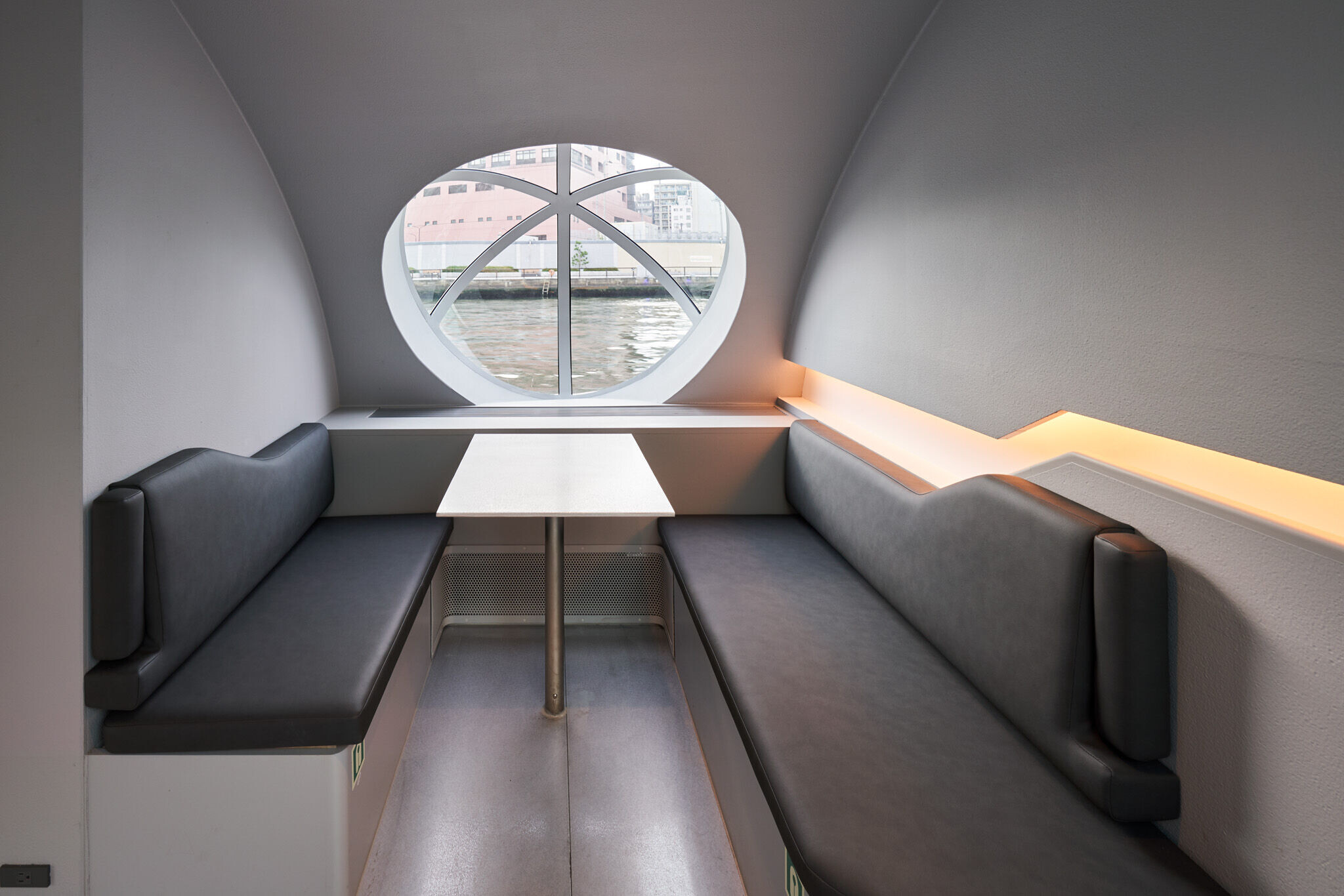 For those of us who had been focusing on slower environmental changes surrounding architecture such as sunlight and seasons, these rapid changes in the surrounding environment were refreshing and greatly inspired our creativity.
We would like to invite you to enjoy the extraordinary experience of seeing the city from the water, as well as the journey of finding favorite waterscapes and places on the ship.