What was the brief?
Evolution Mining engaged PMG Group to designand construct an open, professional andcollaborative space. The layout needed to optimisethe premium location by exploiting everyopportunity to maximise connectivity with thesweeping Hyde park and city views.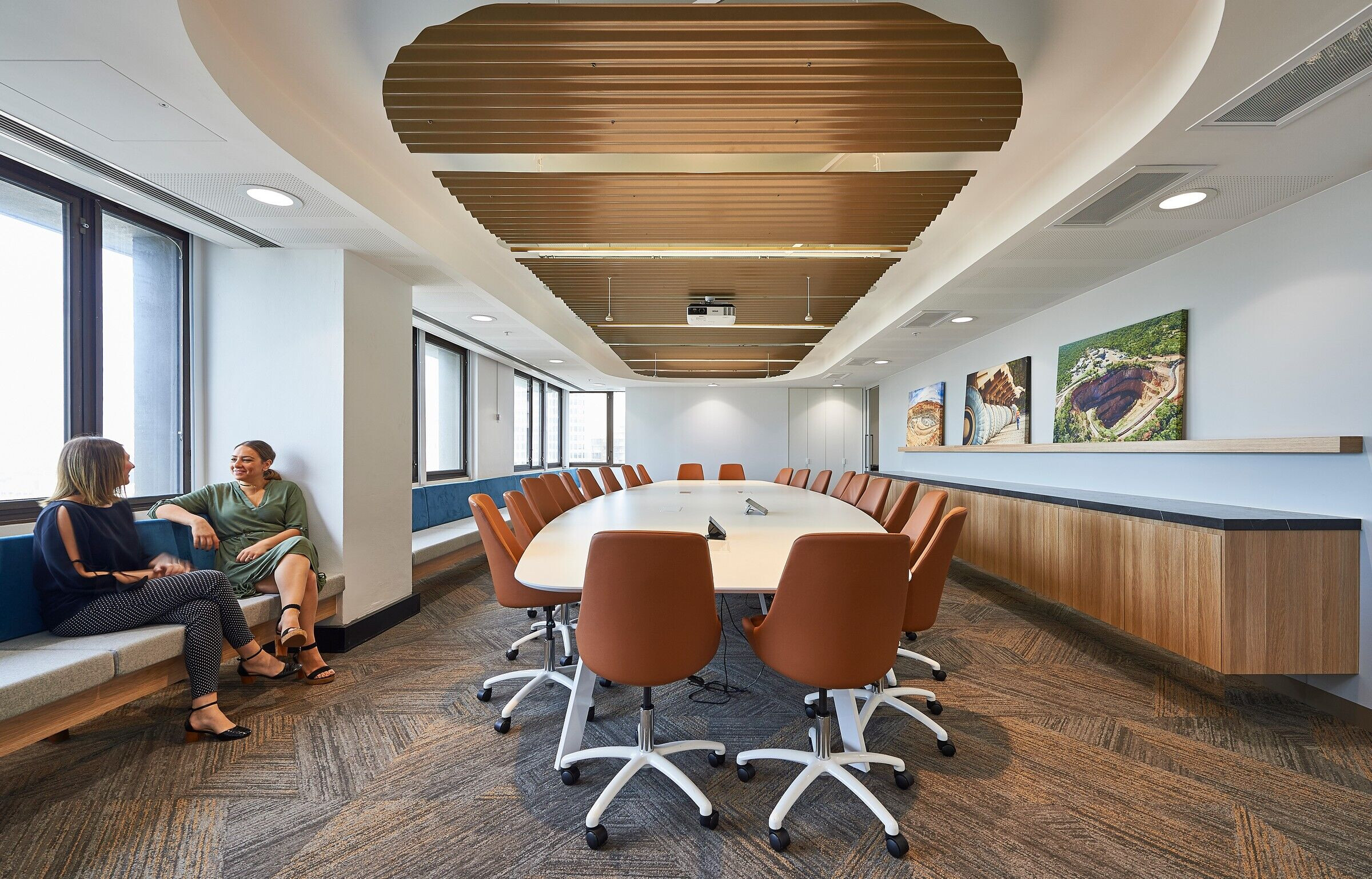 Representing Evolution Mining's professional corporate and on-site mining identities was a must. The growing company required additional formal and informal meeting spaces as well as some flexible zones tailored to the working style of the different teams across the business. Specialised storage requirements such as a map table, rock display and geological library needed accommodation throughout the space.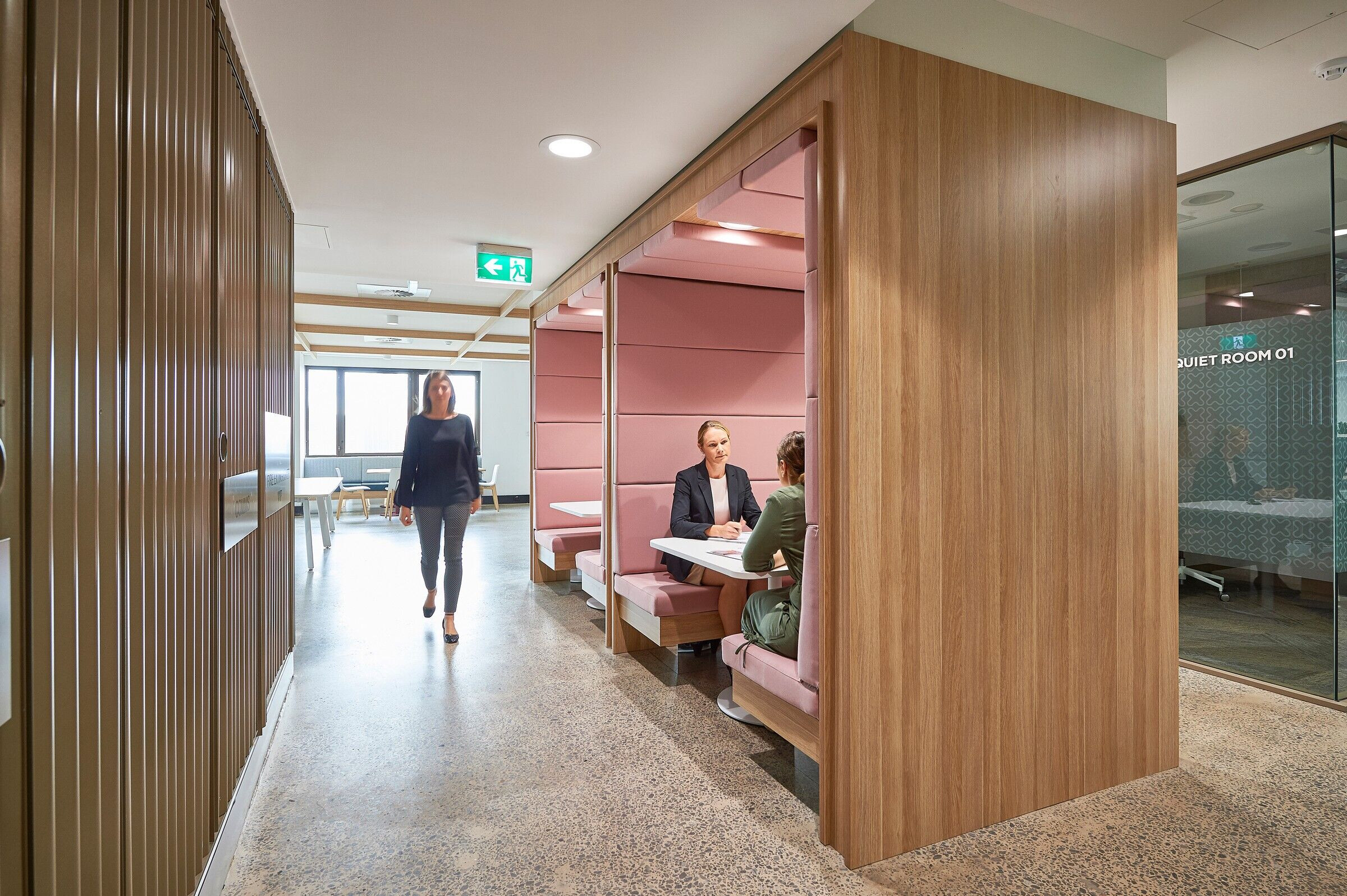 A centralised hub was brought to life - where staff can come together and appreciate views of the city, Hyde Park and the harbour beyond. With the breakout, reception and meeting rooms at the heart of the office, staff are immersed into various dynamic spaces, allowing for formal, informal, individual and team collaboration. By showcasing industrial materials contrasted with upscale finishes and high quality craftsmanship, we created a refined industrial palette that flows seamlessly throughout the office.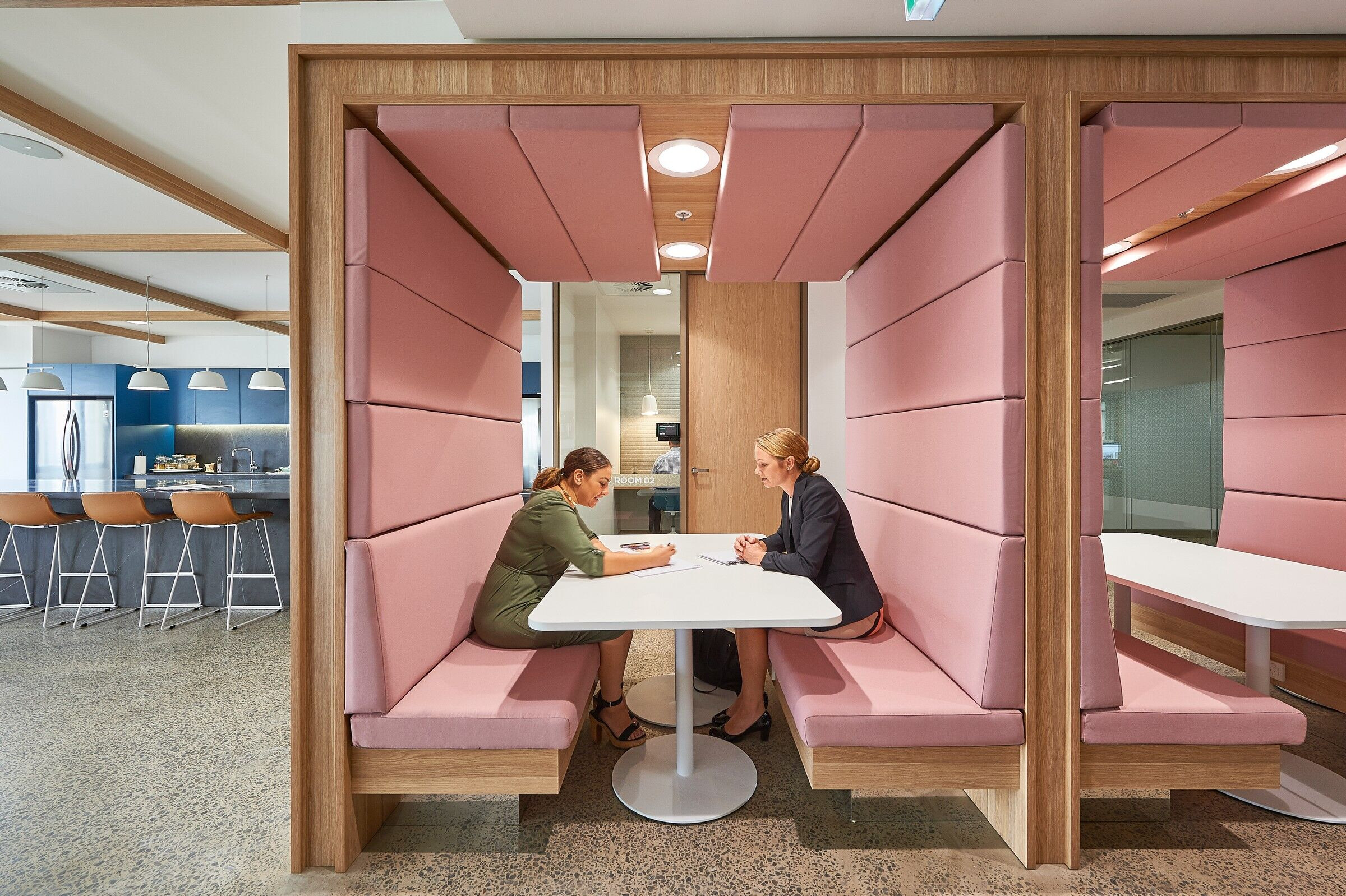 What were the key challenges?
The 10 week programme ran straight through the Christmas shutdown season. Whilst this added pressure, the PMG Group team rallied to meet the client's ambitious handover date. The design team had to be clever in how they detailed their design intent whilst the PM team needed to manage suppliers and trades to uphold mandated levels of quality and exceed client expectations.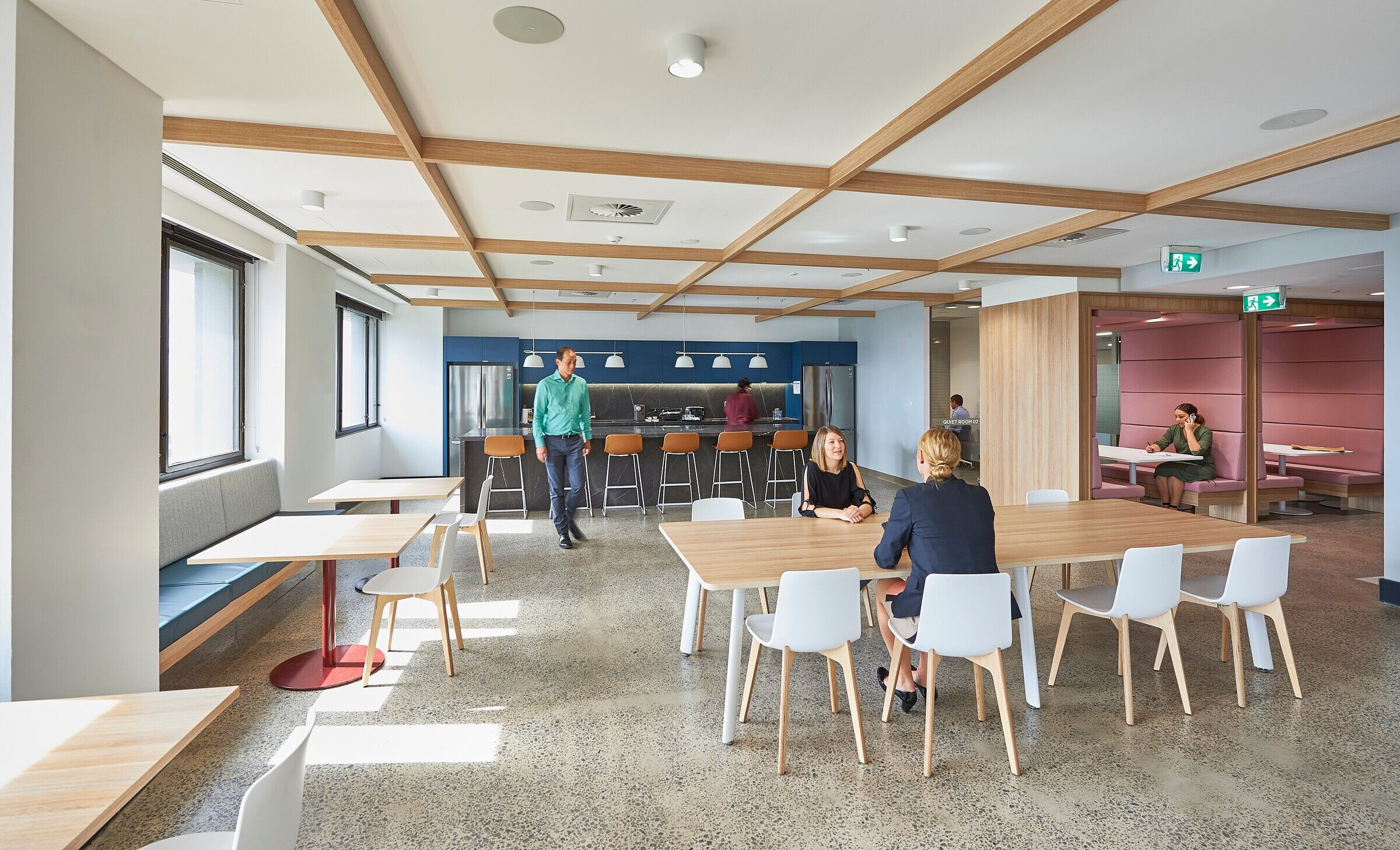 What materials did you choose and why?
The earthy yet corporate tones provide a timeless design combining raw industrialised materials which have been polished for a sense of luxury and functionality. Timber beams define informal meeting zones and touchdown points. The faceted concrete reception desk emulates a cut diamond. Powder-coated corrugated iron in a shimmery champagne enhances the services doors and creates a feature suspended ceiling.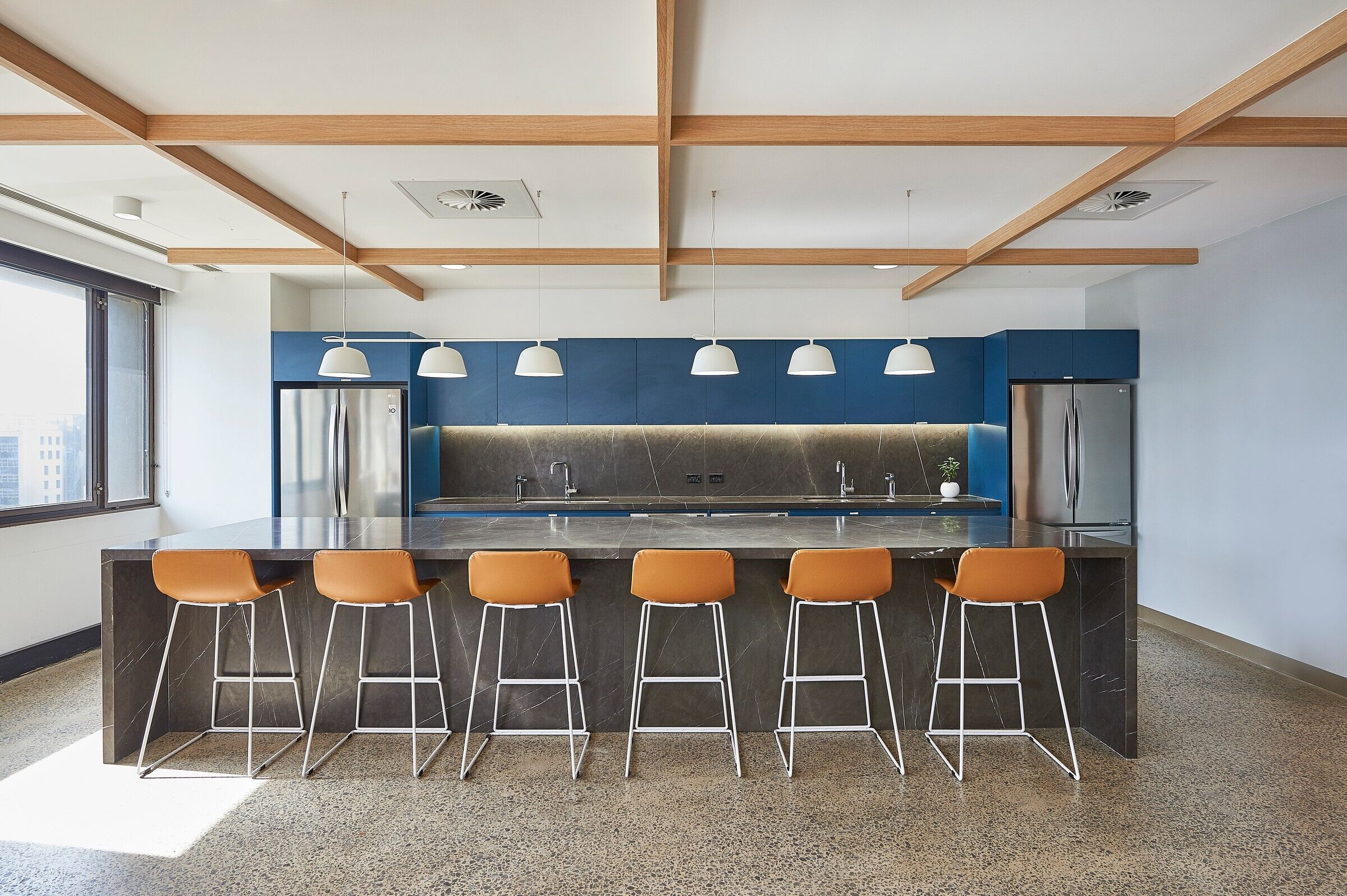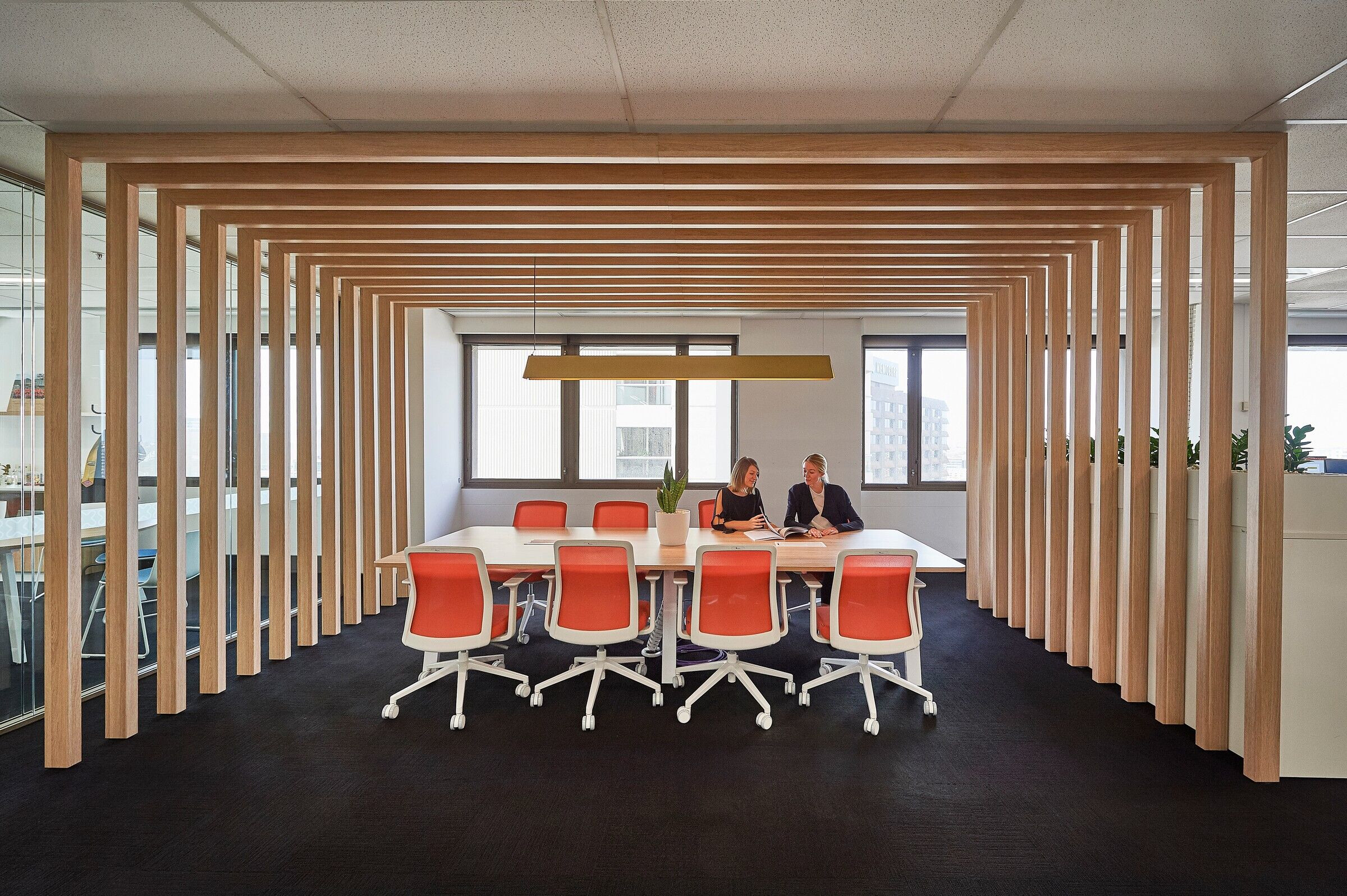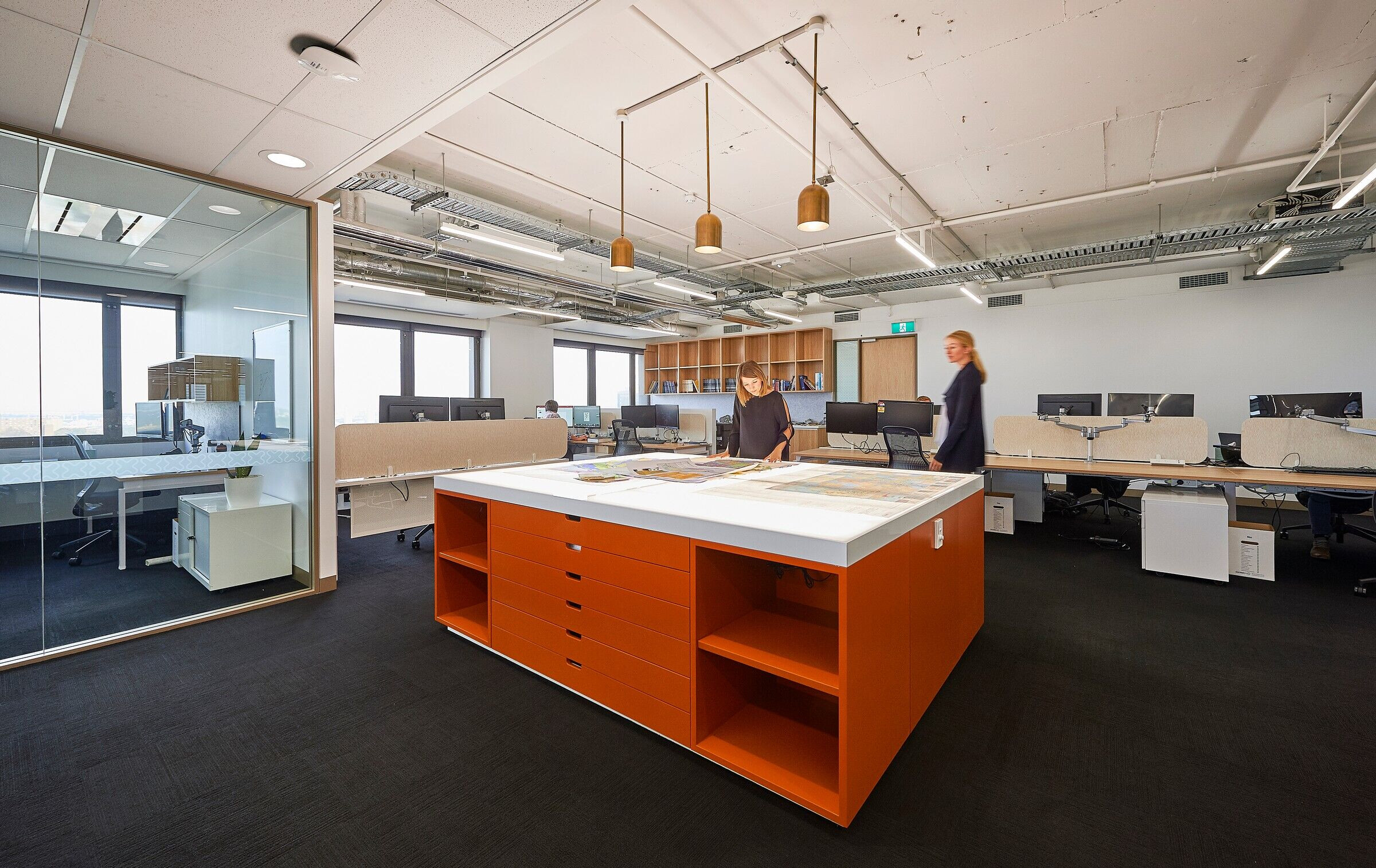 Material Used :
Flooring:
• Carpet: Alchemy range Cornerstone Copper by Shaw Contract
• Timber: Par-ky Desert Oak Prime Grade engineered timber by Havwoods
Interior lighting:
• Breakout Pendant above island: Ambit Rail in White by Muuto
• Pendant lights above Map table: DUOMO PENDANT LIGHT -SOLID ROD by Nightworks Studio
• Reception table lamp: DUOMO ROCKING TABLE LAMP by Nightworks Studio
• Linear pendant above hot desk: TP LINEAR 2000 PENDANT by Artefact Industries
• Booth wall lights: Monocle Wall Sconce Flat Lens by Rich Brilliant Willing
Interior furniture:
• Workstations – Benchwork by Krost
• Task chairs - Belite Chair by Zenith
• Meeting chairs - OLA 35U by Products for People
• Boardroom chairs - GROW UP 5 WAY CASTOR CHAIR by Stylecraft
• Breakout chairs - Lottus Wood 4864 timber leg chair by Zenith
• Meeting tables – Gen X tables by Diami
Framing:
• Electro 2 Powdercoat range Shimmering Champagne 9063116K by Dulux Powders
Timber plank ceiling:
• Shiplap Fixed Timber Ceiling Panels by Innowood