Colour and quality were the two underlying touch points that guided the interior design of this four-bedroom, 850 square metre family home by The Niu Studio. Inspired by luxury boutique hotels that the young clients had experienced during their travels, they wanted to capture that atmosphere of the world in their home.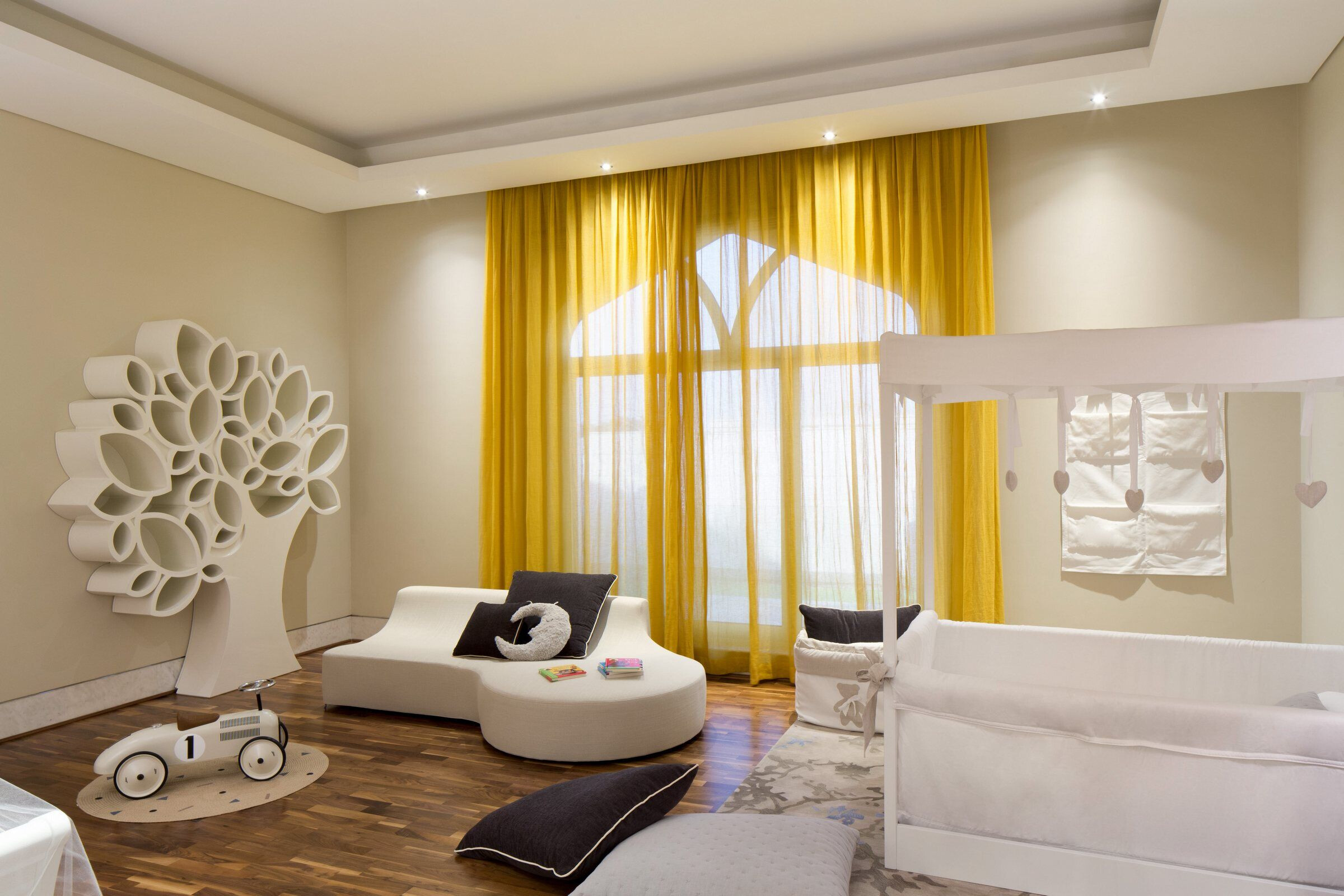 Designer marble flooring throughout provides the foundation for the quality, luxurious furnishings and materials. Both public and private areas of the contemporary home exhibit the style and ambience of luxury boutique hotels, including original artwork by Carla Asquini with special lighting brought from France and Italy. Guests enter through a modern mashrabiya that sets the tone. A large mirror with impressive wood detailing reflects the swirling, intertwined circles of the chandelier, exaggerating the shallow but wide entryway.
The contemporary semi-formal living room features several custom pieces, such as a bold purple sofa and side table, and a pair of inviting chaise longues, with a custom oval rug offering a subtle splash of colour. From across the room, two vibrant yellow sofas sit in a private niche that can be partitioned off by sliding frosted glass doors.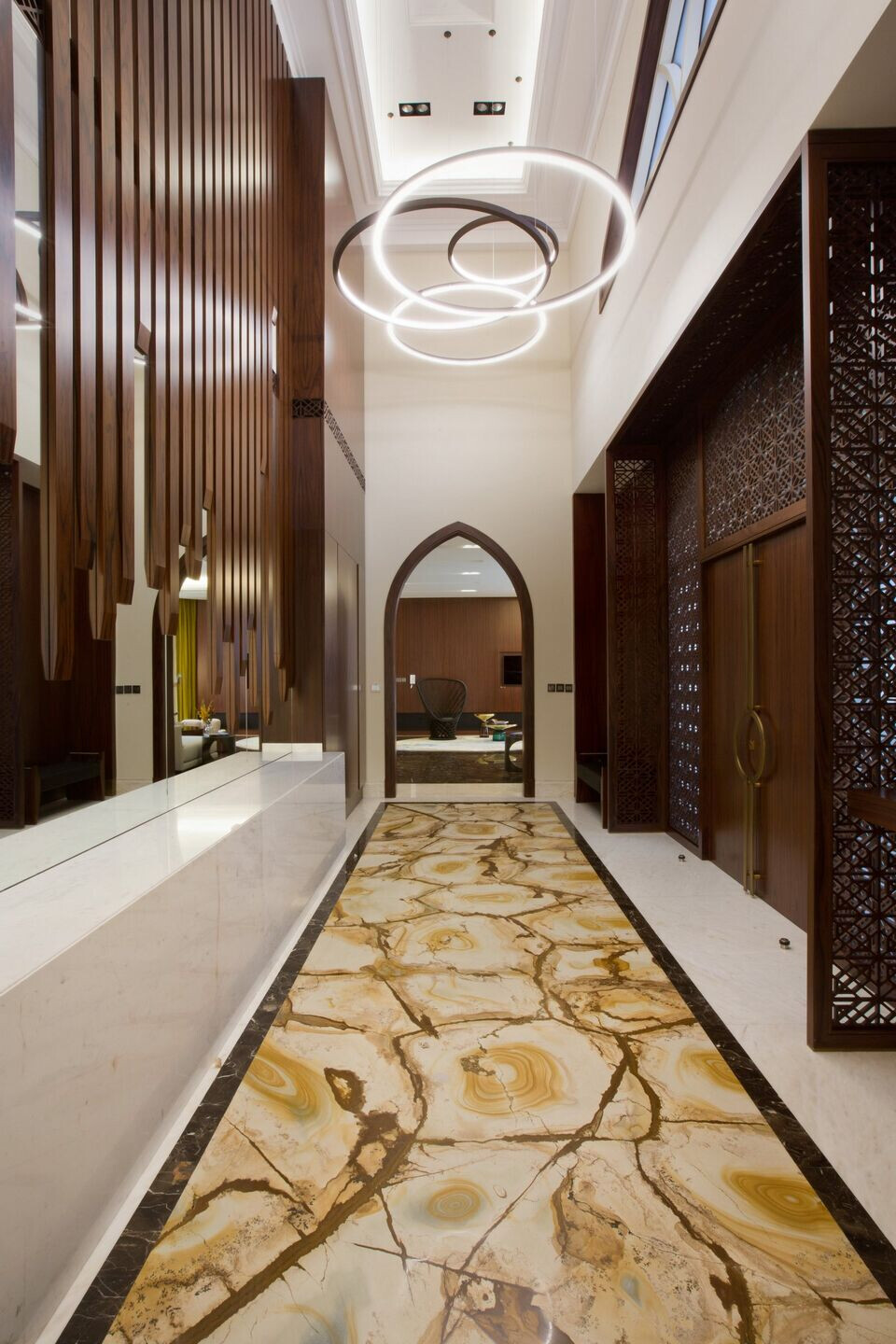 The formal dining room, to the left of the entry, features a massive, custom designed, four metre-long solid walnut table. The dining area is crowned by a golden, tiered handblown chandelier, with angled floor-to-ceiling rosewood planks separate the formal living, which is currently a work in progress.
In the private family rooms, modular sofas create a majlis style appeal, with custom designed glass doors featuring fabric panes leading to the family dining space. Italian handmade solid wood consoles with artistic bronze legs furnish the family dining room with a modern chandelier overhead.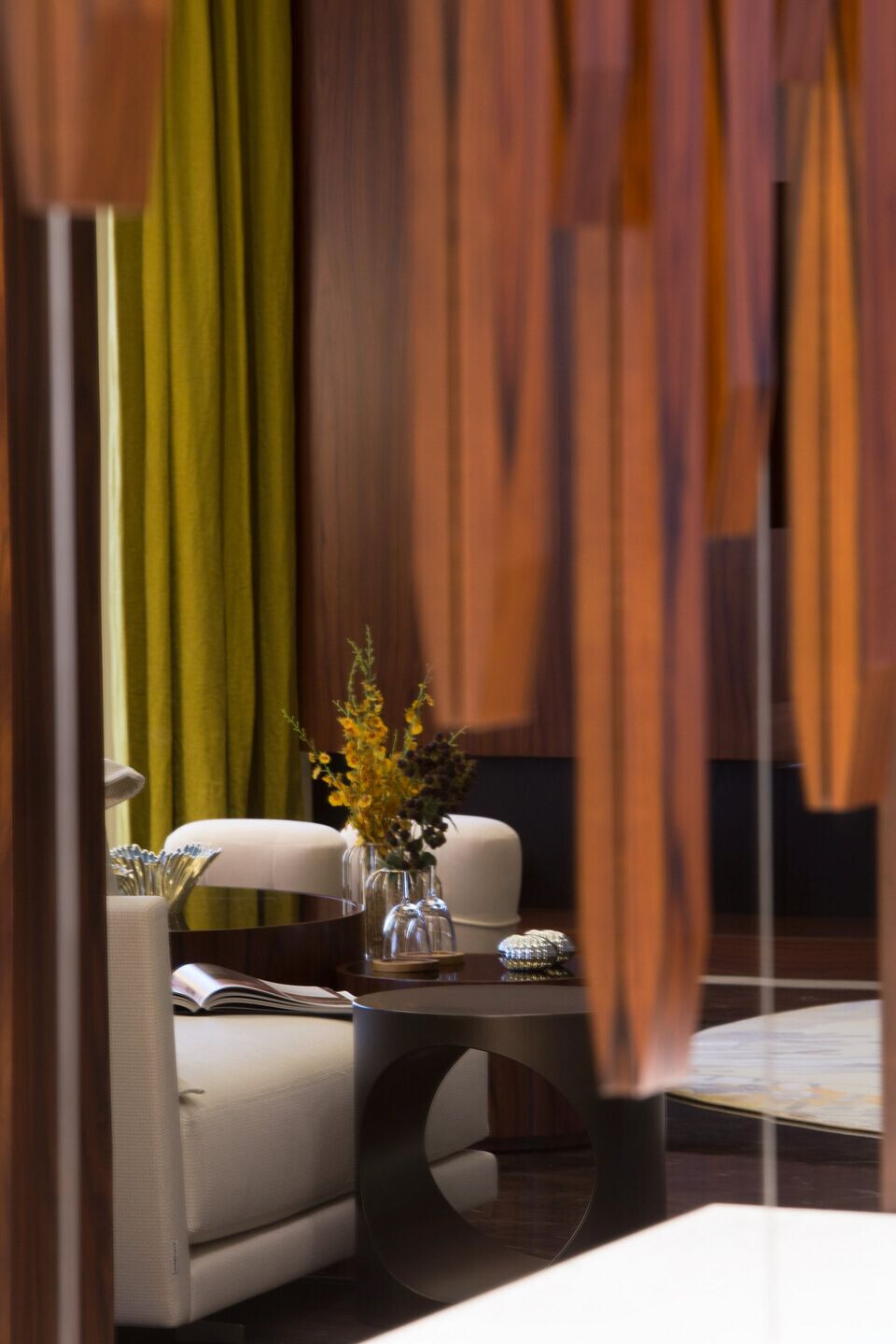 The master bedroom is a study in luxurious comfort and practicality. The sumptuous, deep blue wave-like bed and bedside table rest on a carpeted island surrounded by marble. A round sofa located in the bow of the window offers calming a view of the garden. The adjacent dressing room and master bath are modelled on the relaxing ethos of an elite spa. The vanity counter runs the full length of the space, transitioning into a bench as it approaches the relaxation zone at the far end of the sumptuous bath. Above is a mirror TV built into the rich wood panelling. Two steps up lead to the corner jacuzzi tub clad in white onyx. At the very end of the space is a remote-controlled skylight for star gazing or contemplation. Connected to the master bedroom is the baby's room where Niu designed a stylized, white lacquer tree that houses the library, creating a fun but cosy space.