The boarding house with 12x20 sqm land area, was designed with a quite high adaptation concept. Remembering that this is a house transformed to a boarding house, the result needs to adapt with its existing building while also creating a new design and give a significant added value, especially for the owner and its users. Those aims and processes also occur in the process of grafting which has the aim of obtaining new types of plants that can produce fruit quickly, but still have the same characteristics as the parent.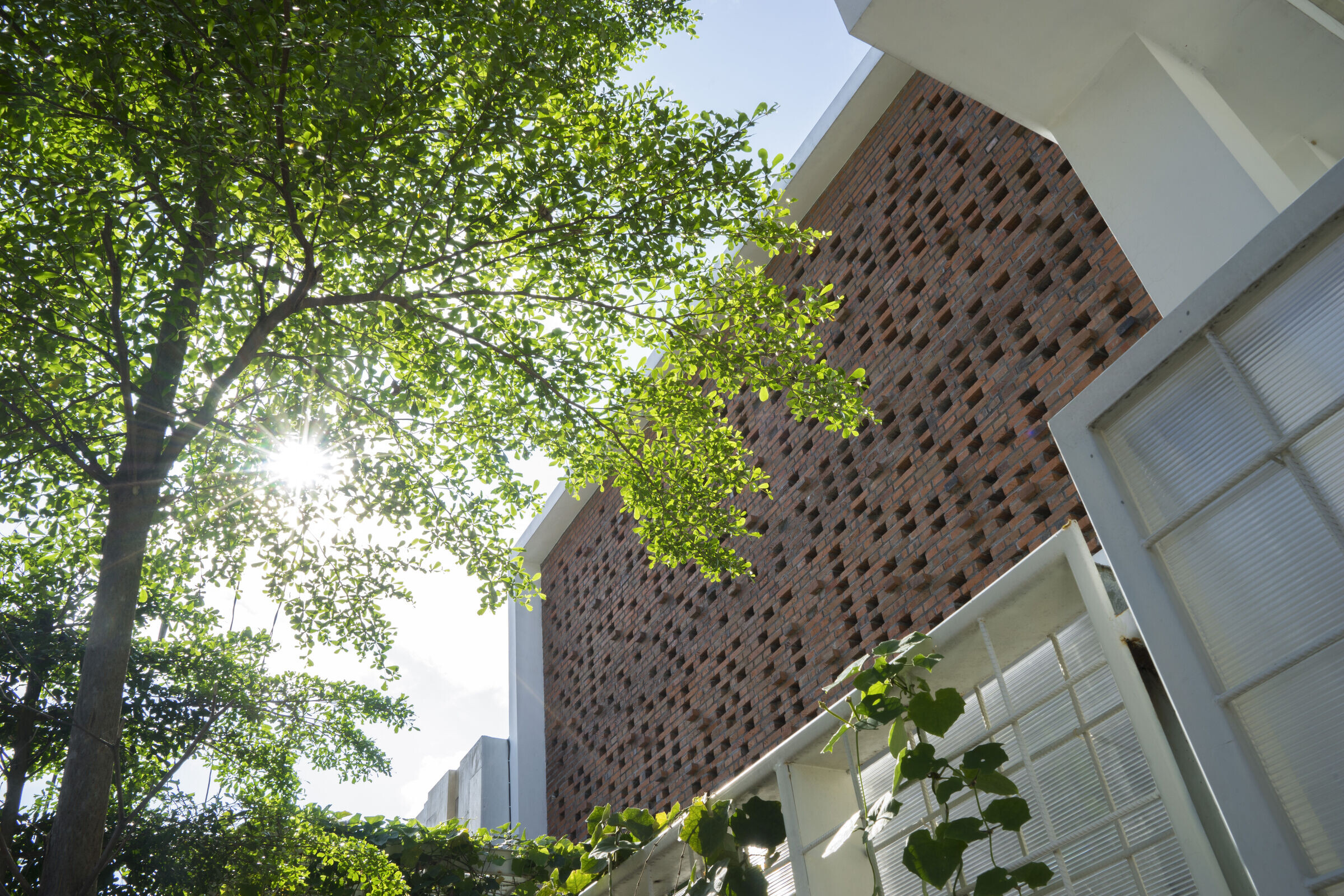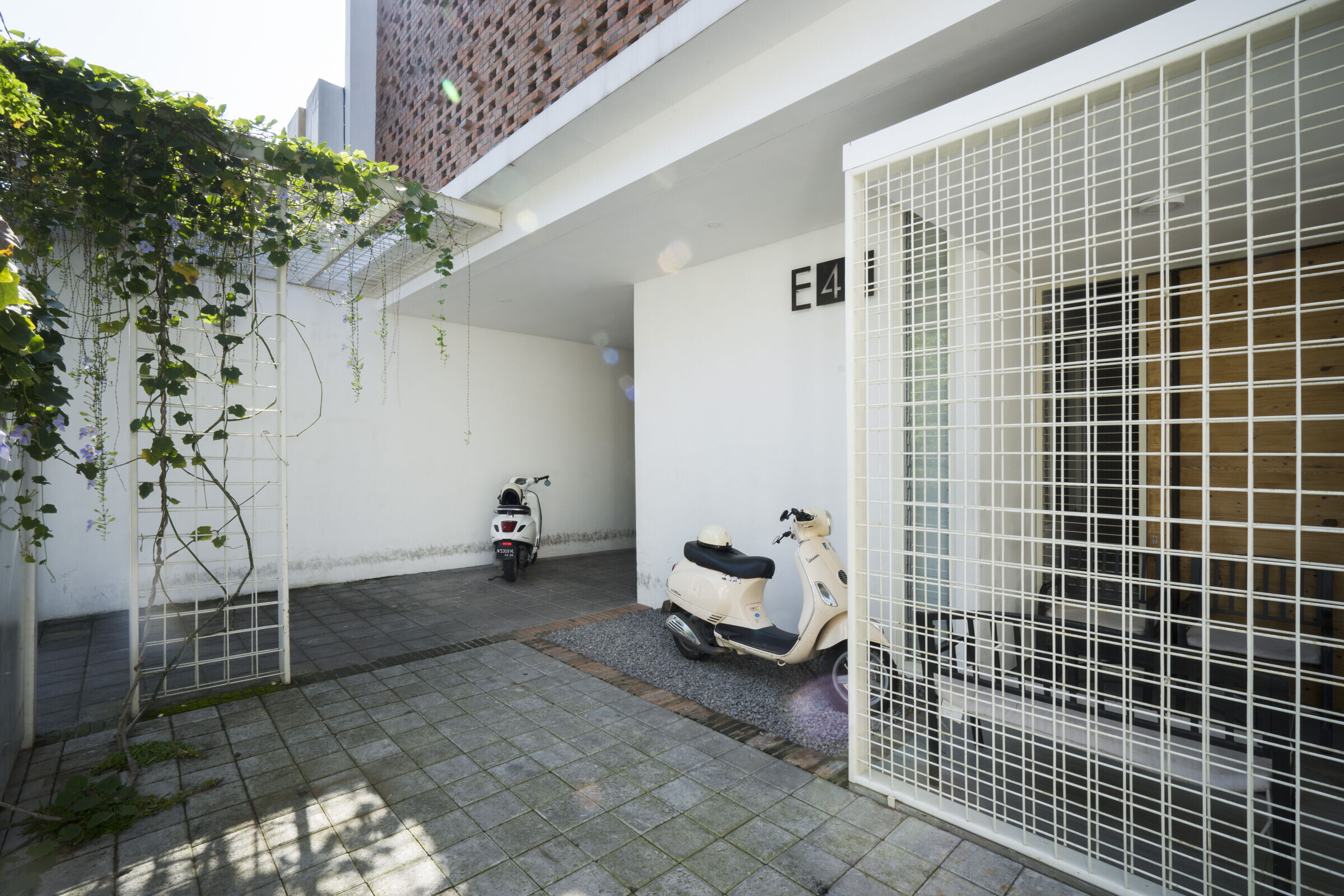 Front side (façade) adaptation is essential, considering that the façade is the most often part people will see from the main road. The backside remained the same as the existing. The quite complicated part is the effort to replace old columns into the new one because this replacement is the factor that did the 'magic' turning 6-rooms house into a 19-rooms boarding house. This is a significant thing in boarding house business calculation.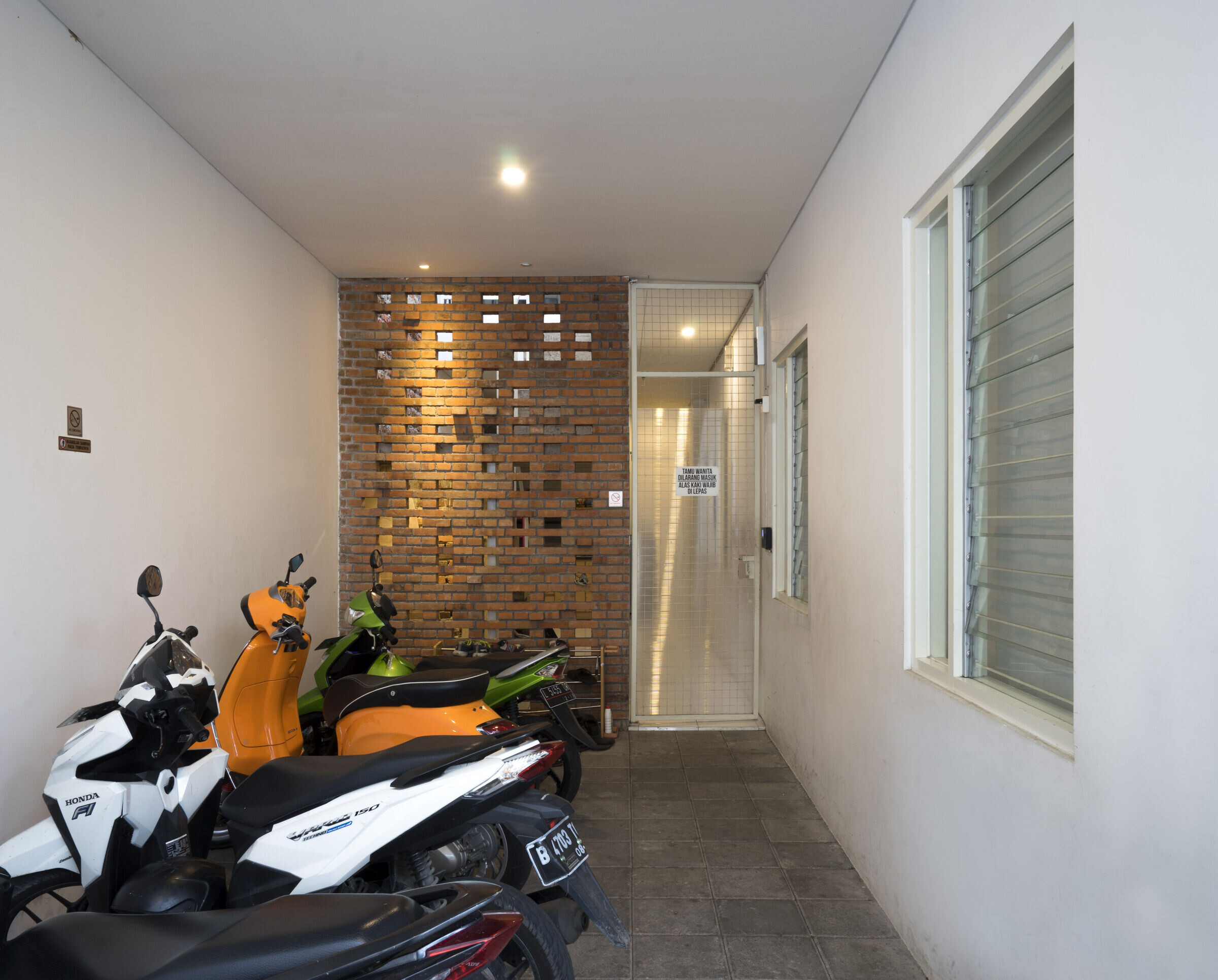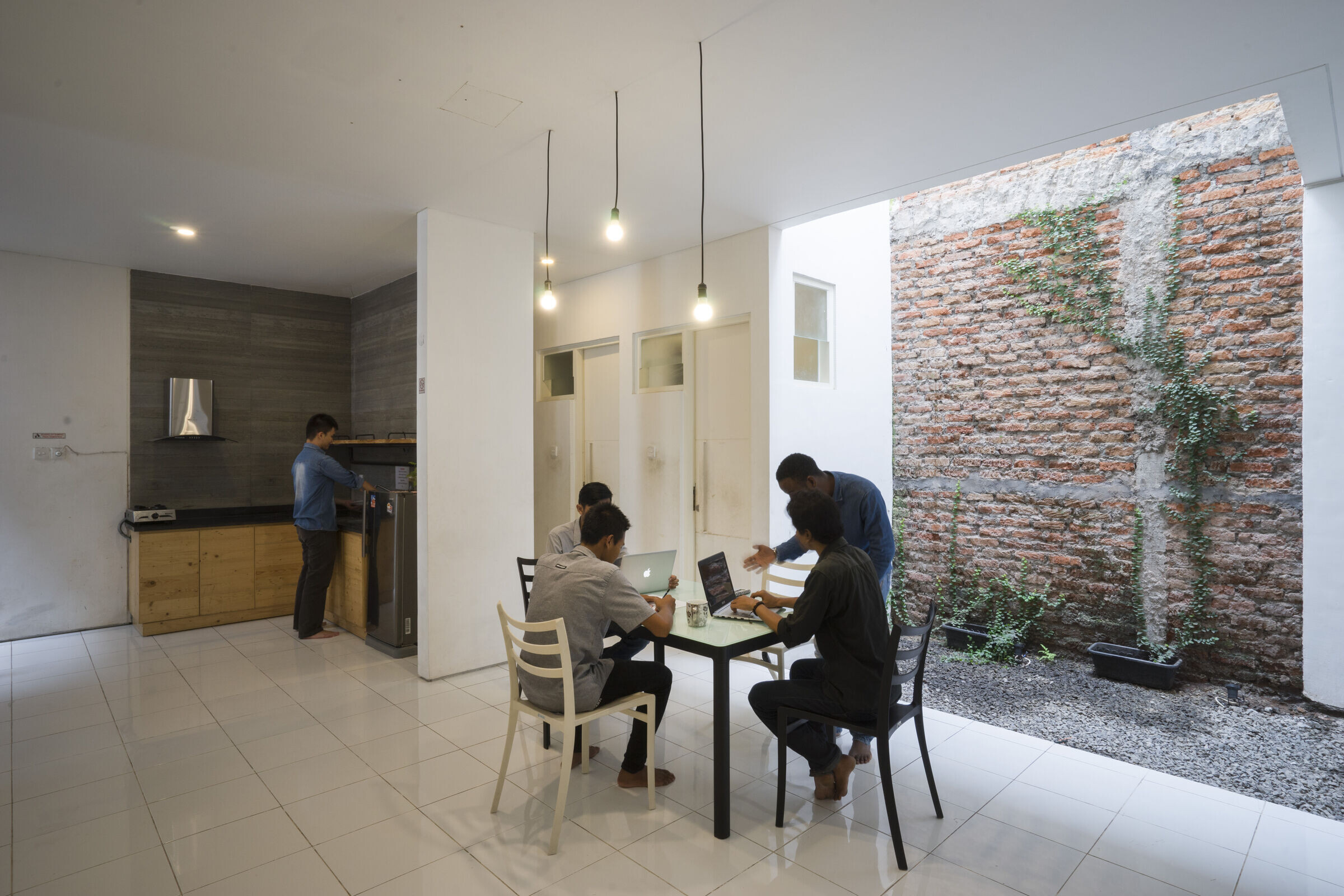 Here the architect made some Nusantara adaptation. This house is fully built at first; its sidewalls also becomes the site's border. So an adaptation was made by giving 80 cm gap (separated from neighbour's wall). With this gap, cross ventilation and lighting happened naturally and giving a positive effect to the rooms inside. Each room should be 'decent and healthy', with two windows minimum on different wall sides, even the front-side rooms has three windows.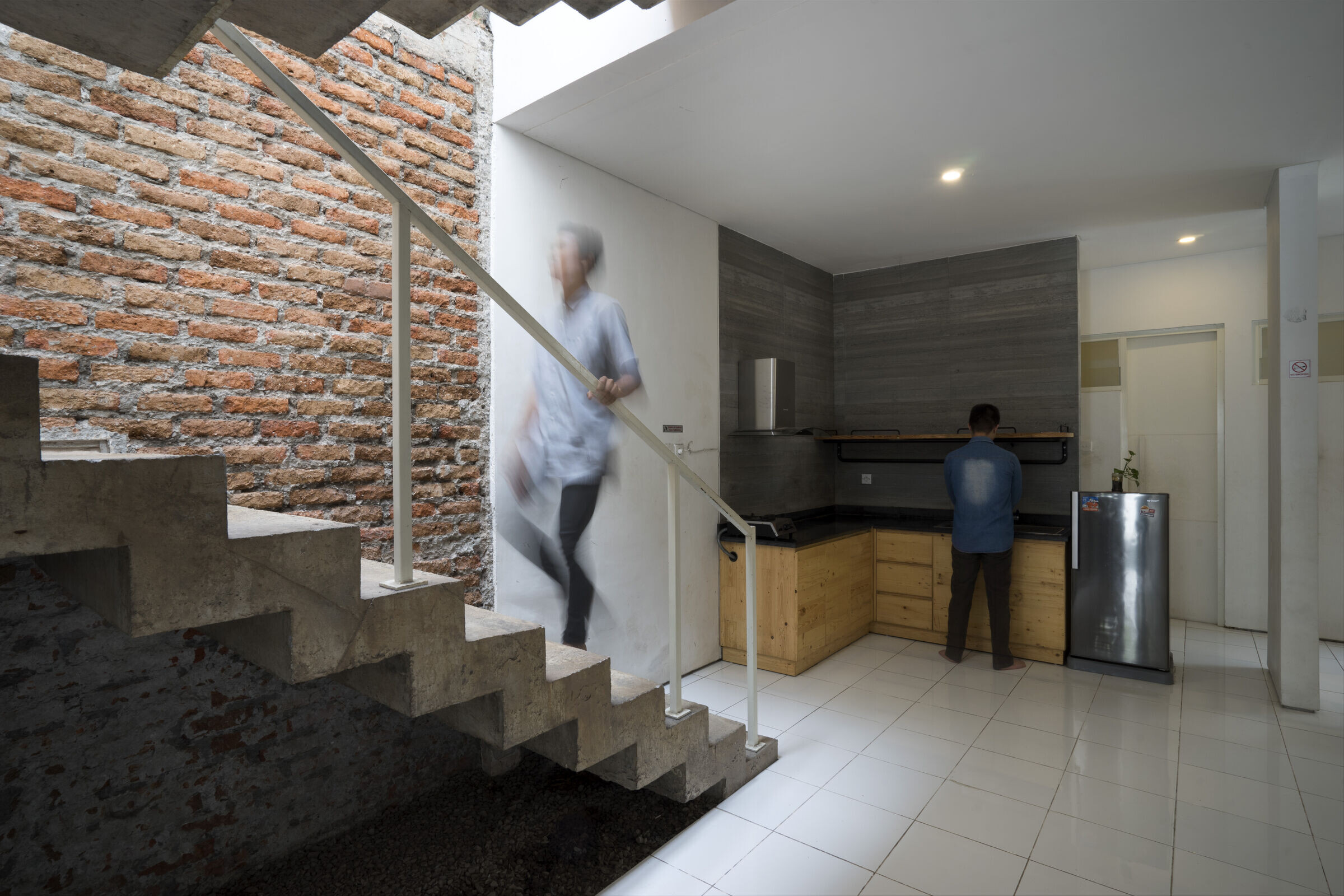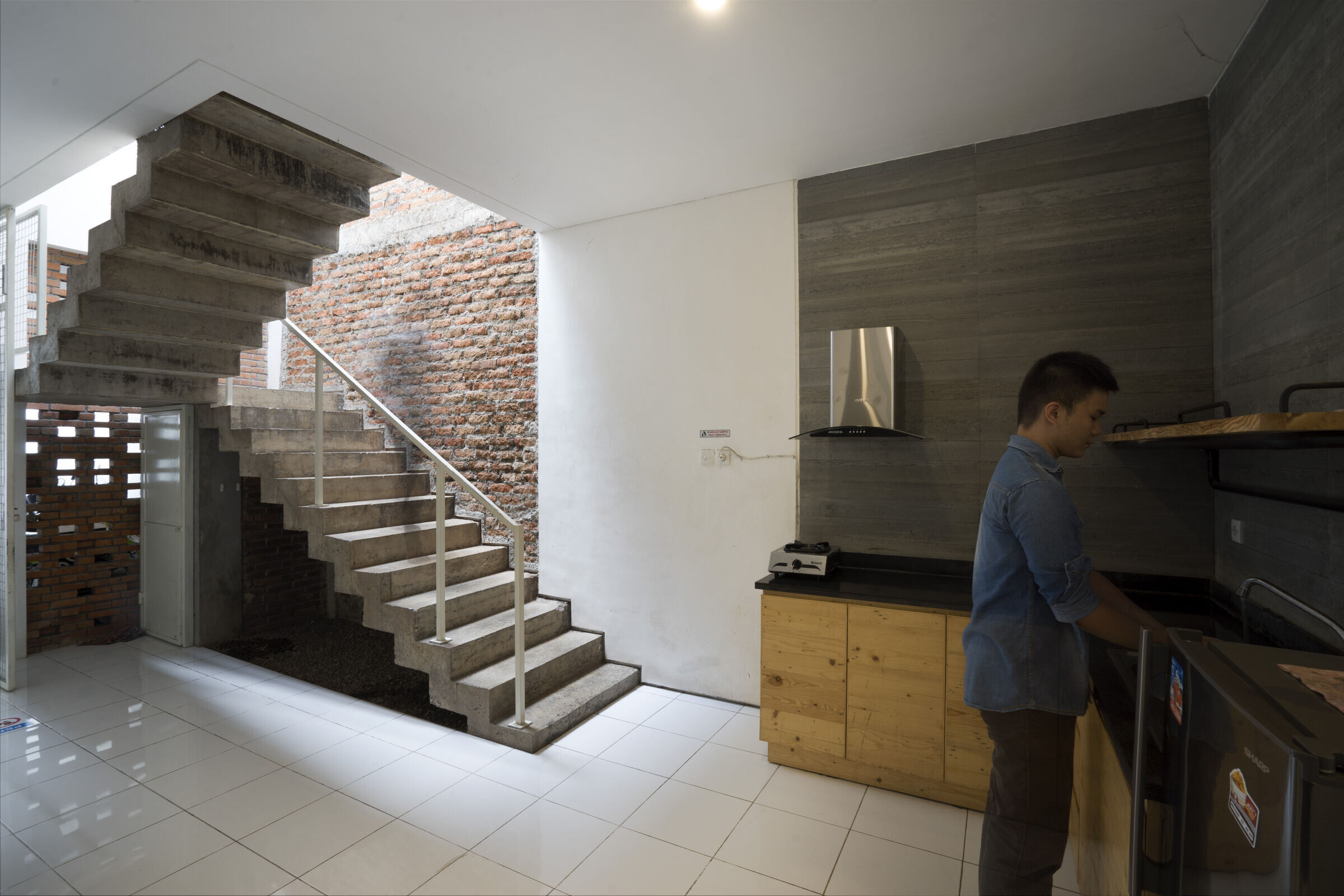 For the interior part, users have to pass a space indentation as a transition before entering their rooms. On this indentation, there are covered shoe rack which also functions as a seating. By doing so, the hallway as the boarding house's circulation area will not interrupt each user's privacy, a lot neater because there will be no shoe rack in front of the rooms.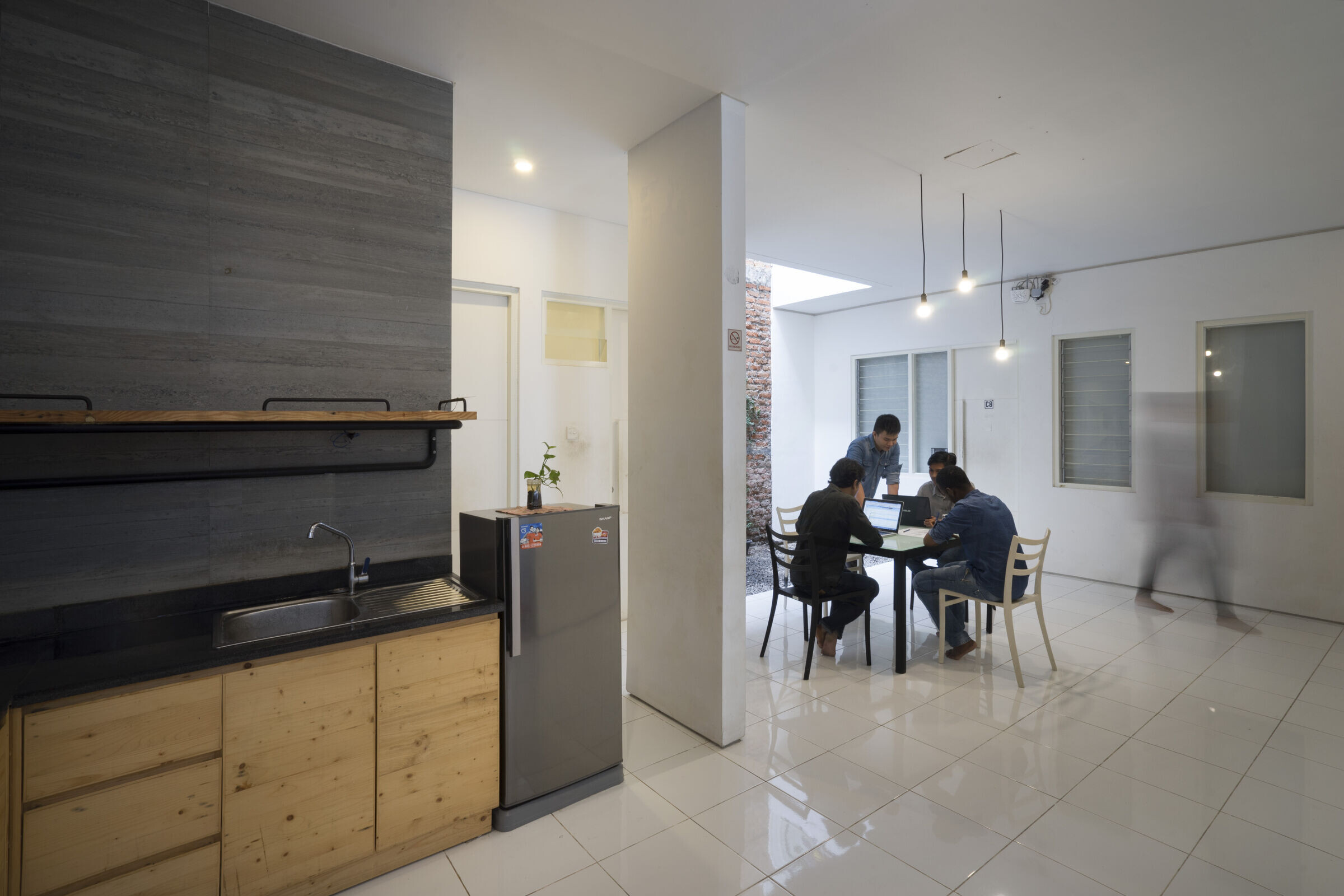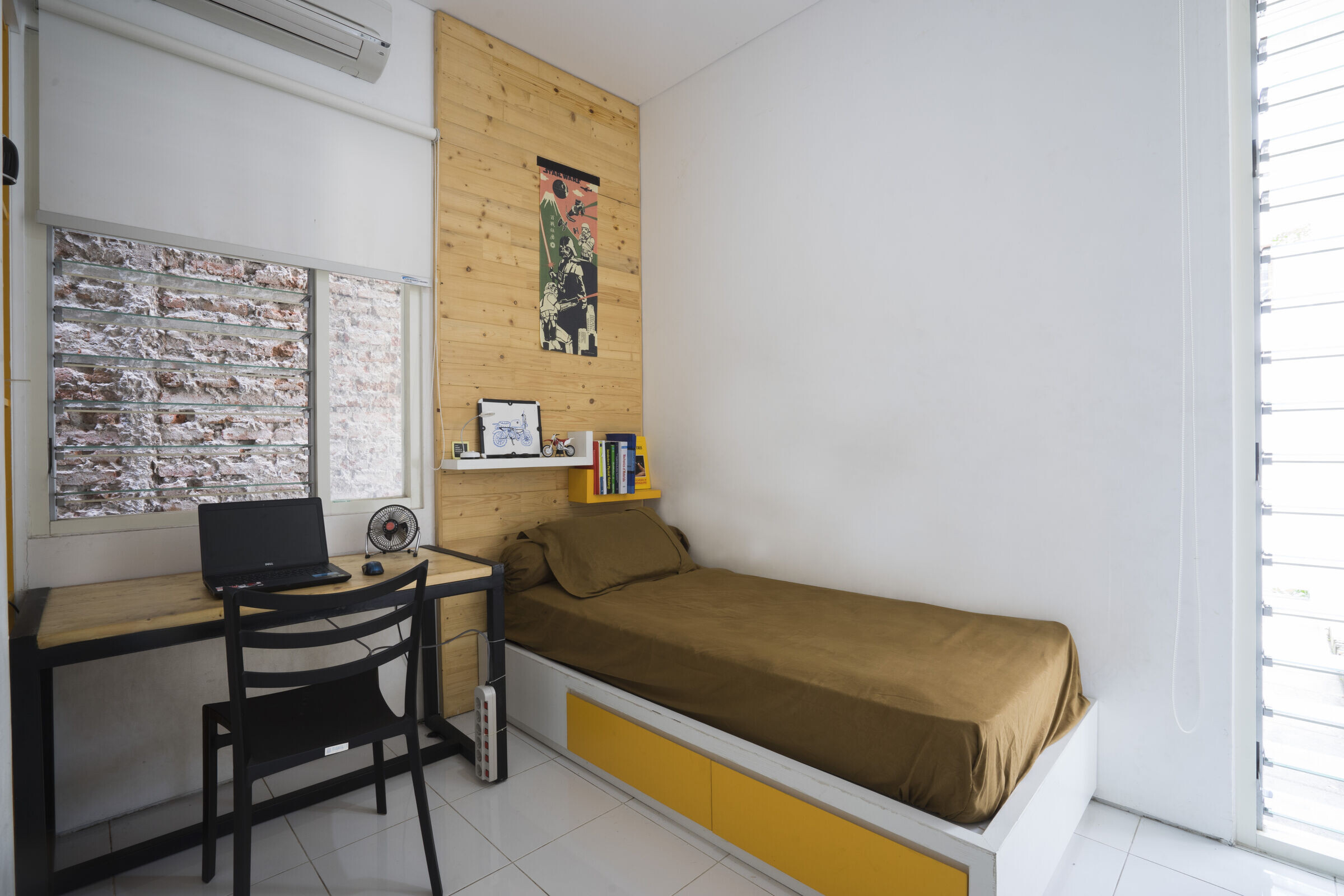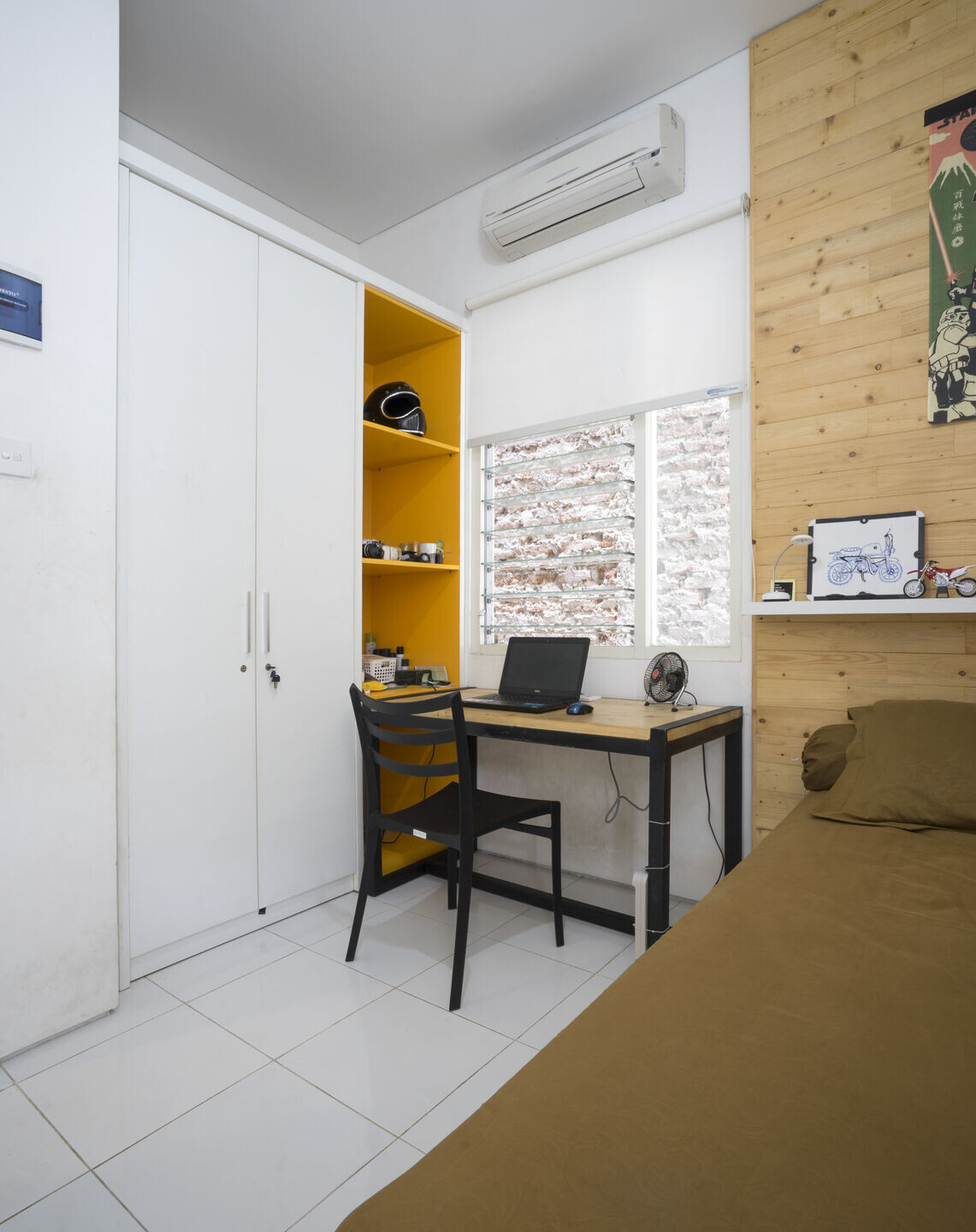 Generally, this boarding house look is white and clean. But there is also an adaptation at some part of this house by bringing out rustic walls. It becomes an interesting dialect when the white walls meet the rustic, uncovered terracotta brick wall. This rustic feel appears by opening old house's wall cover, becomes "naked", then made rougher by randomly gouged to have a natural and "rough" look.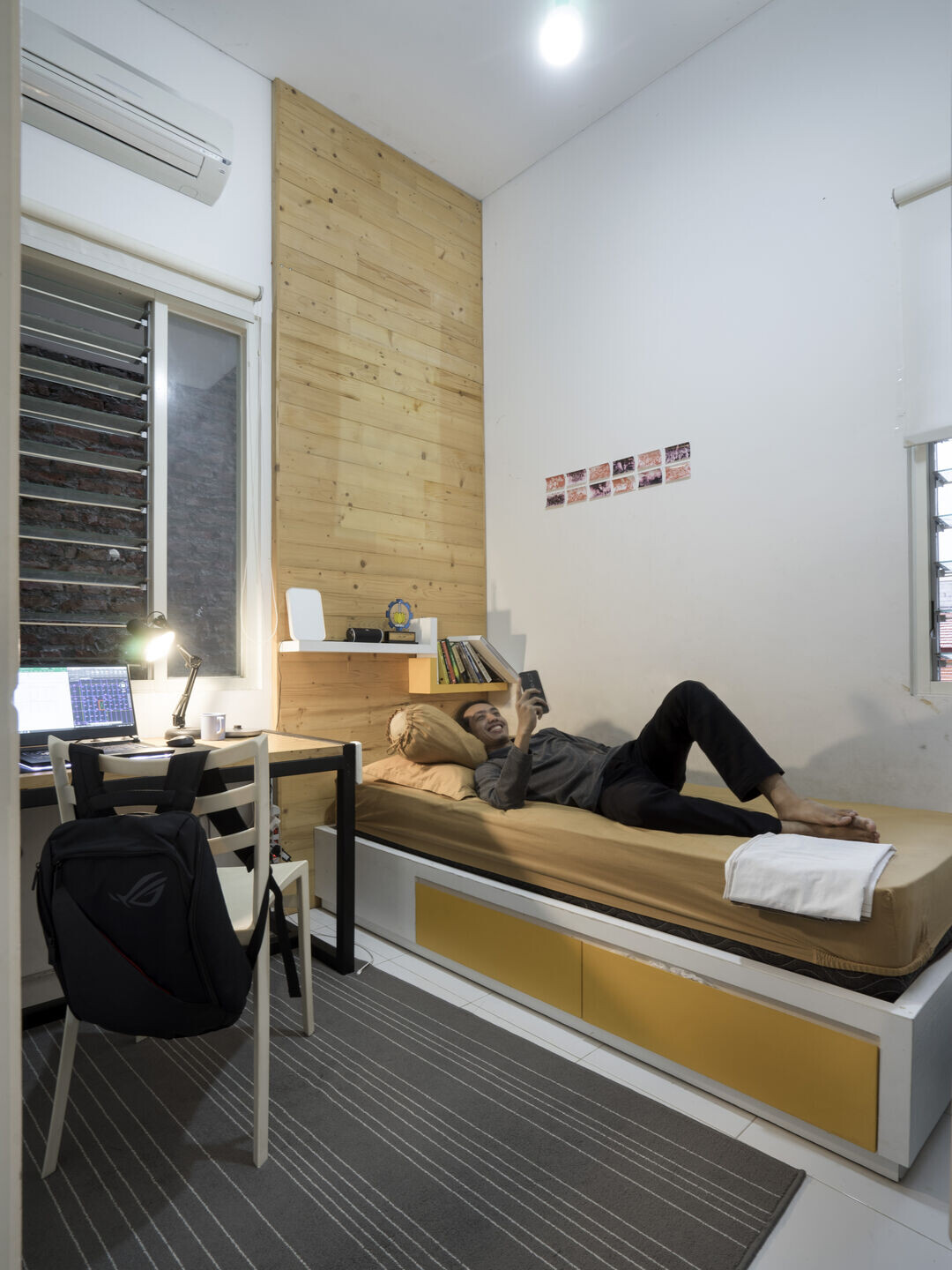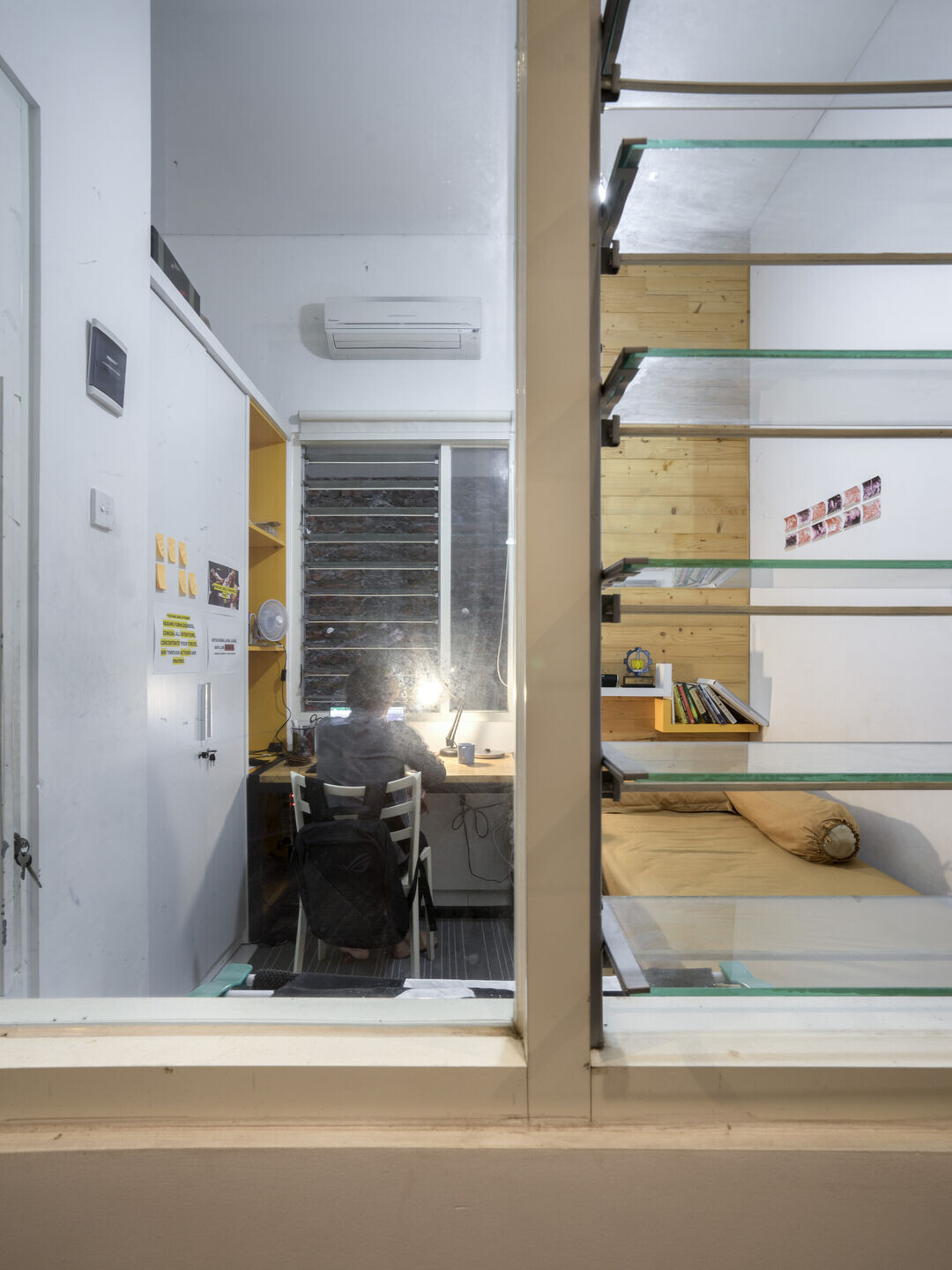 As the clean "opponent", the upper side of front façade is made with full rough exposed bricks, giving a masculine effect to this boarding house's look, because it is indeed made for boys. This brick wall is hollowed for air circulation and natural light, as a manifest and a modern form of gedheg (woven bamboo wall) on a Nusantara building.Therefore, we still find a balance in this boarding house between the rustic and clean, the rough and smooth, the covered and the "naked", where one breaks the boredom of the other, while strengthens each character.