The Greenpoint Library and Environmental Education Center is one of fifty-eight neighborhood libraries that make up the Brooklyn Public Library (BPL) system. Distributed throughout the borough of Brooklyn, this network of libraries provides essential educational, cultural, and social services to the diverse communities they serve.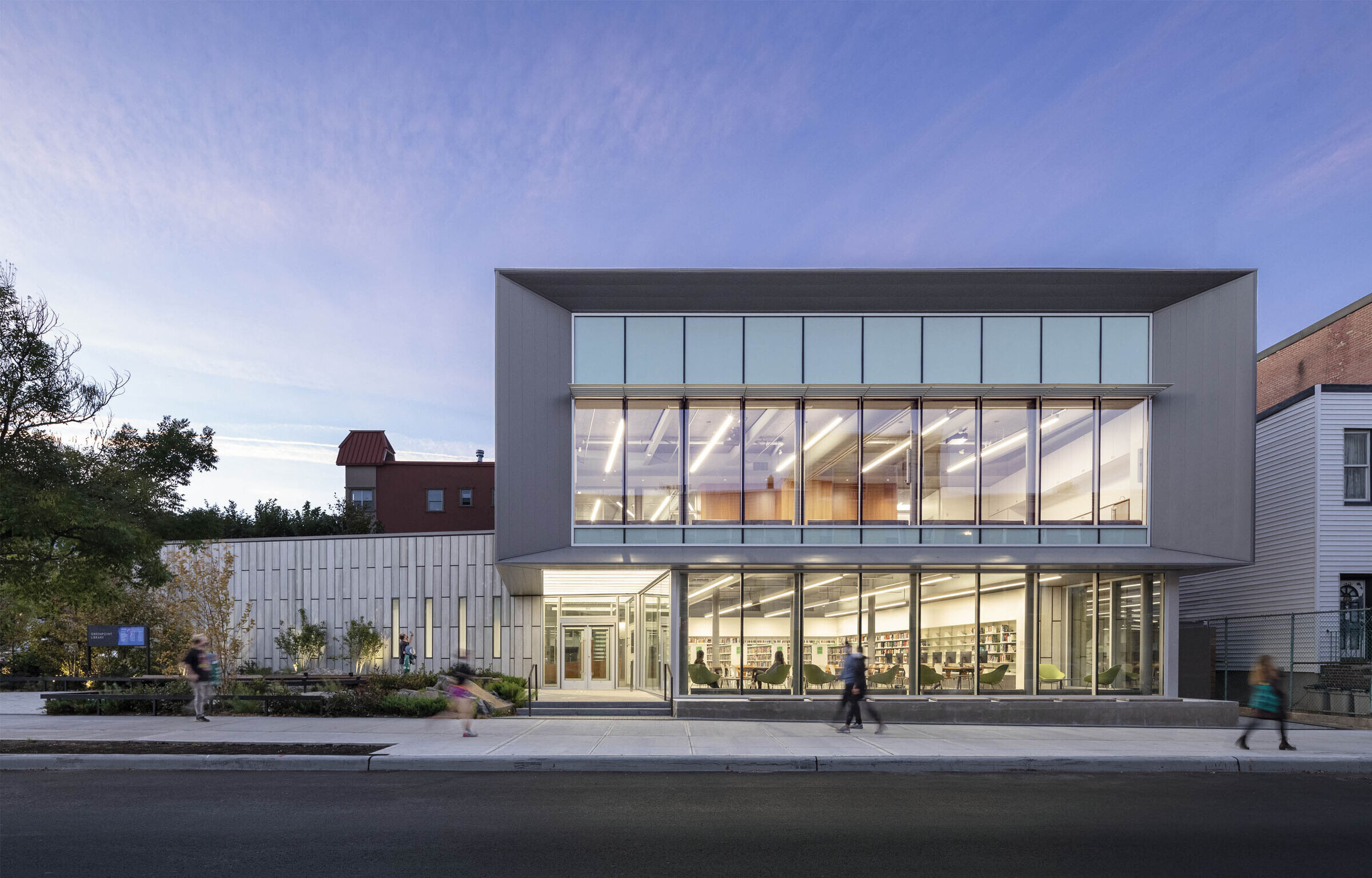 Funded in part from a Legacy Grant from the Greenpoint Community Environmental Fund, this project is the result of an active engagement between BPL and the community. The new building serves residents of all ages by partnering with local environmental groups to offer opportunities to learn about the rich history of Greenpoint and its specific ecological context. Many of those environmental groups are represented on the Community Advisory Committee, which acted as an integral participant in the design team's inclusive design process. The new library offers a centralized venue where local organizations can work collaboratively on initiatives that seek to benefit the residents and the natural environment.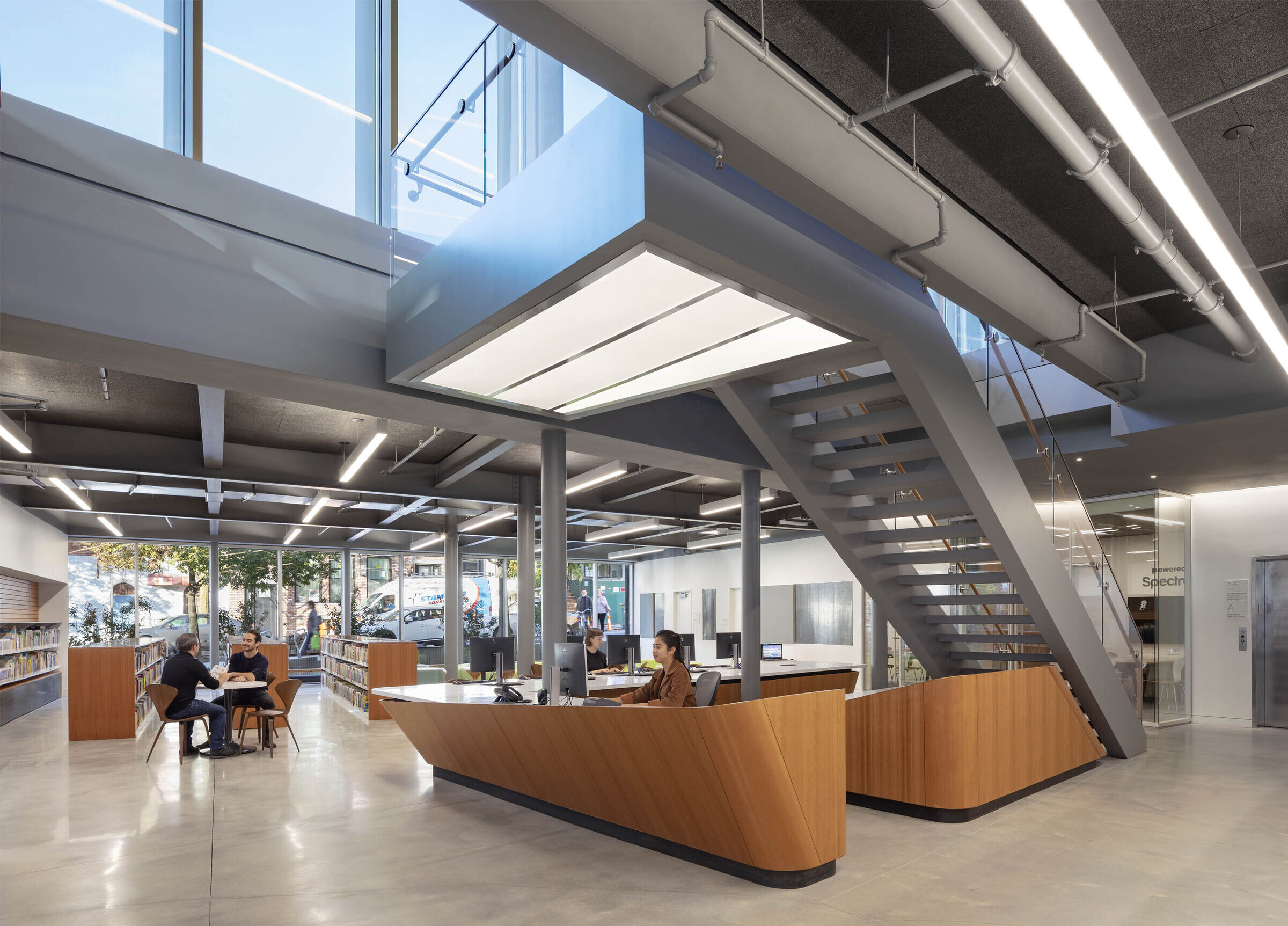 The new library is a 15,000sf community hub for environmental awareness, activism, and education. The design doubles the size of the previous building, providing enlarged indoor and outdoor spaces to house activities related to the exploration of the environment as well as everyday library use. Primary program elements are adult, young adult, and children reading rooms and collection spaces, and community spaces. Lab spaces for interactive projects, large community event space (which can be divided into lab spaces), a lounge, small meeting rooms, and staff spaces are distributed throughout.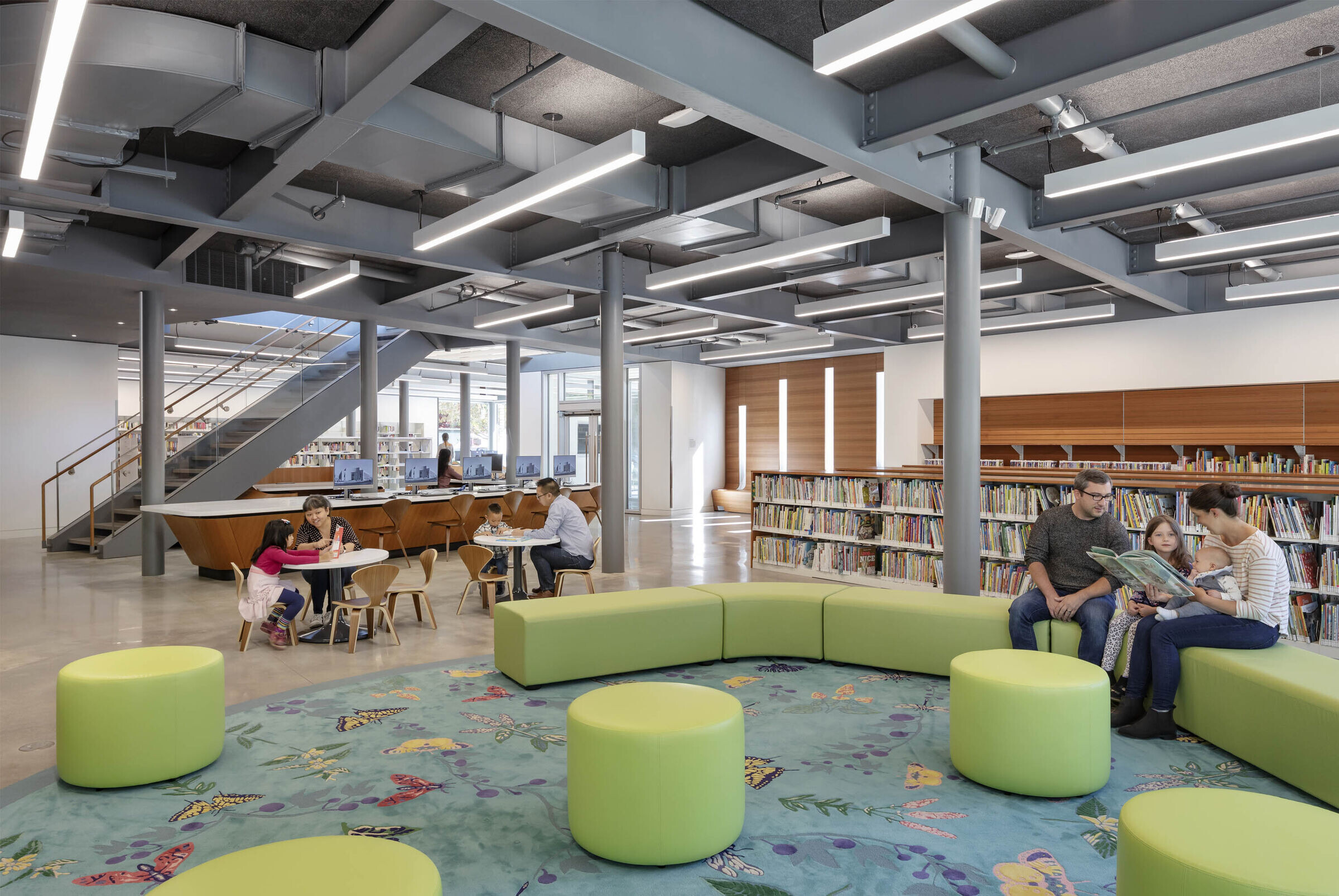 With the ambition "to create environmental stewards and nature lovers out of future generations of New Yorkers," moments highlighting environmental awareness are integrated throughout. Building systems, solar windows aligned with equinoxes and solstices, and local materials are noted in the interior. Exterior materials include custom sandblasted wood and cast concrete panels, developed with a local Brooklyn artisan. The expansive outdoor landscape assists in stormwater retention and the ongoing combined sewer overflow problems through bioswales at the street level. Water is also collected on an upper roof, stored in a visible cistern, and accessed by community members to water the raised community gardens. The landscape provides habitats for native birds and pollinators. Opening during the pandemic, the outdoor spaces are highly valued and creatively programmed. The street-level civic space is a front porch for the community, a place for informal uses, and public gatherings. The reading garden hosts storytime, book talks, and sewing classes. The demonstration garden provides food for the community and programming ranging from pickling to stargazing.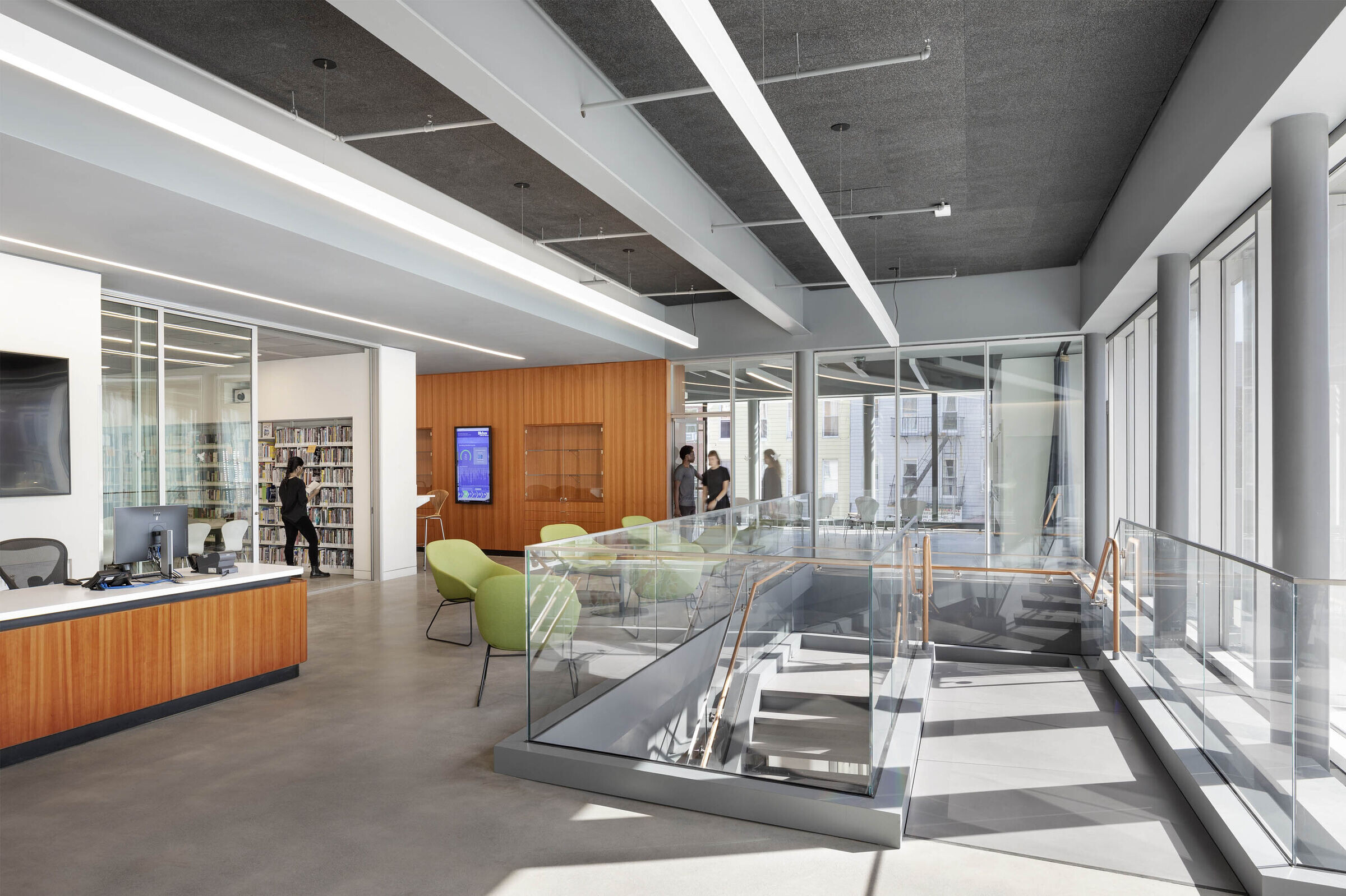 The library provides street-level exterior green space, clear visual connections to interior activities, and two accessible green roofs on the upper floors. The plaza design offers the public an engaging civic space that demonstrates sustainability and reinterprets the environmental history of the region allowing this library to pursue expansive public programming focusing on environmental activism and act as a community hub for education, and awareness, in the larger context of public responsibility. The building will exceed required LEED goals, becoming a demonstration project for innovative approaches to sustainable design and a learning tool for the community.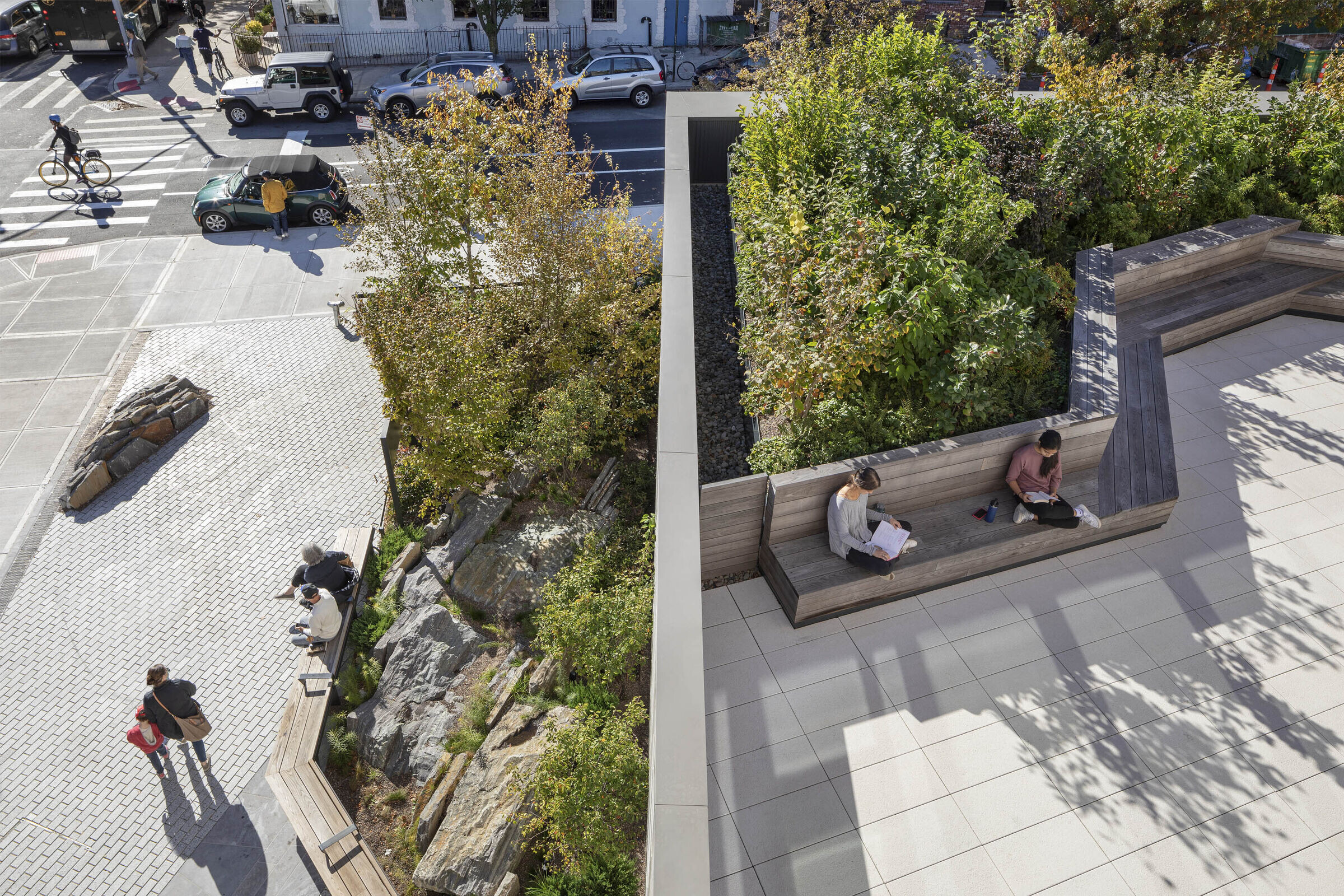 Team:
Marble Fairbanks Architects: Karen Fairbanks, Scott Marble, Nicholas Desbiens, Jason Roberts, Peter Adams, Benjamin Hait, Keenan Korth, Lauren Espeseth, Spenser Krut, Tanya Gershon, Ravipa Ramyarupa, Atrianne Dolom
Landscape: SCAPE Landscape Architecture
Structural Engineer: Robert Silman Associates
MEP/FP Engineer: ads Engineers, PC
Wayfinding: MTWTF
Lighting: Tillotson Design Associates
IT & Security: Cosentini Associates
AV Consultants: InToTo Professional Services, Inc.
Contractor: Westerman Construction Co., Inc.
Photographer: © Michael Moran/OTTO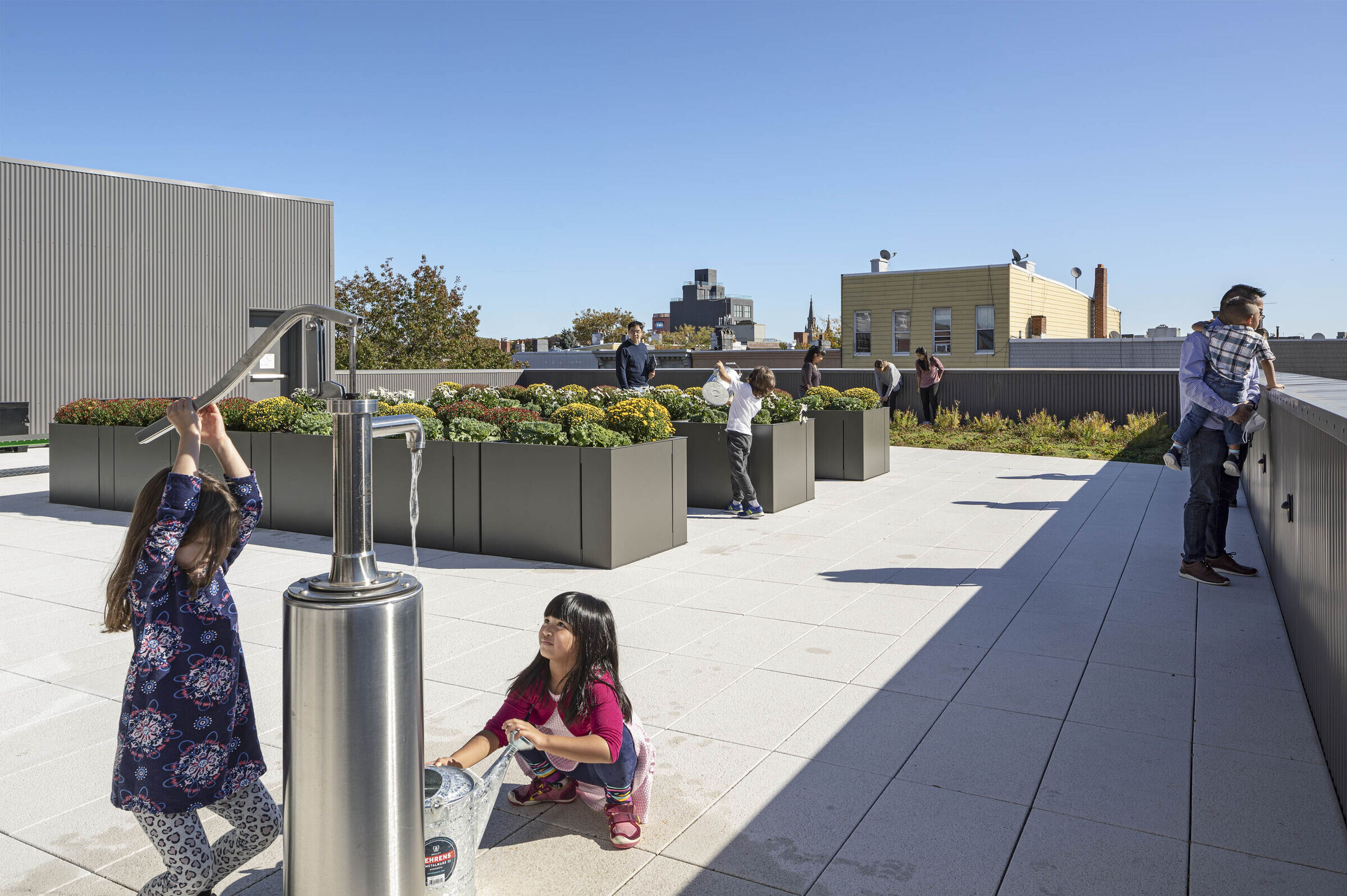 Materials Used:
Facade cladding: Wood, Custom Sandblasted Cedar Panels, Evan Eisman Company
Glass Fiber Concrete, Custom Glass Fiber Reinforced Panels, ConcreteWorks East
Metal, Metal panels, Morin, Pac-Clad
Multi-layer elastomeric film, Moisture barrier, 3M
Glass, Curtain wall, Kawneer
Rainscreen, Advanced Architectural Products
Flooring: Carpet, Forbo
Doors: Metal, Metal Doors, and Hardware, Assa Abloy
Aluminum and Glass, Sliding Doors, Solar Innovations
Windows: Metal, Metal Frame, Kawneer
Roofing: Built-up roofing, Siplast
Interior lighting: Multiple, Interior ambient lighting, Mark Lighting
Multiple, Downlights, Mark Lighting, USAI Lighting, Aculux
Multiple, Tasklighting, Koncept, Feelux
Multiple, Dimming system /other lighting controls Acuity
Interior furniture: Multiple, Office furniture, Herman Miller
Multiple, Reception furniture, Herman Miller
Multiple, Chairs, Knoll, Cherner, Artifort
Multiple, Tables, Vitra, ERG International, Keilhauer, Knoll
Multiple, Upholstery, Brayton Designs, Knoll, Momentum Group
Other: Multiple, Other furniture, Hightower, Herman Miller, Knoll; Custom children's area rug by Mary Mattingly and Barbara Barran