Since its inception in 2016 as an independently owned, breakthrough cannabis retail experience, Hatch has built a reputation on customer care, lauded across Illinois for its modern comfortable environment, broad product selection, and friendly knowledgeable service. For its location in Wheeling, Hatch sought to mirror the high-touch service and vast offering of its original Addison storefront, but in a reimagined, high-design setting with added amenities for a host of new in-store opportunities. Selecting a 5,800-square-foot suburban shopping center outparcel, Hatch tasked Chicago-based architecture and design firm, DMAC Architecture, with transforming the former freestanding restaurant space into an unparalleled dispensary experience.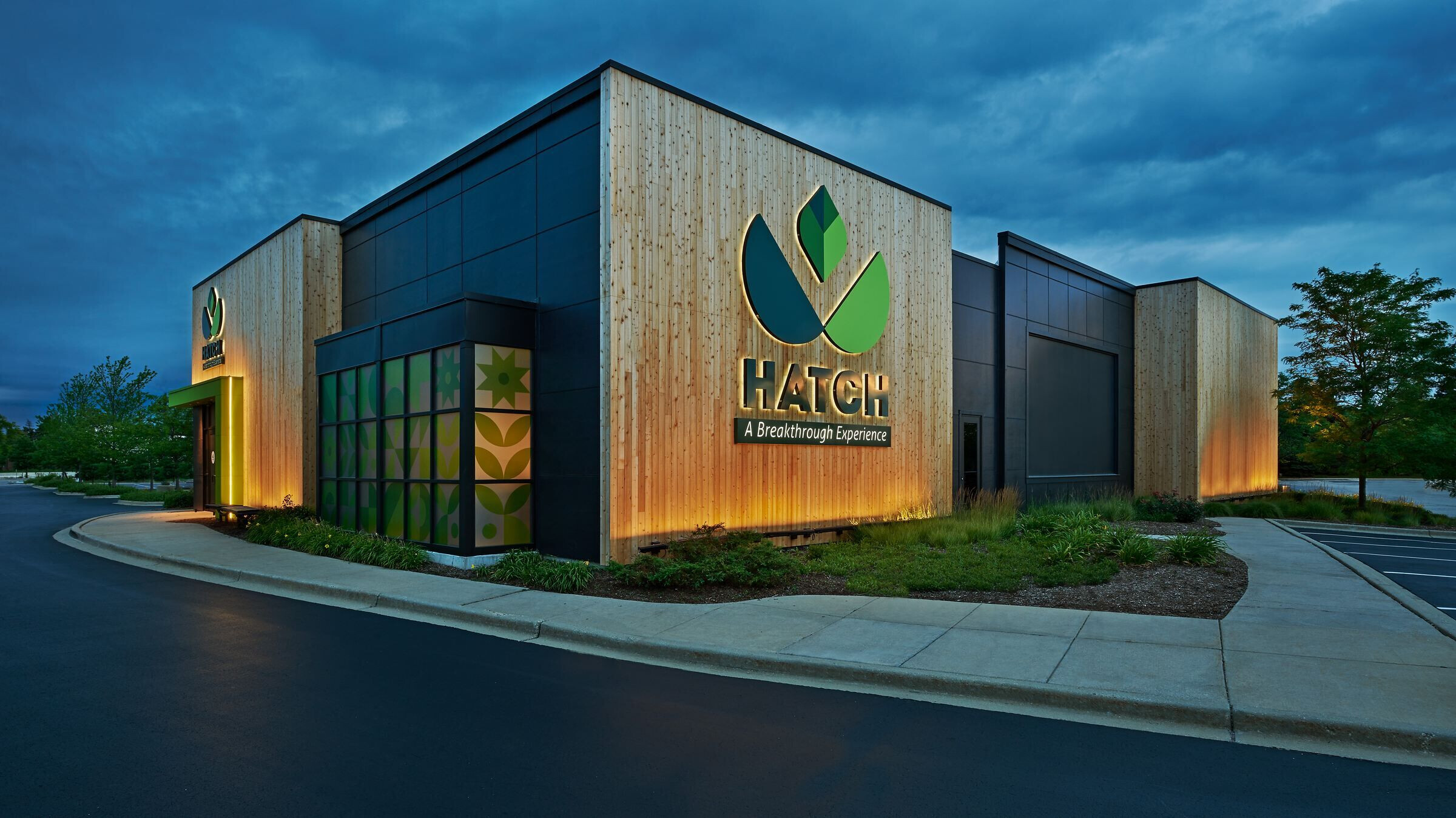 When the Addison location added adult use to its medical dispensary in 2019, the client tapped DMAC to refresh and rebrand the store as Hatch. It became the prototype for the second location in Wheeling, where DMAC renovated and redesigned the existing building from the inside-out, seamlessly carrying the new brand through from arrival to exit. The new Hatch space is more than retail; the design facilitates quick sales, browsing, consulting, education and events with approachable luxury, personal care, and wellbeing at the center of the shopping experience.
The customer journey begins curbside, where DMAC employed a strategic envelope intervention approach that introduces the brand in an elegant facade of variegated cedar wood cladding contrasted with bold, flat-black walls that give the building a backdrop. Existing windows were framed in black and covered in a custom leaf-pattern vinyl film in branded colors with the multipurpose of filtering natural light, giving clients privacy, and meeting state regulations for dispensaries.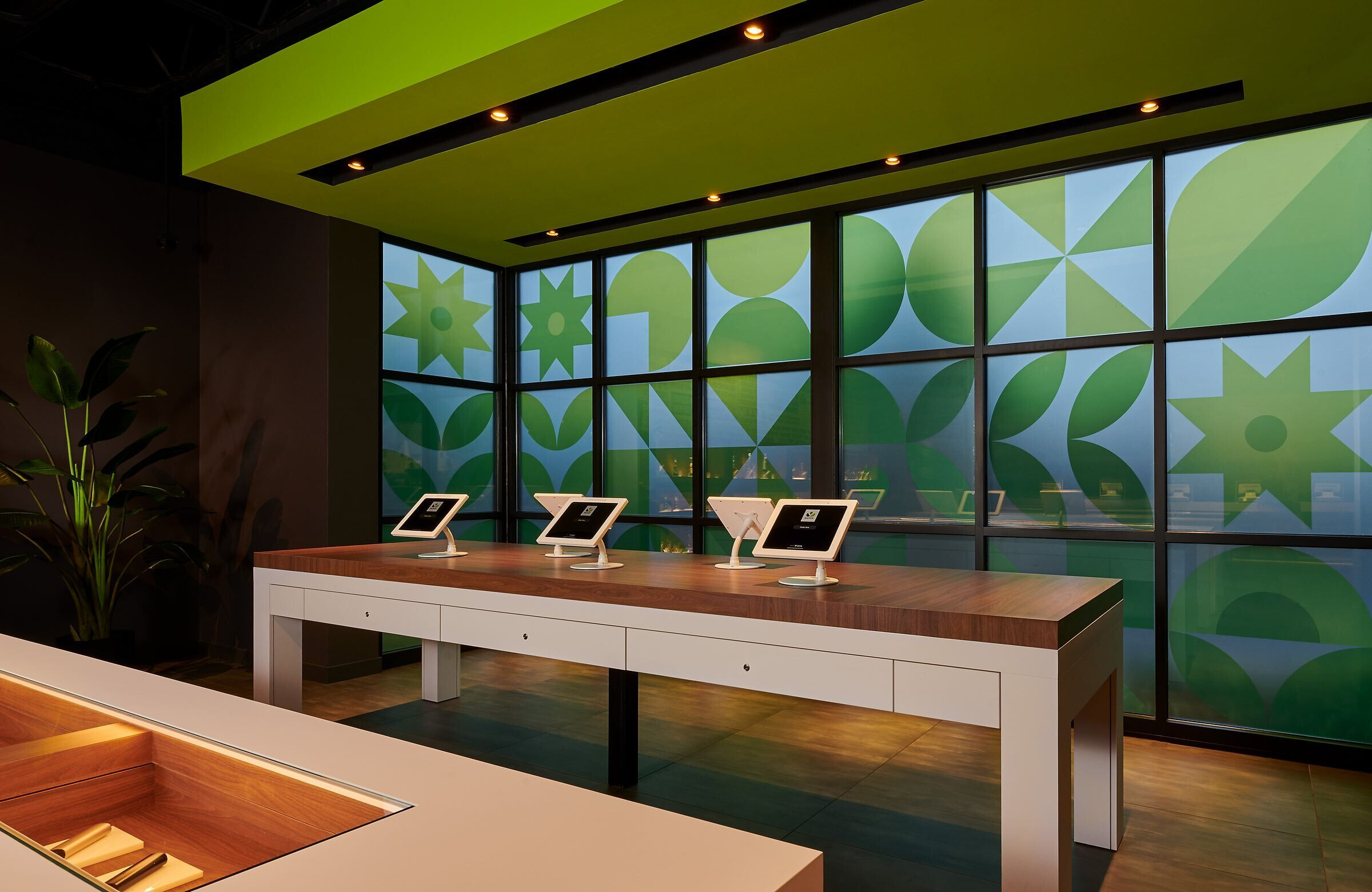 The interior space is configured and designed with an immersive hospitality focus. Upon entering, customers can easily navigate the open space where the sales counter is nearby for fast online order pick-ups, browse through the custom display casework illuminated with premium cannabis accessories under glass, or head to the lounge to meet with a Hatch consultant. Cedar-clad walls and translucent glazing are the backdrop of the interior space for a warm and inviting feel. Built into one wall is a large custom-milled walnut display case staged to highlight a range of artisan glassware and accessories softly lit from below.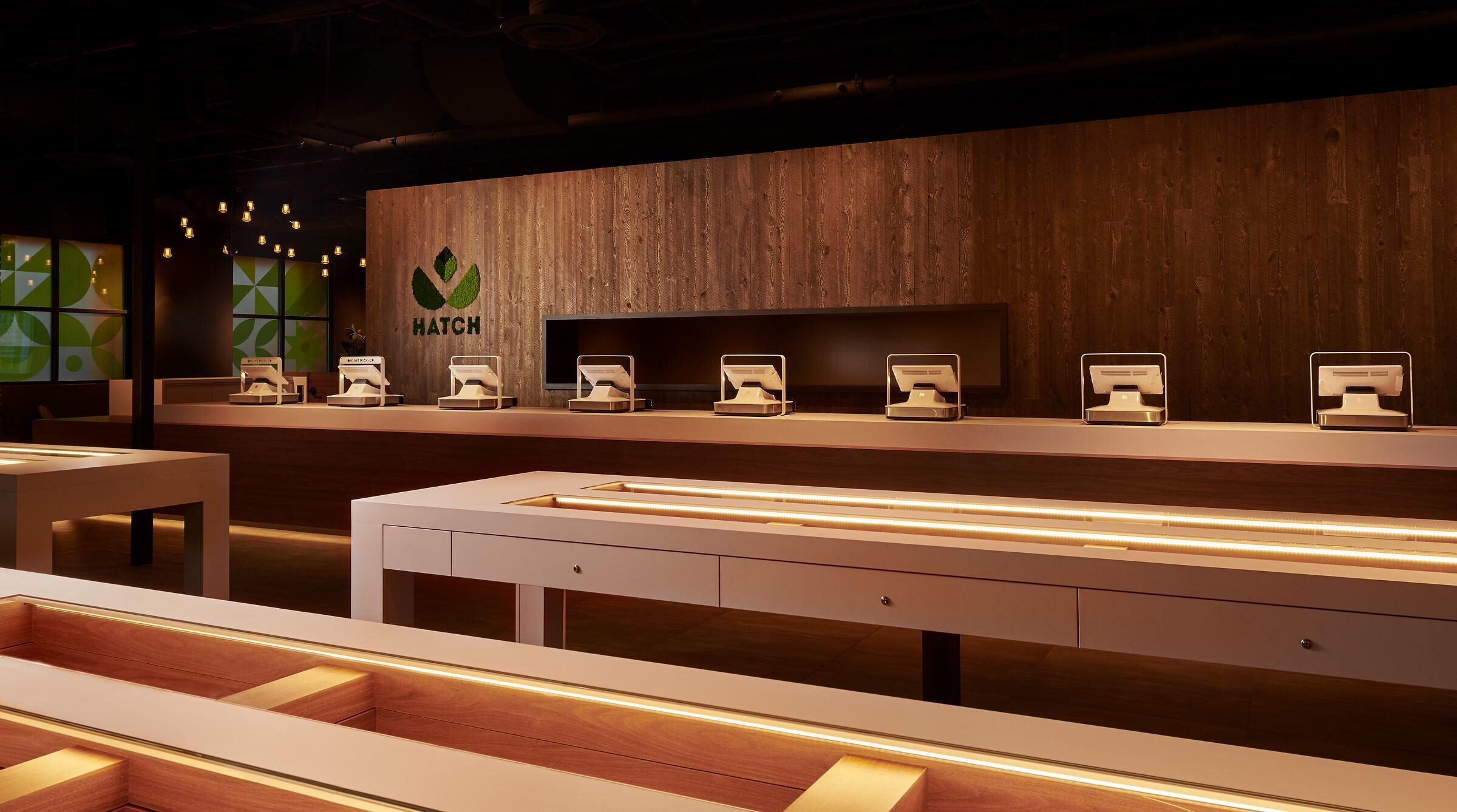 A large custom logo infilled with faux green mosses adorn the interior wall behind the counter. The retail space features long display cases arranged in rows with spacious circulation on both sides. The premium lounge area is designed as a multipurpose space. It has a small niche that becomes a livingroom-type space, furnished with comfortable club seating, TV, and an area rug. It also has a cluster of seating with side tables for quiet consultations. The space can also be easily reconfigured for larger demonstrations or employee training.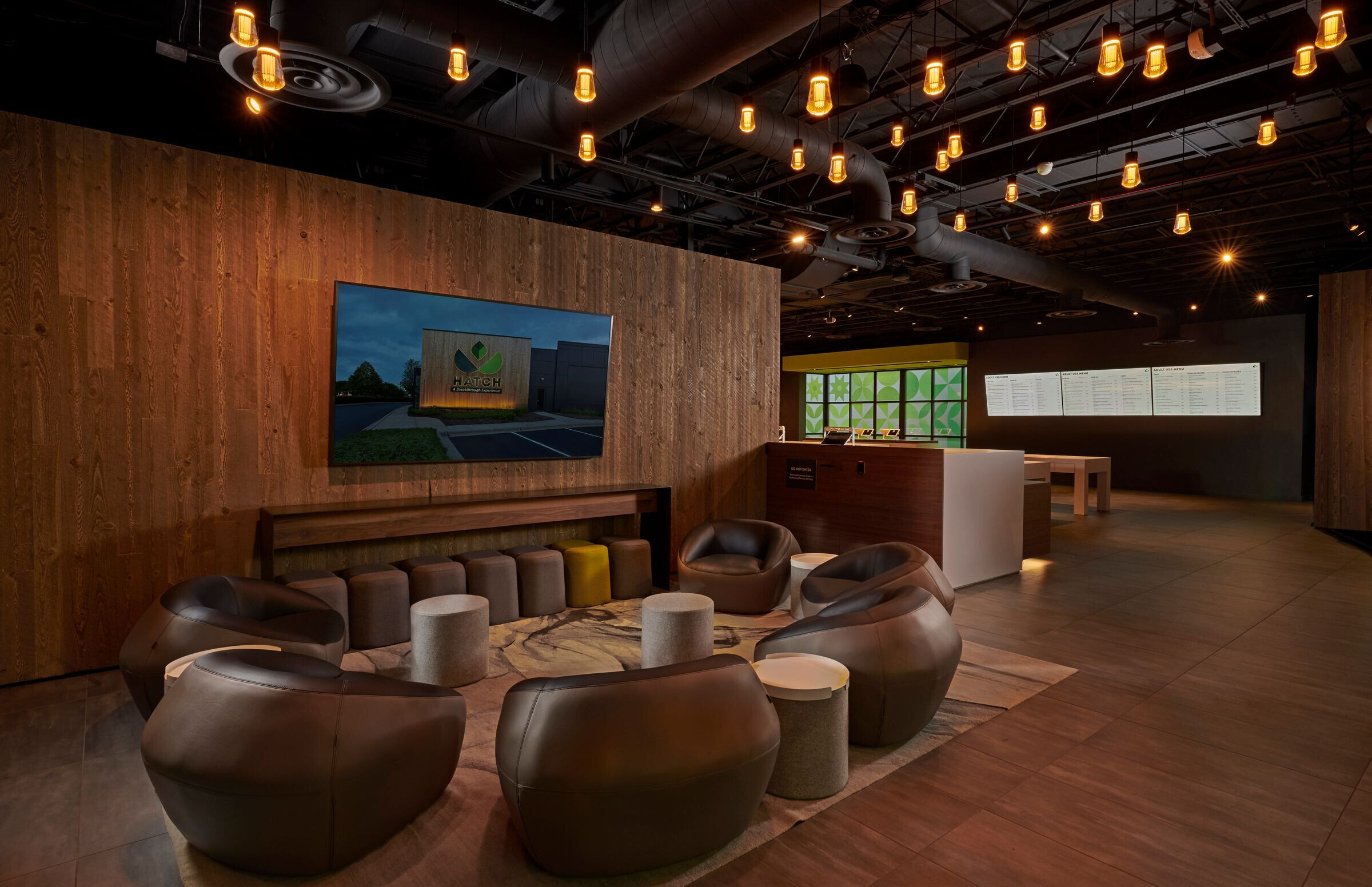 The lighting strategy for Hatch was varied and specific. The retail space is lit with subtle fixtures fading into the black ceiling, keeping the primary focus on accent lighting for the products themselves. In the lounge, however, the space features elegant pendant Edison lamps that visually welcome guests and signal a mood of relaxed luxury. The design also takes advantage of large windows with a custom translucent film, filtering natural light and enhancing wellness in both the retail and lounge spaces.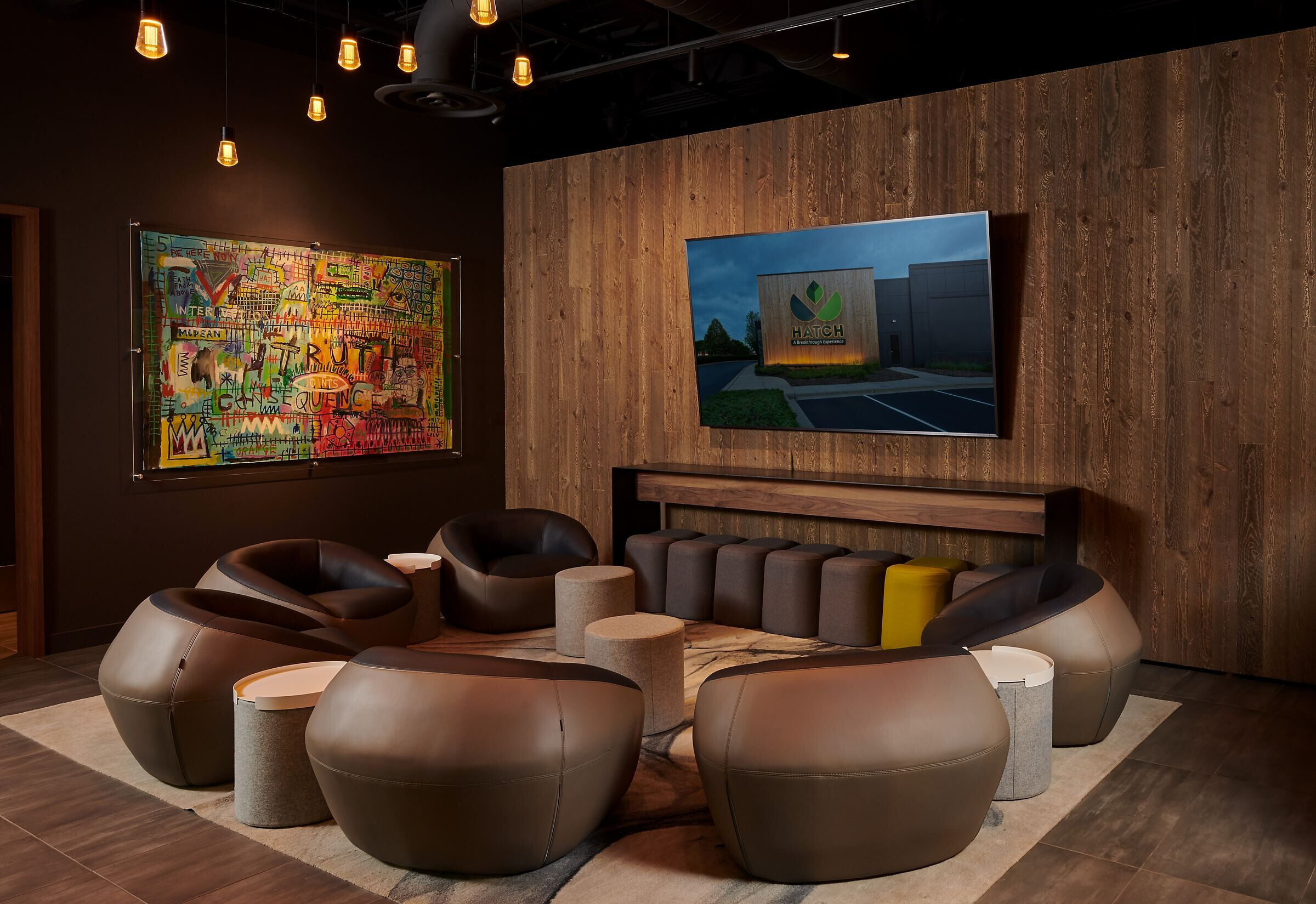 To enhance the shopping experience, there are many custom features at Hatch. DMAC designed and procured custom display cases integrated with soft lighting for comfortable product viewing. The casework is finished in matte-white laminate for a clean and modern look. A hand-crafted checkout counter anchors the retail floor. The top surface is clad in matte-white vinyl, matching the display cases but rests on a wood-clad plinth that appears to float above a glow of light.
Material Used:
● Stone Source Ceramic Tile
● Silver City Shiplap Siding
● Fenix Plastic Laminate
● Cedar Siding
● Solid Walnut