Heritage Park, a new pocket park designed by LAA Office, a Columbus, Indiana-based multi-disciplinary design studio, is activated by public art and placemaking.The project stems from Indiana University's Center for Rural Engagement and ServeDesign Center, who funded the initial study for the park and implementation funding was provided through a significant grant from Regional Opportunity Initiatives. LAA Office's design creates a new, linear path between Salem's Central Square and the John Hay Center, a 5-acre campus with a historical museum and period buildings owned and operated by the Washington County Historical Society. Heritage Park links these two landmarks that previously had no significant connection with an asphalt mural in vibrant shades of blue and yellow, and a new deck and garden framed by a public artwork by the artist Rafel Blanco, honoring significant women in Washington County's history.
The design encourages pedestrians to discover new parts of the city and to learn about pioneering women from Salem along the way. Heritage Park continues LAA Office's interest in repairing urban fabric through public art and placemaking initiatives. Recently completed past projects of this type include their 6th Street Arts Alley project in Columbus, Indiana.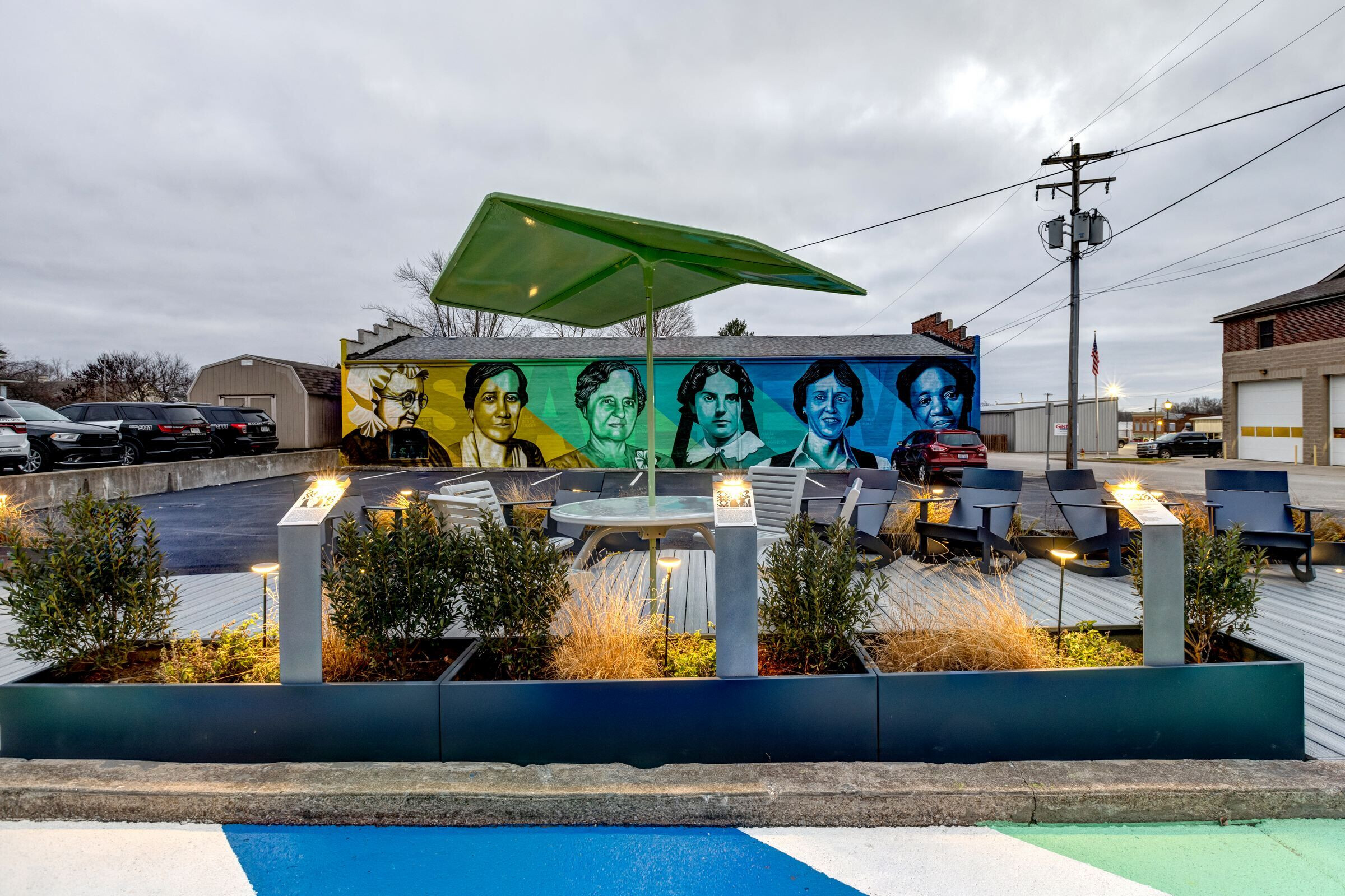 Situated at the heart of the neighborhood and across from City Hall, Heritage Park is designed as both a space for gathering and viewing art. LAA Office uses the term "Barn Quilt Urbanism"' to define their conceptual approach in Salem, which unites the landscape into an outdoor museum or art trail. "Conceptually, we imagined the project as a way of creating a linear stitch in the town's urban fabric. We were influenced by the regional folk art tradition of barn quilting," says LAA Office Co-founder Daniel Luis Martinez . "Barn quilts are a rural phenomenon produced by the stewards of the land upon which they appear. We wanted to adopt the aesthetic language and organizational framework of barn quilts in an urban setting because we knew it would resonate with the citizens of Salem."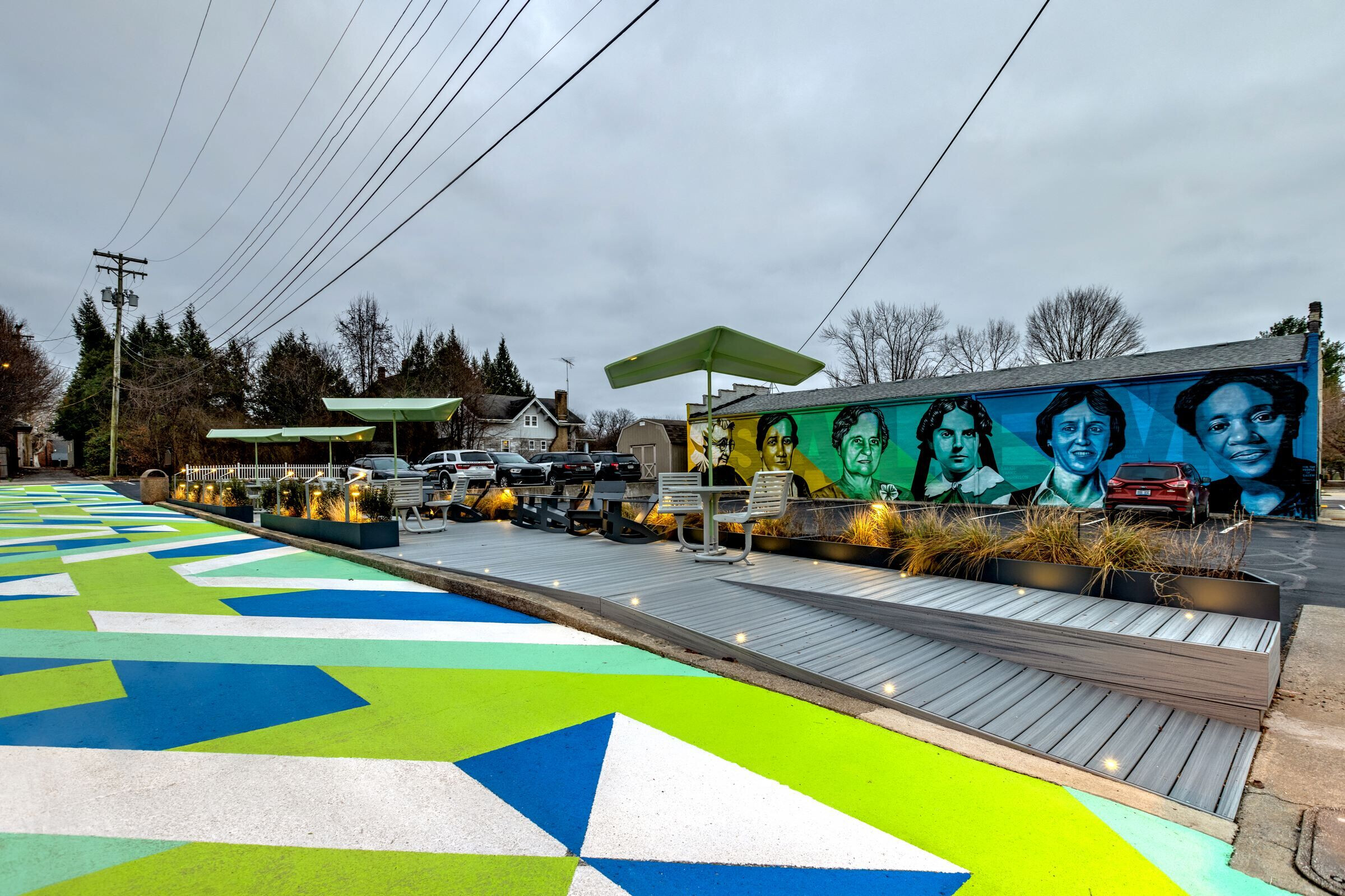 LAA Office began by converting parking spaces into public space and occupying various planes within the context: vertical (walls) and horizontal (ground). In doing so, the office creates a three-dimensional experience of art within the city. One artwork is a pedestrian path that, in effect, becomes a form of wayfinding leading people to the pocket park and cultural attractions in the town. Rafael Blanco's mural featuring six pioneering women with roots to Washington County acts as a visual focal point to be viewed from the new pocket park.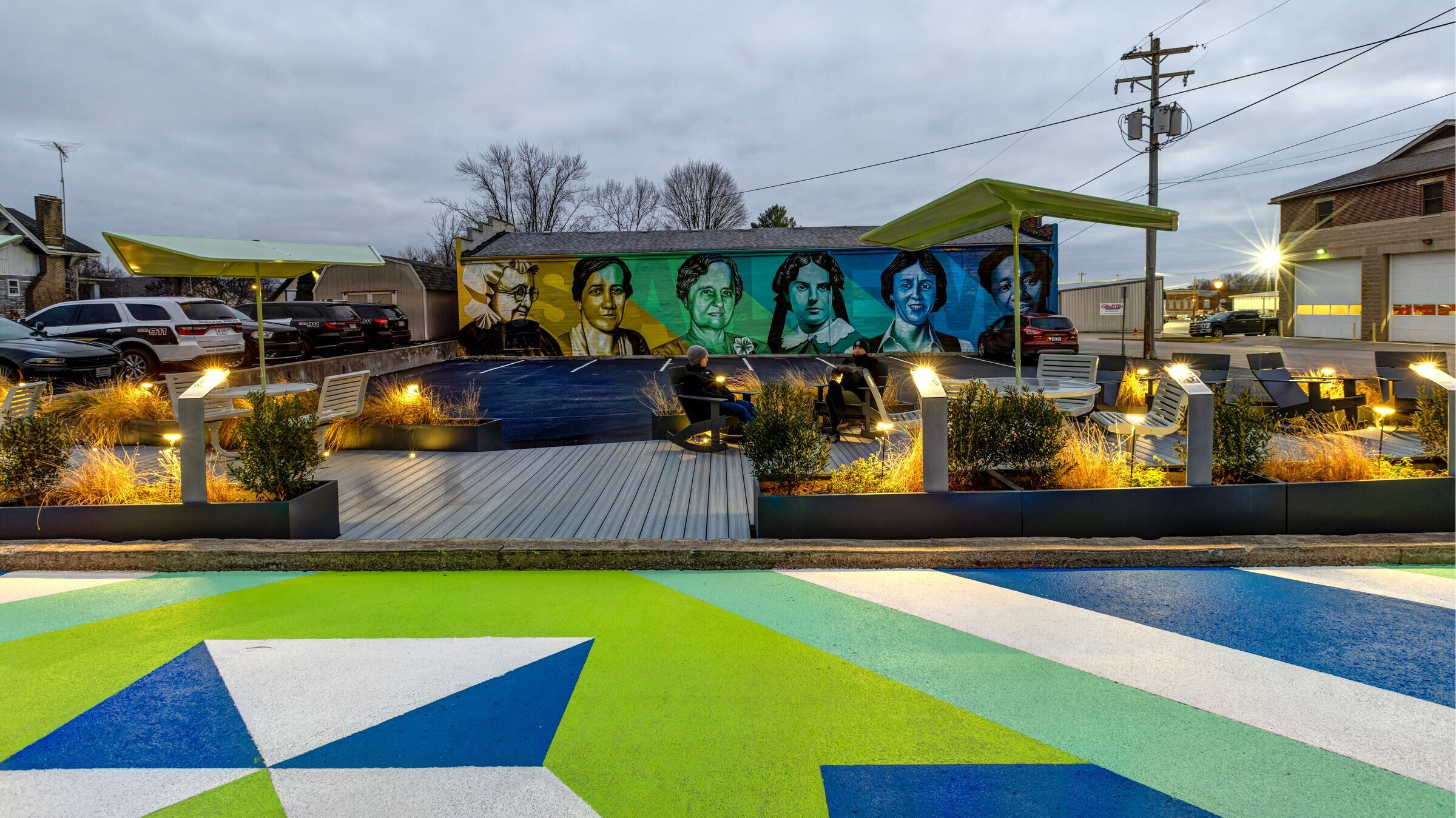 The emerging studio also designed an elevated deck across from Salem's City Hall that is accessible from the new pedestrian path and surrounded by a perennial garden set within powder-coated, aluminum planters. The public artworks are then coupled with public amenities, like garden elements, tables and seating. Says LAA Office Co-founder Lulu Loquidis , "We worked with the stakeholders to select fun, contemporary furnishings that would make the park a popular gathering space. One of the biggest comments from stakeholders on our team was Salem's lack of public seating and places where folks might meet a friend for lunch or a coffee outdoors. We wanted to provide that for them within the context of new public artworks."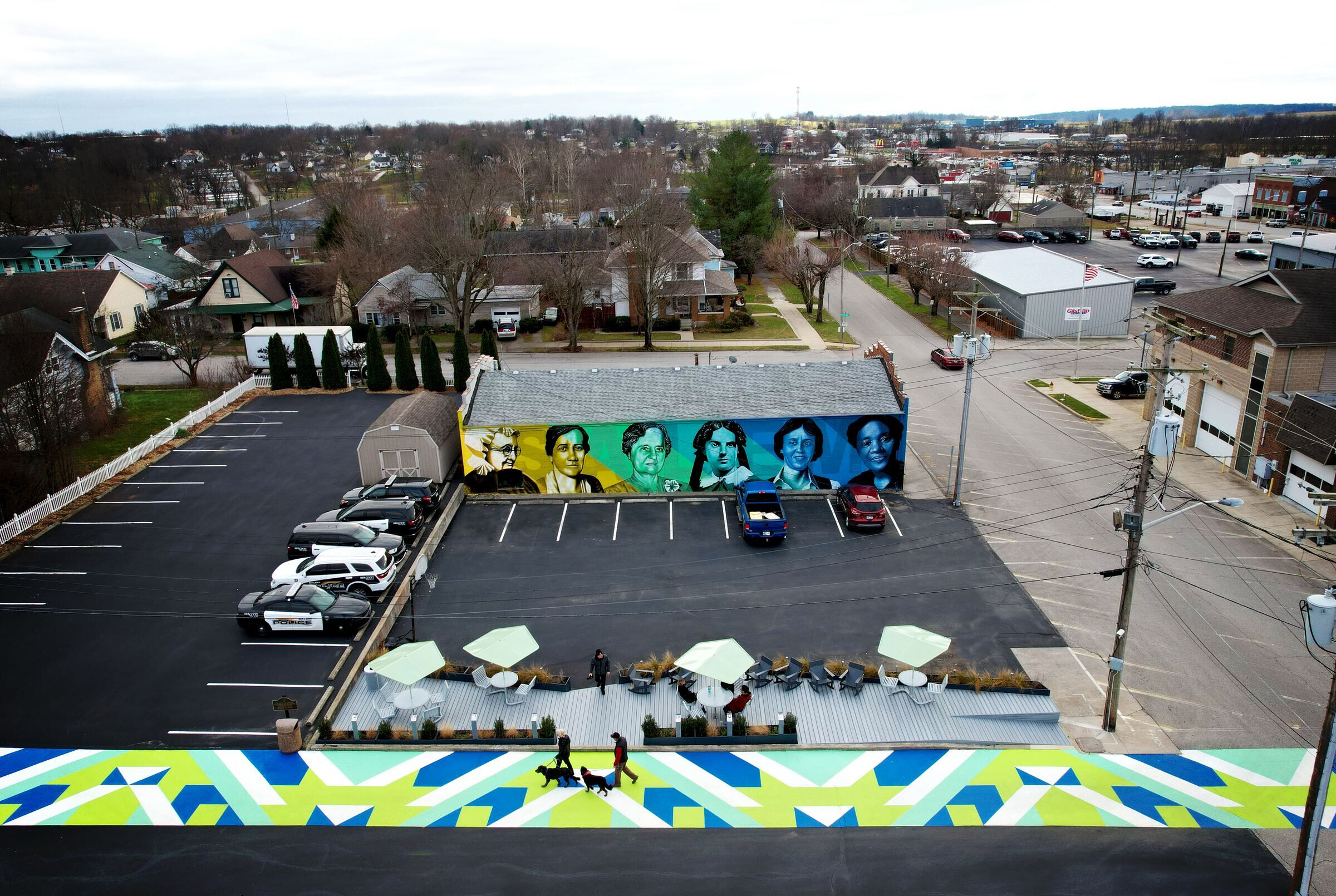 Implementation of the barn quilt pattern on the ground in Salem was completed by LAA Office with the help of community members and students from Indiana University (where Martinez teaches). Volunteers mingled with students , each learning from one another and about the stories of strong, female role models with ties to Salem. The six women honored by Rafael Blanco's mural include Sarah Parke Morrison, who was the first female graduate of Indiana University and subsequently their first female faculty member. The mural also features Emma Christy Baker (first black, female police officer of the Indianapolis Police Department), Lula "Desse" Rudder (first licensed female pharmacist in Indiana), Terry Hall (a highly successful N.C.A.A. women's basketball coach), Dr. Mary Reid Lusk (a self-made neighborhood doctor and participant in the region's underground railroad operations), and Bradie Shrum (a dedicated child educator and namesake of the local elementary school where she taught for 60+ years).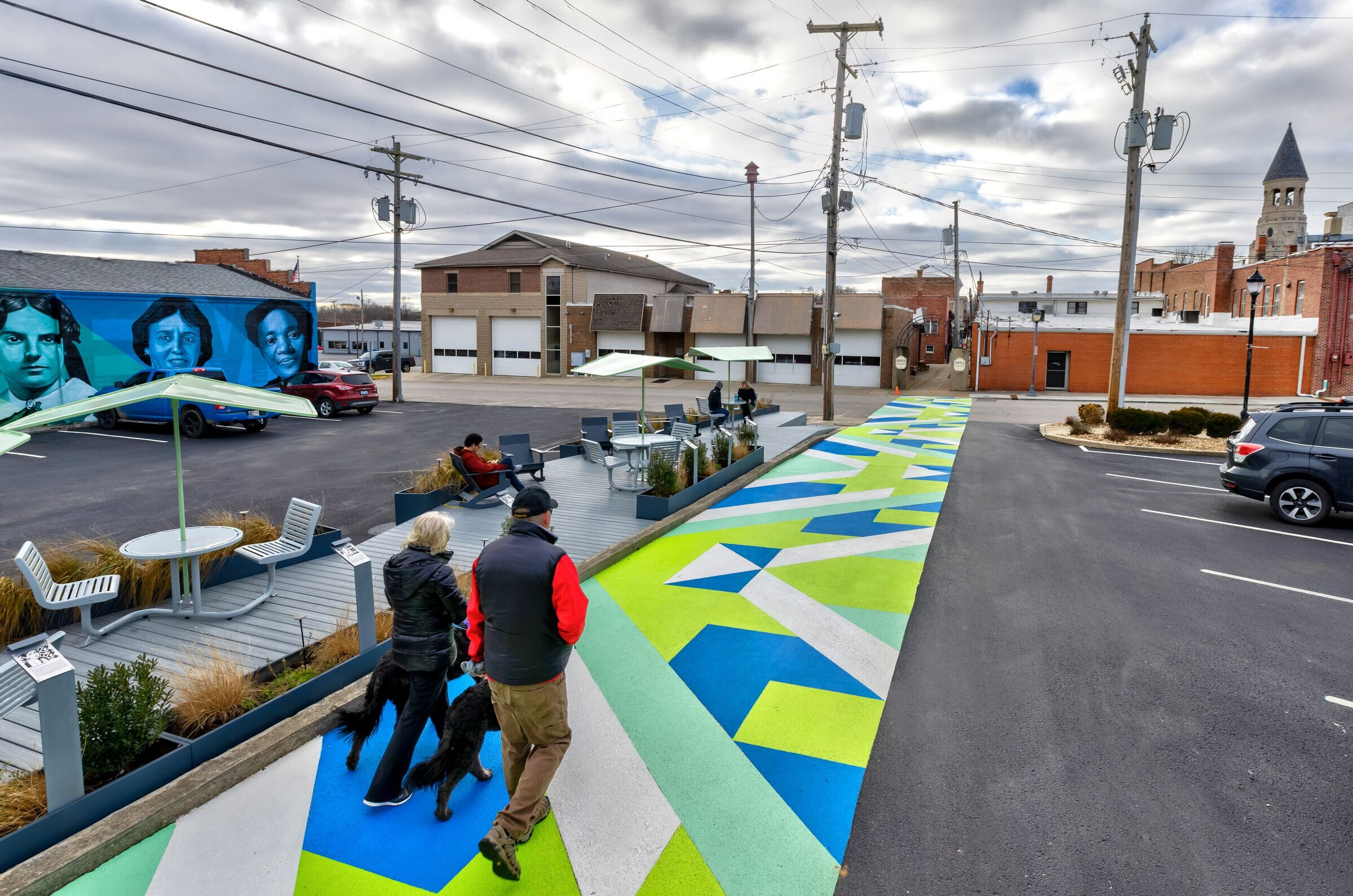 Say Loquidis and Martinez, "We see stitching as a way of mending urban voids and bringing elements once separated by that void together. Using this framework, we also realized that the stitch itself has the capacity to become a pathway or trajectory, since it constitutes a new physical element within the urban fabric."
Material Used:
1. Composite Decking by Trex
2. Seating, Tables, and Planters by Anova Furnishings
3. Rockers by Loll
4. Sun Shades by Landscape Forms