This flour mill dates from the 18th century. Until the river was diverted, it operated with water. It continued its activity by electricity until our client bought this piece of heritage full of history from the grandson of the original owner. The project manager embarked on the project by buying this mill, having fallen in love with the atmosphere of the place on the edge of the lake, the mill dominating a superb view on the water surrounded by a beautiful piece of land. Only the volume of the mill having undergone multiple transformations in volumes throughout its history did not reflect the aesthetic potential it had. The outgrowths of the roof and walls, with multiple materials (sheet metal, cement, stone, slate, wood, bricks, etc.) did not enhance it.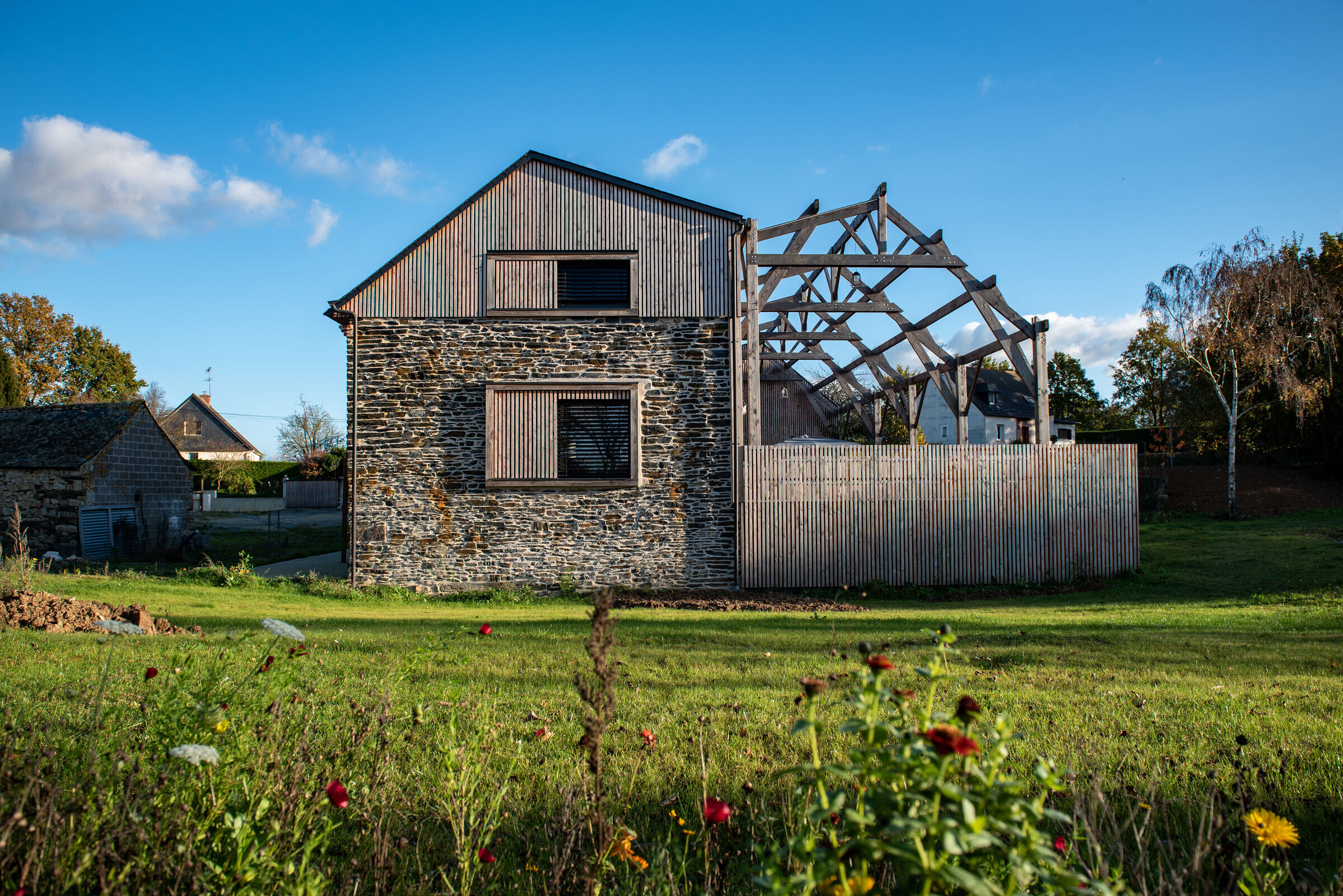 Several constraints generated the project: The owner wished to integrate a passive house in the mill. This implies a consequent level of insulation and air tightness, thus a heavy rehabilitation. And the legislation did not authorize any additional surface.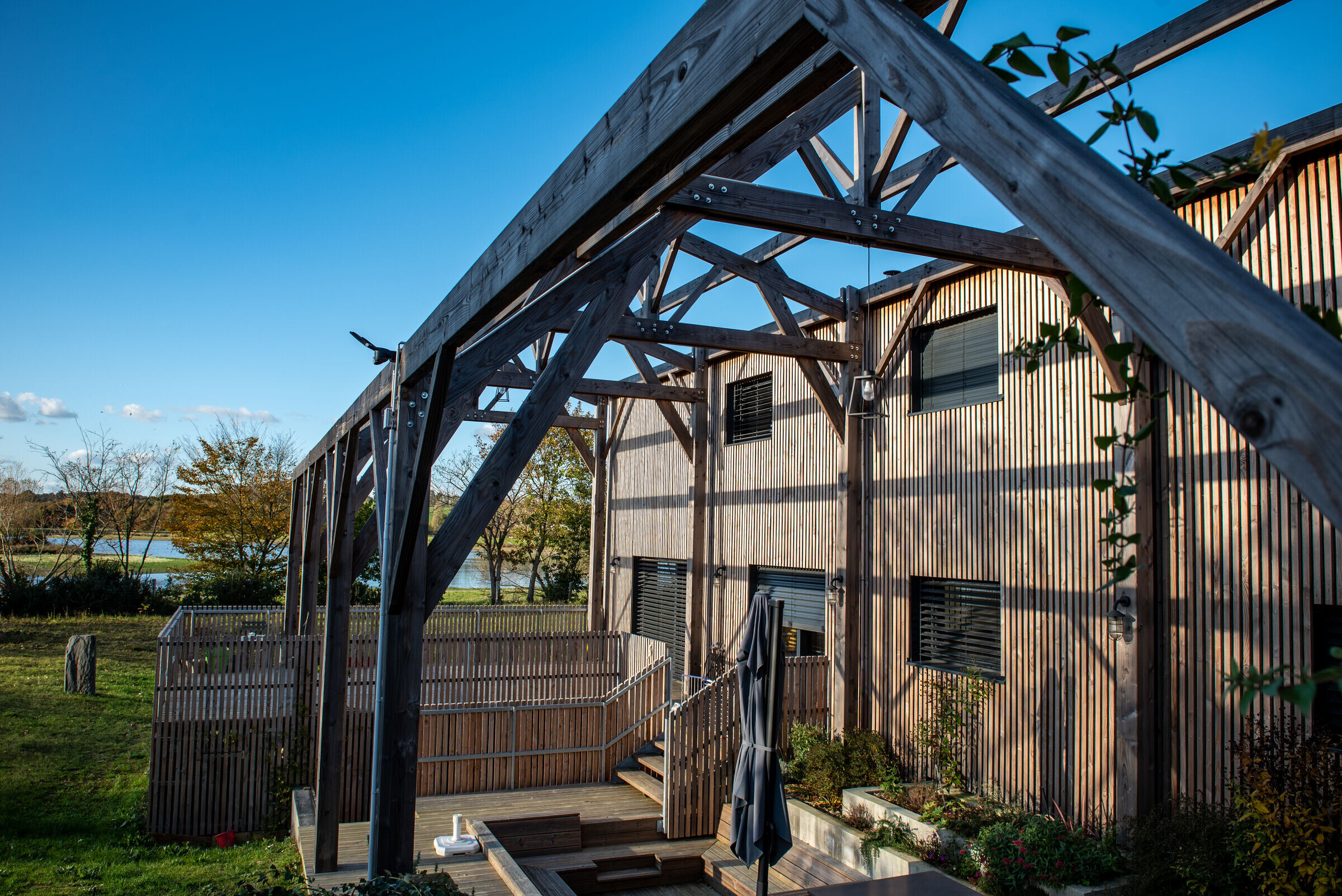 The primary architectural intention was to return the mill to its original form. The industrial outgrowths were removed and the stone volume was enhanced. We kept the double volume bi-slope adjoining. The stone volume integrates the housing part. The second volume integrates the winter garden/pergola. The garage is implanted at the end of the two and connects them.
These 3 parts had to be linked, as much in appearance as in essence for a global coherence. The idea was to weave with the existing to reveal a balance between the new and the old on each part.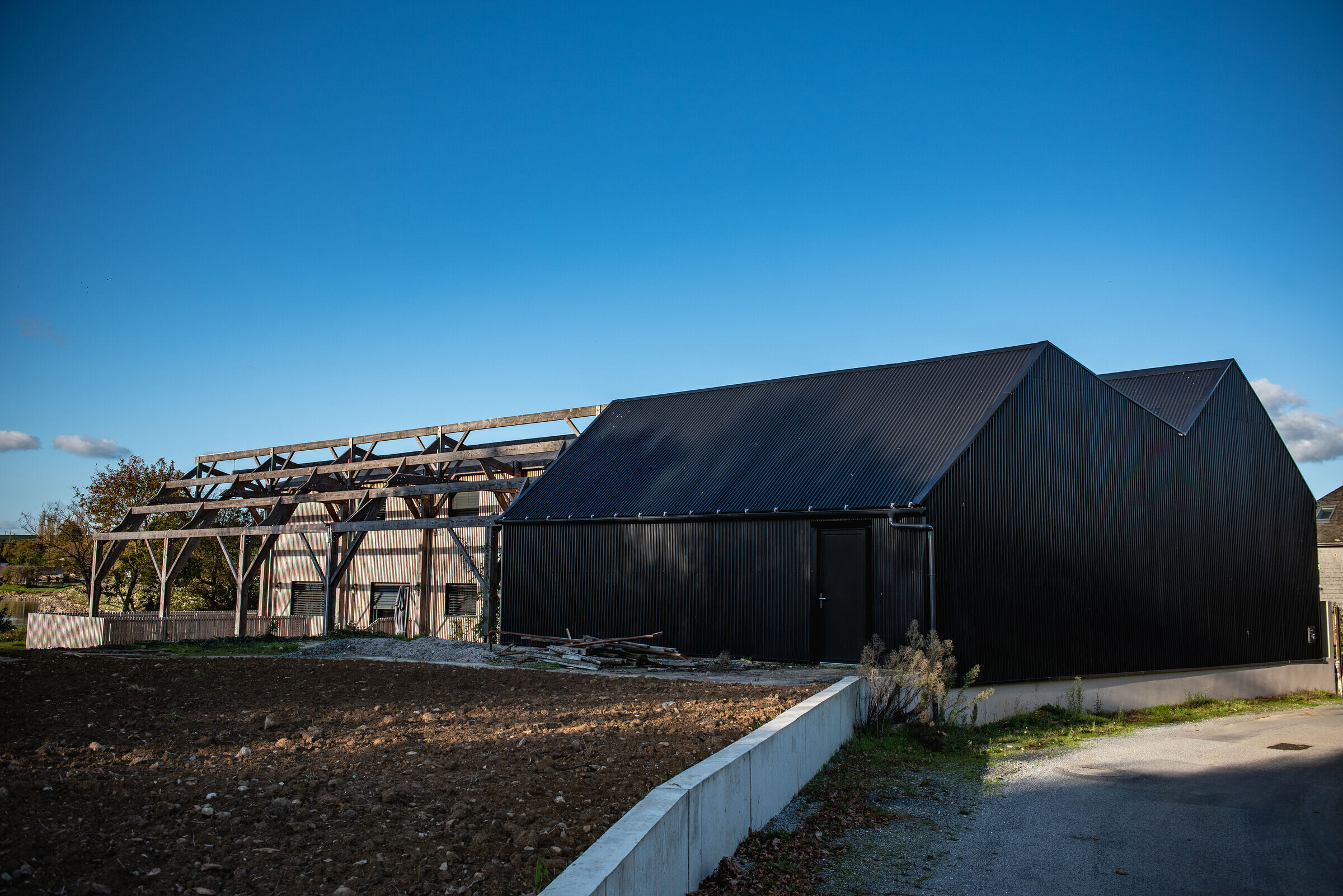 For the house, in the exterior exposed stone part, the old dominates. The new contemporary side was added by touches on the openings underlined by large random wood frames calling for what is happening in the pergola.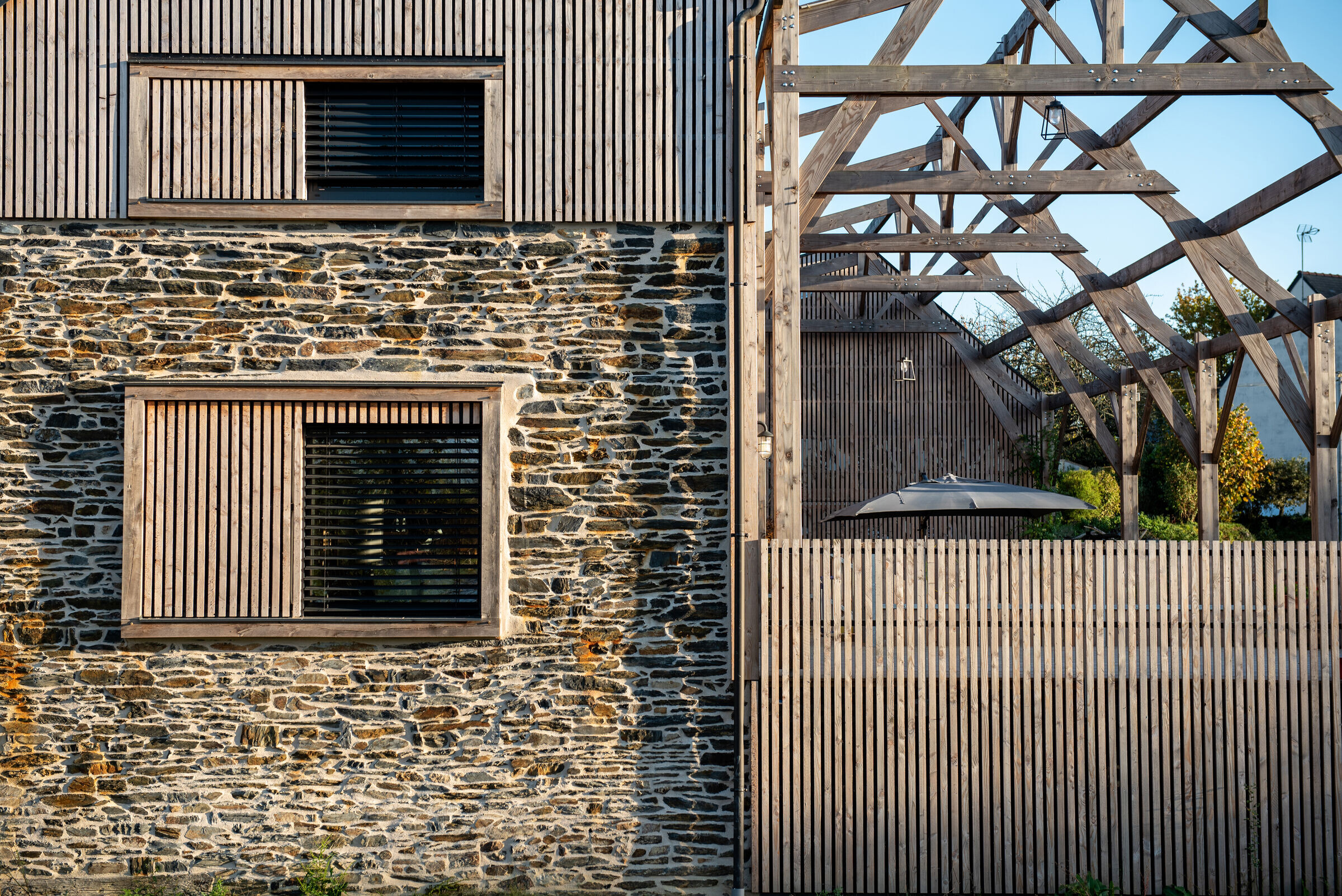 The latter is a cutaway of the original industrial volume in the form of a large wooden pergola. The wall of the house on the south side, on the pergola side, could not be preserved and was rebuilt in wood. This pergola will be covered with climbing vegetation to create the large outdoor winter garden. Large planters in concrete will bring a mineral side to this space.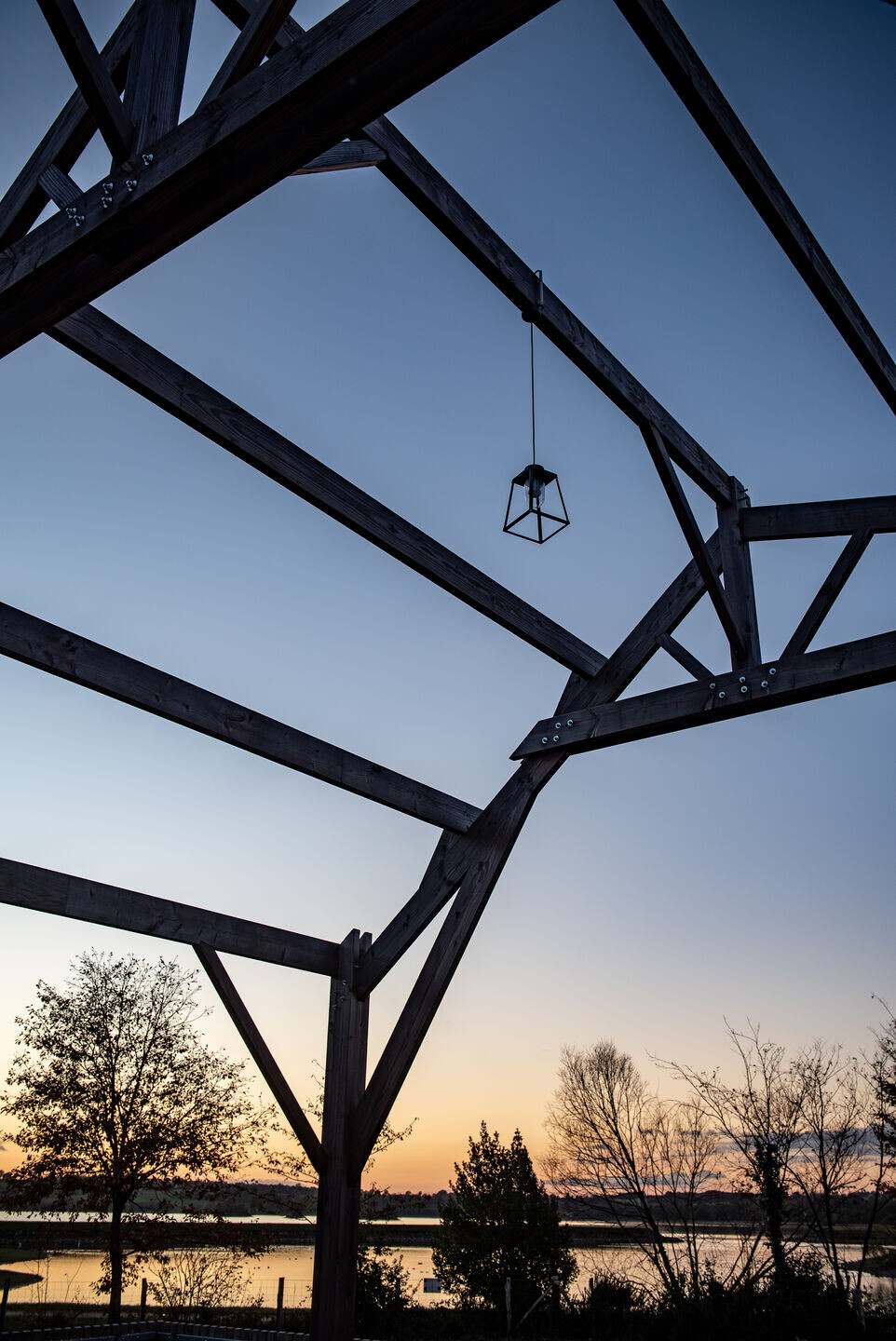 Linking the two parts at their eastern end, the garage is composed by the original double volume (with original frame). A black metal sheet was added to the wall and roof to create a monochrome. Seen from the South, this one seems to generate the wooden skin constituting the pergola.
Finally, for each part, the traces of the past and the contemporary intervention are present. The mineral and the vegetable present on all the compositions comes to make communion between the ancient and the modern.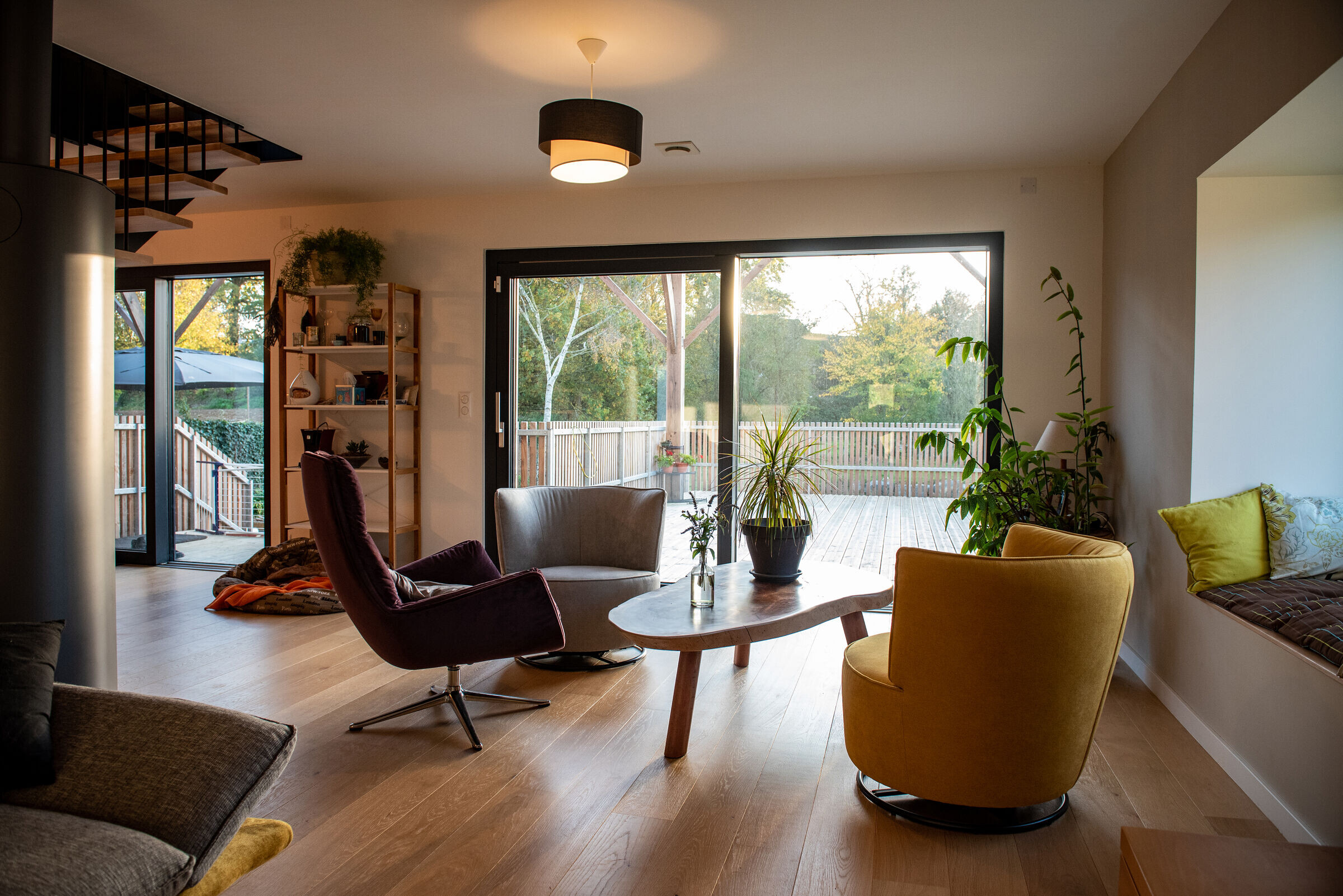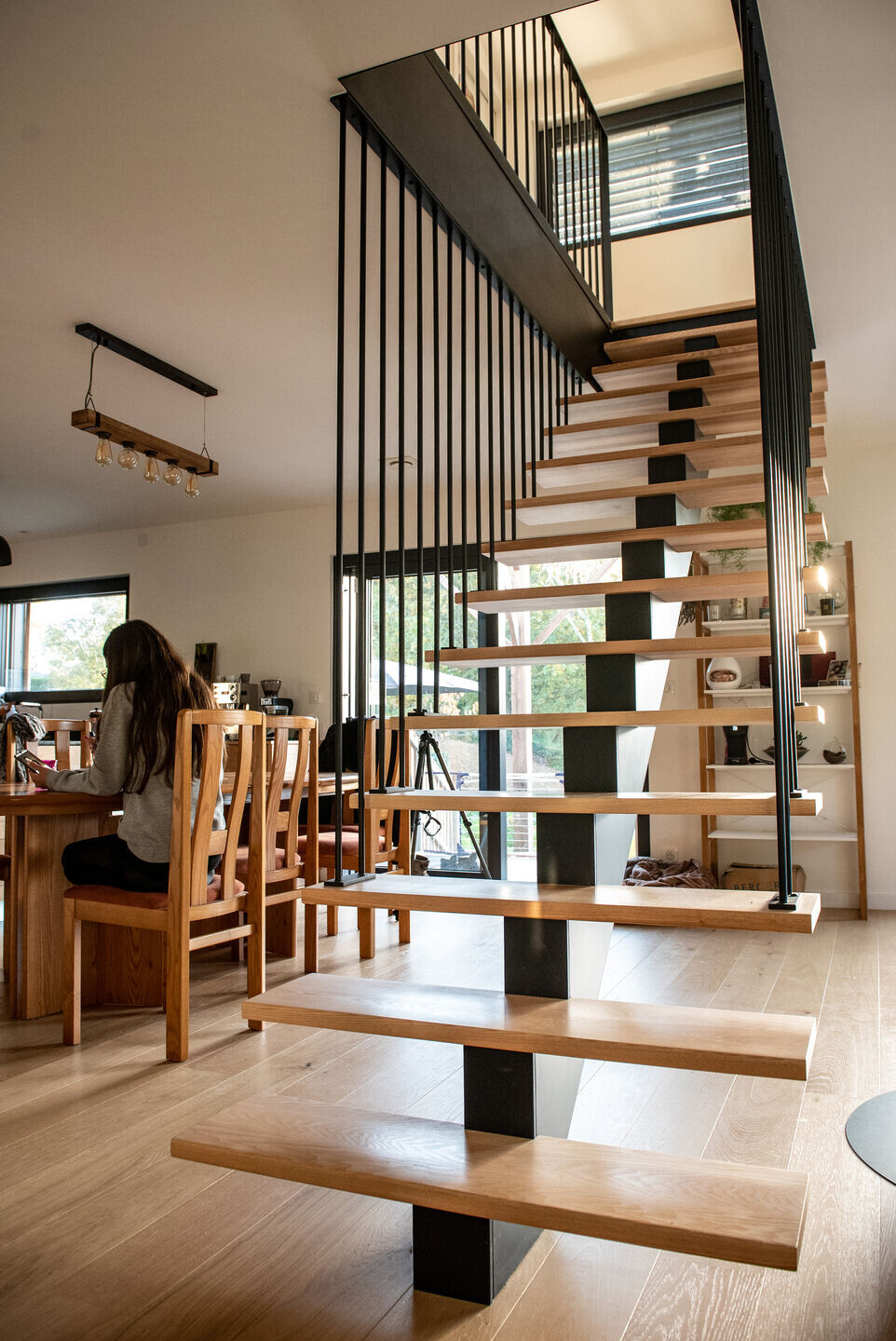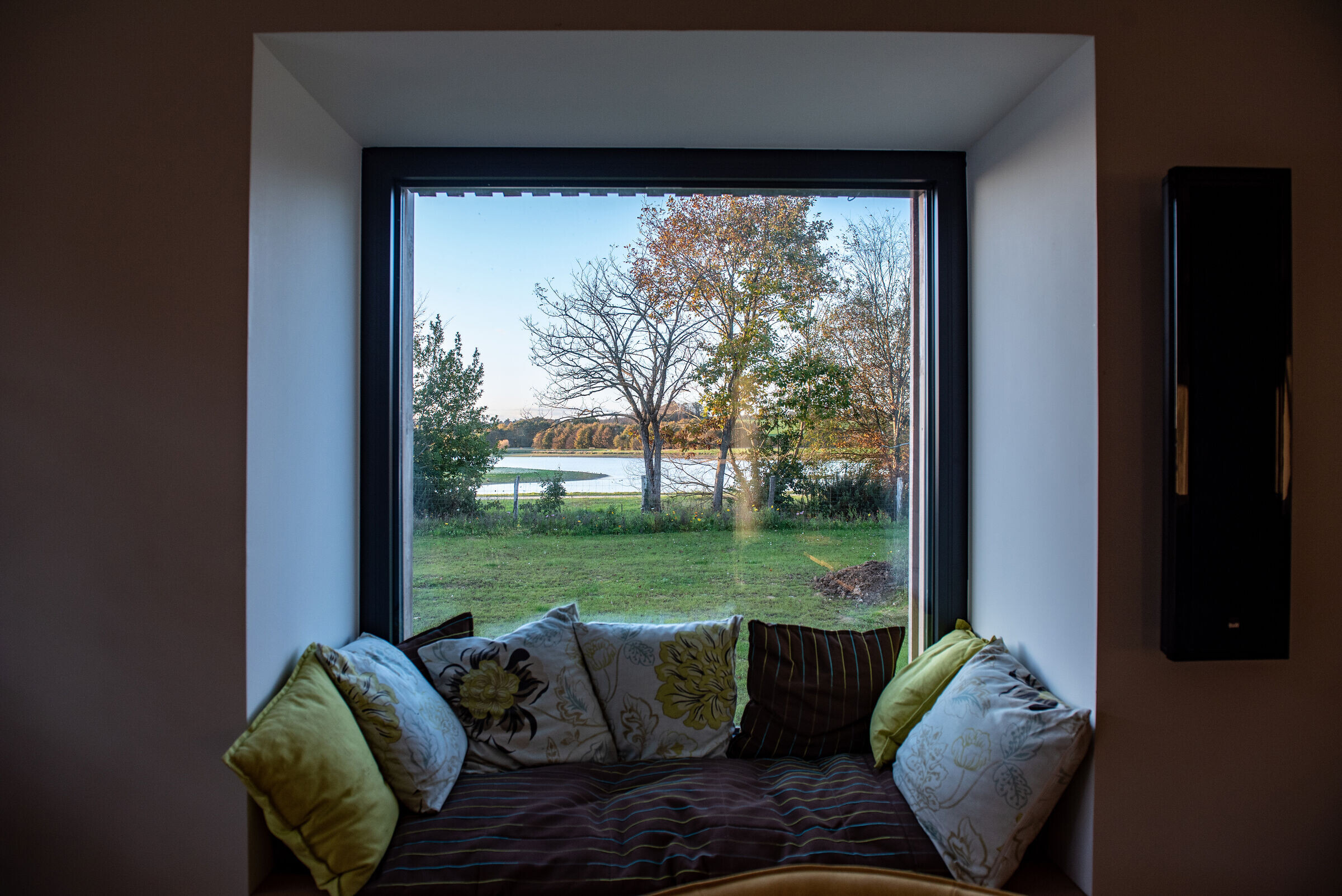 Material Used :
1. GRAPHISOFT: Archicad
2. PROCLIMA: Intello + airtightness membrane
3. UNILIN PANELS: Durelis vapourblock spano panels
4. INTERNORM: Triple glazing windows PVC/ALU, star X+
5. ZEHNDER: Double flow ventilation Comfo Air 350
6. DAIKIN: Water air heat pump, Balloon ECH20 300L
7. STEICO: Wood wool, dense wood fibre
8. ISOCELL: Cellulose wadding
9. SIGA: Airtightness scotch
10. VELUX: GGL GGU, triple glazing windows
11. SCHNEIDER: odace, electric equipment
12. STUV: Woodstove, 30 compacft
13. THERMOR: Towel dryer Majorque 600W grey
14. POUJOULAT: Roof outlet, Therminox, black
15. HELIOS: Air vents
16. METISSE: Recycled insulation from clothes