I am interested in the idea of not completing. I am attracted to the generous quality, not only in architecture but also in products and landscapes, where the completion is not the culmination, but there remains the possibility of renewal and involvement in the future. While placing emphasis on the level of completion, is it possible to design a project in such a way that its original potential does not converge to a single set of values, but rather leaves open the possibility for it to expand further?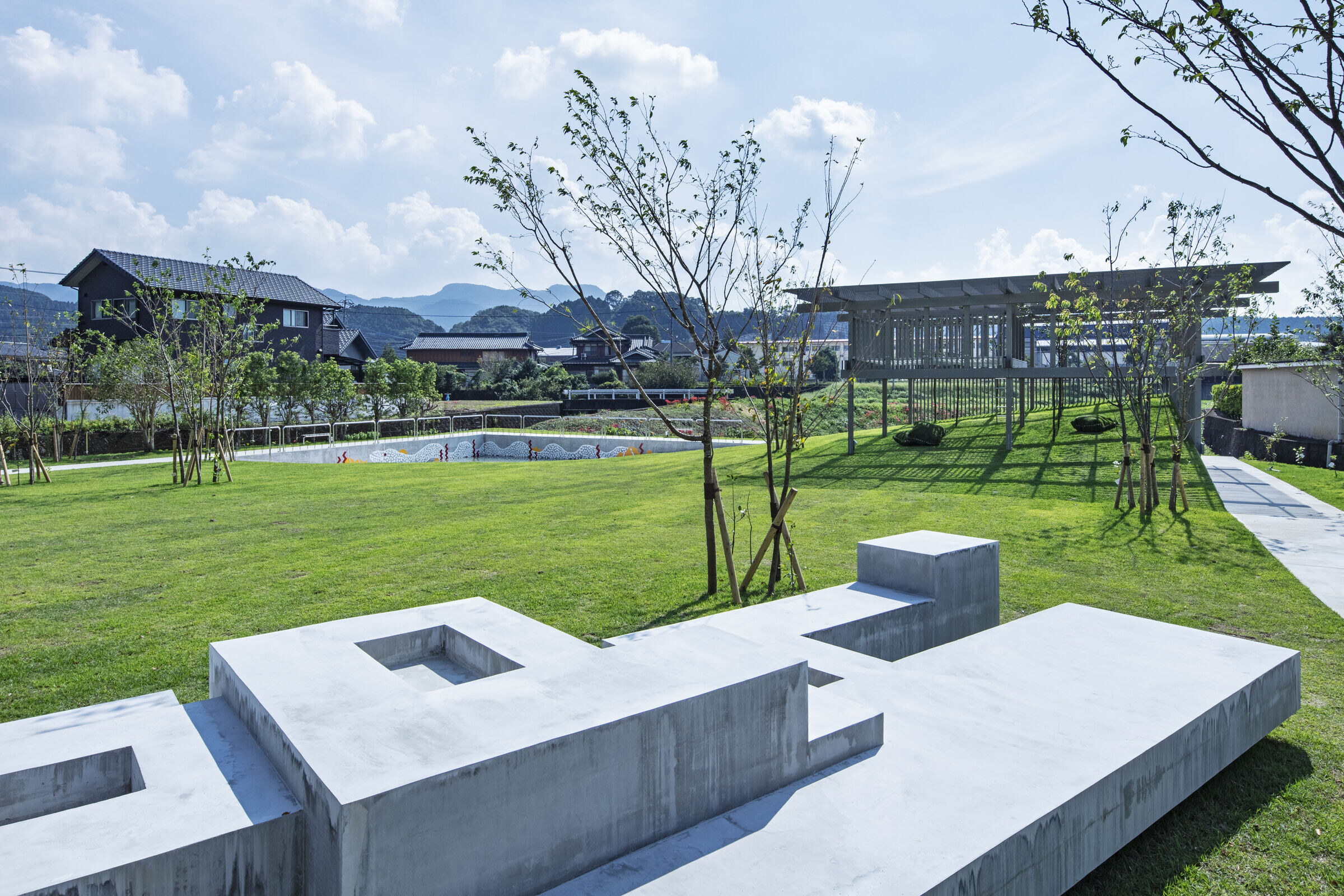 Last year, we presented a hundred different ways to reimagine one of the modernist masterpieces, Stool 60 designed by Alvar Aalto, as an "incomplete project," and give it new functions and roles, for example, by adding a small table, casters, adjusting its height and so on. While modernism design, as exemplified by Stool 60, is intended for universal acceptance, it is by no means versatile. The "Hackability of the Stool" project is about adding diverse, niche, and trivial functions that have been eliminated in the "one-design-fits-all" design process. Is it possible to guarantee diversity by introducing new variables such as regional and individual differences, while maintaining best aspects of modernism and mass-produced goods? I perceive this as a particularly pressing problem for those of us who live in a homogenized world after modernism. Is it possible to design attractive spaces and products that inspire people to involve themselves in diverse activities and guarantee possibilities for open-ended involvement, akin to Stool 60, which tolerates more than a hundred patterns of modification? Our interest in this question led us to design a projects, HIROPPA.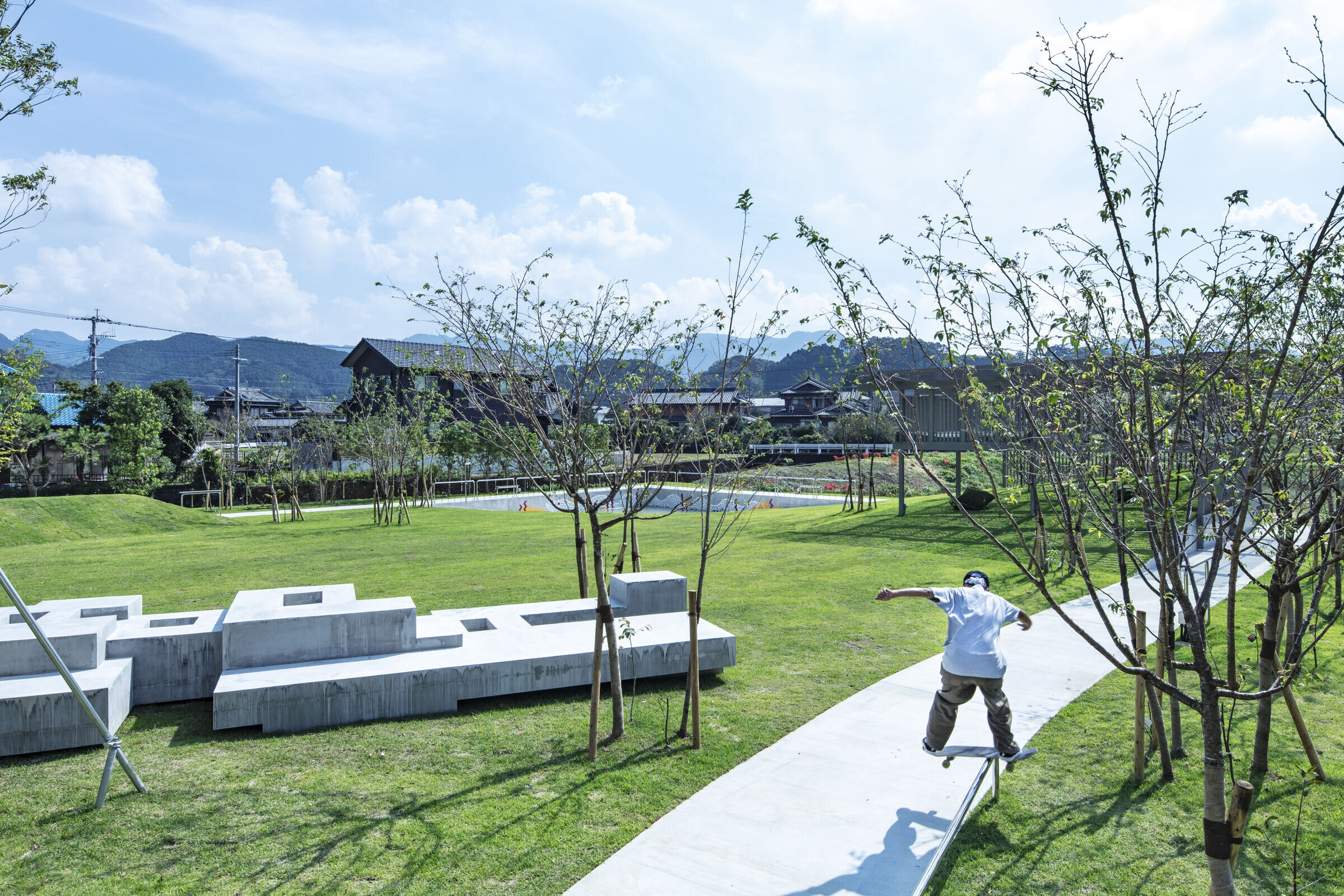 Enlivening Local Industry From a Park
In Hasami-cho, Nagasaki Prefecture, pottery making has flourished since the Edo period, and about 30% of the residents are involved in pottery making today. We were commissioned by Maruhiro, one of the region's leading companies specializing in porcelain production and sales, to design a mixed use facility including a store. We were particularly intrigued by the fact their plan included a "park." They wanted to create a place where local people supporting the local industry, as well as pottery fans visiting from afar, can gather spontaneously and closely experience Hasami-yaki pottery and diverse cultures. Those at Maruhiro thought that this could be achieved not by a store or museum that only serves a single purpose, but by a "park" that accommodates diverse purposes in a generous manner, and we strongly sympathized with their idea.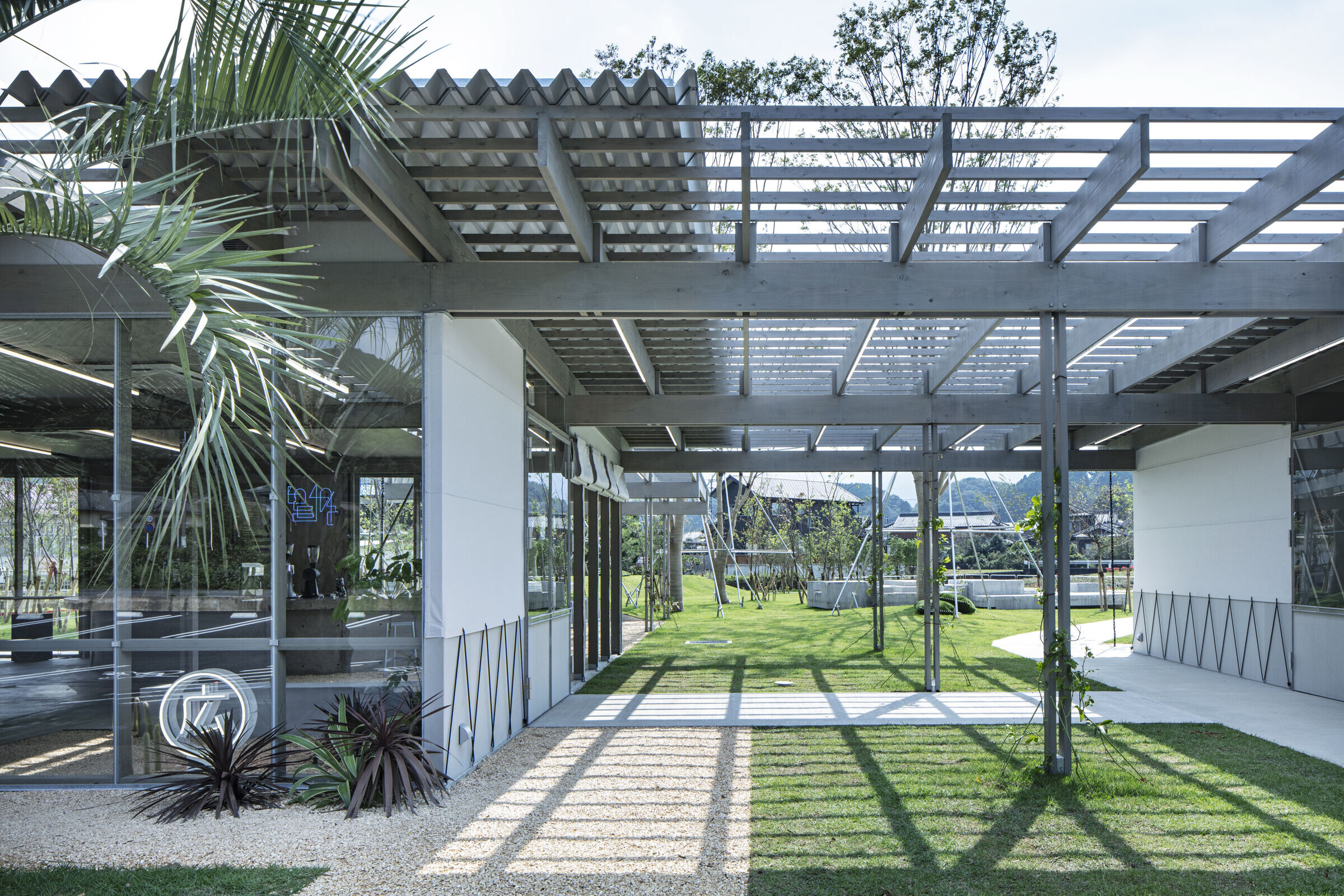 Strictly speaking, a created by a private company is not a "park." Nevertheless, the openness that allow people of all ages and genders to freely enter and spend time as they like, and the public nature of the space created for the benefit of the community are precisely the kind of quality that a park can offer. Something that emerges out of such a place may, in turn, enliven the region and local industry, and trigger changes for the better and help solve problems including a lack of successors and declining sales.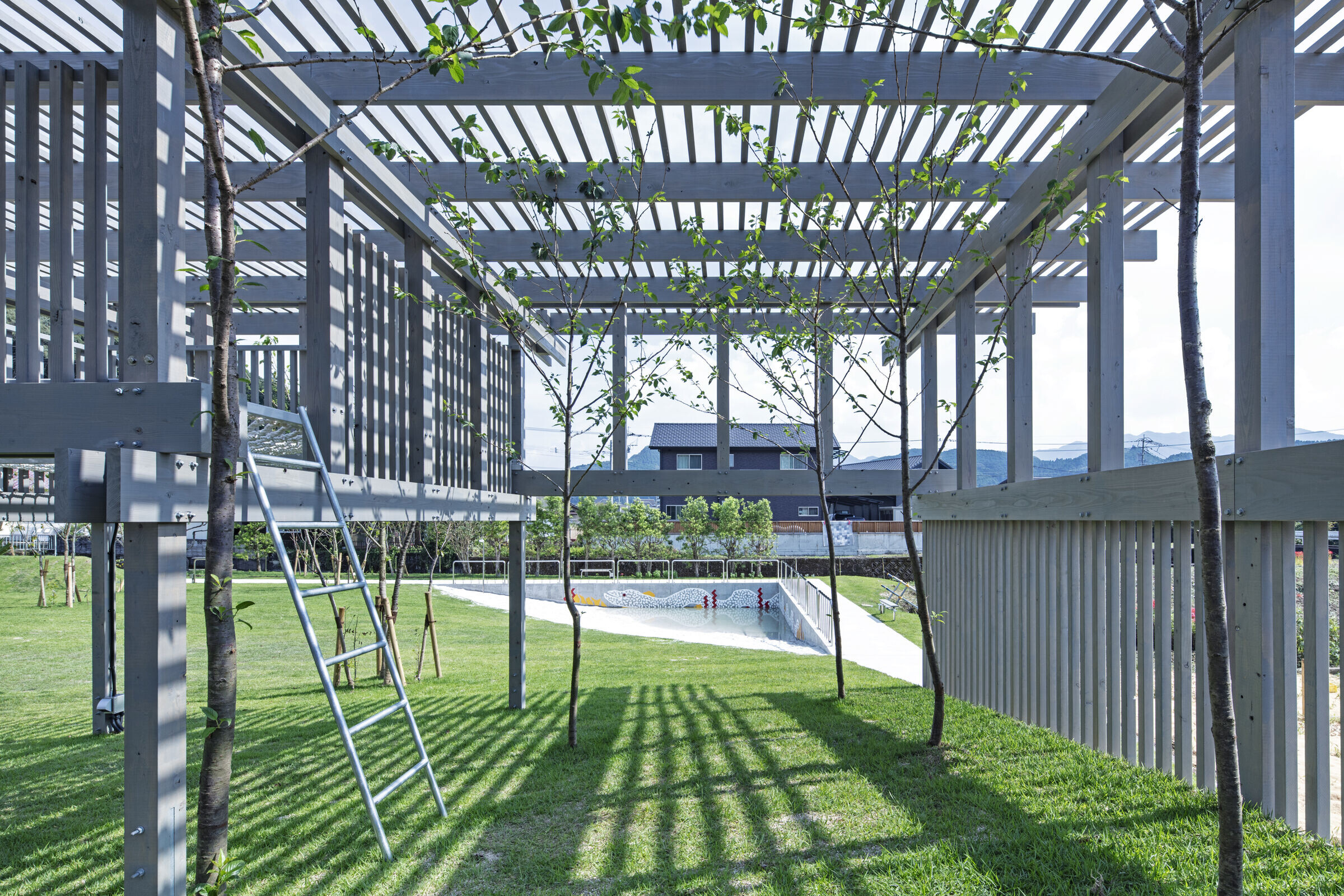 Various Interpretations of the "Ground"
To translate Maruhiro's requests into spaces and create a spatial quality with generosity to embrace diverse purposes, we explored the idea of an "open-ended design" in all aspects. HIROPPA consists of "architecture" including a store, cafe, kiosk, and restrooms, an "open space" occupying most of the site, and a "pergola" that connects the two. For all areas, we wanted to maintain an open state, in terms of "how users spend time and use the place," "the atmosphere of the place and quality of the space," and "construction methods and structures."
In planning the open space, we would start from essential and fundamental concepts, for example, "sliding is fun," to build a slide. From there, we would think about how to recreate the experience of "slipping" in some other situation." Then, we would think about how we can recreate the experience of "sliding" in some other situation. Play is meant to be an act created through the discovery of fun without any purpose, not an act prescribed by the form of play equipment. What we designed in the end was a "ground" itself rather than play equipment. We provided "triggers" on the ground for people to sit on, or slide on. A slope was created by heaping up soil, and a pergola (a trellis with climbing plants that provides shades) was placed on top of it. At the bottom of the slope, a beach where people can play in the sand was created by spreading finely crushed sand from discarded porcelain. It becomes a pond by filling it with shallow water, and in summer, it can be used for bathing by filling to the brim. The idea of "manipulating the ground" was conceived partly because the production cost of play equipment was unexpectedly high, and it was much more economical to simply move the soil, but also because we wanted to create a more primitive "open space" than a "park with play equipment." By adding a variety of unique features to the topography, we wanted to give the open space a field-like quality that could be interpreted in various ways.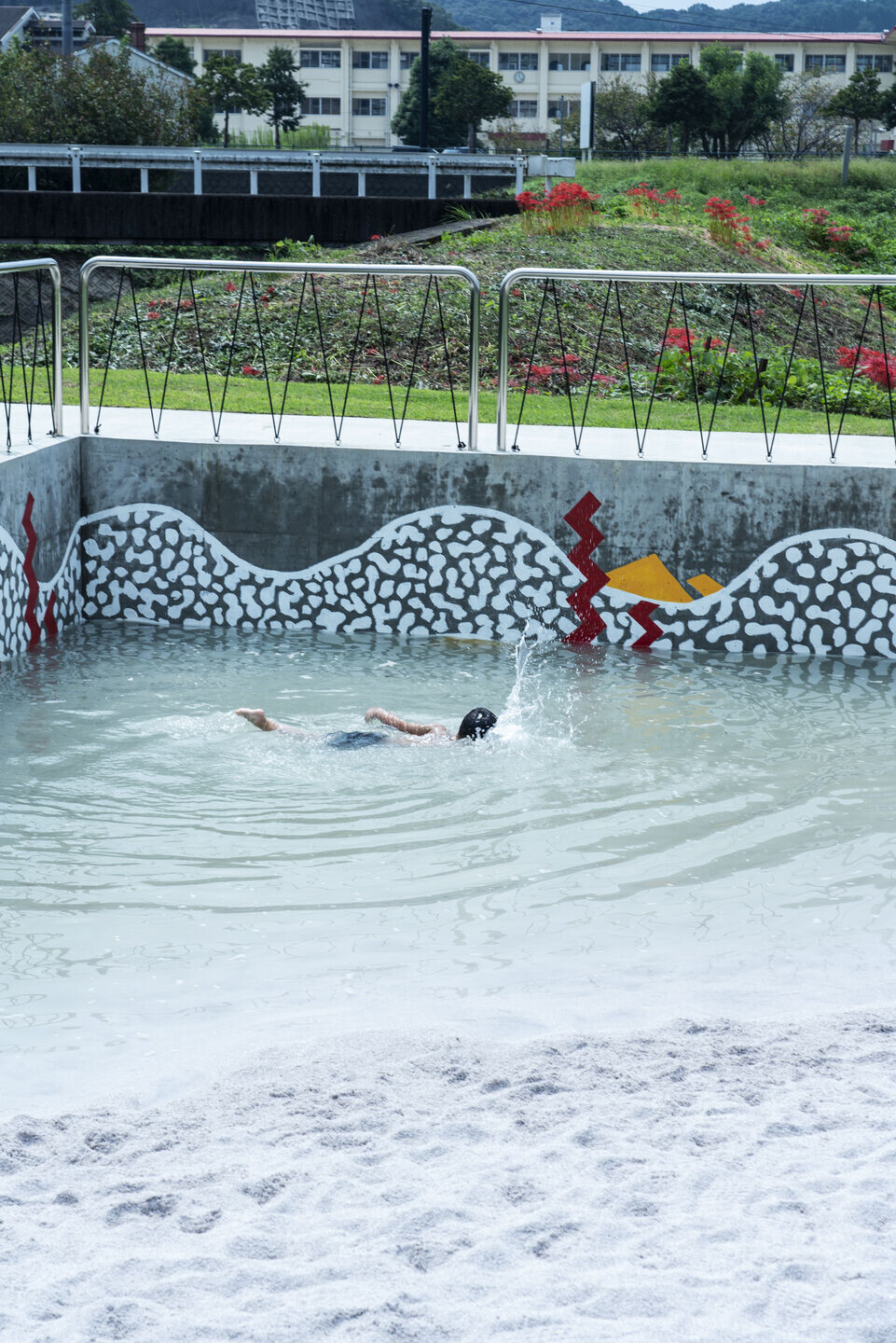 Pergolas Connecting Inside and Outside
We started thinking about the store and cafe with a focus on the pergolas as an intermediate area between the open space and the building. A pergolas is placed at the main entrance to HIROPPA, connecting the cafe and the open space, as well as another one on a raised ground in the open space.
The open space has little shade, making it unpleasant especially for grown-ups to stay under the intense sun. But if we simply build awnings or a building, one can easily imagine that grown-ups will never venture out of there. To provide shade, we decided to install a pergola, which is a " half-building," on the raised ground where spaces for children and grown-ups coexist in good harmony. Trees representing the seasons, including cherry trees, are planted in the pergola-covered area, and when they grow tall, they will provide a shaded space where visitors can enjoy sunlight filtering through the trees. The second floor of the pergola-covered area is equipped with a hammock for children to play in, and by covering the walls with sheets, they can use a projector to show videos during events.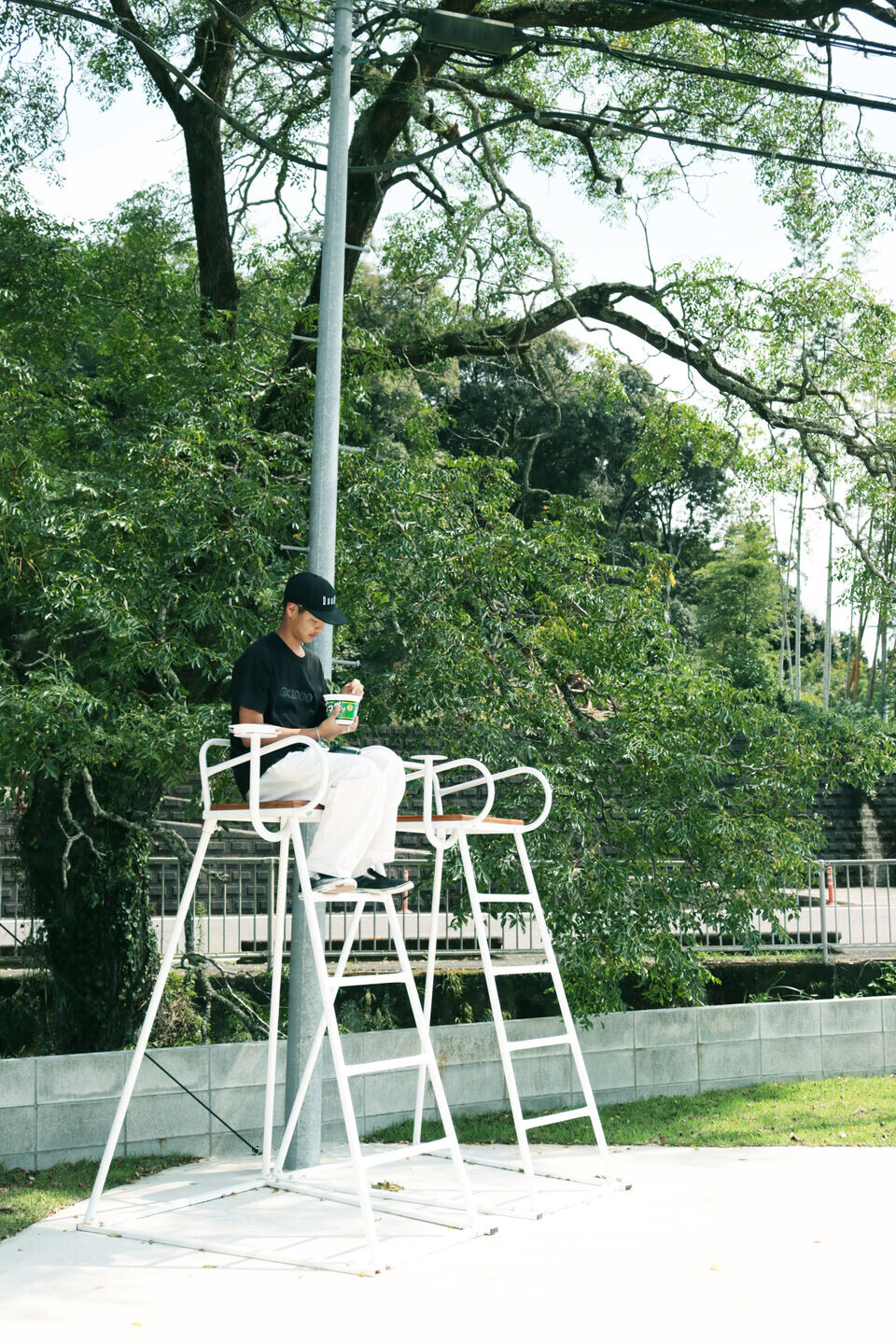 The area around the entrance, in particular, was designed to blur the boundary between the pergola and the building and create continuity by carefully staggering the boundary between the inside and outside, as well as areas of different finishes. The cafe counter extends directly into the open space and is used as a table for terrace seating. The terrace floor is covered with ceramic stone, which is laid directly on the floor around the cafe counter. Plants and trees were planted directly on the floor in the same way as outside. Around the counter in the cafe space, tents are directly attached to the posts. The structure has no window sashes, and when the tents are unzipped, it appears to be consist only of a pergola and framework. The roof is simply a pergola topped with folded roofing so as not to create a clear boundary between the inside and outside.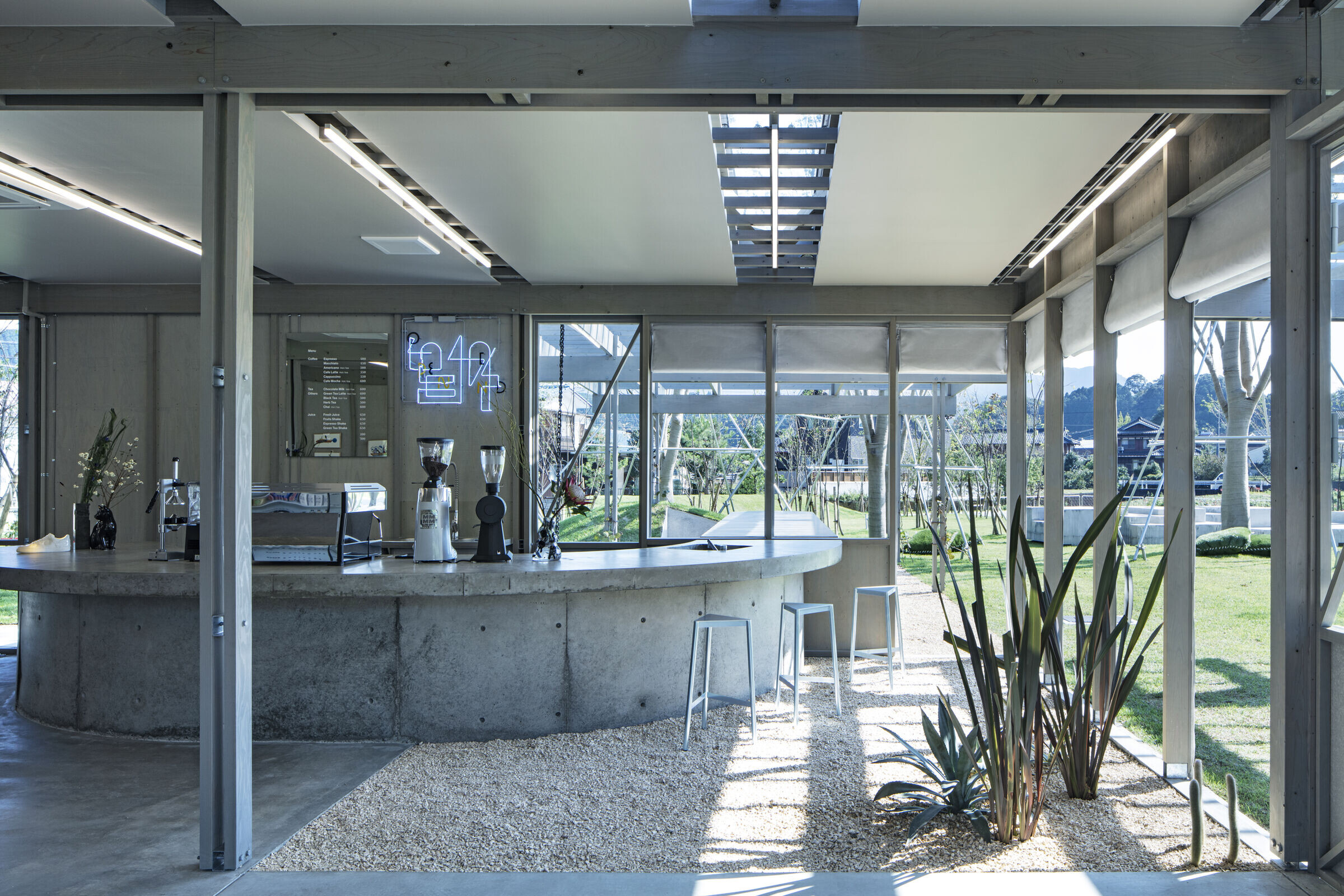 Open-ended Construction Methods
Together with the structural engineer, we developed technically open-ended construction methods for the pergola and the building, which are almost like an advanced form of DIY methods. without resorting to conventional construction methods. The structural members are cut in straight lines without pre-cutting, and members are simply aligned and fastened together. No joinery work is necessary as with conventional construction methods, requiring only simple fabrication without any special skills. The pergola is planted with vines including passion fruit and kiwi. They will tangle around the louvered rafters of the pergola roof as they grow, and will eventually bear fruit. If beams or columns corrode in the future, they can be easily replaced piece by piece by simply removing bolts and screws.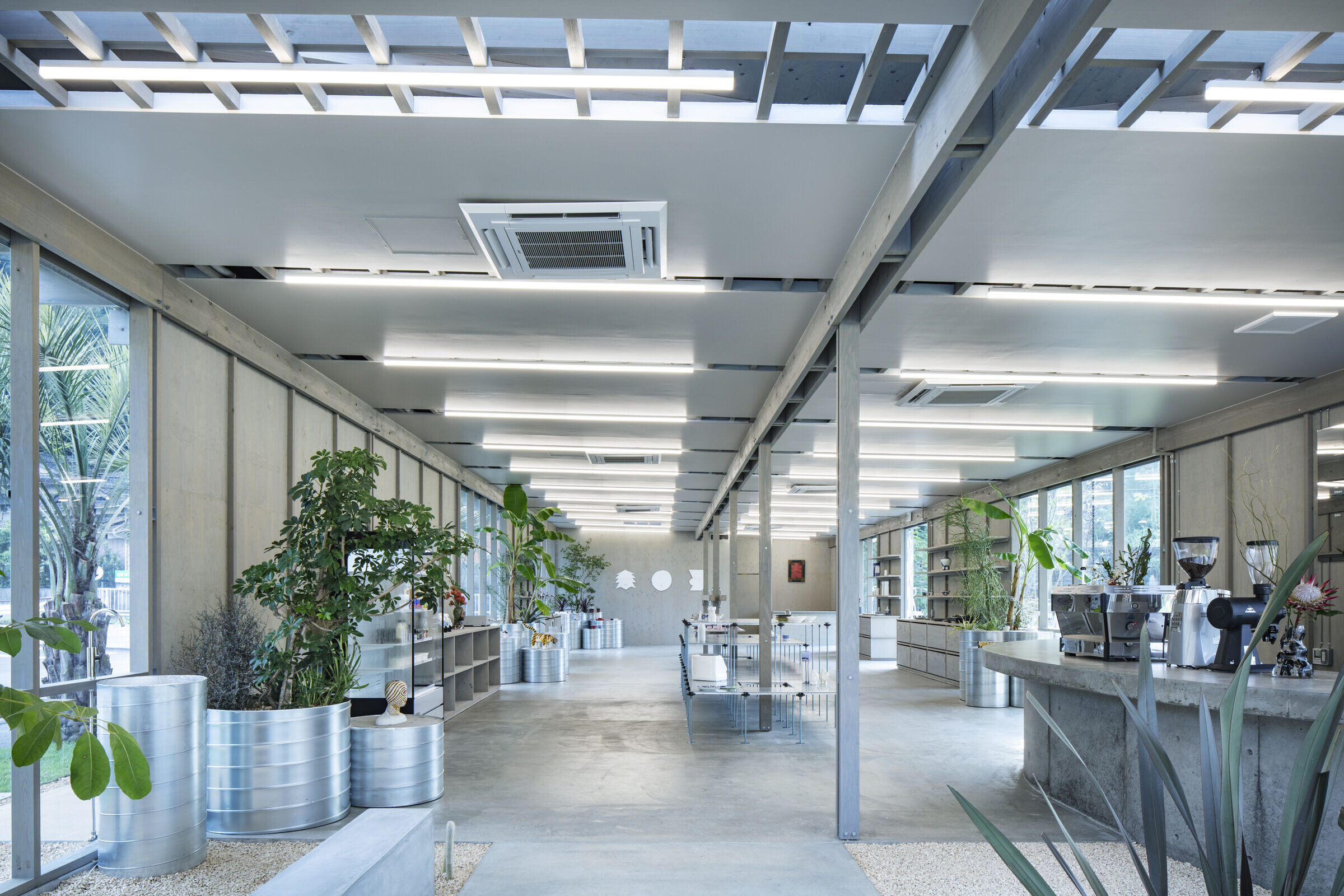 In the same way, the interior elements that are made of ready-made modules, for example, platforms made of spiral ducts for air conditioning, and fixtures using components of a raised floor system for offices, can be easily downsized and expanded as needed. HIROPPA plans to continuously expand over the second and third phases, and the cafe was later named "Open Ends," which seems to signify the idea of making it highly adaptable to changes in the future. In addition, this approach of creating a "park" can be applied not only in Hasami-cho, but all over Japan. Hopefully this idea itself will spread in an open-ended manner, and we would like to see more and more good parks popping up throughout Japan.