In 2014, the client, owner of four important hospitals in Rio de Janeiro and São Paulo, commissioned us a feasibility study for a small "boutique" maternity hospital, located at Rua Leôncio de Carvalho, in the Avenida Paulista region. At the same year, the hospital market was uncertain and the interest turned to the construction of an office building. This land fully met his needs, given its high value and privileged location. Aware that the project would not be ours, but having known the owner for more than 20 years, hospital recommendations for the office building were made, in case he decided to rethink the project: stretcher/bed elevators, distance between floors above 3.80m height and first basement above 3.50m ceiling height.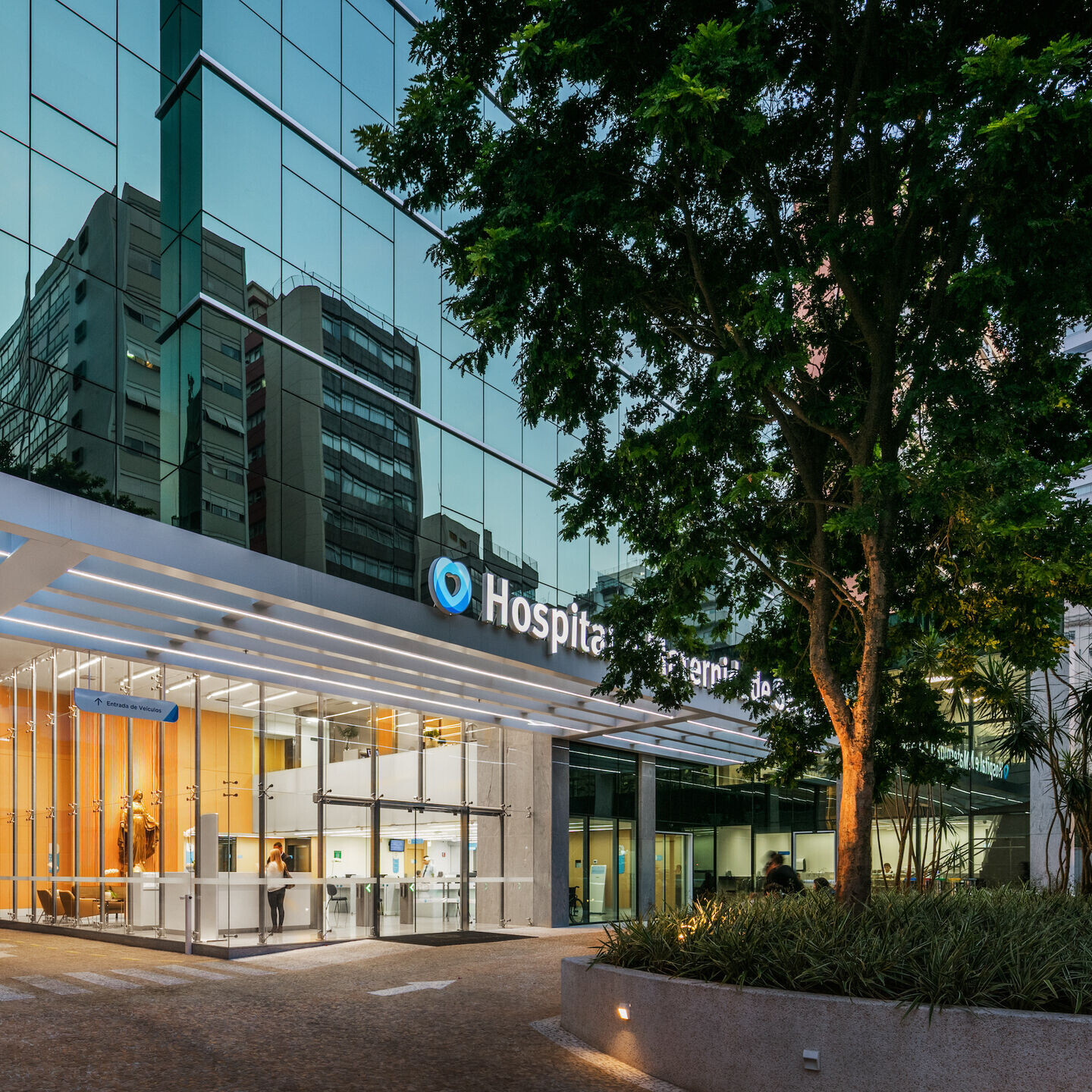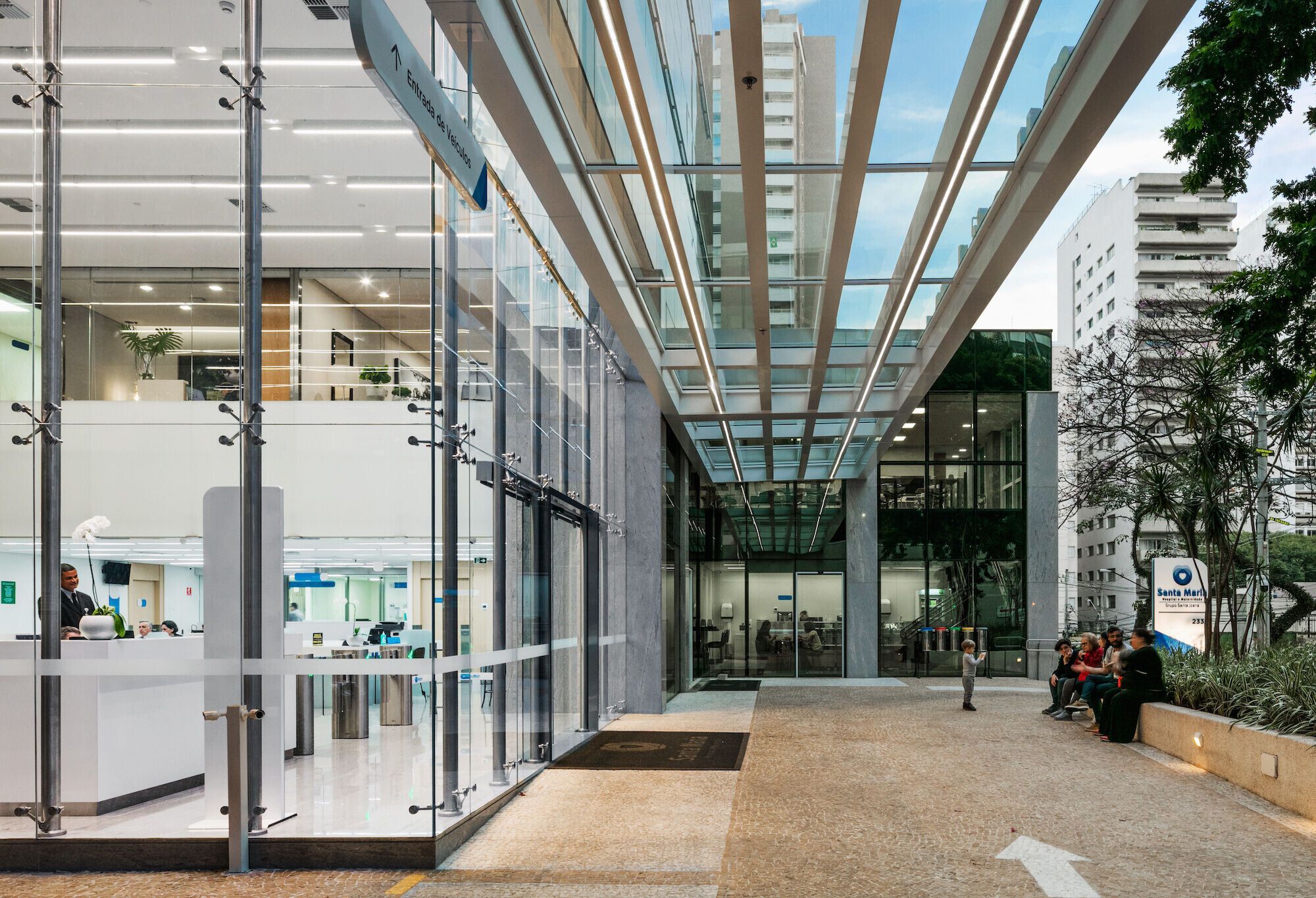 The maternity project was shelved and the commercial building was designed by another office. More economic than architectural, this introduction is necessary to understand Santa Maria Hospital's project. In the early days of 2017 the client came to us asking to resume the maternity project. A surprise, as the commercial building was already built. The hospital market reacted positively in 2016 and unemployment on the rise and family health plans standard falling; there was a high demand for shared beds hospital. During fifteen days, the feasibility study was reviewed, fitting the maternity ward. The green mirrored skin glass facades were kept and the efforts were concentrated on the building interior. The project, developed from January to September 2018, was construction concurrent. Fortunately, the owner followed the hospital recommendations. The first basement was transformed into a logistical support area, warehouse, materials centre, lactation, morgue and support rooms.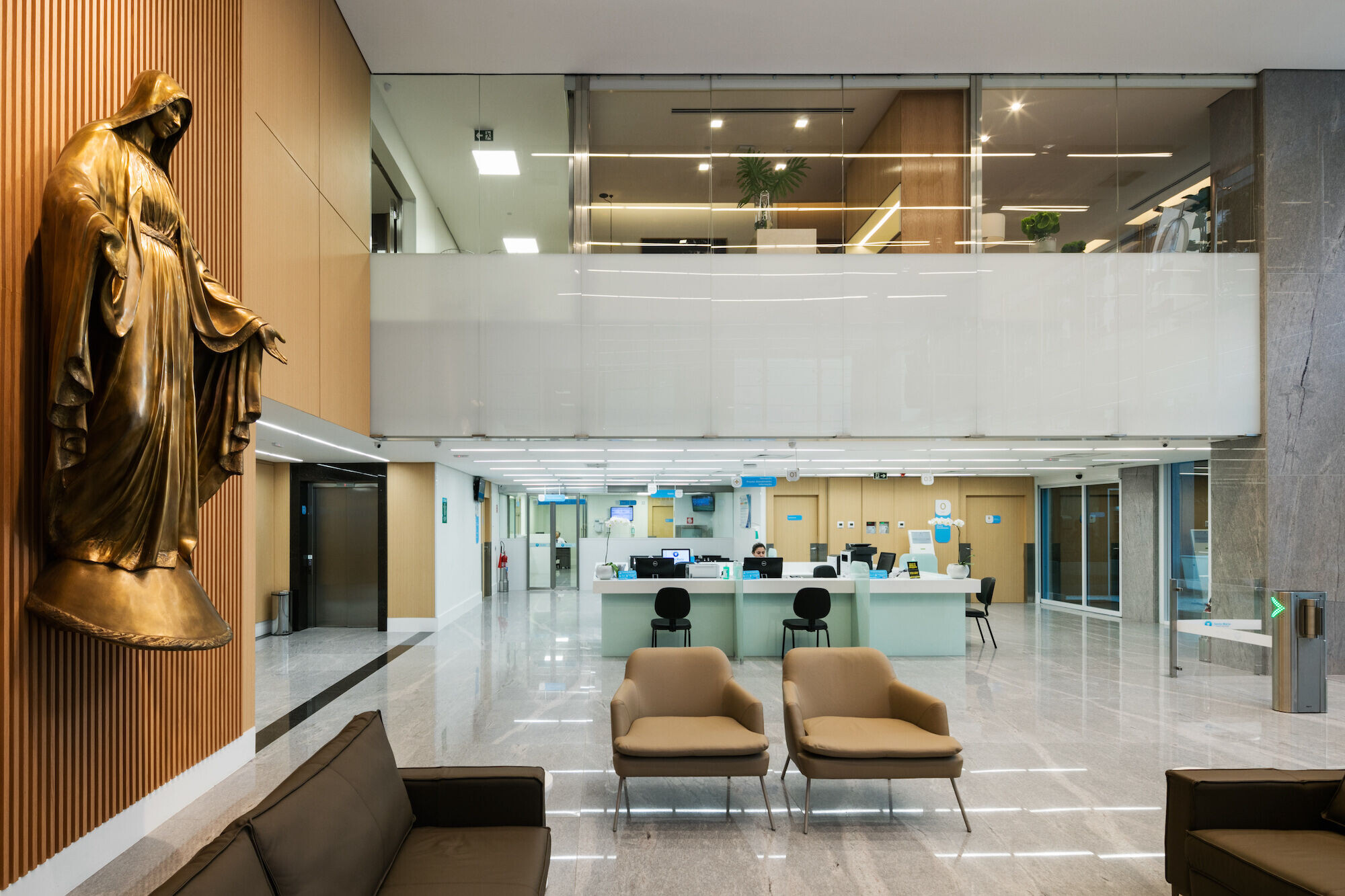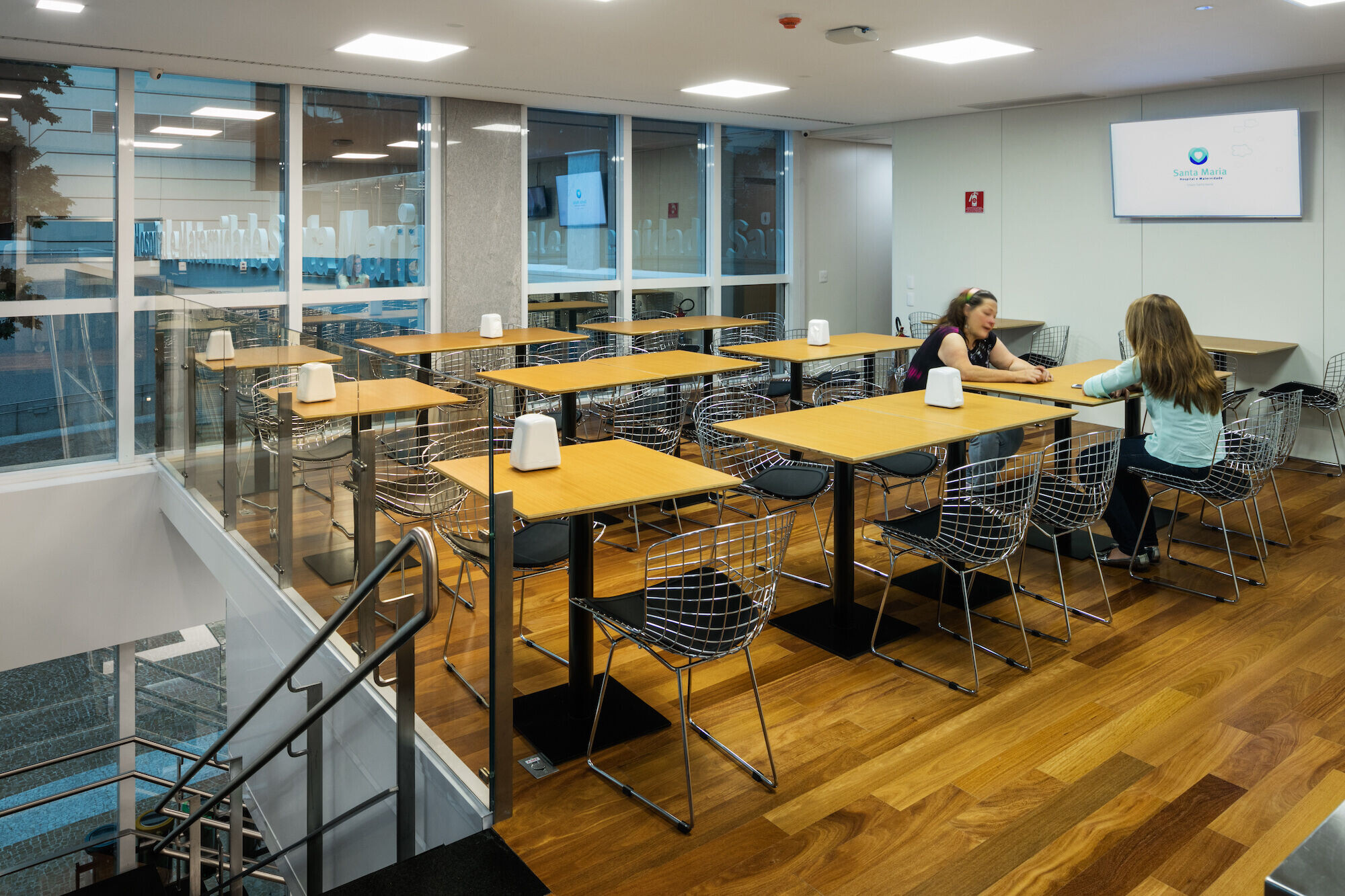 The ground floor has been expanded to accommodate, in addition to the reception, the emergency room, and the café. The double-height lobby was partly maintained and accommodated in a new mezzanine the administration, management and adult ICU. At the standard floors were distributed the inpatient units/ two beds wards, neonatal ICU and support rooms. In the last three last floors were accommodated, the obstetric centre; labour delivery room centre; surgery centre; medical comfort; anaesthetic recovery; barrier changing rooms; support and technical floor.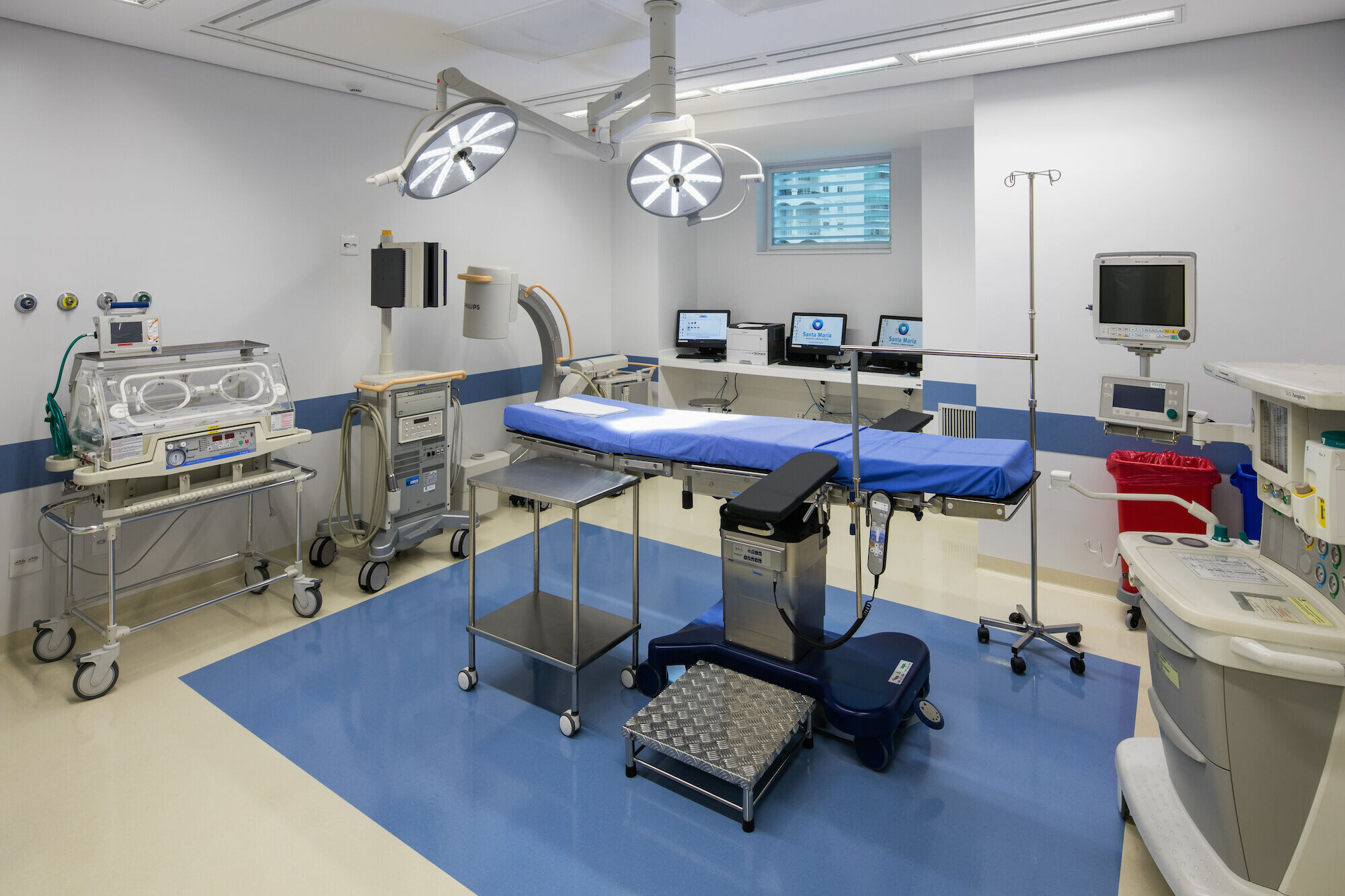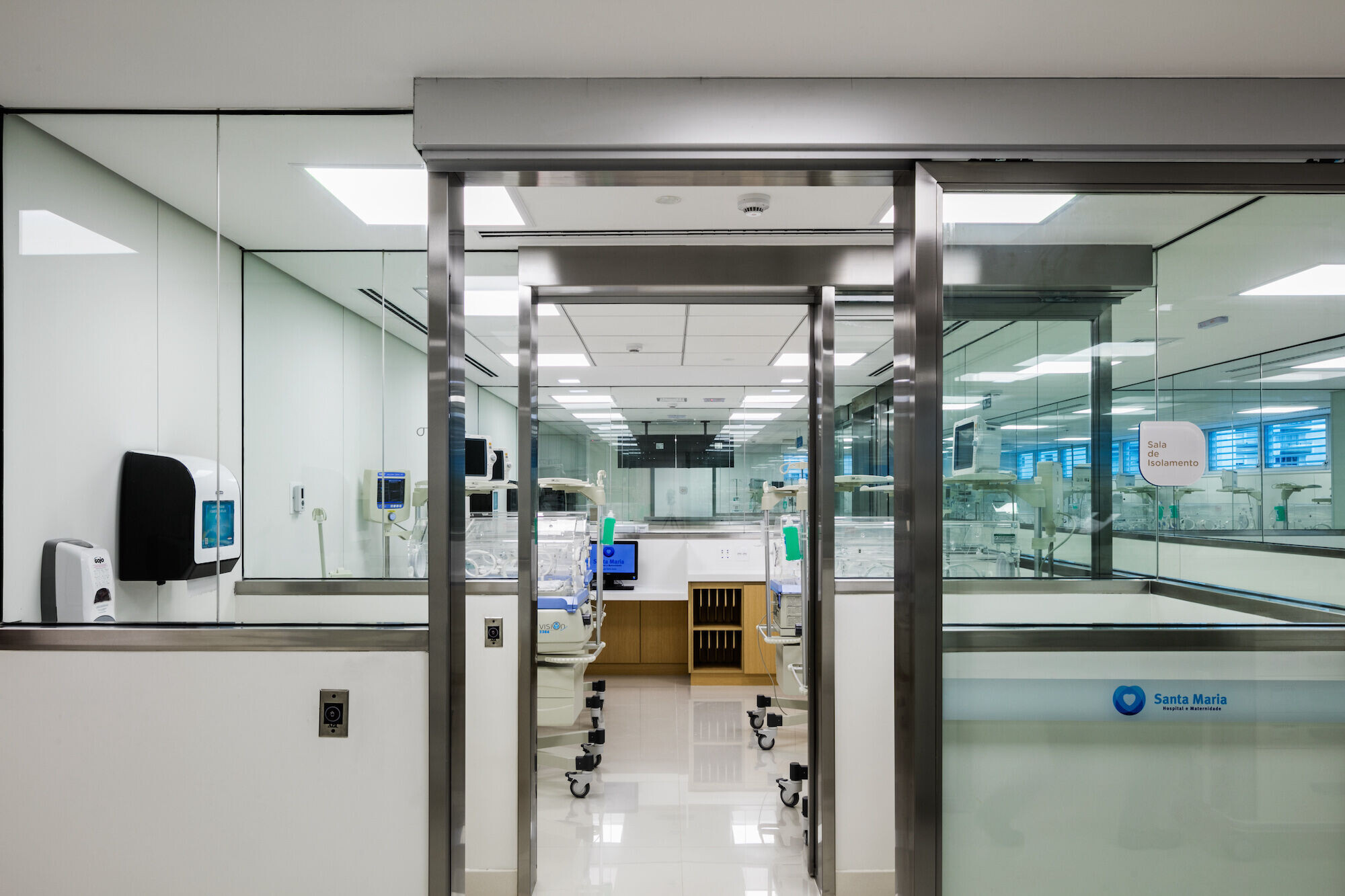 The result is a compact maternity hospital, with up to 900 procedures/ deliveries per month capacity and adequate to the client's demand, testimony that the design process always requires optimism, persistence, adaptation and, above all, believing in what comes next.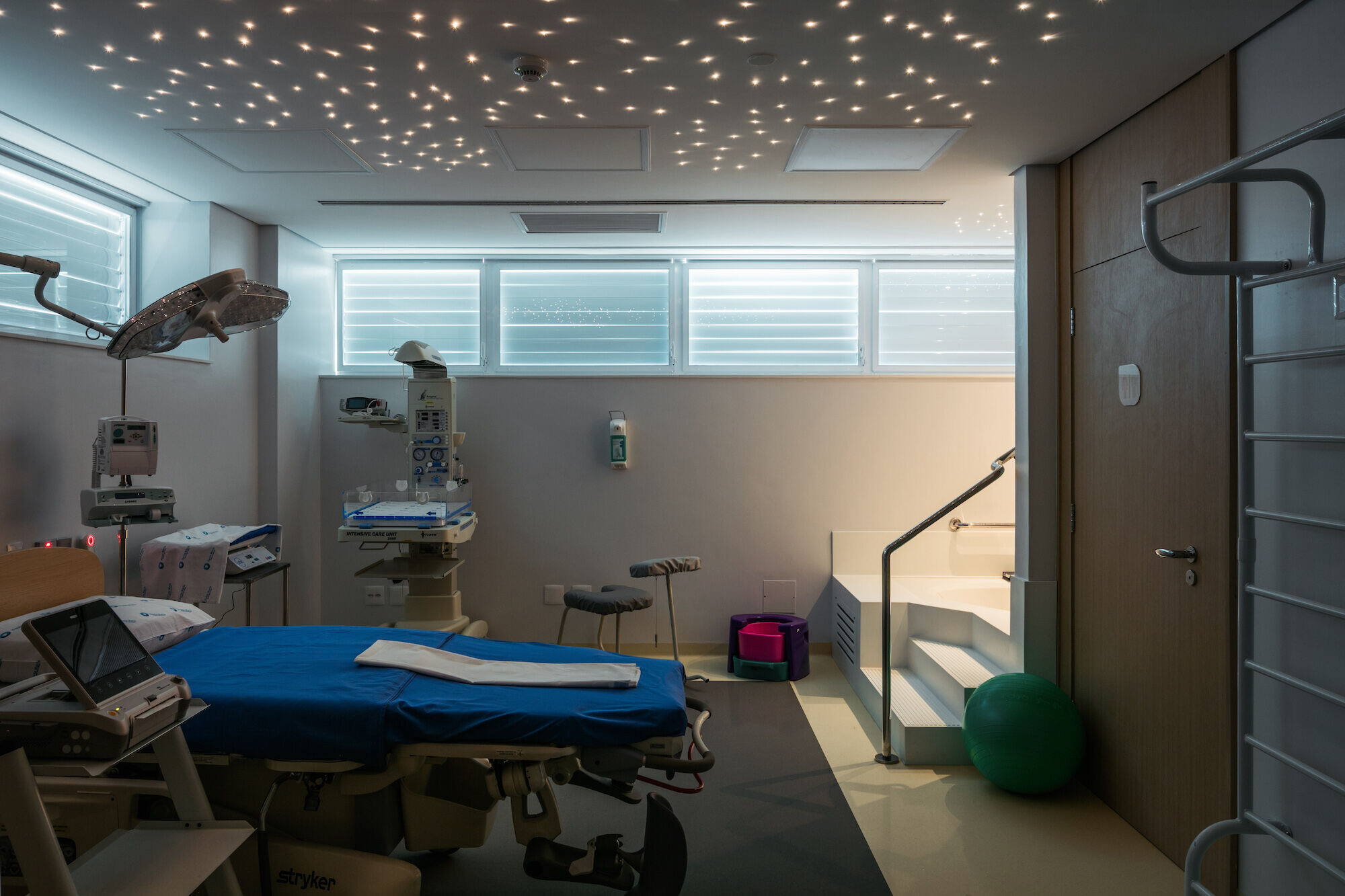 Team:
Architects: Arqlab – Salles, sociedade de arquitetos
Architect Sergio Salles, Architect Ivan Portero, Architect Priscila Segala, Architect Eduardo Longuini, Amira Incorporações e Empreendimentos Imobiliários, Engineer Glauco Carvalho Mendes, Obivious Construções (Planialtimetric and cadastral survey), Apoio Acessoria e Projeto de Fundações (Foundations and contetions), Edatec (Concrete and metal structure project), Alphafer (Metal structures), Terni Engenharia (Electrical and hydraulic installations), Bispo & Berbet (Medicinal gas installations), Femab (Metal structures iron frames, aluminium and glazing), Comovil (Glazing), Marcenaria Araucaria (Woodwork), Nucleora (Cafeteria and industrial kitchen design), Paloma Cardoso (Direction design), Foco Luz & Desenho (Lightning), Ghobar Planejamento de Garagens (Road signs), S.A.O Segurança Contra Incêndio (Fire safety), Controller BMS (Surveillance and building security), Agathis Paisagismo (Landscaping)
Photographer: Nelson Kon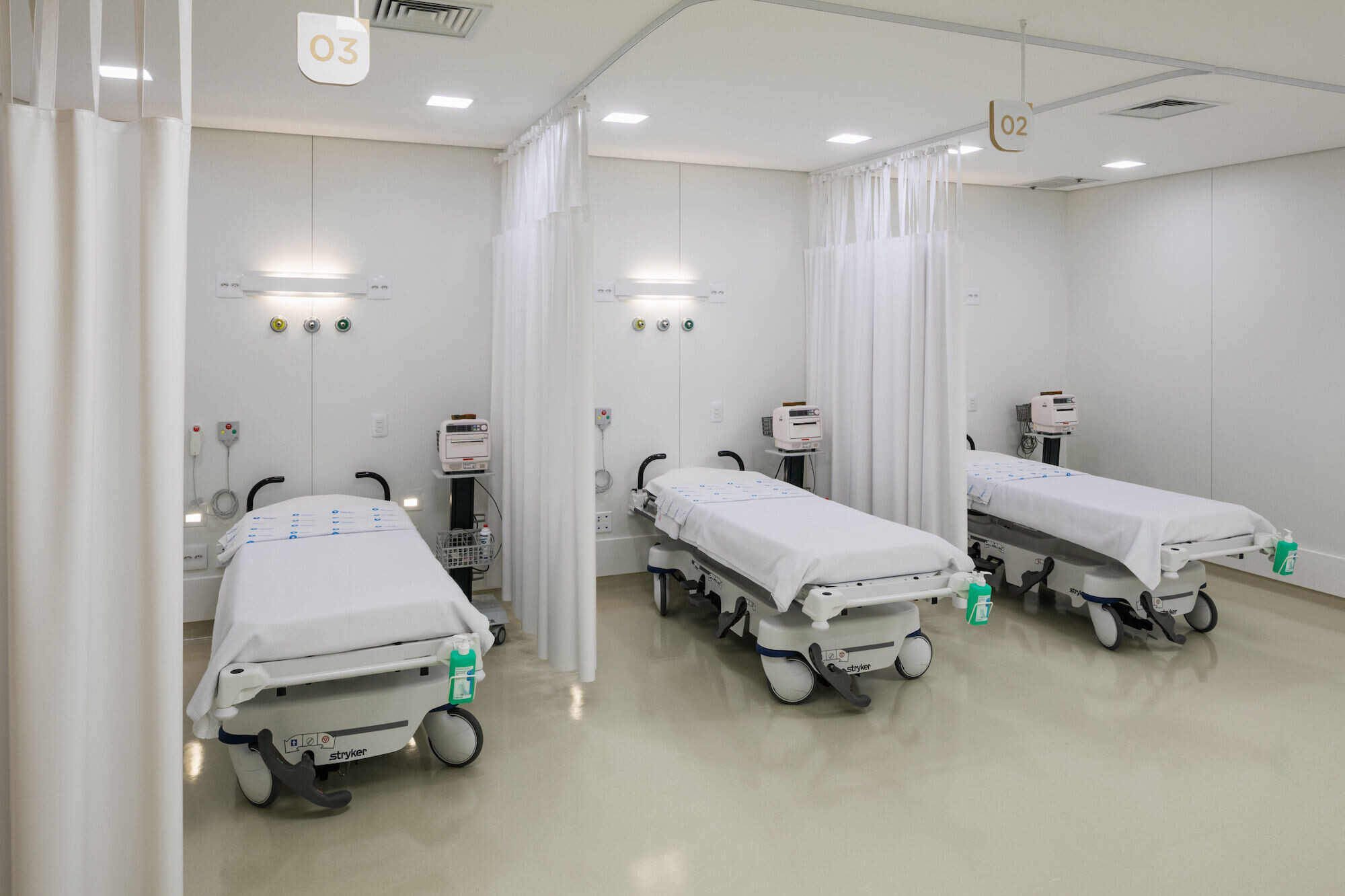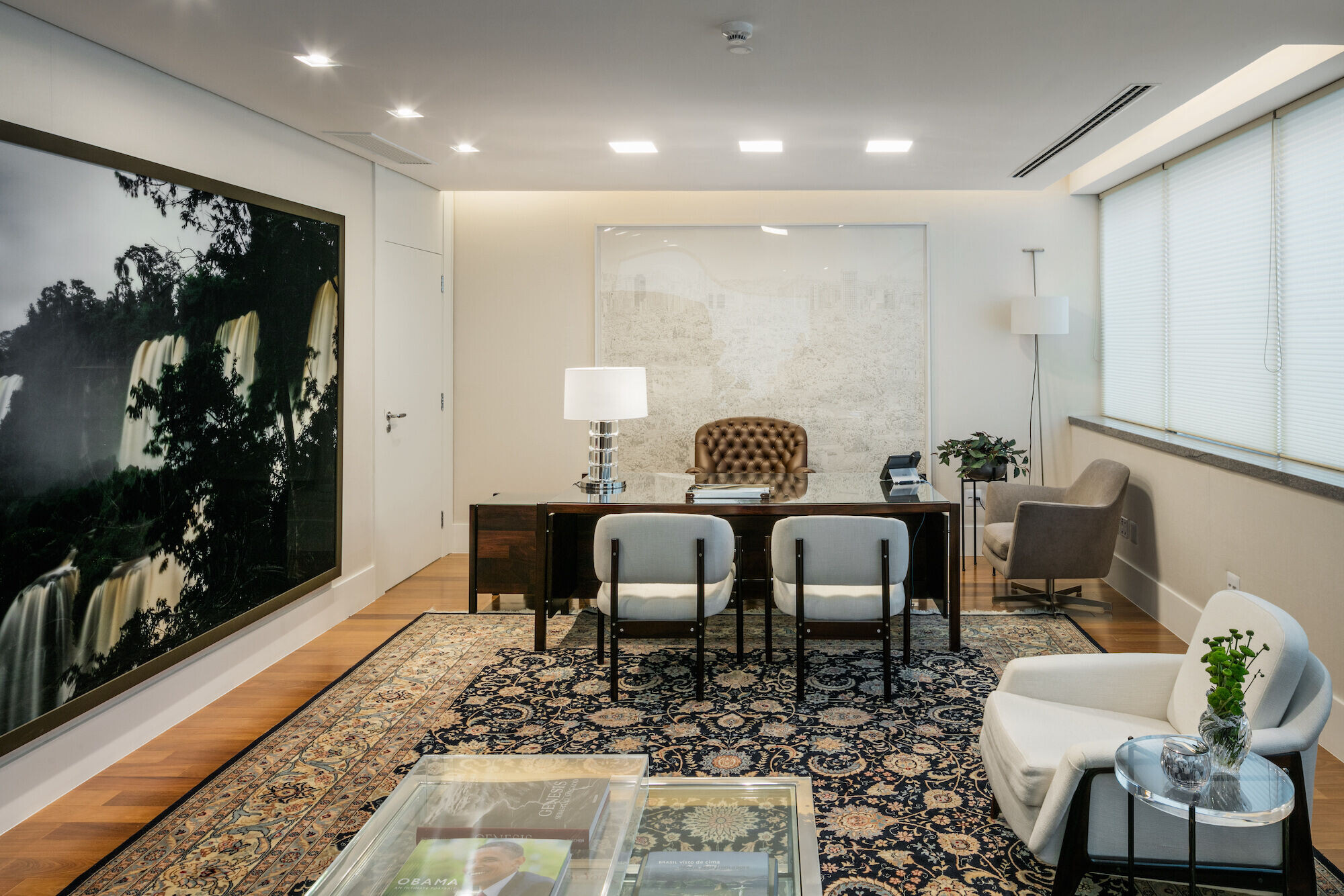 Materials Used:
Femab: Metal structures, iron frames, aluminium and glazing
Comovil: Glazing
Competence: Fire doors
Marcenaria Araucaria: Wooden frames and furniture
Montinox: Stainless steel frames and furniture
Sigmma Brasil: Mineral solid surface countertops
Portogran: Marbles, granites and stones
São Rafael: Cold room
Aerocom: Pneumatic Mail
Murilo Sá Toledo: Sculpture
Oz Estratégia+Design: Visual communication
Atlas Schindler: Elevators
Deca: Ware and metals
Eliane: Floor covering
Portinari/ Portobello: Wall cladding
Fórmica/Pertech: Wall, panel and furniture cladding
Baueco/ Ace Revestimentos: Vinyl blankets for flooring
RS Design: Parturient furniture
Artefacto: Direction furniture
Nilko: Lockers
Knauf: Linings and partitions
Necocom divisórias: Sanitary partitions
Lumicanter/Lumini: Lamps
Hill Room/Sryker: Hospital beds and stretchers
Fanem Heated cradle, transport cradle and neonatal incubator
Maquet: Mobile surgical focus and surgical table
Dräger: Ceiling surgical focus
Jacuzzi: Humanized delivery baths
Br Goods: Hospital curtain for bed
DuPont: Corian
Airliquide: Hospital gas plant
Philips: Mobile surgical arch
Cebrace: Glasses
Eritel: Nursing call system
Lafer: Medication armchairs
Toledo do Brasil: Pediatric bench scale