'Too ordinary.' Architect Thijs Prinsen actually wanted to pass up on the renovation of this 1960s subdivision house. Fortunately, residents Stefanie and Bart persisted.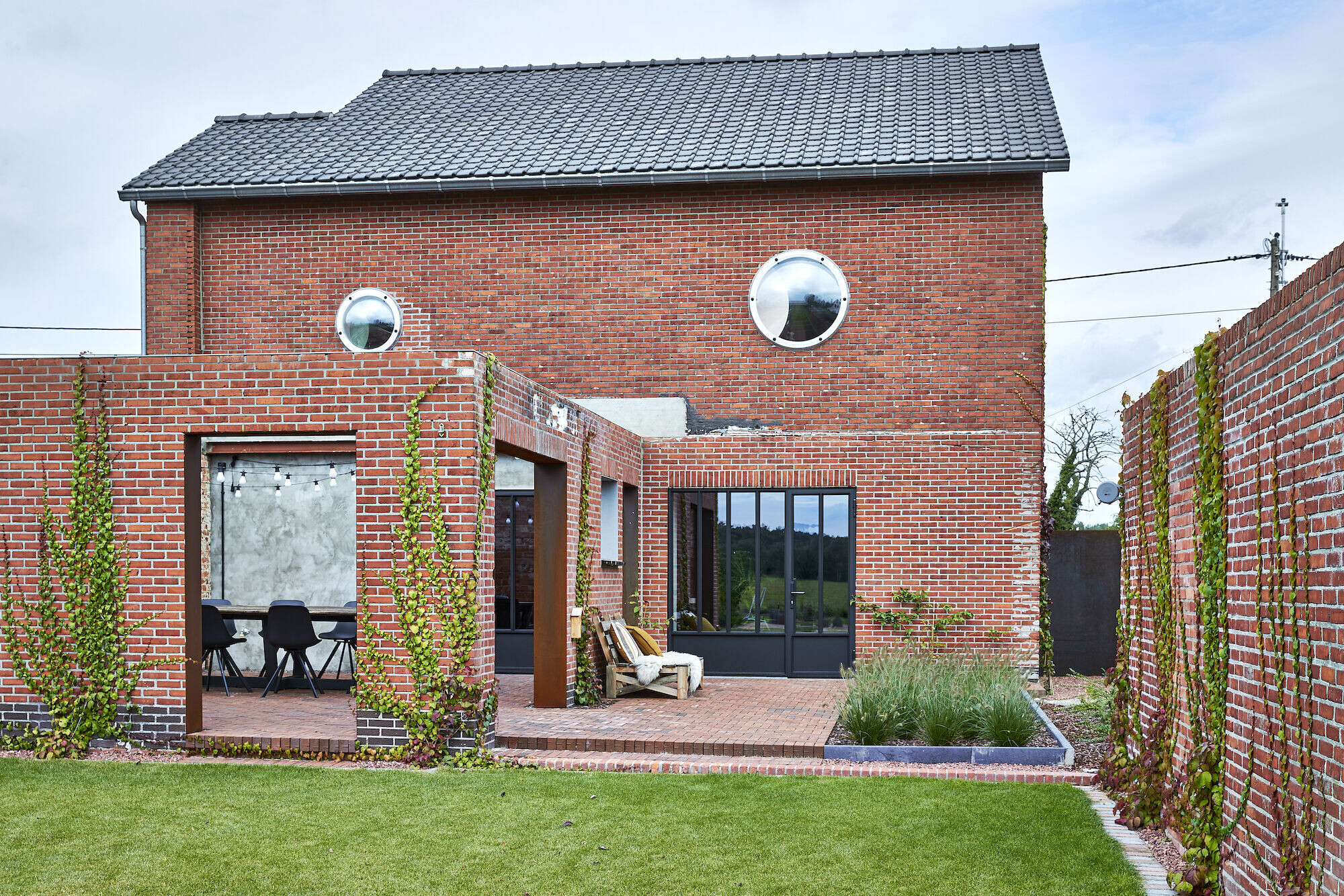 IRIS DE FEIJTER5 February 2022, 03:00
We know it's not mother's best. But we also know that you are capable of making something beautiful out of it." Stefanie and Bart were eager for Lens°ass to take care of their recently purchased house in the north of Limburg. "We loved every one of their projects," says Stefanie. But the Hasselt architectural firm didn't feel much for it at first. In the end, the charm offensive did not fall on a cold stone after all. "When we met them, it clicked immediately," says architect Thijs Prinsen, partner at Lens°ass. "It helped that they themselves didn't think it was a beautiful house either. As a result, we still felt the challenge to make something of it. We are very happy with the final result. There are still traces of the original house, but you can also clearly see that someone has been there. We gave the house a second chance."
Mission accomplished. The ugly duckling is now a beautiful swan. But for this metamorphosis, the architects had to pull out all the stops: new windows, new floors, new walls and a completely new layout. Lens and Prinsen literally did their homework. Bart: "We bought the house purely for its location. You have a very nice view here, our extensive garden runs into fields and behind it is a forest. That the house itself lacked charm, we took for granted. We counted on the architects for that."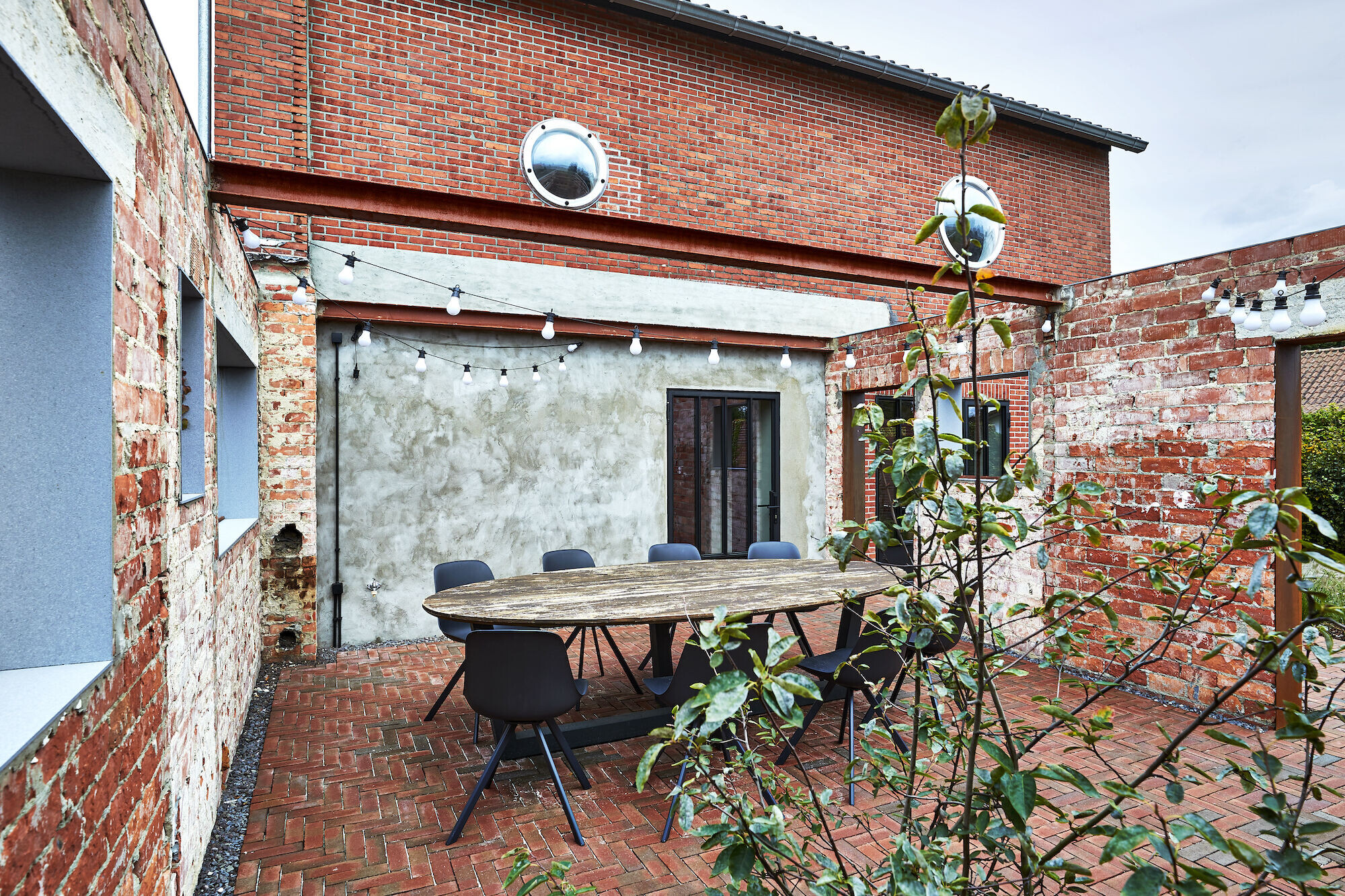 The briefing to Lens and Prinsen: an original, cozy and compact house. Their previous home, a new construction that they put up themselves in the outskirts of Hasselt, had three bedrooms, two bathrooms and large living spaces, for should there ever be children. Meanwhile, Stefanie and Bart decided to stay with two. They wanted a house tailor-made for a couple. This was too big, so they demolished a large part of the ground floor. Where the bathroom with storage room once sat is now an outdoor room with a sheltered terrace, which they call "the ruin. It really is an extension of the kitchen, also because the floor - ordinary bricks - continues in the kitchen and the entrance hall. In the living room there is parquet.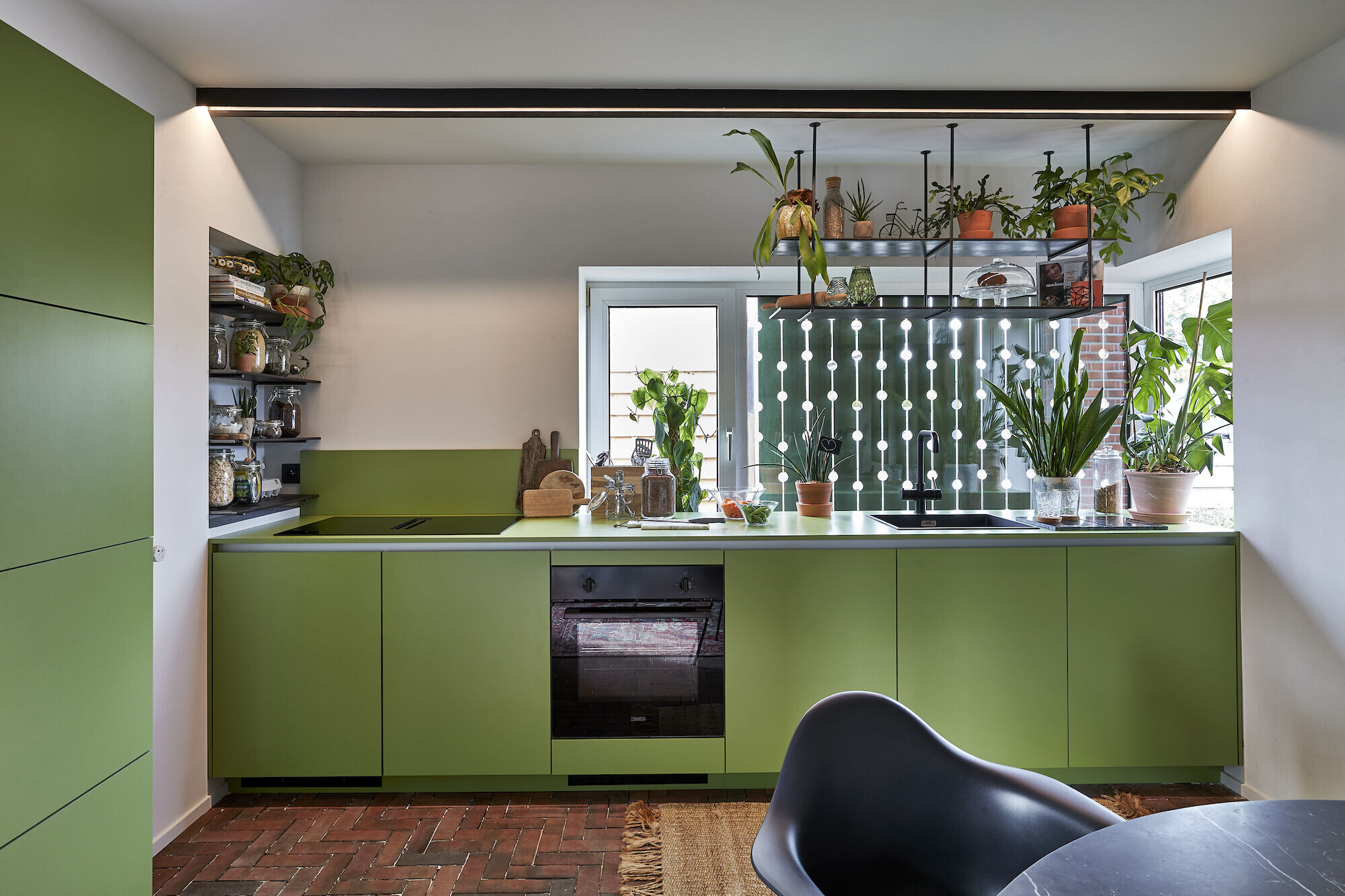 PATRIOT
The bathroom was moved upstairs, so that from the bathtub you can overlook the landscape through a porthole-like round window. Instead of a curtain, the architect came up with a rolling wooden disc that serves as a shutter. The bedroom also received such a window, so you wake up with a view of the fields. Did we mention that this was no ordinary renovation?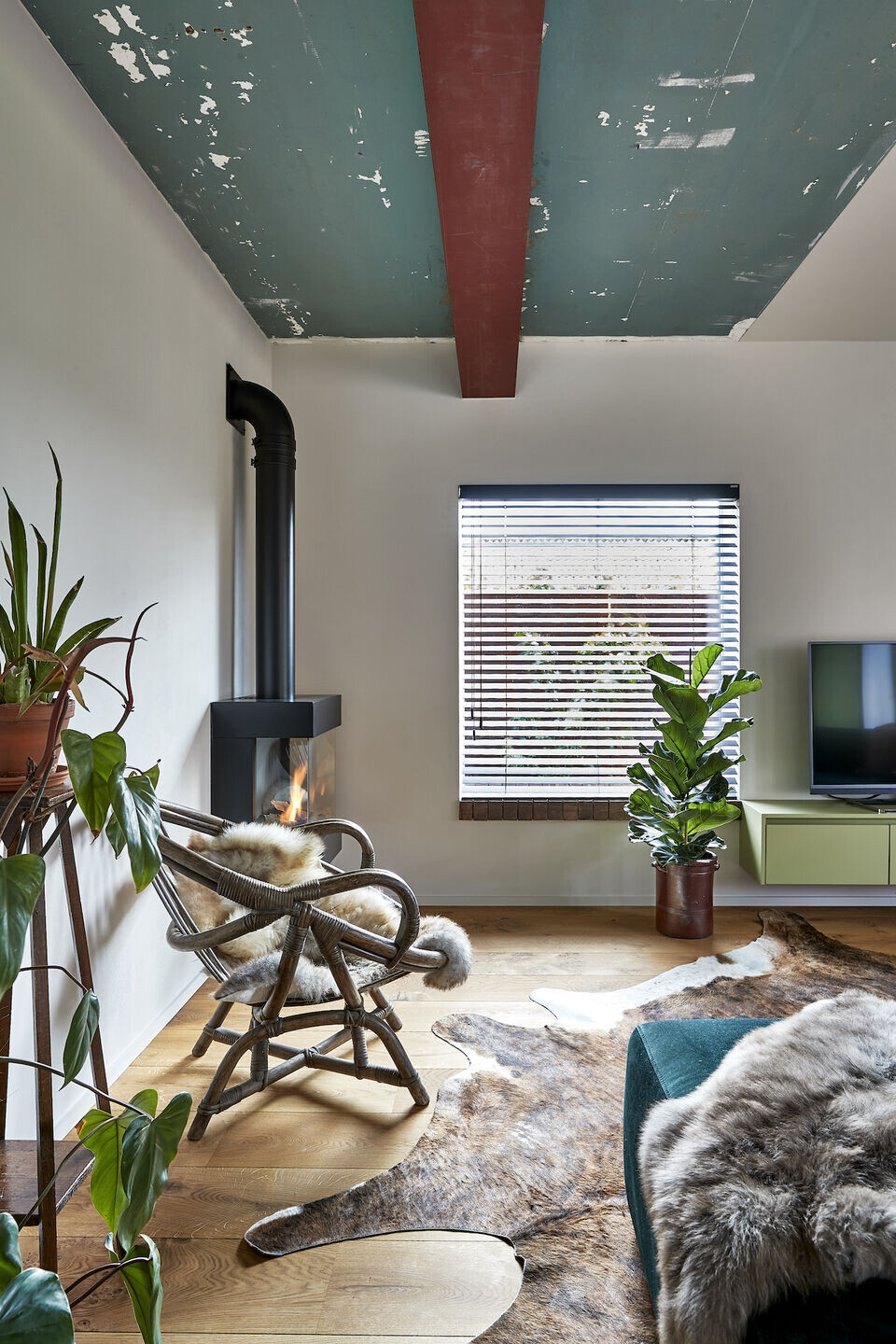 Architect Thijs Prinsen: "Actually, we were using vertical skylights here, a cheaper alternative to a classic window. Because of the budget constraint we often had to look for alternatives, which often led to original solutions."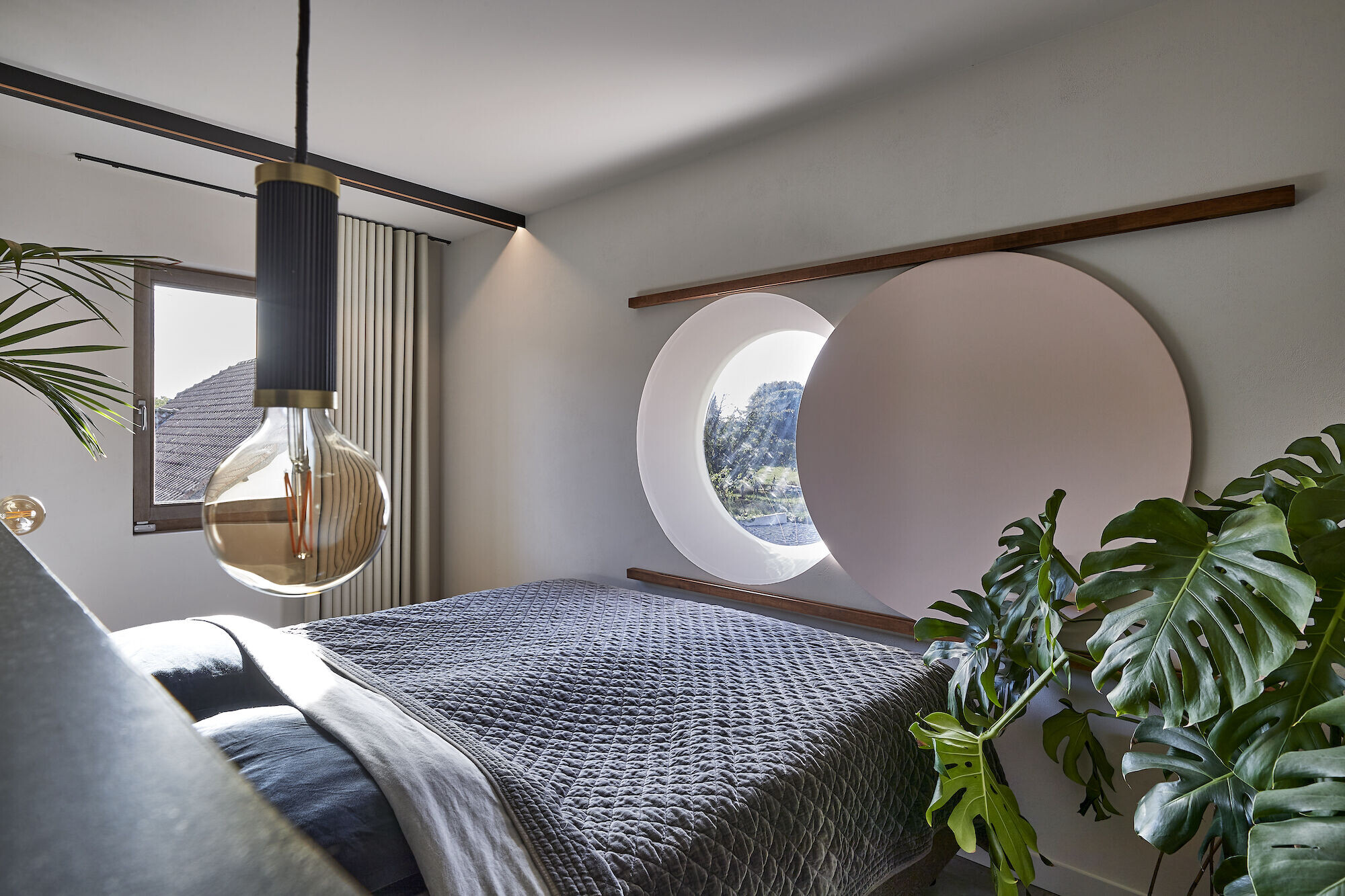 For the garden, Stefanie and Bart wanted to have a fence made in corten steel. When that turned out to be expensive, the contractor tipped to use road plates that cost only a fraction. For the interior, it was mainly Stefanie who went looking for the "Aldi version," as she calls it herself. "Because our previous house was a lot bigger, we had to buy almost everything new. A hefty investment, so I made it a sport to find affordable nice pieces. When we saw a beautiful lamp for the dining table, it turned out to cost 3,000 euros. In the end I found one for 35 euros. We like to mix more expensive and cheaper pieces until you can't tell which is which. For example, at the dining table, a Hay chair sits next to an old café copy."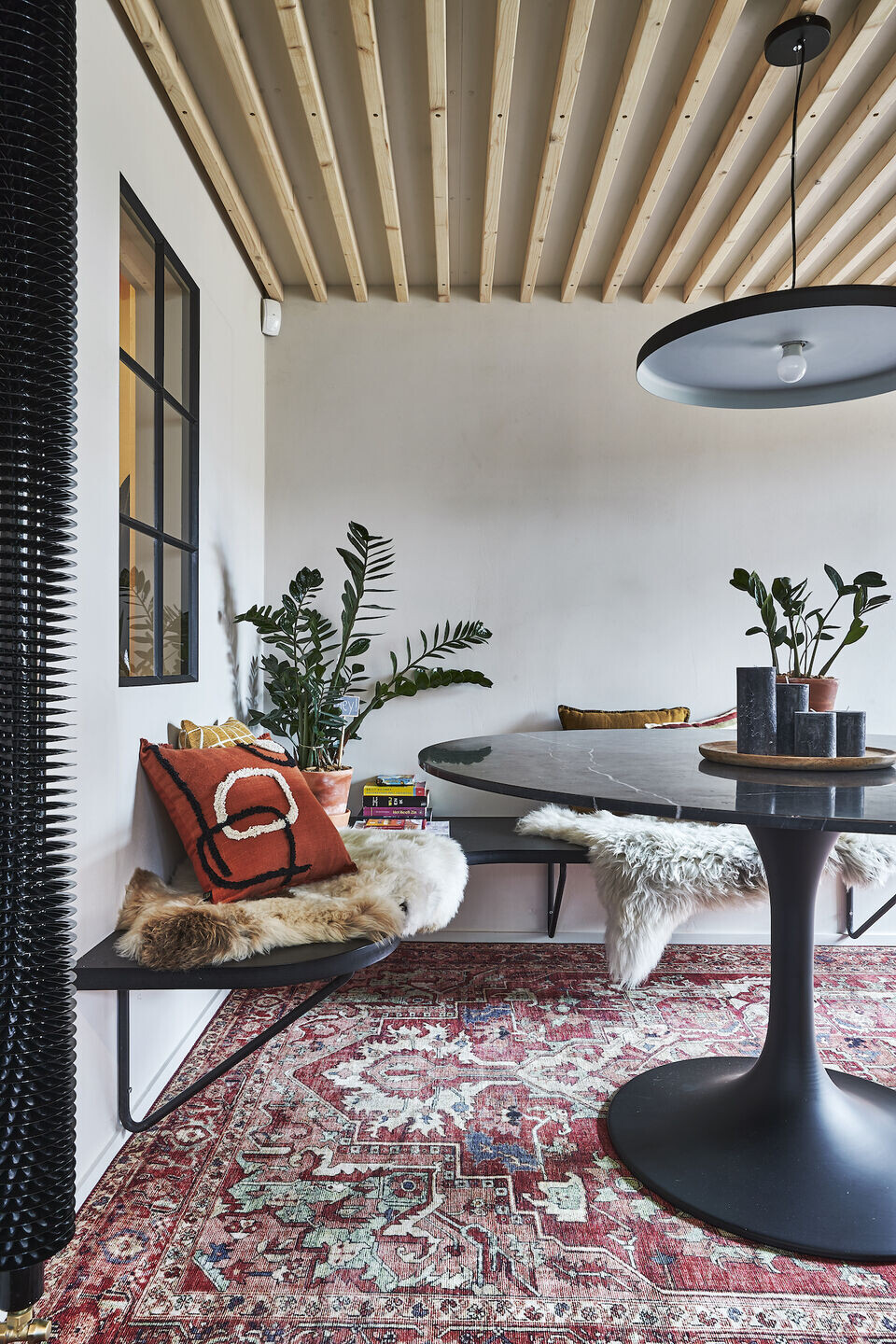 GREEN WIRE
Stefanie and Bart also asked their architects to bring the garden in a bit more. "Because the living space was initially at the front of the house, there were a lot of windows there, while the facade at the back was very closed.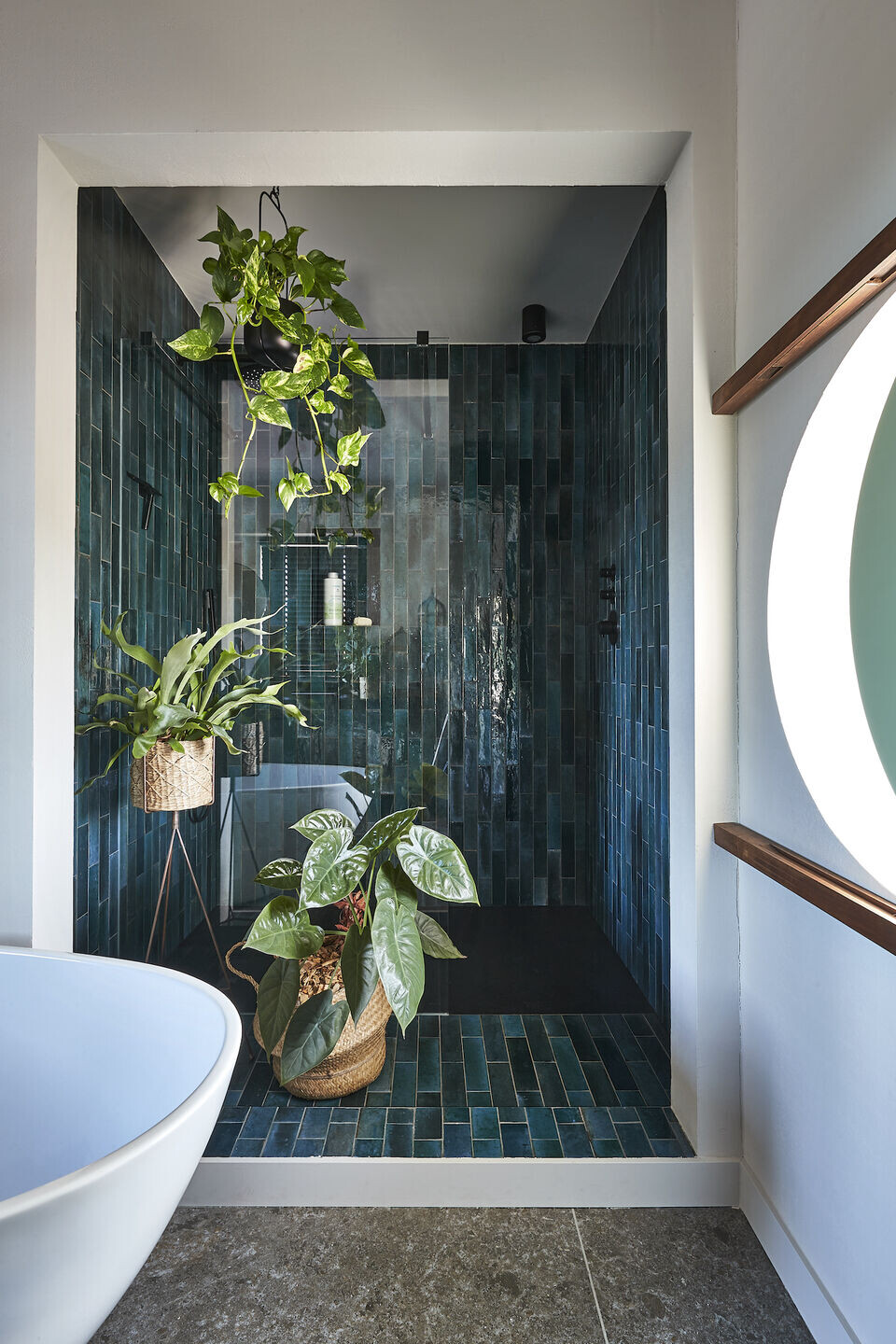 We turned that around. On the street side shutters were installed for extra privacy. On the garden side, we added extra windows and French doors," says Thijs. "Around the house we planted vine and climbing rose which will largely cover the facade within a few years. I used that green in the architecture by making shutters of impregnated wood, with that typical bright green color. I then brought that hue inside as well, for the kitchen and the TV cabinet. Feel free to call it the green thread through the house."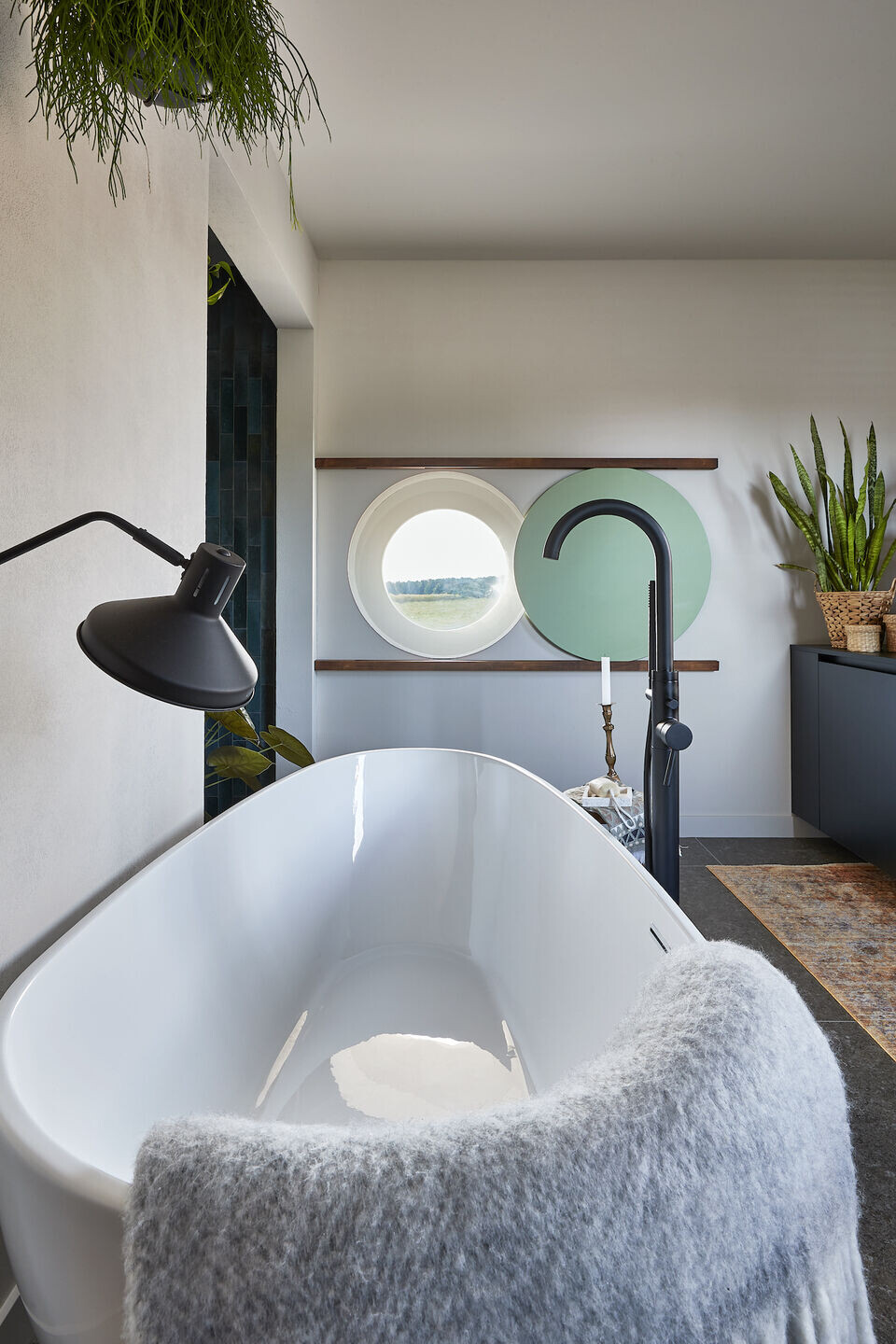 Bart: "We don't have a separate sitting area in the living room. We thought that was unnecessary. When we have dinner with friends or family, we sit together in our kitchen. So we didn't want it to look too technical. Thijs achieved this by keeping the kitchen low, without the typical high kitchen cabinets. The effect is reinforced by using the same material for the cabinets and the worktop.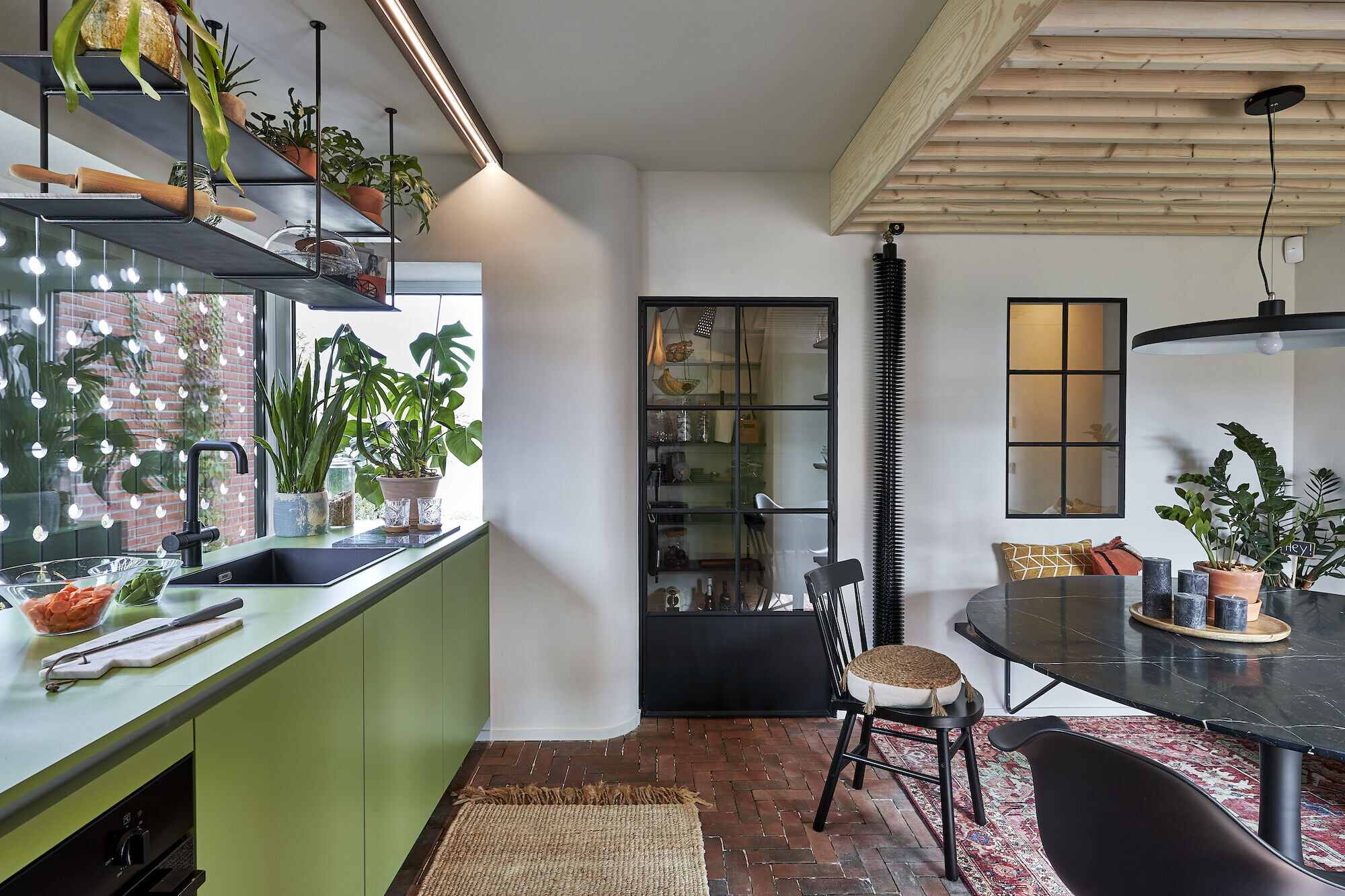 Although the renovation was done very thoroughly, we still managed to retain a few original elements. In the hall, we can still see the original ceiling in formworked concrete, and the staircase remained. They also deliberately left the weathered ceiling in the living room bare. Many people didn't understand why we didn't paint or plaster it," says Stefanie, "but I think it adds atmosphere.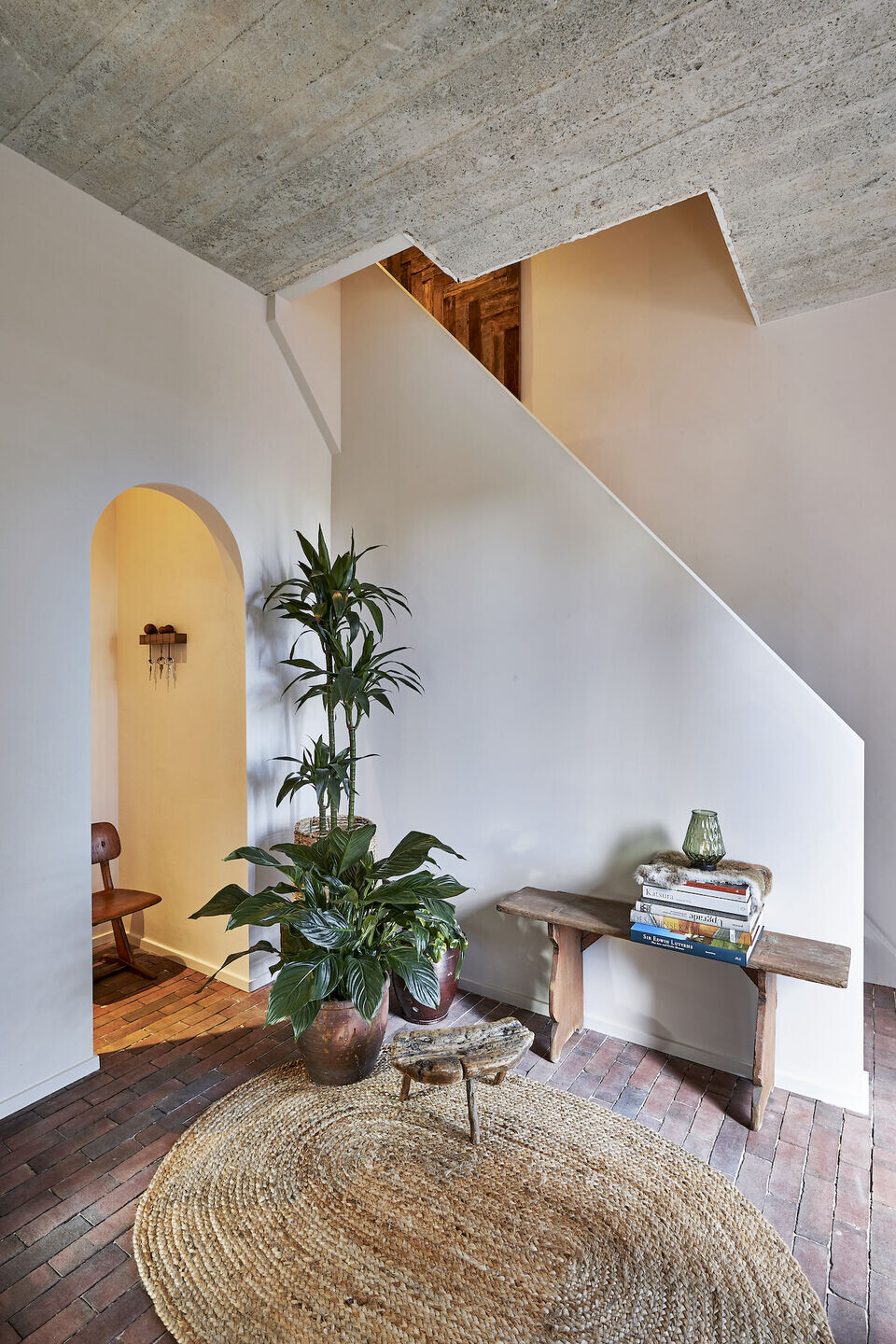 The couple deliberately chose not to have an open-plan interior, but wanted separate rooms, even if they are not all closed off with doors. "I really like being among people, but this house is also really my retreat, especially the living room," Stefanie explains. "That's why we made an extra-long curtain, which you can also slide in front of the doorway to the kitchen. That way you really create a cocoon."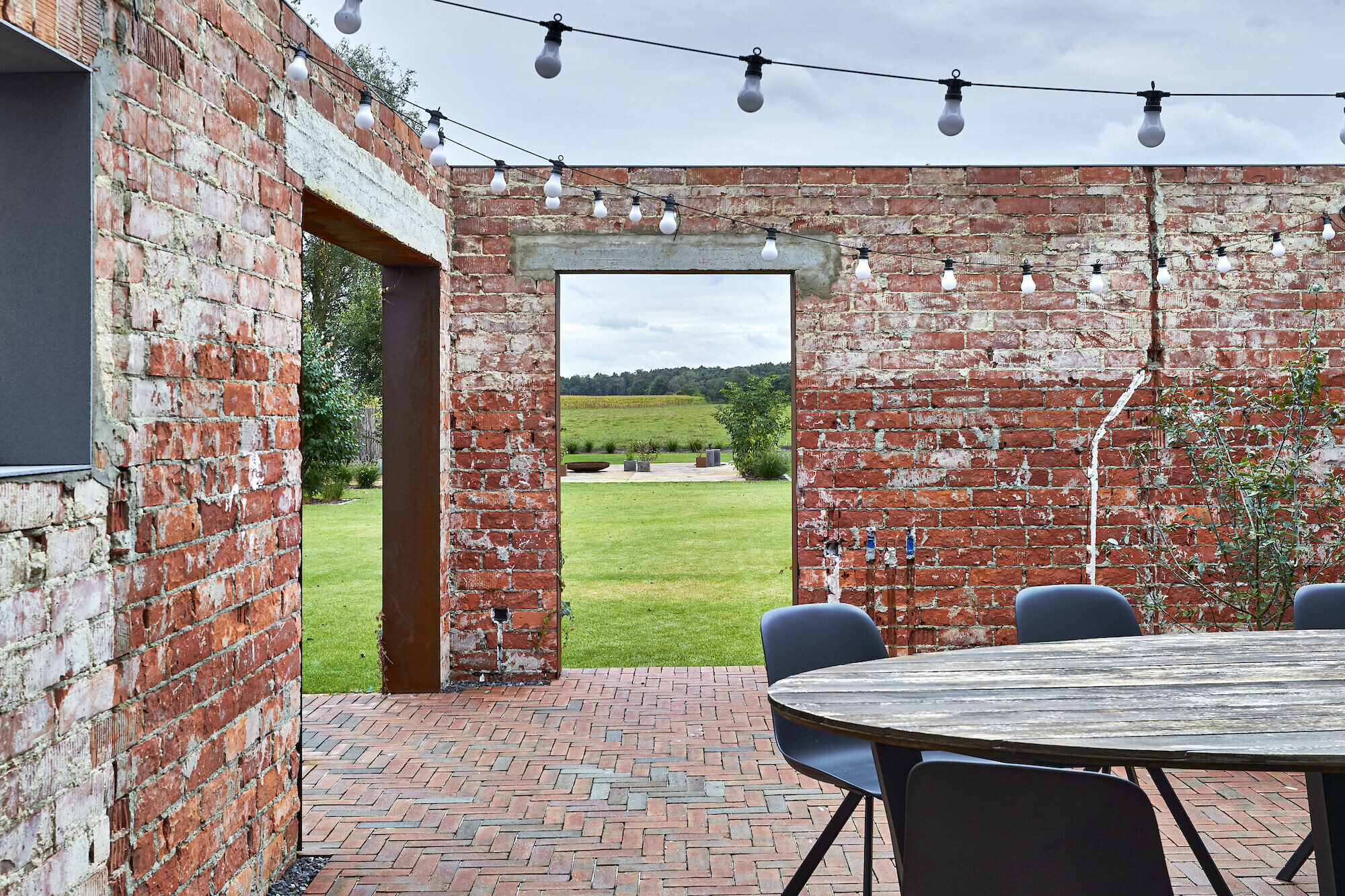 Team:
Architects: Lens°ass architects
Photographer: Jan Verlinde