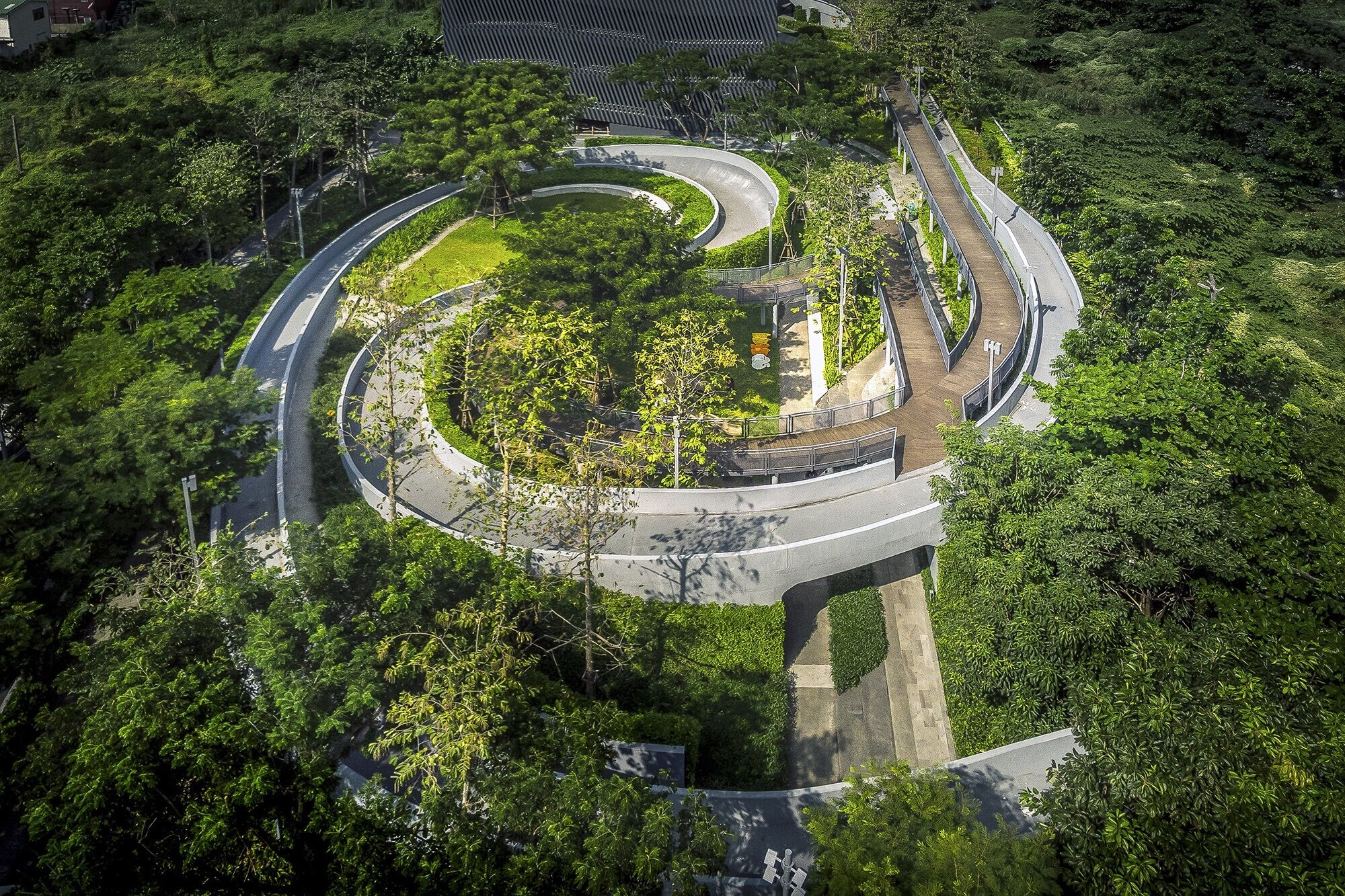 The IDEO O2, being centered around promoting Zero-Carbon Residents, is strategically close to the Sky train station, thereby making public transportation more attractive to the locals, thus alleviating some of Bangna's problems by reducing car usage and promoting greener living standards.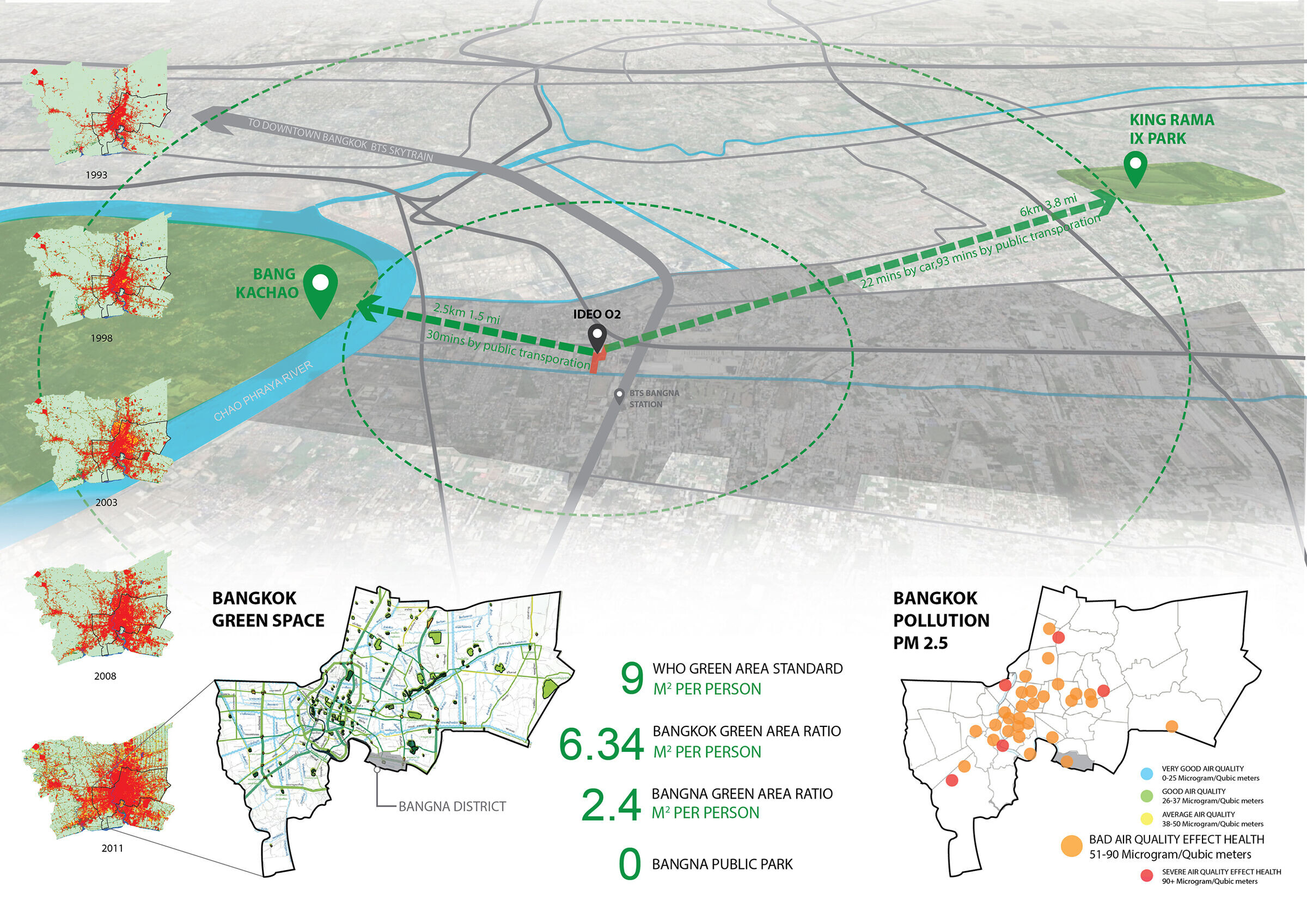 The location of IDEO O2 is in Bangna, one of the fast-growing districts in the East of Bangkok. Bangna is infamous for traffic, inland flooding, urban heat, air pollution and absence of green spaces and parks.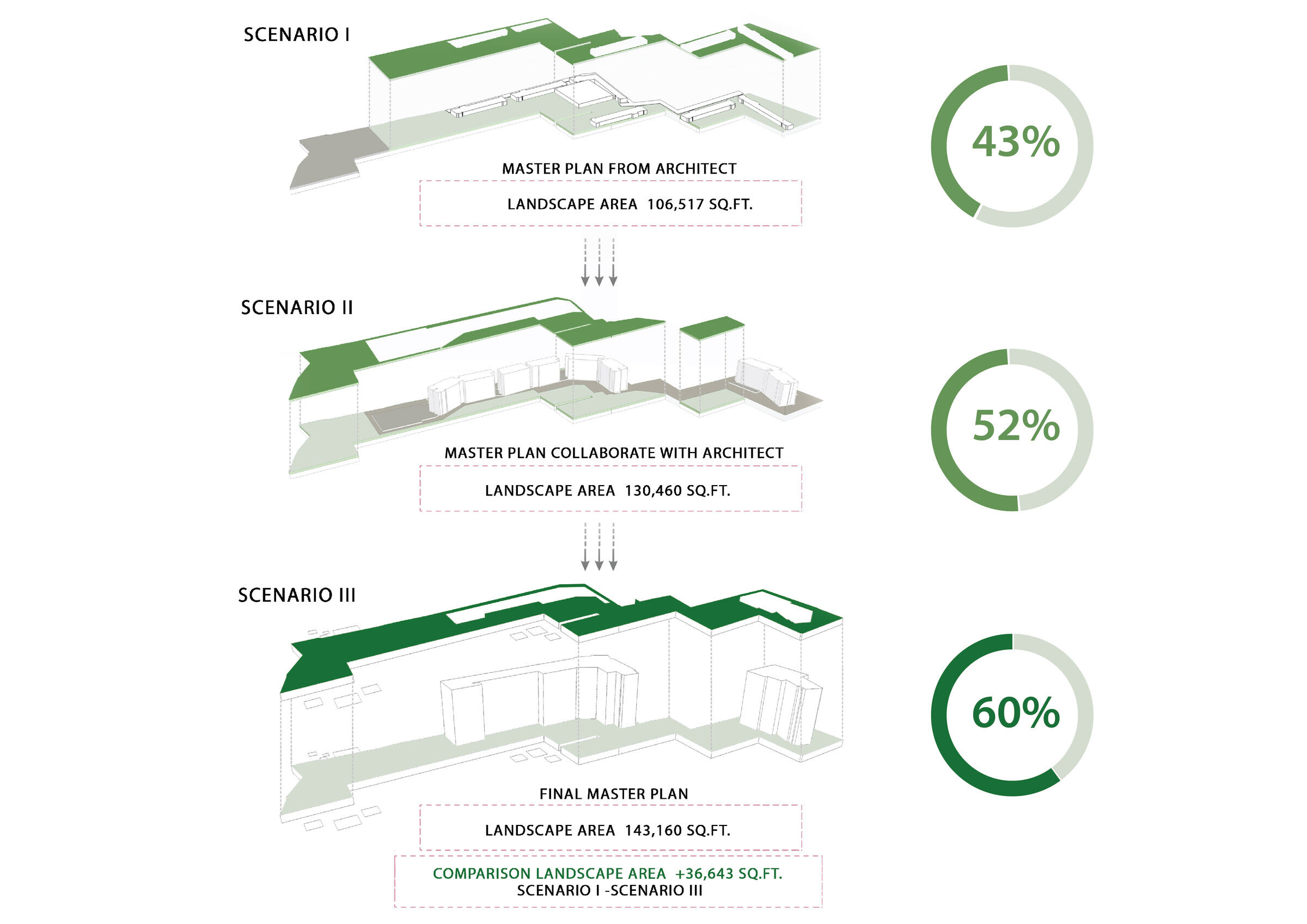 In this location, the design team faced a challenge of long, deep, irregular shapes of the property and fragmented building units. With the collaboration of clients and architects, the landscape architect team proposed several options to minimize the buildings' footprint by stacking up the units vertically, saving existing trees and expanding it into the ultimate green space for the residents.
In the irregular space, long and narrow property, the landscape design introduce the curve formula to connect open spaces and conceal the sense of narrowness.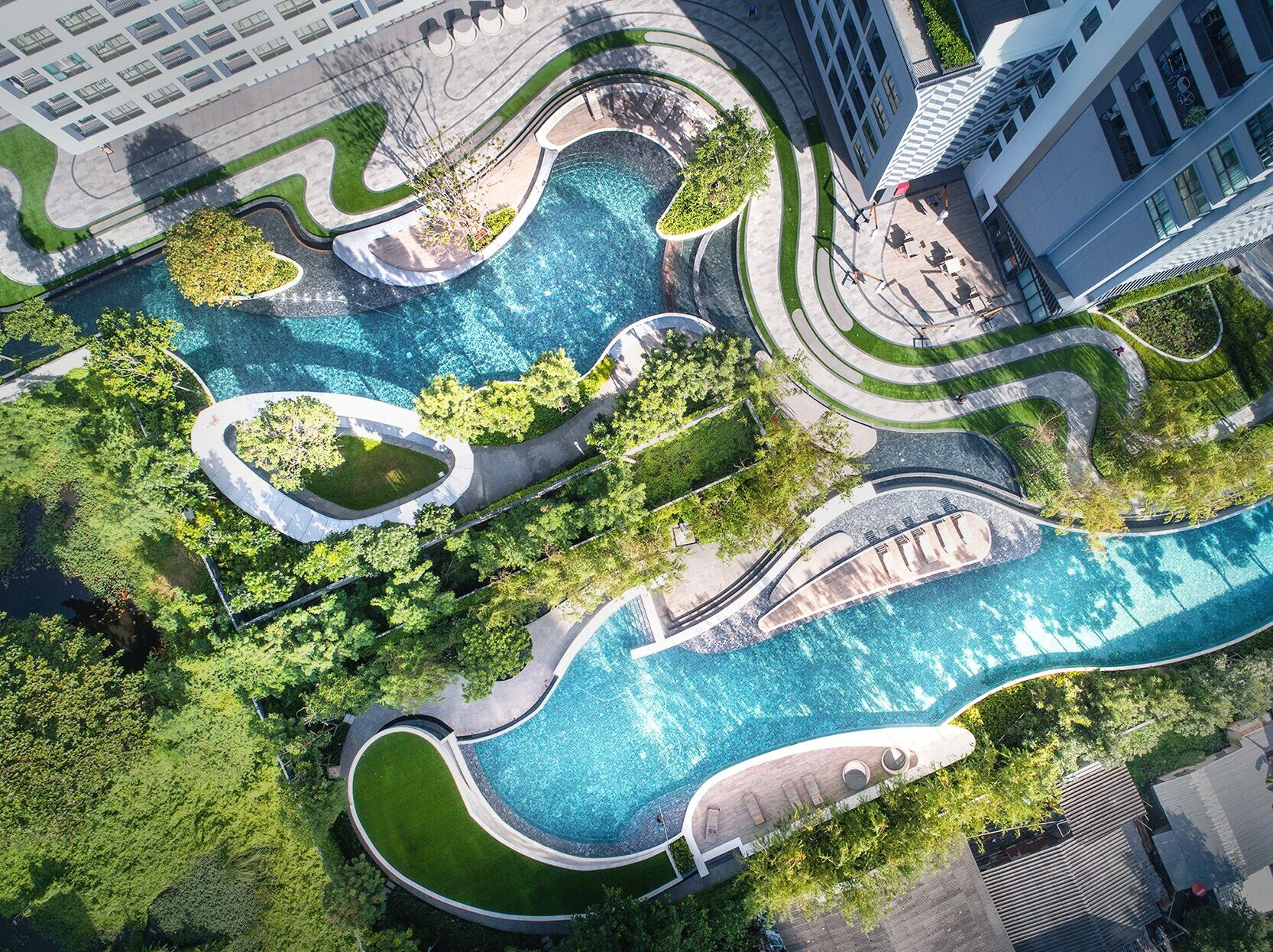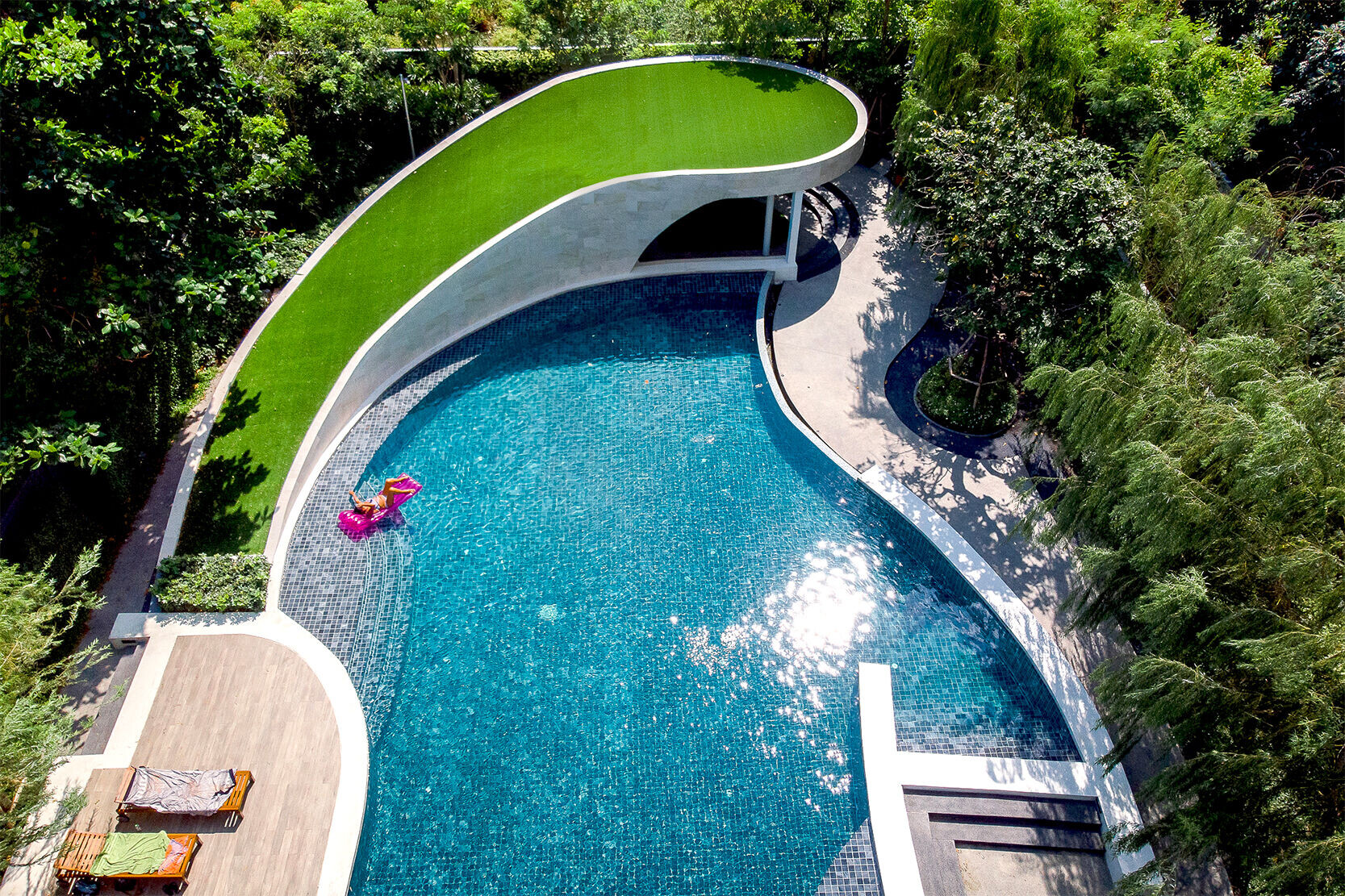 To solve the challenge of the property, the design team used water as a key landscape element, by interpreting the curve and dynamic form of water and integrated the design with plant materials, as a result tiding urban and natural context together. With the curve gesture, the design team creates the dynamic space that welcomes people to the site and will not let them feel the irregularity of the site's property.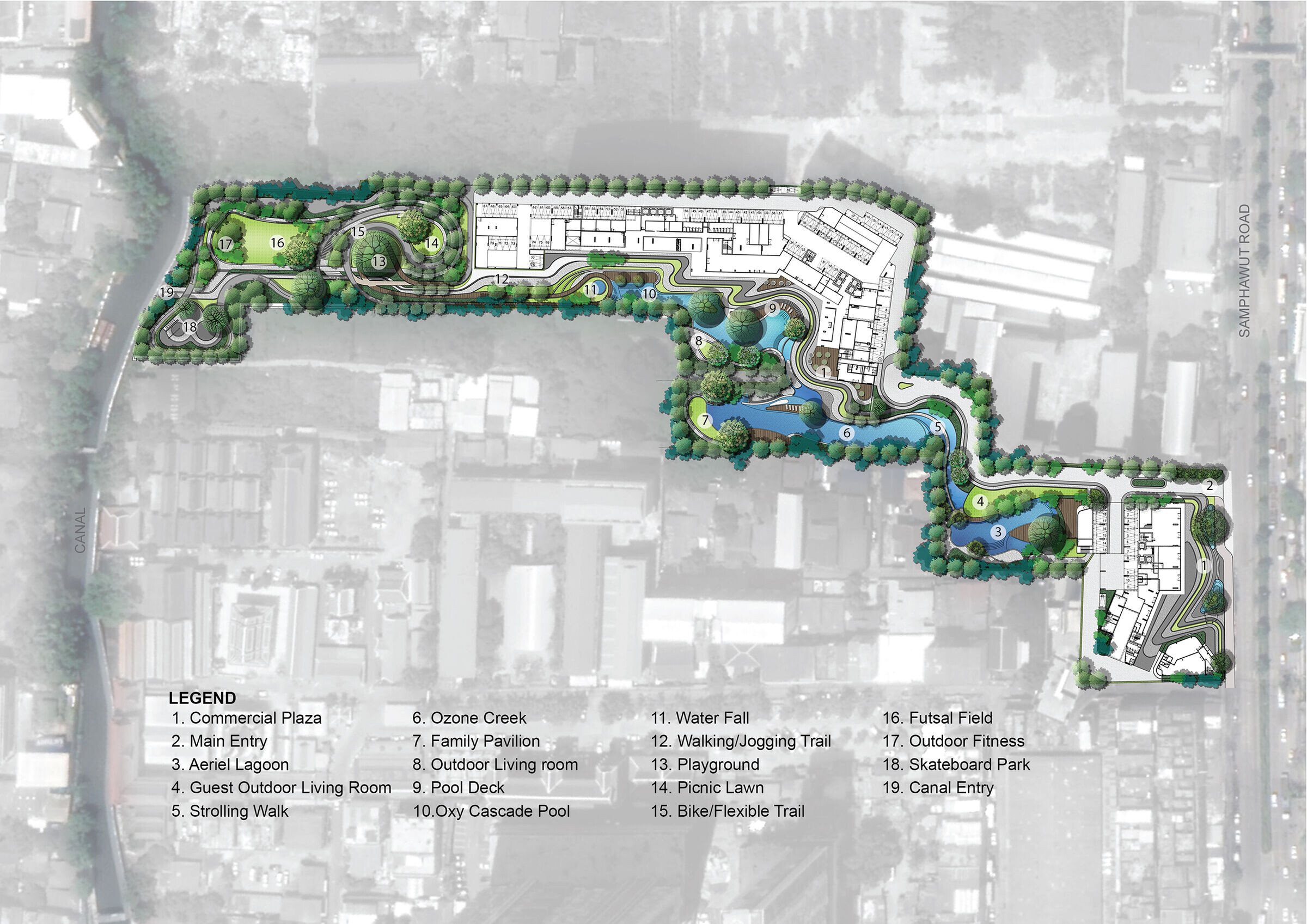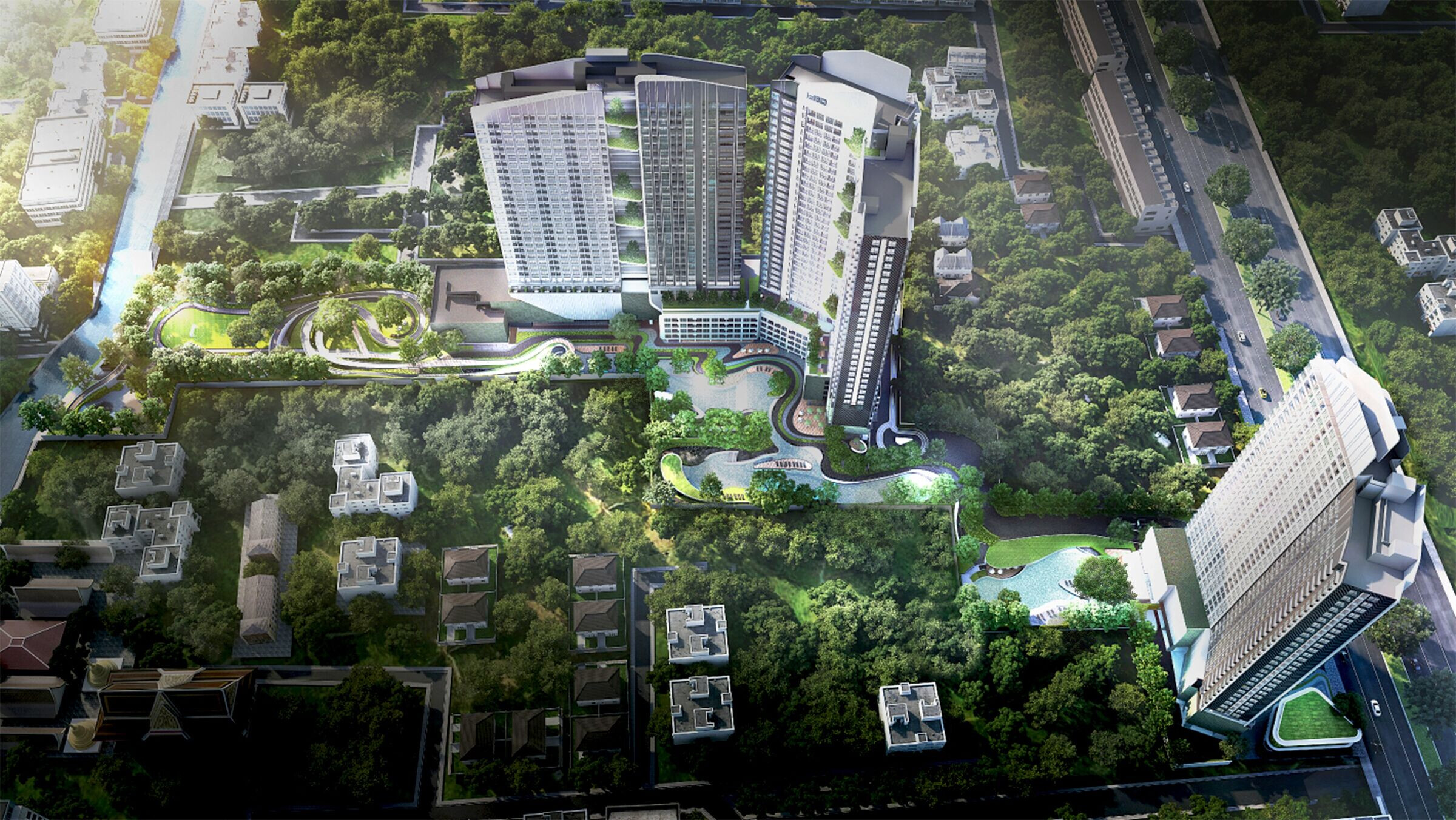 The master plan carries on the concept of O2 = Oxygen, that is to provide outdoor gardens and recreational spaces up to 60% of total area, adding oxygen and at the same time cooling down the heat of the city. The design team intensively calculate Carbon absorption rates of the areas. The team carefully preserved the existing trees and chose new plant materials that are native and tolerant of high underground water and salt water intrusion.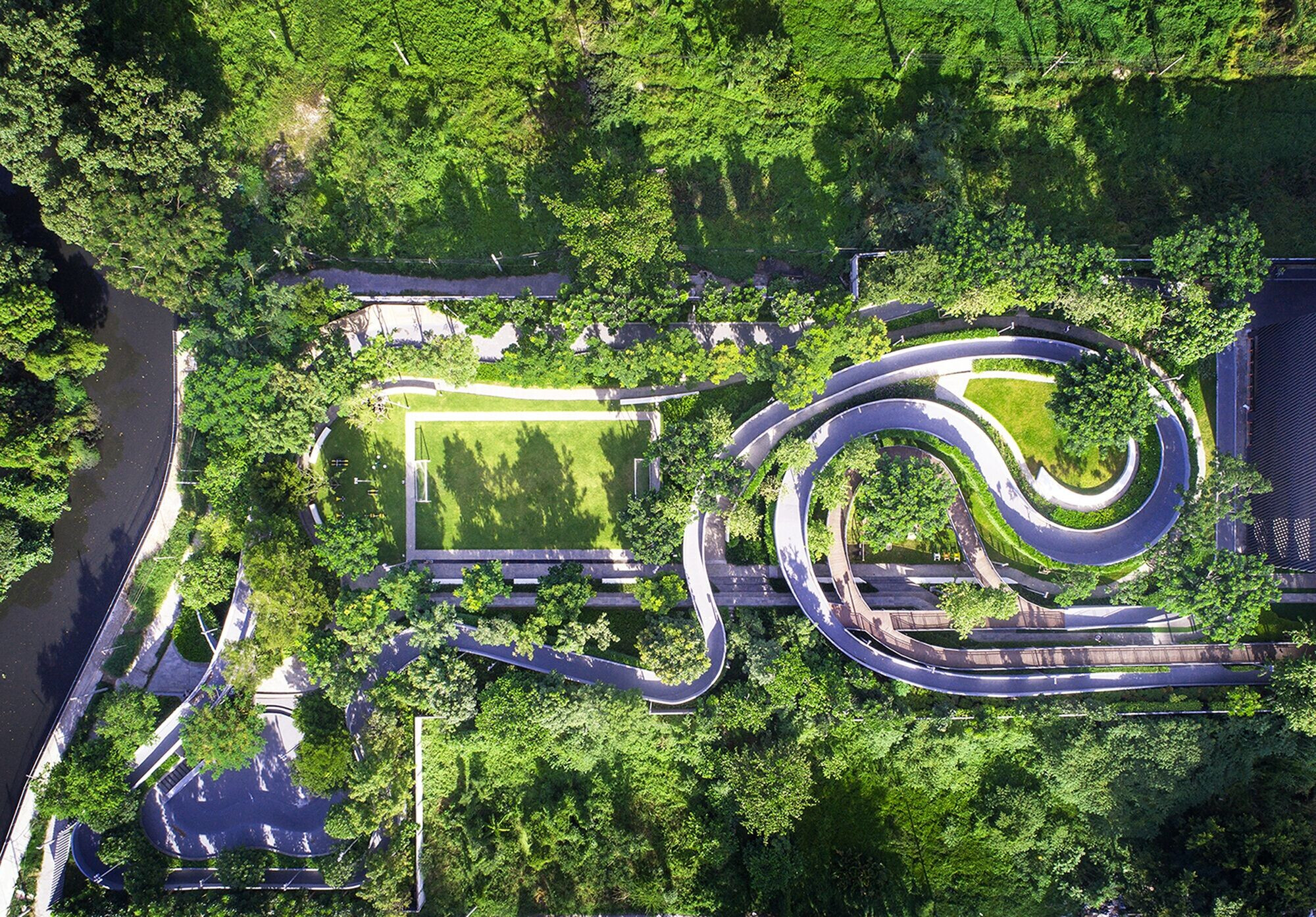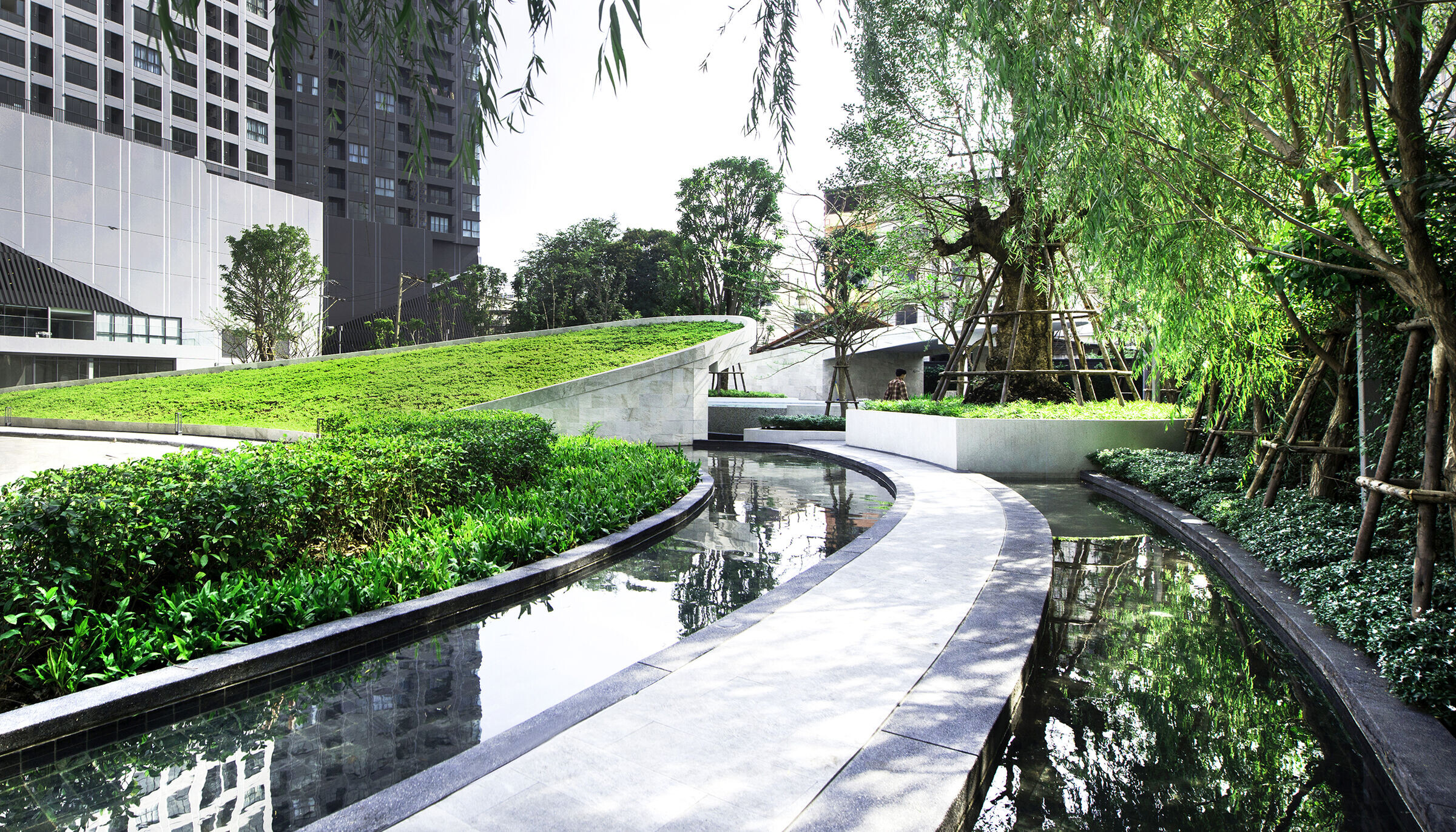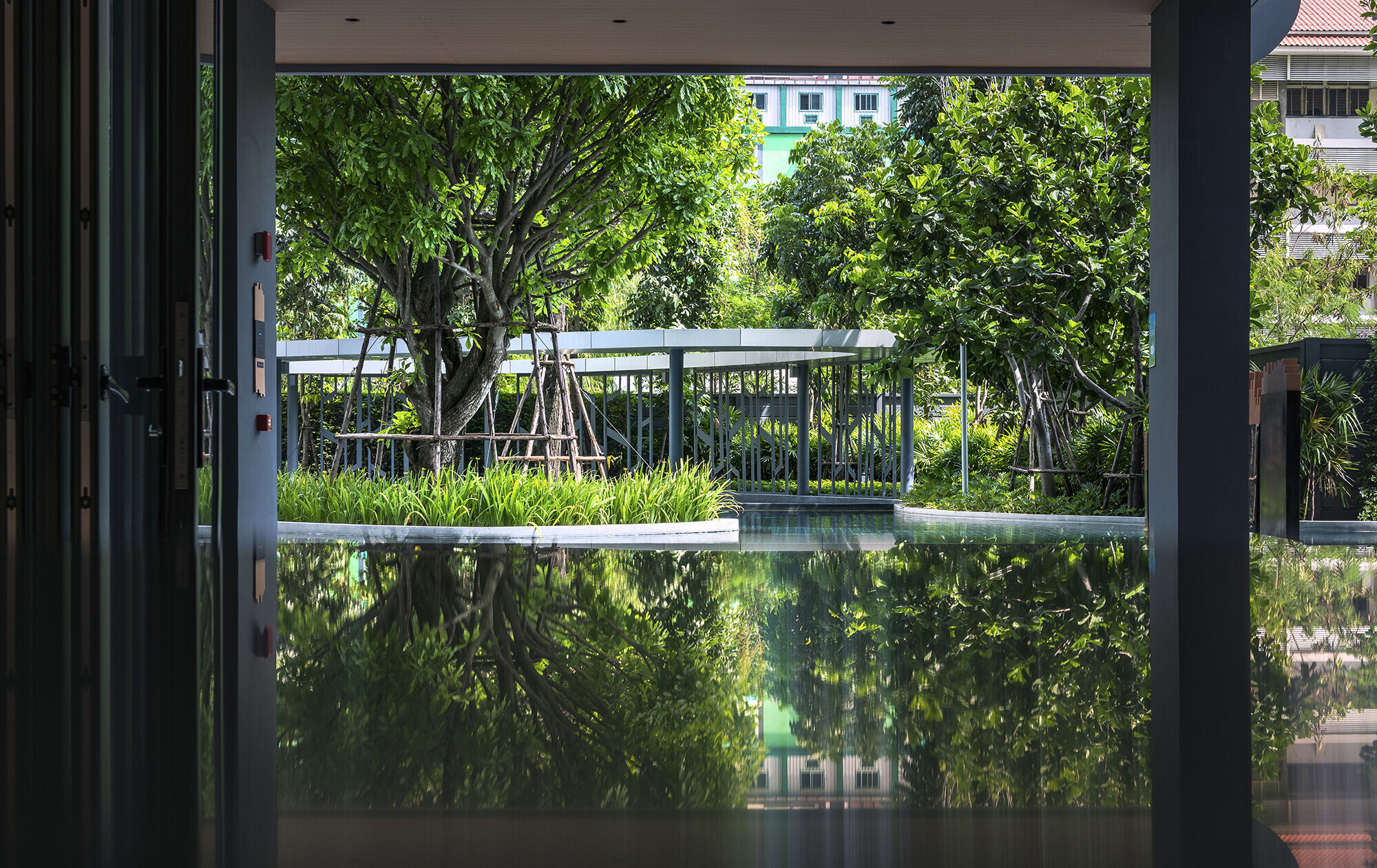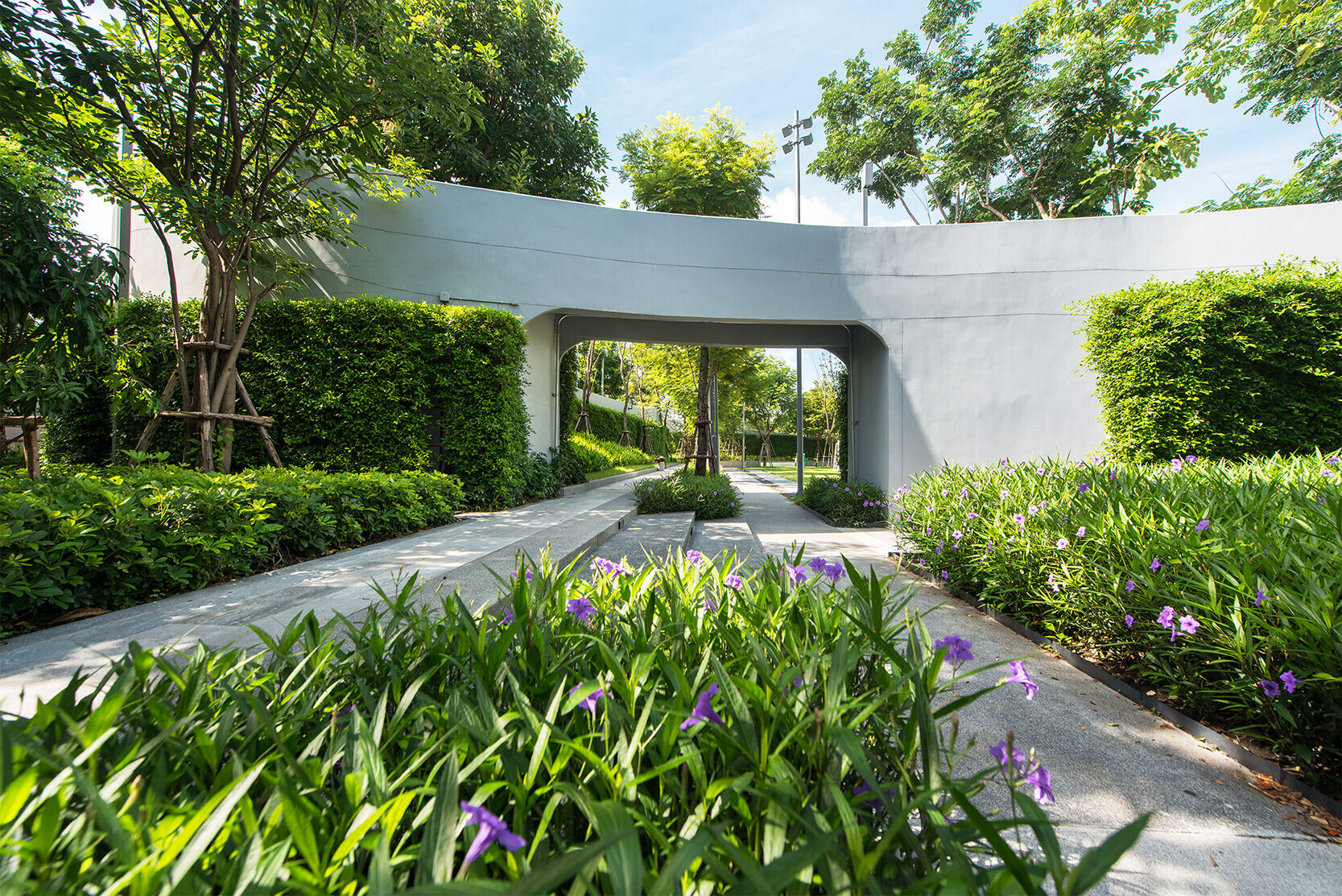 In addition, to help filter fine dust PM 2.5 and purify air quality, plants' selection consists of those with rough hairy texture and contain large amount of small leaves. Here, you can see various layers of vegetations to help reduce air pollution and cool down the area. To help mitigate the inland flood, the team established planting areas, a sub-drain system and an underground retention tank to manage storm water runoff from the project. Large green spaces will allow water to infiltrate the ground and slow down the flow rate. Excess water will be collected and stored during heavy rains, in summer this water can be used to water the plants.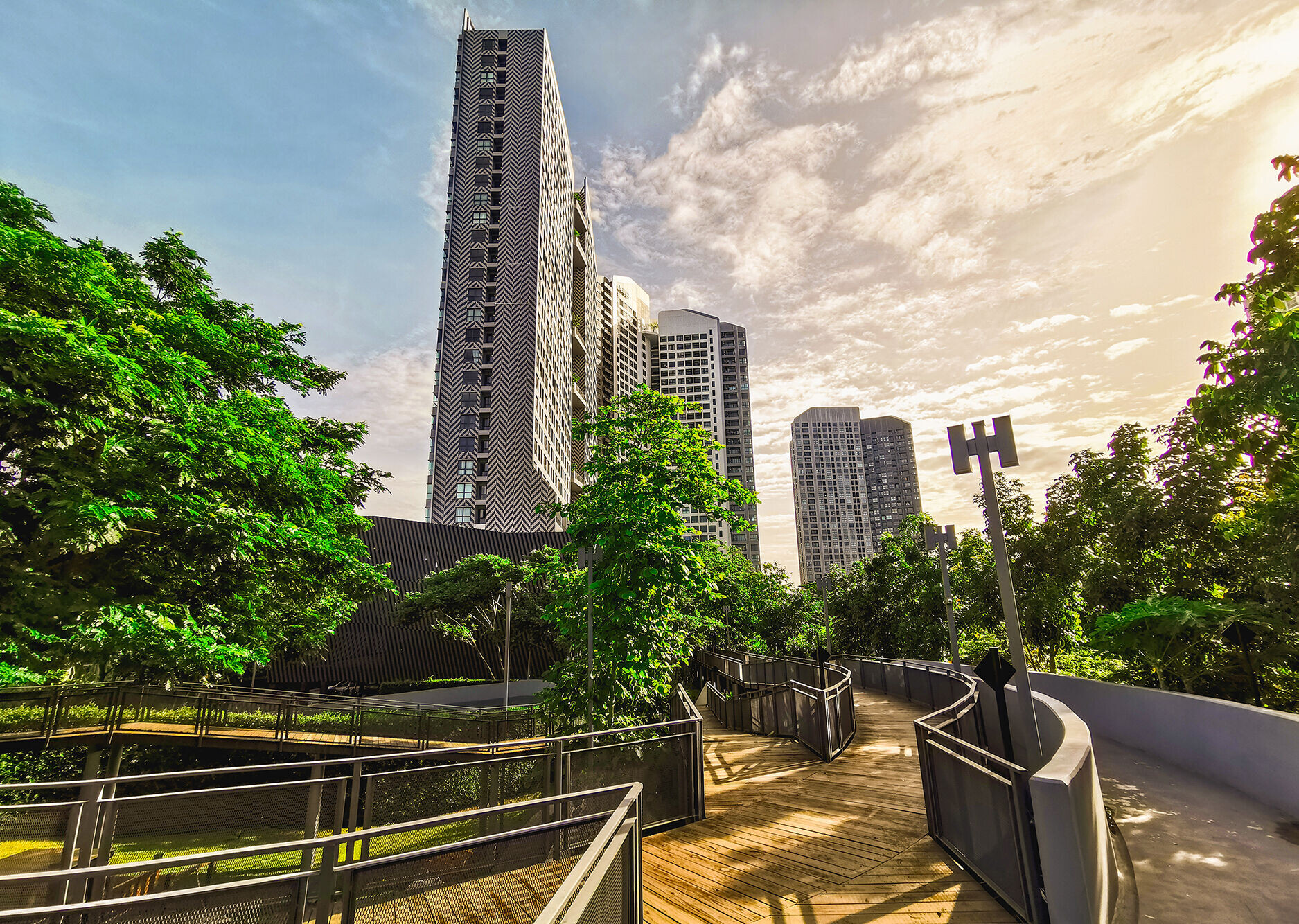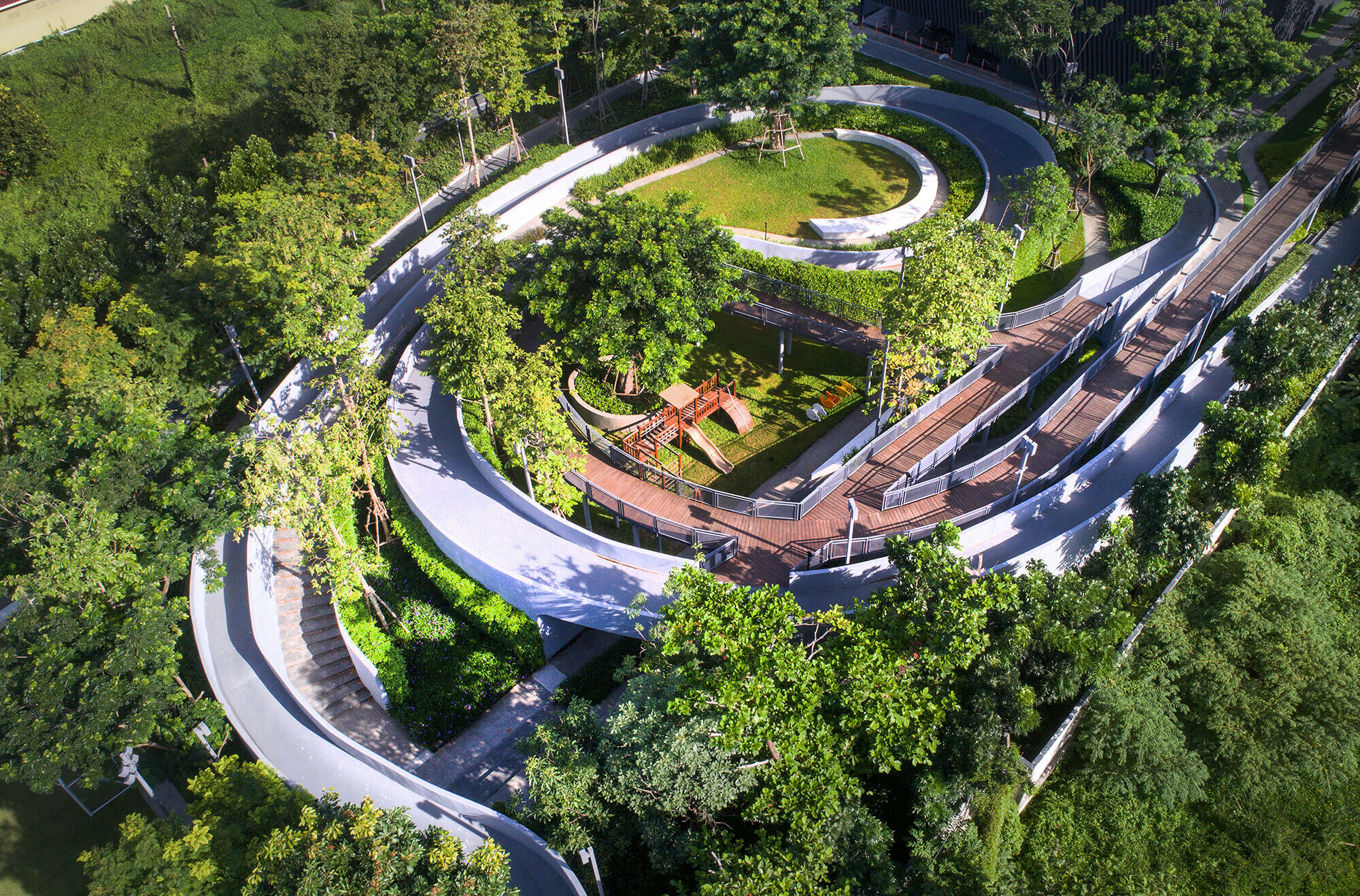 IDEO O2 is a distinct innovative residential project that provides various pleasant facilities. Giving its residents a satisfying outdoor experience right at their doorstep, as they gaze at beautiful nature and take in fresh air.
Project Name: IDEO O2 – Zero Carbon Residences
Location: Bangna district, Bangkok, Thailand
Landscape Area: 13,300 sqm
Project Owner: Ananda Development Public Company Limited.
Landscape Architect: Redland-scape.Ltd.
Architect: ATOM DESIGN Co.,Ltd
Photographer: Mr.Rungkit Charoenwat
Mr.Vorrarit Anantsorrarak