Imagine Village Apartments is designed with the community and environment in mind. Los Angeles-based firm HC+RA, a collaborative studio endeavor comprising Hatch-Colasuonno Studio and Relativity Architects, created a LEED Gold affordable housing community of 76 mixed units to support veterans and low-income families in Lancaster, CA. Integrated into the arid high-desert landscape, the affordable housing complex of four connected buildings also serves as an extension of an existing network of the adjacent adoption/foster center, support services, and community areas. Utilizing the two-acre site, HC+RA achieved a balance of density and open space by programming multiple three-level buildings with varying resident and unit types (studio, 1, 2, and 3 bedroom).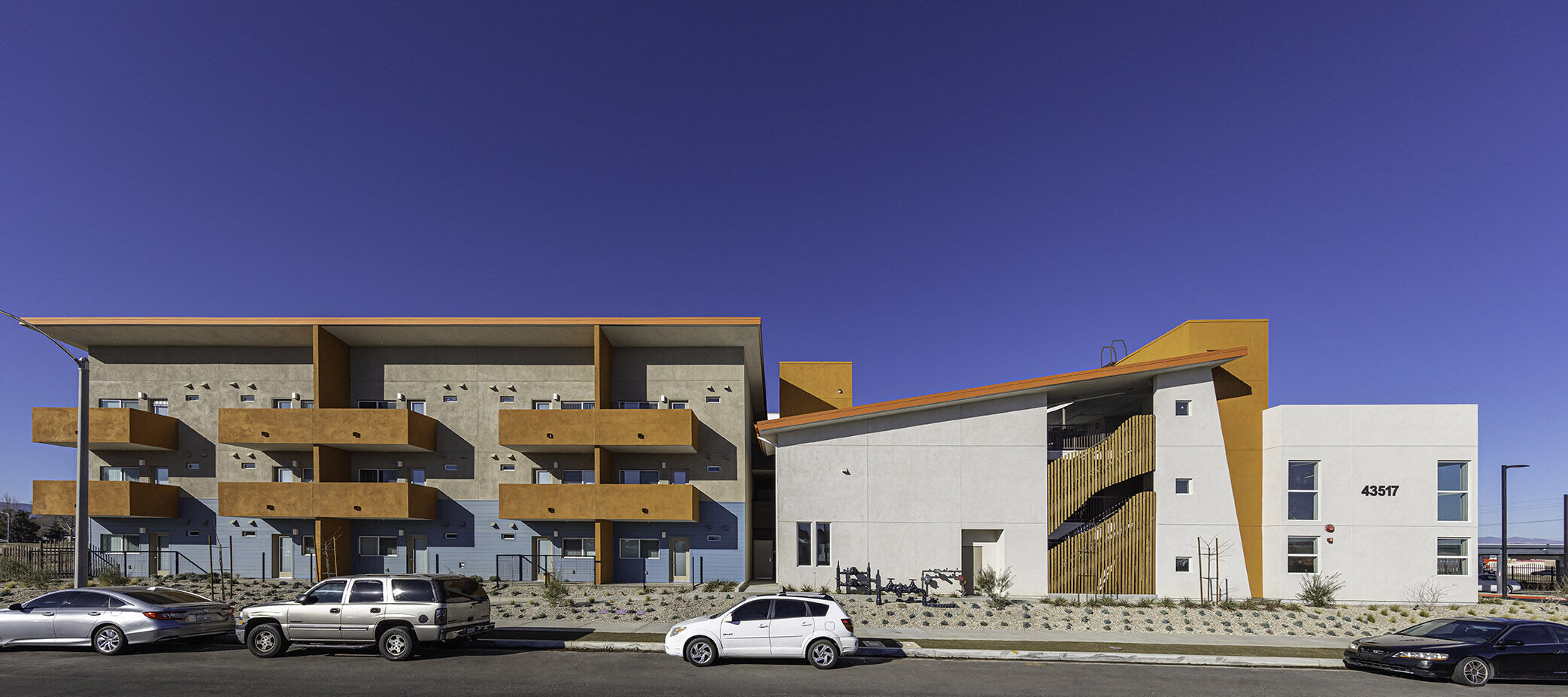 The site for the housing project was conceived and suited to work with the horseshoe-shaped, adjacent youth services building also by the same developer, Abbey Road. The Imagine Village Apartments comprise four three-story wings that provide apartment units, community rooms, and services to both veterans with mental and/or physical disabilities and low-income families. The ground floor of the north wing is also dedicated to offices and counseling support rooms for Penny Lane Centers, a foster-adoption agency. Each wing features extra-large open-air corridors allowing additional safe play-space for children. Multiple lobbies throughout the facility create welcoming entries for the various users of the site, as well as respites from the intense heat. Landscape and custom shading devices create privacy and security, while providing additional climate mitigation.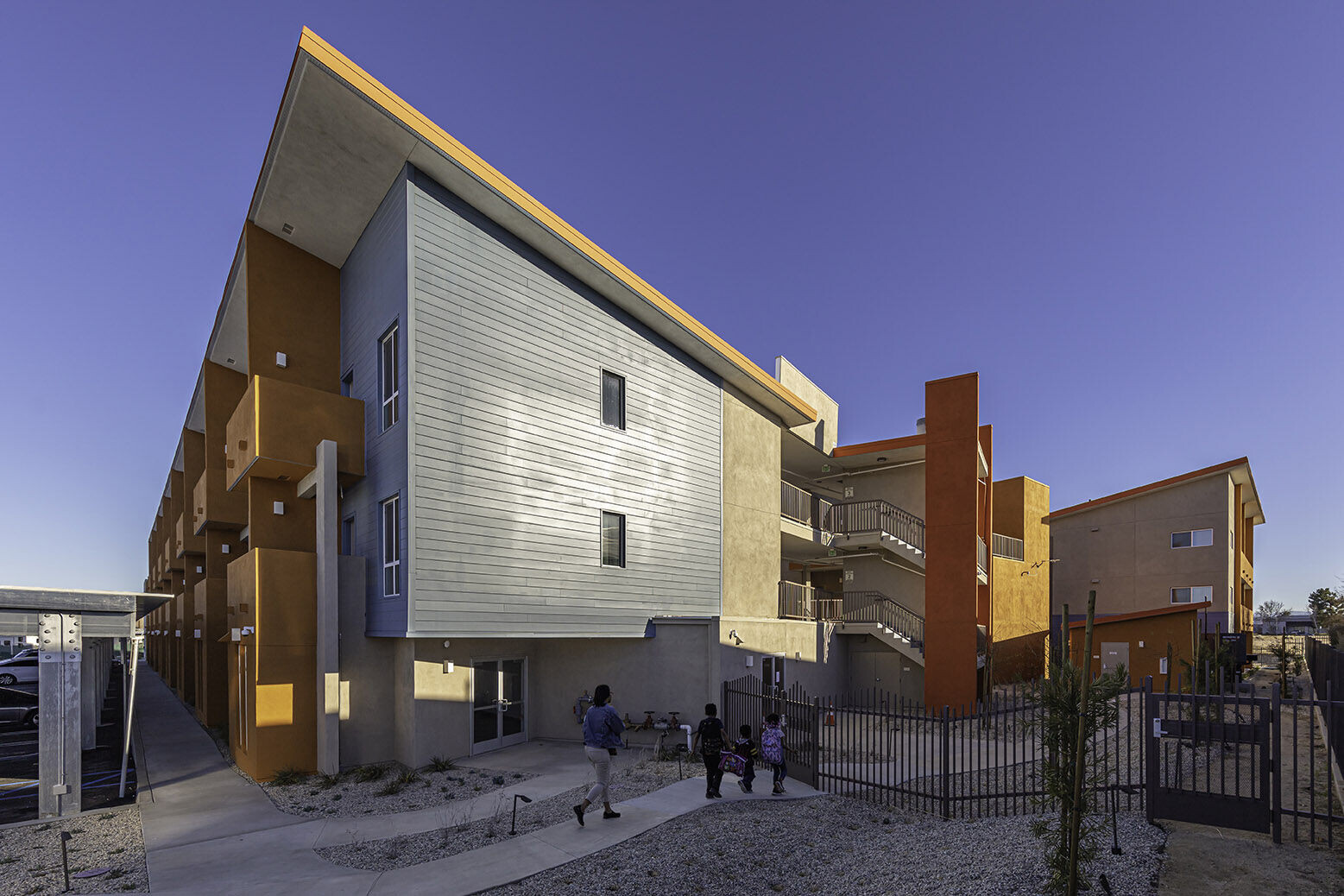 HC+RA's greatest challenge—to safely and sensitively house the two distinct resident types of low-income families and veterans—was achieved through careful architectural positioning of programmatic elements. Thirty studio apartments allocated for veterans sit on top of the Penny Lane offices in the north wing and feature their own entry at the east end with a small community room, service office, and private gym. Forty-five low-income family spaces are grouped by units, with one-, two-, and three-bedroom units each inhabiting their own wing, all of which abut an expansive garden and playground area to the south. The family entry is on the west end, adjacent to a large community room. In housing these two resident types, this project further reduces homelessness and supports productive contributions to society in the Lancaster and Antelope Valley area.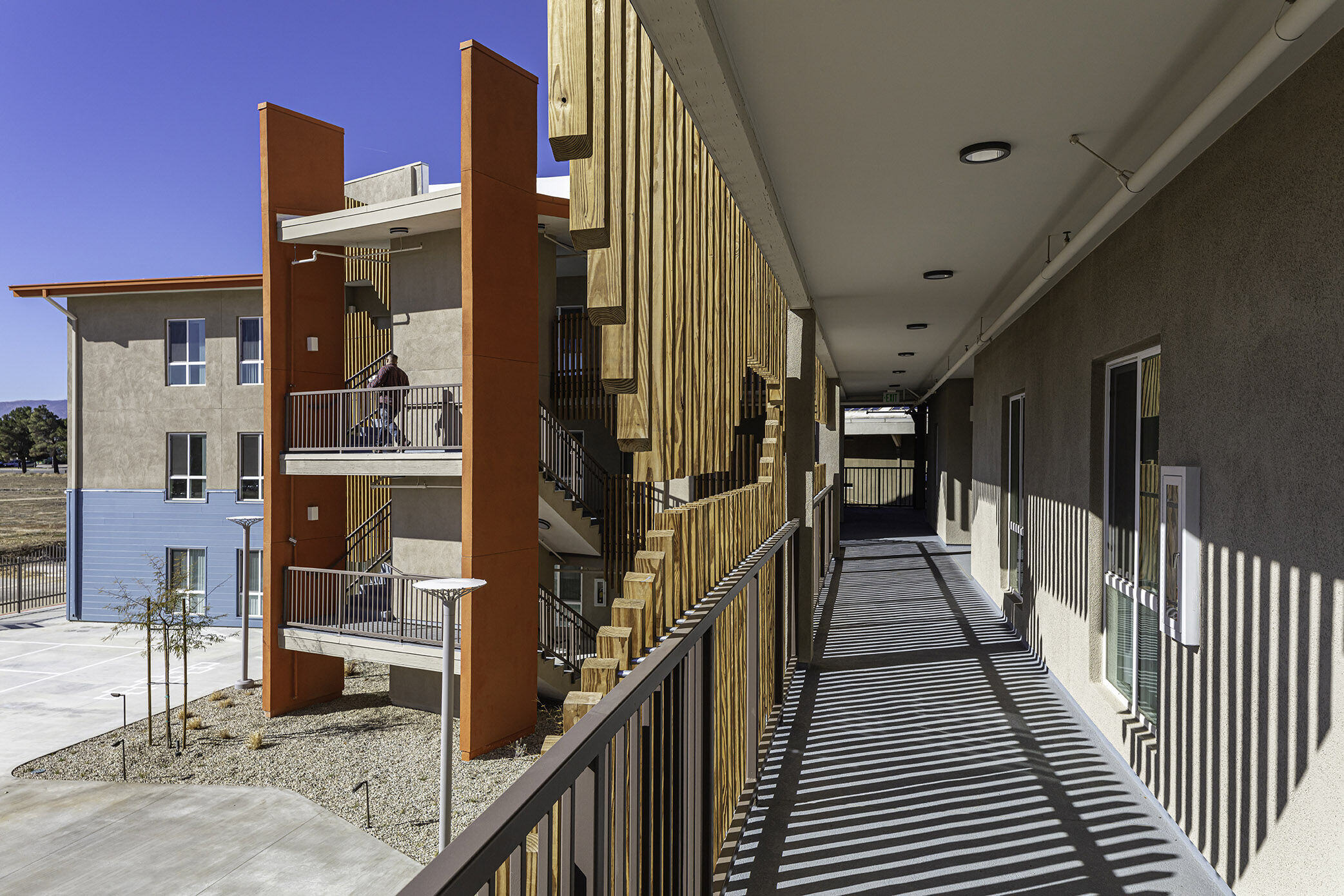 To deal with a harsh desert climate, the architects' novel approach to shading the sun-facing south façade was completed with thermal wood slats. The angular, custom-designed screen of wood dances along the corridors, providing relief from the summer heat as well as privacy to the apartment windows and doors. The façades and materials combat the extreme arid weather as harsh sun rays are reduced and shielded by the wooden slats, while the often-heavy winds are broken up by the trees and building orientations. In the southern garden, a large mound and trees serve as both a windbreak and a beloved play feature. More than 90 percent of plantings are drought tolerant, and all of the building's roof area is used for rainwater harvesting. With respect to the natural surroundings, the building's off-white and rust hues were carefully selected to reflect the high desert's colorful ground and sky.