The Joseph Brant Hospital (JBH) redevelopment involved the construction of a new 7-storey, 400,000SF, 172-bed patient care tower and 120,000SF of renovations to the existing buildings. This LEED silver aimed project provides within the new patient care tower, 3 floors of medical surgical inpatient units, Intensive Care, Surgical Services programs including Ambulatory Procedures, Medical Day Care / Oncology Program, Emergency Department, Laboratories, a new front entrance and other public amenities. Renovations of clinical departments include Diagnostic Imaging, Ambulatory Care Clinics, Level 2B Nursery, Paediatric and Post-Partum Inpatient Units.
Interfacing with an existing & operating facility was a challenge in the substantive addition and interior alterations to the fully functioning hospital. The hospital had to be executed without disruption to its operations. The designers proposed the south of the existing hospital for the location of the new tower, capitalizing on usable site area. Their detailed phasing/decanting/commissioning plan to manage access to the exiting hospital's internal spaces during construction and demolition, so that construction could progress, yet allow major program areas to be relocated without affecting services.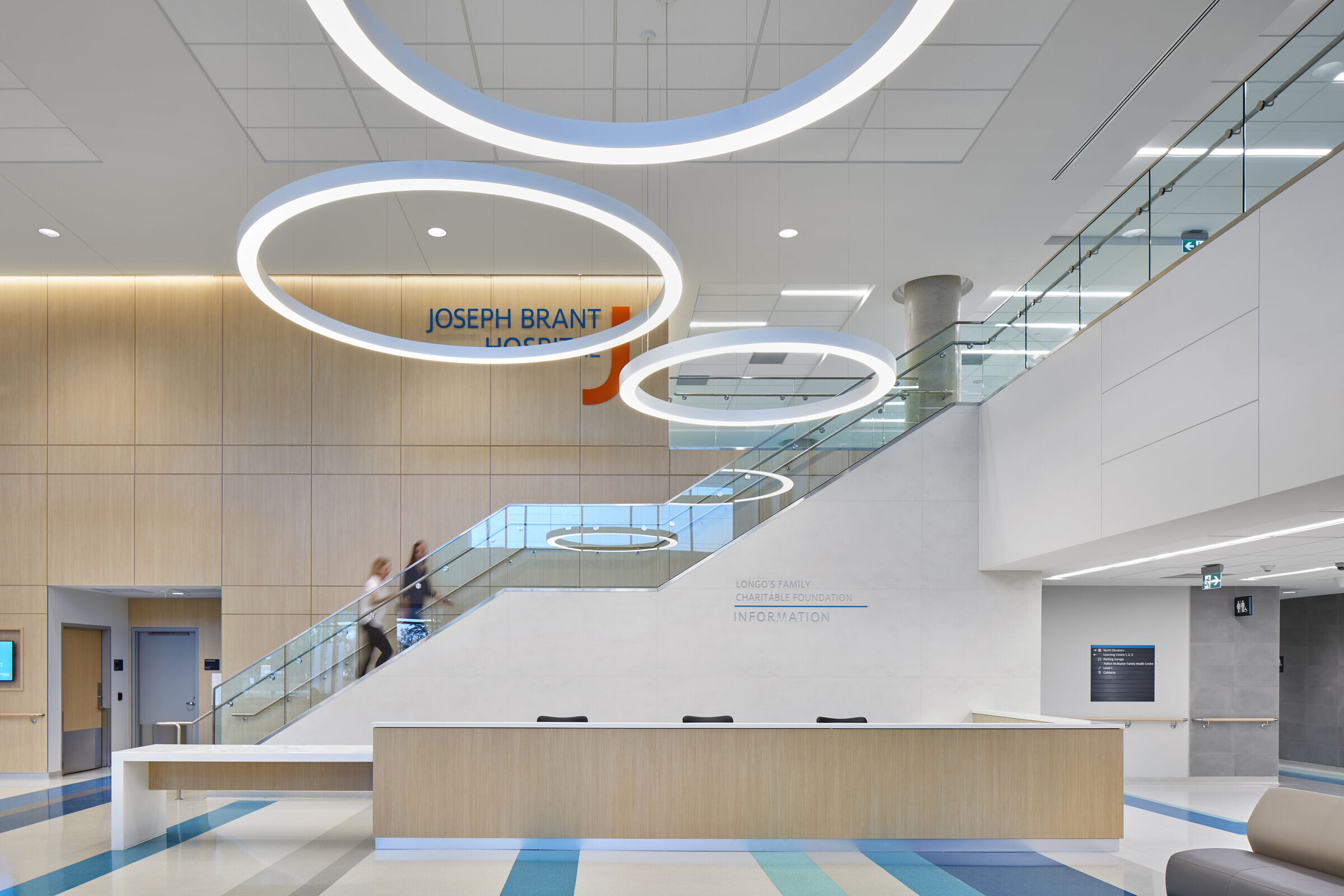 Establishing quality connections to nature was an important in the design of the JBH. The team designed a series of well-crafted environments within and around the hospital, enhanced by the connection to the natural environment both visually and physically. 75% of the patient rooms have lake views; the remainder have views to the Niagara Escarpment. Roof areas visible from patient rooms were dressed in a multilayered green roof system. Multiple planting types in the design offer an array of colours and textures to create positive points of interest throughout the seasons. Public spaces such as the main lobby and cafeteria offer views of the lake and JBH's cherished "Protected Wood Lot", as well as direct access to the landscaped forecourts, the dining terrace, and the healing gardens.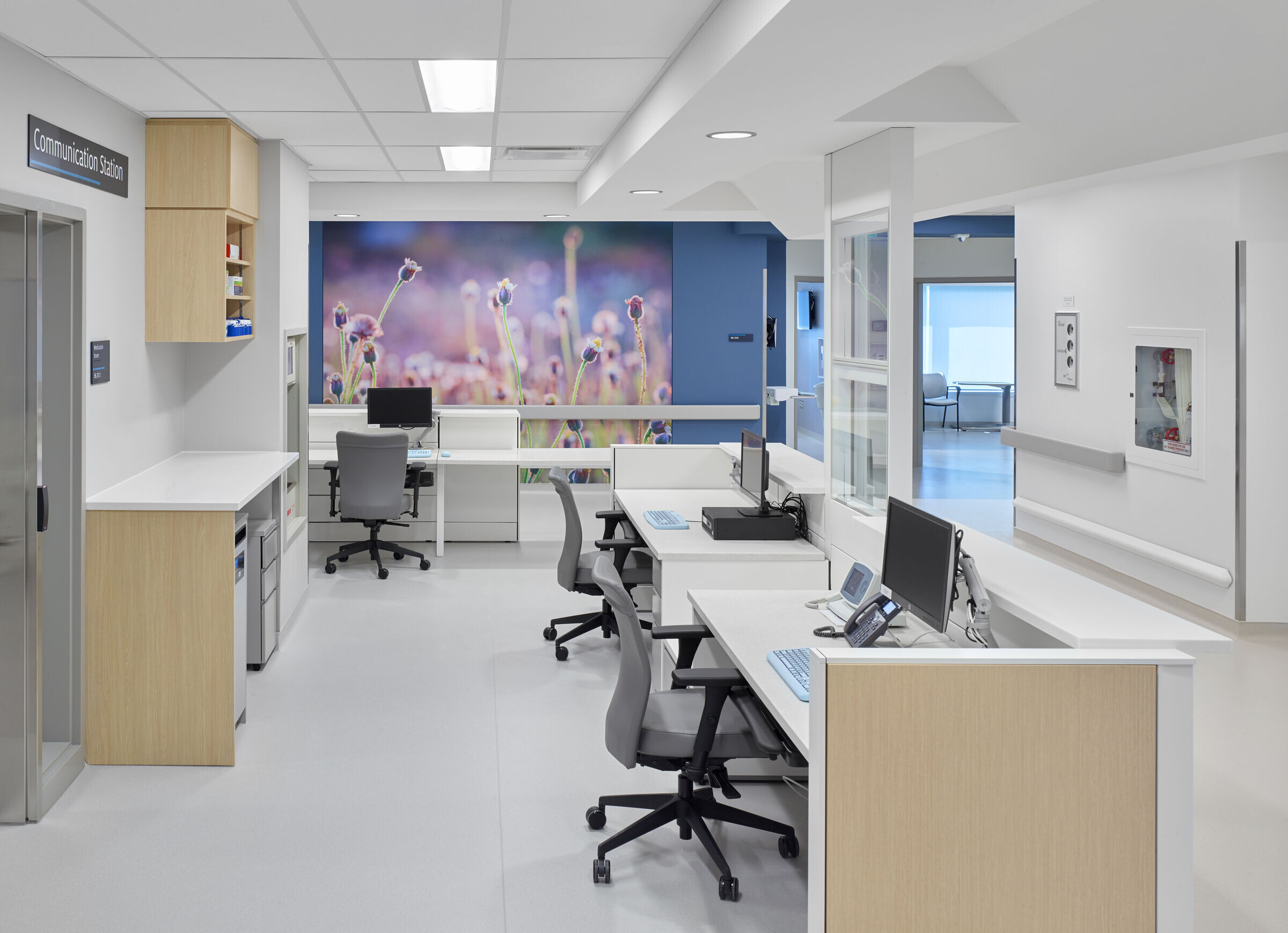 The design focusses on improved accessibility by recognizing and responding to the needs of patients, families, visitors, and staff that are part of the community JBH serves. The goal was to create an inclusive design that respects and accommodates users of all ages with varying physical and sensory abilities and psychological conditions.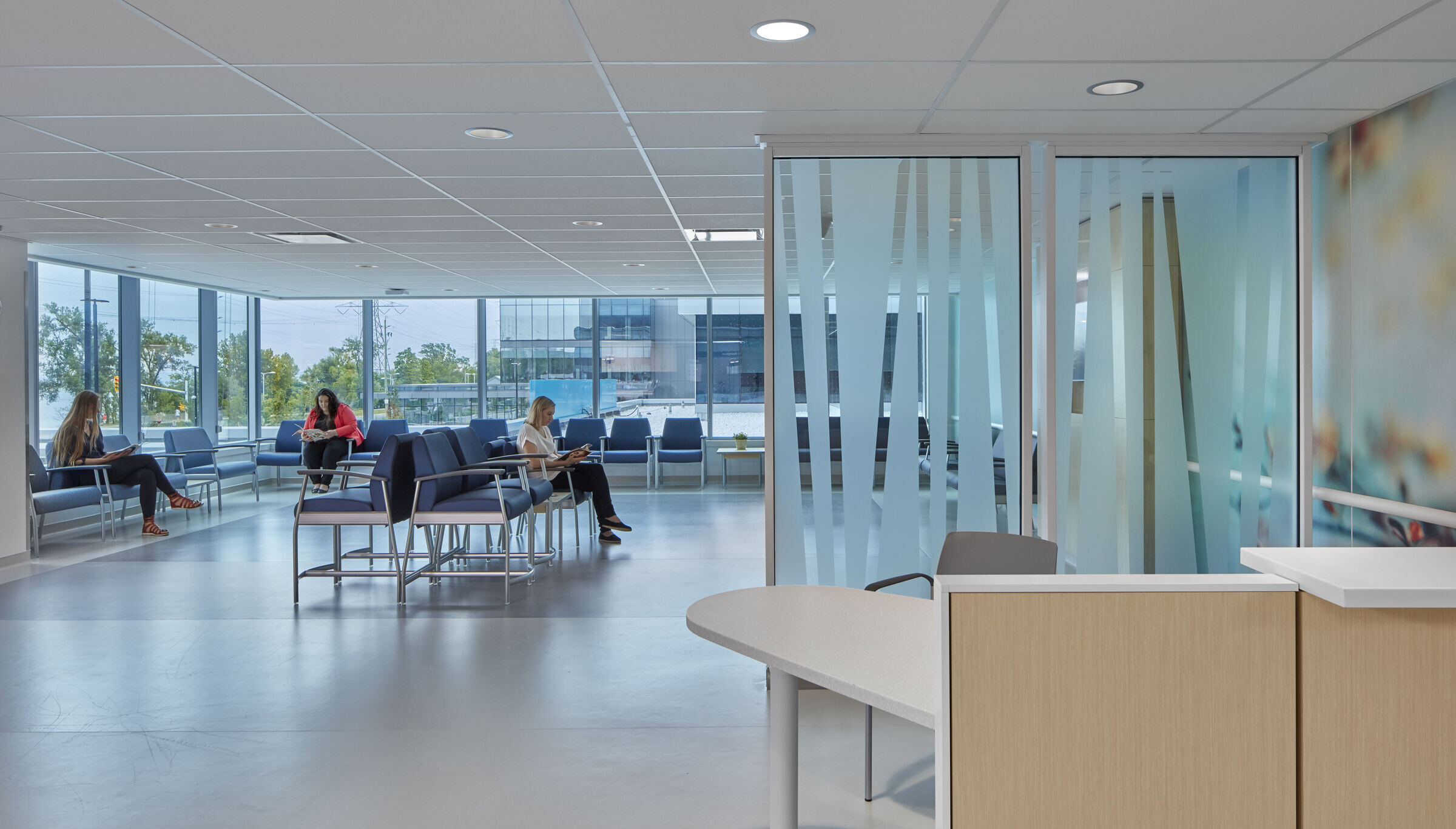 Scale, articulation, and materiality impart a non-institutional environment with visual connections to nature. Public spaces such as the main lobby and cafeteria offer views of Lake Ontario and JBH's cherished "protected woodlot".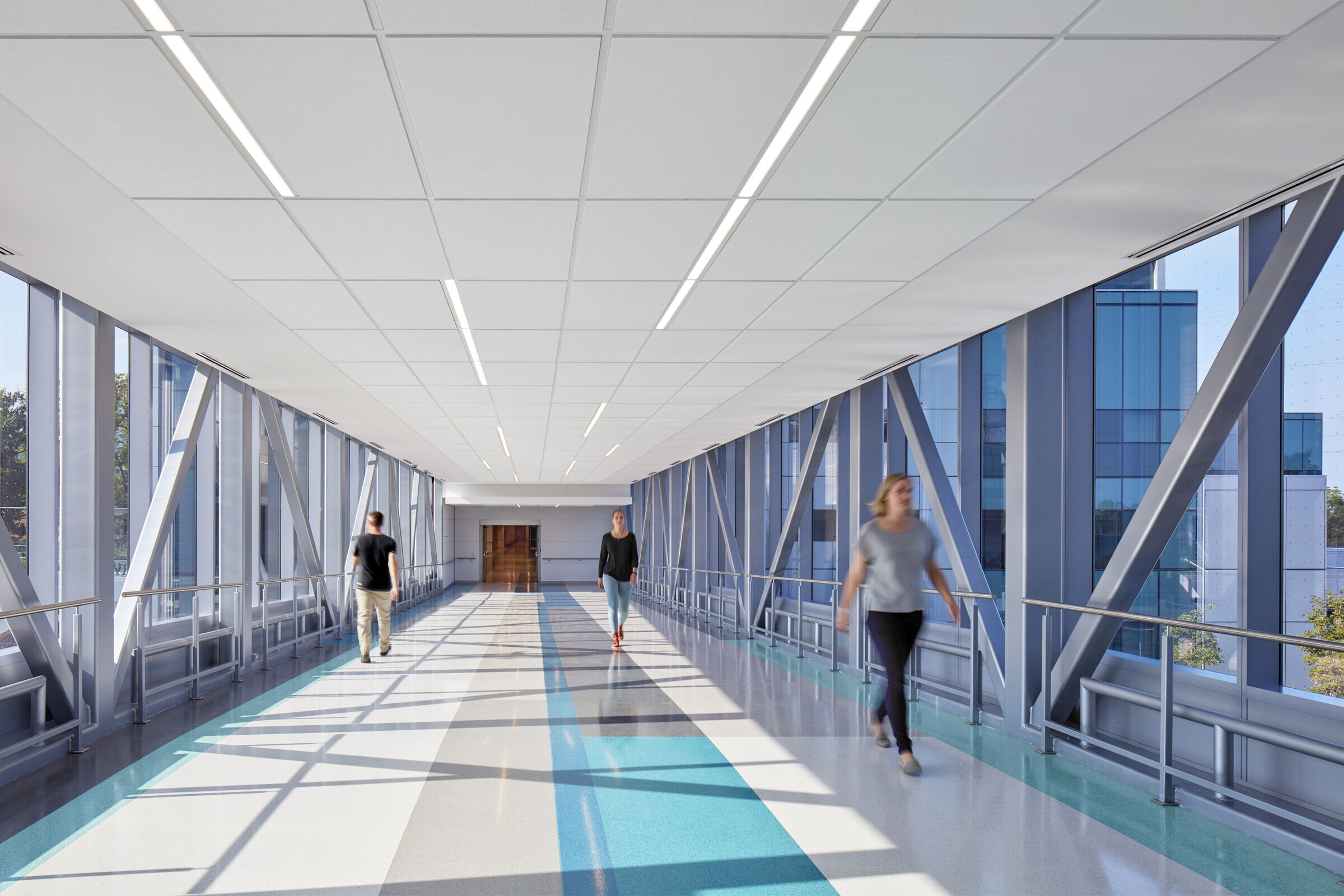 The project was designed to achieve LEED silver certification. The design focused on energy efficiencies, large windows provided daylight deep into the interiors, while complementary solar control strategies help reduce heat gain. Low voc paints, adhesives, and sealants were incorporated into material selection, minimizing impact on air quality. Bicycle storage facilities encourage staff and visitors to use alternative means of transportation.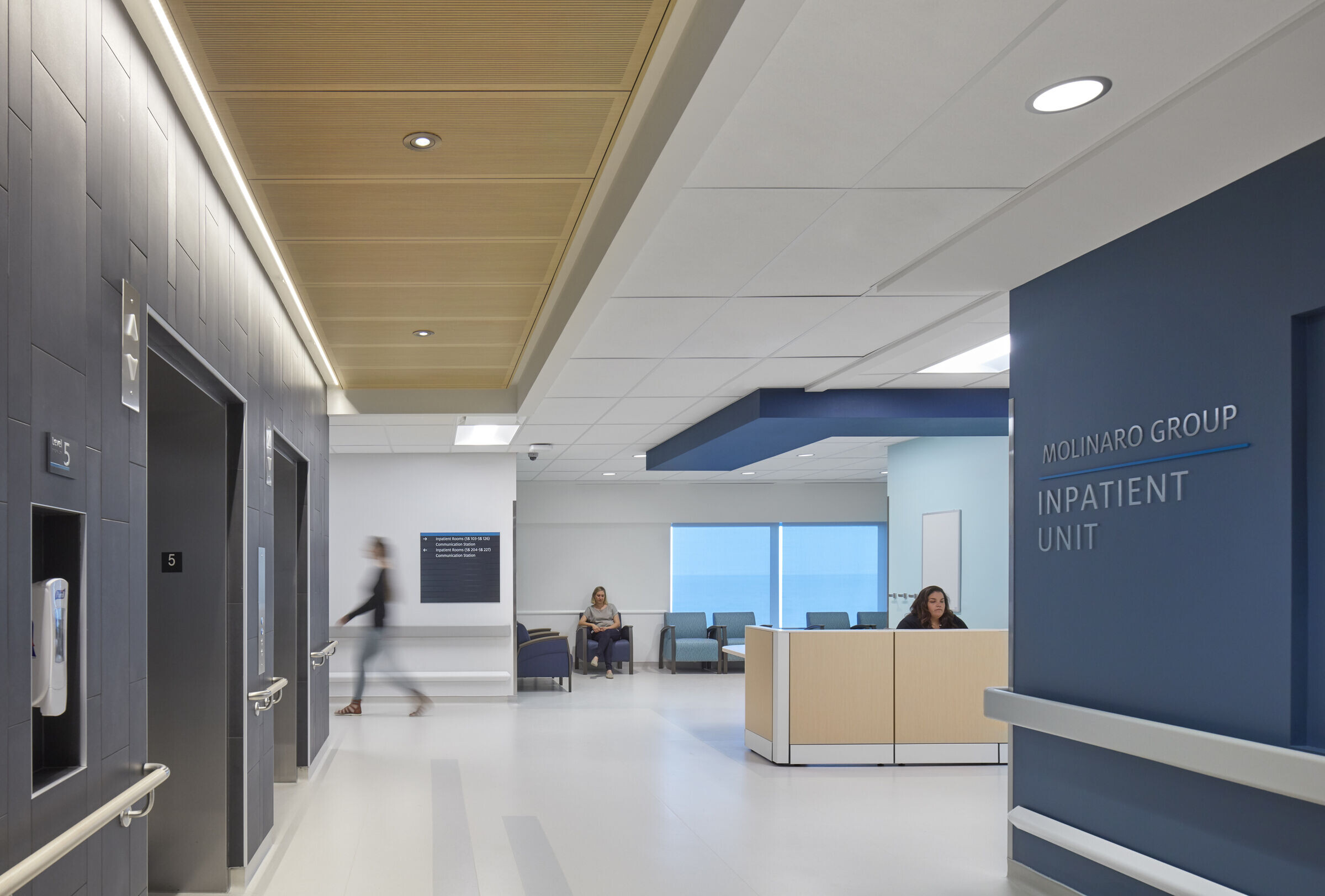 The design of the facility provides a therapeutic environment which leverages the natural greenery of the surroundings. All aspects of the design and construction were approached with the intention of minimizing environmental impact on to the site.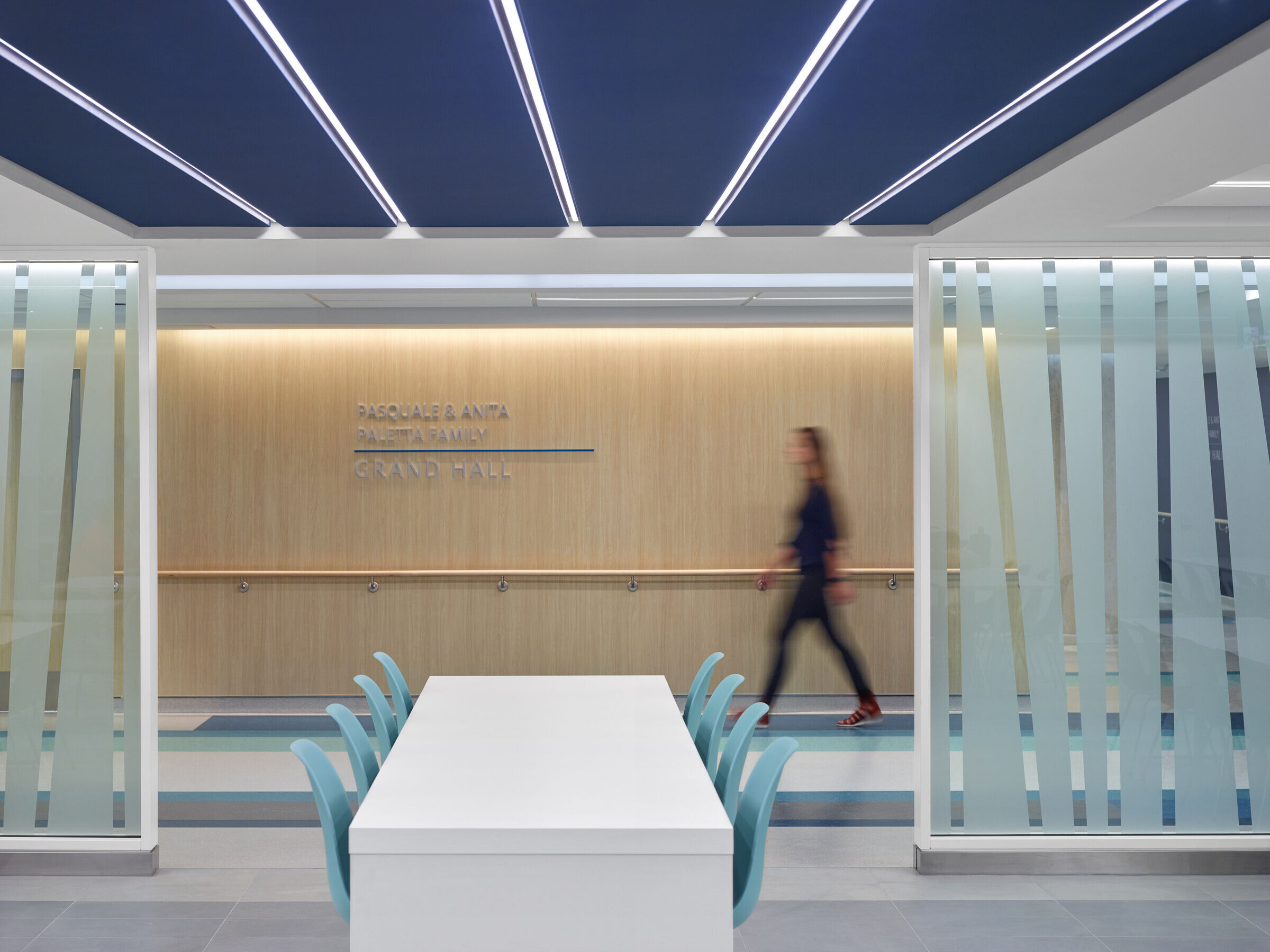 Team:
Architects: Parkin Architects Limited & Adamson Associates Architects
Photographer: Studio Shai Gil
Materials Used:
Flooring:
Flynn - Curtainwall
Sikafloor - Epoxy Flooring
Stonetile - Share Series Tile Flooring
Franklin Terrazzo - Terrazzo Flooring
Armstrong - Medintone Vinyl Flooring
Tarkett - Acczent Vinyl Flooring
Forbo - Marmoleum Real Linoleum Flooring
Doors:
VT industries - Architectural Wood Doors
Windows:
Flynn - Curtainwall
Roofing:
Bothwell-Accurate
Interior lighting:
Cooper Lighting - Neo-Ray Linear Lighting
Zaneen - Circular Lighting Custom Glorious Suspension
TPL - Vario LED Flex Cove Lighting
Interior Furniture:
Spec Calvin - Waiting areas
Krug - Lounge Seating, Main entry & Café
Global Sidero - Café
Herman Miller - Clinical systems furniture
Steelcase - Staff systems furniture & Patient rooms seating
Global EEZ - Patient room sleeper
Allseating Inertia - Task Chairs
Global Accord - Meeting seating
Global- Meeting tables
Walls:
Sherwin Williams - Paint
Stonetile - Share series Tile, Laminam Oxide Tile
Formica - Natural Ash Plastic Laminate
C/S Acrovyn - Wall protection

Millwork:
Formica - Natural Ash Plastic Laminate
Corian - Cameo White & White Jasmine Solid Surfacing