Redefining the retail shopping experience, and organizing the layout in sequence follow people's shopping habits. Store layout begins with a series of checkout counters and product shelving/display followed by a buffer space in between. The store holds a wide range of products, produce, soft drinks, chilled produce, roastery, dairy products, food & non-food products, bakery, butchery, households, and garments on a 40,000 sqft shop floor. The layout is organized on the ground floor, to begin with, produce and ends with butchery and the rest are placed in between.
Structural Challenges.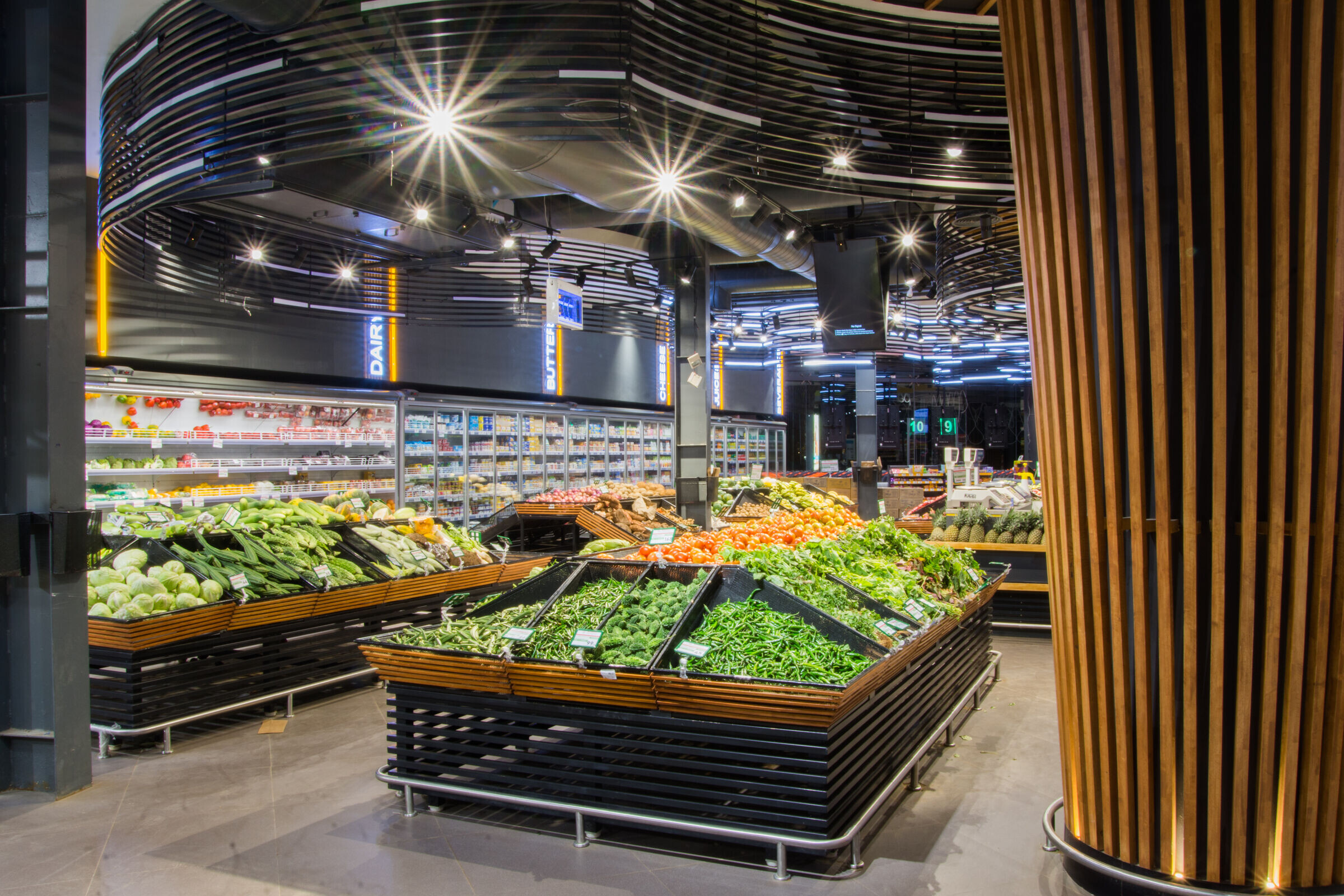 The building is located on a convex curvature of the main road. 30 m offset is provided at the front for parking and buffer space for customers to move in. The challenge faced was to make the structure noticeable to the people passing by the road. Achieved this by creating a skin from both the south and north side exterior walls of the structure. Make a clear space at the front, created a cantilever structure which sizes 24 m long x 9 m high. To reduce the live load and wind, load created a perforated pattern on the façade skin. This reduces live load by 45 % and wind load by 80%. All of this skin is supported by a truss-oriented frame fixed on two edge columns and those columns are connected in series to all external columns of structure.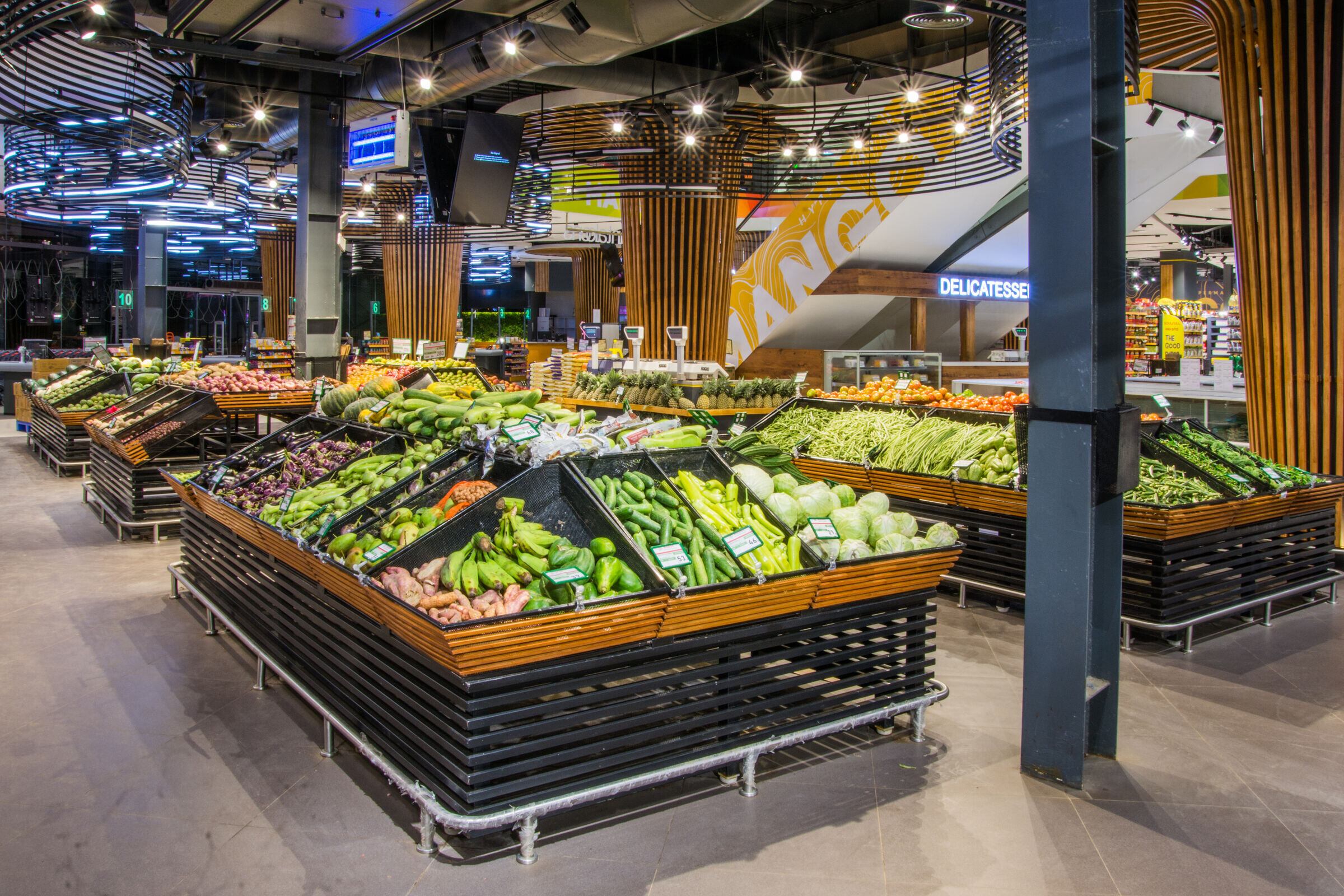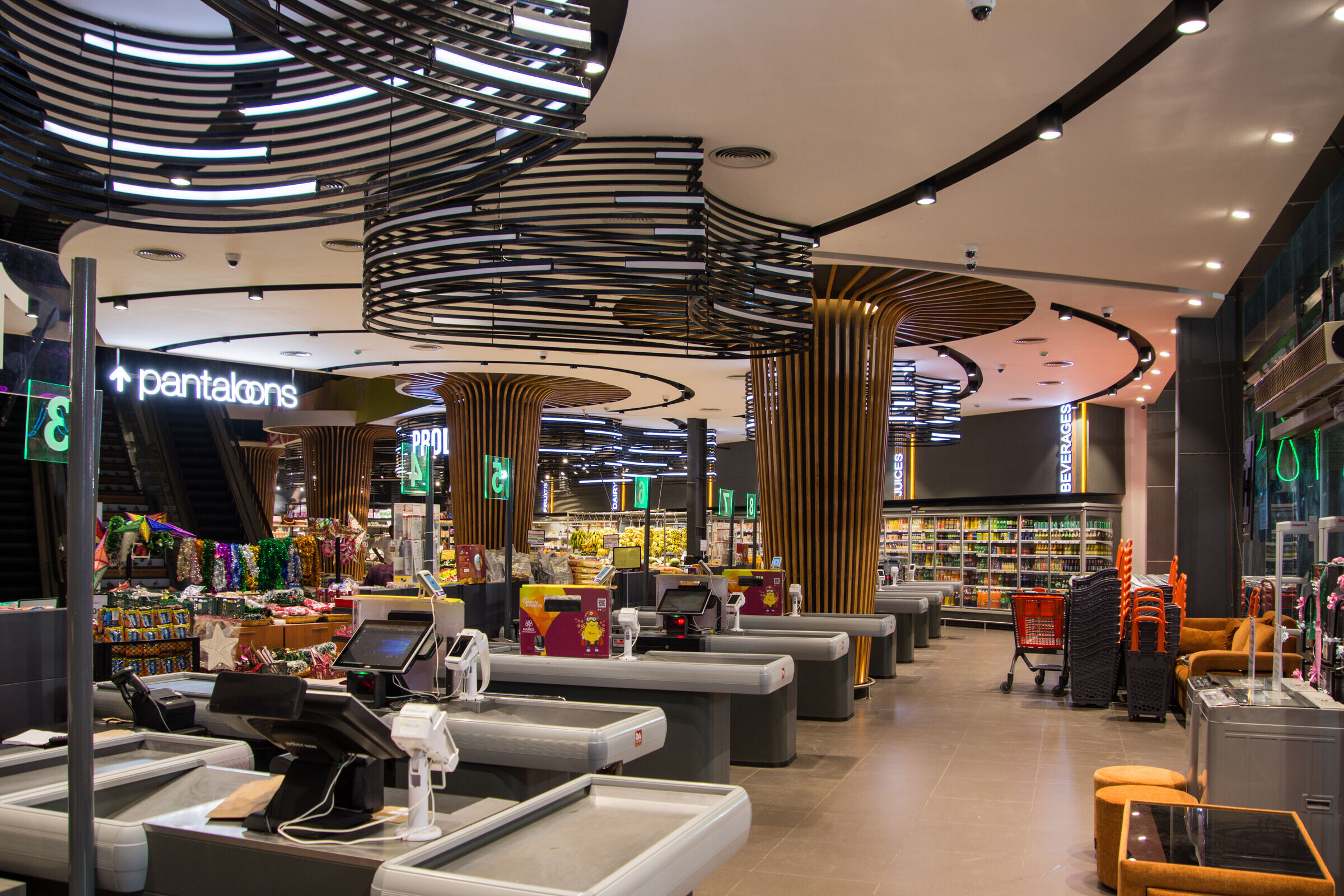 Design
Façade - Gradient shade pattern opted for facade finishes. Created a vibrant shade pattern connecting in relation to the brand name and placed it from one end to another in a gradient. Vibrant red shades are used at the tip to get more attention of people passing by and it gradually settles down to the light green. In between brand names inscribed into this gradient play in white to get more contrast.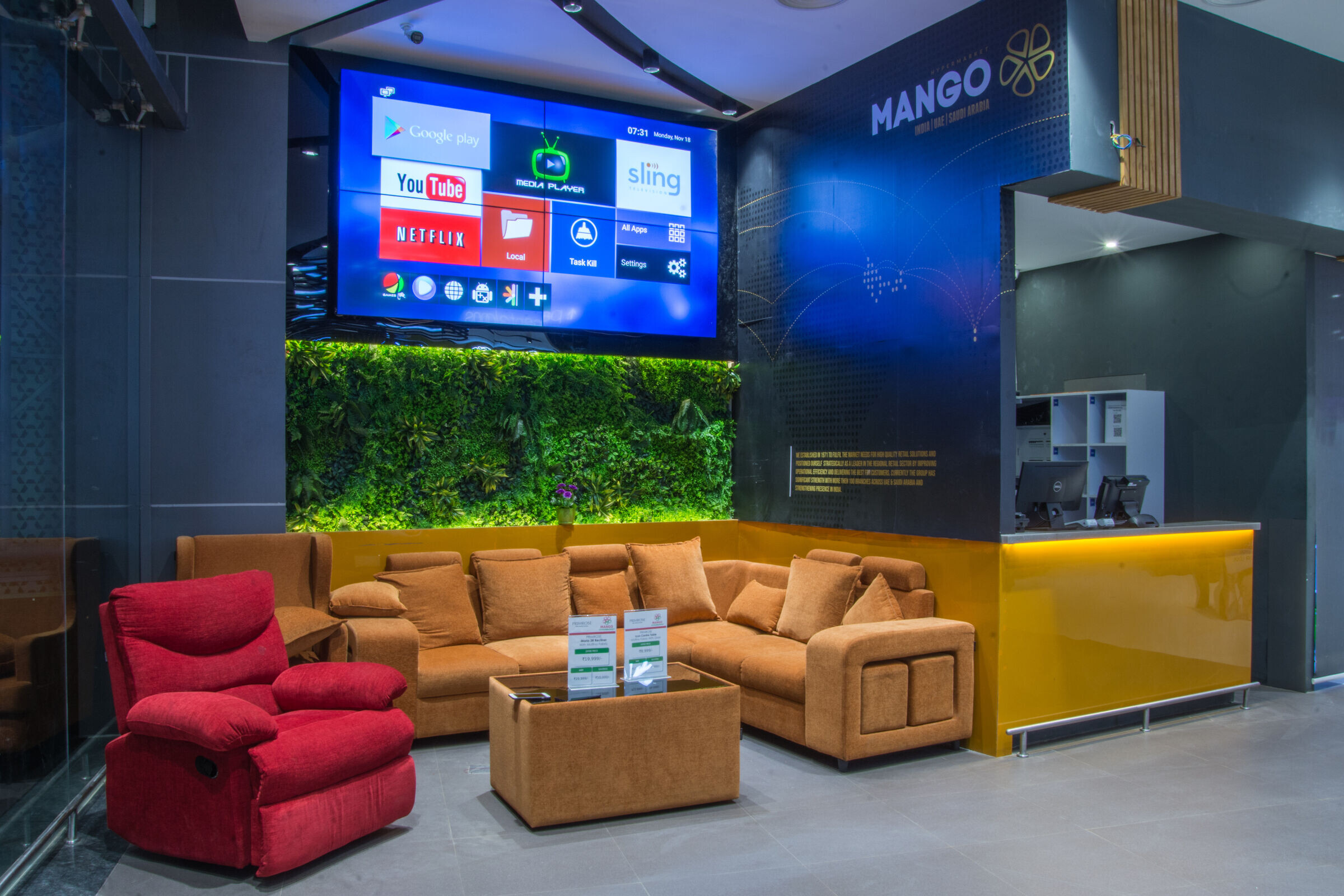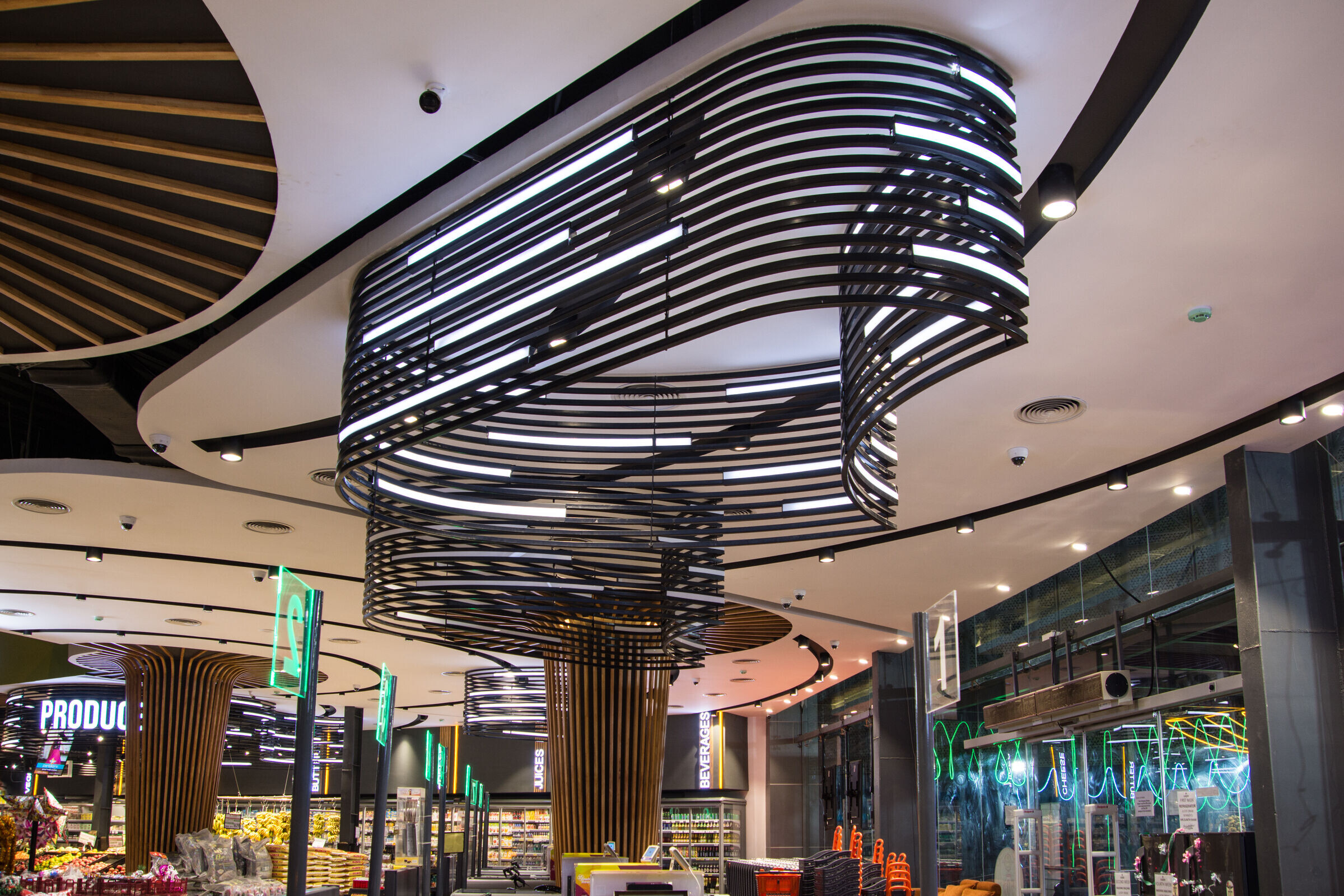 Store Interior - Retail stores hold an organic design movement in relation to the product shelving. Since this is an irrelative aspect in the design process it may form or deform the outcome. So, created a powerful static ambience throughout the store, which can even hold subpar outcomes and emphasize the total spatial volume.