Maria Farinha Filmes is a production company that tells stories through movies, series, and other formats, always focused on themes that question and transform the society we live in. Among their titles are the documentaries "Muito além do peso" (Far Beyond weight), "Tarja Branca" (White Prescription), "O Inicio da Vida" (The Beginning of Life) and the Brazilian fictional series "Aruana". The latest was freely inspired by a true story about environmental activism and was launched in more than 150 countries around the globe.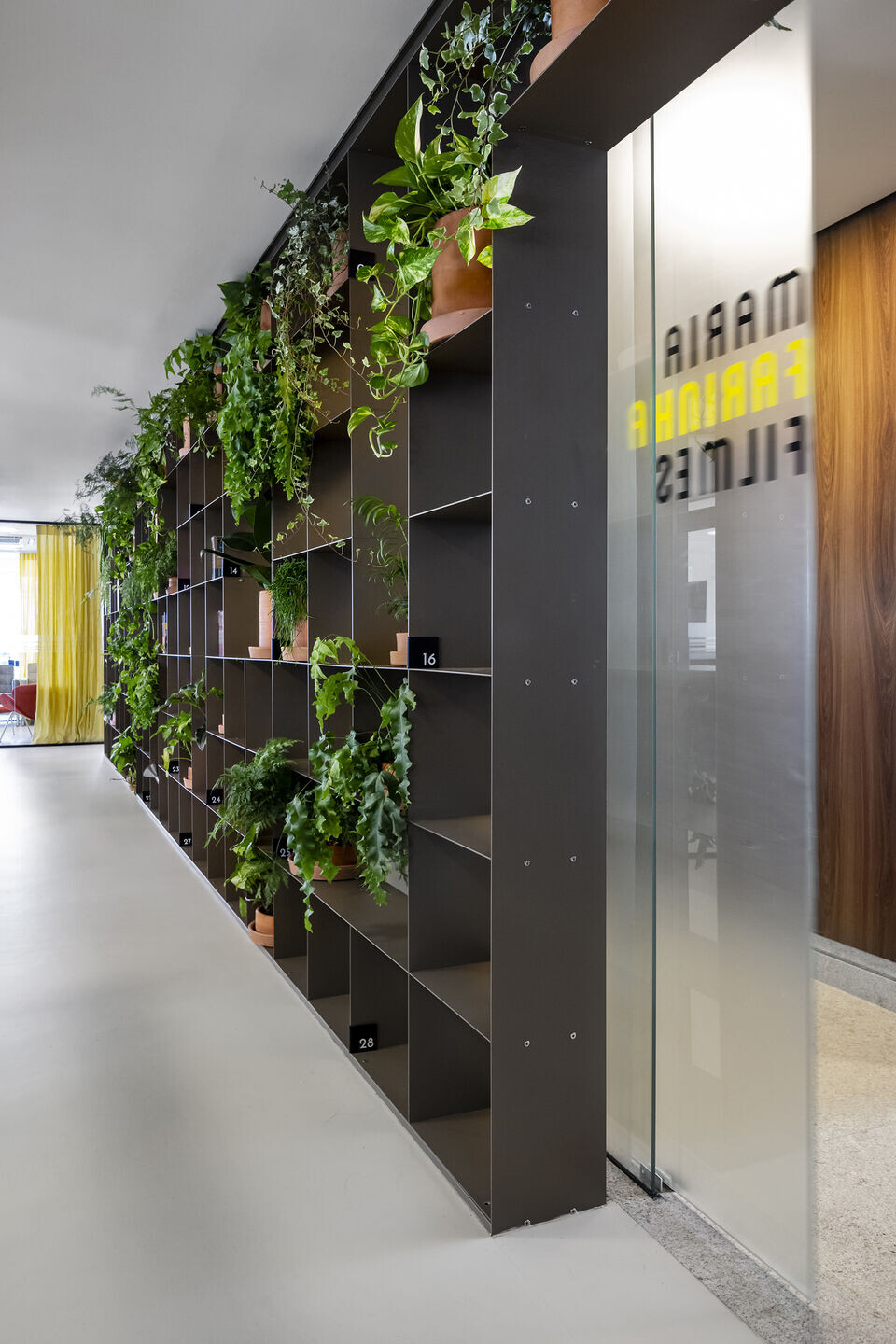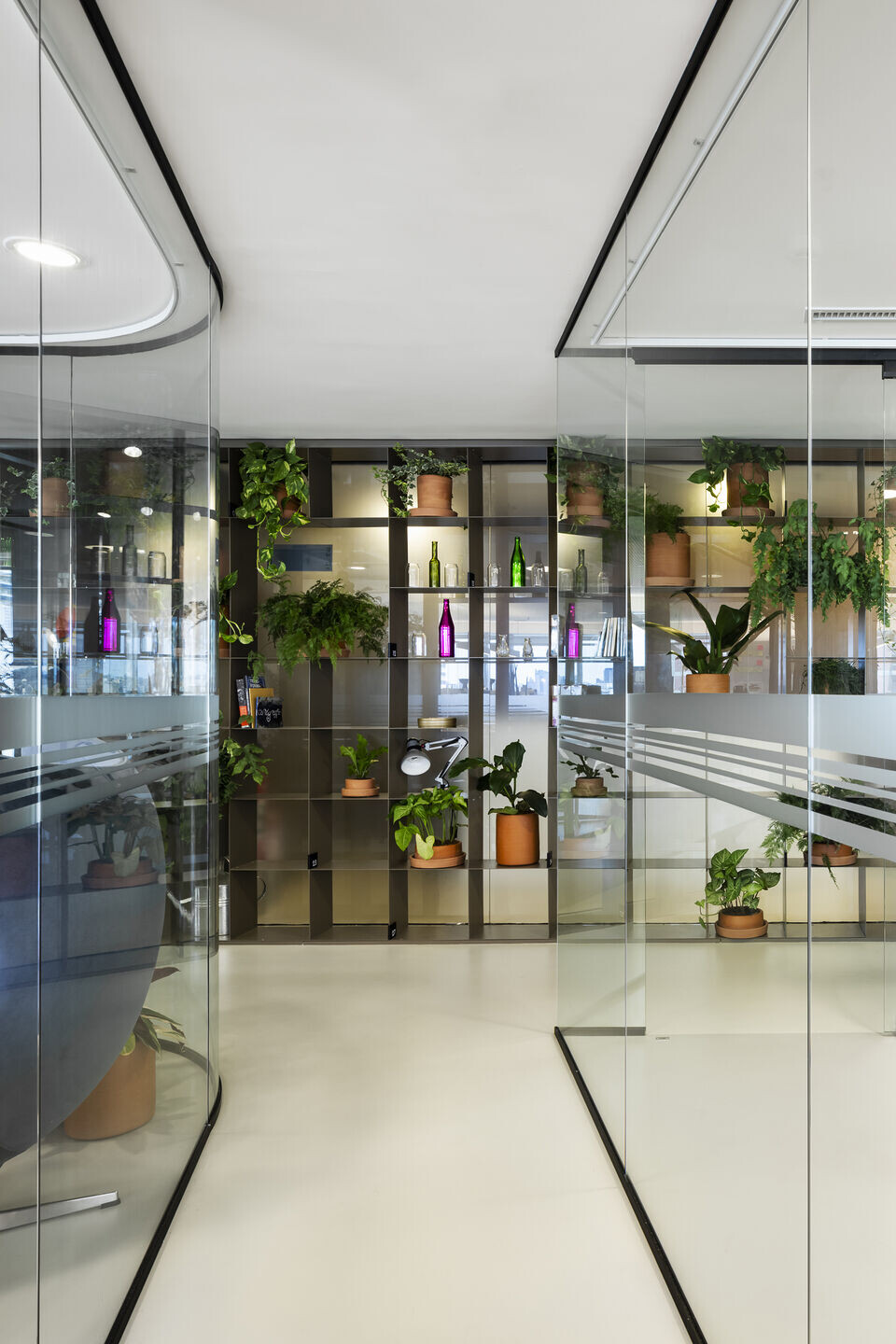 The head office occupies a room of approximately 250 square meters on the eighth floor of a commercial building in the neighborhood of Pinheiros in São Paulo, Brazil. It has a beautiful and unexpected view of the city.
The client brief asked for a high and well-sectorized occupancy to attend both user and visitor activities at the same time. An informal and relaxed atmosphere was also demanded. Throughout the design, the architectural team took the challenge to address the complexity of the briefing.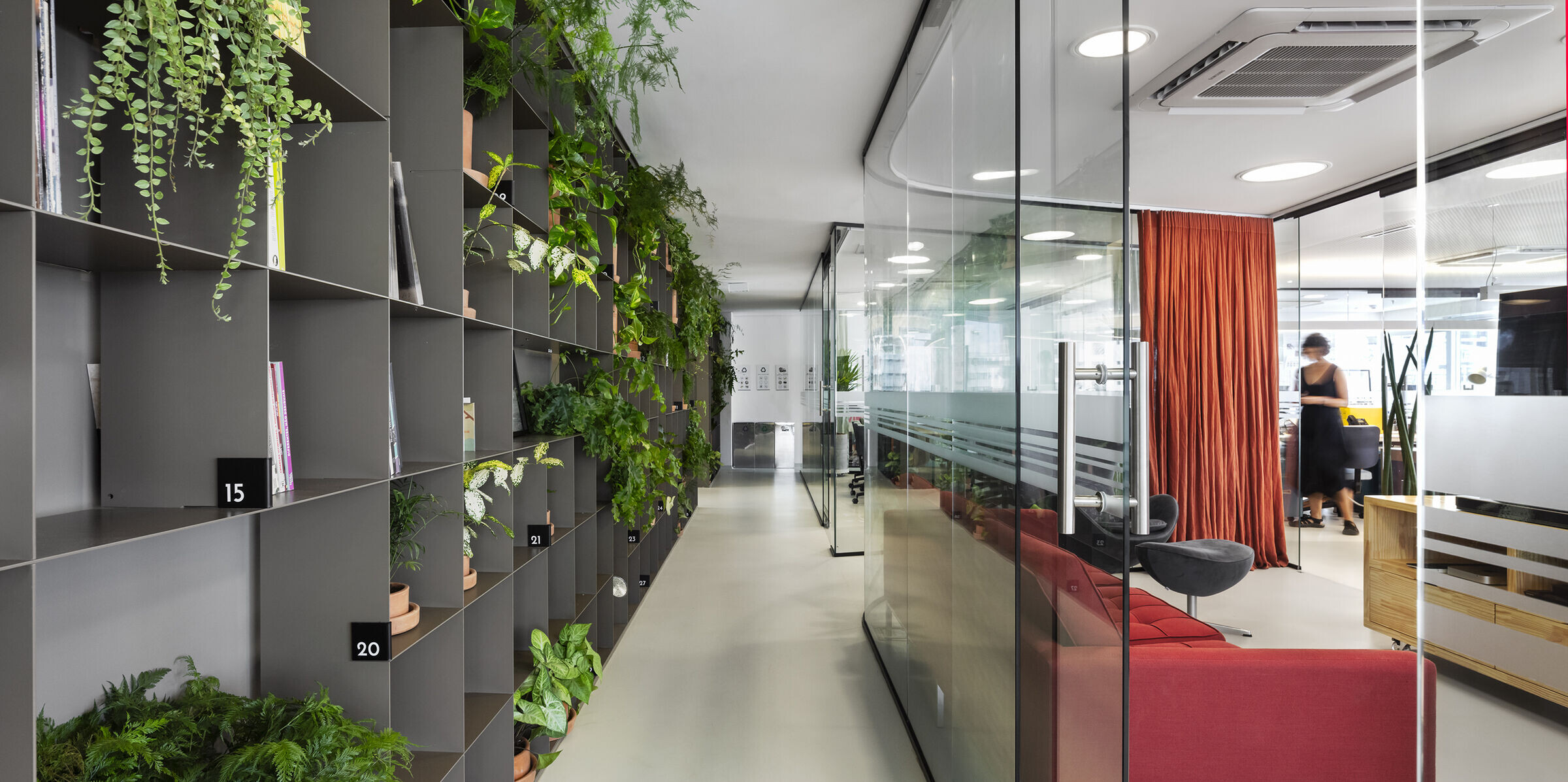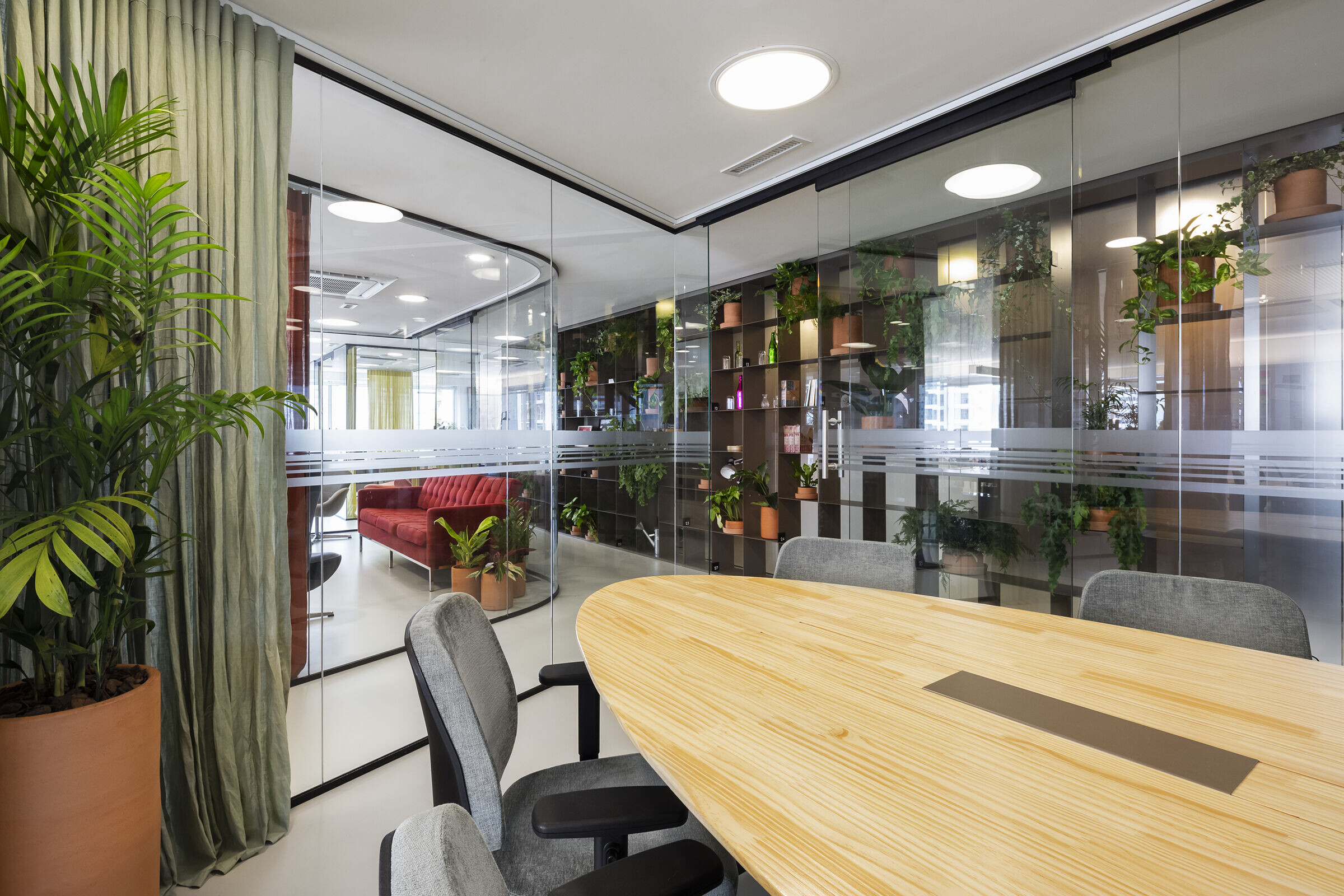 Frameless glass panels divide the space into smaller rooms and allow the view and the natural light to be seen and enjoyed by everyone, everywhere. It is composed of meeting rooms, exhibition rooms, and offices.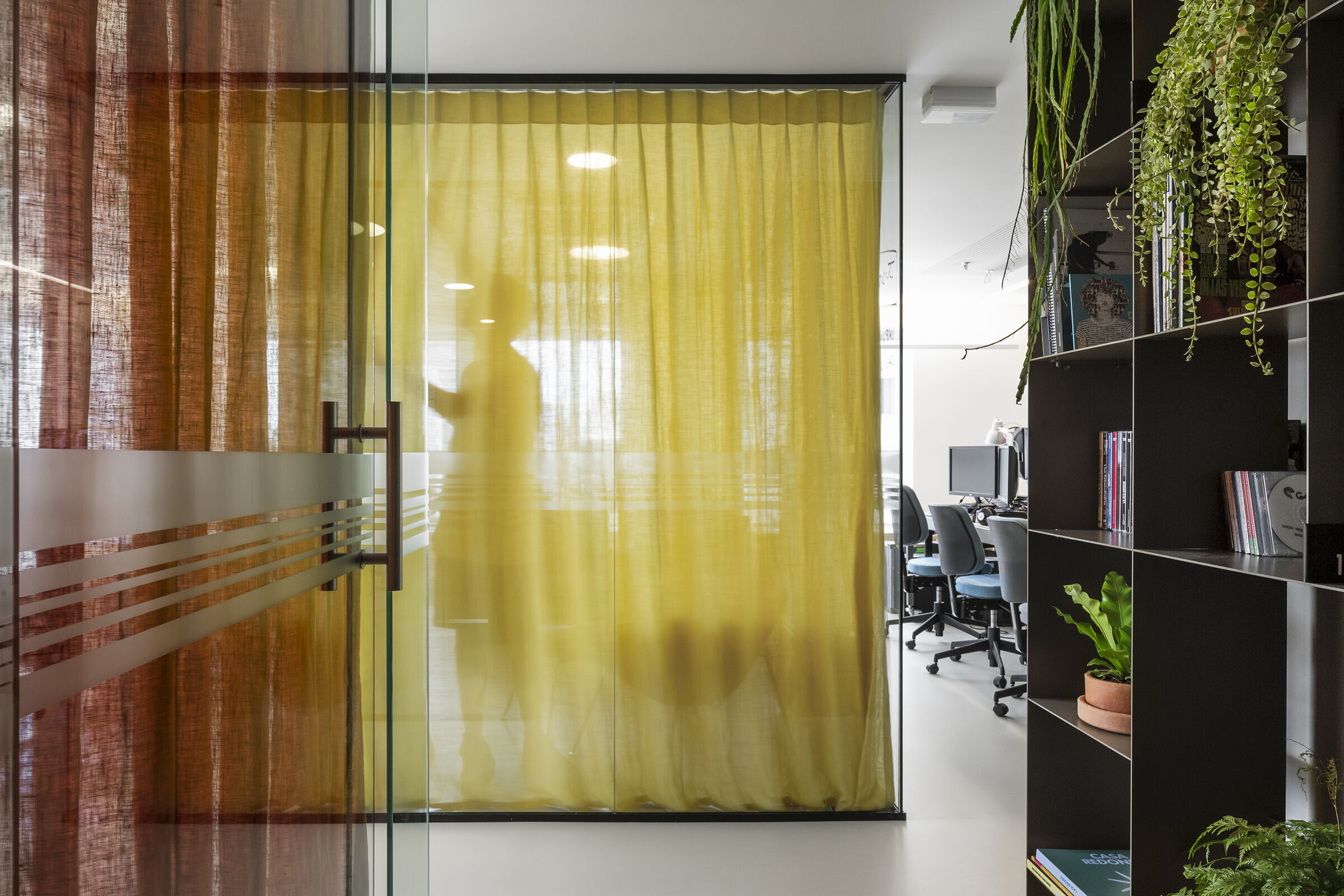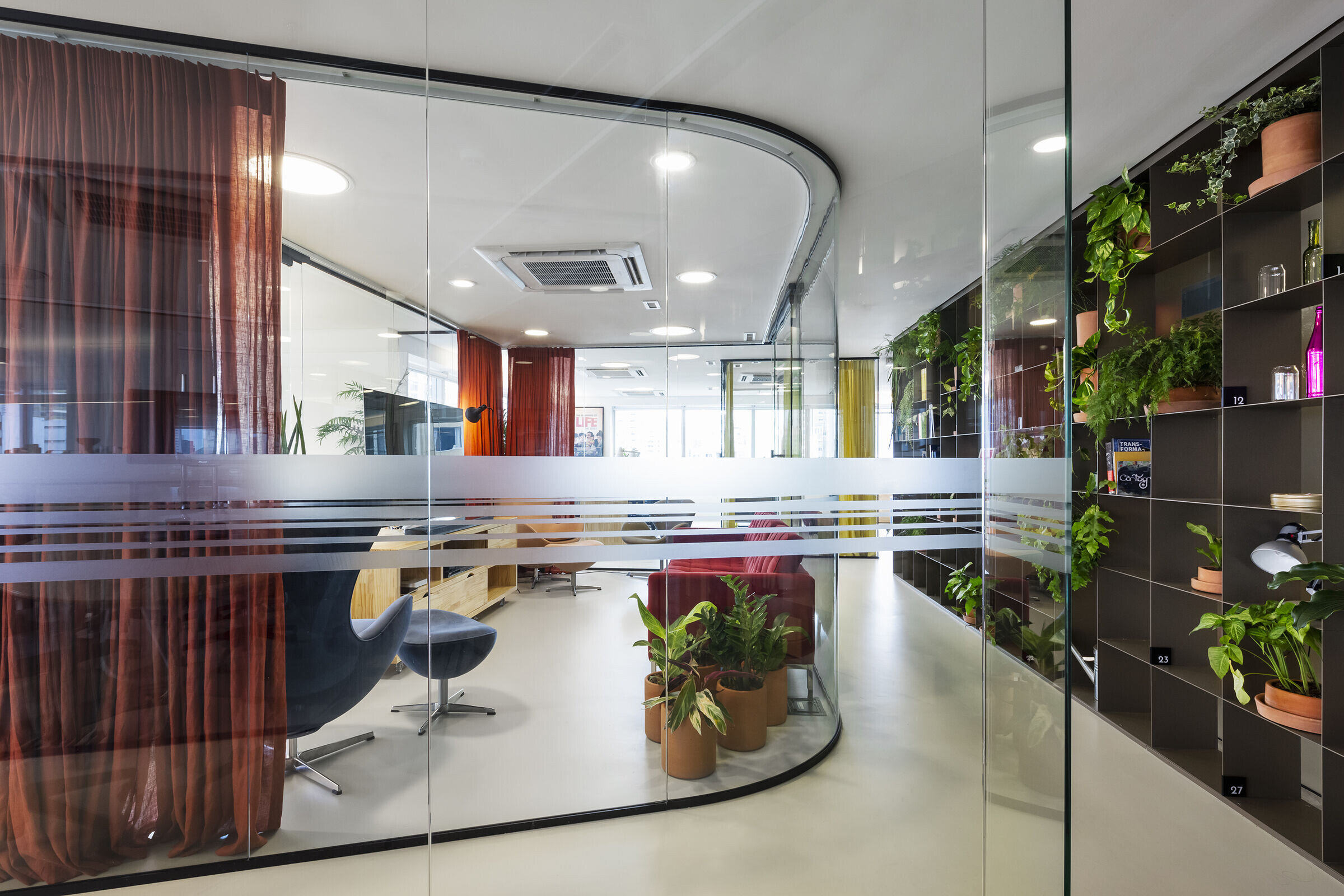 The entrance is enclosed by a bespoke large metal shelving system, that was designed to be experienced as an integrated part of the space as well as a continuity to the existing walls. Following the same concept, the storage beside it is composed of two large sliding wooden doors for the filming equipment.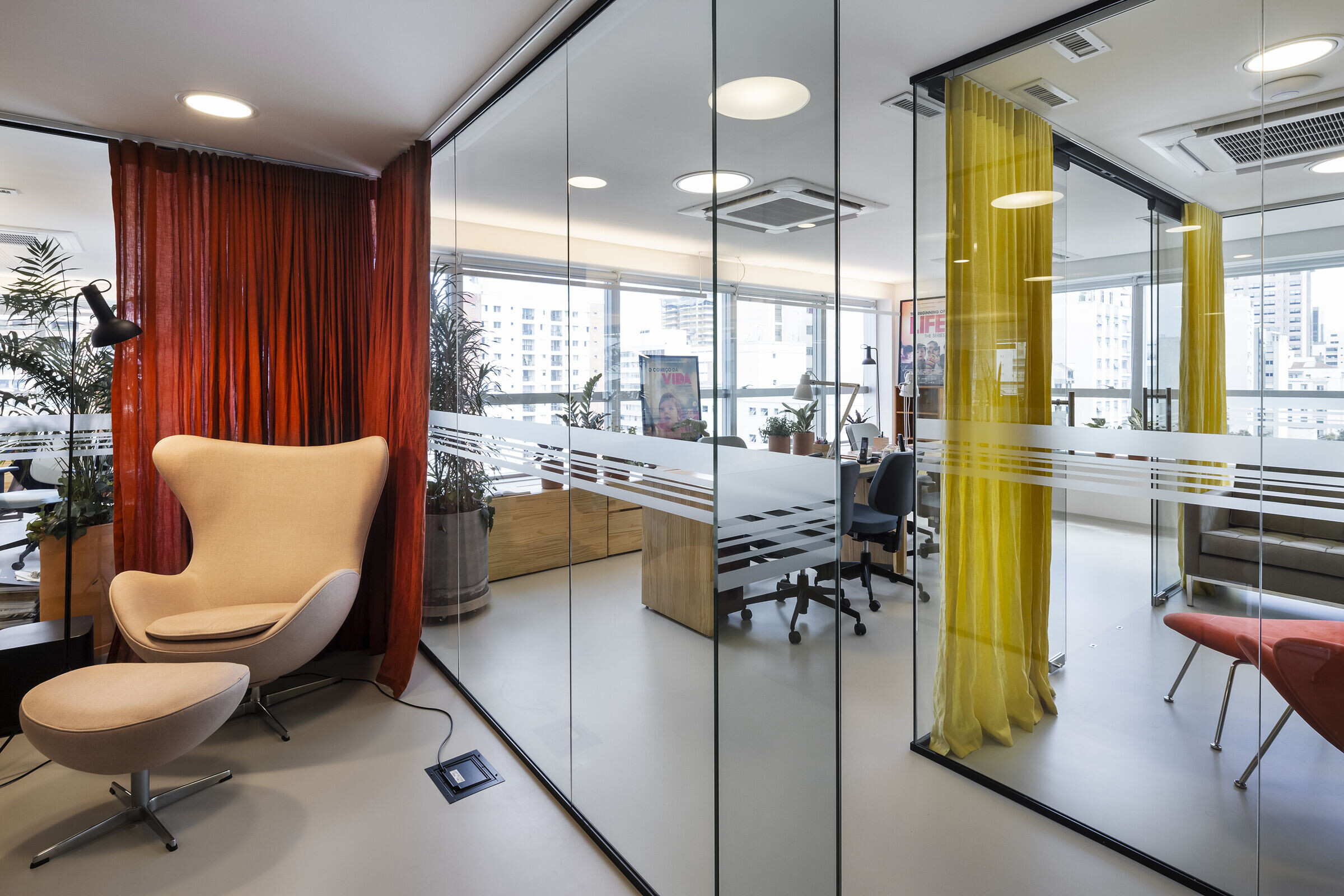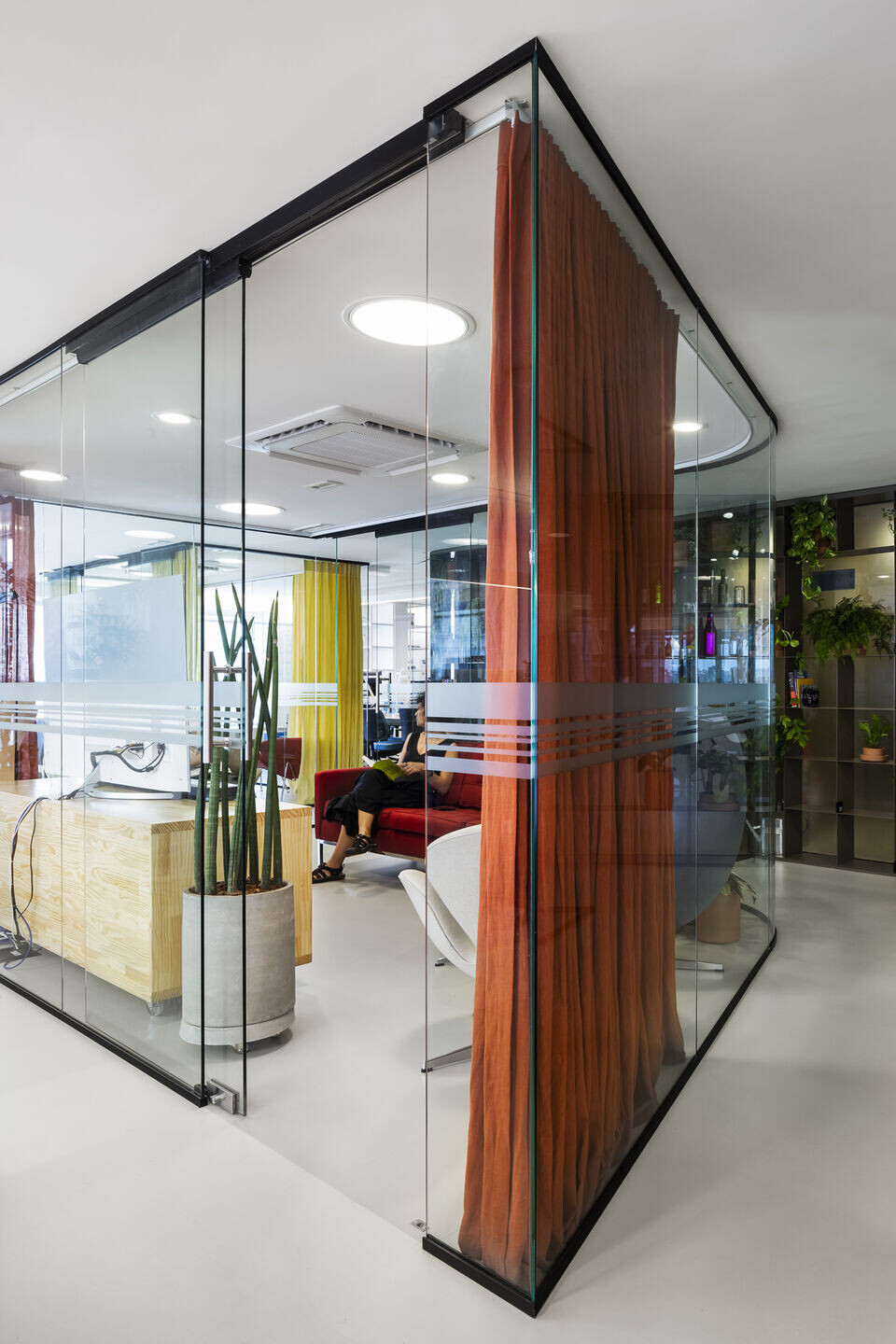 This open and bright space led to an efficient, simple and clear space sectorization, also highlighted by the floor colors. Made out of a monolithic natural rubber, the floor is used in two analogous colors to set the difference between the open areas – where sand color is used – and the glass panel enclosed rooms, which receives light gray flooring.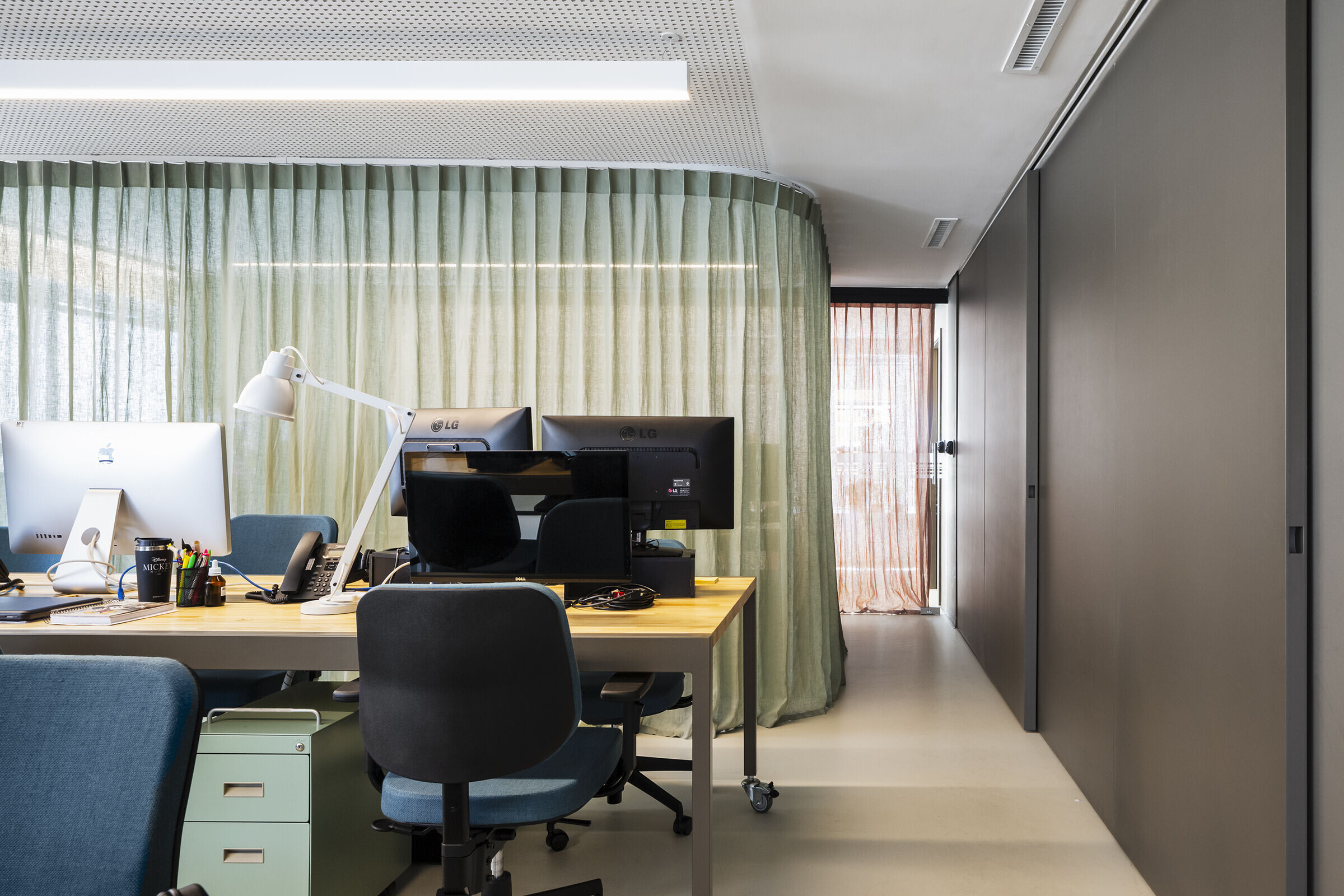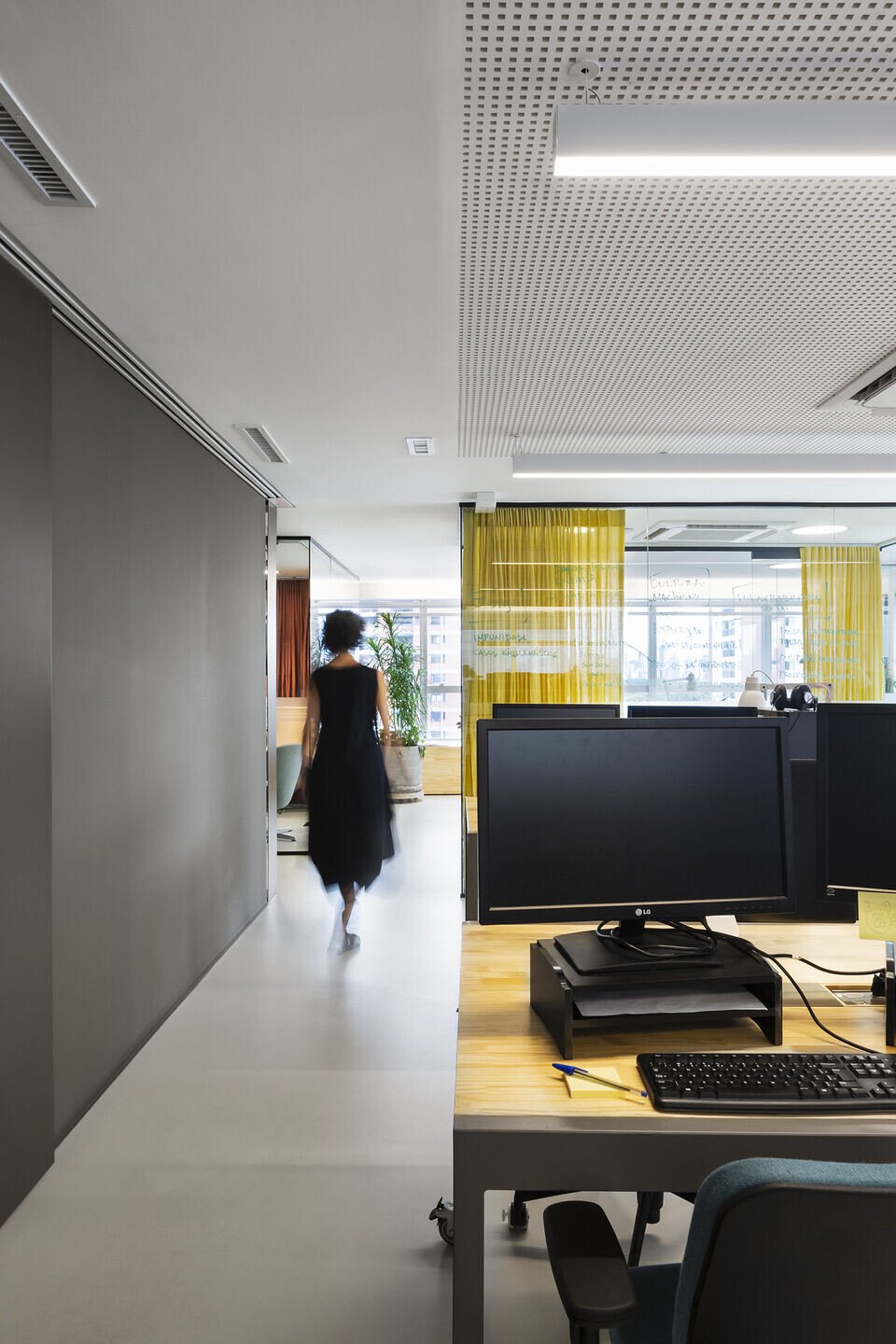 The whole concept is based on simple and practical materials such as rubber, glass, metal and natural pine wood. The metal and the wood, separately or together, compose the bespoke furniture designed by the architectural team. Natural linen curtains allow for privacy in the enclosed rooms when necessary. Movement is brought to the composition by the colourfull office chairs indicated by the architect.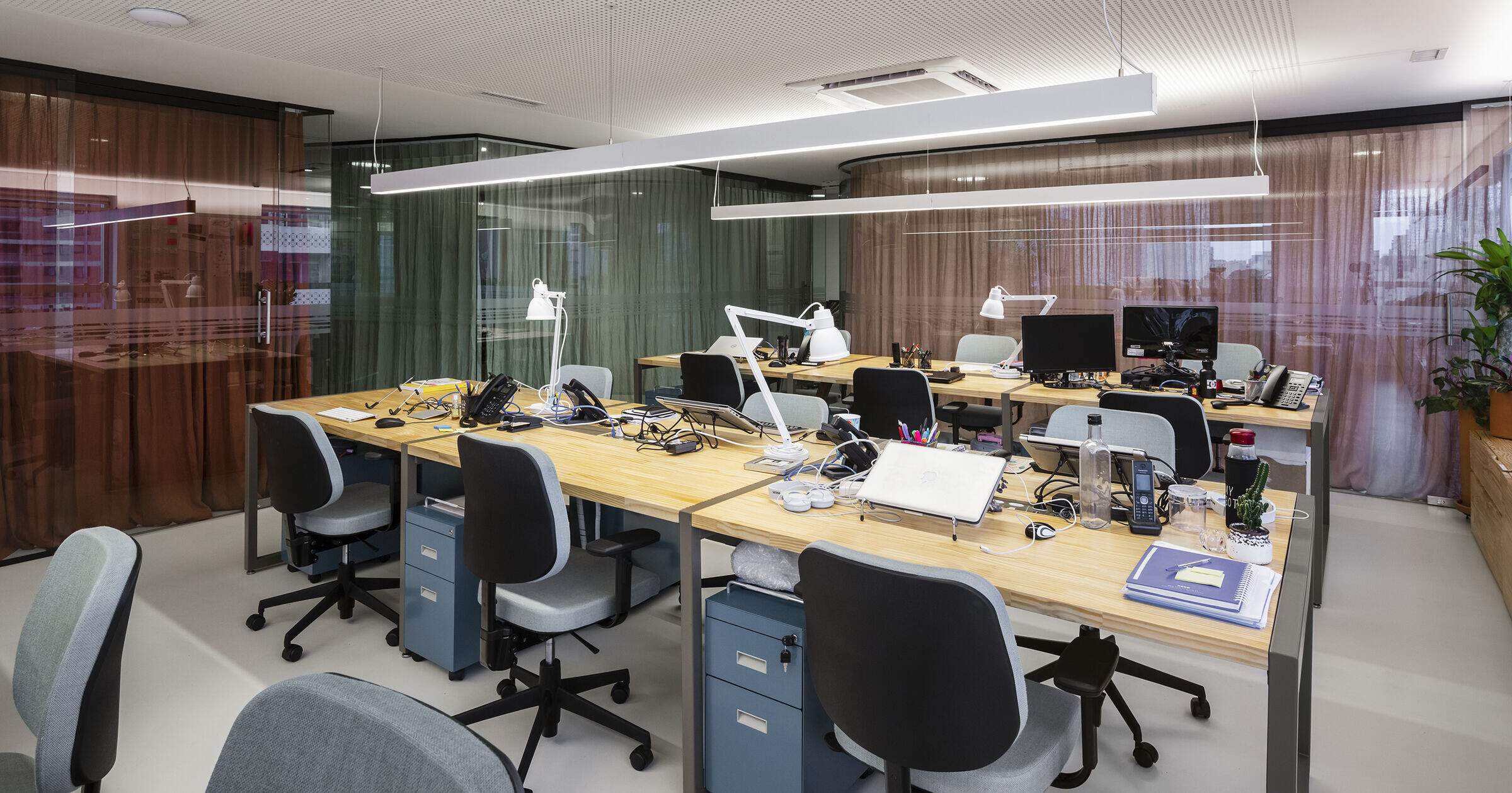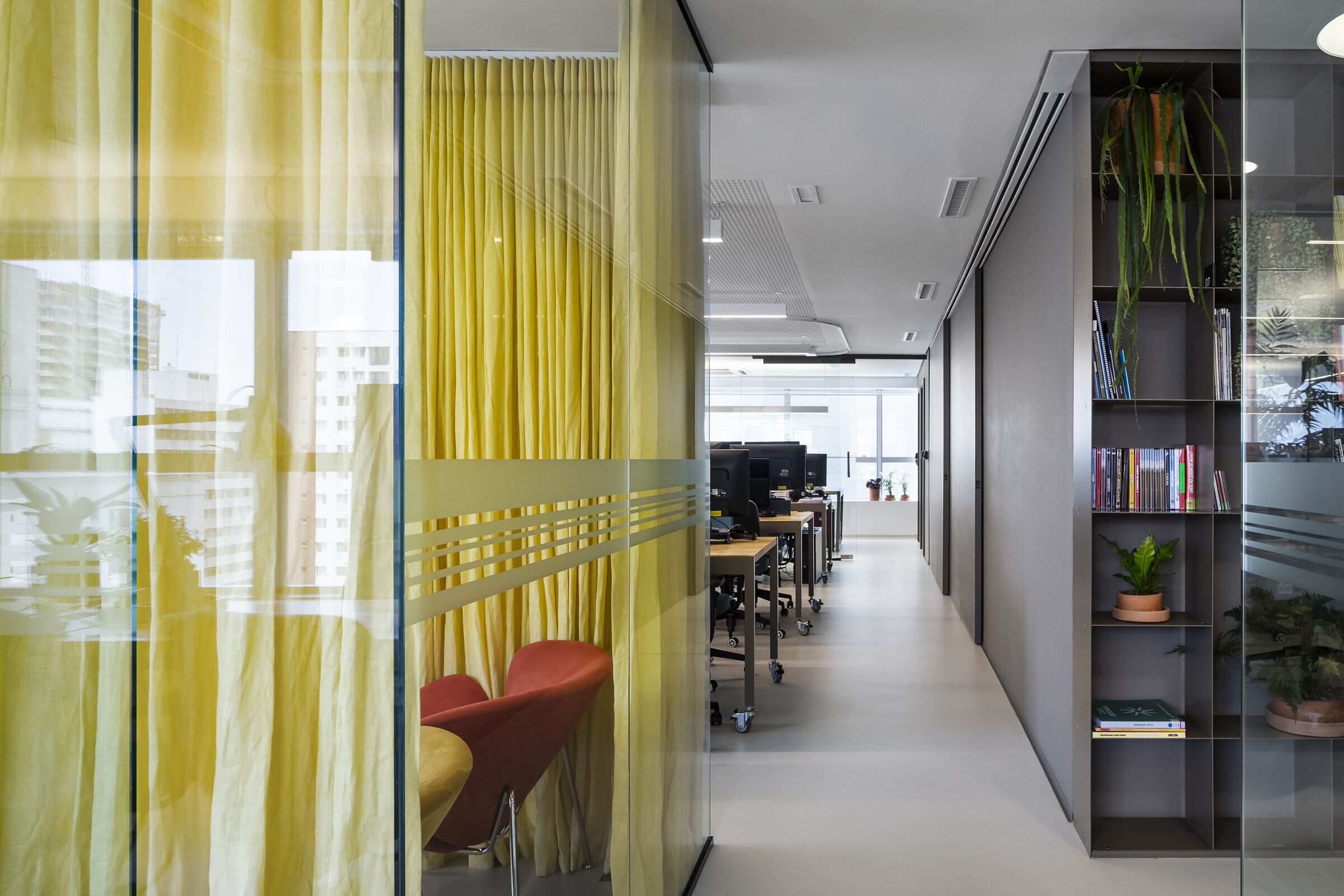 Team:
Architect: Keila Costa (+K Architects)
Landscaping: Alexandre Carvalho
Photographer: Ana Mello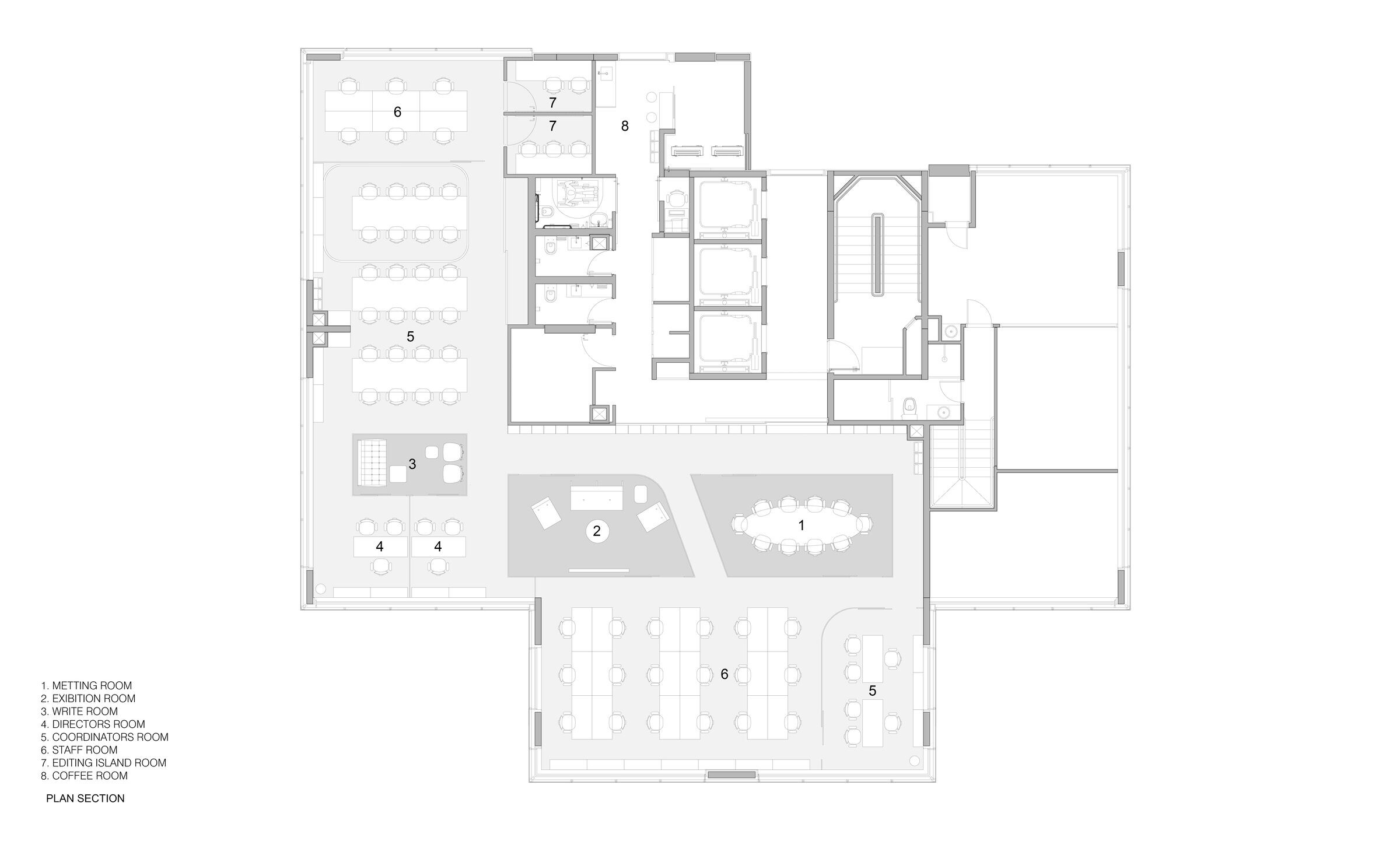 Materials Used:
Marcenaria São Paulo - madeira movements / architect project
S Moreno Metalúrgica - iron shelf / architect project
Securit - volantes / M7
Interact - glass dividers / made by order
Werden - monolithic raised floor
Nora - drunk floor / Noraplan Uni cor 2446, drunk floor / Noraplan Uni cor 2454
Reka - horizontal pendant / RK.05003, linear pendant / RK.05011, round inlay / RK.06006, w/o round sausage / RK.06048, table top / RK.04176
Uniflex - rolôs / UNIFLEX Design 60 Platinumscreen 3% cor white, rolôs / UNIFLEX Large blackout Midnigth cor white, prega model curtains, cambraia - several cores
Alberflex - seats / Wish
Knoll - sofá / Florence 3 seats, easy chair Florence, Womb Chair
Fritz Hansen - Easy Chair Egg
Casa 21 - Easy Chair / Trevo
Arrisca - visual communication
Plaza Vasos - iron glasses / feitos by order
Vasos Santa Isabel - clay vases / various models
Dormakaba - sliding automatic gate / ES200 Easy System