Located in a leafy St.Kilda street, instructions were to demolish the rear half of this single fronted Victorian terrace but to retain 'the great bones' of the front part of the dwelling - marrying new work with old to provide a unified whole. Confined in width with high 'attached' boundary walls the central and rear zones of the existing house were dark and poorly laid out. We posed ourself the following challenges: how can one explore and celebrate the differences of what has come before and what is new and at the same time marry periods that differ philosophically in the degree with which interior & exterior interact.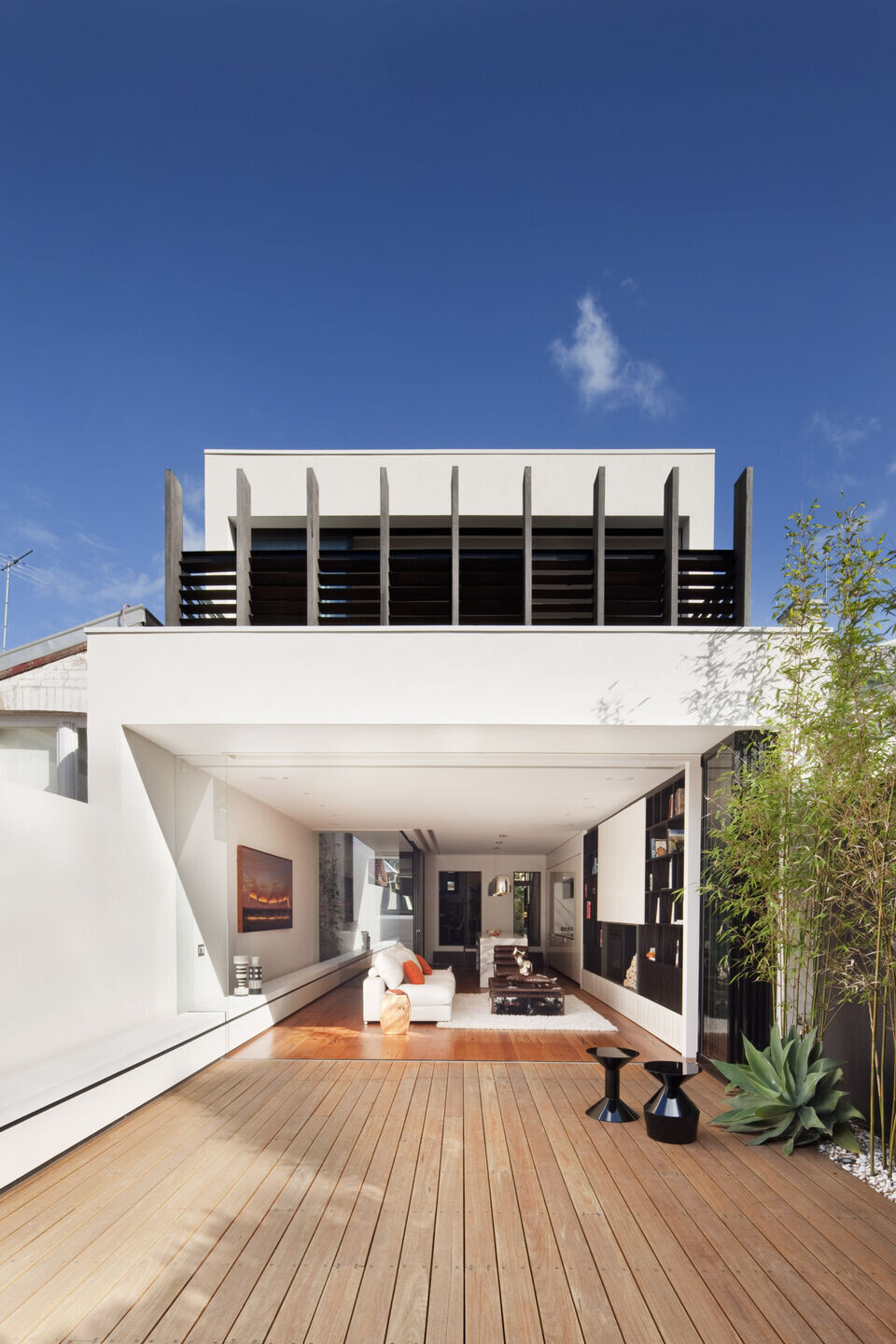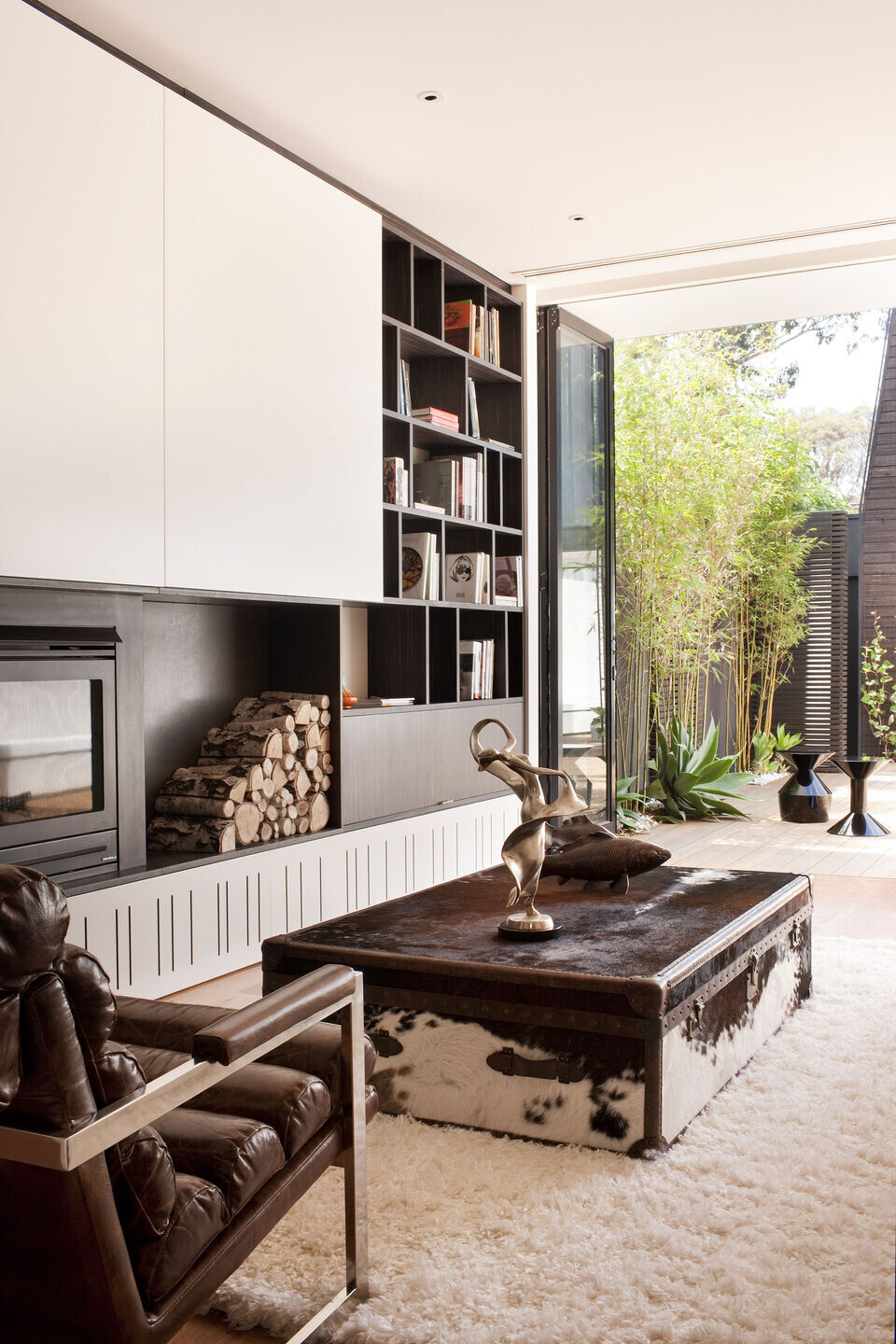 Removing the rear of the house enabled us an opportunity to provide (in our mind) a contemporary interpretation of the front. This meant retaining a strongly designated functional program, yet the journey from front to rear involved a progressive spatial 'editing out' – selective removal of walls and breaking down the formality and containment of the Victorian interior. Whilst there's a clear intention to provide a reading of history this was not a story of two stylistic separate pavilions but instead a combined whole connected through simultaneous differentiation and consistency in material, colour and detail.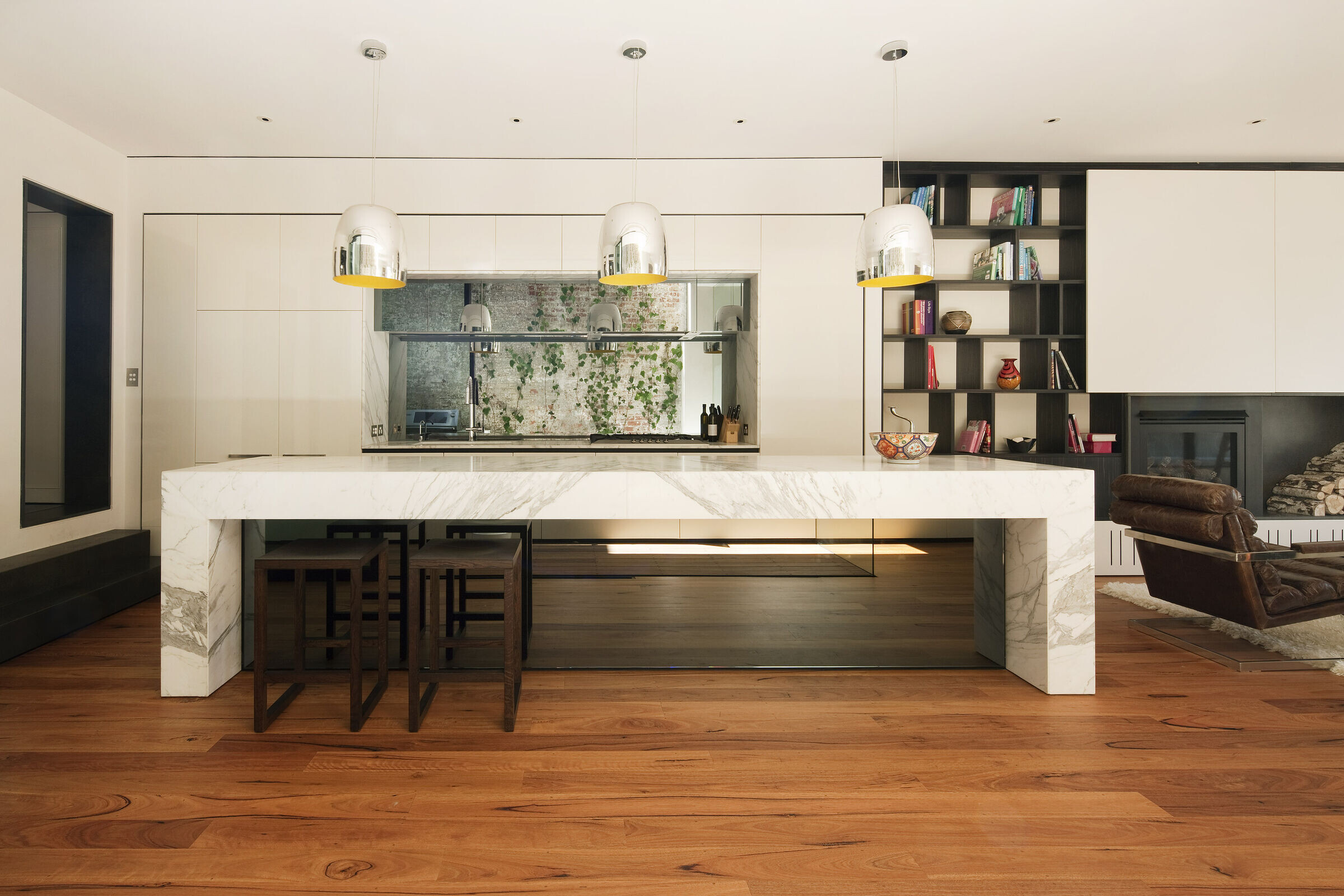 A compression of heights due to Planning triggered lowering the ground floor plate. This assisted in designating a transitional threshold from the formality of the historical environs into the lower lying space. A central light court was extended in size to become a pivotal feature - bringing an airy lightness to the centre of the dwelling and providing a powerful interstitial space and bridge of history between old and new. One may look back to read the exterior of the old building. Full height glazing here and at the rear enables an important breezeway and temperature regulator, offering users flexibility to change the formation & character of the dwelling.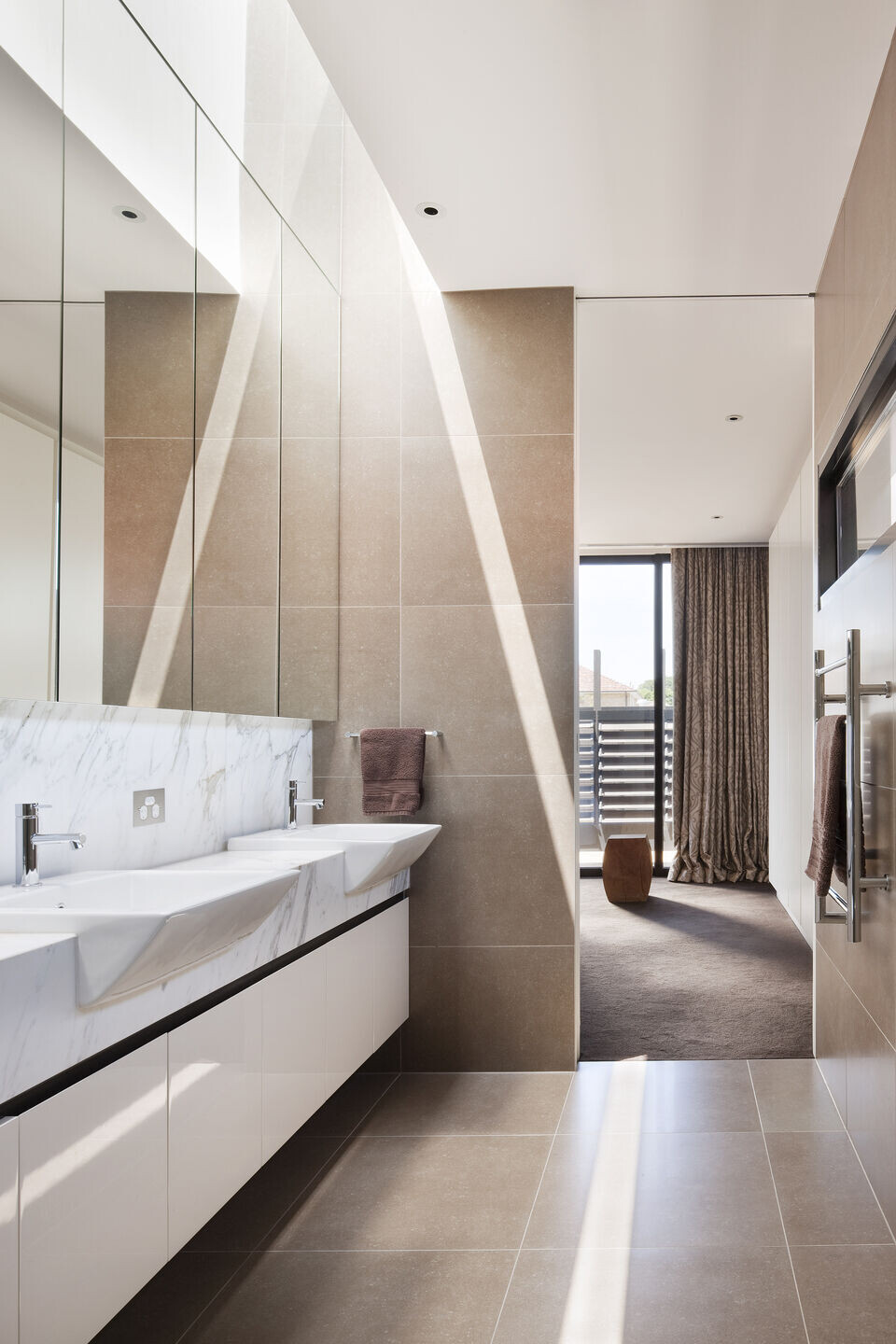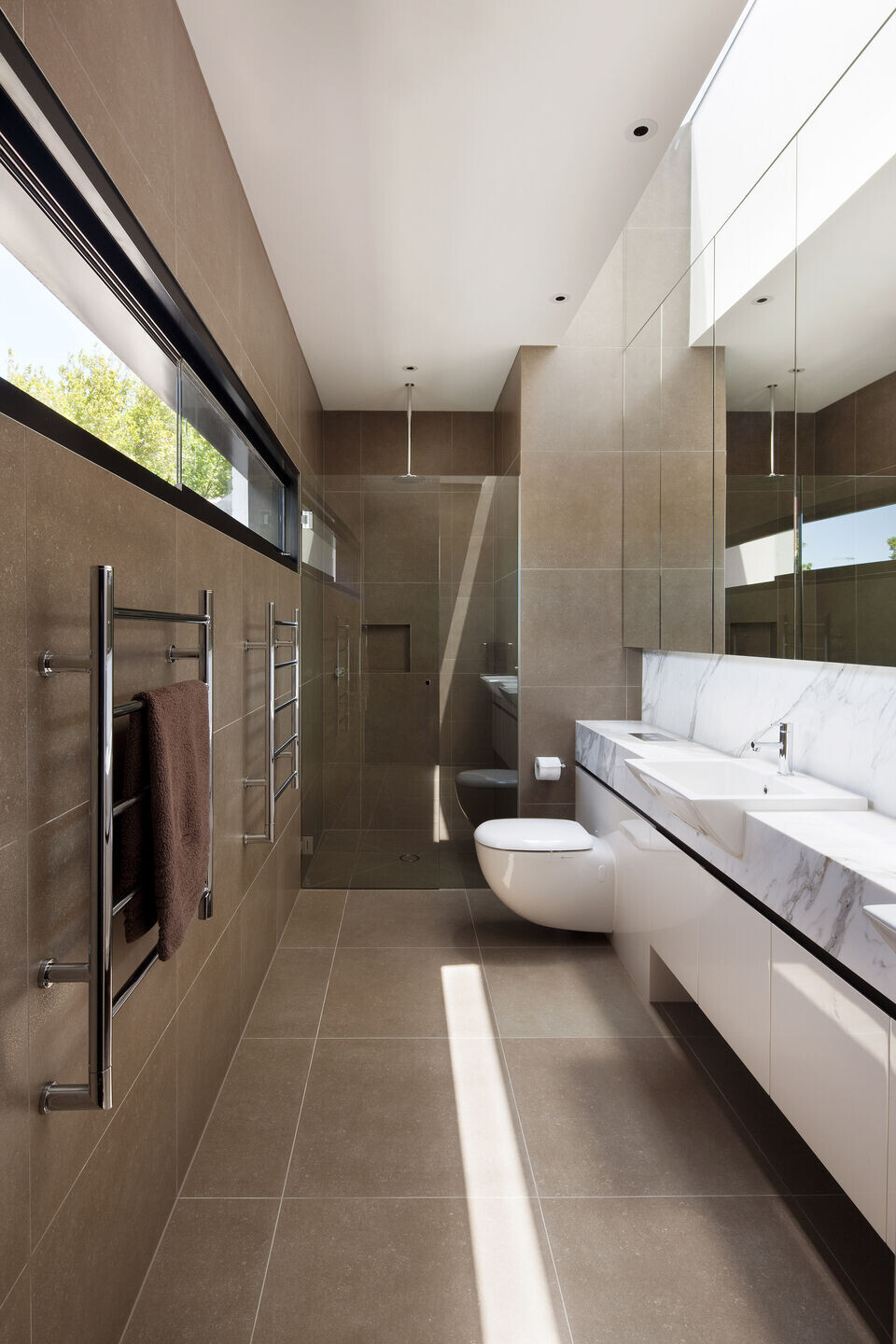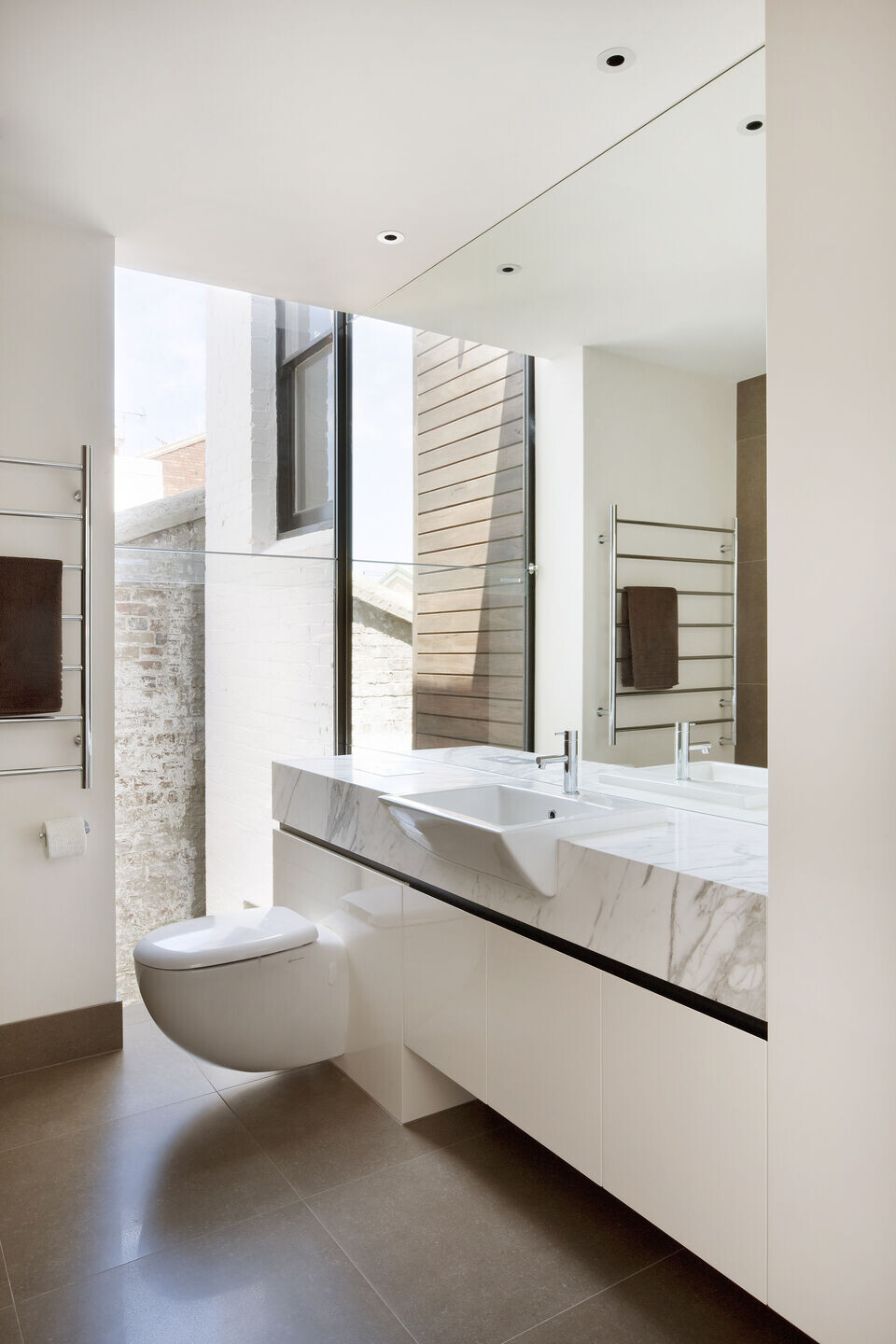 Allocations of surface, threshold and junction were rigorously explored. At the apex of old and new, apertures are cut out of the existing Dining room connecting visually front and rear. Bluestone edging provides a material link with yesteryear but also highlights & demarcates the transition of history. Whilst the existing dwelling retains its high Victorian grandeur the lowered volume contains a more relaxed, contemporary and comfort driven approach. In the rear, the 'aperture' cutouts become whole wall lengths edited out. The neighbours masonry wall is framed as a found relic which will eventually convert to a vertical garden in the centre of the home.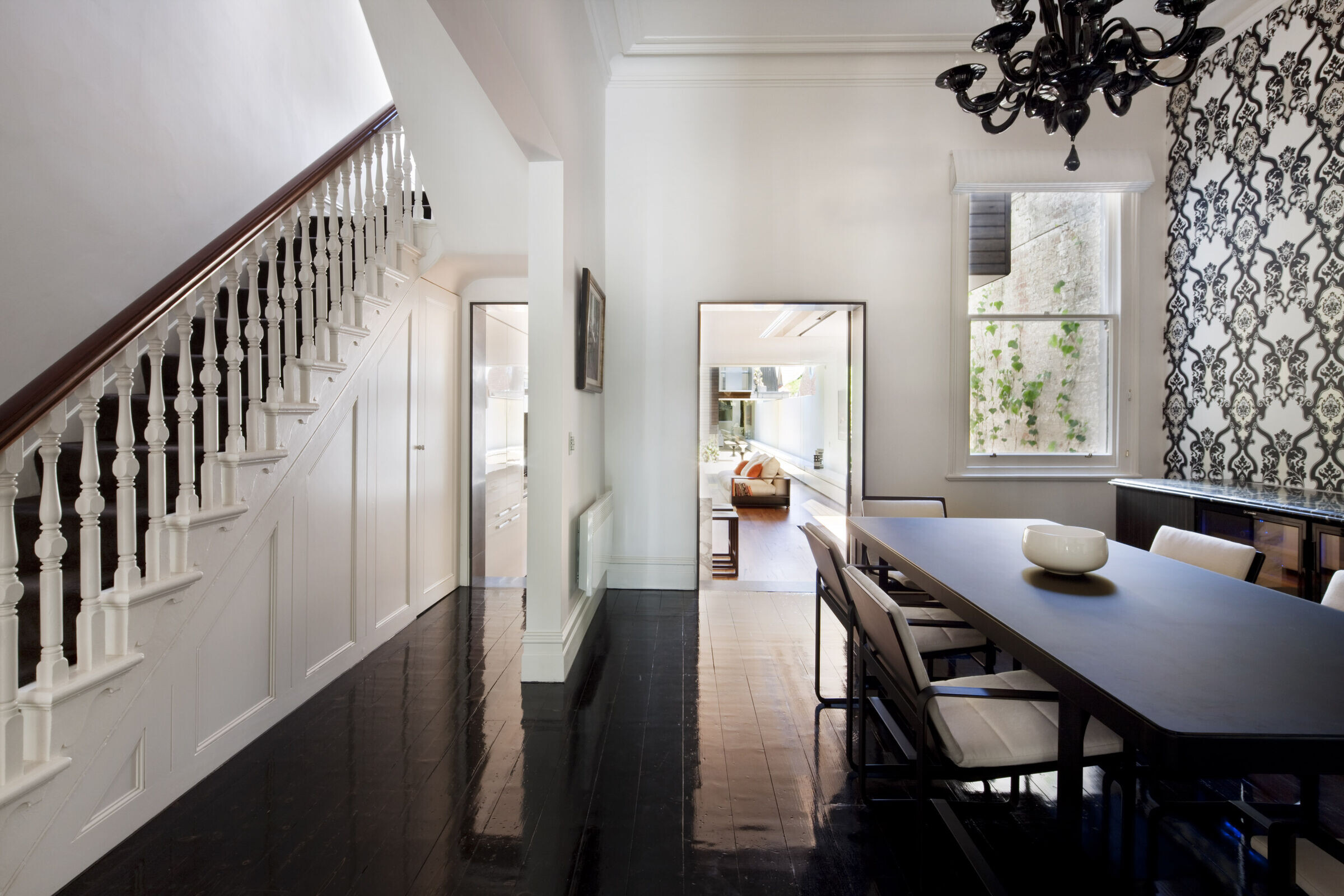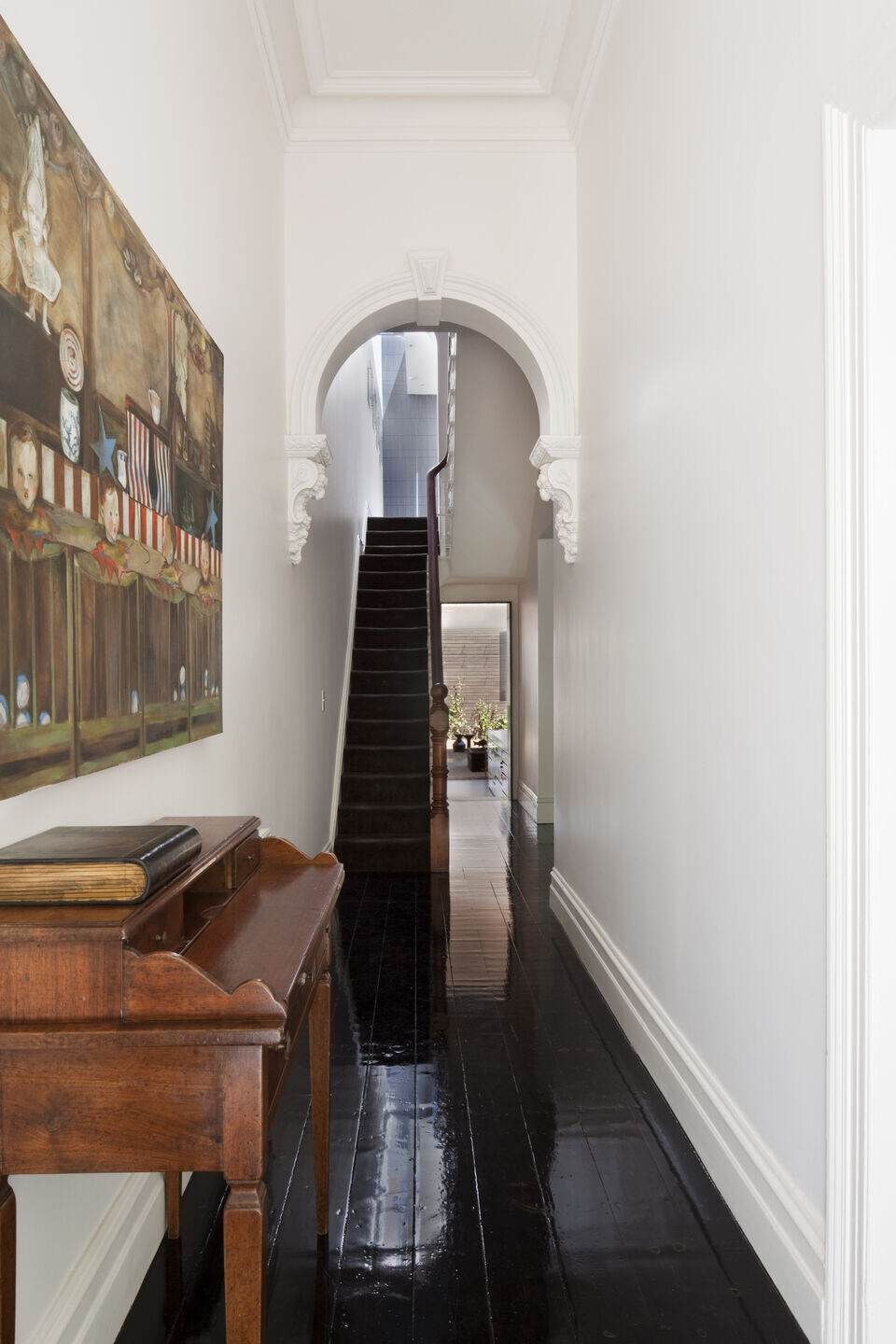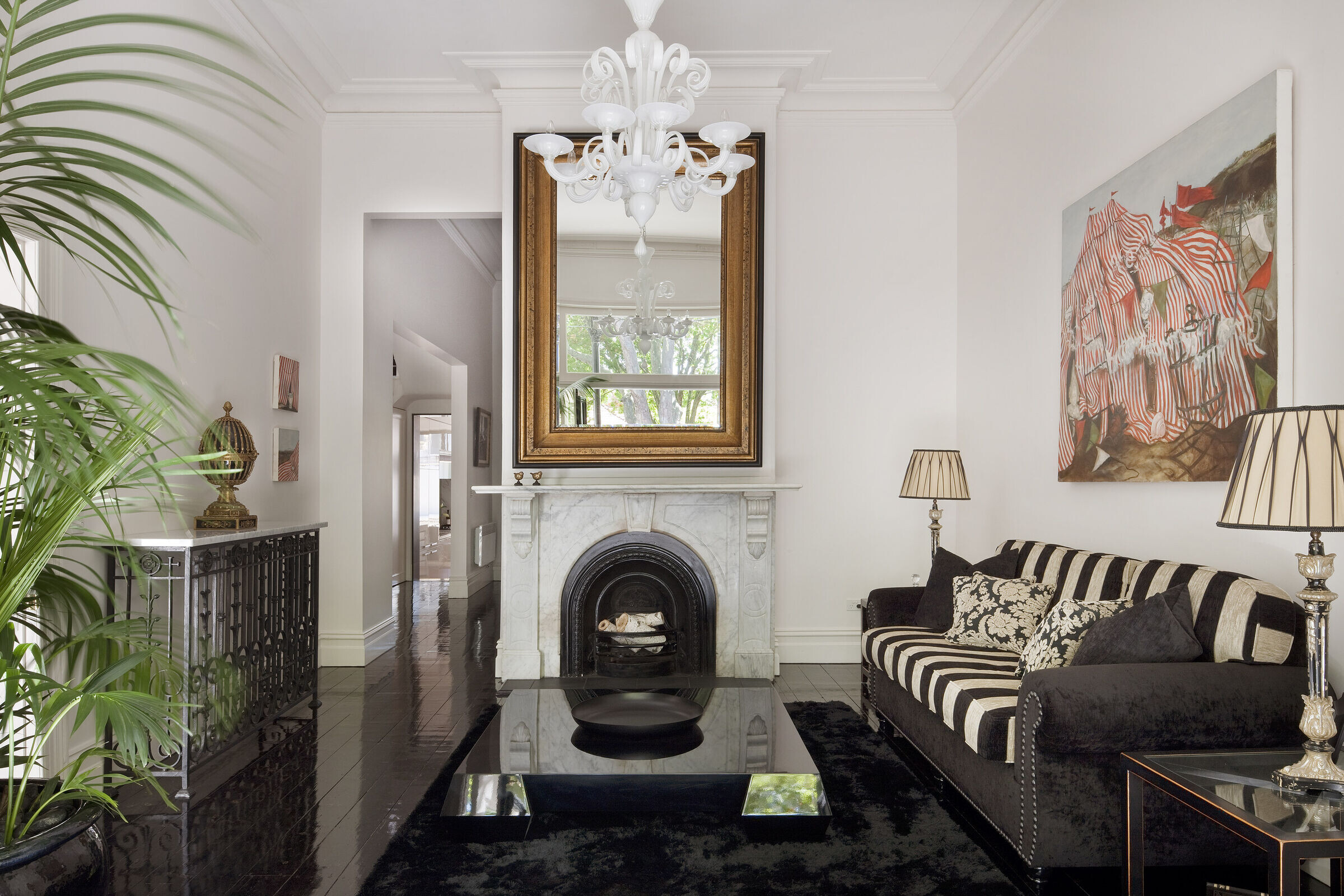 Colour is utilised in a unifying gesture. Simple darks and lights (often whites and blacks) are used in combination with naturally finished materials throughout the entirety of the home. There is an intended limitation and consistency in material and colour so as not to compete with the interaction with exterior. Basalts, marbles, blackbutt timbers, off-white concrete & dark timber veneering appear repeatedly internally and externally.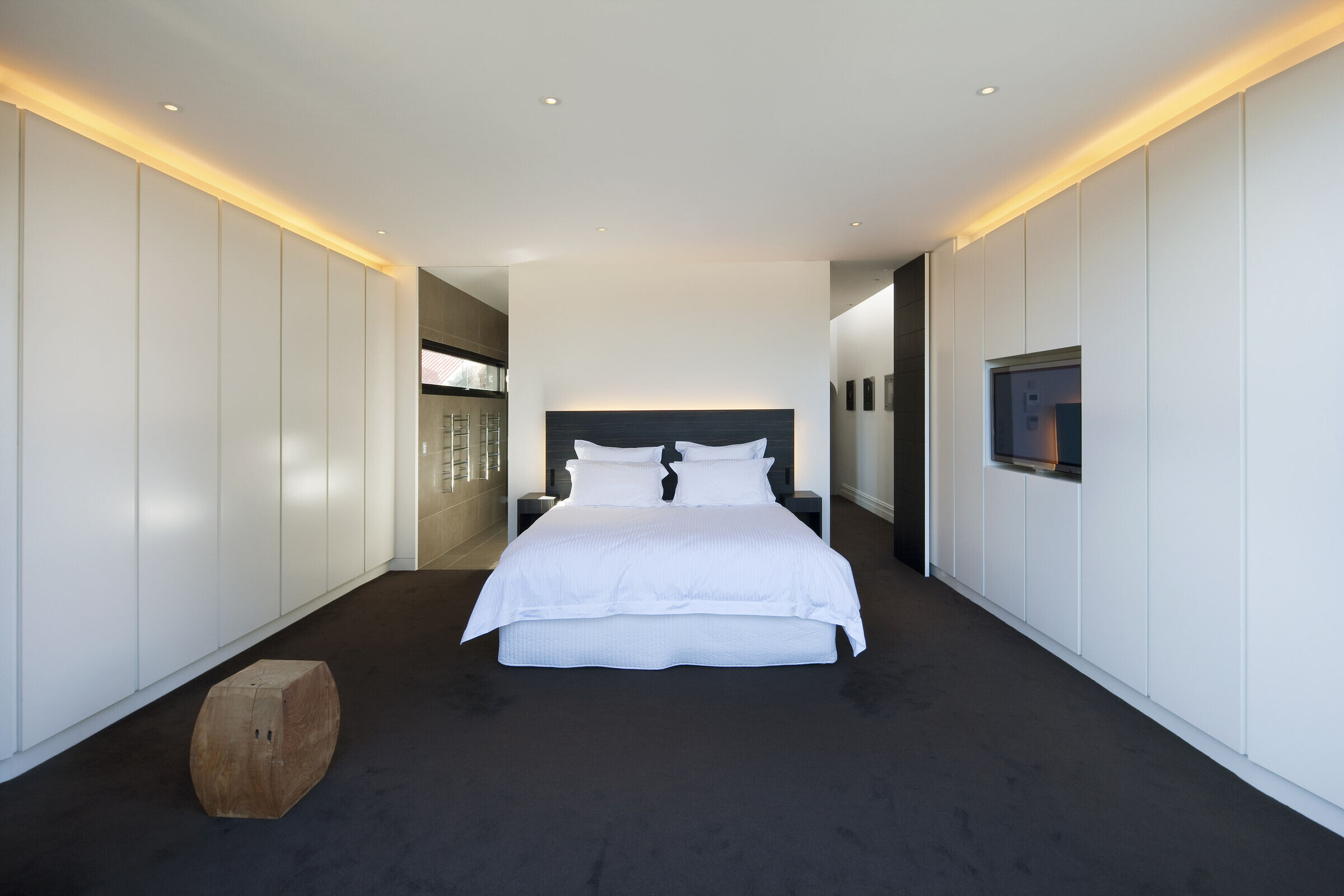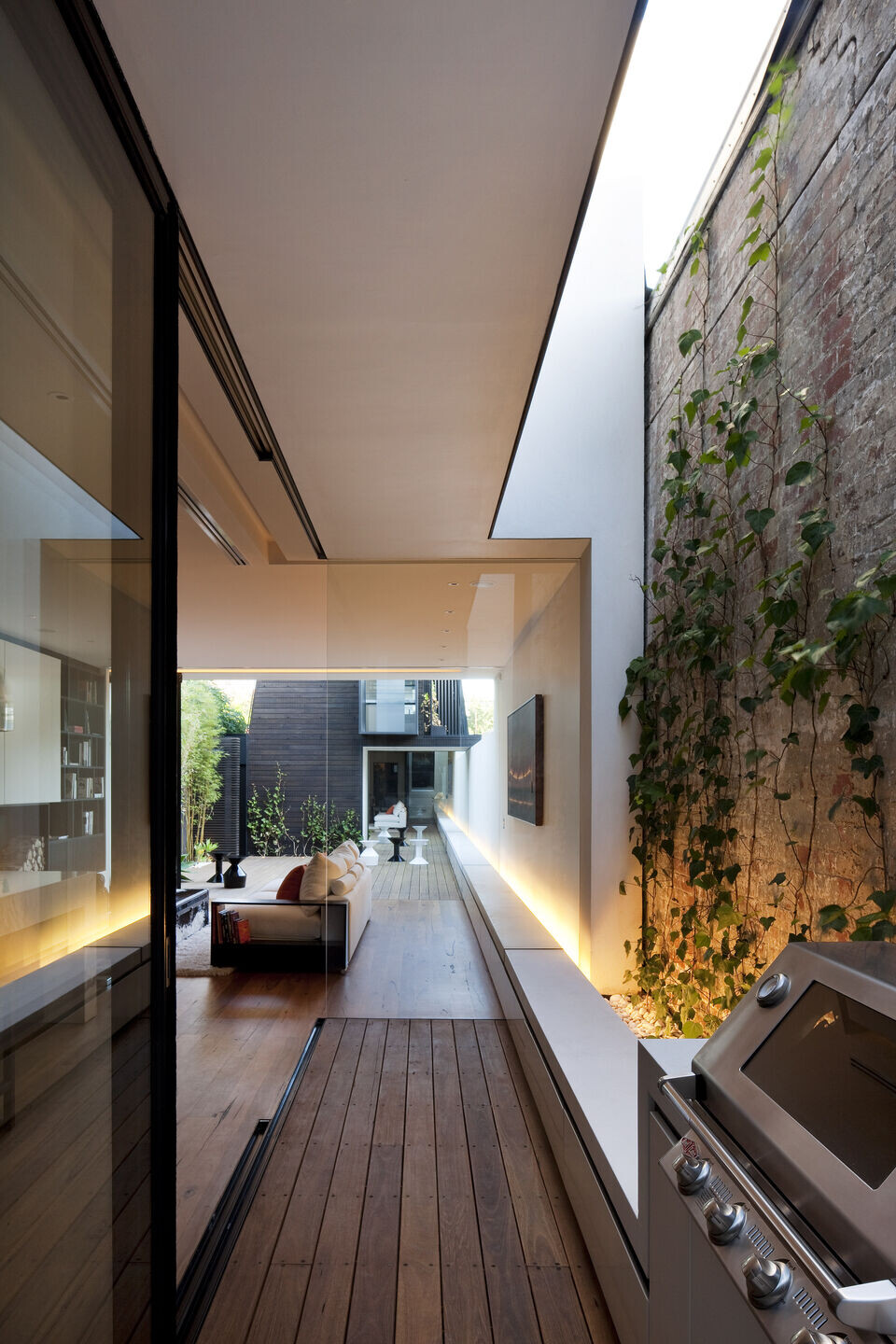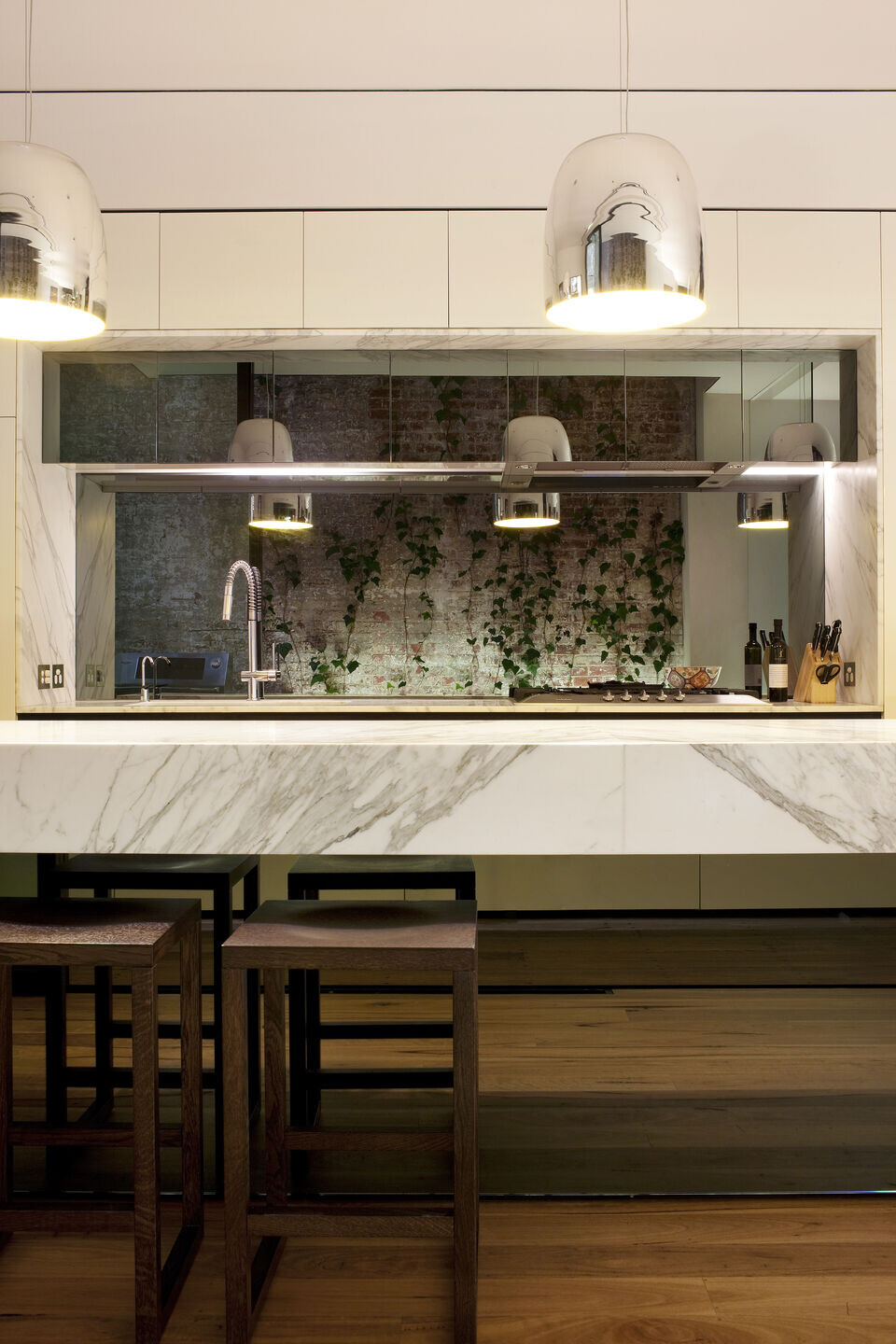 In summary the project questions and encourages an architecture concerned with historical 'story- telling' celebrating both 'continuity' and 'newness'.
Team:

Matt Gibson Architecture + Design
Builder – Greville Constructions
Structural Engineer – Don Moore & Associates
Planning Consultants – Roz Hansen (Hansen), Chris Taylor (PPP)
Landscaping - Matt Shaw Landscapes
Photographer - Shannon McGrath