mi Casa, as its name suggests, extends a warm welcome to restaurant-goers in Washington D.C.'s Dupont Circle neighborhood. Designed by KNEAD Hospitality + Design in collaboration with //3877, the restaurant draws inspiration from casitas along the coast of Mexico, where time moves slower, and life is celebrated amongst close friends and family.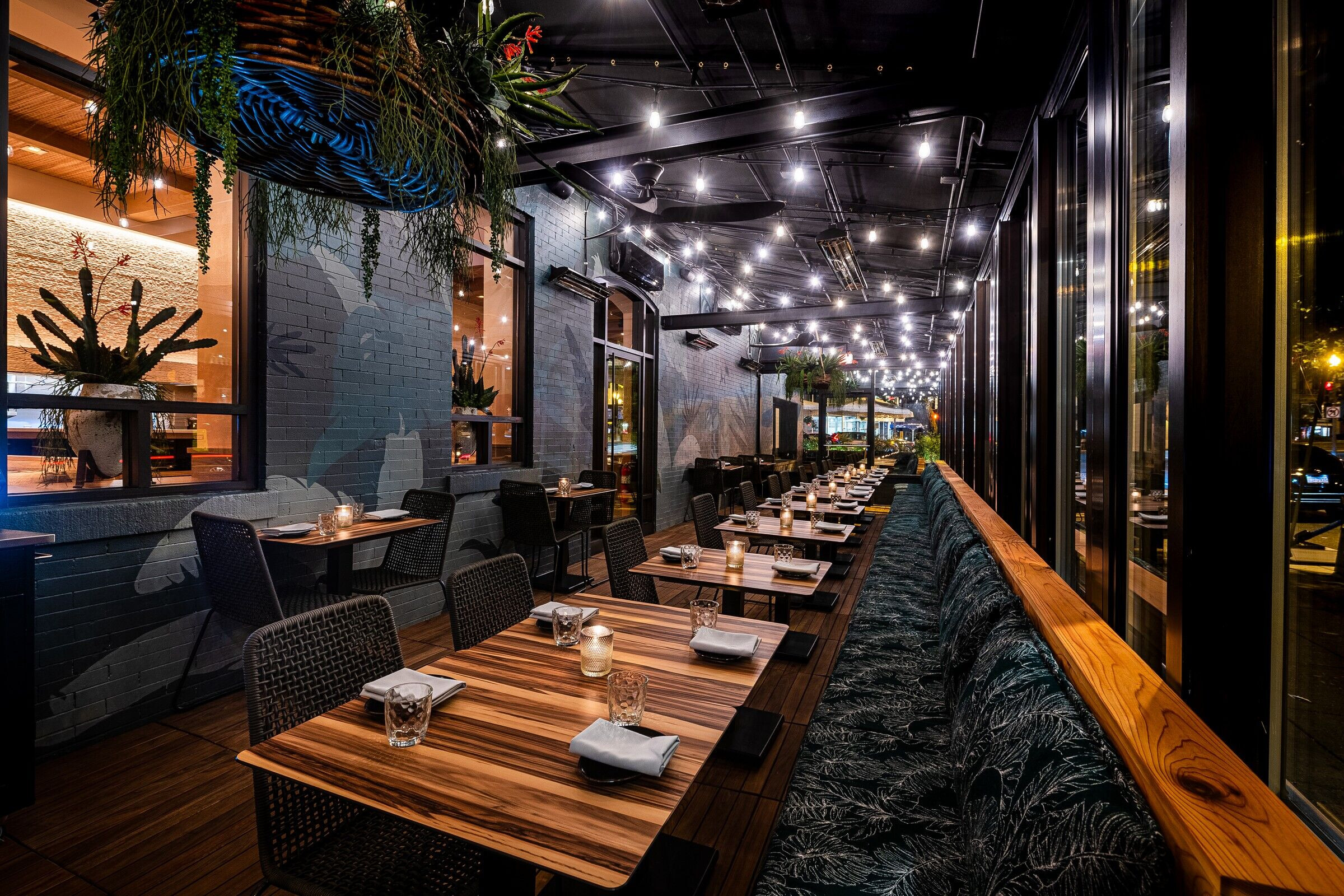 A floral mural envelops the restaurant's deep green exterior, casting tall painted shadows around the building and evoking a lush garden atmosphere. A soft plaster free-form host stand welcomes guests into the interiors, where an emphasis on natural, authentic materiality and tropical vegetation whisks them into a sultry oasis.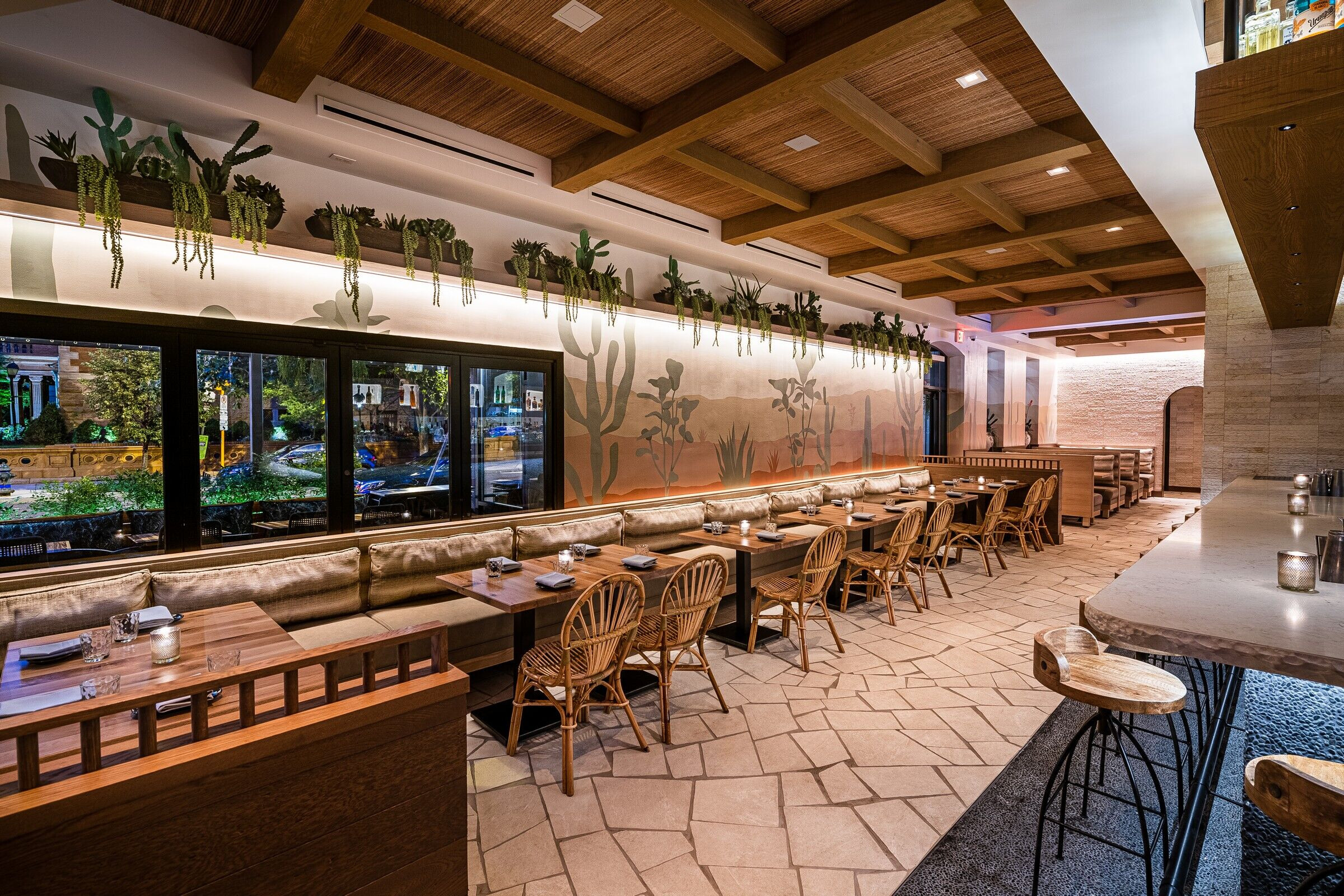 The interior design scheme is honest and natural––featuring a color palette of soft creams, warm taupes, and browns. Forms are fluid and authentic, exuding rounded edges, hand-hewn wood, and textured tile. Rich textures provide depth and shadow to the neutral color scheme, as evidenced in the bar just past the entrance, clad in micro pebble tile and topped in a soft cream caesarstone with a rough, chiseled edge. A carved-out plaster bar at the back of the space highlights the expansive tequila collection, which sits in illuminated niches. Adding another layer of texture, a gantry above the bar is made of rough-sawn wood with leather and metal strapping.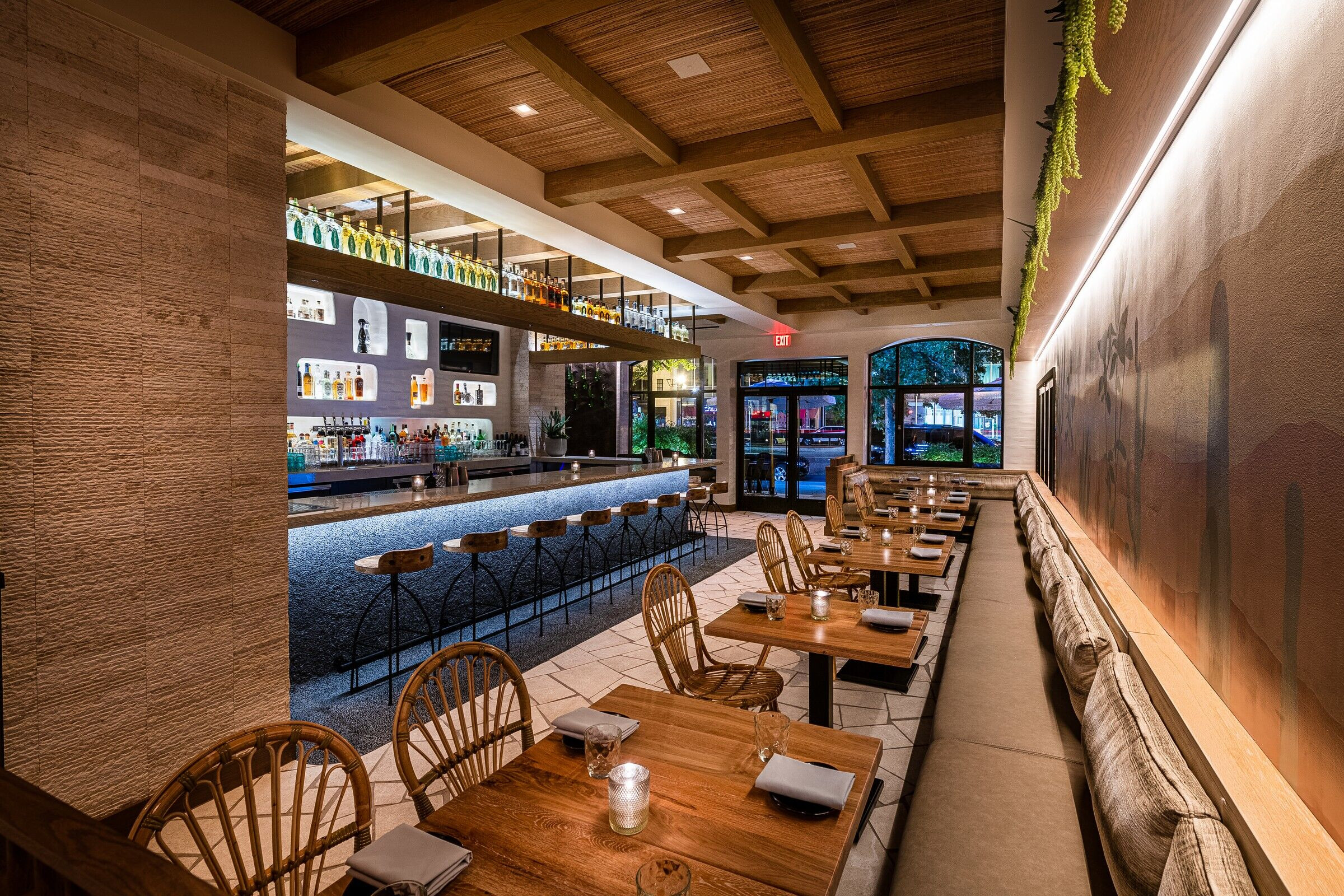 Large-format mosaic sandstone colored flooring and wood beam ceilings with inset grass matting reference traditional home décor. The soft color palette is further emphasized in the mural by Brushdecor reminiscent of a rich cactus and agave field. Below the mural, custom banquettes provide flexible seating, while a collection of booths offer a more intimate dining experience. A layered and cozy lighting scheme designed by Jeffrey Nathan gives restaurant operators full control of the warm, dim LEDs. At the back of the space, luxurious restrooms are outfitted with glossy chevron tiling and black mosaic pebble tile floors.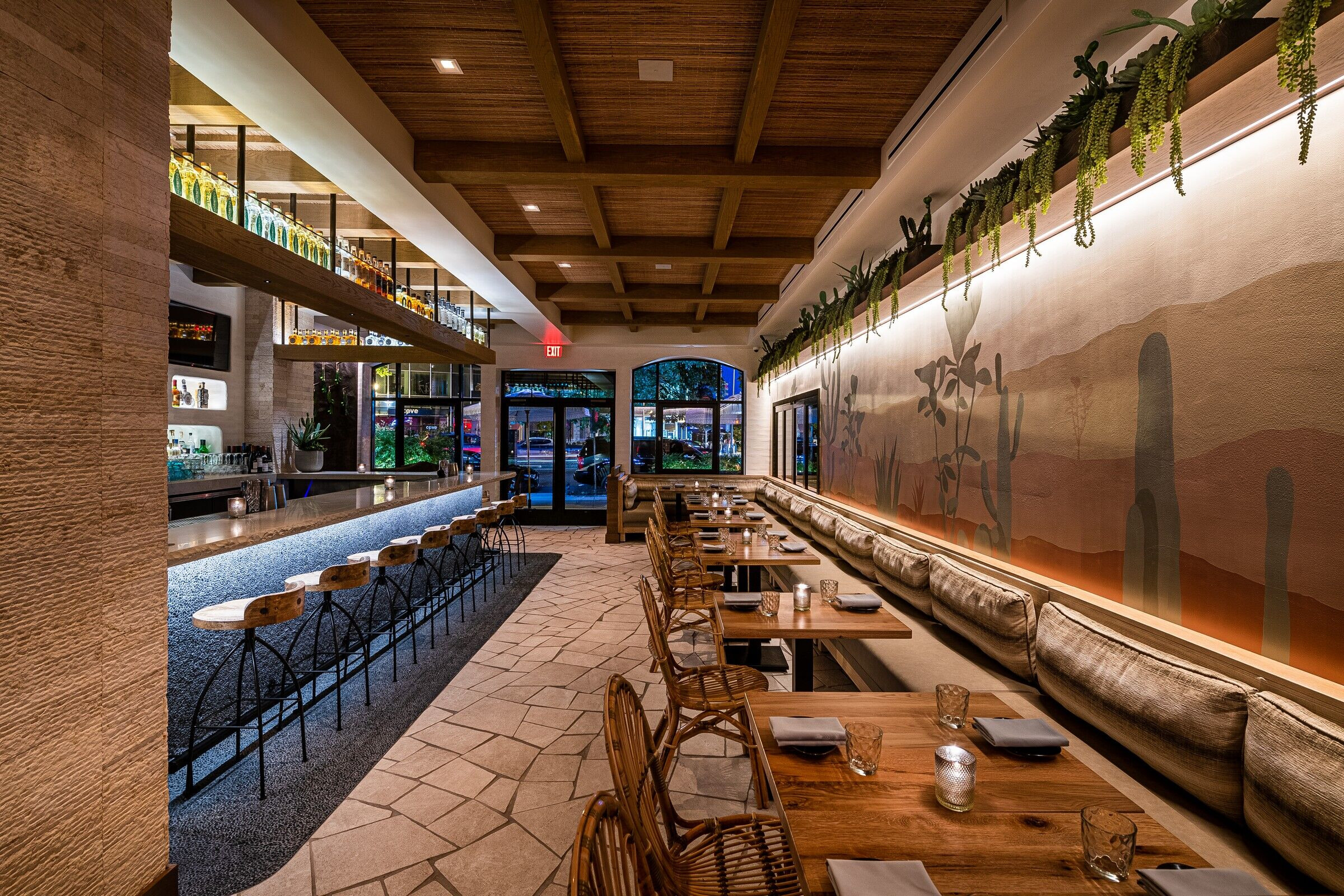 A fully covered outdoor dining area is enclosed with a wooden deck and illuminated by romantic string lights. Another exterior dining space features umbrellas and lush plantings, transporting the guest to another world. In a continuation of the interior color scheme, the exterior palette is muted and calm, with the space evoking a modern bohemian house in Tulum. mi Casa is an invitation: to your closest friend's beach house, to another world, and to a celebration of all the good things in life.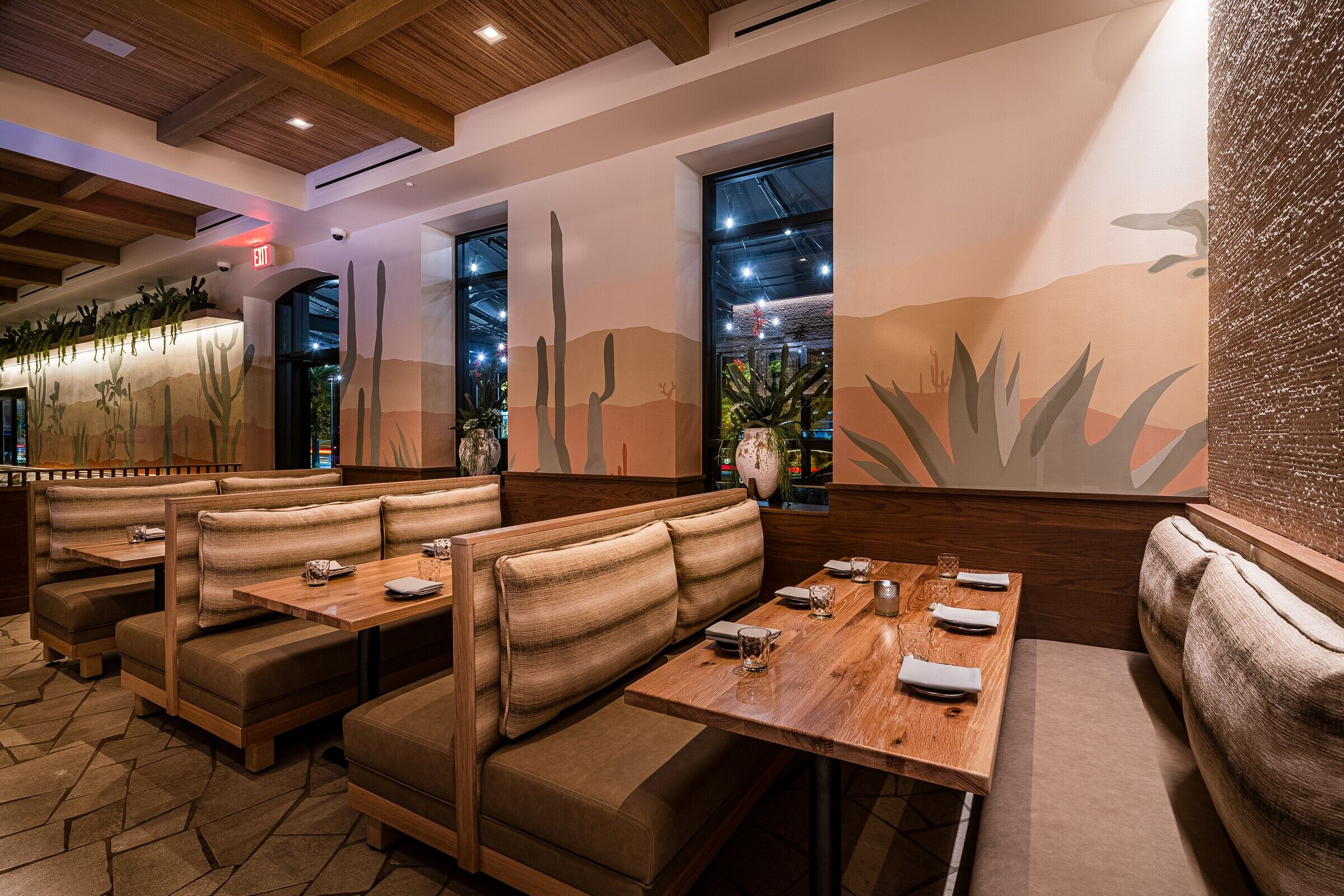 Material Used :
1. Facade: Custom Mural designed by //3877, painted by Brushdecor.
2. Flooring: Creative Materials- Large-format mosaic sandstone colored flooring from creative materials, Tile Bar- black mosaic pebble tile floors in restrooms and bar
3. Doors: Custom restroom doors by Pinecrest
4. Interior lighting: Architectural Lighting Design by Jeff Nathan Design
5. Interior furniture: Soft Touch- Booths, Banquettes and Tables, Valley Forge and United Fabrics- upholstery, Arteriors- Interior Barstools, Beaufurn- Interior Chairs, Flat Tech- Interior Table Bases. Soft Touch- Exterior Banquettes, GAR- Exterior Chairs, Sandalyeci- Exterior table tops
6. Ceilings: Wood beam ceilings by New Era Millwork, Fire treated grass matting- Backyard X-Scapes
7. Walls: Mural by Brushdecor
8. Stone: Caesarstone