The story is printed by us
Just as ink revolutionised the written word, the printing press revolutionised book publication– 3D printing revolutionises architecture, how we build, with a view to innovation and sustainability. Cheaper, quicker, easier— sustainable. The importance of literary culture is promoted by bringing future technology and innovation – narrative and form combine, printed in an architectural gesture.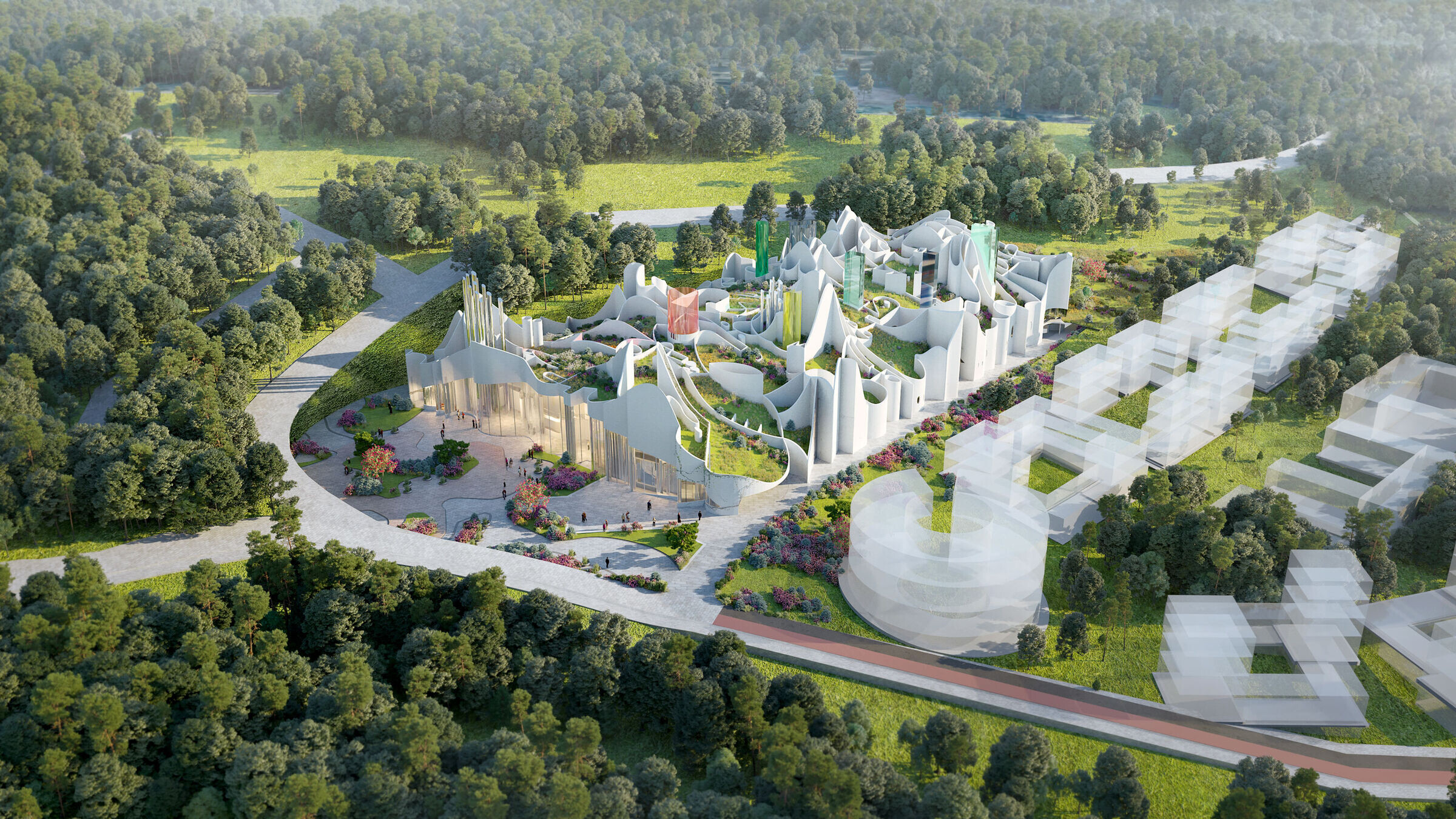 Hand drawing manifestation
In re-establishing the primacy of hand-drawing and its original possibilities in the making of buildings, the 3D printing approach is more sensual than it first seems. A return to the rudimentary skills of a drawing using the printing tool makes art of buildings. The manifestation of a hand-drawing, printed to form a building opens amazing possibilities in the expression of cultural and expansive gestures within the built environment.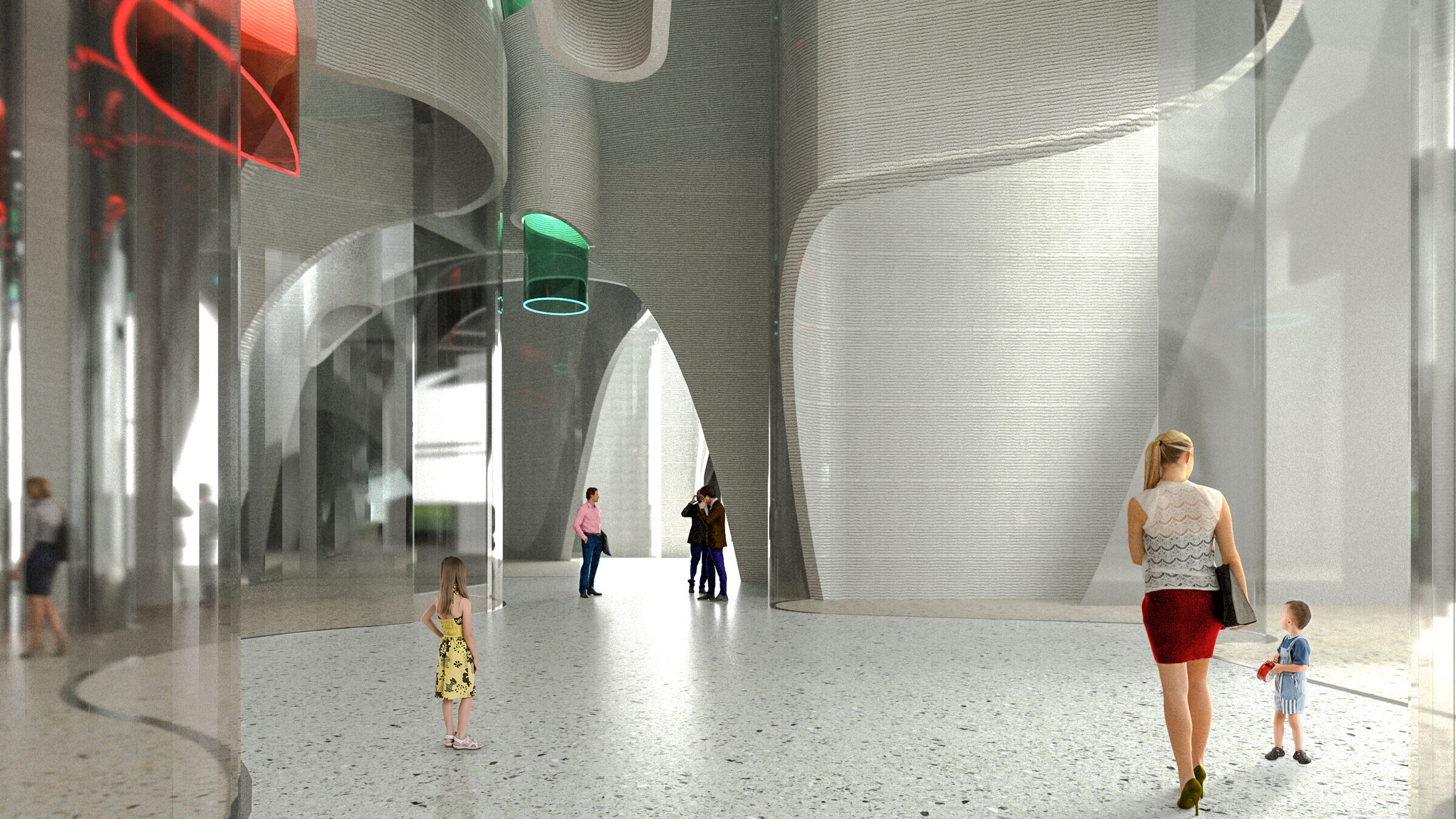 The rational vs the irrational in architecture
The comparison of a free-hand movement with controlled structural patterns highlights the contrast between 3D printed and traditional construction technology. Traditional concrete technology follows established methods, bound to the supply chain production rationalisation of manufacturing, which insisted upon technology based on the formwork dimension governed grid.
3D technology eliminates this notion of the grid-based rationalisation systems by using 'singular' material and its bottom-to-top layering method. No more factory-based rationalised supply chain systems. Post-rationalisation collides with a rationalisation of the meaningless combination of elements confined to a sequence forming a conglomerate of an organism, while the organism is a singular motion, technique, material and a free form. No more container stacked rectangles. Shape does not matter, if the rational resonates with the desired outcome. The expression of thoughts, unconstrained by technology leads to a liberation of thought itself. Just as ink made it possible to record and translate thought, not only in the form of words as symbols, but also in the generation of stories. A story can be anything, a narrative, a multi-layered, polyphonic, flowing whole—why should architecture be constrained by building blocks, unable to fully express itself, always relying on a heavy industrial supply chain?
3D printed concrete technology
As a novel construction method, 3D concrete printing has several merits for the construction industry in reducing project time, cost, and defects, while improving design flexibility and more environmentally friendly aspects of a project. Using this method, a predesigned building element can be built in 2D layers, laid on top of each other, the repetition of which results in the construction of a 3D object. The innovative 3D printing technique has been successfully applied to build-up, layer by layer, construction-scale structures through the extrusion of various cementitious materials. Favourable buildability of fresh cement mixture and the hardened properties of the printed structures are essential requirements for 3D concrete printing. 3D printing technology has undergone rapid development in the past few years and it is now possible to print engineering structures.
A new additive manufacturing (AM) processing route is introduced for ultra-high-performance concrete. Experimental studies of four different mixtures of silica fume and nano-clay has significantly enhanced shape stability. One of the most commonly used artificial composites in the field of civil engineering are fiber-reinforced cementitious composites (FRCCs), which consist of the randomly distributed short fibers inside a cementitious matrix. The composite of Portland cement paste and reinforcing short fibers (carbon, glass and basalt fibers, 3–6 mm) results in novel materials that exhibit high flexural (up to 30 MPa) and compressive strength (up to 80 MPa).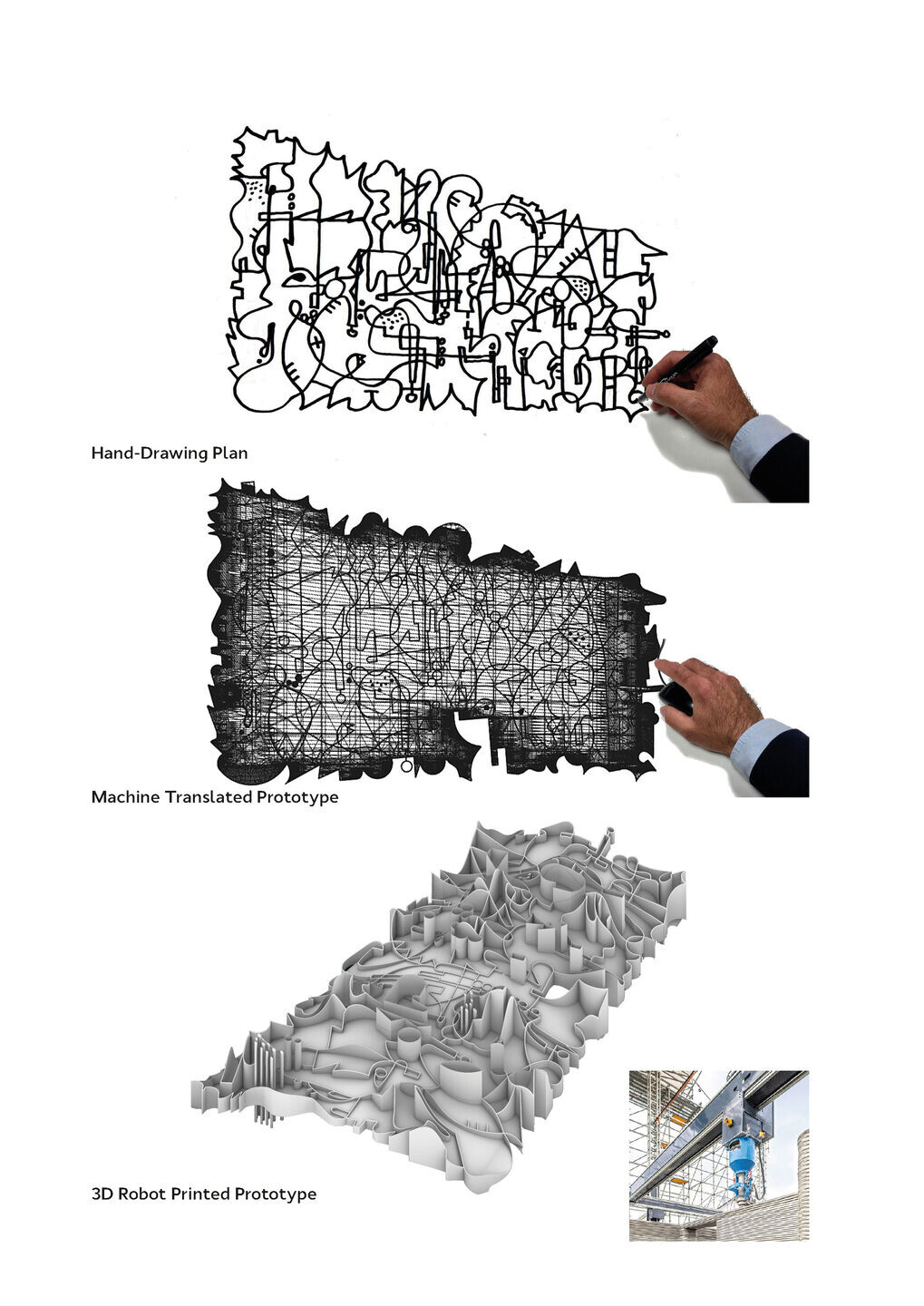 A 3d-printed building utilises 60% less concrete, it is 3-5 times faster to build and the overall cost of the finished house is 30% cheaper. 3D printed house walls and parts make up 40-45% of total construction volume. The process requires two people on site plus one for health & safety supervision.
A printed building is seismically more stable because the walls have no lateral connections as they are made out of imbued singular structural
material. Eurocode is accepting 3D concrete houses on one and two floors. In Wallenshausen, Germany company PERI is currently building 3-storey building already certified under the German code.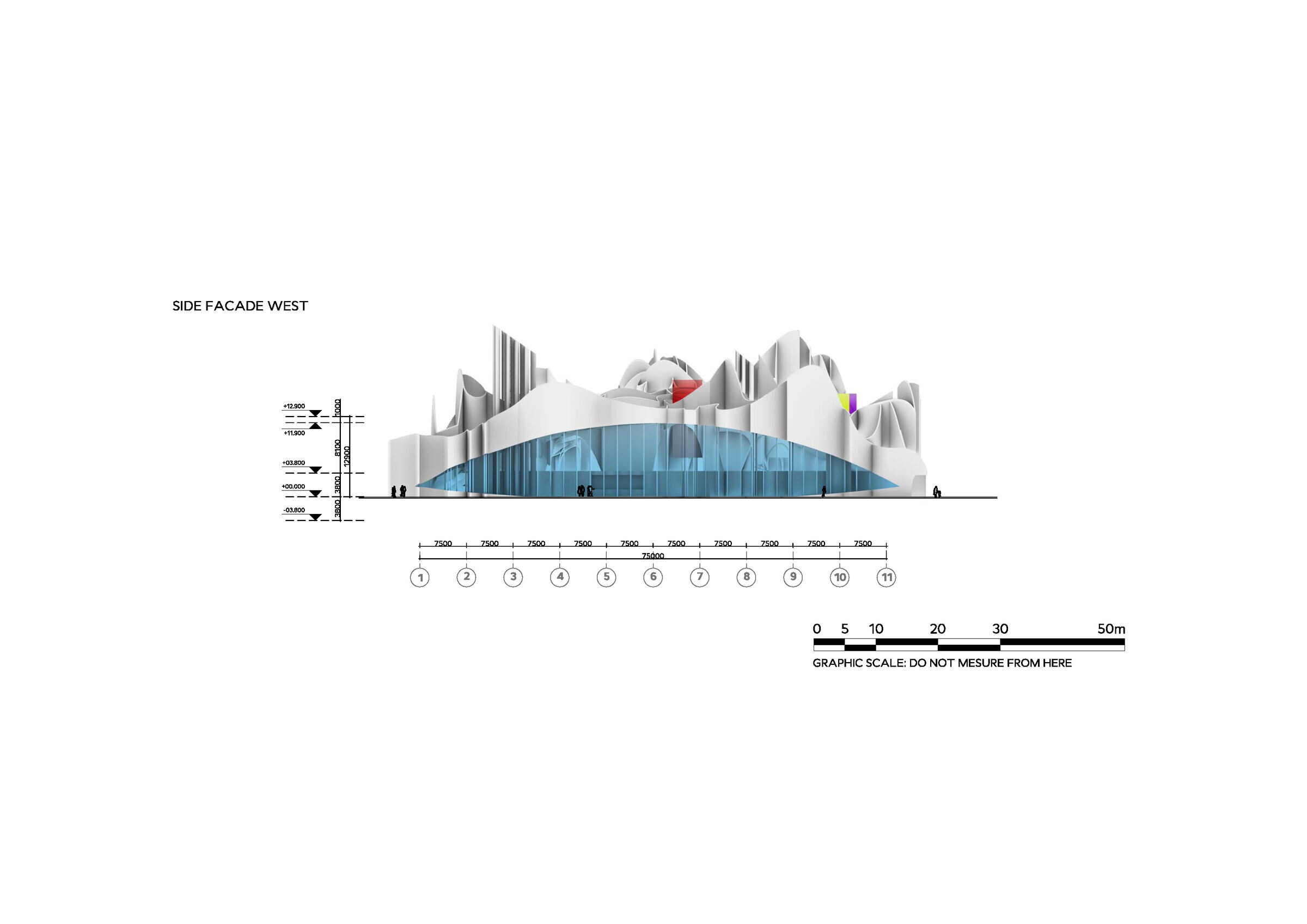 There is almost no use of steel rebars or armature except slabs (if necessary), no use of finishes internally or externally except liquid waterproofing paint in such buildings. Achieving UV values, using eco-friendly natural insulation materials like loose Rockwool, Perlit etc. by filling in the hollow body of the concrete/ mortar wall.
There is no doubt that 3D concrete printing will continue to grow in recognition as the technology matures and becomes one of the key manufacturing technologies of the 21st century.