The Neeson Cripps Academy is a school for secondary education in Phnom Penh, Cambodia, built for the Cambodian Children's Fund. Located in a neighborhood of extreme poverty adjacent to the site of the former Steung Meanchey garbage dump, the school provides high-quality education to 400 of the city's most disadvantaged children, aged 13-18, with a robust English-language program, STEAM curriculum, and globally-connected learning.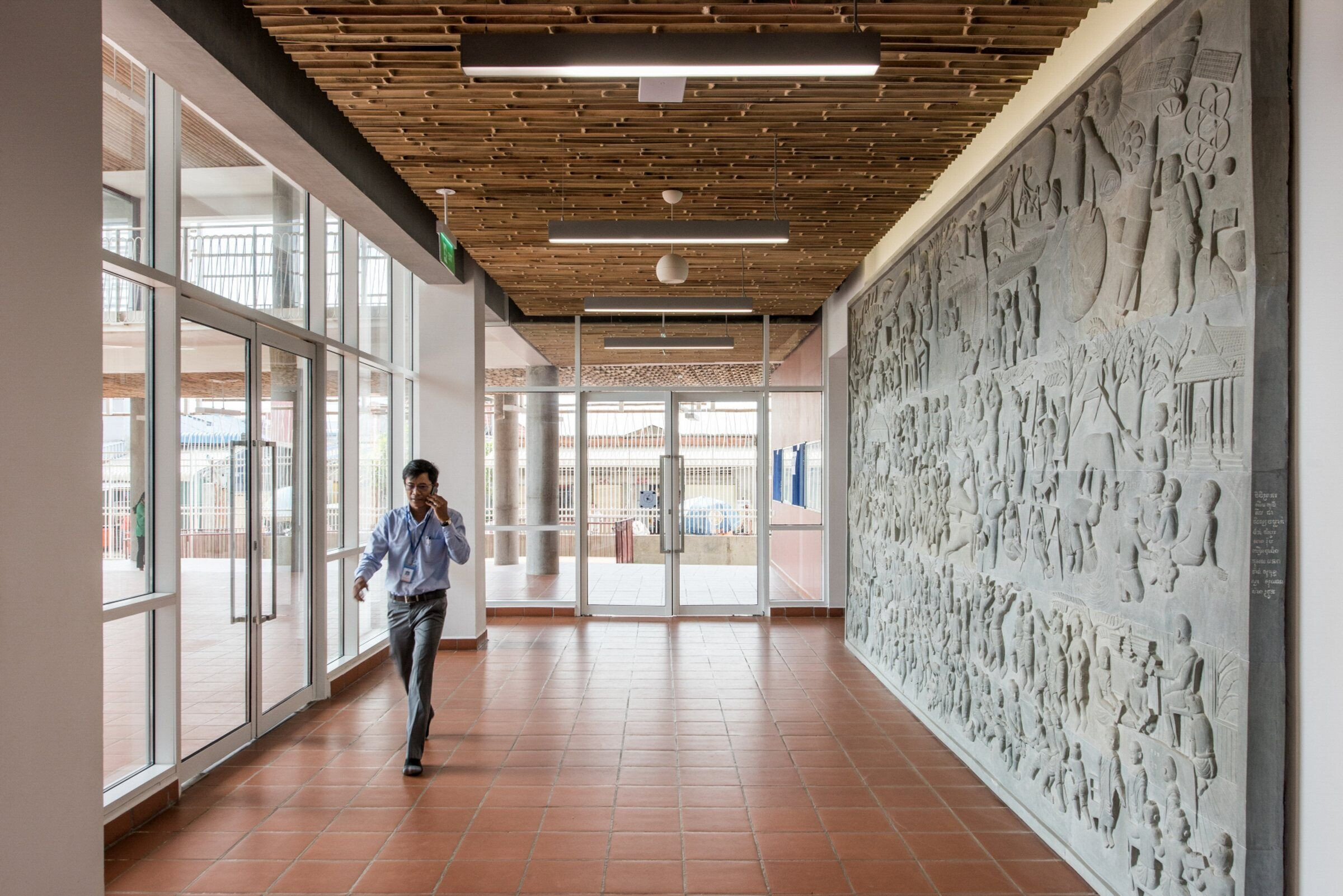 The school building is conceived in two parts. A long, south wing is composed of open air classrooms and flexible enclosed learning spaces accessed by outdoor walkways. These rooms are dual aspect and benefit from passive cross ventilation. An intricate bamboo screen and deep overhangs shade the façade. The north wing contains science labs, an art studio, computer lab, film and media room, galleries, multipurpose spaces and administration offices which are conditioned by highly efficient mechanical systems. Filtered outdoor air in supplied to all classrooms though energy recovery ventilators, optimizing indoor air quality and boosting learning capacity.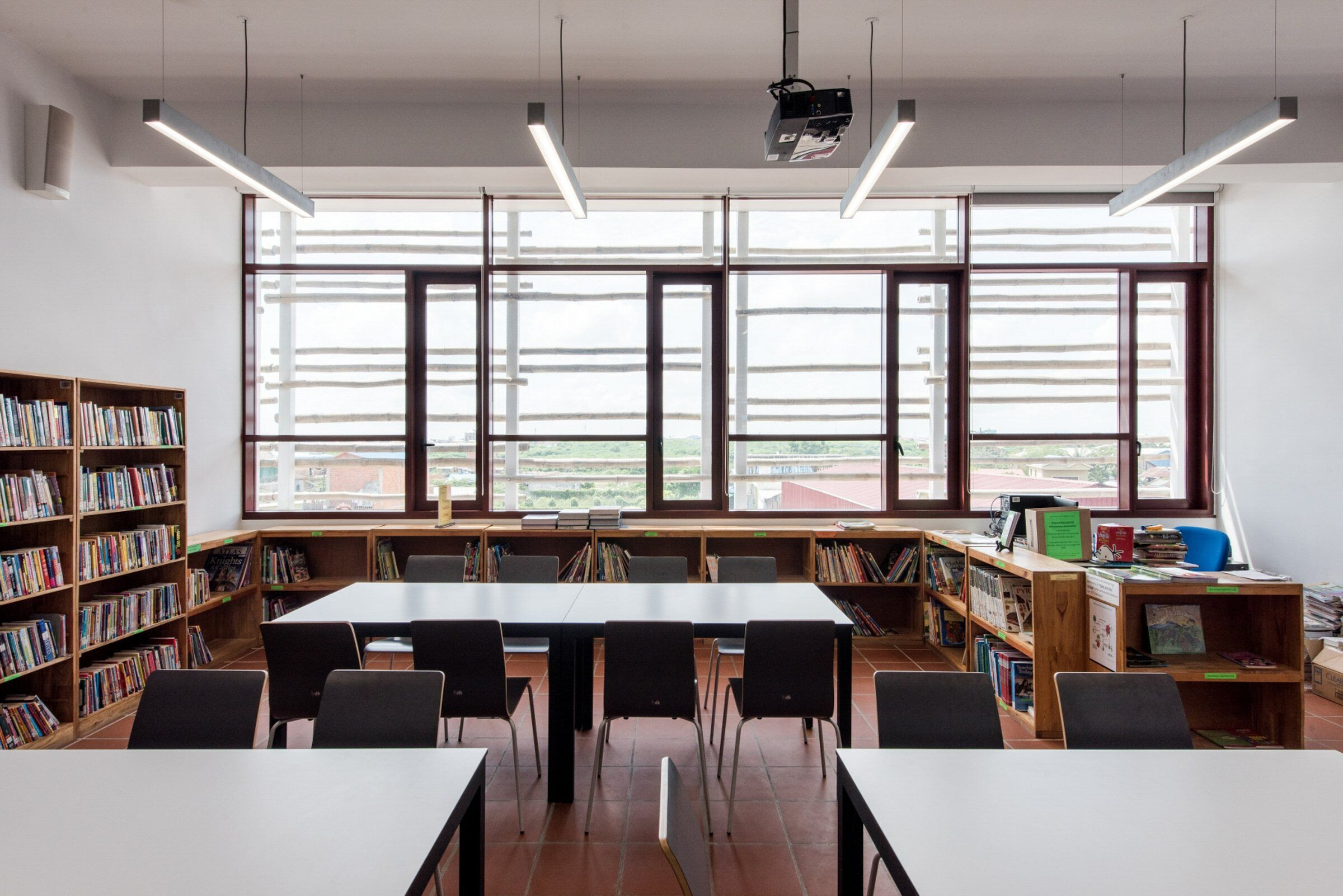 A combination of deep vertical and horizontal brise soleil provide exterior shading. The design prioritizes use of daylighting in classrooms and circulation spaces to reduce demand for energy and provide learning benefits to the students. On-site photovoltaics provide a portion of the school's energy needs, and low-energy lighting and low flow fixtures reduce operating costs. The photovoltaics are integrated into the roof design as a rain and sun shade that protects a multipurpose sports court.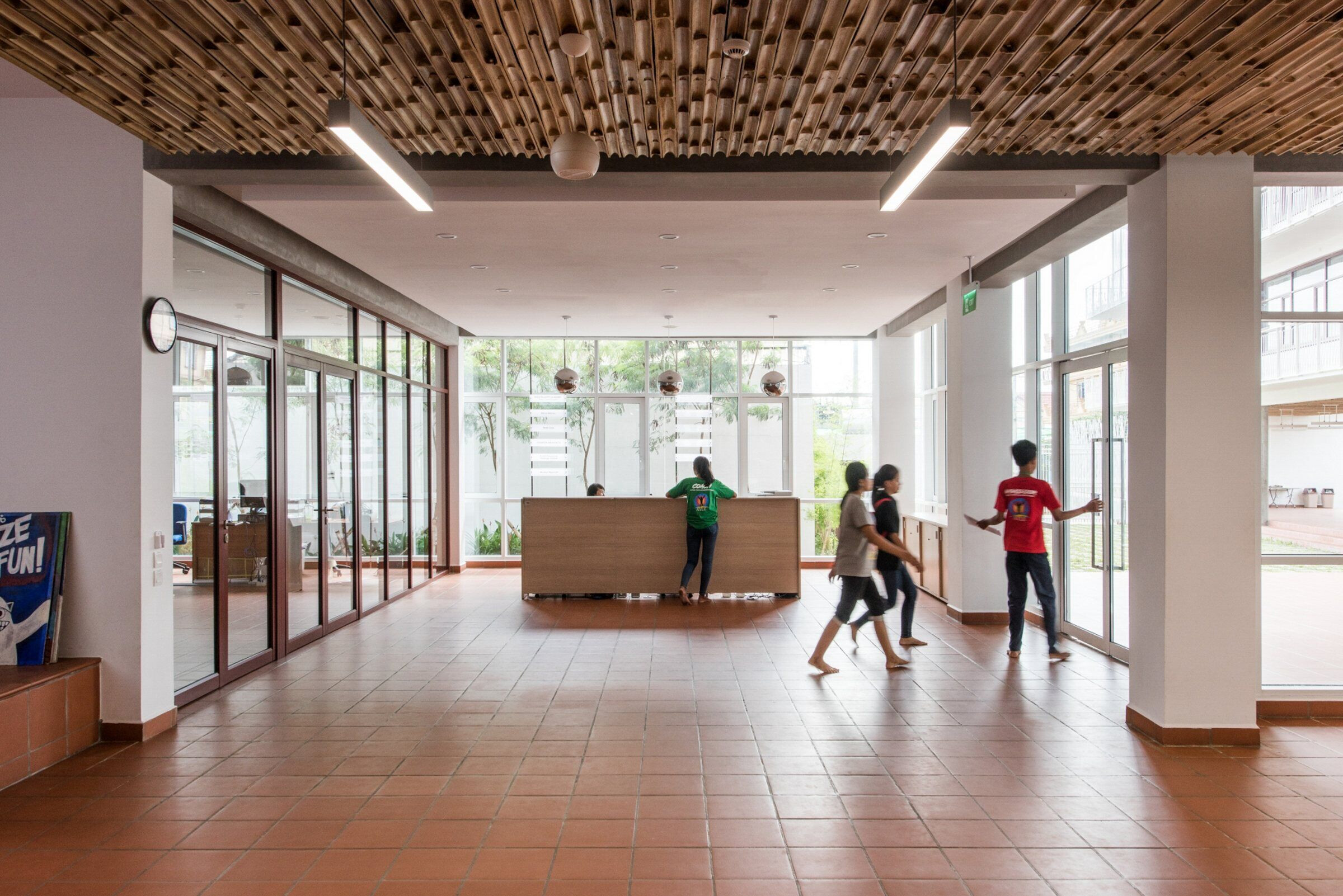 A significant portion of the building is dedicated to flexible gathering spaces designed to encourage strong long-term social networks and collaborative learning among students. Much of the ground level is open to provide a covered gathering space with a visual connection to a large courtyard garden, and to lessen the school's vulnerability to flooding.
What was the brief?
Create a world class school for 400 students for the Cambodian Children's Fund.
What were the key challenges?
Create an efficient building with limited MEP systems, while still creating space for technology and labs, in a climate that is warm year-round and can experience consequential weather events such as monsoons. The building features high-efficiency mechanical systems with filtered outdoor air and daylit spaces that reduce the building's energy consumption. Photovoltaics integrated into the roof design act as rain and sun shades while also providing a portion of the school's energy needs.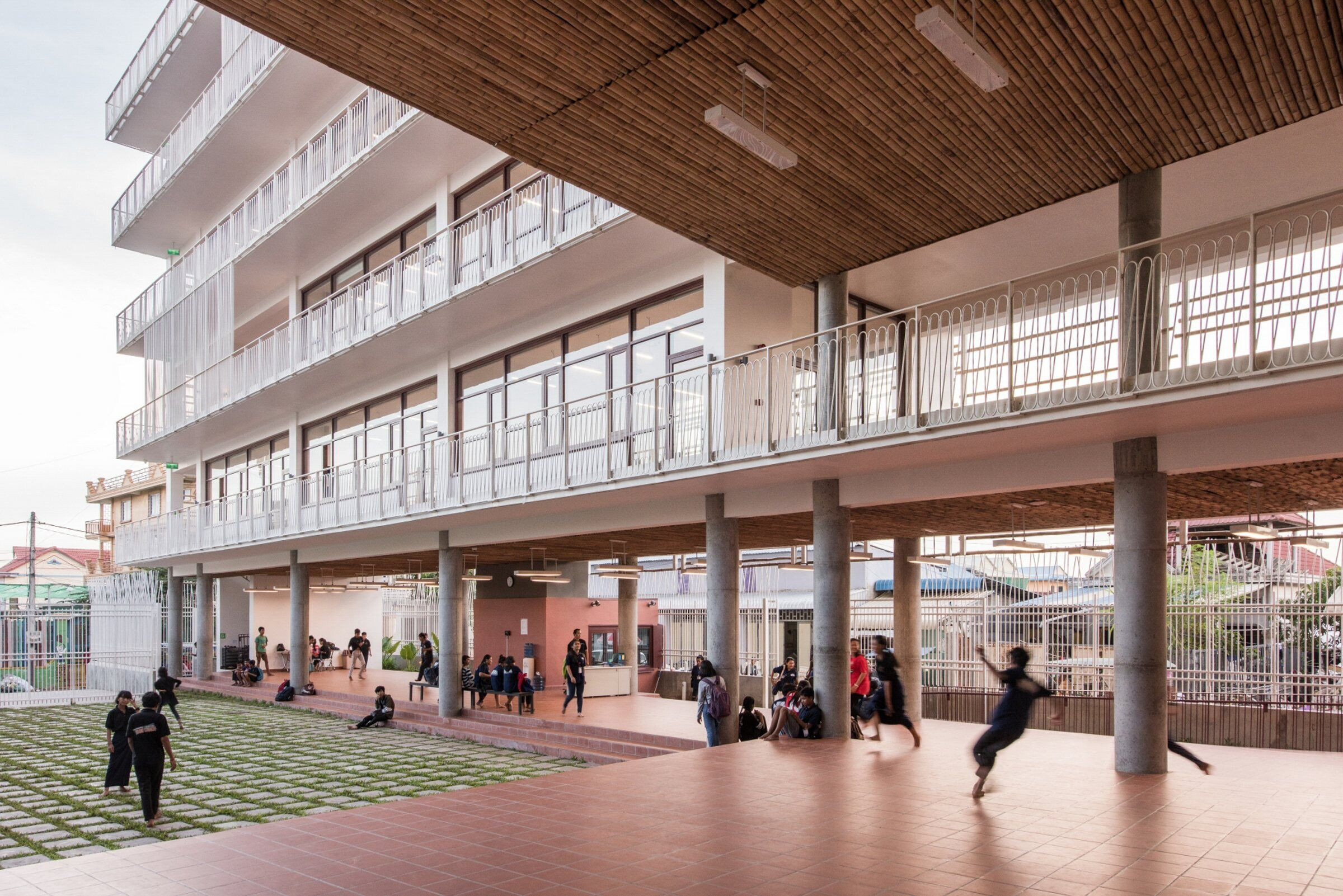 What materials did you choose and why?
We designed Neeson Cripps Academy with an emphasis on local, natural materials such as terracotta and bamboo, to tie the school to its context. The floors are locally made terracotta tiles, weaving warm earth tones throughout. Bamboo screens cover the south side of the building, providing shade and visual privacy. Decorative bamboo ceilings, cut lengthways to create a natural pattern, are interspersed throughout the interior, connecting students to nature. In classrooms, slat wood ceilings help to dampen acoustics.
Along the balcony corridors of the southern wing, custom welded steel railings feature a decorative looped pattern.
Painted plaster and terracotta block fins on the northern portion of the building add vertical emphasis and visual depth while shading the air-conditioned wing of the school to help offset energy costs.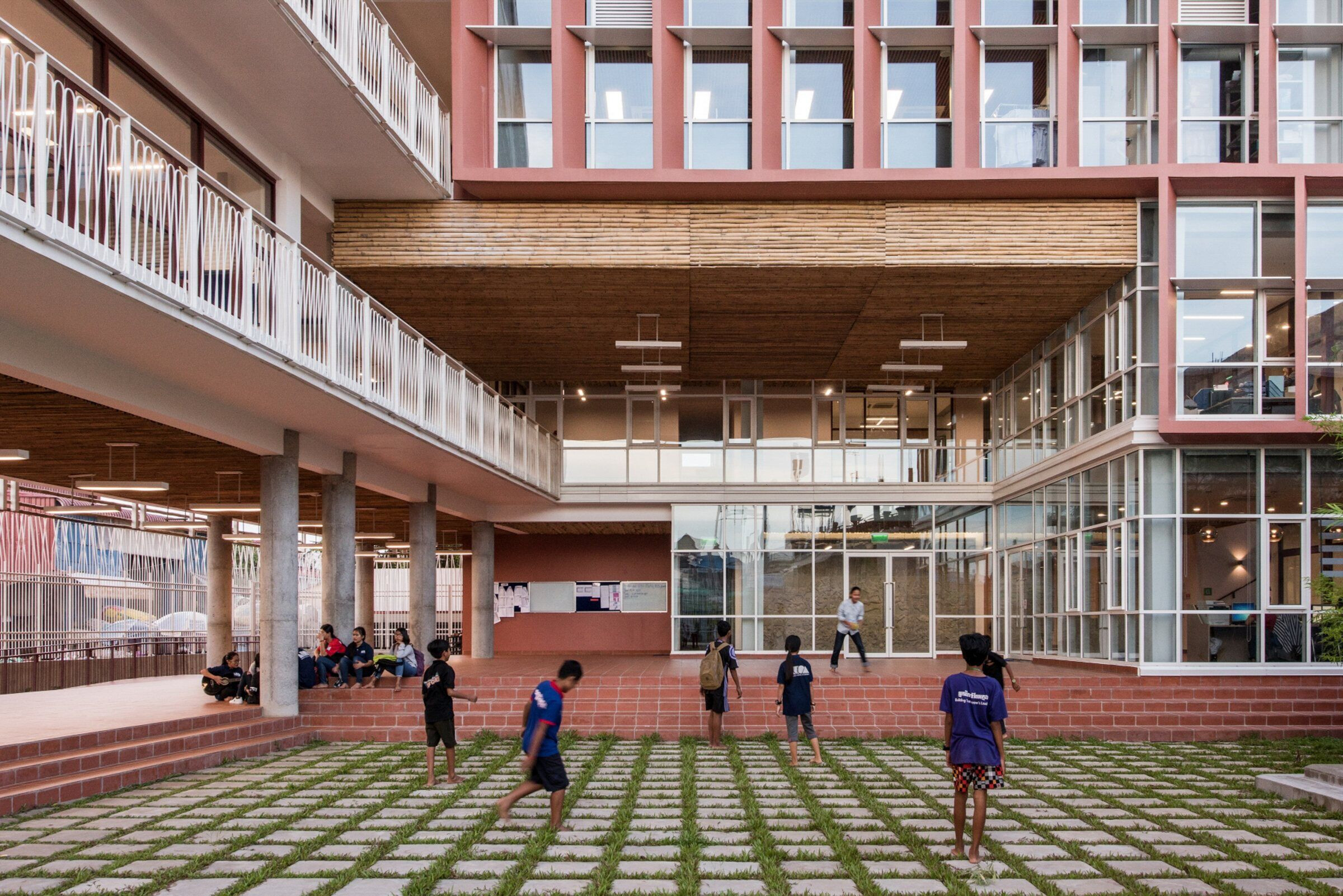 Photovoltaic panels on the roof both shade the playing courts and provide a renewable energy source for the school. At ground level, the courtyard is a permeable, open grid of pavement tiles and grass, allowing for optimal drainage and additional green space.
The school's entry space features a large stone wall carving reminiscent of the Temples of Angkor. The artwork was inspired by drawings from students depicting the past, present and future of Cambodia. Their pieces were translated into a single vision by a Cambodian sculptor and serve as an aspirational reception for students, staff, and visitors.
Team:
• Architect: COOKFOX Architects, DPC
Richard A. Cook, Partner
Pam Campbell, Partner
• Project Architect: Ciaran Conlon
• Client: Cambodian Children's Fund
• Owner's Rep: AHC Management
• General Contractor: Advance Construction and Design
• MEP Consultant: Optima Consultants
• Structural Consultant: iLi Consulting Engineers, Mekong Ltd. (Design), Arcadia Engineering Group (Construction)
• Construction Manager: ACH Management
• Window Wall, Windows: Teasco Glazed Doors
• Solar: Arcadia Engineering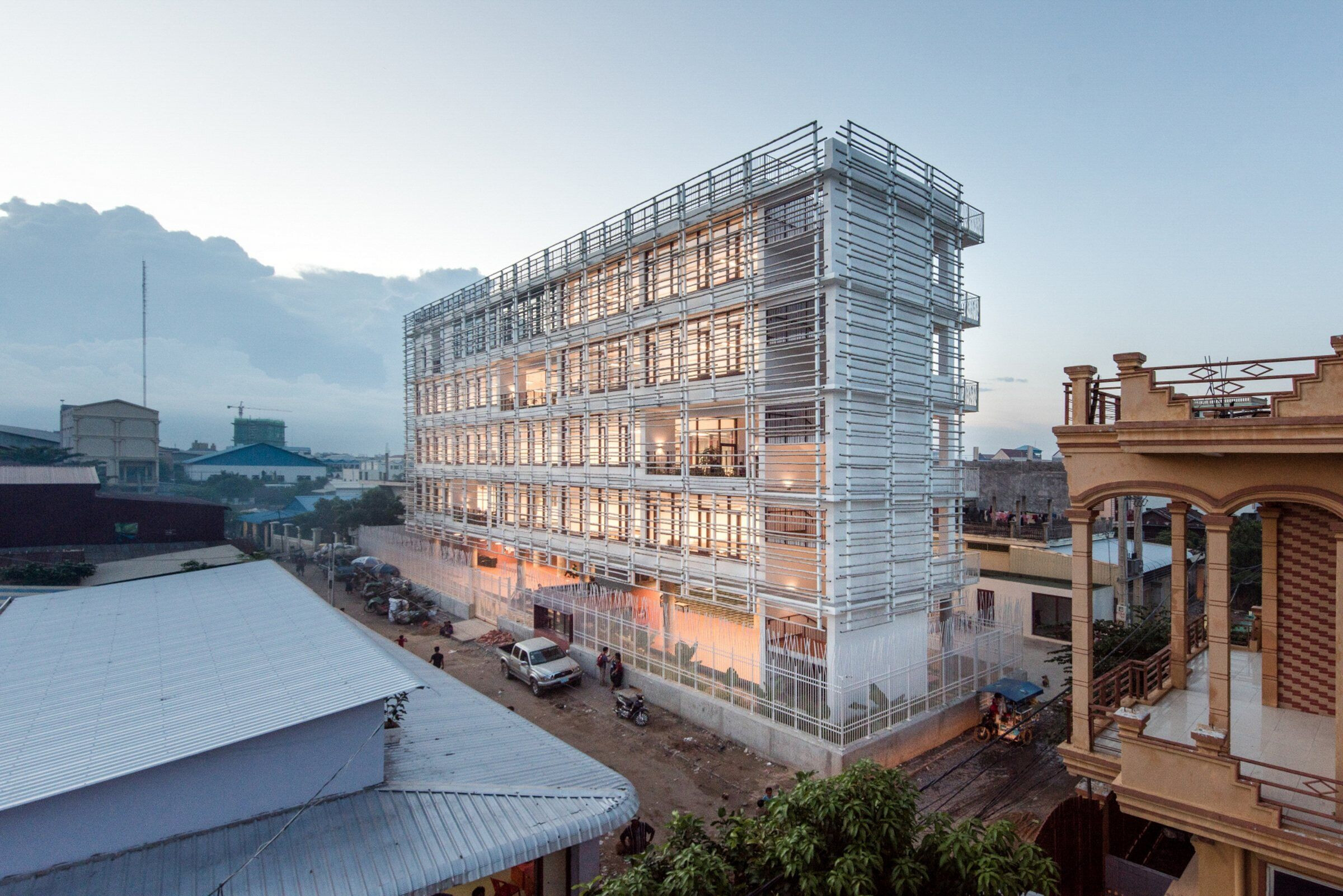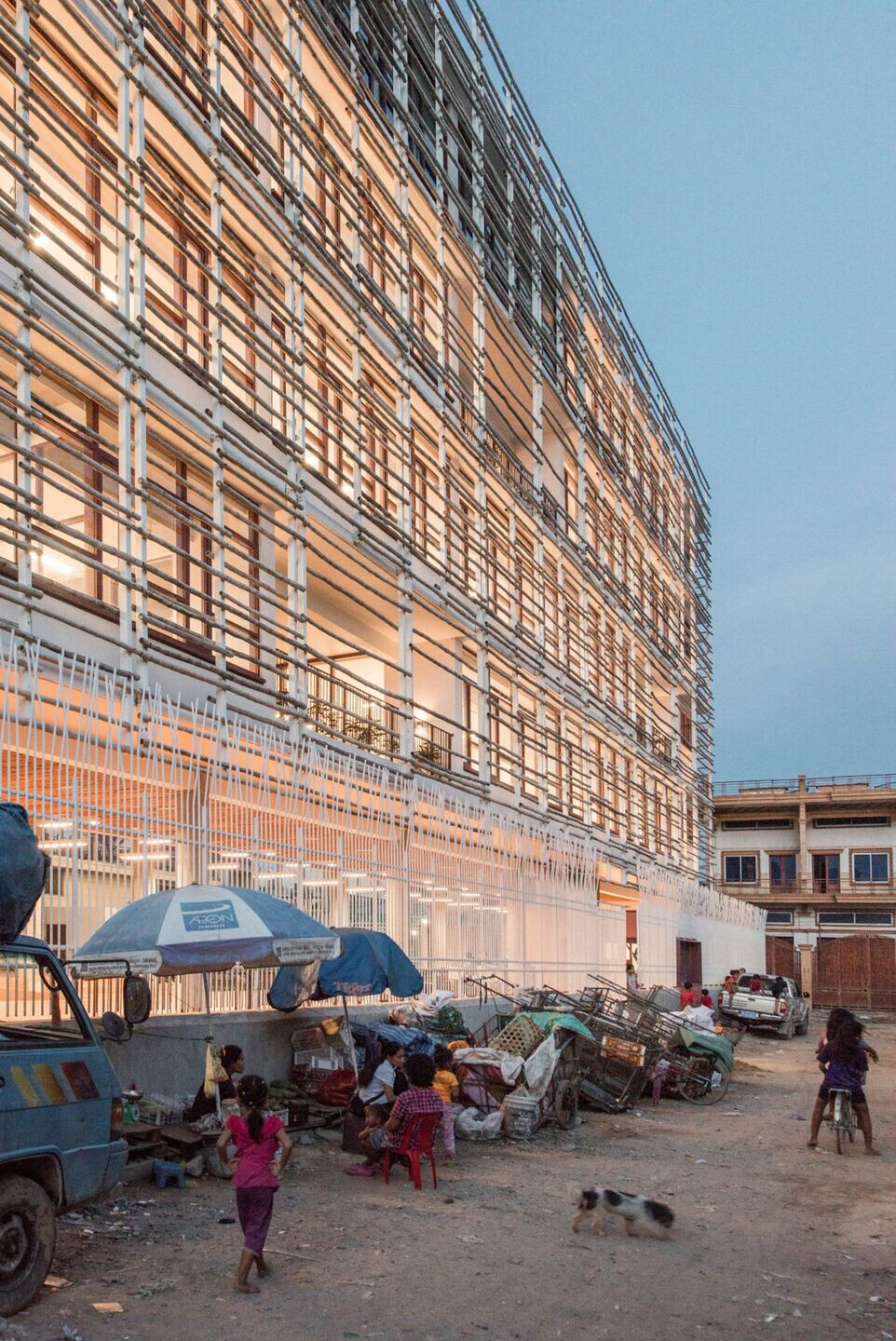 Material Used :
Facade cladding: Bamboo screens
Flooring: Locally made terracotta tiles
Doors: Teasco
Windows: Teasco
Floor: Locally made terracotta tiles
Elevators: Schindler Elevator
Bathroom, Kitchens: American Standard Sanitary Wares