Hollandse Nieuwe opens their new studio
Our new home is a place that shows what we believe. It represents our mission and helps tell our story. The studio is a place where we think, research and discover opportunities within our clients projects. It is our creative place, where architecture, sustainability, collaboration and knowledge are central.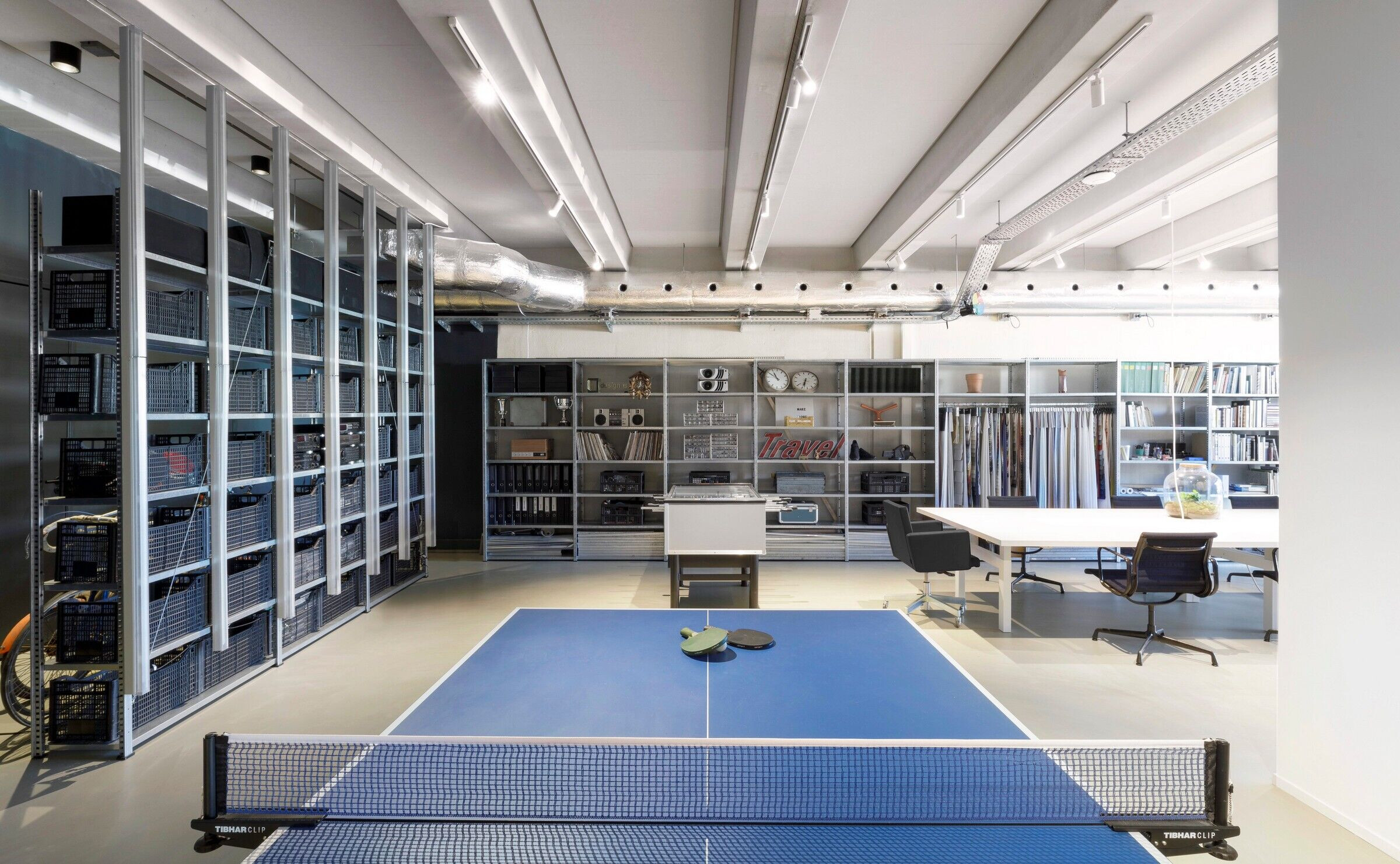 Everyone works differently
Our broad experience helps us to inspire our clients through a variety of themes, from designing for collaboration and knowledge sharing, to stimulating serendipity and implementing agile practices . To support this, our studio is designed as a series of spaces that allow us to develop, test and show these diverse spaces , with each demonstrating a different way of working, learning or inspiring. The first space encountered in our studio is the ground floor. This is our dynamic, creative space where we have our material library, collaborative workspaces, kitchen and the office play space. Here, we work together on our designs with clients and knowledge partners, have office wide dinners and parties, and where we can get a little competitive playing table football and table tennis.
Taking the stairs to the first floor takes us into the spaces where we can work in a more focused concentrated way, including a number of specific areas to collaborate digitally. We have a number of project worktables here catering to different project teams. Large gradient curtains help us to open and connect or close and divide the space as projects and demands change. This flexibility also allows us to play with the degree of intimacy and visual protection in the open spaces. The closed areas are also identical in size, but all have different layouts. Here we consult with each other, have digital meetings or use them for short term concentrated focus spaces. The different classifications are the result of our ongoing spatial experiments. We realize that everyone works differently while also having different tasks and priorities. Supporting this requires a flexibility and variety of layout at all scales.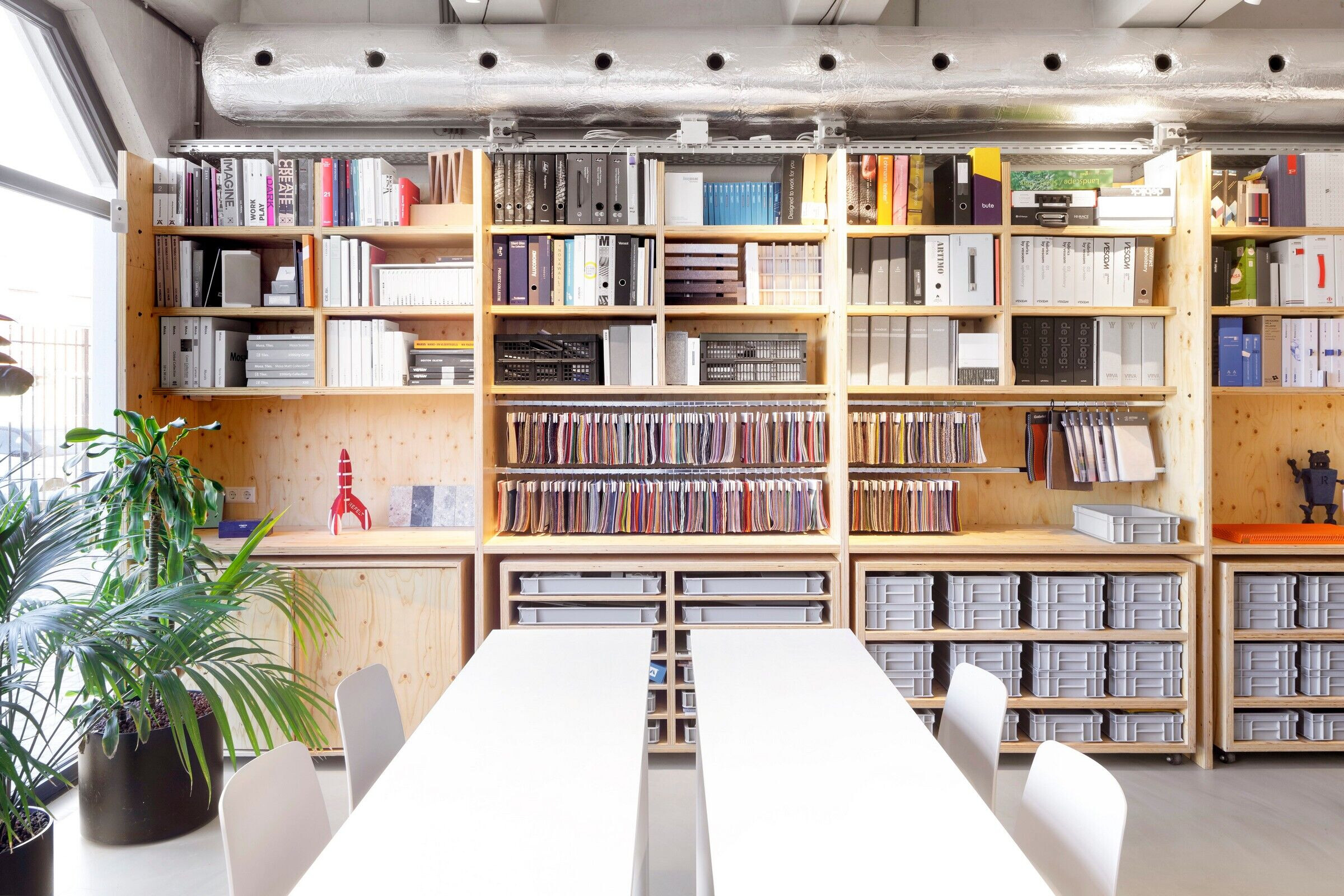 This also applies to the meeting rooms on the second floor. These two spaces located next to the roof terrace were both created as consultation and collaboration spaces, with one being formal and one being informal. This plays into our ongoing work / place experiments and how perhaps consultation could be most effective, both now and in the future.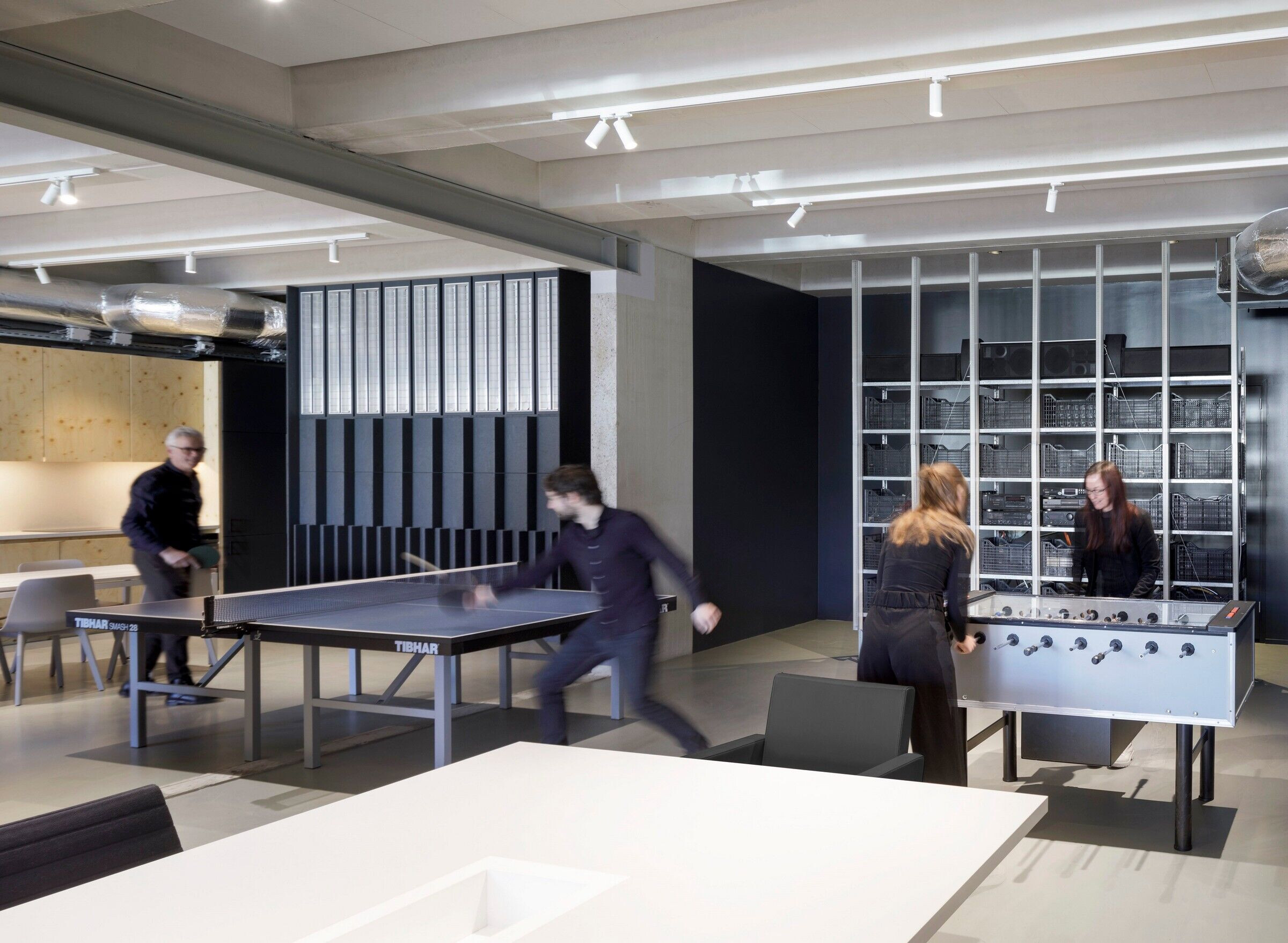 Design & sustainability
Alongside the ideas of diversity and experimentation, furnishing the studio was to also create a sustainable and healthy interior. The concept of 'teach & tell' and 'inspire & stimulate' has led to design solutions that are raw and honest displays of architectural intervention. These points reveal the materials, construction and thoughts behind their creation. One of these moments is where sliced openings in the solid concrete wall are left largely raw and unfinished, showing the build-up of the concrete within. Structural beams topping these openings are left exposed, revealing the structure needed to resolve the opening. And our own timber wall system, designed with sustainability and demountability in mind, was engineered to show its mechanical connections. These black bolts demonstrate very openly how the and modular has been thought of and constructed. These bolts became a feature for all demountable elements throughout the office.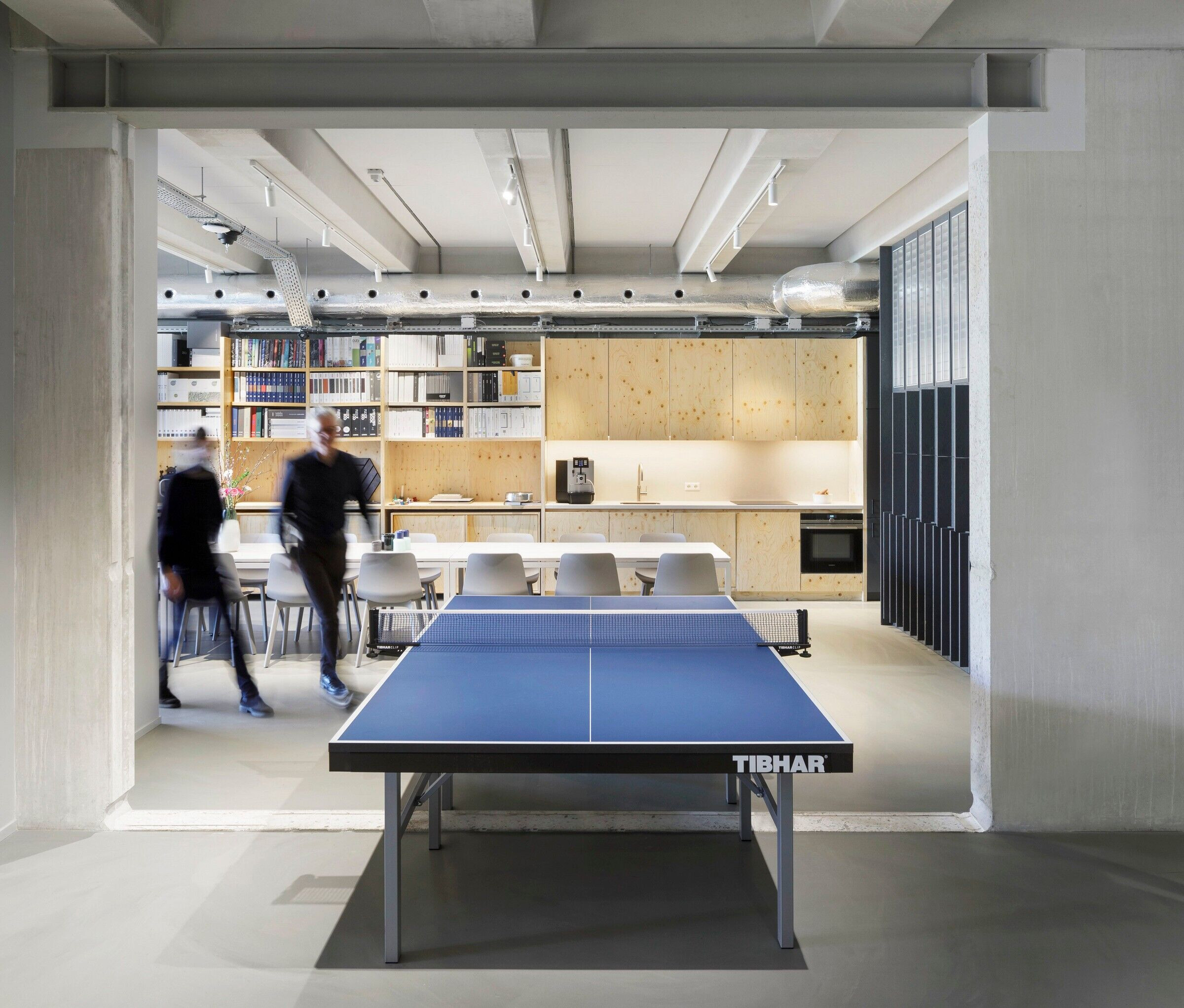 In addition to architectural interventions, we used our old office to harvest materials for the new studio. For example, OSB wall cladding panels from the previous space were sawn, painted and used to create a new custom cabinet. Old fluorescent lighting fixtures were fitted with LED strips and attached to a cabinet, transforming them into a spectacular light object and bar in the evening. Much of the furniture also comes from recycled collections or has been reused directly from the old inventory. Finally. by applying an energy-efficient installation with heat recovery and underfloor heating, it was also possible to create a technically sustainable studio too.