Nike Icon Studios LA is a building packed with constant motion, compressing all of the company's photography and imaging under one roof. The Studios are a hyper-specific, controlled vessel, yet the space is flexible and open enough to allow the rigor of a self-contained ecosystem of production to thrive.
The workplace is and will continue to be a rapidly changing organism. Despite technological acceleration and work that is accessible anytime from anywhere, there remains a vital need for spaces that connect us physically.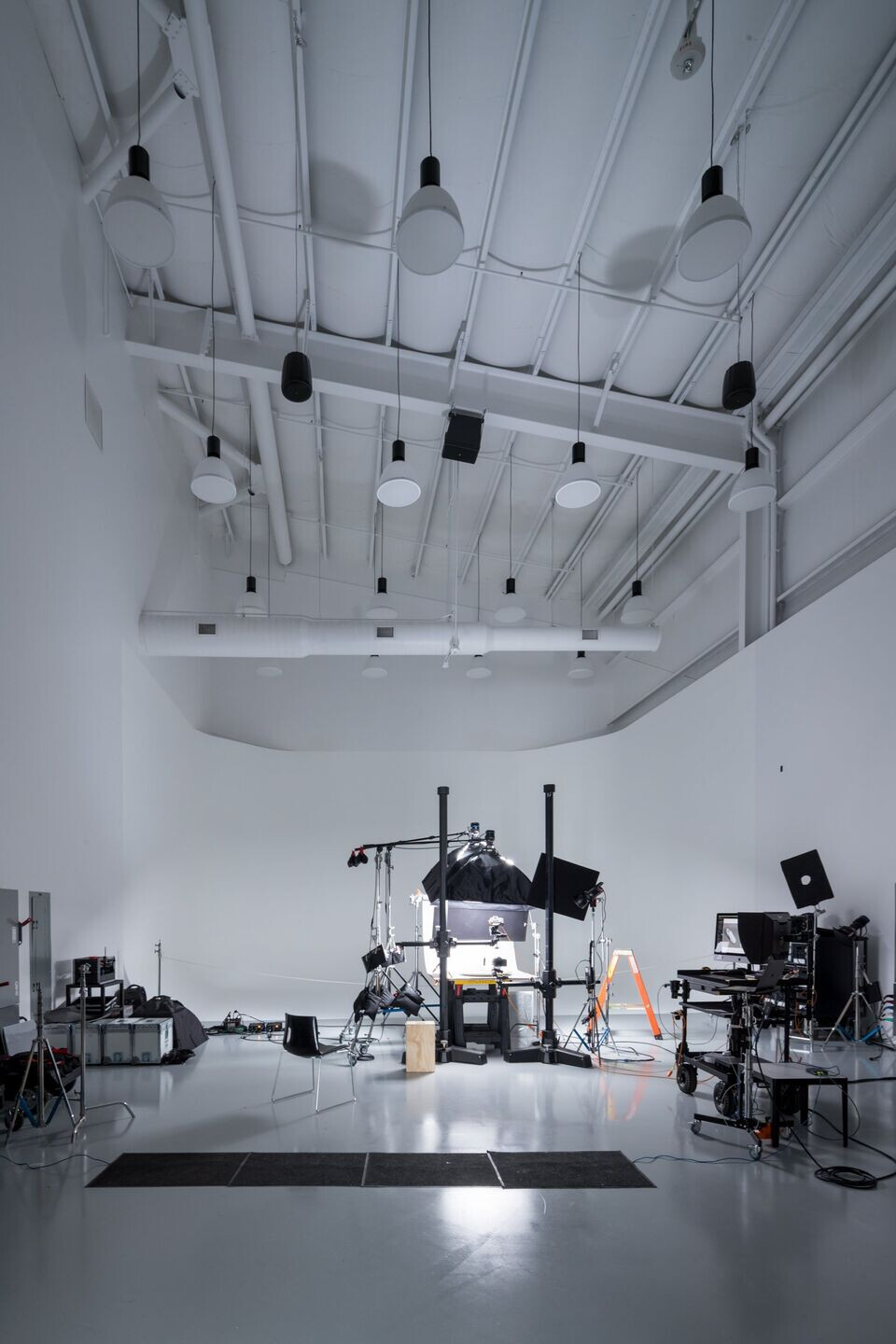 This was true before the pandemic when, in 2017, Nike decided to move their Global Brand Imaging arm from their headquarters in Beaverton, Oregon to Los Angeles, California. Minted as Nike Icon Studios LA, the new building became the flagship photographic studio. Where once pre-production, photography, and post-production were siloed separately, now everything was put under one roof, enabling Nike to streamline their brand imaging operations. Every Nike product, from hoodies to flip flops to Air Jordans, is handled at the Studios.
The building is organized along a central spine which serves as the primary circulation that all the programs generate from. The 487 feet long by 86 feet wide, prefabricated core-and-shell steel building was repurposed to efficiently distill the complete photographic process from product to print. Starting with merchandise arriving on loading docks, products move down the line, as if on a conveyor belt, where they are prepped and primed, dressed on models, photographed, and then edited to be marketed worldwide.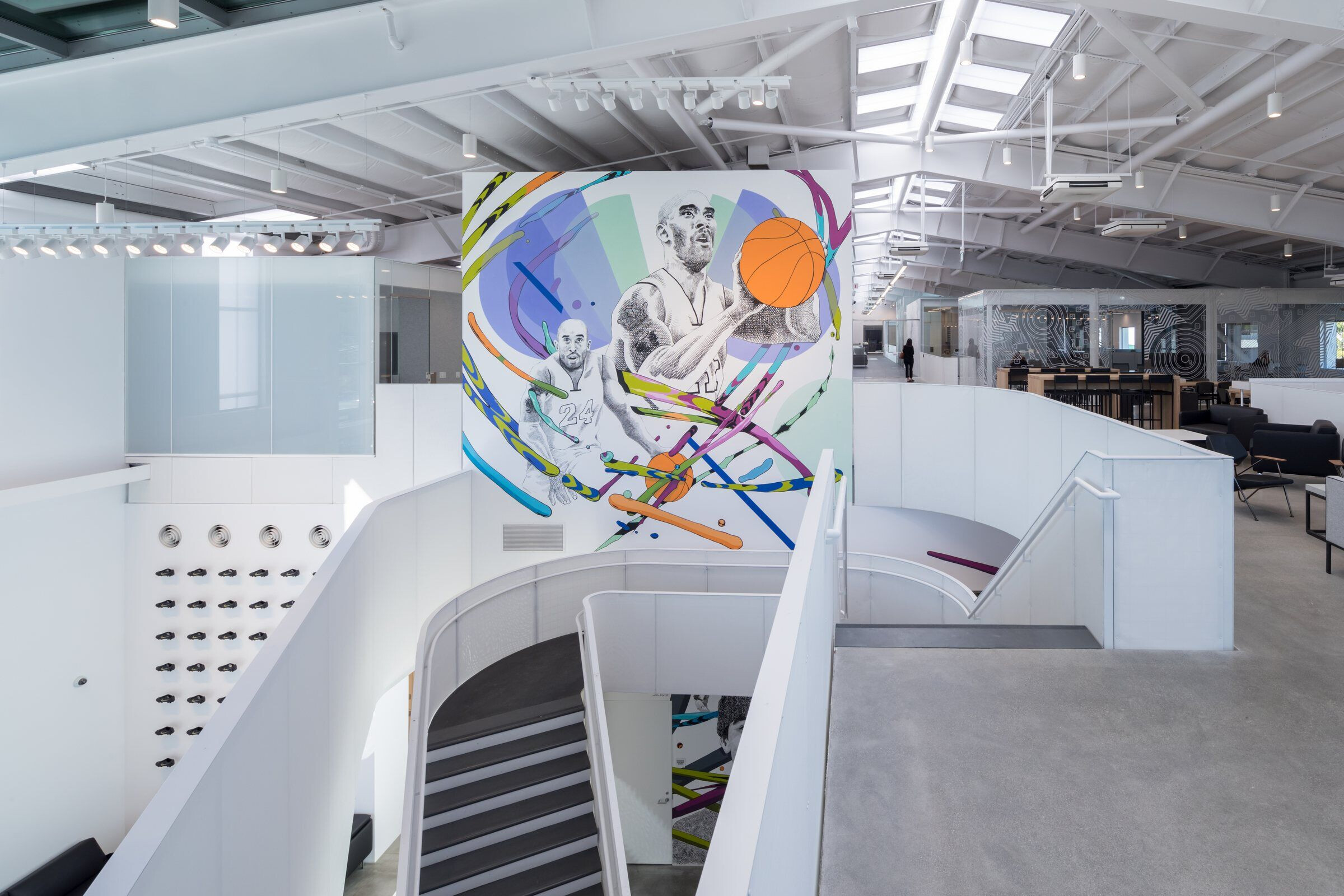 The space is like the filters on a camera lens. Instead of hard boundaries, a series of partitions varying in transparency and opacity, create zones that define each task down the line. In this way, the light quality within the building can be controlled as you move both horizontally and vertically across the building's two levels. The materials not only serve to control light and sound, but also to allow for spaces to adapt.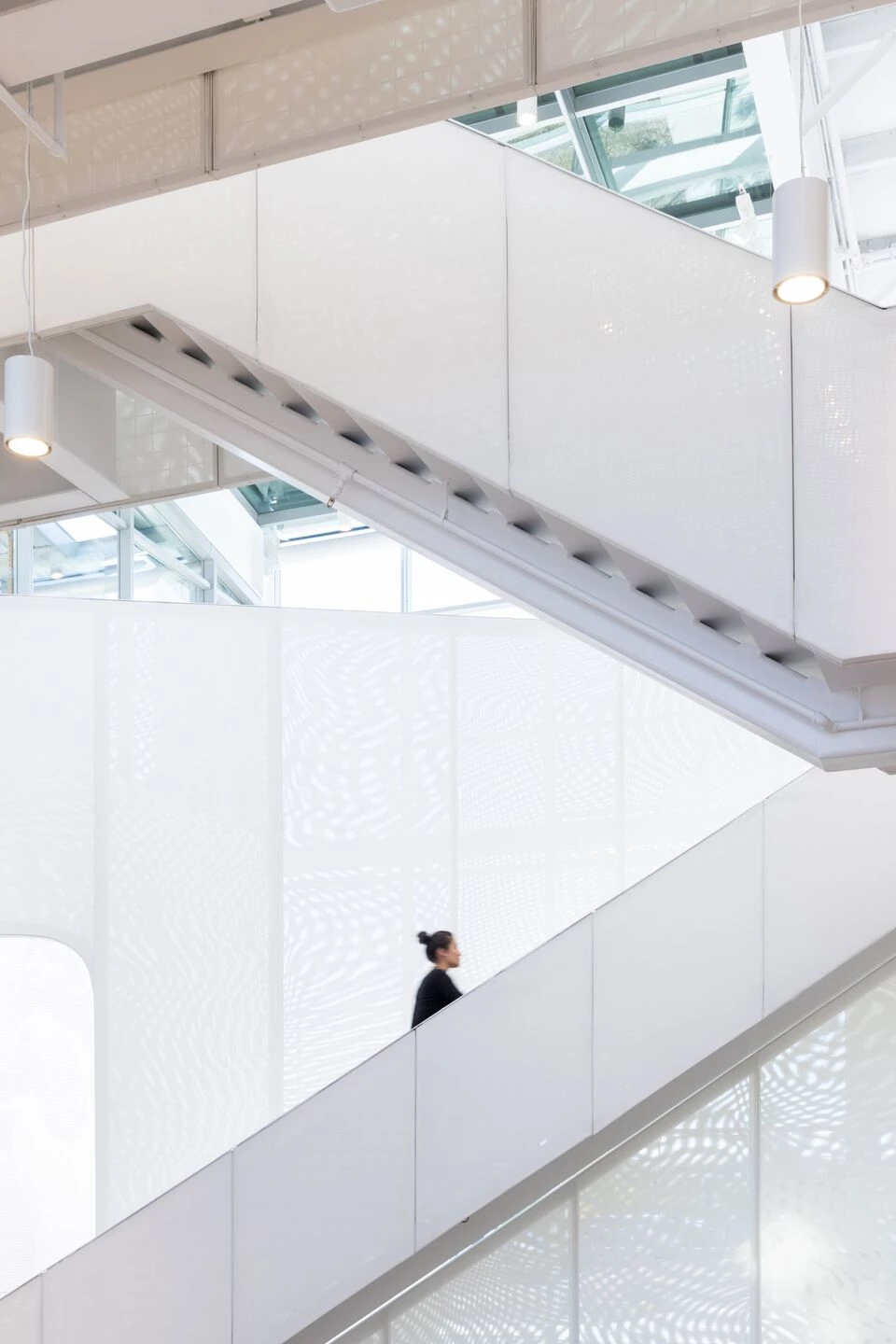 As you move up the building to the mezzanine level, conference rooms and post production studios are separated from studios below by acoustic felt baffles. Light from the perimeter clerestory windows can therefore be controlled as to not inhibit the photographic process taking place on the ground floor.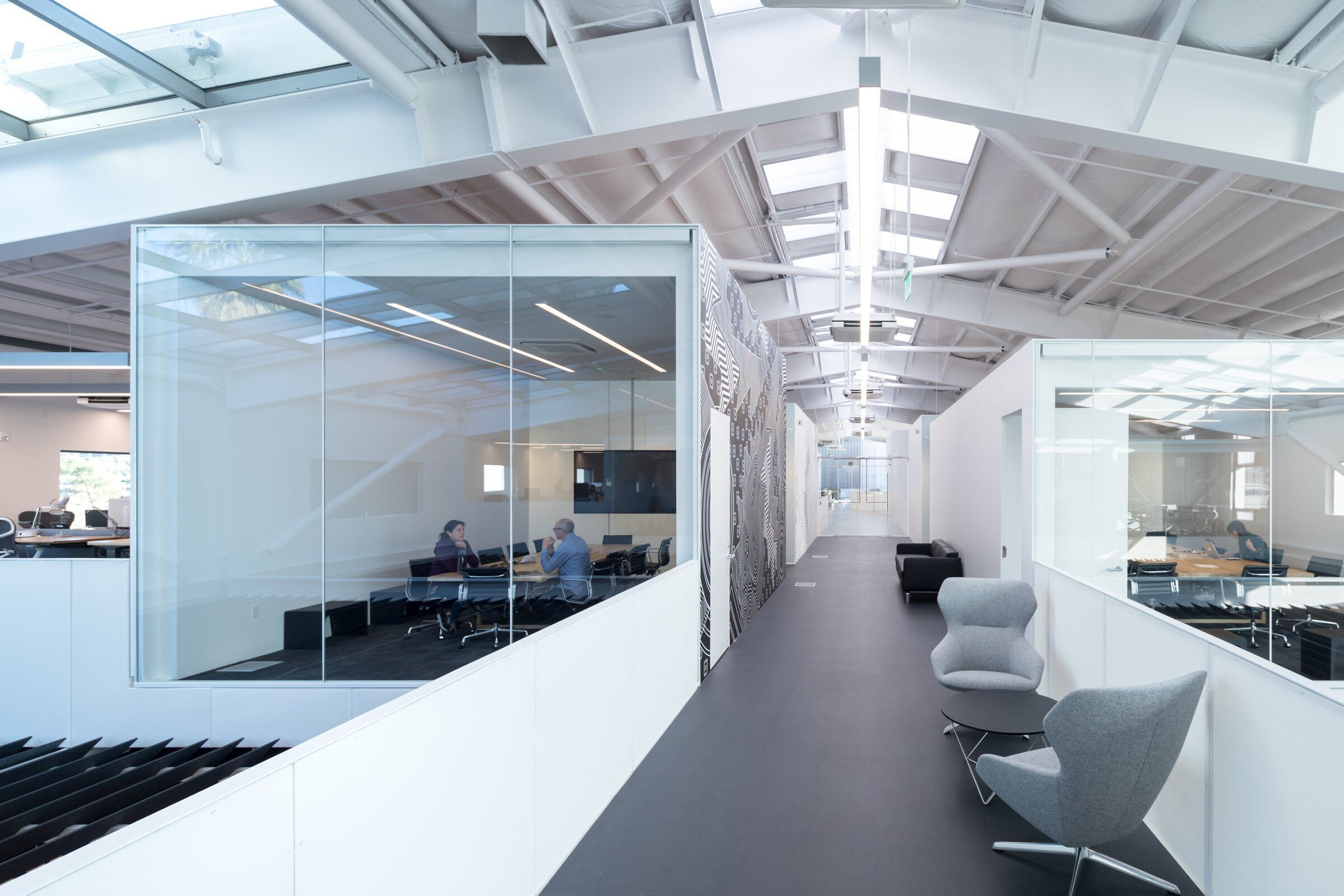 At its core, the project promotes transparency and collaboration between processes that are deeply interconnected but were orphaned and disparate. Photographers, models, designers, and editors now collaborate because the space encourages and permits this necessary creative exchange.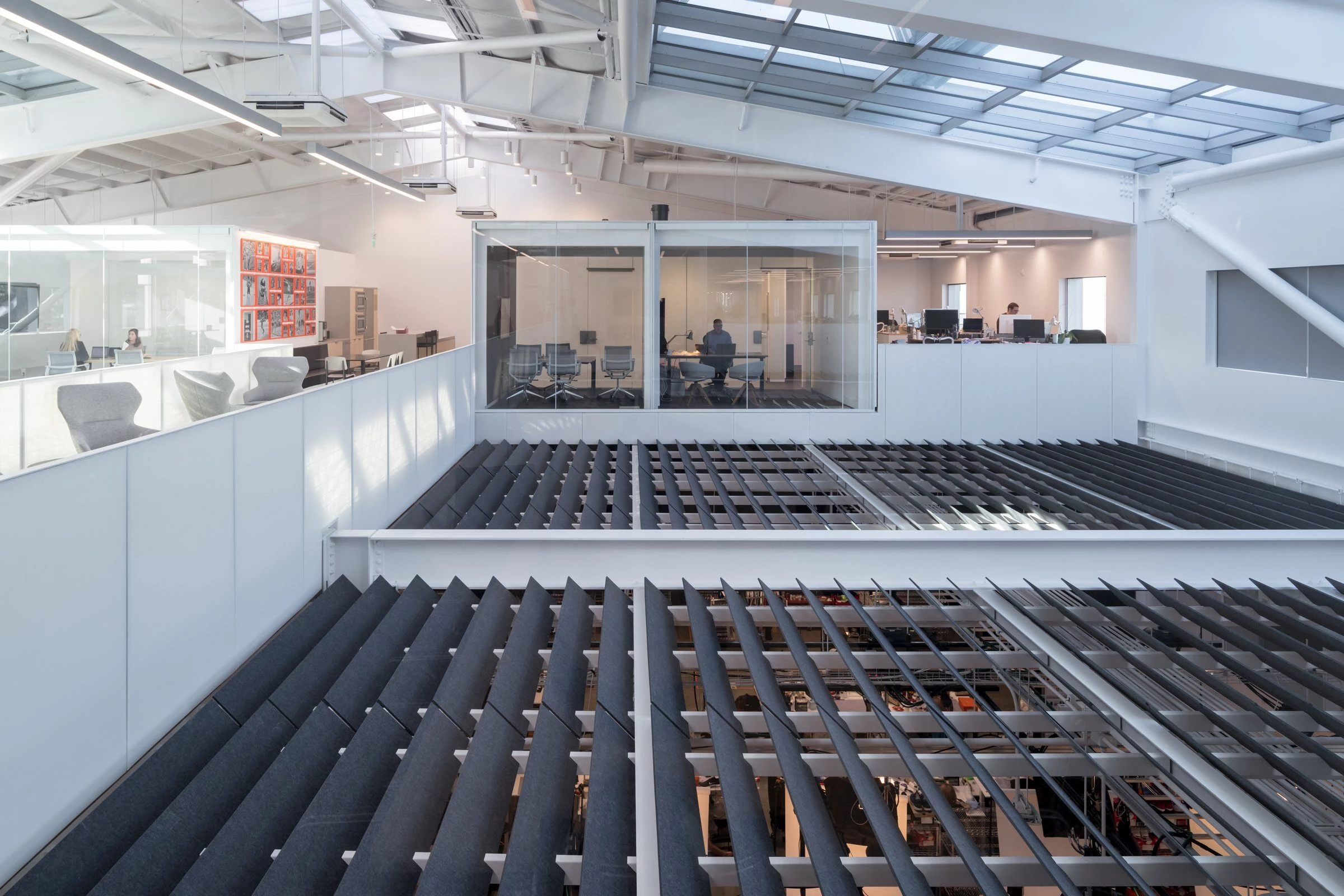 Material Used:
Floor covering:
1. Cork Flooring: 3.2mm Capri Cork Retire Roll, Rtc4743 Charcoal
2. Carpet: Interface Composure 303003 Solitude
3. Exposed Concrete Slab 40 / 60 Grind,Matte Seal, High Speed Wax
4. Hard Trowel Existing Concrete
Walls:
1. Level 4 Drywall W/ Paint - White
Ceiling systems:
1. Suspended Ceiling With Acoustic Panels
2. Manual Mecho Shade 1, White 1% Open, Mecho/5
3. Manual Mecho Shade 2, Nickel 1% Open, Mecho/5
Lighting:
1. Two Circuit / Two Neutral Pro-Series Track System - 120V
2. 22" LED PRISMATIC MINI-BAY
3. RECESSED MOUNT
4. With StepLens Option and 1-3/4" Downlight Insert Option
5. RECESSED MOUNT
6. With StepLens Option and 1-3/4" Downlight Insert Option
7. Dimming Driver Compatibility
8. Selection Guide
9. D6a / Diml6a And D6e / Diml6e
10. D6b / Diml6b And D6f / Diml6f