The new Ontario Tech University Shawenjigewining Hall (pronounced: "zha-wen-ji-GEH'-win-ing" and meaning: "The Kind Place") is an investment in the quality of the Oshawa Campus with a range of formal and informal program spaces that contribute to a richer user experience and a sense of community. Occupying a unique corner condition, it is designed to enhance campus legibility, complete the Polonsky Commons and serve as a primary connector between people, places and programs.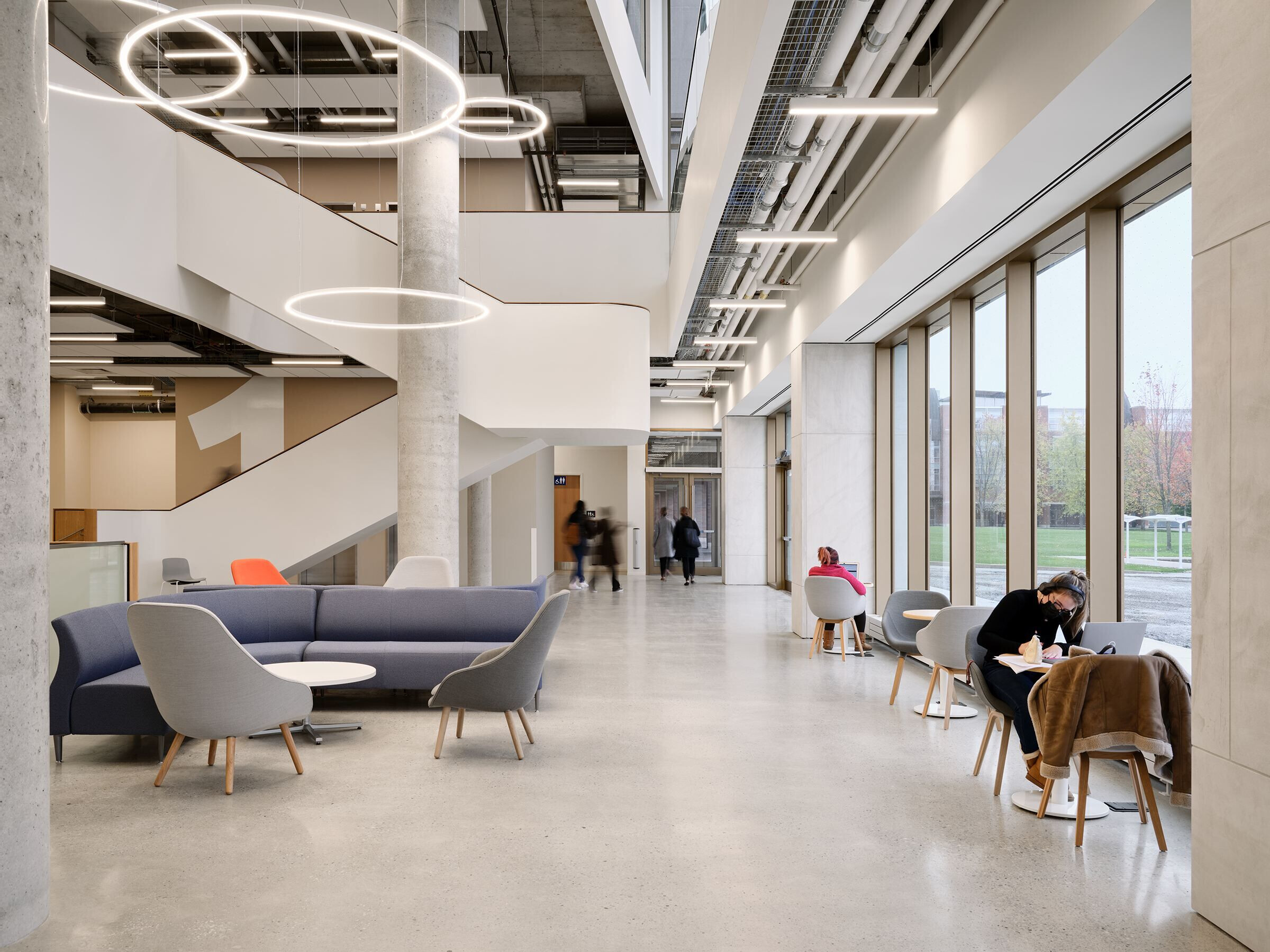 The building delivers 110,000 sq.ft. of new, technology-enhanced academic, administrative and student support spaces as well as a range of amenity and social hubs. On Levels 1 and 2, student union, enhanced-learning, lounge and study areas are arrayed around a large open atrium, activating the perimeter and animating the building frontages. A feature stair connects the activities and animation of these floors with the Lower-Level student club and conference centre. These open, high traffic functions give way to more private, acoustically sensitive areas on Levels 3, 4 and 5 where Student Life amenities, classrooms and administrative offices are punctured by more modest social space typologies for quieter study. An optimal structure grid was developed and applied to allow inherent flexibility in the floorplan without compromising access to windows.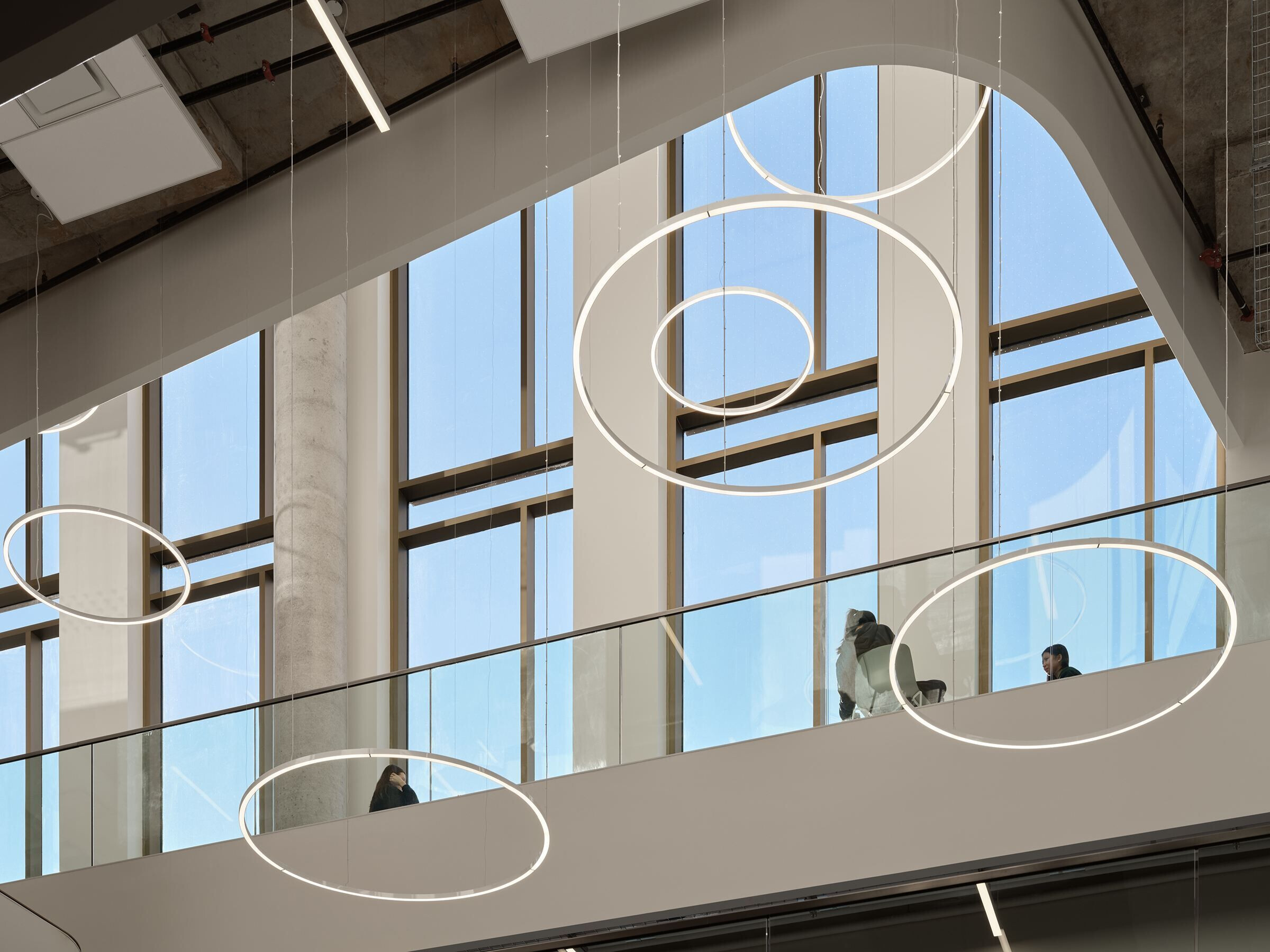 The building responds in height, massing and set back to both the existing adjacent ERC building and future expansion and supports floor-to-floor connections between all three structures. Distinct yet complementary materials – concrete, metal, wood, and stone – offer it a unique expression and tactile quality that is sympathetic to the existing campus fabric. Shaped concrete panels are used to create a playful exchange between light and shadow, weightlessness and mass during the course of the day. A plinth and canopy wrap around the building at the ground floor to create a human scale at the street level.
Common-sense strategies drive sustainability at Shawenjigewining Hall. The manipulation of the façades relative to the solar path achieves a high quantity and quality of daylighting despite their modest 30% window-to-wall ratio. This not only reduces energy loads from artificial lighting but creates opportunities for passive heating contributing to a superior IEQ. The building uses low-carbon fuel sources for heating by using a heat-recovery chiller that connects to the neighbouring geothermal field. It offsets carbon output with an array of photovoltaic panels. Occupancy, vacancy, daylight-harvesting and carbon dioxide measuring controls modulate the building based on actual use.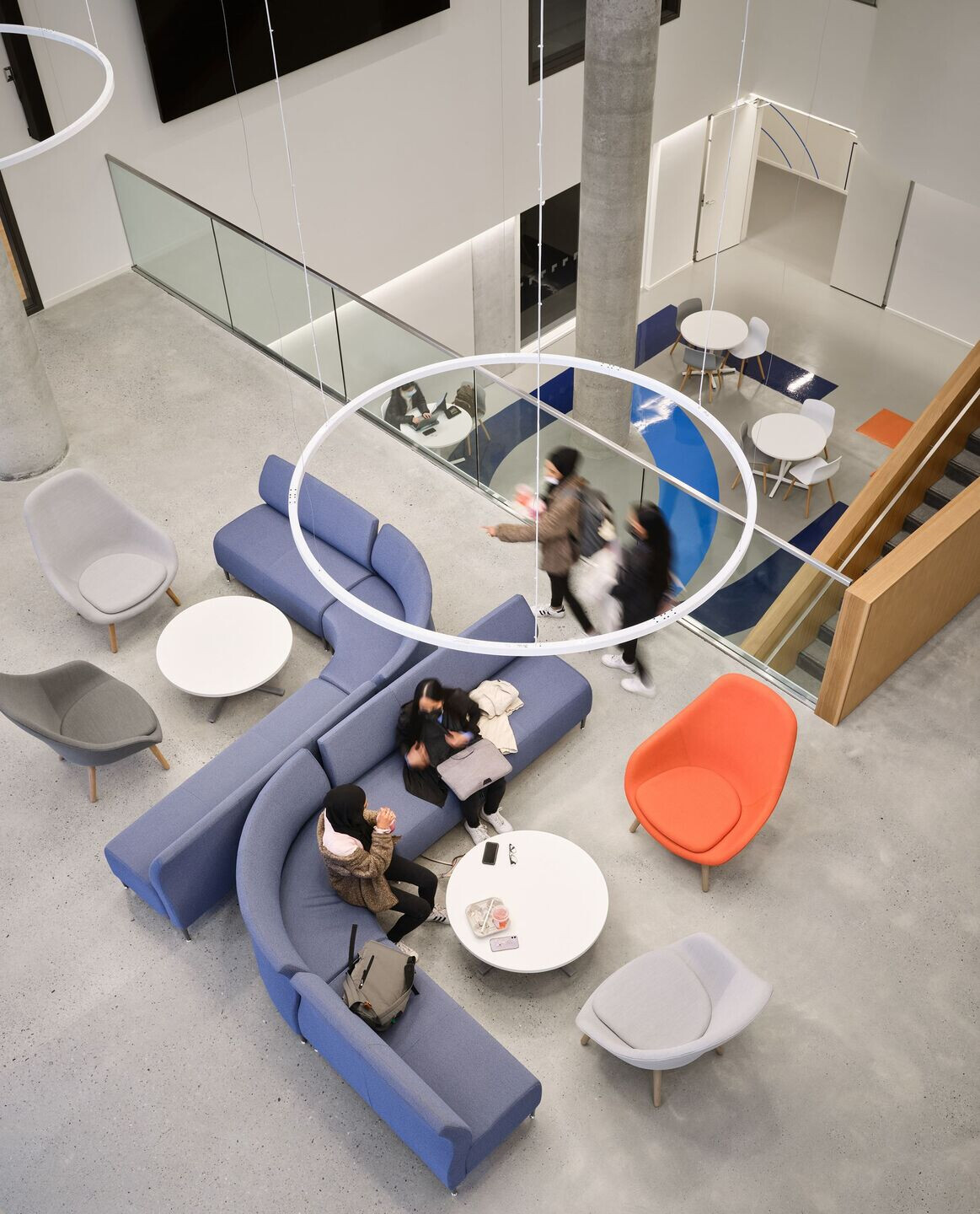 True to its moniker, the building is programmed and designed to break down silos on campus and craft moments where students of different backgrounds and on different academic journeys can intersect, engage and grow together. Spaces like Mukwa's Den, "an indigenous space that offers a home-away-from-home for Indigenous students, and space for all students to connect and learn from Indigenous culture and resources" exemplify this at a human scale.
Team:
Design-Builder: Eastern Construction
Structural: RJC
Mechanical/Electrical: Crossey Engineering
Civil: Biddle
Interior: Montgomery Sisam Architects
Landscape: PMA Landscape Architects