This house can be viewed as an archetype for urban/suburban houses in Sri Lankan capital Colombo. The plot is 20 perches (500 square meters) and the house has an area of 225 square meters so that plot ratio is almost two to one (2:1). It consists of a two storey range of cellular spaces, bedrooms above, car port, kitchen & guest bedroom below and open into double height living dining space under a high, tent like, sloping ceiling. The idea of the house with its steeply sloping roofs and its articulated volumes, has been developed from the pioneering modernist houses that Danish Architect Ulrik Plesner built in and around Colombo during the early 1960s.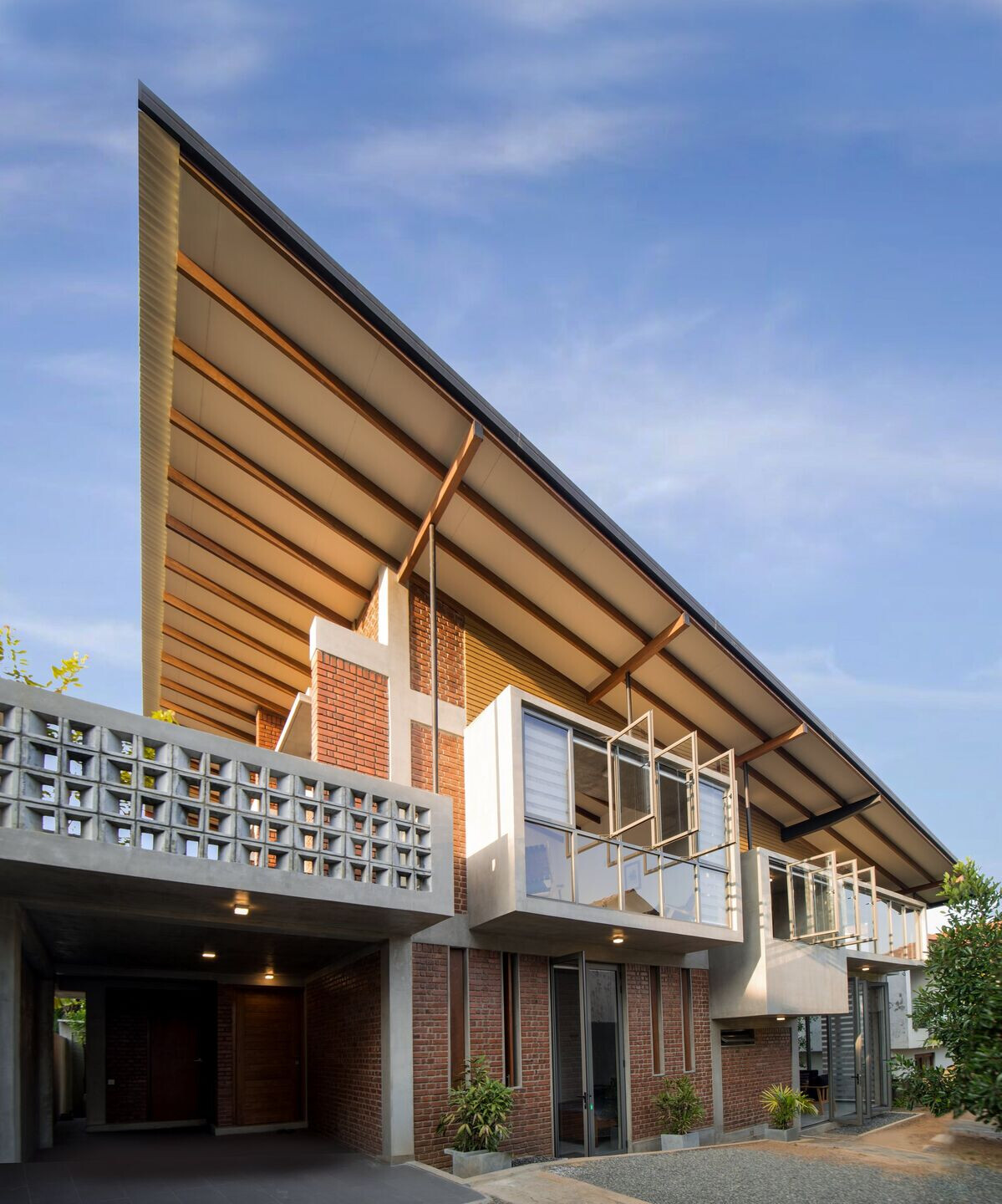 The materials are low cost and locally produced- a simple concrete frame with exposed clay bricks and a roof of corrugated zn/al roofing sheets. The extended overhanging eaves shield the rooms from the sun and monsoon rain, and the section encourages cooling drafts.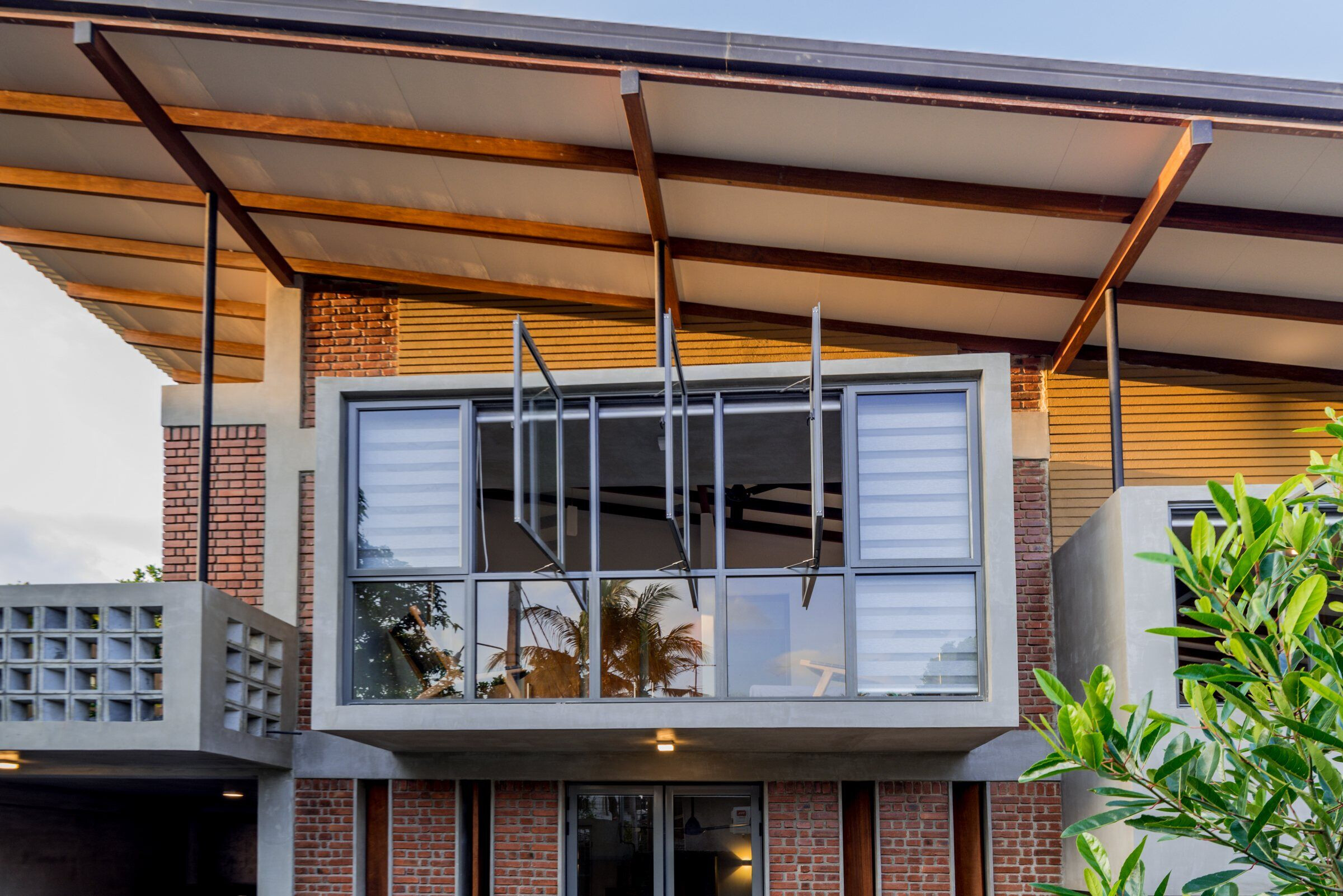 The most important element is the upper floor open to sky terrace. It is this space that breathes for the whole house and that registers the passage of time and the changing patterns of the weather. When the sun shines the garden around the house glows and transmits a diffused light into the double height living dining room and when it rains it is as if a solid curtain of falling water has been drawn across.
In the colour scheme, the ceilings are a soothing light grey, the main roof rafters are natural timber colour and columns and edge beams are cement handled wall finish, while tubular steel props on the extended roof eaves are painted black.
Although relatively small, this 'jewel' of a house functions admirably as a home. It is built very specifically, made of brick and plaster, so very inexpensive. The idea was to build dignified quality house, in an extremely economical way that addressed their function to live and as place of shelter but going beyond also something much more pertinent.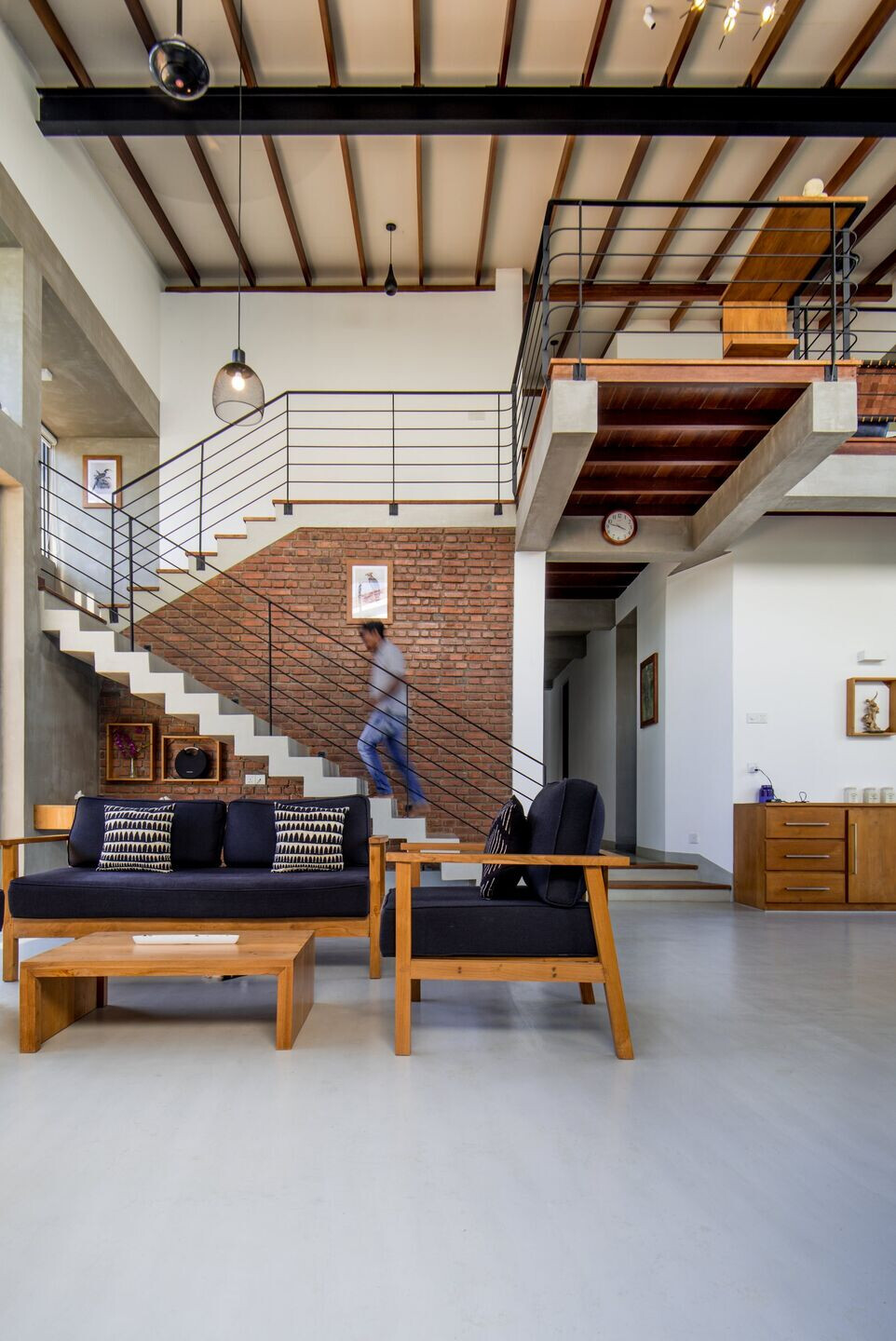 Because the house is finally what needs to be experienced emotionally, physically and experientially,the project seeks to create an interiority that is intimate, secure yet open to the environment, providing respite and absorbing through time the ever changing forces of the tropical monsoon weather through the garden around the house.
Team:
Consultants: Chinthaka Wickramage Associates
Architect: Chinthaka Wickramage
Engineer: Palitha Perera
Quantity Surveyor: Kaushalya de Silva
Contractor: D E de Silva & Sons (pvt) Ltd