OMA/Jason Long and Lovett Commercial Celebrate Major Construction Milestones with Public Opening of POST Houston
The transformation of the historic POST Houston from a United States Post Office mail sorting warehouse to a cultural anchor and public destination for downtown Houston has reached significant completion of its first phase. Completed areas of the building opened to the public for the first time.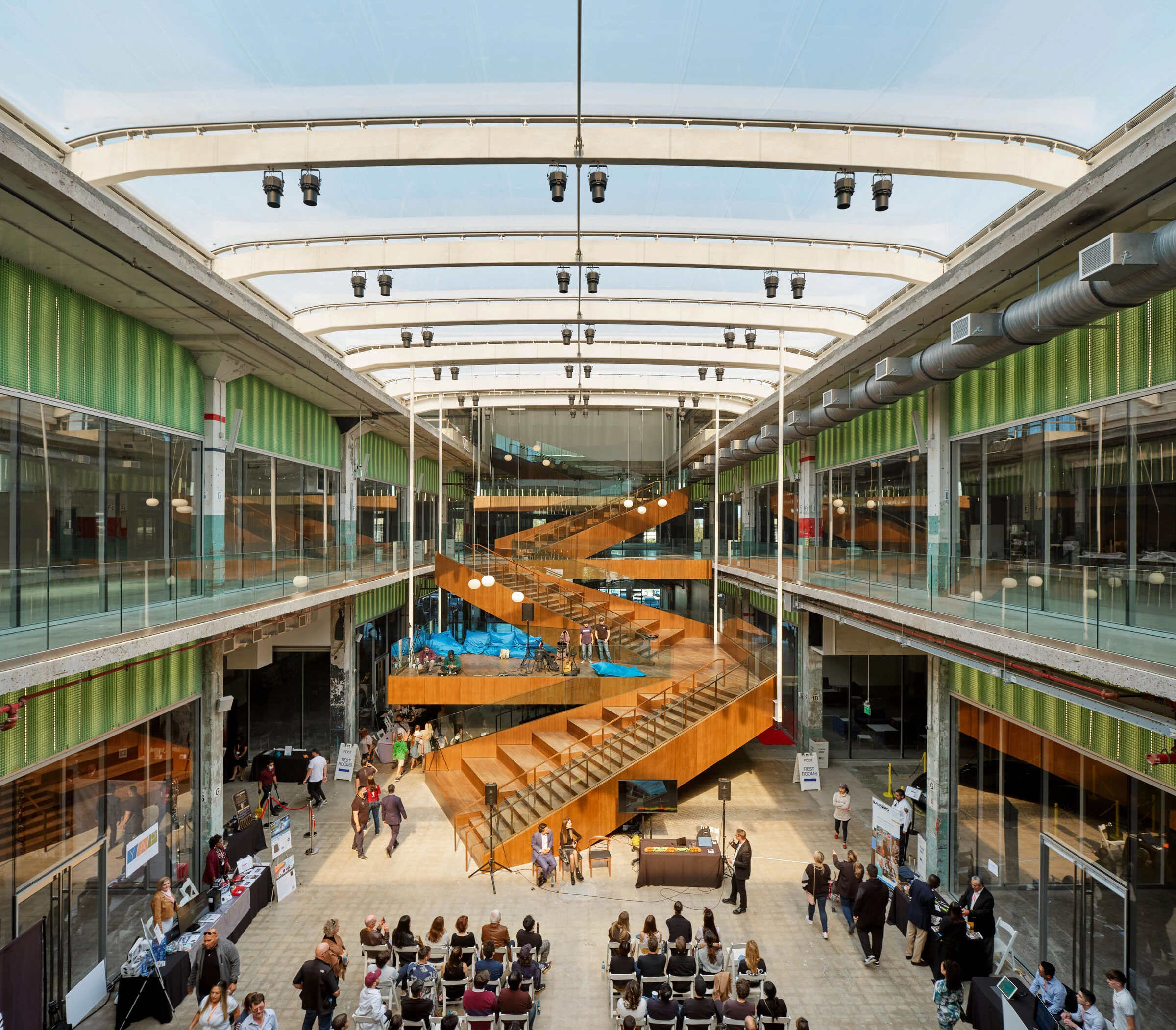 The first phase of POST Houston is nearing completion. Three atriums (X, O, and Z) and the rooftop Skylawn were unveiled to the public on Saturday, November 13th, when the complex opened its doors to approximately 40,000 visitors from the local Houston community for a festival of programs and activations in and around the 500,000 sf building. From a car show and tailgating in the parking lots; a business expo and book launch in the Z-atrium; a bustling market of over 30 food vendors and retailers in the O-atrium; a late night rave and aerial performances in the Xatrium; multiple art installations and concerts in to-be-occupied territories and the loading dock; to yoga and film screenings on the rooftop Skylawn, a new public life returned to the building.
"We are thrilled to have completed phase I of our ambition for POST Houston despite all the challenges of building during a pandemic. We hope that this milestone will be one of many in our quest to create a game changing project exploring novel forms of urban commercial real estate."

– Kirby Liu, Director of Development, Lovett Commercial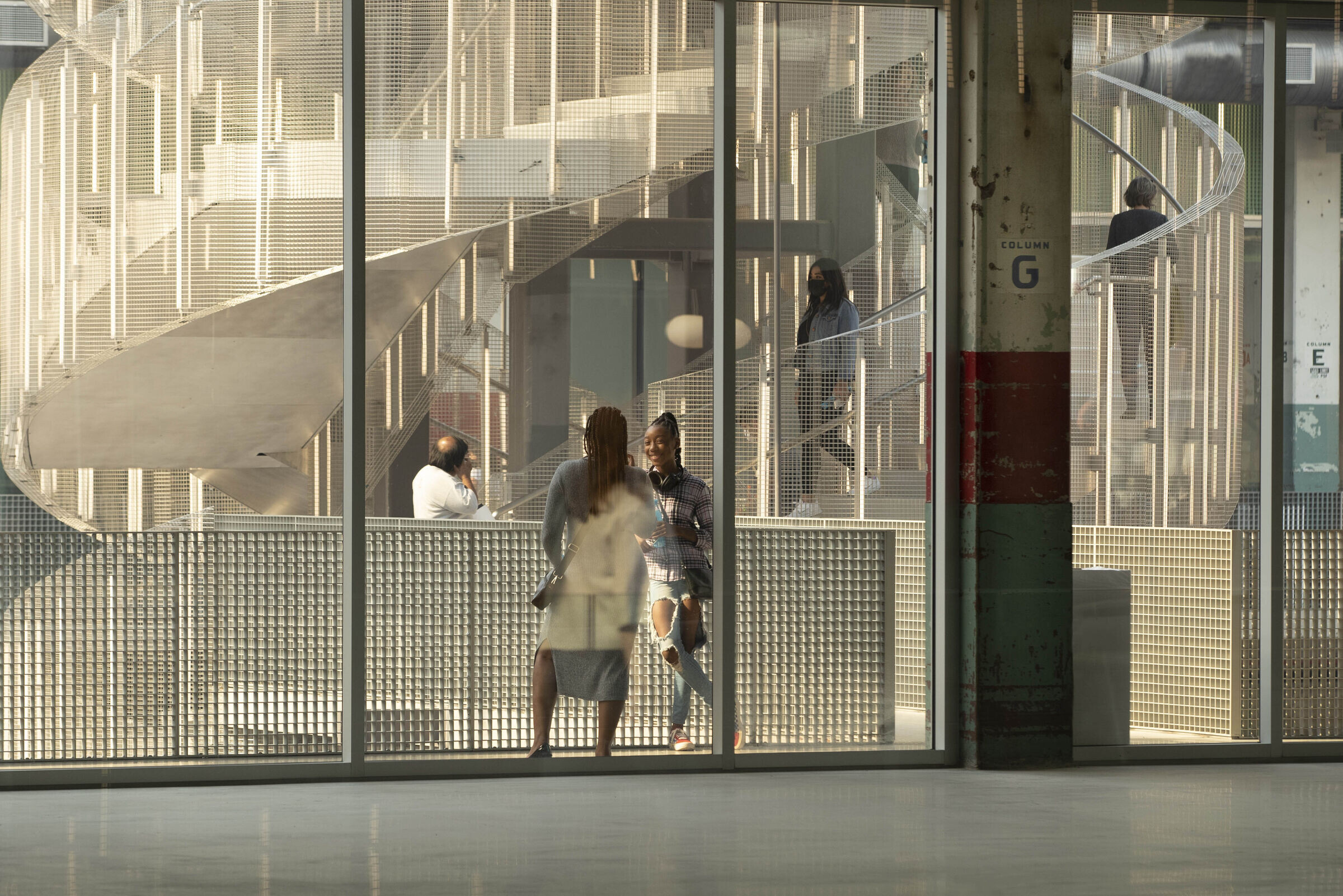 Designed by Jason Long and OMA New York, POST Houston is an active and mutable collection of programs that can evolve together with Houston as the city continues to diversify not only demographically but also culturally, socially, and economically. The first phase balances re-use with surgical interventions that integrate the 16-acre site into the fabric of the downtown. Like farmers working on concrete soil, OMA raked a series of horizontal thoroughfares into and through the existing building. Three interior voids bring light into the deep floorplates and intersect the building at three levels: a commercial ground plane, a second level of expansive offices; and a 6-acre rooftop park above. The three bands establish zones for cultural and retail, food market, and collaborative workspace programs.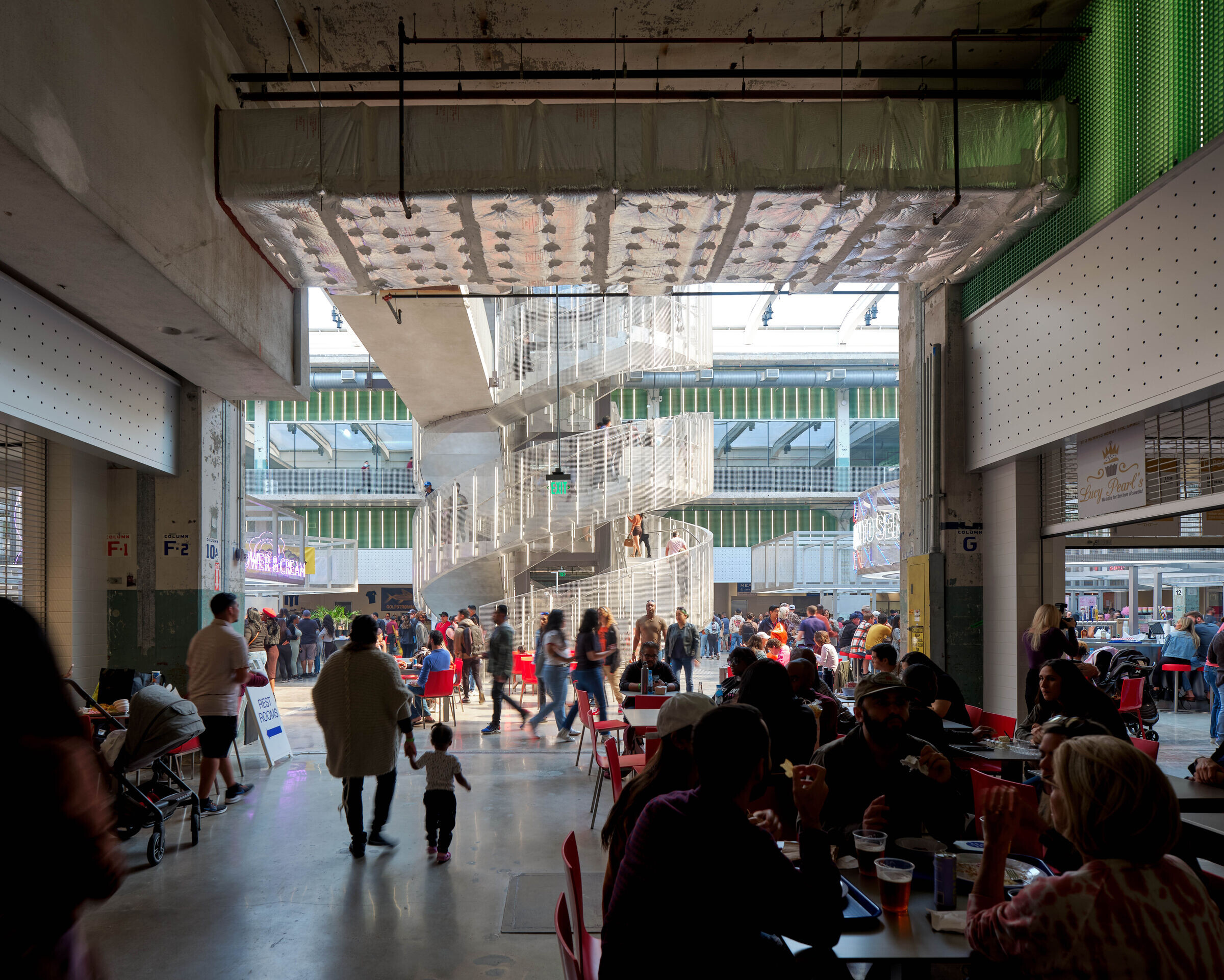 The three atriums—named X, O, and Z— each contain a monumental staircase that leads visitors up to the roofscape and vistas back to downtown. The stairs are distinct in character, structure, and material, but all are designed to encourage interaction. Their paths are doubled, intertwined, and expanded to provide not just trajectories up to the roof but places for accidental encounter—each is an instrument to bring people together. POST Market, a large food hall in the O-atrium within the middle of the building will continue to be open to the public. A system of stainless-steel elements—seating, counters, kitchens, and a floating mesh halo—compose a family of kiosks mirroring the diversity of Houston's food scene. Their varying shapes and orientations create a dense matrix punctuated by unexpected clearings and view corridors. Vendors are organized from small to large: clusters of graband-go kiosks at the north and south and larger kiosks towards the center that provide wider potentials for food prep and dining. Together, they enable multiple social configurations, from anonymous to engaging, dinner-for-one to feast-for-fifty.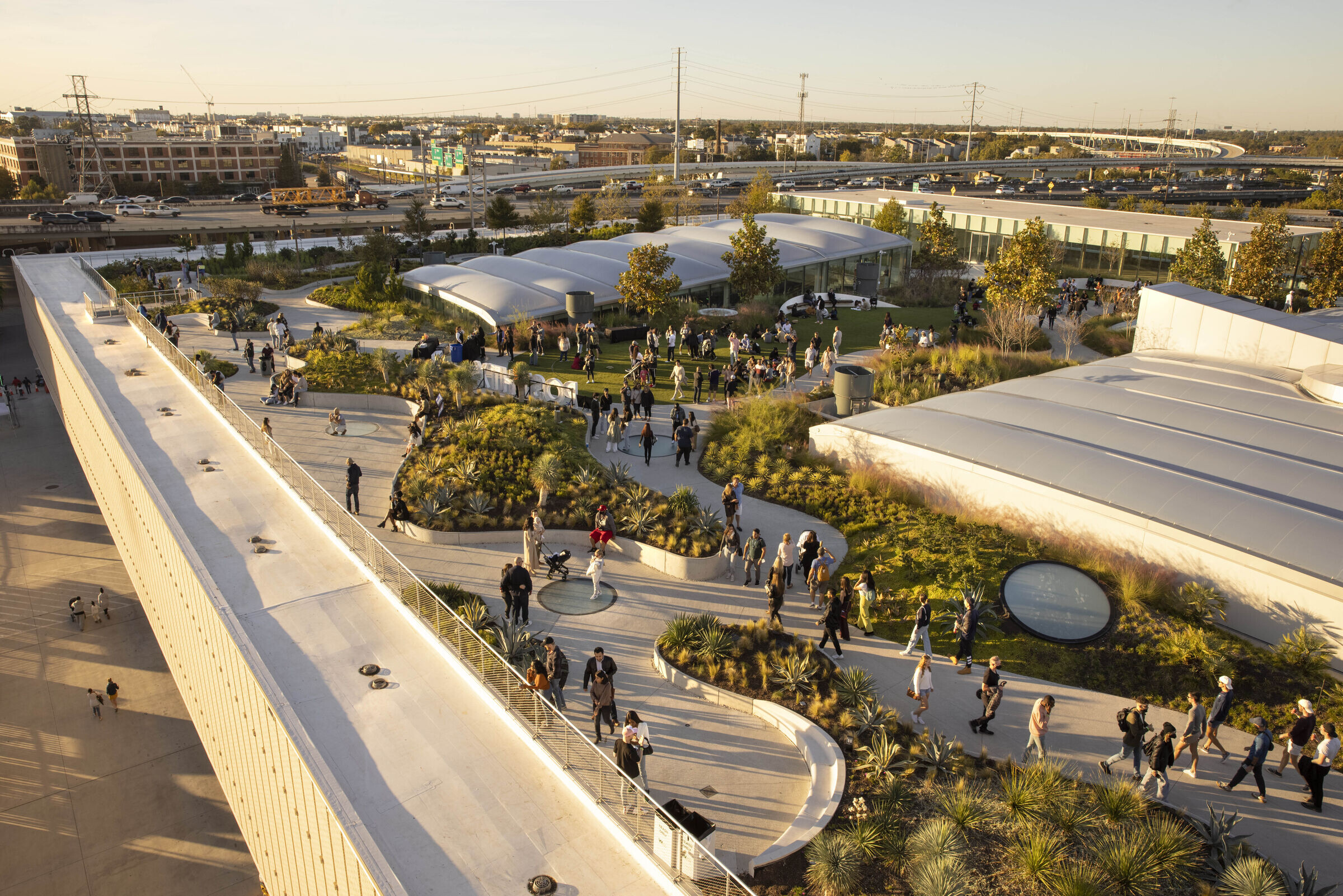 "This week's initial events were an exciting first step. POST Houston will be a microcosm of the diversity that makes the city itself so exciting: an agglomeration of culture, food, and tropical urbanism housed within a solid concrete shell. The impact should be larger than even the massive footprint of the warehouse itself. By cutting into the building and drawing people in and through it, we are aiming to fold different programs into every corner—weddings next to food halls next to concerts next to new ways of working—and to turn Houston to a view that reveals the city's radical ambition."

– Jason Long, Partner, OMA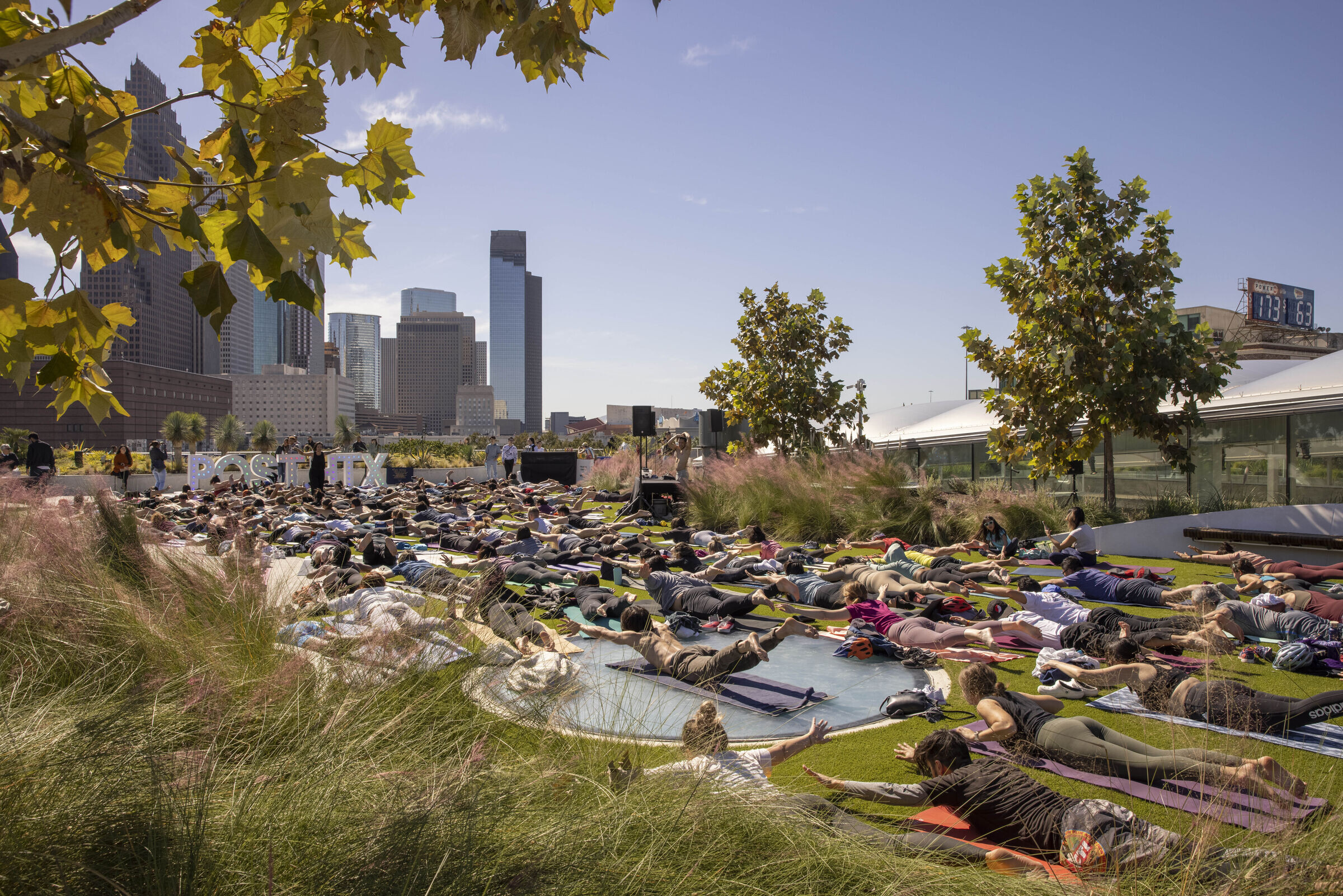 At the center of the grid of kiosks, two stairs wound together like a spring connect the market hall to the POST Houston rooftop. On the rooftop Skylawn, the low-rise warehouse gives way to an uninterrupted view of the downtown skyline. The expansive roofscape provides room for two additional restaurants and a "Texas-sized" urban farm, that together a landscaped grove of additional performance zones, shaded gardens, and recreation areas, create 170,000 square feet of new public realm for downtown Houston. The building is as much a gateway as a destination. It is a link to a new public space within the city and dramatic view out over its juxtapositions—of infrastructure, business ambition, and natural vitality. Following an initial masterplan and event space studies in 2016, the project began demolition/construction in January 2019. OMA/Jason Long have also designed the 713 Music Hall for Live Nation, located on the eastern wing of POST Houston.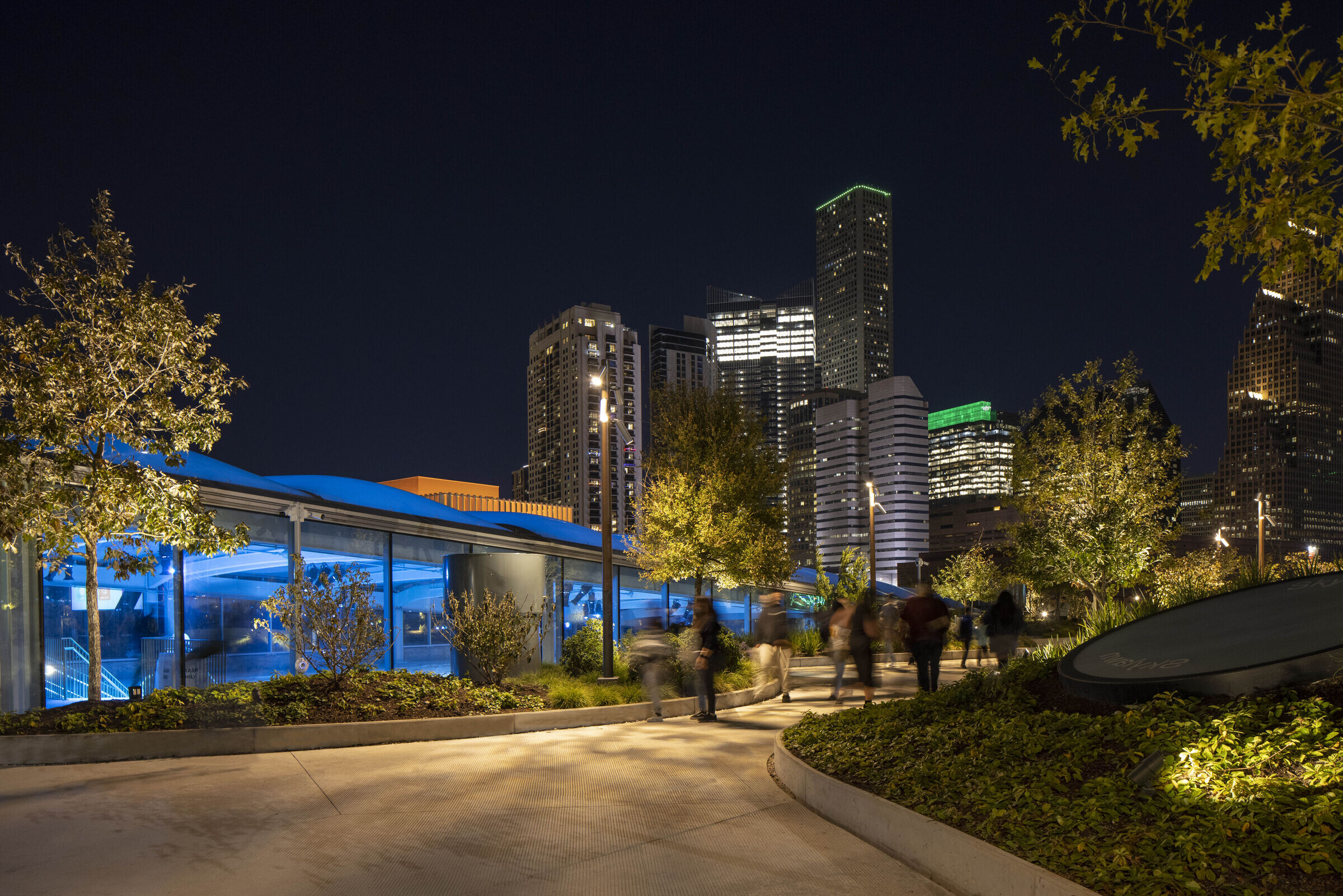 "The project owes its existence to the vision of Lovett Commercial, who not only saw value in preserving the disused USPS warehouse, but also assembled an incredible team to guide its transformation. We were very fortuitous to work closely with Dot Dash, Hoerr Schaudt, LUCID, MTWTF, and Formation to reinject a vibrant public life and new aura to the site by cohesively merging architecture, lighting, and environmental identity. We are humbled by the dedication and craftsmanship of Harvey Builders, who overcame incredible challenges to deliver a building of extraordinary fidelity matching our intended design and the team's shared vision."

– Salome Nikuradze, Project Architect, OMA