The Power Lume Experience is, above all, a showroom for the brand's products and innovations. However, it is not limited to presenting its portfolio, it also creates unique and playful spaces to be explored by users who are invited to create their own experiences.
The spaces were conceived to immerse the visitor in a luminous environment. To this end, a path full of sensory experiences through lighting was created. Furniture, textures, materials and coatings are minimalist and functional, while the environments were designed to stimulate the imagination and create unusual records for sharing. In the midst of this gallery-style route – the Power Lume Experience – the spaces have lighting as the protagonist and serve to illustrate the numerous possibilities for using the brand's products, from functional to playful.
In the first contact with the Power Lume Experience, the user is directed to a room where mirrors cover the ceiling and walls and RGBW tubular pendants hang from the ceiling. The ambience created is of a forest of light that changes color and interacts with the ambient soundtrack, where the limit between real, reflection, angles, repetitions and the playful are blurred. In this surreal path, the observer finds instagrammable spaces to record the experience.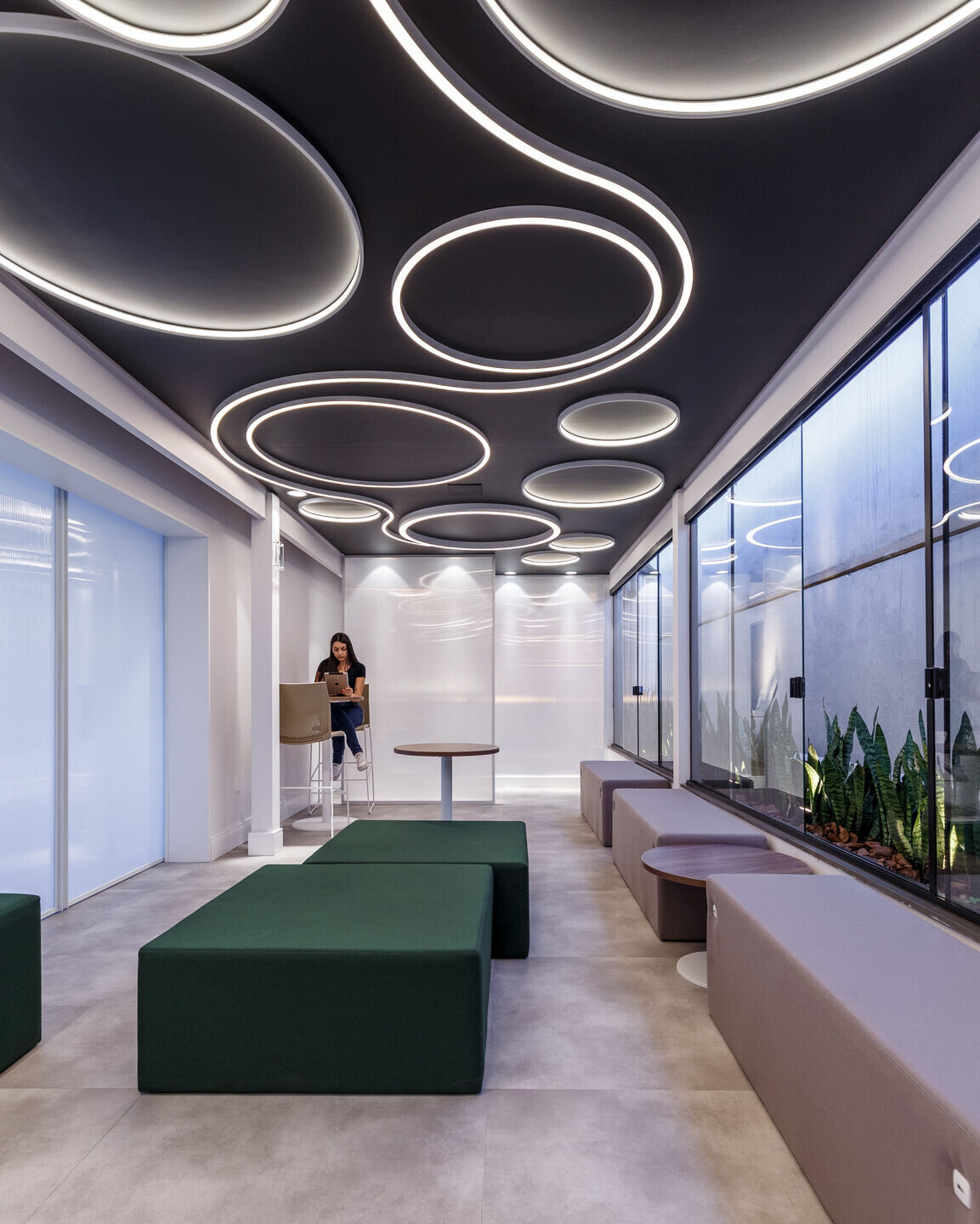 In the showroom are located the temporary exhibitions of Power Lume products connecting to the lounge, a space for interaction, networking, rest and sharing. In this place, the black painted ceiling simulates the sky of a night streaked by shooting stars through sinuous lamps and with different beams of light: direct, indirect and lateral. The versatile layout, with loose and combinable furniture, allows users to freely modify the space as needed. A mix of ottomans, chairs and tables in dark woody and greenish tones, this being the only space endowed with color, brings warmth and relaxation.
Connected to the lounge, we also have the auditorium, which was designed as a light laboratory with backlit polycarbonate panels forming compositions of light and shadow. The layout of the environment is also flexible, allowing different scenarios and dynamics, from a classroom, a cafeteria to the auditorium itself. The support kitchen, in turn, makes a visual and physical connection with the auditorium, through an opening with sliding doors structured in aluminum and polycarbonate. Depending on the use, this connection between kitchen and auditorium may or may not happen. The kitchen is equipped and functional, monochromatic and with general lighting, also designed as a laboratory. The connection between the two spaces creates one more use, the ballroom. The color of loose and fixed furniture in these spaces, as well as the coverings, is white, composing a background for the different shades and color temperatures of the lighting designed by the lighting technician as scenarios for the various uses of the space.\