Prahran Square is one of Australia's largest national open air plaza projects, marking a symbolic transformation for the community. The pre-existing carpark was transformed into a diverse realm accommodating the ebb and flow of each day through multi-modal landscape spaces combined, creating a unique framework for community use and occupation.
The design for Prahran Square met two critical client objectives: creating a safe and flexible public open space and providing a solution for increased local carparking. By removing carparking from the ground plane and creating 500 car spaces in two levels of underground carparking directly below the Square, the design created the opportunity for the new urban space that is Prahran Square.
Further design information:
The edges of the square rise and fall to form a continuous 'ribbon' that creates a unique urban streetscape that cleverly accommodates the carpark entry portal, stair access, retail opportunities, community spaces and service areas. The ribbons dramatic architectural form allows natural light to permeate into the car park below, facilitating visual connections to the street. This increased visibility and clear wayfinding were key to prioritising pedestrian safety. Importantly this design strategy also creates an 'interior' landscape sanctuary, which is sheltered from the constant vehicular traffic of the surrounding streets, ensuring that the space is prioritised for people as a unique asset of the community unsullied by retail commercialisation and cars.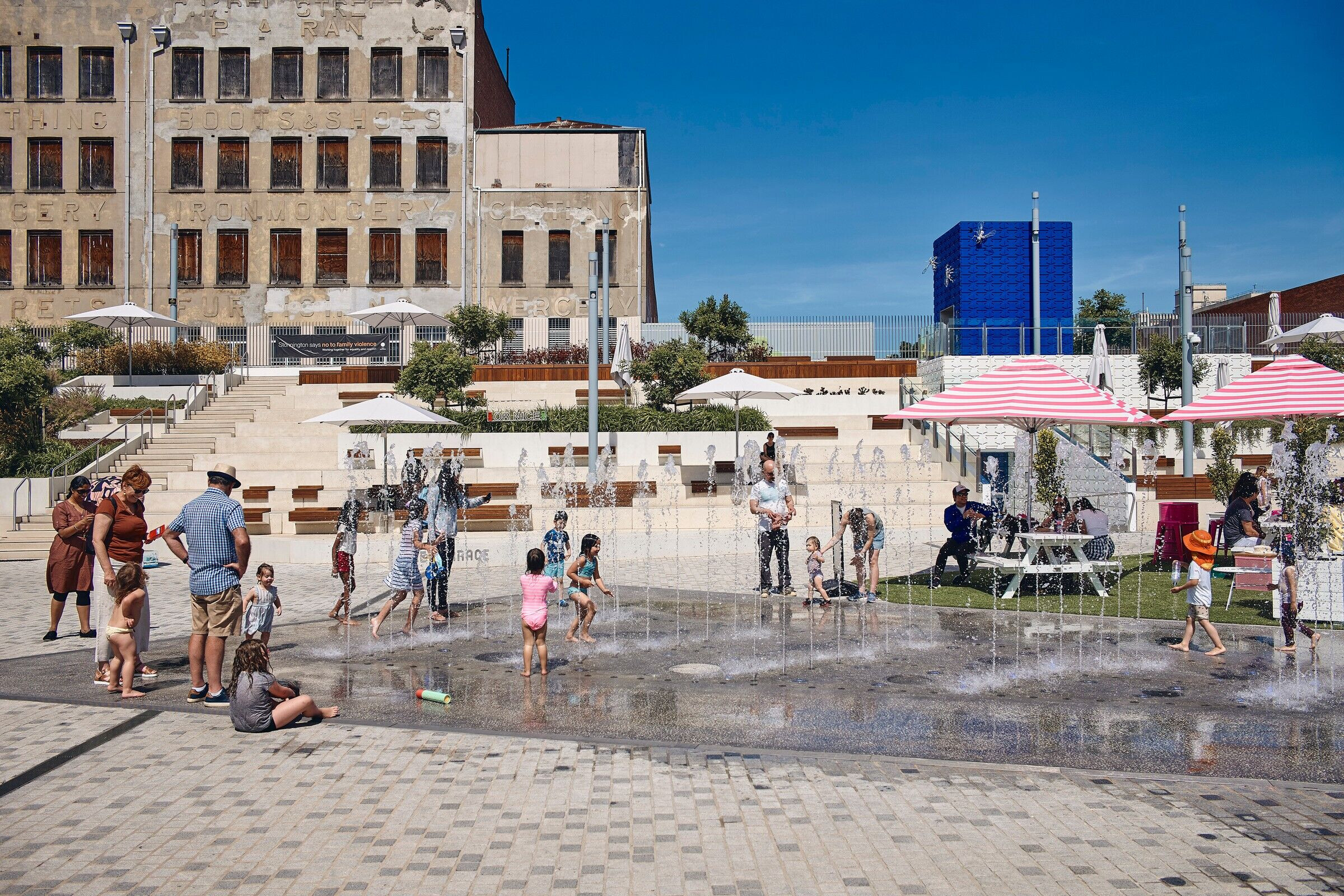 The arrangement of this 'interior' landscape is based on a range of uniquely themed spaces, each contributing a different value to the community. They define a diverse series of experiences including a local mudstone 'Forest', a 'Sensory Garden', a 'Lawn' and 'The Terraces' all facing a high quality central square that becomes an adaptable platform for a range of events from daily use to large community gatherings. Each of these is distinguished by four open corners, that demarcate and connect spatial gateways to the adjacent precincts of Prahran Market, Chapel Street, Greville Street and Grattan Gardens. Further reinforcing this design logic are 'The Pipes'. An immersive digital art installation by Ramus and Material Thinking which can be found in all four corners of the square. The artwork is comprised of several large, needle shaped poles that display abstract moving imagery together with engaging soundscapes that gently welcome and beckon people into Prahran Square 24-hours a day.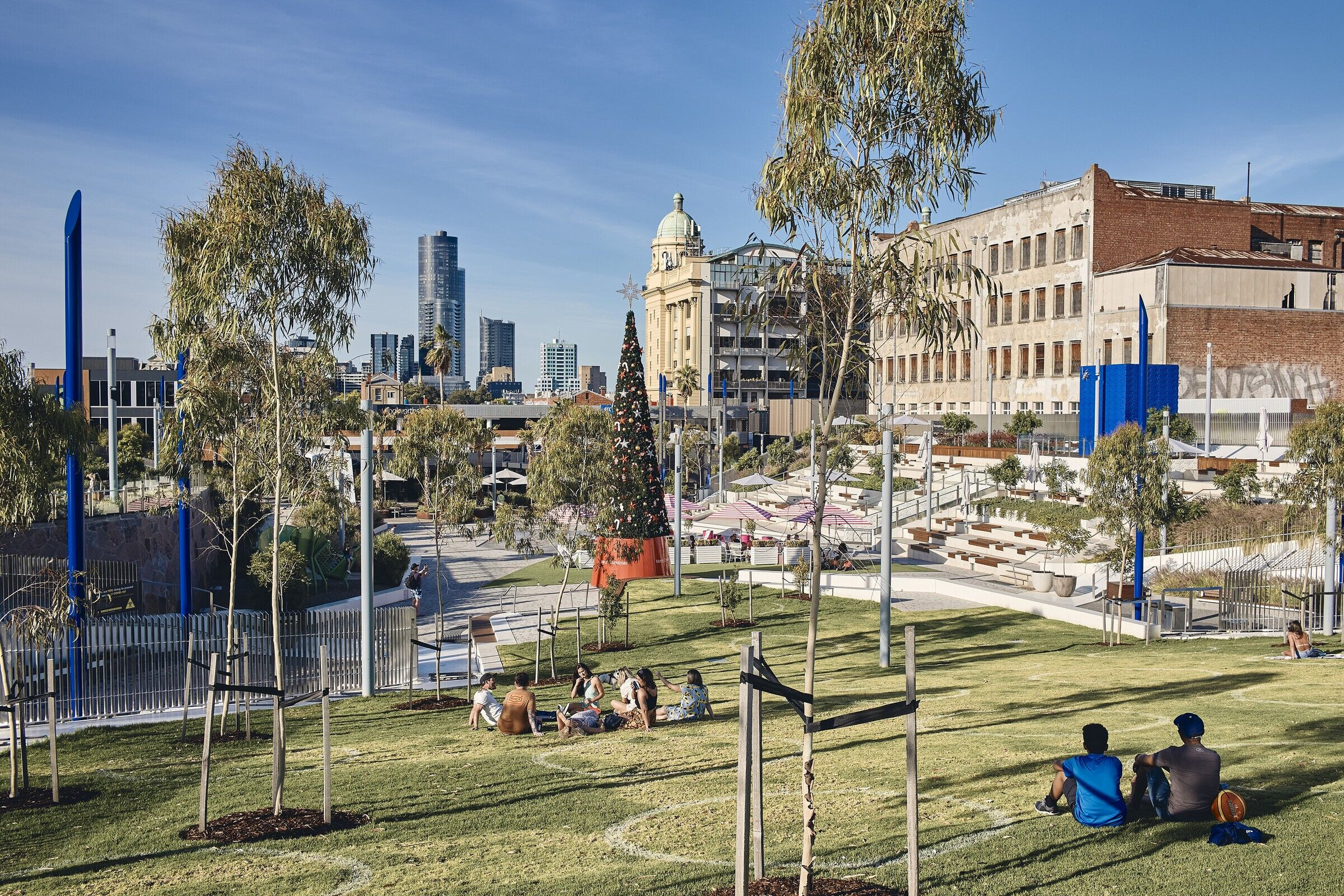 The space also meets sustainability objectives. An interactive multi-jet water feature, which uses recycled water is embedded at the centre of the square. The central water feature is popular with children and creates a focal point where passers-by and strangers can easily engage around this lively feature. A diverse mix of native and exotic planting is used throughout the project reflecting the eclectic nature of the community. Low water use and drought-tolerant species were prioritised to reduce watering requirements and improve biodiversity. Bicycle parking and public transport networks are in close proximity, with parking spots nominated for electric vehicle charging. Prahran Square as a hybrid typology, combining urban park, square, streets, carpark and retail spaces and by this definition its uses are varied. It is designed for encounters ranging from intimate to large scale events. Prahran Square has already transformed a community, highlighting the contribution and true potential of Urban Design. The appreciation for the Square will be realised over time as it matures, and the community make it their own.