When we worked on the interior design of the «Private Residential Emerald Villa» we wanted to create a sense of celebration and apply bold combinations of colour. The space is like a glistening picture, the bright background requires balance with intense and vivid strokes. We also faced the challenge of incorporating the eclectic stylistics of the interior, including a private collection of art and family objects.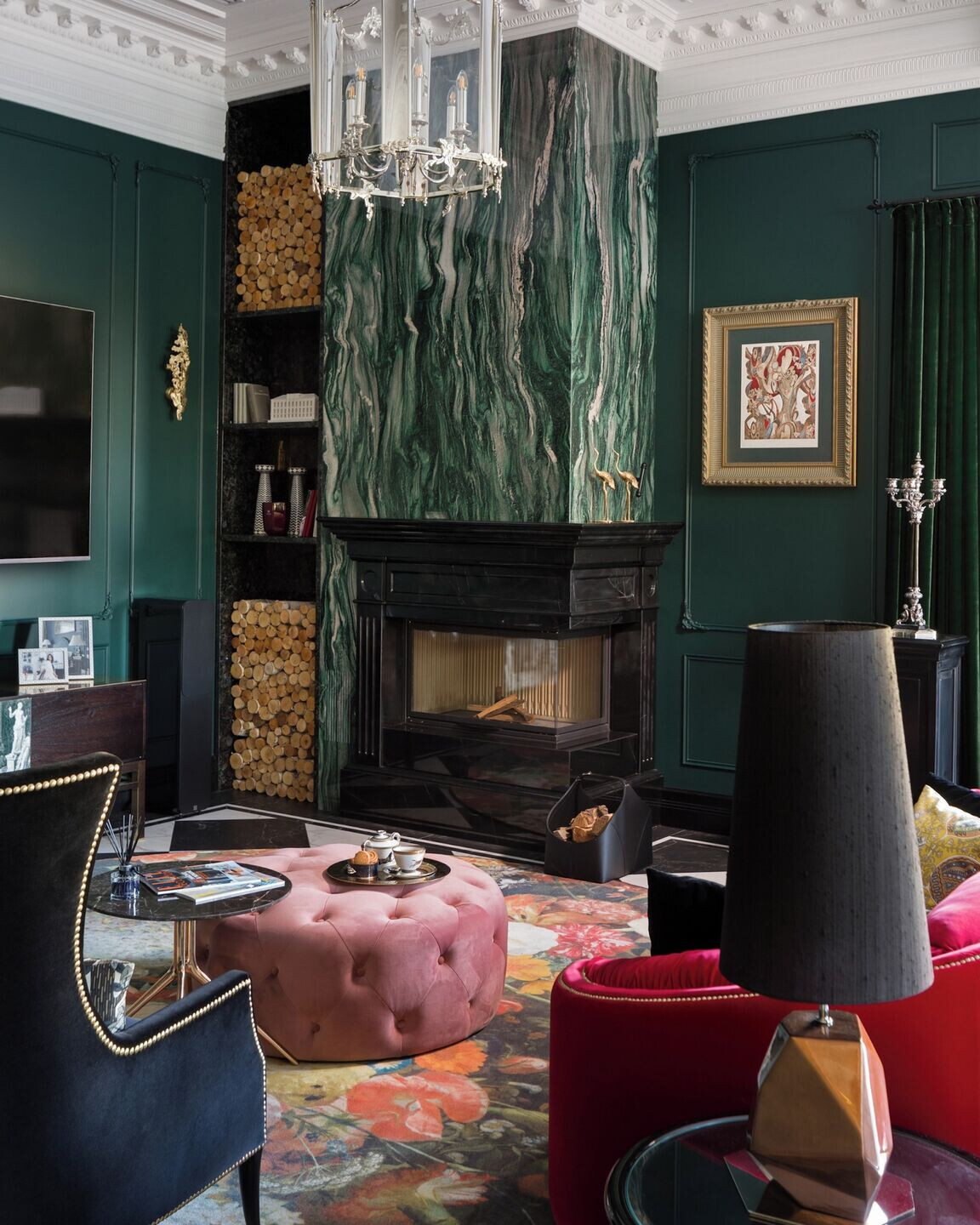 The green terrace is decorated with Marinette furniture from the Saint Tropez collection and complemented by rich accents, such as Loro Piana plaid and Herme pillows. It is ideally placed to enjoy views of the garden and the river.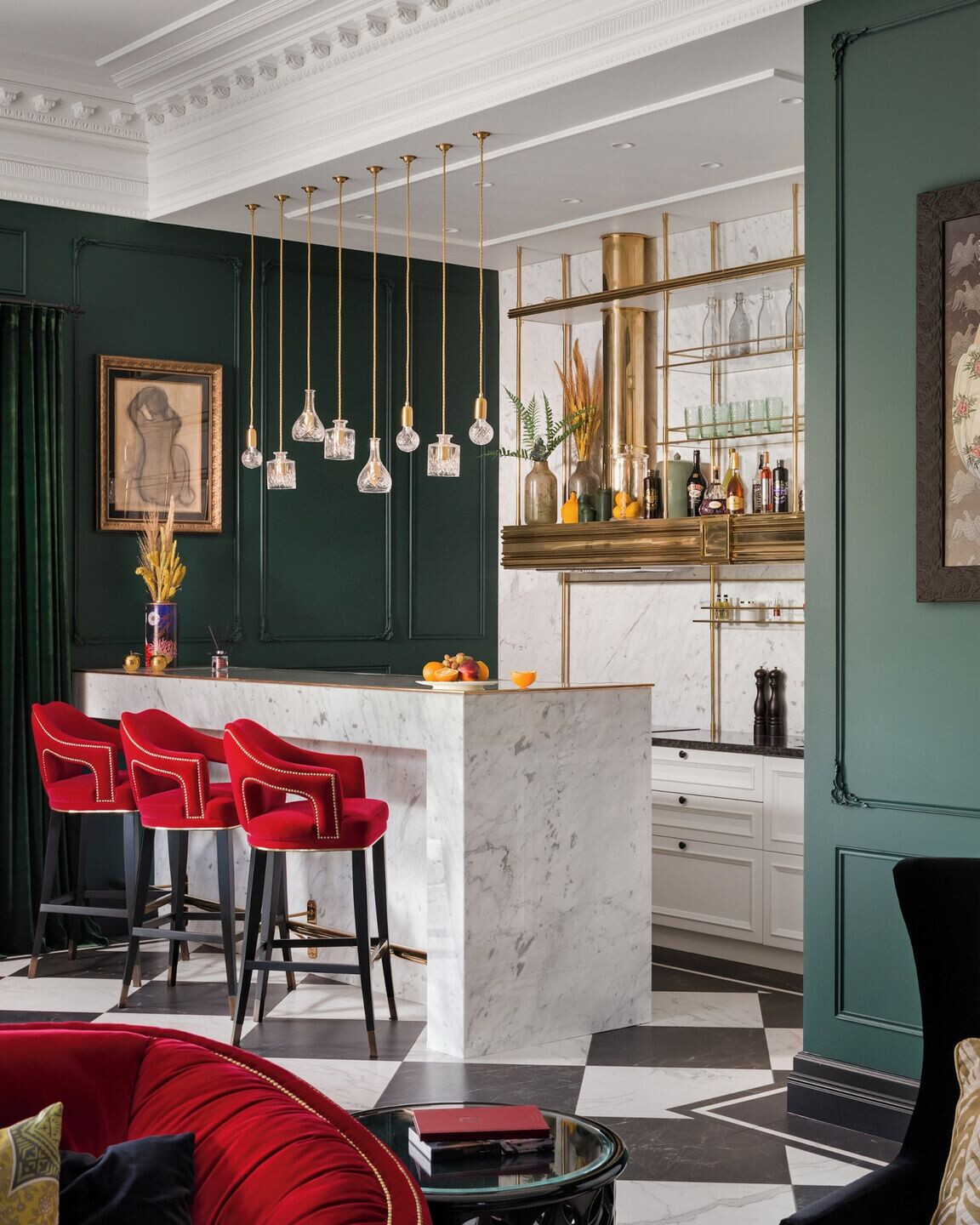 Whilst working on the living room, we were heavily influenced by interiors in France and Britain and their active colour schemes, which we wanted to bring to the interior. We strove to create a sense of celebration, rich colours and unexpected combinations. A resplendent accent here is generated by the red sofa from Wales and Brabbu textiles Adamo & Eva, Dedar. Black velour armchairs from Dukono, Brabbu, and a floral carpet from Moooi also grace the room. Accessories: Sourced from Bolshakova Interiors accessories.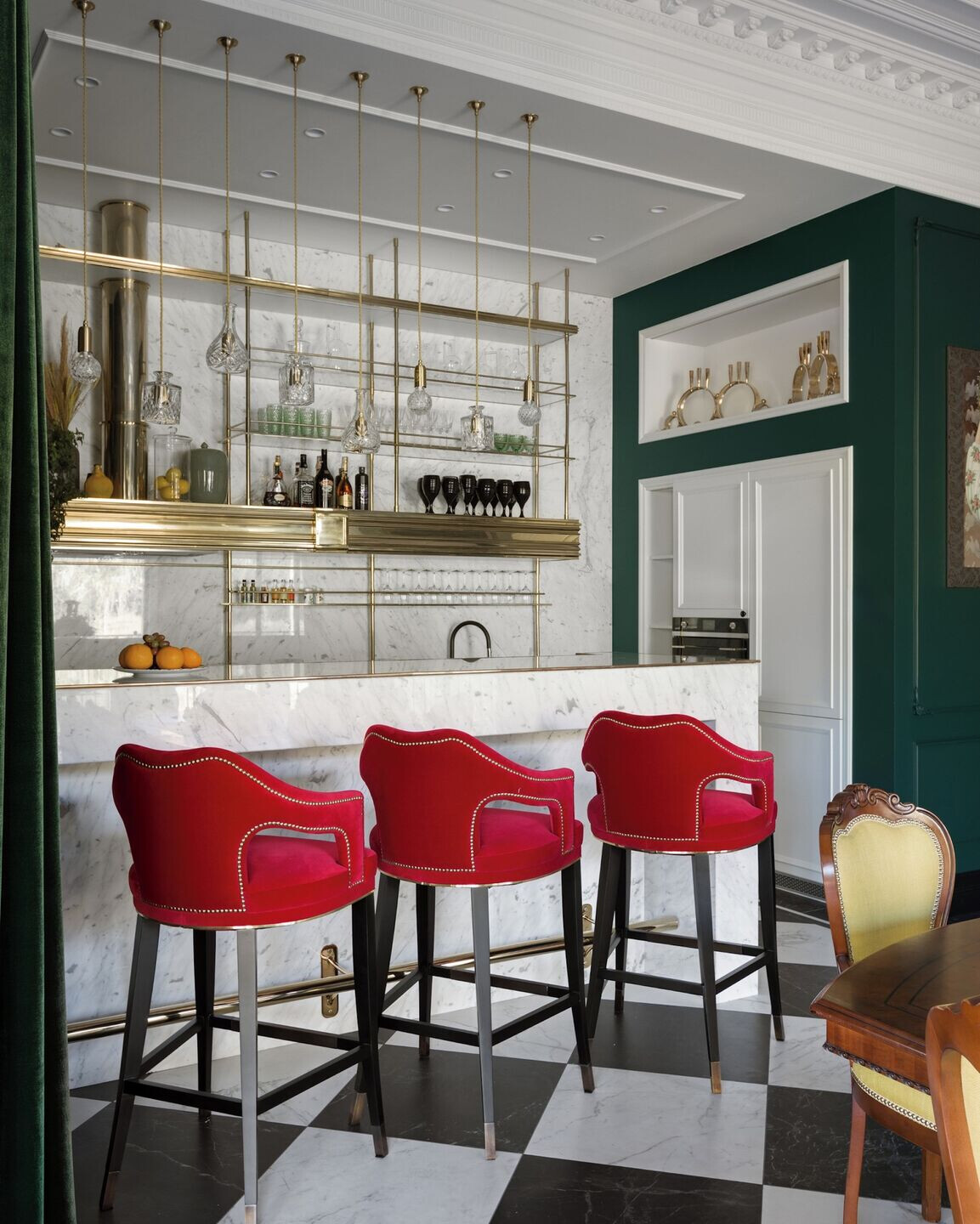 The central element of the kitchen is the brass bar design, specially made based on our sketches, and accent red bar stools from Brabbu. The light above the bar was provided by Lee Broom. The dining room is decorated with a vintage wooden table and vintage Dedar upholstered chairs, all from the client's personal collection.
Upon entering the bathroom, you experience a unique atmosphere, which was created using wallpaper from Limerence from the House of Hackney collection. This is further enhanced by interesting lighting and paintings from a private collection from a modern Georgian artist. Accessories — Provided by Bolshakova Interiors accessories.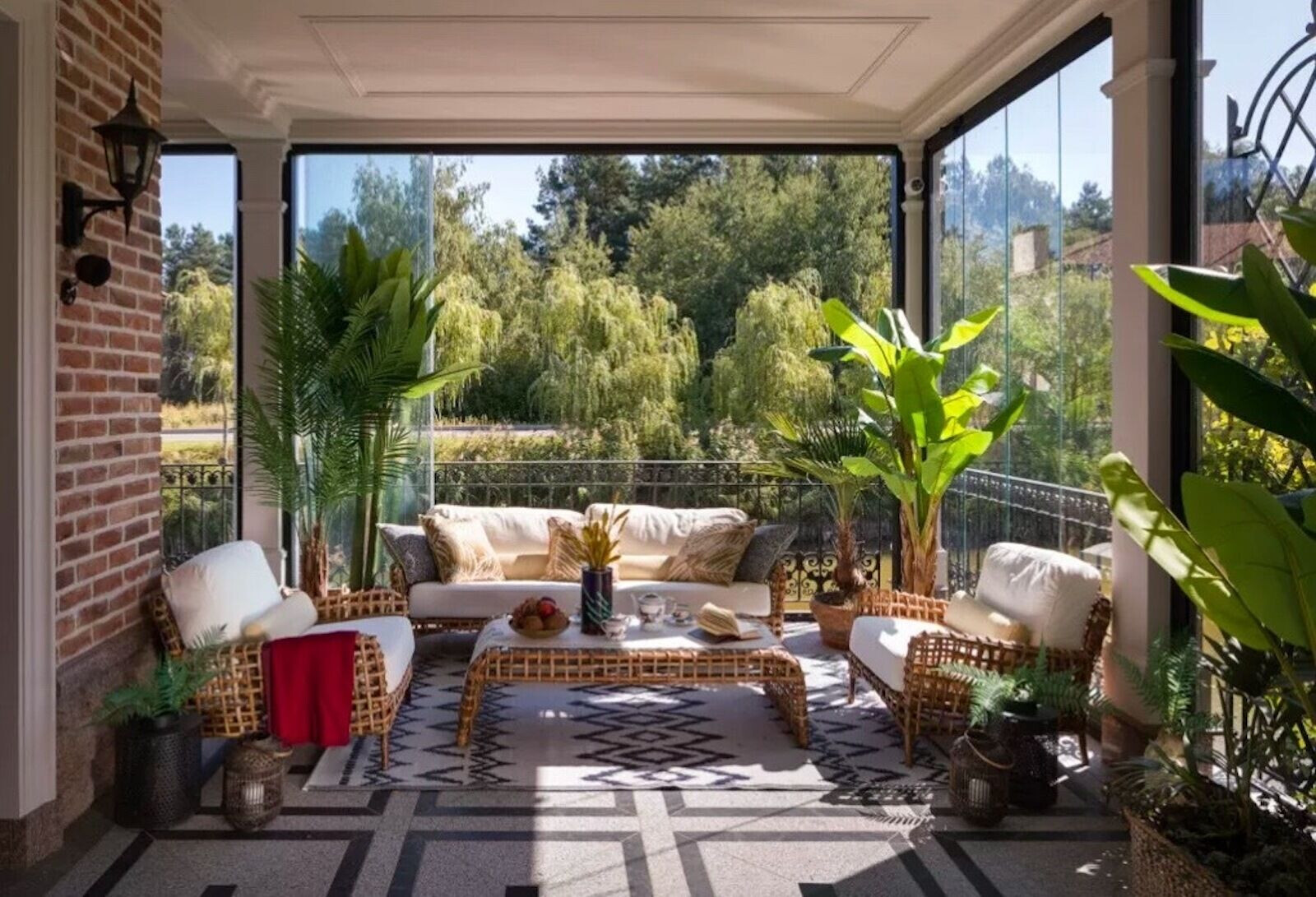 We designed the space in white, emphasizing the black plastic detail. The French sliding doors speak for themselves and any additions would only have distracted from their perfection, both in terms of form and function. They are also the gateway to views of the beautiful garden. Armchairs and deckchairs were supplied by Freinder, Safi and Maroc.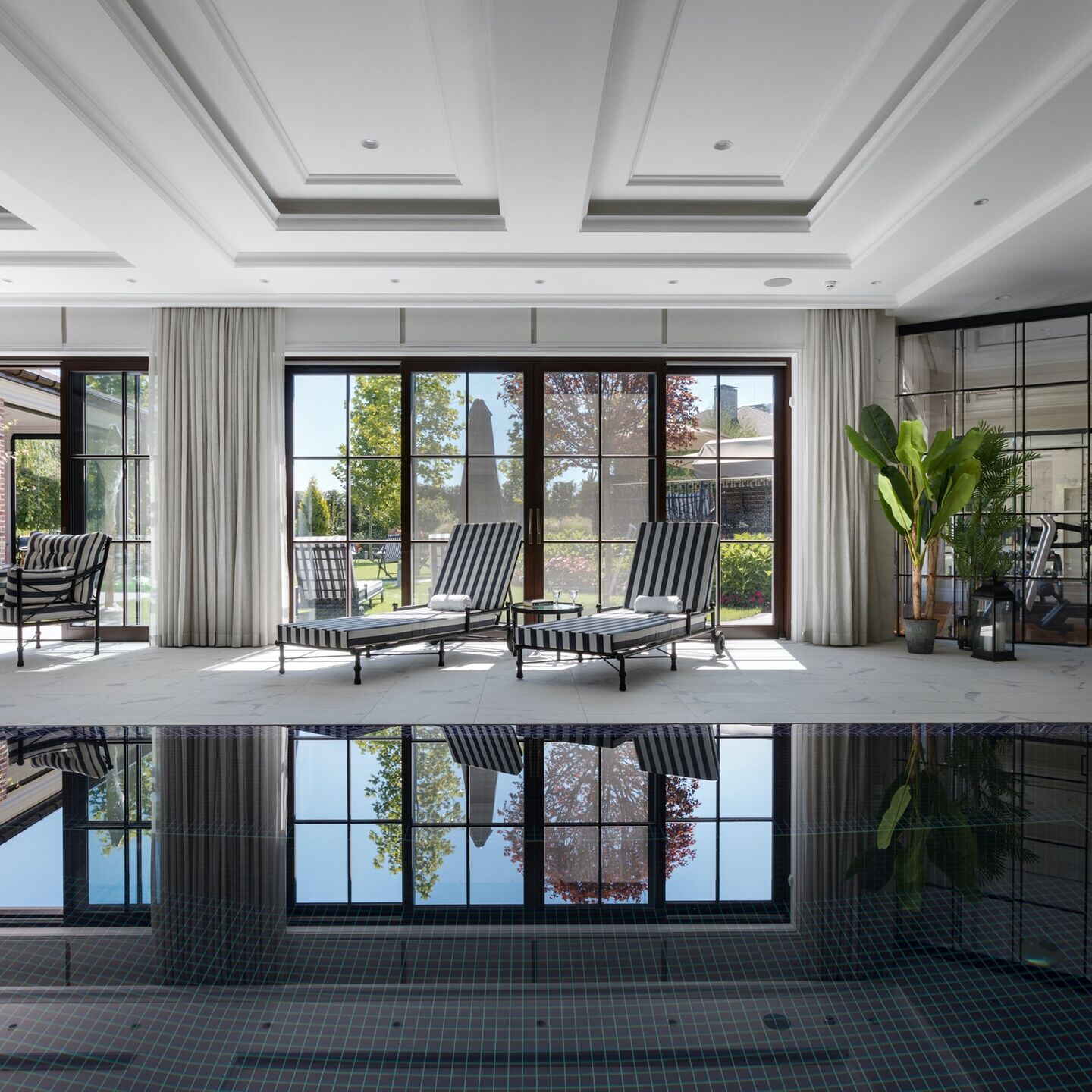 The bathroom is a continuation of the calm mood of the bedroom. Here we used furniture from the Italian factory Gaia. Accessories, again sourced from Bolshakova Interiors accessories.