Dressed beautifully in non-combustible Rockpanel A2 external cladding, Quantock House is an iconic building in the heart of Taunton, Sommerset offering its homeowners aged 55 and over a safe, contemporary environment in which they can 'live life to the full'.
The Affordable Housing and Healthcare Group (AHH) owned Quantock House occupies a prominent city centre site and comprises 88 one, two and three bedroomed apartments, plus undercroft parking, within an eight-storey structure. The scheme also boasts a public access bistro, bar, spa and homeowner's lounge.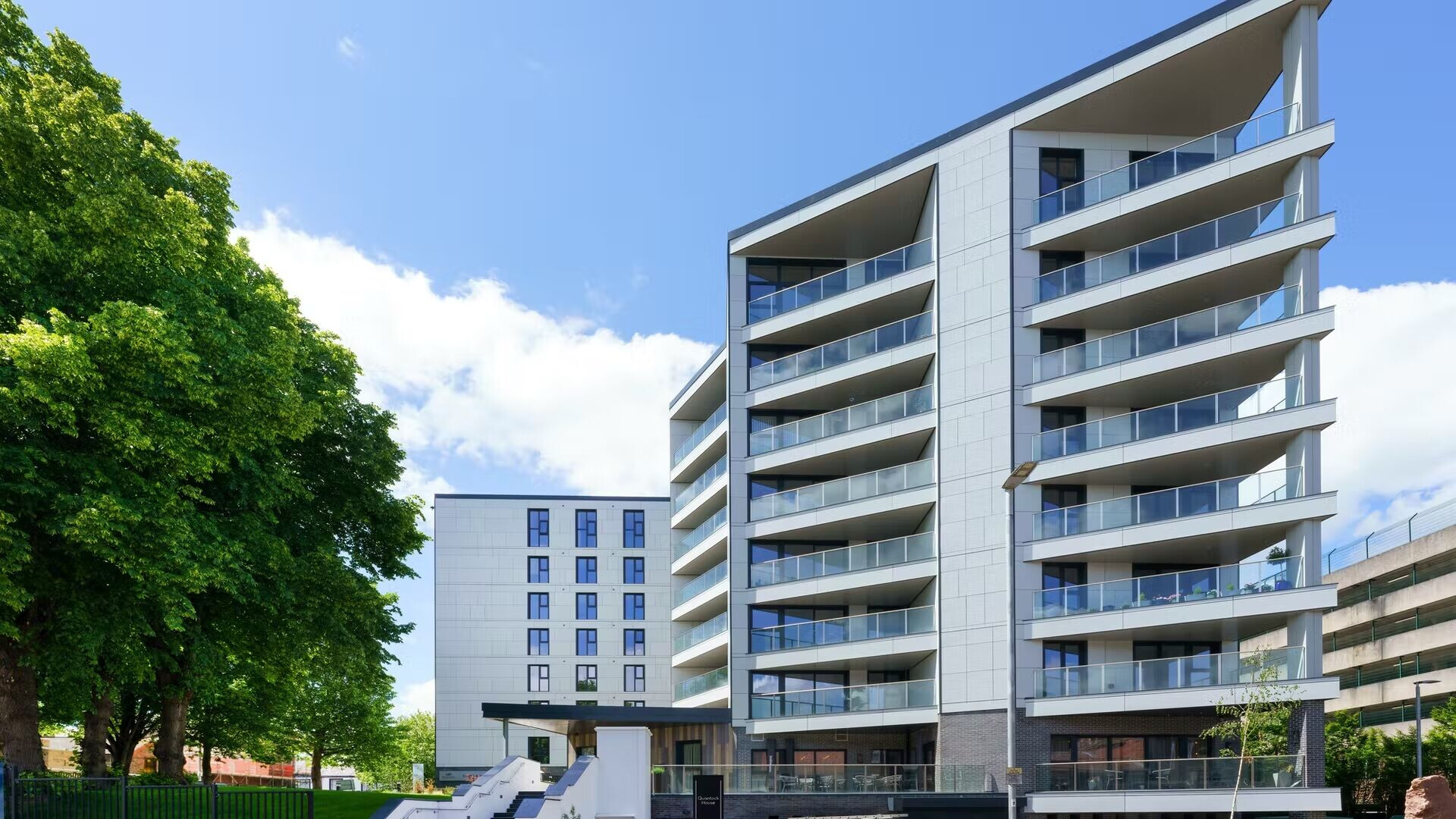 Fire safety and resilience with style
Quantock House subtly gleams in around 3215m2 of Rockpanel A2 in a selection of rectangular, square and slim planks in three RAL-matched cool greys, to each of the main facades, including stylishly angled balconies. For the building's statement entrance, three super realistic Oak surface designs from The Rockpanel Woods collection – Carbon, Ceramic and Rhinestone – have been used to spectacular effect as an assembly of vertical planks in a variety of lengths. They deliver an organic warmth thought only possible with natural wood, but with all the advantages of stone.
Unlike natural materials such as wood, these durable, highly resilient, weather, temperature and UV resistant panels will require little or no maintenance. No other external facade cladding offers a wider range of surface designs and colours. They enable specifiers to explore new possibilities and realise their most creative ambitions, safe in the knowledge the completed facade will meet the most stringent fire safety standards and stay looking as good as the day they were installed, throughout their long life.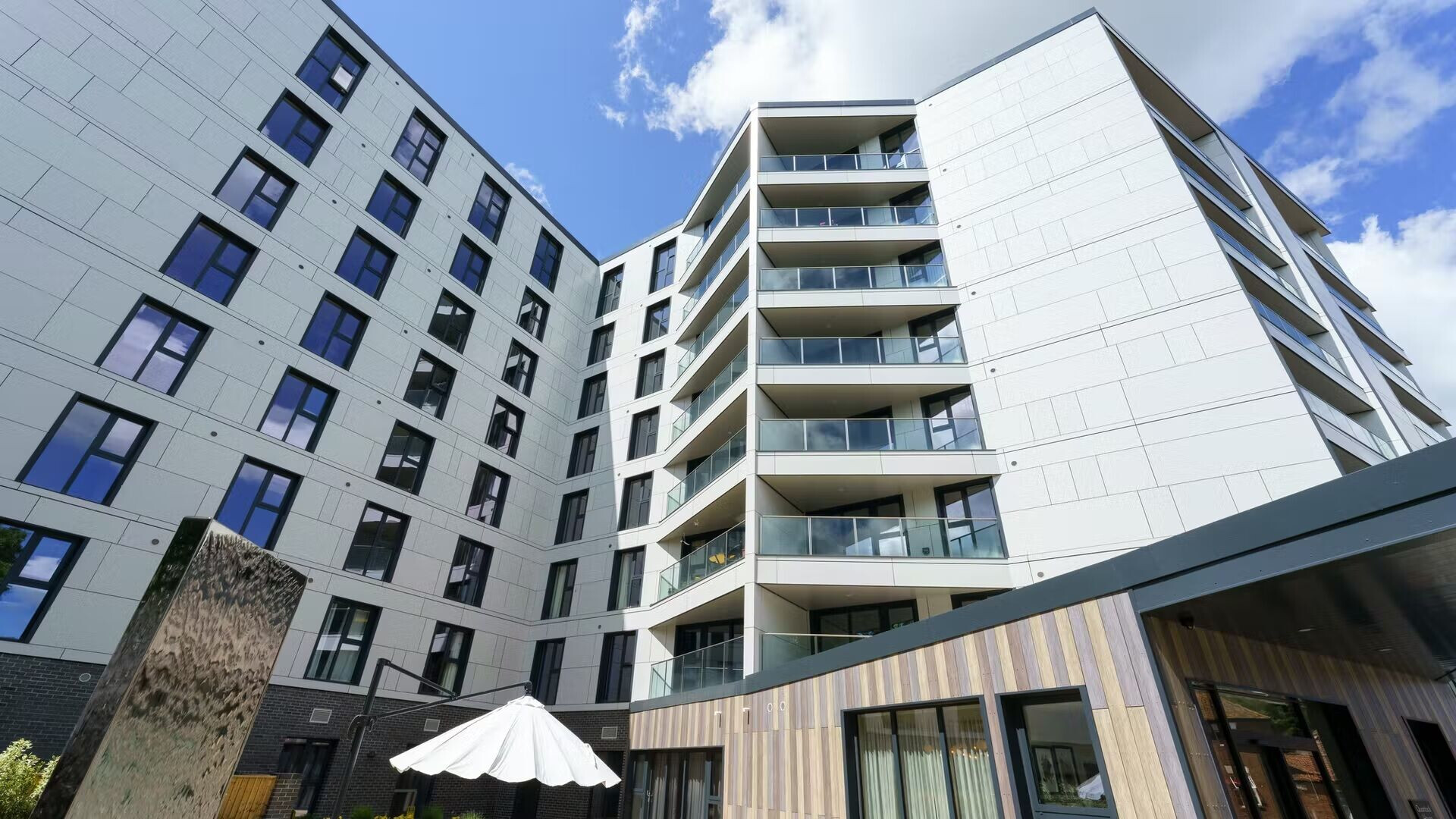 Collaboration is key
AHH fulfilled the role of architect for the project, with TA Colbourne Projects being responsible for the installation of the external rainscreen cladding system. Their Sales and Pre-Construction Director, Paul Mann, talked about the process, "Because of the nature of this multi-storey residence, The NHBC were involved throughout the design process, to review and approve the performance characteristics of the materials used. Rockpanel were invaluable in assisting us to successfully satisfy this additional level of scrutiny."
Christine Rees-Davies, of Rockpanel, talked about the project, "We were happy to collaborate on this great looking project by assisting with the precise technical aspects of the design and arranging the supply of materials for an in-situ mock-up to help ensure the correct specifications were met and approvals gained. Thankfully, all Rockpanel ranges are lightweight and easy to cut on site without the need to seal edges, making installation quicker, saving time and money – important considerations for this busy urban site."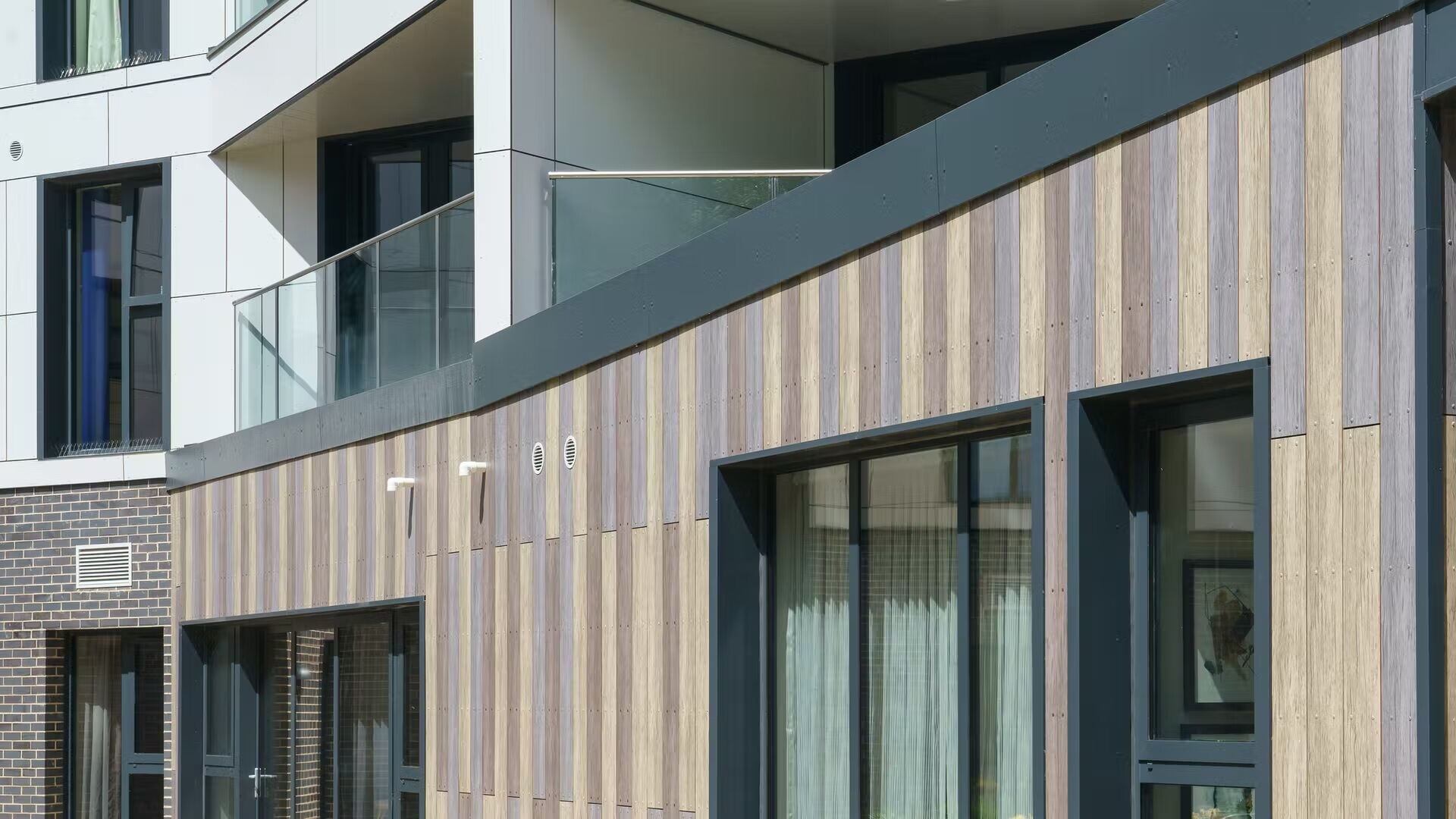 Amended post-2017 regulations
The scale and complexity of high-rise residential properties constitute a particular challenge when it comes to ensuring the various parts of an external facade cladding system work efficiently together and conform to the same stringent building regulations.
Exterior cladding systems for buildings over 18m must comply with strict fire safety performance characteristics to ensure the protection and safety of the building's users. Rockpanel A2 meets National Building Regulations, which were amended in 2018 following the tragic events of 14 June 2017. At Platinum Skies Quantock House this entailed installation of a total through wall construction using Euroclass A1 or A2 fire rated products, to ensure that the whole system satisfied the requirements of BS EN 13501-1