The Quarry # 8 programmed as a library is hollowed out, with a net height of 36 meters, retaining the original quarrying platform and a small pathway up from the middle. The cave appears the inverse shape of the mountain with the form of that space brings a sense of ritual when looking up. The Quarry Library is a superimposition of a modern library over a traditional study where each platform is a multicultural study where one can read, practice calligraphy from stone rubbings, and in the future, access to e-books, etc. The notion of design is to connect this sense of ritual and cultural metaphors from different dimensions of time and space while reusing the quarry and a contemporary public platform. It was more essential to establish cultural connections to bring extensive design.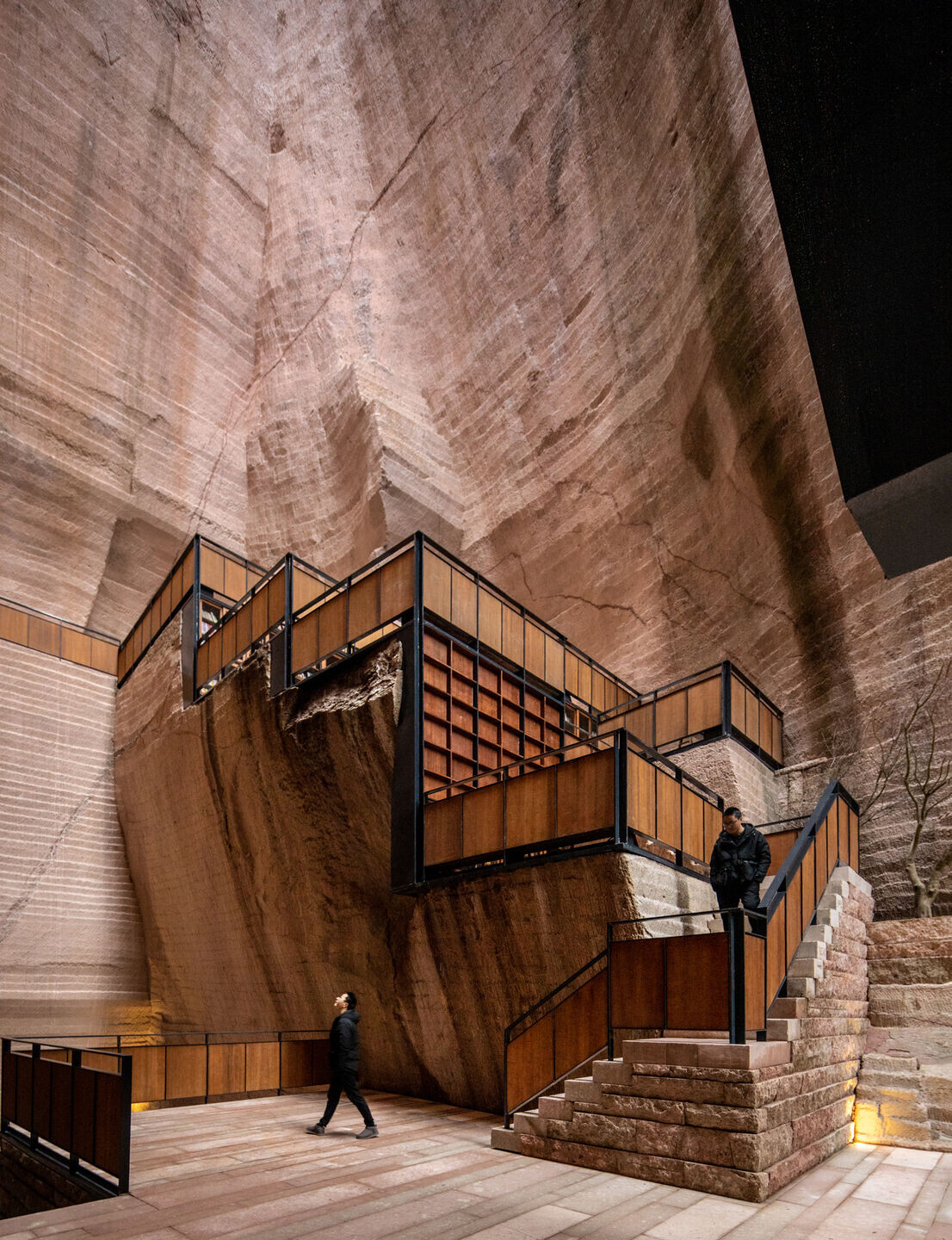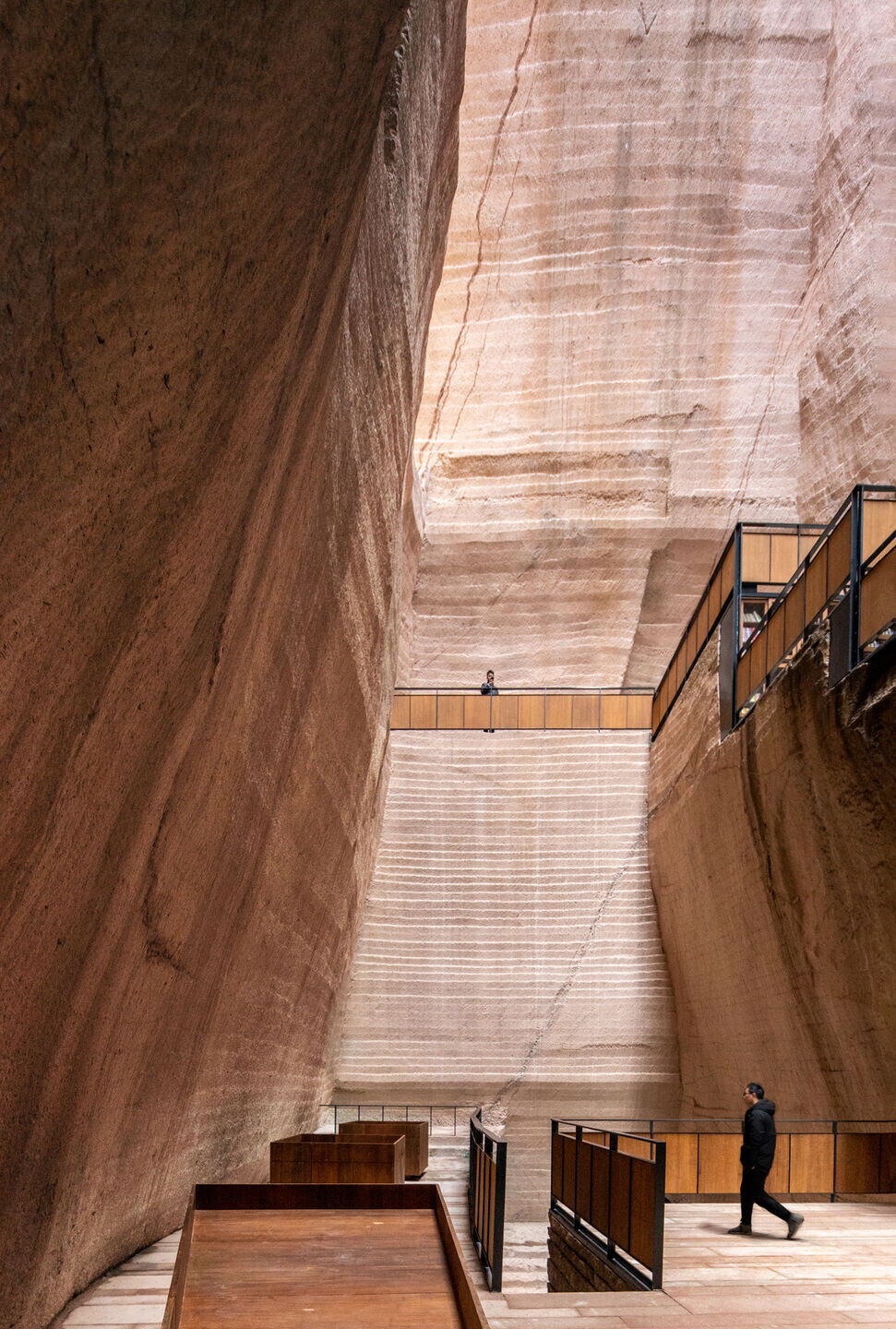 Maybe the entire quarry series may not look like extensive design insertions in the end, but I think it's a new area. The difficulty at the beginning was how to jump out from the conventional way of thinking. Because not like typical buildings, the quarries are rather pre-existing spaces by excavation. Their forms, materials, and texture appears aggressive. Designing with the usual architectural thinking in this scale, expressive space is not compatible. Our design is rather providing a sense of scale and orientation, as a minimal intervention in these spectacular quarries. In addition, the quarry project required geological safety evaluation and geotechnical reinforcement. The construction was also done by a tunnel engineering company rather than a conventional building contractor.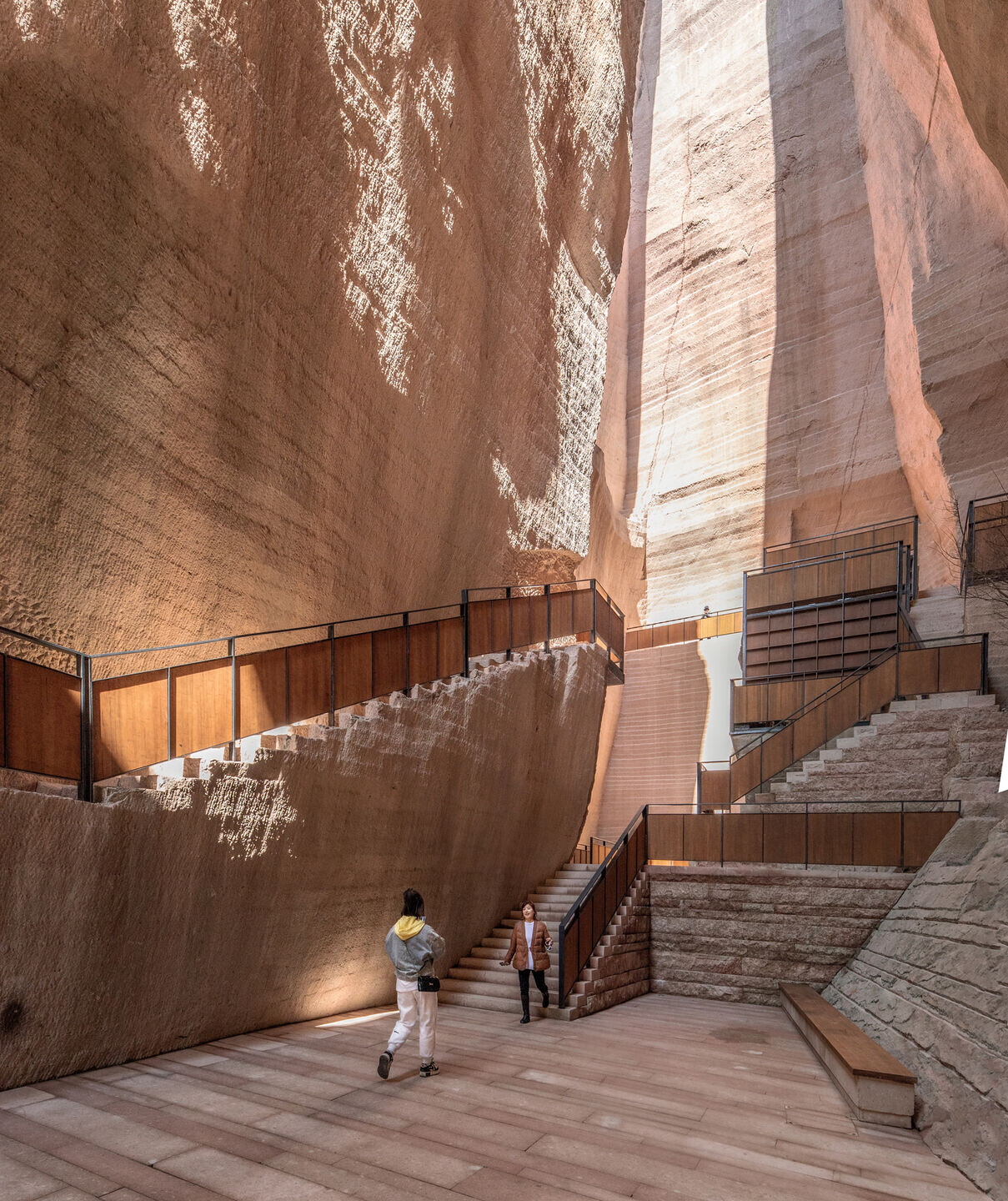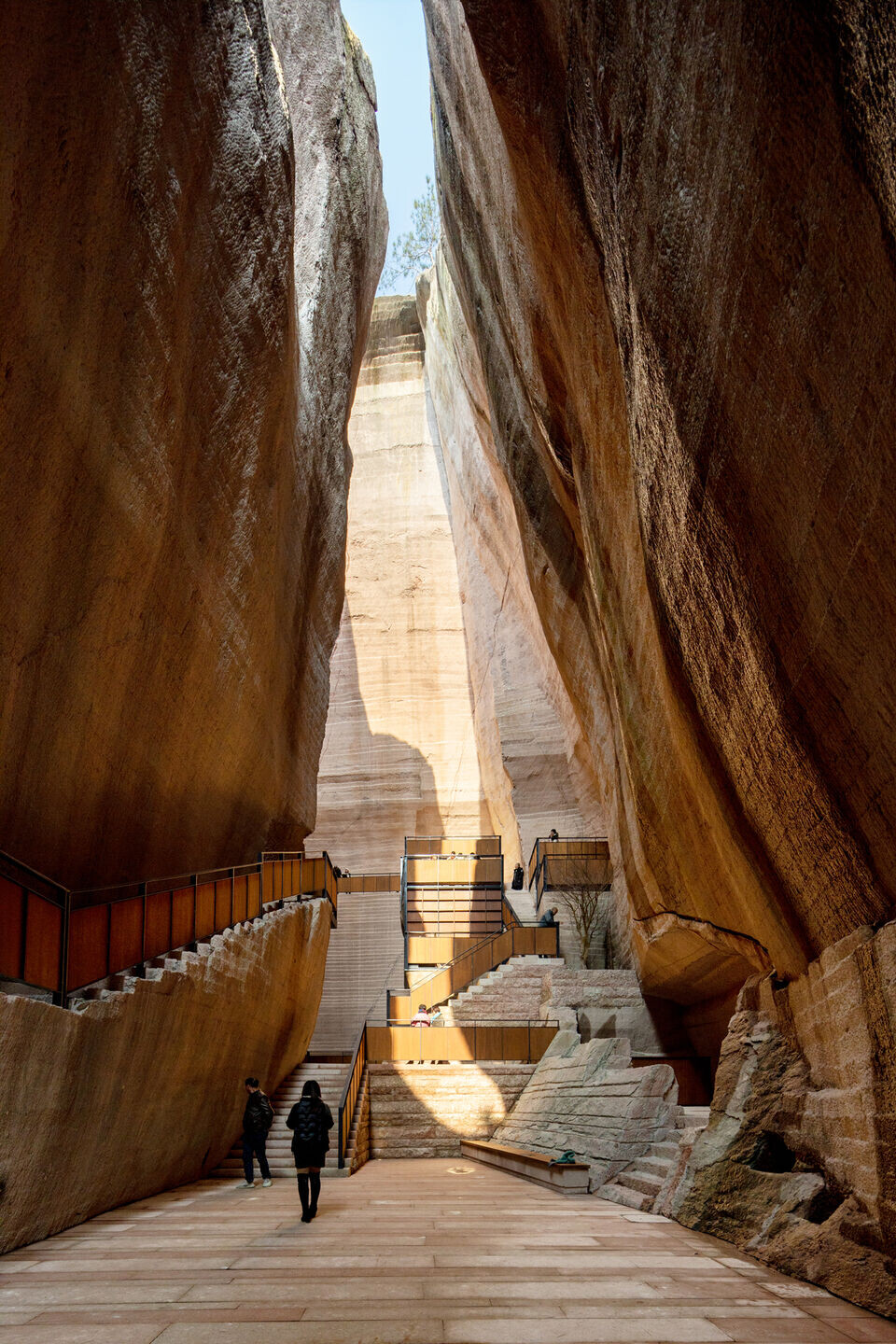 The ground is a polished Tufa,
and reddish to bright red, has been quarried in the region for over 1000 years. The rock was used regionally as hewn masonry stone or tuff for construction as well as stone sculpture.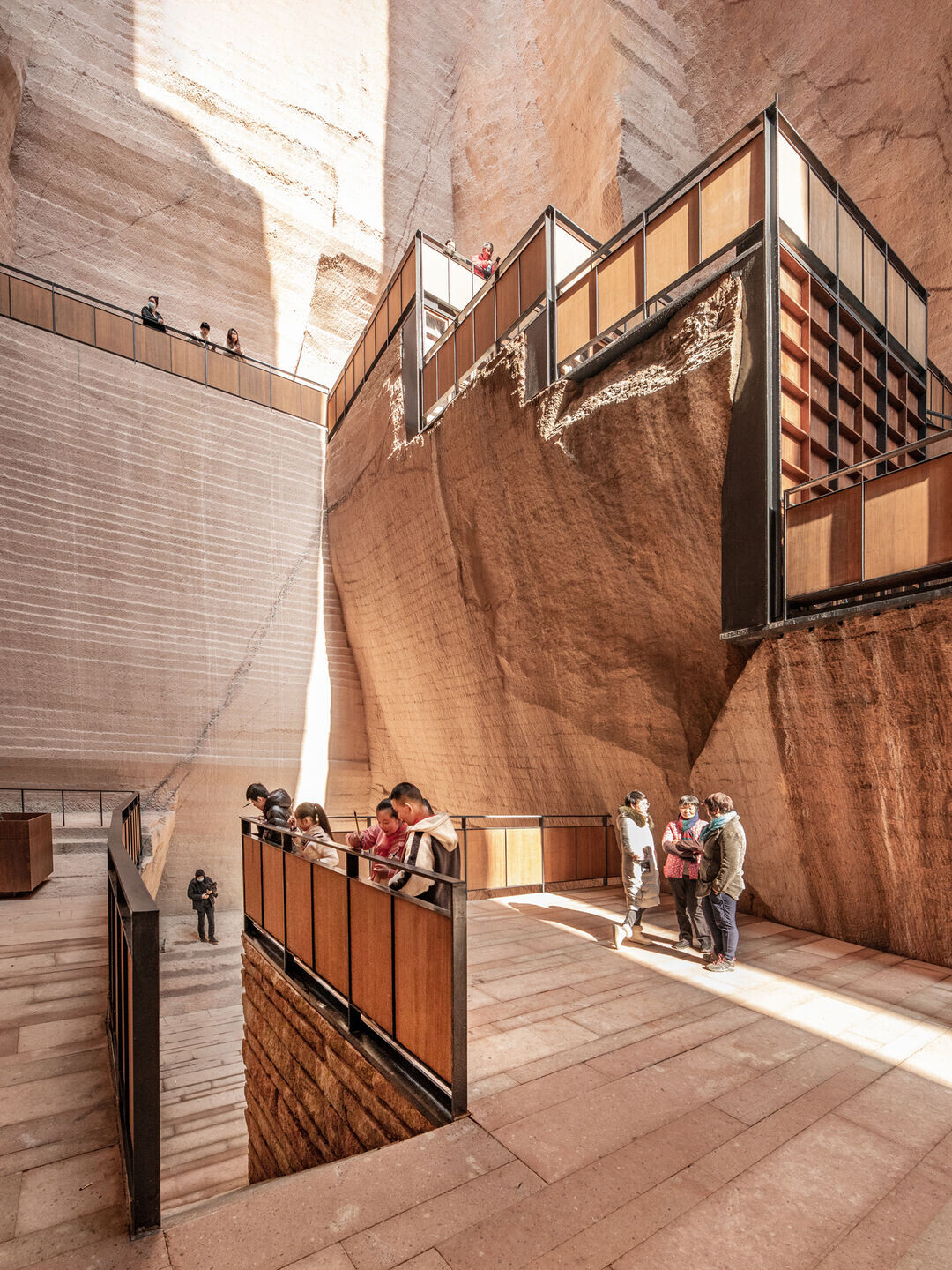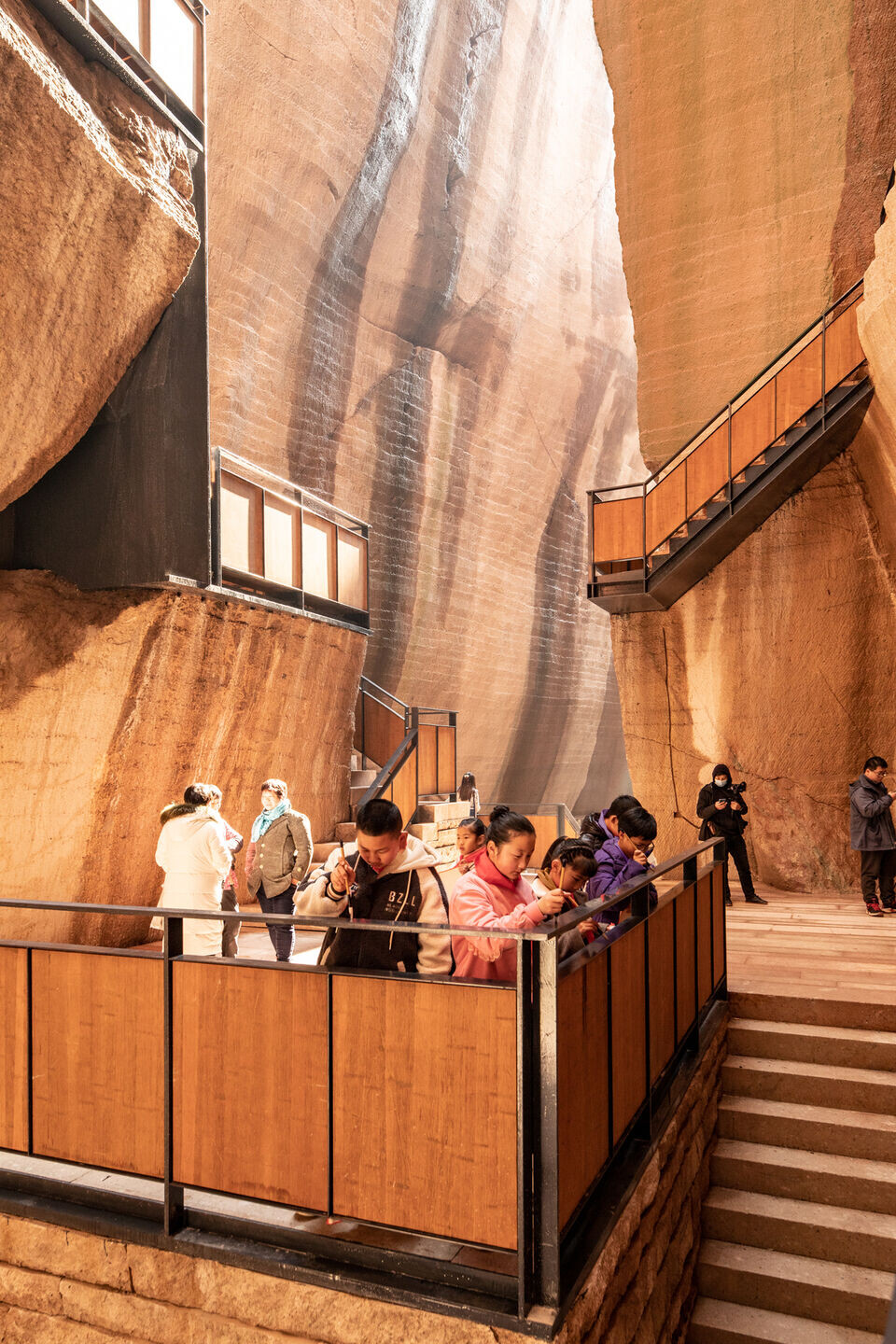 The handrails are made of steel strips and, the infill of shelves and railings are made of pressed bamboo, which is more suitable for this climate than wood.
Team:
Architects: XU TIANTIAN/DnA_Design and Architecture
Lighting Design: X Studio, School of Architecture, Tsinghua University
Acoustic design: Yanxiang, Tsinghua University Acoustic Lab
Sustainable ecological environment design: Borong LIN, Key Laboratory of Eco Planning & Green Building (Tsinghua University), Ministry of Education
Safety evaluation: South Zhejiang Comprehensive Engineering Institute Co. Ltd of Investigation And Mapping
Strengthening Engineering: The Architectural Design & Research Institute of Zhejiang University Co.Ltd.
Construction Party:Architectural Construction Party: Jinhong Construction Co,. Ltd(Lishui ShanjuXiangchuang Architectural Planning Design Co,. Ltd)
Strengthening Construction Party: Zhejiang Tunnel Engineering Group Co.,LTD
Photographer: Wang Ziling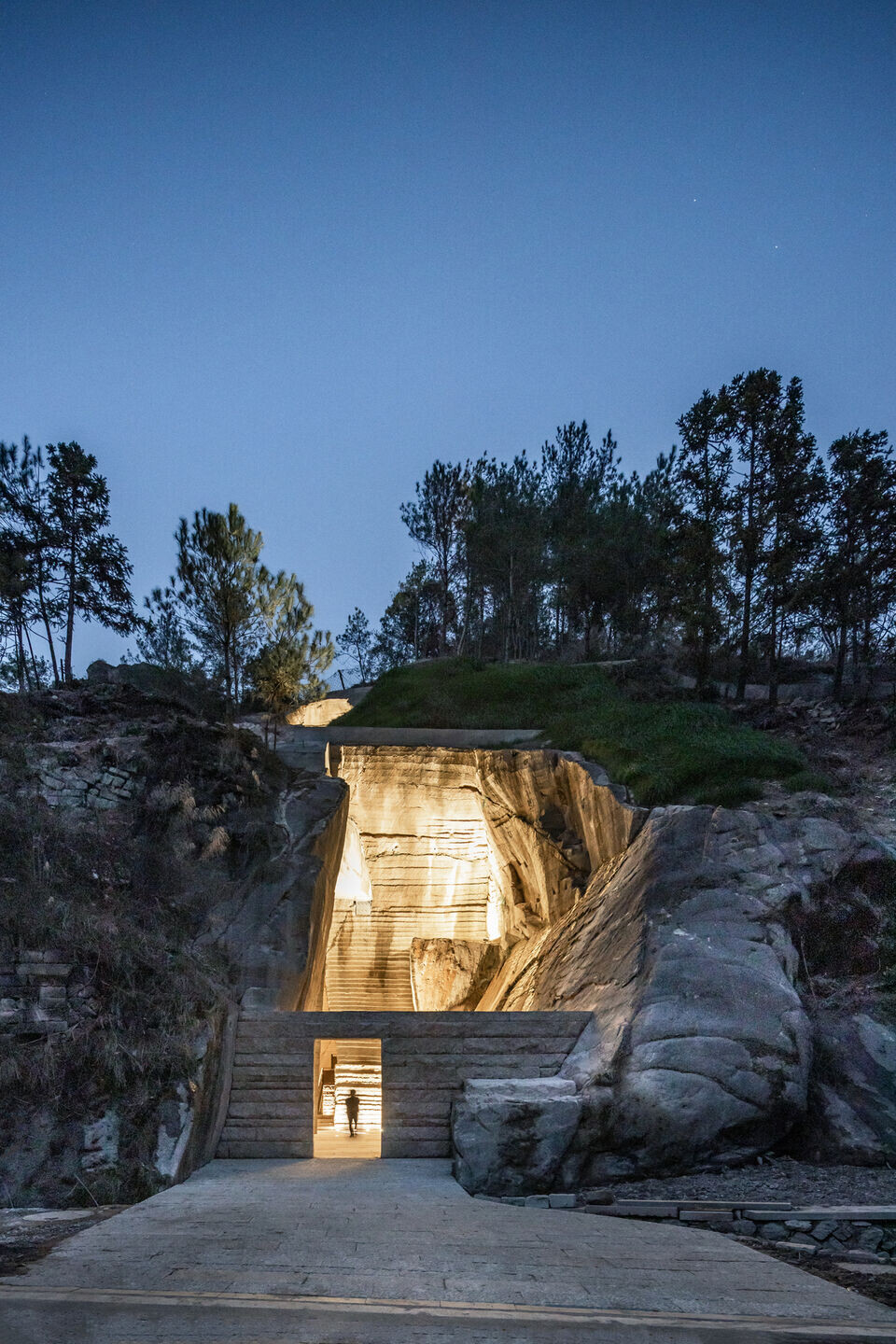 Materials used:
Flooring: Tufa