This technology-rich downtown public library celebrates its distinctive regional climate, proximity to the Mississippi River, and unique local community.The branch creates a new model for library services in Baton Rouge. In addition to book collections, there are spaces for community programming, outreach, and collaboration; an array of high- and low-tech spaces for learning and creation; spaces for local entrepreneurs to work and meet; as well as dedicated program spaces for children, teens and adults.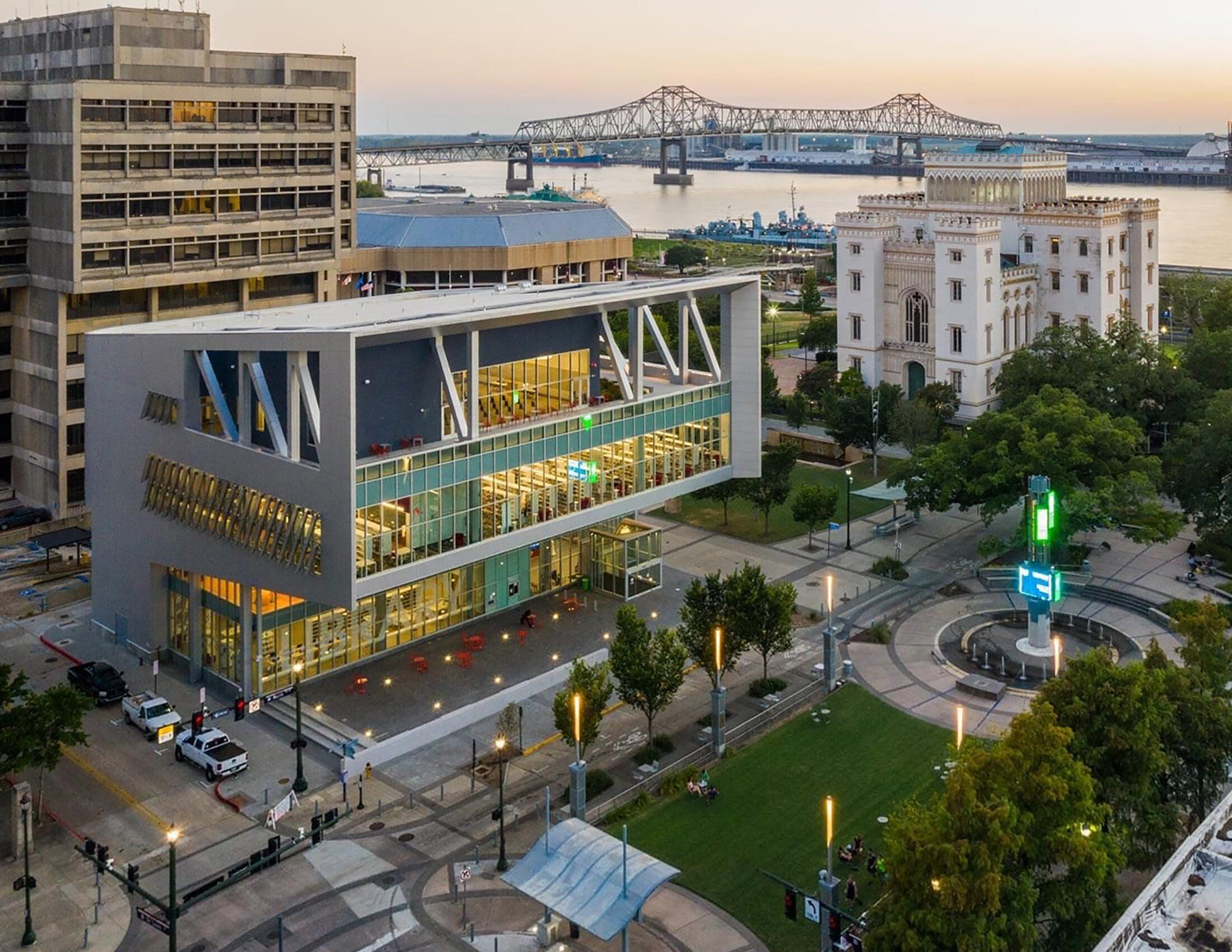 The project is in the heart of downtown Baton Rouge, where forty percent of residents live in poverty. The library provides a critical service to these residents in both daily life and in times of crisis, and even serves as a community shelter during severe weather. The library's distinctive cantilevered form came about not through an abstract aesthetic decision, but from a careful study of the program and the local climate. The stacked arrangement of dedicated floors for children, teens, and adults provides both a shaded public plaza at street level and a public roof terrace that offers sweeping views of the Mississippi River and downtown. Each façade is tuned to its solar orientation; the largest windows face north, while diagonal sunshades diffuse the sun on the other facades. Maps of the Mississippi play a central role in the library's interior design, which also takes inspiration from the local jazz scene with a rich, layered fusion of patterns and colors.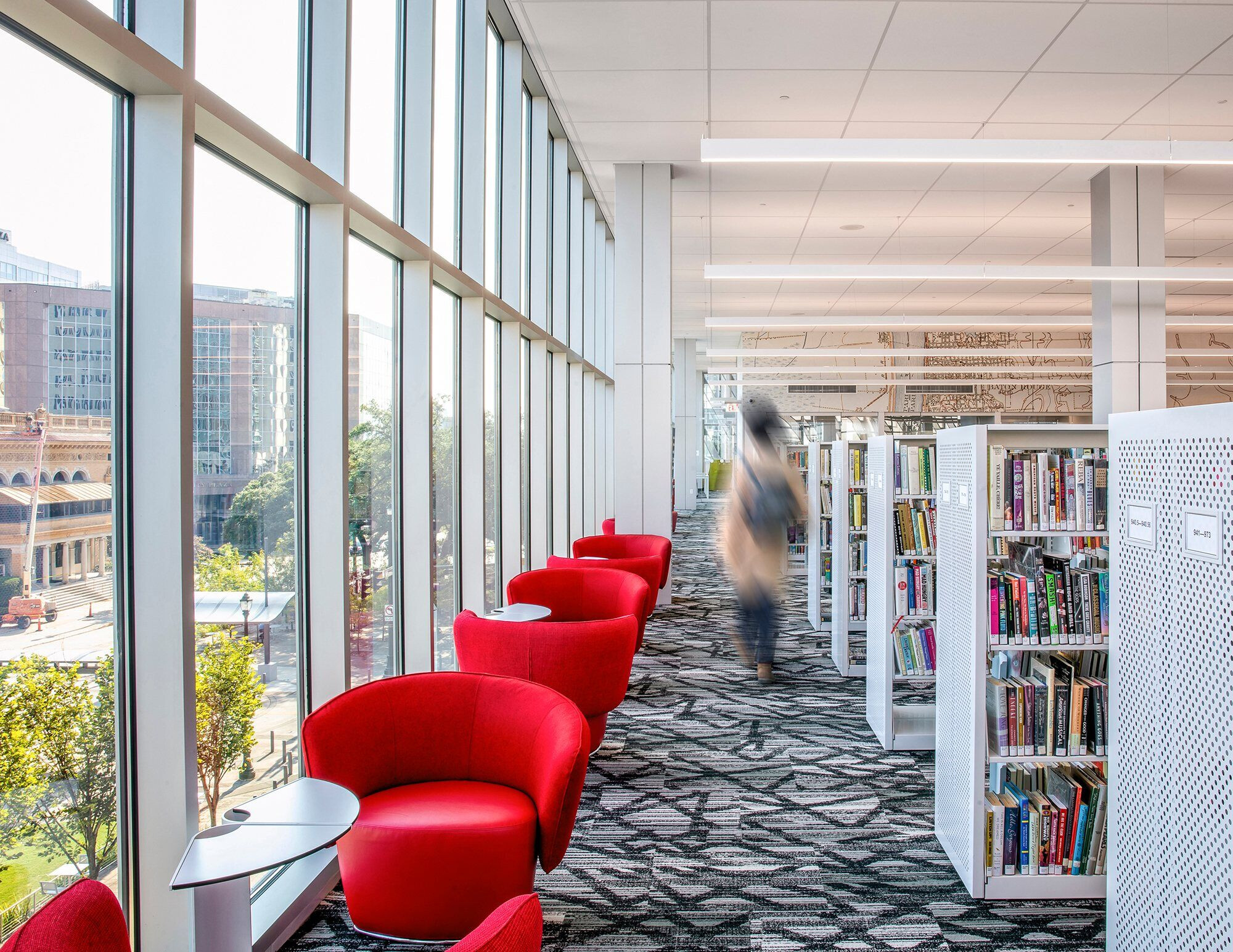 The primary criteria for selecting materials on the project were sustainability, affordability, and ease of maintenance. As a project with strict budgetary limits, the design needed to control costs, but materials with high recycled content were favored.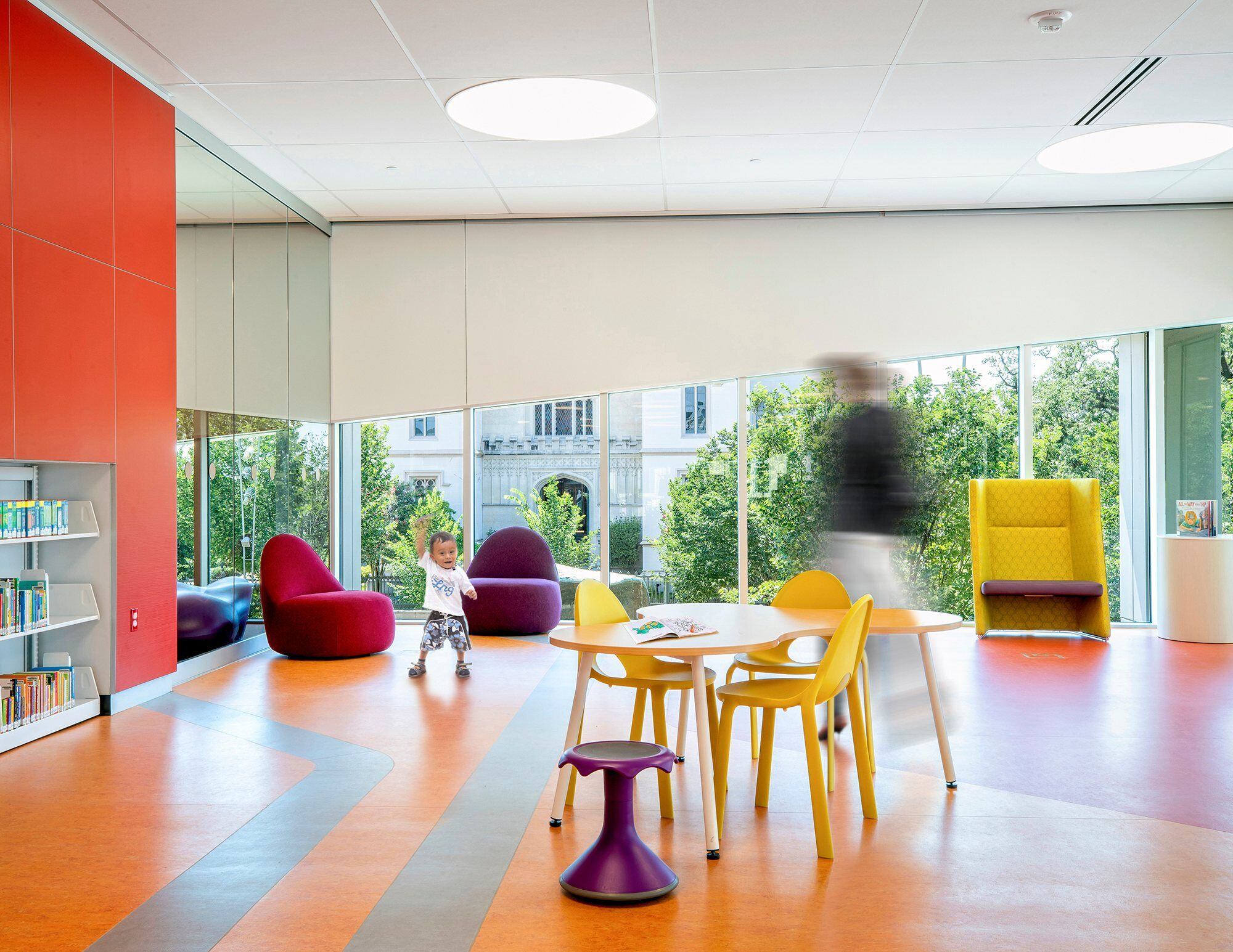 The local community shaped the technology-rich building program. The library has made numerous partnerships with downtown non-profits that include organizations that support the arts, improve access to justice, and provide environmental research and education. The library programs create an opportunity to promote these organizations to help them realize their missions while empowering residents with tools and resources to improve their lives.
Team:
WHLC Architecture (Joint Venture partner)
Associated Design Group (MEP)
Shen Milson Wilke (AV)
Reich Associates (LA)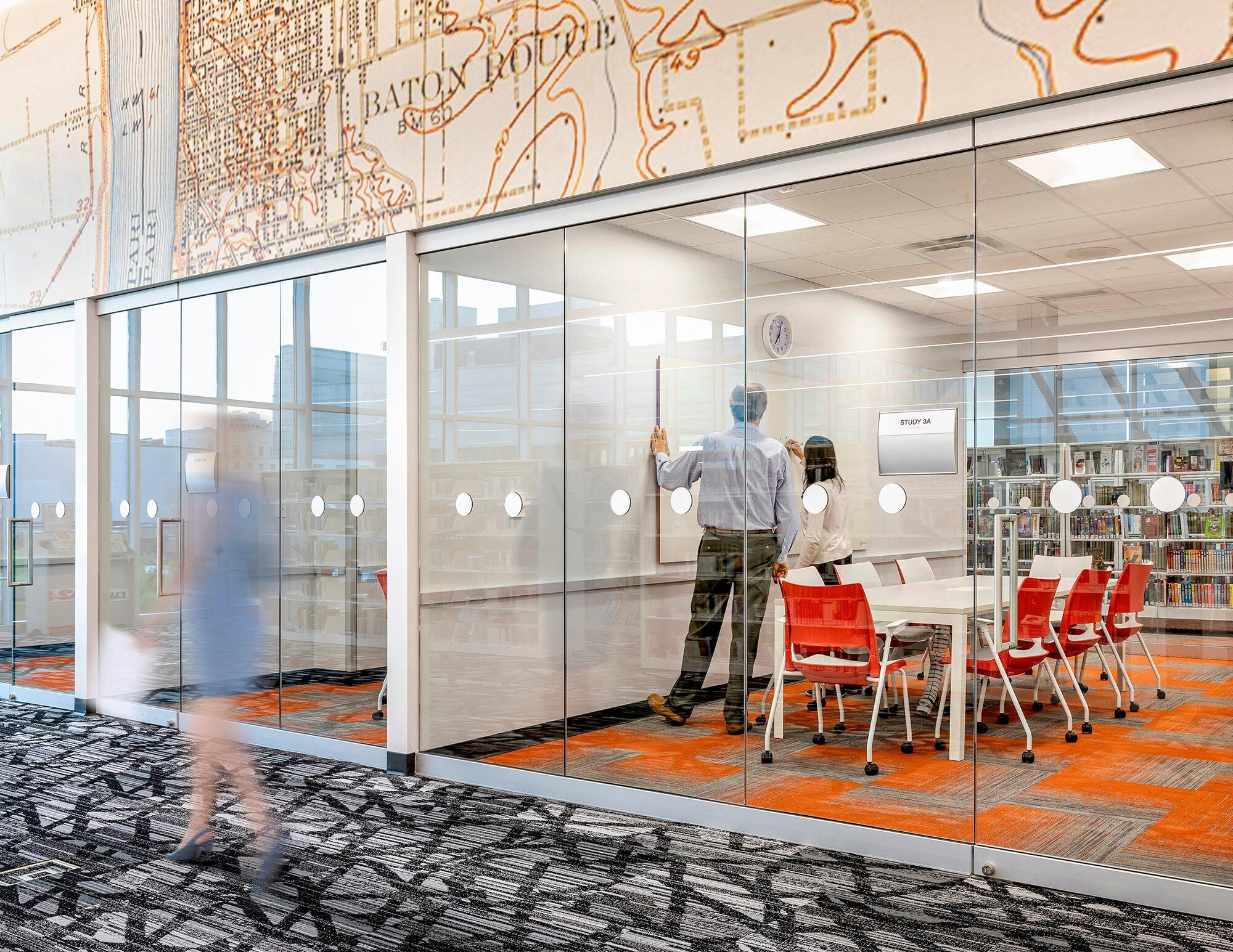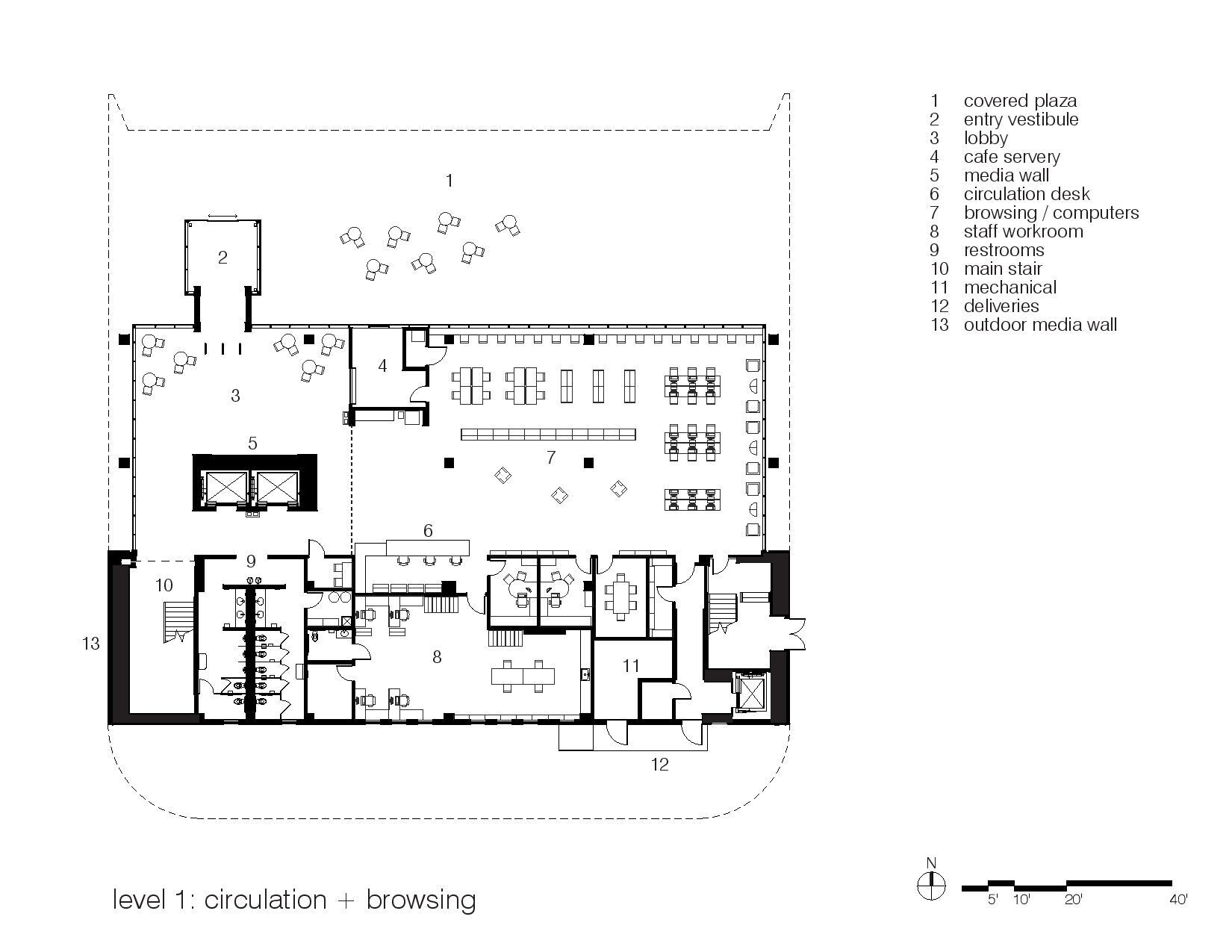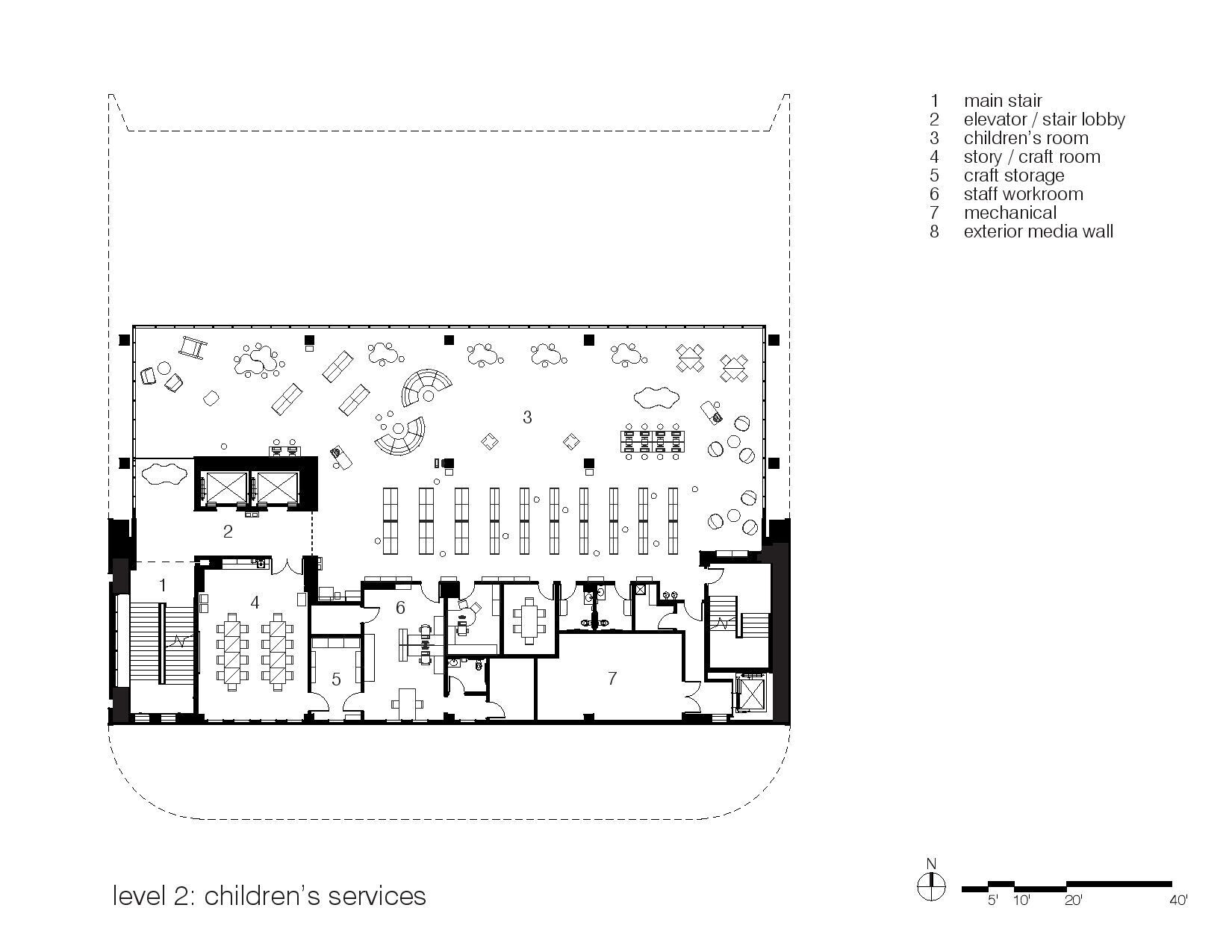 Material Used :
1. Facade cladding: Metal panels, ACM
2. Flooring: Linoleum –Tarkett -Harmonium XF
3. Flooring: LVT – Mannington -Flow
4. Flooring: LVT – Patcraft - Charted
5. Flooring: LVT – Tandus Centiva -Substrate
6. Flooring: Porcelain Tile – Daltile - Invoke
7. Flooring: Tile Carpet –Lees – Taped Off, Hustle & Bustle, Pop Icon, Selvage
8. Flooring: Broadloom Carpet –Tandus Centiva -Jackson
9. Paint: Scuffmaster
10. Window shades: Mecho – Eco Veil
11. Wall coverings: Custom digital wallcoverings – Koroseal
12. Interior lighting: Pendants - OCL, Loop
13. Interior furniture: Lounge chairs – Softline
14. Interior furniture: Patron study chairs and mobile staff desks – KI
15. Interior furniture: Patron study tables, Herman Miller
16. Interior furniture: Maker Room tables and flip-top tables – Versteel
17. Interior furniture: Children's tables and chairs – VS America
18. Interior furniture: Children's and Teens lounge seating – Bernhardt
19. Interior furniture: Occasional tables – Peter Pepper
20. Interior furniture: Café chairs – Vitra
21. Interior furniture: Café tables – Magnuson Group
22. Interior furniture: Site furnishings – Landscape Forms
23. Interior furniture: Stacking and teen chairs – Hightower
24. Interior furniture: Patron chairs – Alias
25. Shelving: Spacesaver