The "Sans souci" psychiatric hospital was founded in 1910. It is directed by Professor Raoul Titeca, a renowned psychiatrist whose "avant-garde" vision of treatment orientated towards rehabilitation extends to the architectural design of the hospital.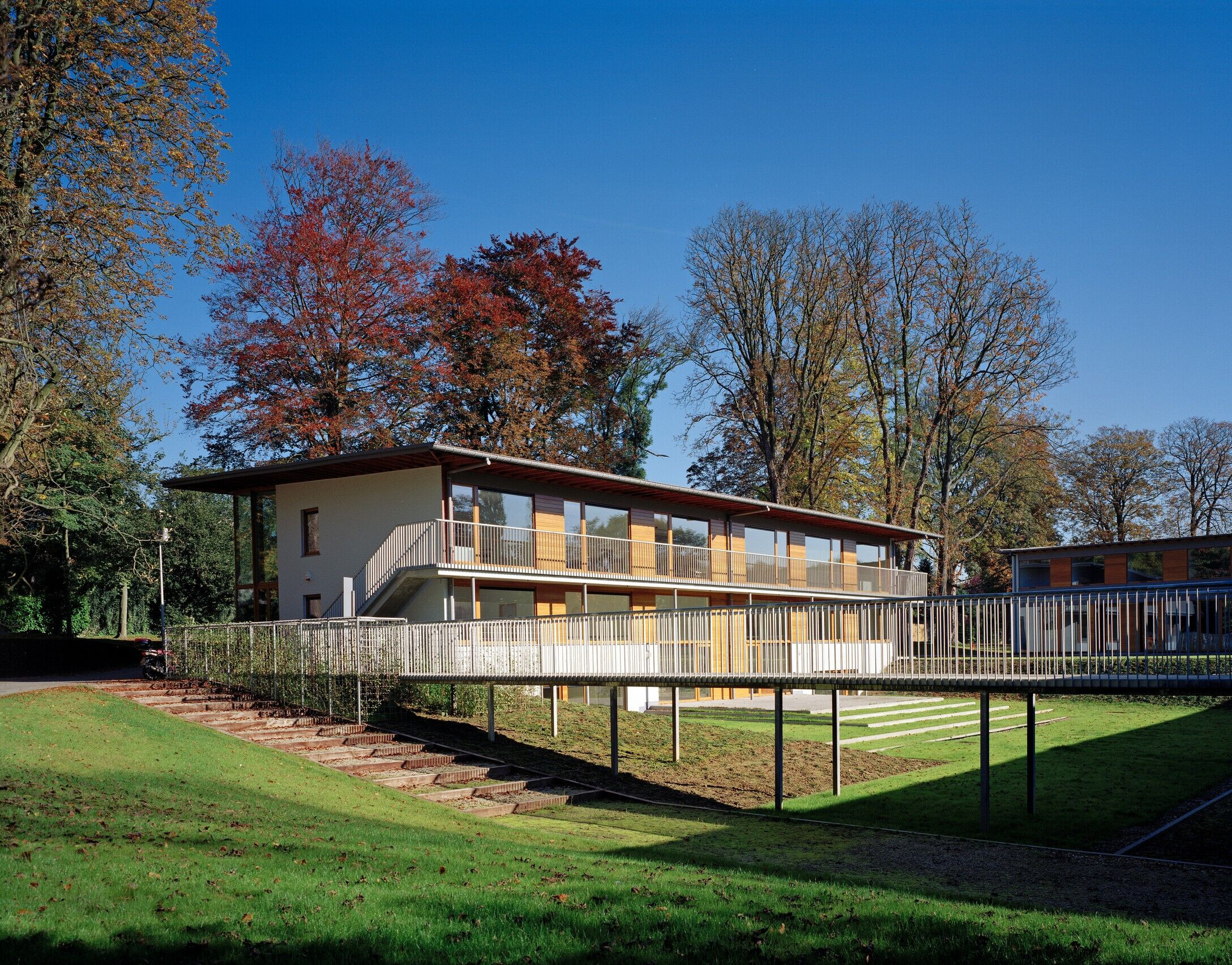 Whilst embracing the fundamental scientific principles of Professor Titeca's methodology, the hospital's medical staff is intensifying basic and applied research, which is carried out at both the University and the hospital.New treatment methods, particularly for long-term patients, made an audit of the existing hospital installations necessary, as well as spatial planning. A proposal has been drawn up for reconstruction of the hospital services, which accommodate 145 patients and are situated in wooded parkland covering 2.6 hectares.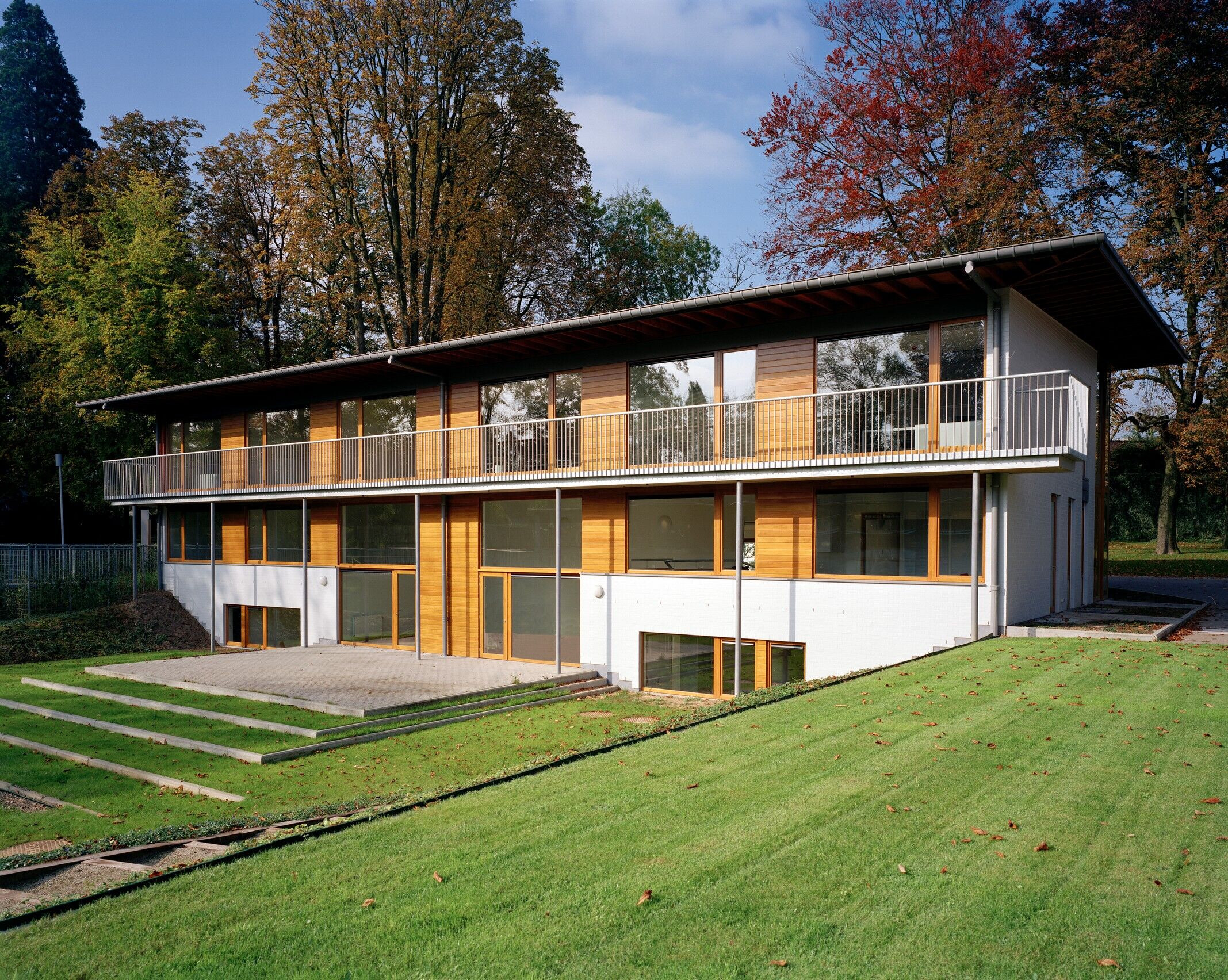 The audit, spatial planning and cost estimates were completed in June 1993.
A restaurant and a kitchen, covering a surface area of 460 sqm, were built and delivered in 1995. The peripheral location of these buildings prompts patients to get dressed and walk across the parkland in the morning for their breakfast. This encourages them to reconnect with the rhythm of an active life. On the same principle, the clinic later moved daytime workshop activities into a house located outside the site (The House opposite).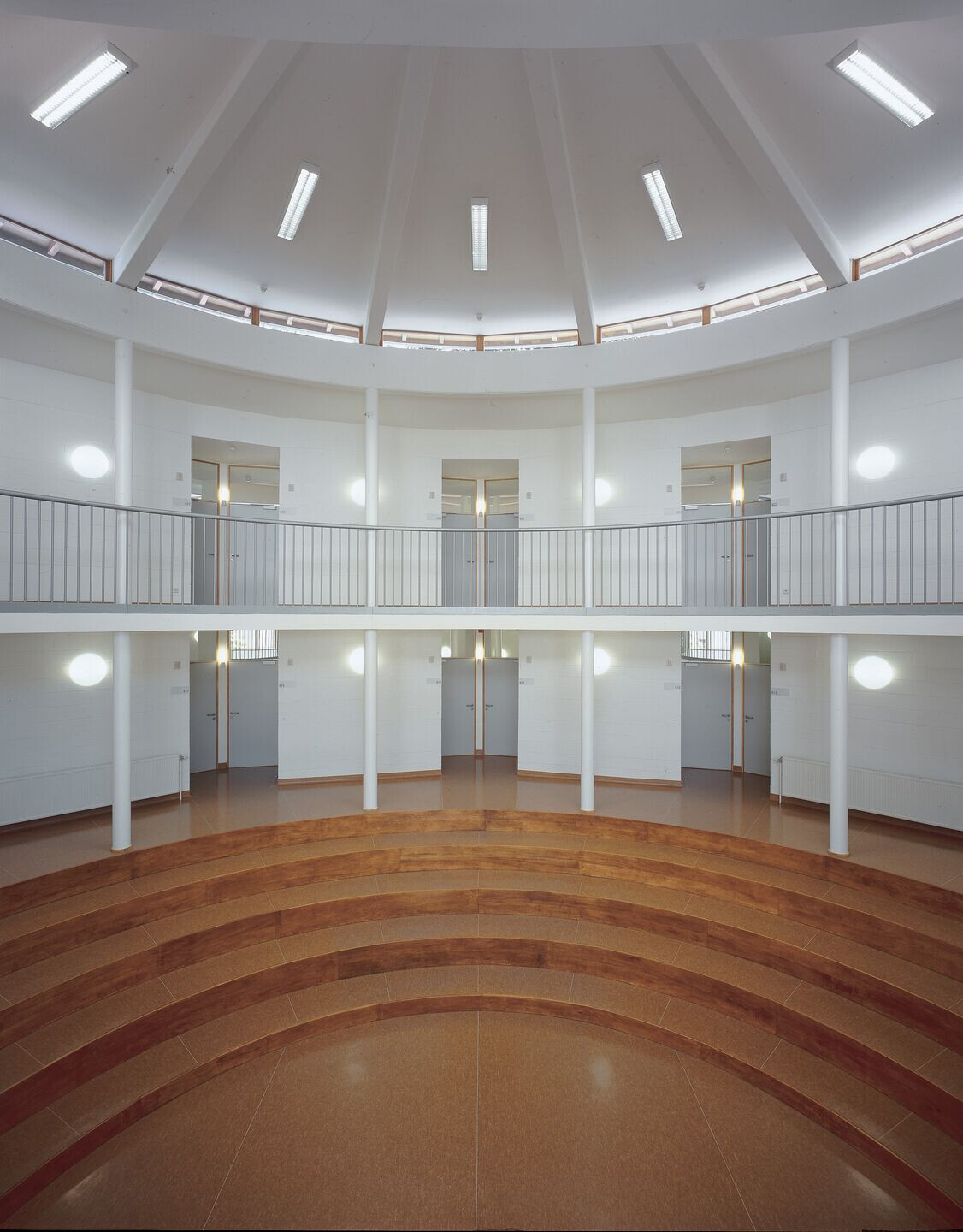 The first hospital building (I), called "La Rotonde", with a surface area of 1,650 sqm, has accommodated 30 patients since June 2002. Its horseshoe structure has bedrooms along the outside (to preserve the personal space and privacy of the patients) around a central forum which is the hub of social life.
A new phase of construction (II), covering a surface area of 1,700 sqm, was completed in October 2007. This involved the construction of a new administration block, including a meeting place for patients, and 4 houses each containing bedrooms for 6 patients. This accommodation aims at developing a minimum degree of independence which is very necessary for long-term in-patients due to be discharged. According to Dr Raoul Titeca, this stage is essential, although offered only rarely by hospitals. The uniqueness of this model lies in its distance from the clinical facility, which is located around twenty meters from the houses with the aim of encouraging patients to cope by themselves before asking for assistance.
Design work on the last phase (III) of 5786 sqm, comprising three units of 30 beds and 3 houses, started in 2012 and work has been délivered in December 2021. Finally, a new plot of 200 sqm, chaussée de Dieleghem , acquired in 2015 will receive 900 sqm of logistics premises.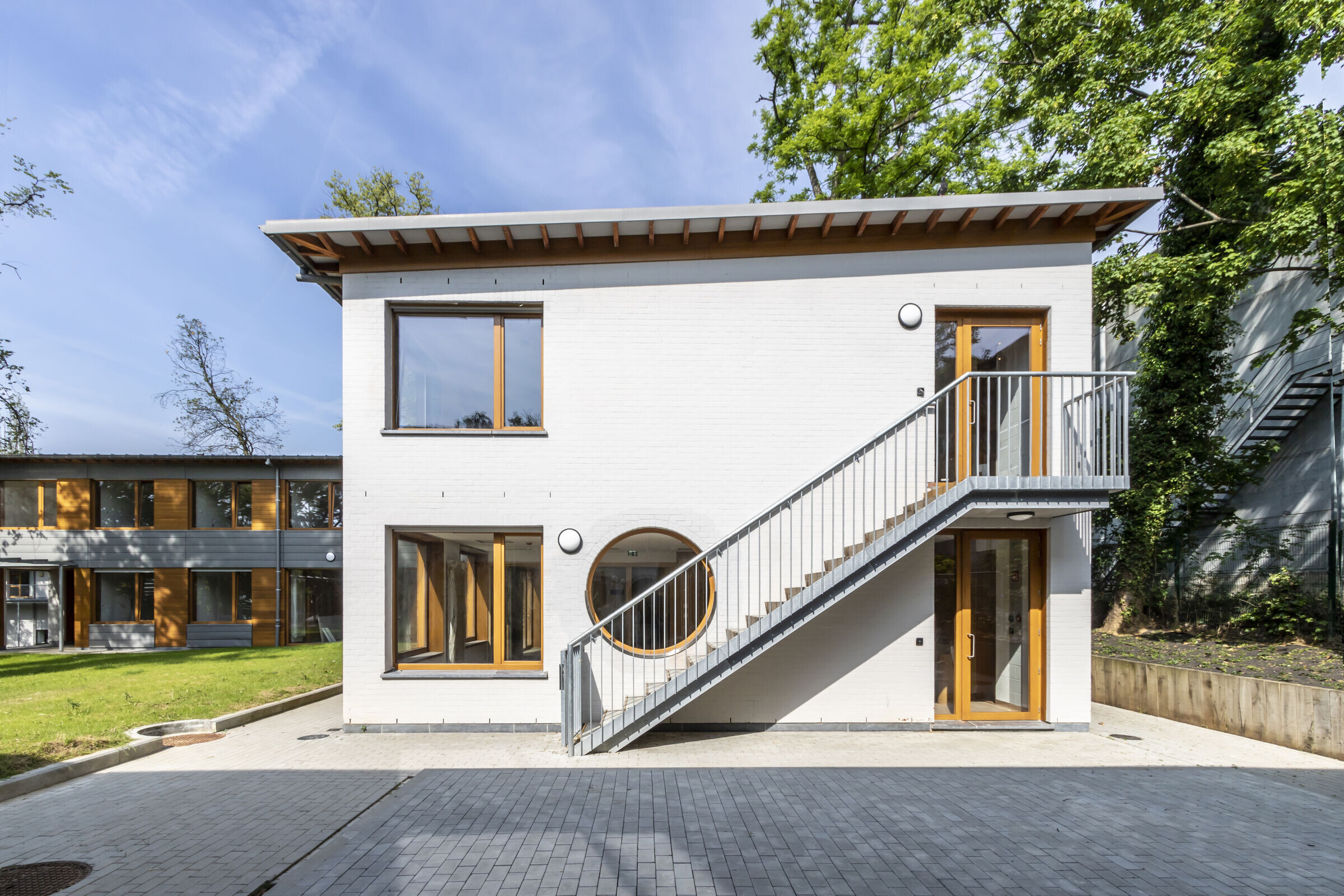 The architectural design is understated and calm, out of respect for the patients and for the natural environment in which it is situated. The materials, terracotta bricks, zinc and light-coloured wood, were chosen for their natural appearance and durability.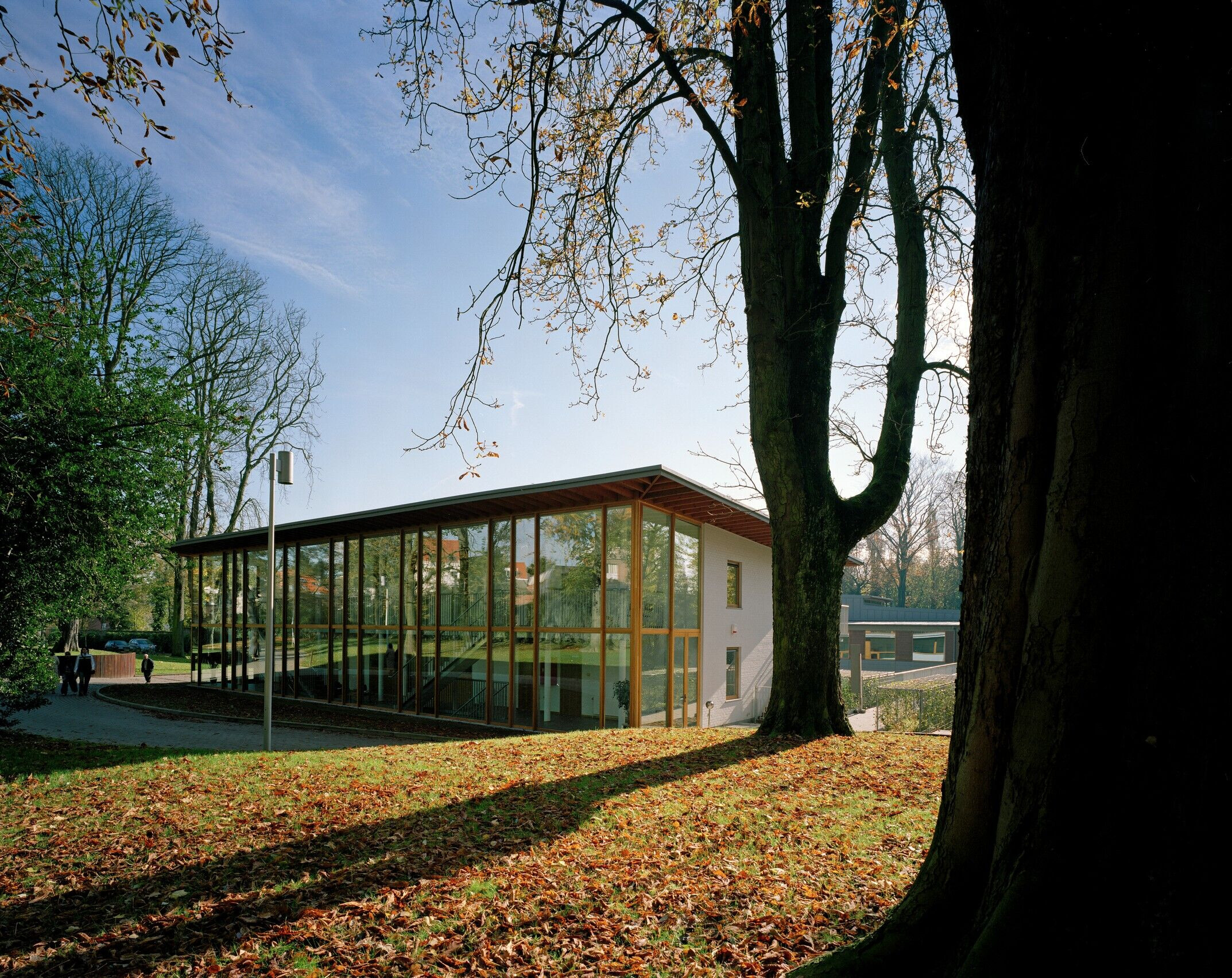 Team:
Architecture & Designer: Ph. Samyn
Partners in charge: J. Ceyssens, D. Spantouris, D. Mélotte , G. André
Collaborators: K. Ammor, G. Baltariu, M. Bevilacqua, S. Bessalah, N. Brombart, S. Capirchio, G. Cardillo, Y. Chen, A. Colback, F. Defrenne, N. Duvivier, J.- P. Dequenne, L. Finet, T. Henrard, N. Hosna, J. F. Joiret, L. Magain, A. Miralles Barreda, P. Monniez, E. Noorbergen, R. Pensarts, J.-C. Puechblanc, M. Renchon, J L. Rodriguez Samper, G. Silva Baticam, R. Somfelean, Q. Steyaert, B. Thimister, A. d'Udekem d'Acoz, Chr. Van Raemdonck, M. Veldekens, S. Verhulst, J. Yaramis, C. Zureck,
Stability engineer: SETESCO, J. DUFOUR, PIRNAY
Technical engineer FTI
Special : J. DUFOUR sa/TRACTEBEL, LEMAIRE
Acoustics: ATS
Landscape: JNC International
Signage: SDESIGN
Safety coordination: AIB VINCOTTE (AIBV), SGI INGENIEURS
Management : Philippe SAMYN and PARTNERS (A. Charon and Q. Olbrechts)
3D model : Philippe SAMYN and PARTNERS (R. Pansaerts, A. Colback)
Design : Patrick Goethaels
Photographers : Ch. Bastin & J. Evrard, Marie-Françoise Plissart, Quentin OLBRECHTS