The initial brief called for a fresh, contemporary and inviting design with wide appeal as the space was to serve three purposes; coffee takeaway hub, sit-down brunch hotspot and moody and inviting restaurant by night. The branding focuses on the two siblings (which were our client's children) as inspiration. We sought to extend this idea of childhood nostalgia and take it to the school yard. Extracting key motifs from spaces around the school; we recreated them in a refined setting that would be sentimental and inclusive for all ages.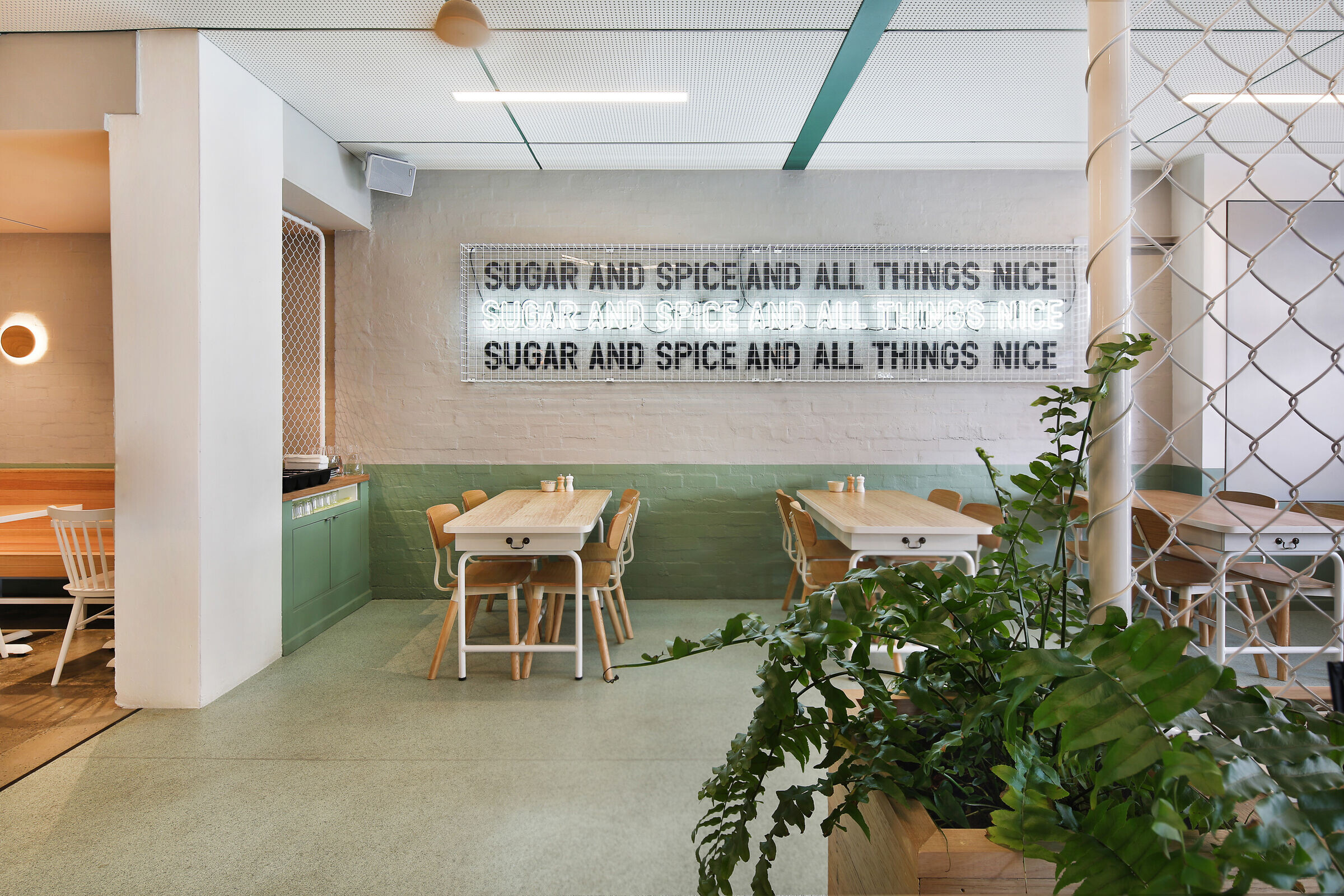 Balancing the concept with a contemporary colour palette was crucial. We added refinement with tones of soft green, crisp white and Victorian Ash timber. We divided the large space into sections; the more intimate café section mimics the classroom whereas when you move towards the rear it feels more collective and suggests the communality of the basketball court, school oval or canteen.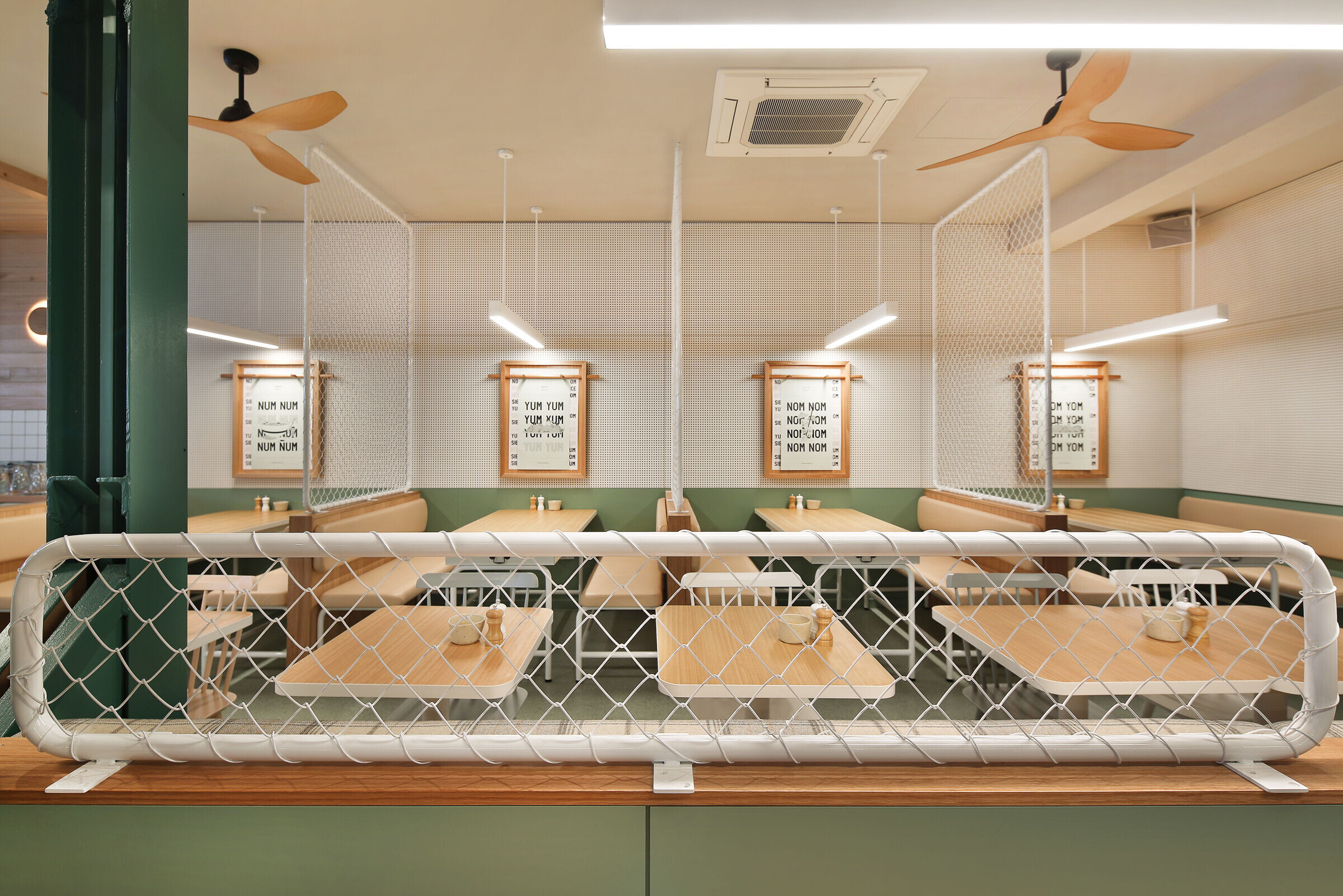 To be consistent with our theme we chose materials that reflected the common motifs found in a youthful, school-like setting. Mesh screens, commonly seen on sporting fields, timber ceiling fans and institutional tiling amongst subtle hints of nostalgia such as painted lines on the polished concrete floor which reference those seen on a basketball court, and drawers underneath the dining tables housing the menus reinforced and strengthened our concept.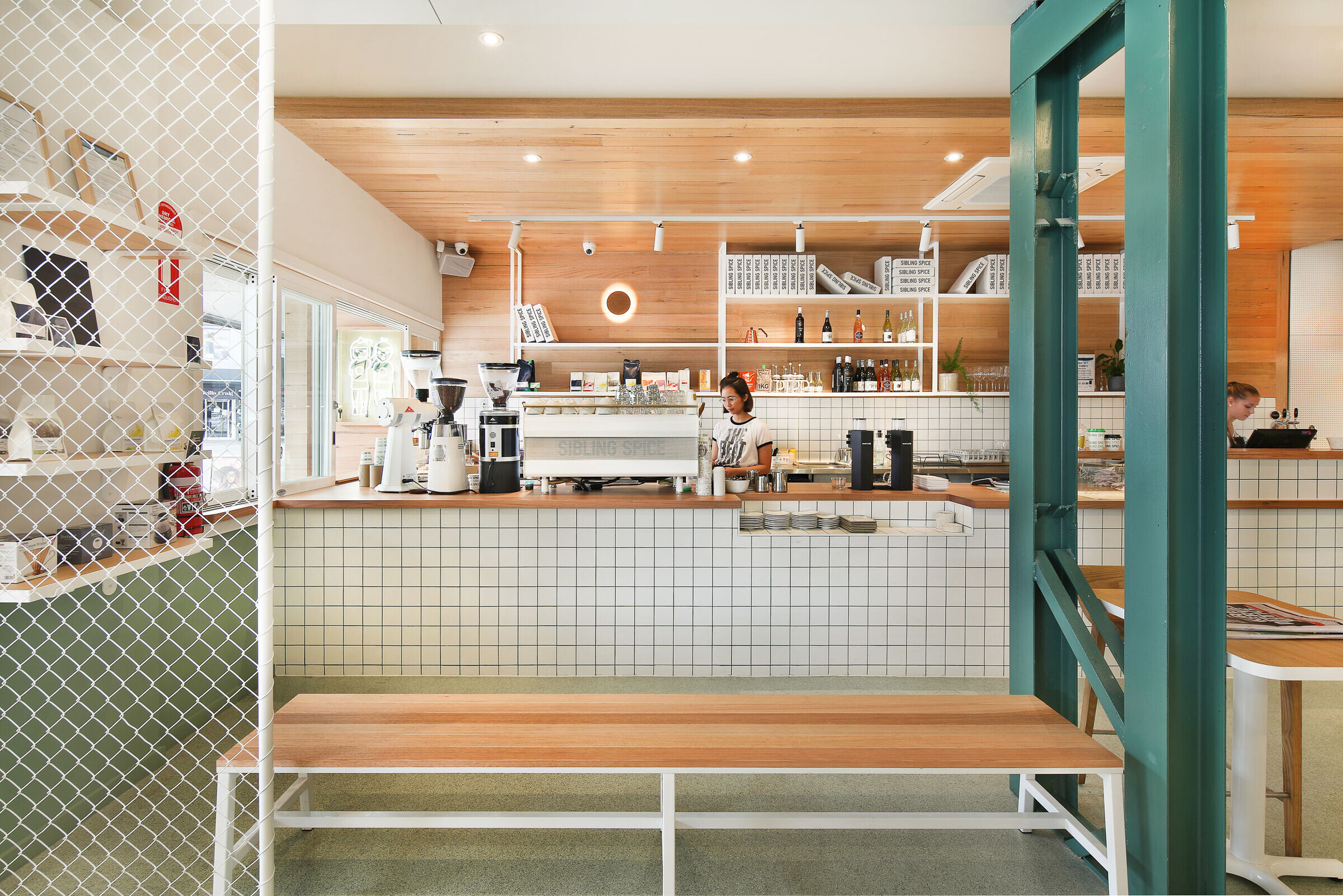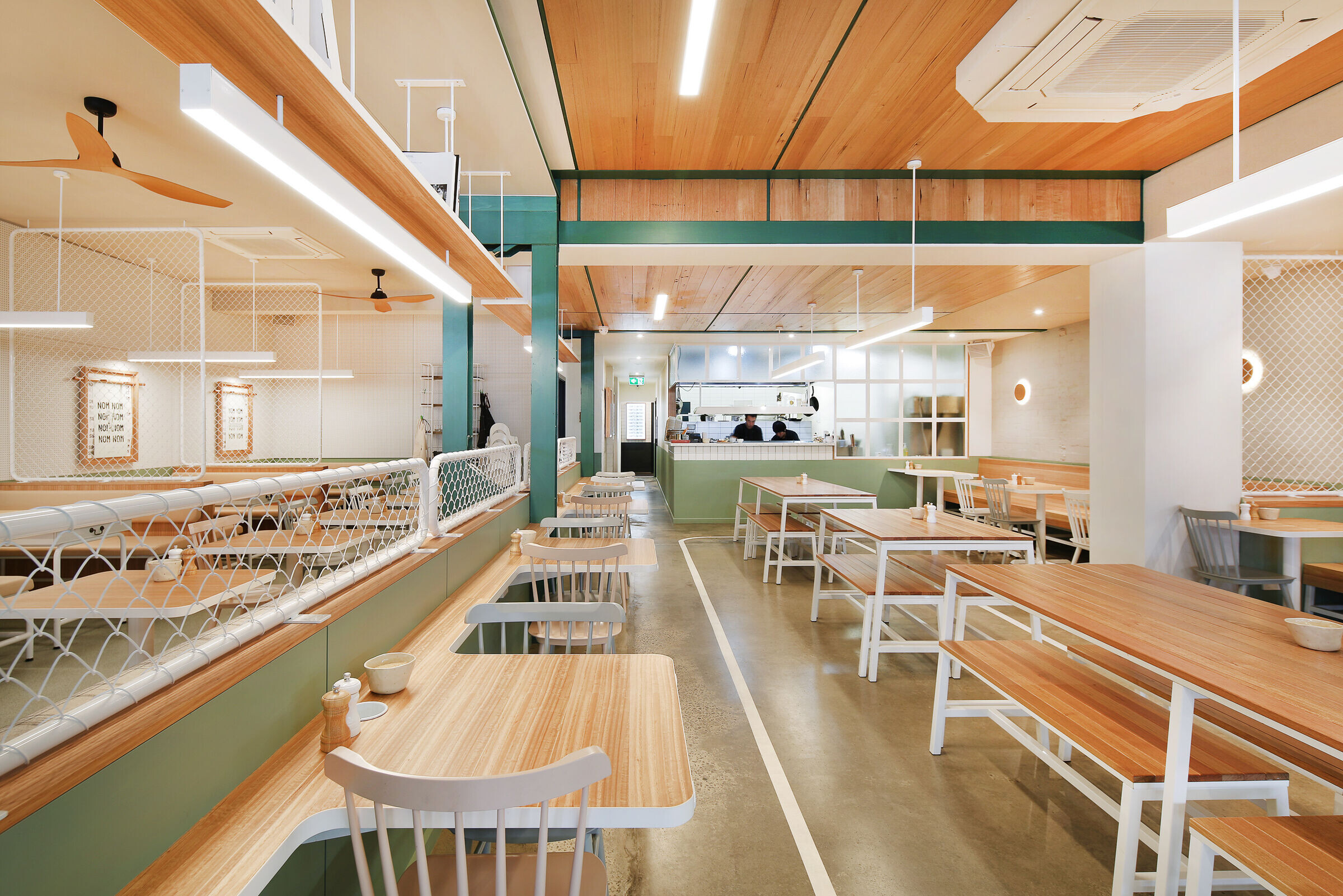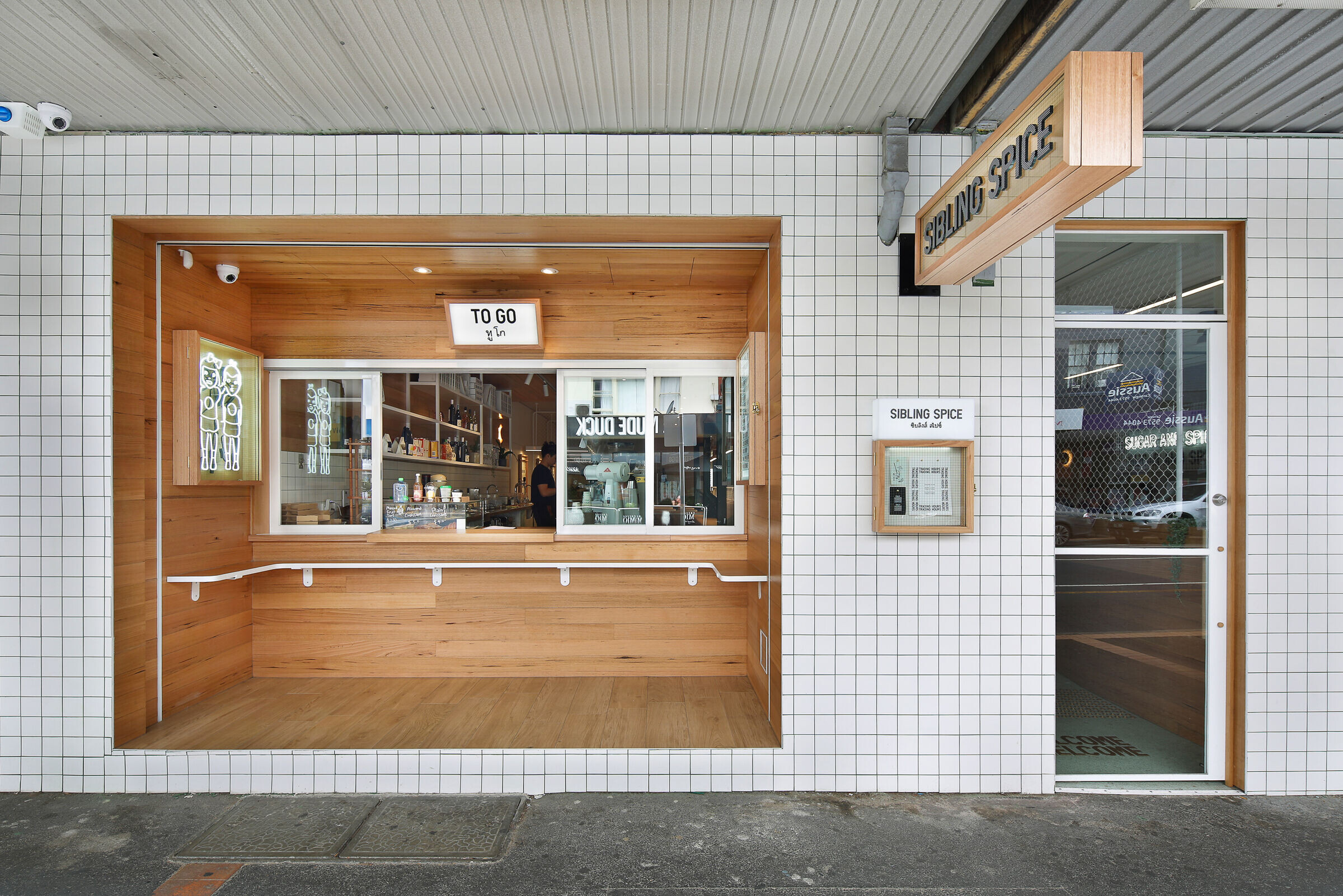 Material Used :
1. Wired cast semi translucent stippled glass - Steven's Glass, framing supplied by builders. Featured in shopfront and kitchen wall.
2. Vic Ash - Supplied by contractor and used throughout on bar top, banquette joinery, waiter station. Vic Ash timber panelling also featured on bar wall, coffee window, planter boxes.
3. Chain link fabric with framing - Supplied by Otter Fencing through contractor, featured throughout as mesh screening.
4. Bahama Ceiling Fan 52" with Maple Blades - Lumera Living, featured throughout.
5. Custom Pendant in powdercoat White - Supplied by Ambience Lighting featured throughout.
6. Eclipse Wall Light in Brass finish - Supplied by Ambience Lighting featured throughout.