The regional headquarters of Sofaxis, a subsidiary of the insurer SHAM, spreads its wings in the ZAC du Moulin à Olivet, south of Orléans.
Connected by a glazed atrium, these two wings with variable levels accommodate 3,500 m² of offices bathed in natural light and largely open to the wooded environment. It is moreover the desire to preserve as many remarkable trees as possible that guided the architects of AFAA towards this specific form which seems to weave its way through the existing vegetation.
The facades of the offices display a rigorous image punctuated by slender frames. A white metallic grid catches the light and breaks the linearity of the mineral cladding. These facades, which are largely open to the landscape, nevertheless limit heat loss thanks to the use of particularly efficient exterior insulation. Emblematic gables of the project, the four ends of the wings are fully glazed and give access to large panoramic loggias.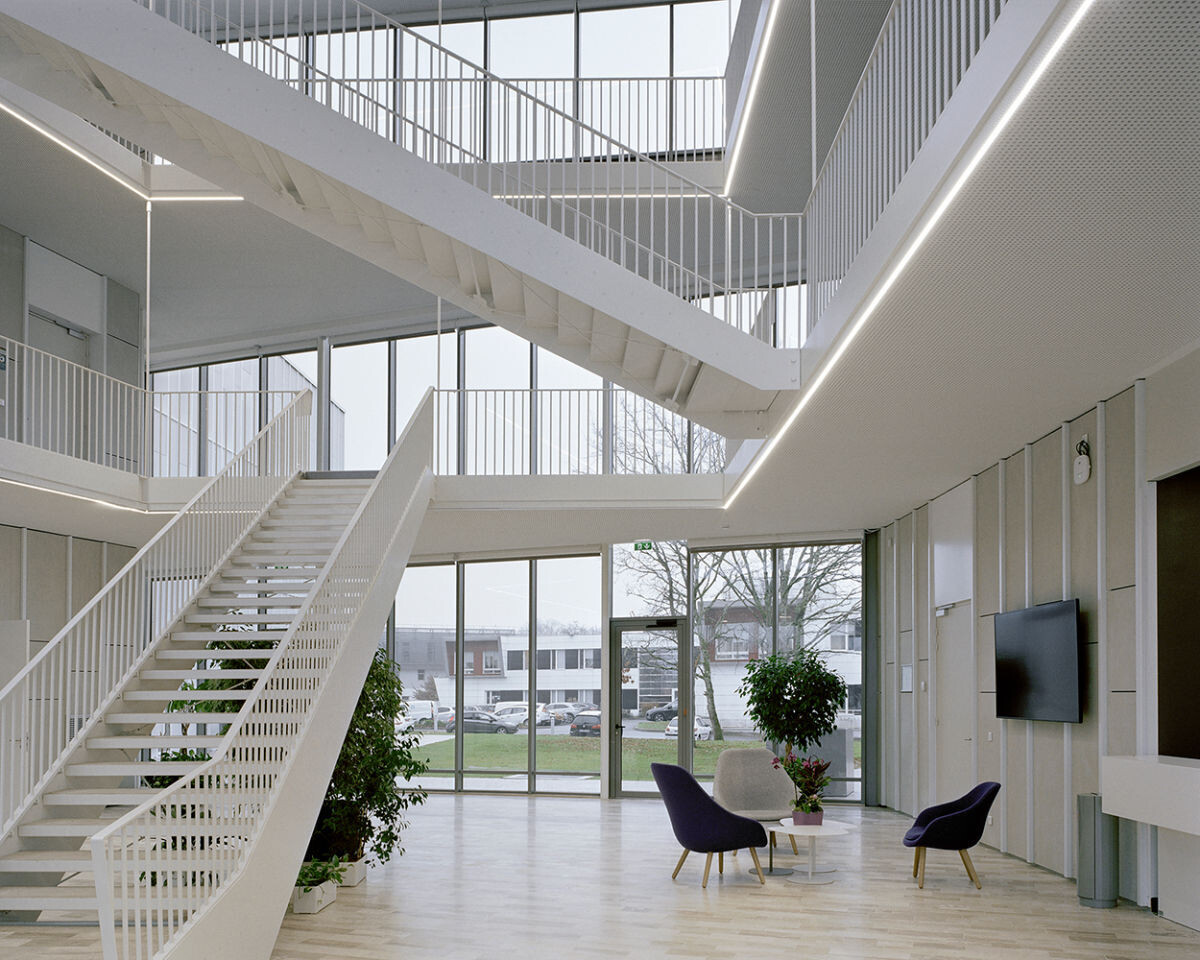 An atrium that invites encounters
All in transparency, the central atrium on which the office wings are articulated has been designed as a vast meeting space. Generous and open, this bright triple-height nave is not encumbered by any structural post. The metal frame supports the walkways which become so many third places conducive to exchanges between employees. The Souppes stone flooring is a nod to the historic sidewalks of Orléans, the regional capital.
This large open and glazed space benefits from natural ventilation: the opening of the upper and lower parts of the frames makes it possible to renew the air and bring freshness into the atrium.
AFAA designers paid particular attention to the comfort of the 150 Sofaxis employees. The thinness of the wings of the building, which is limited to 12 meters, places most of the office space on the first day. At each level, welcoming terraces offer direct access to the landscape and vegetation.
Certified BREEAM and responding to the new E+C- label, this tertiary complex minimizes its energy consumption and environmental impact.