Can classic style be the right option for modern office spaces? Warsaw headquarters of STADA, a German pharmaceutical company, proves it can. Plus, it goes to show that this type of arrangement need not be faithful to a single style. Check out this project.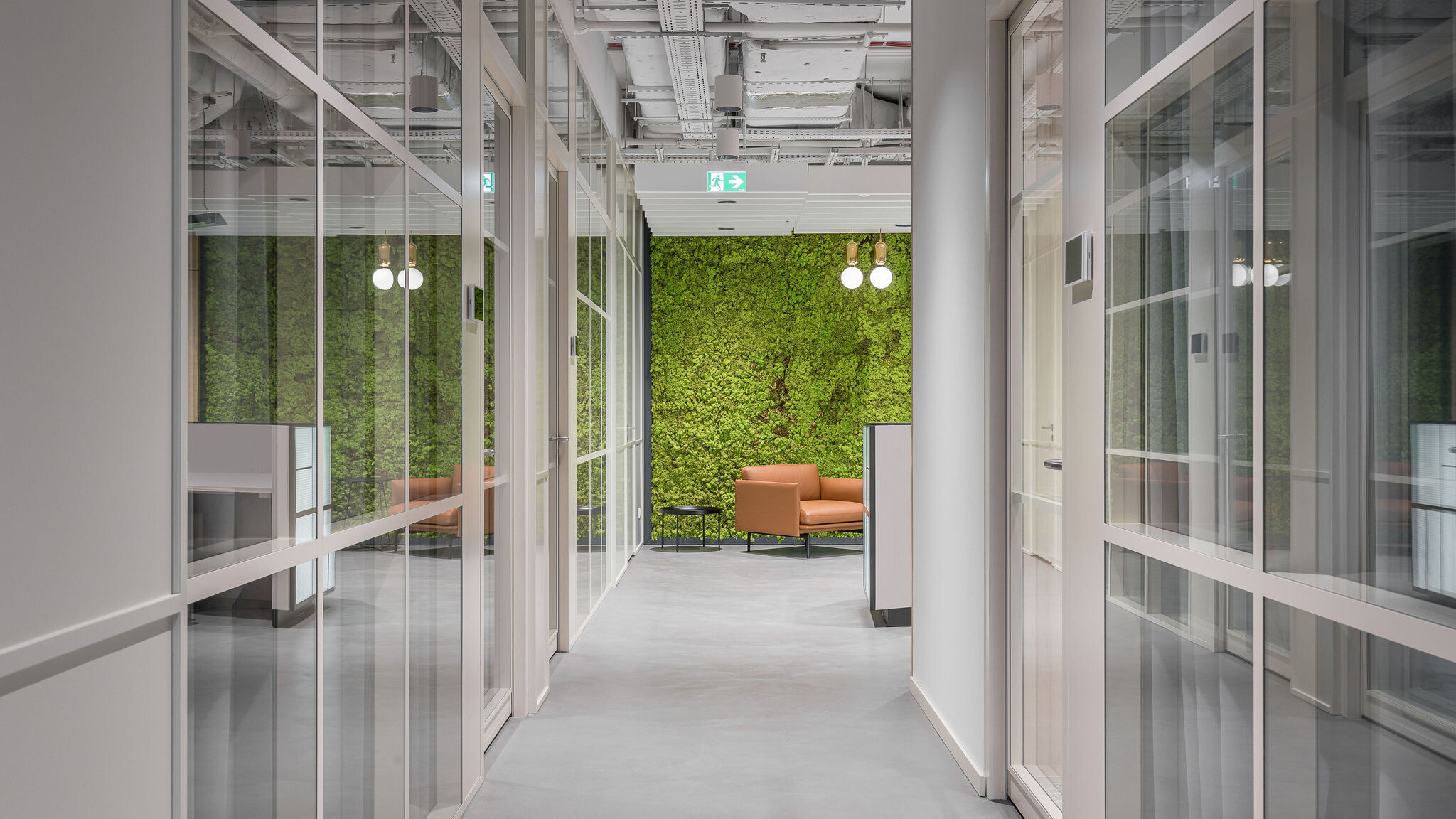 The surroundings of Warsaw Okęcie Airport. The Park Warsaw office complex is located nearby. Low-rise buildings are intersected by curiously arranged squares and green areas with a variety of carefully selected species of trees, bushes and flowers. The idea is to make the place green and feel different from Warsaw's city centre. Besides, self-sufficiency of the complex and its facilities such as banks, stores, restaurants and a fitness club are to guarantee one hundred percent comfort of work and improve work efficiency. The Polish branch of STADA, a pharmaceutical concern, opened its office here, too.
Offices only
STADA was expecting an office with a cabinet layout. Eventually, the Investor decided to lease one of the floors in The Park complex with a total area of ca. 800 sqm. Then, in autumn 2020, the cooperation of STADA's Polish branch with our studio and the design team assigned to this project, consisting of Konrad Krusiewicz, Martyna Bosek, Ewelina Mężyńska and Marta Konarska, began.
From the beginning of our collaboration with Stada, the Client underlined that despite the pandemic, most employees would like to work from the office. The office layout turned out to be perfectly suited to this situation, as rooms enclosed by walls are safer. Thus, there was no need for additional space division. However, to design rooms for the Polish Stada team of over 40 people, we had to consider space arrangement and its functionality - says architect Konrad Krusiewicz, founder of TDG.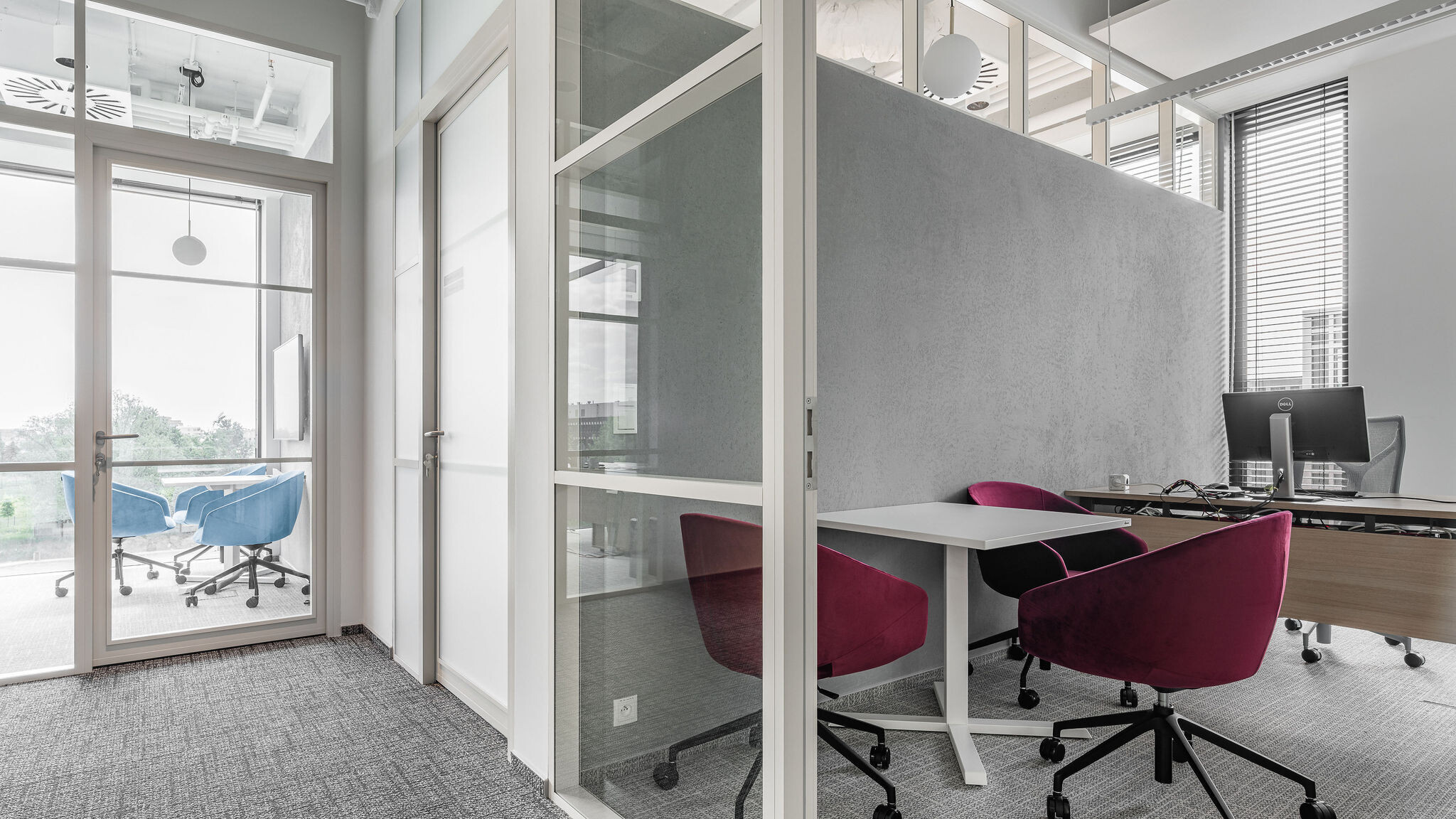 Unobvious combination
Our architects carried the laid-back vibe of The Park complex to the interiors of STADA's office. We settled on classic solutions, which we expanded with industrial features.
The Investor asked for the office to be cozy, but also for certain elements accentuating timelessness. Interior ambience was to be welcoming, with plenty of greenery, fostering a good working environment. Our first visualizations and inspirations almost at once appealed to the Client, and they fully trusted us during the next stages of office design. In the end, we set on classic solutions, which were spiced up with industrial-style details - explains architect Martyna Bosek from TDG.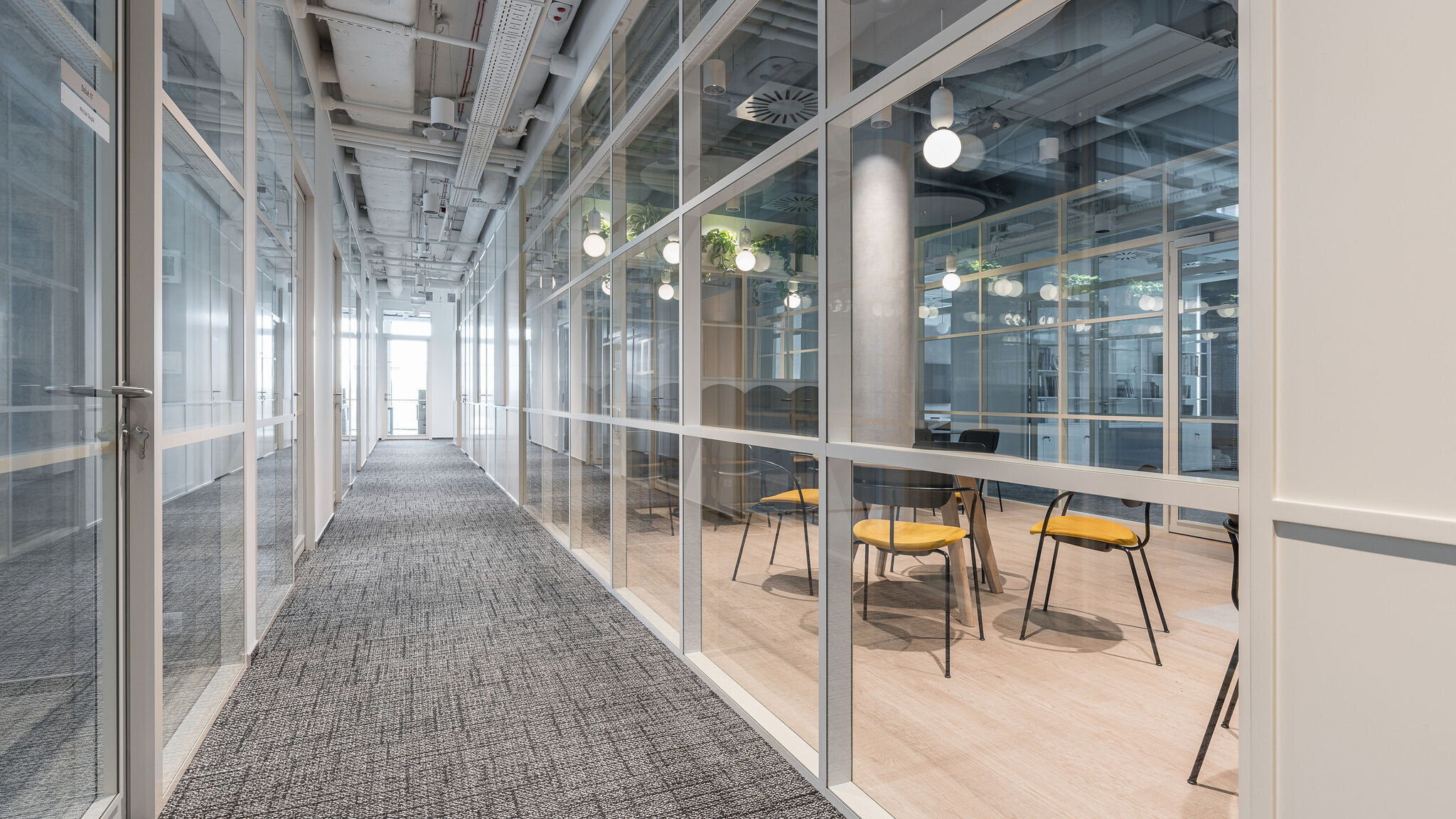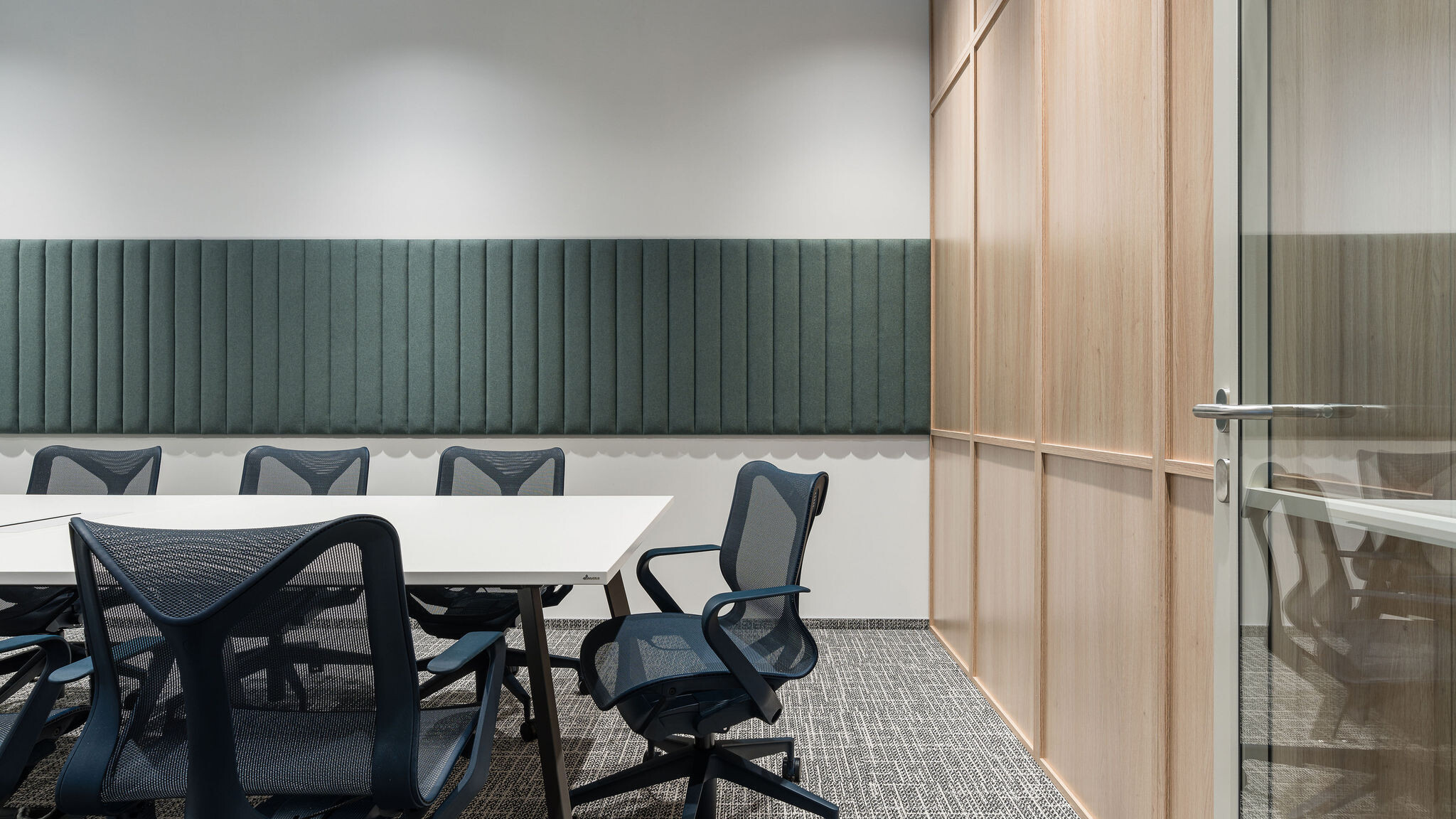 Although the resulting combination of styles may seem a tad extravagant, the finished space is inviting, timeless, and not bereft of the much-anticipated "wow" effect, noticeable already at the office entrance in the reception zone: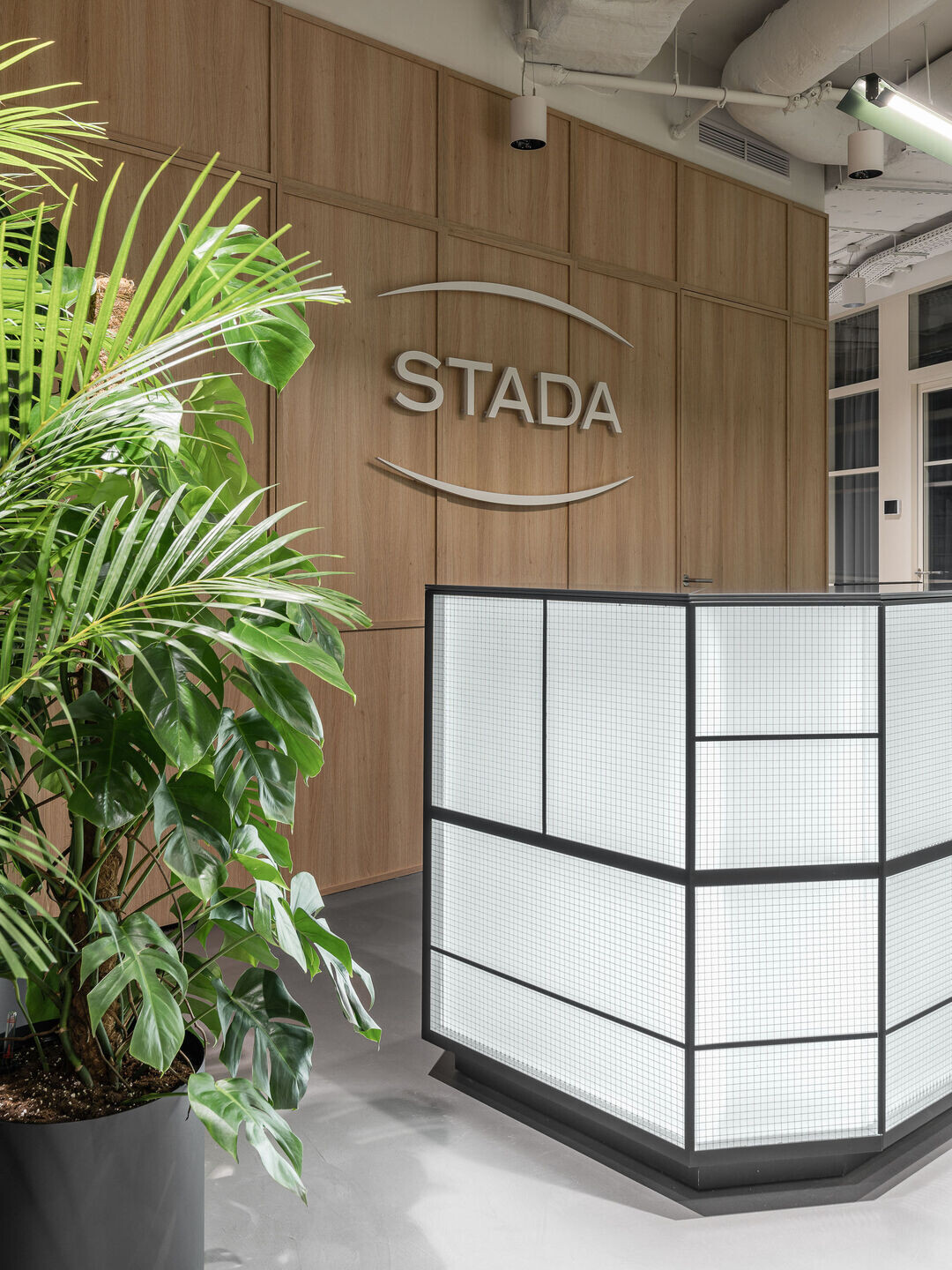 In the reception area, much attention is centered on the desk, as we decided to give it some industrial style design. It is a slightly harsher piece, standing out from the remainder of the office, as it is made of milky, reinforced glass and is additionally decorated with anthracite bars. To get the right proportions in the interior, we have toned down the dominant desk with a green wall mounted on the opposite side. This gives the reception area a professional yet friendly feel - says architect Ewelina Mężyńska from TDG.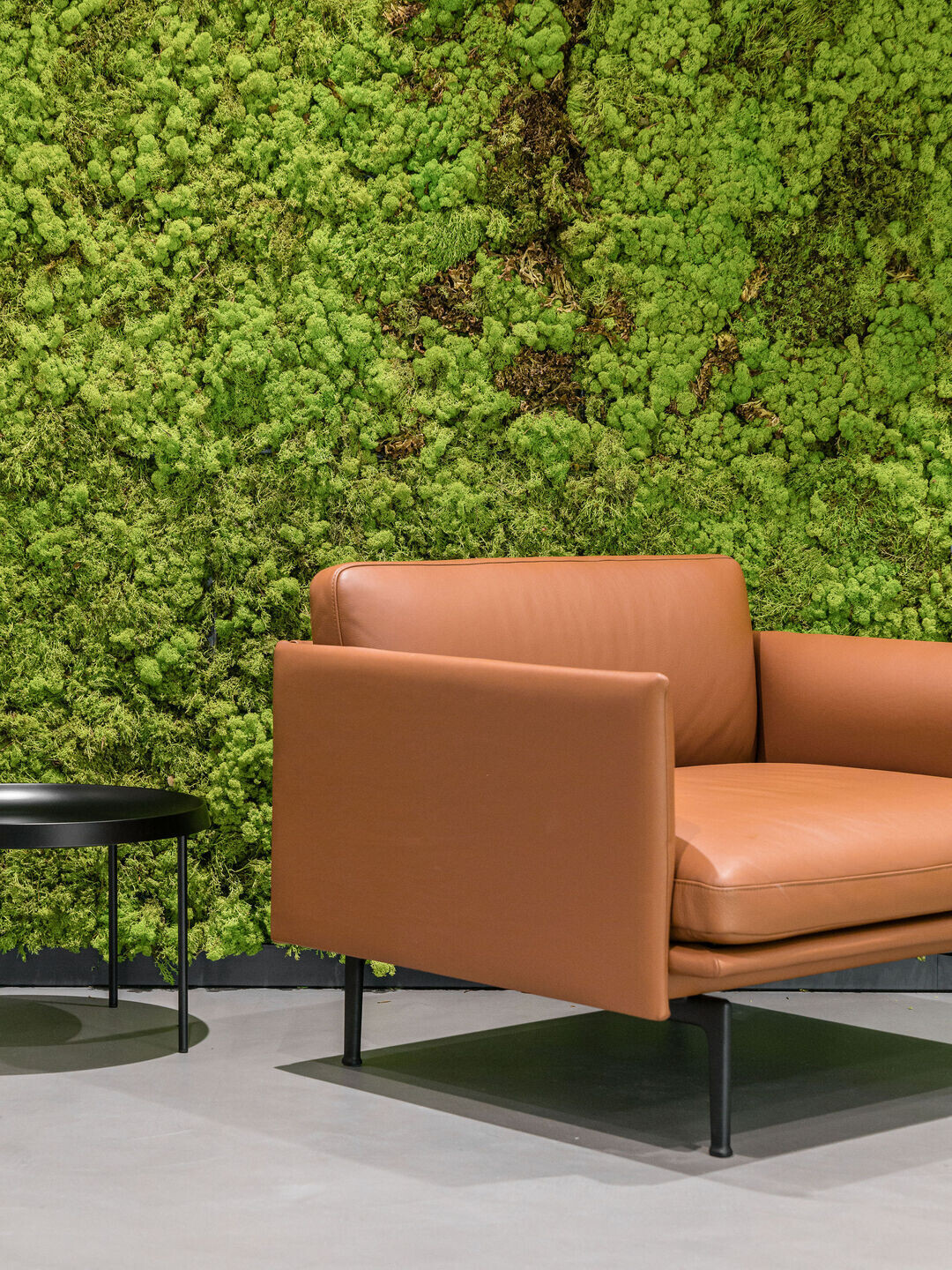 Although the rest of the office dominate subdued, bright colours, to contrast the classics and highlight certain office elements, blue appears also on furniture, ceilings and acoustic islands, and cognac finds its way into the seats in the kitchen.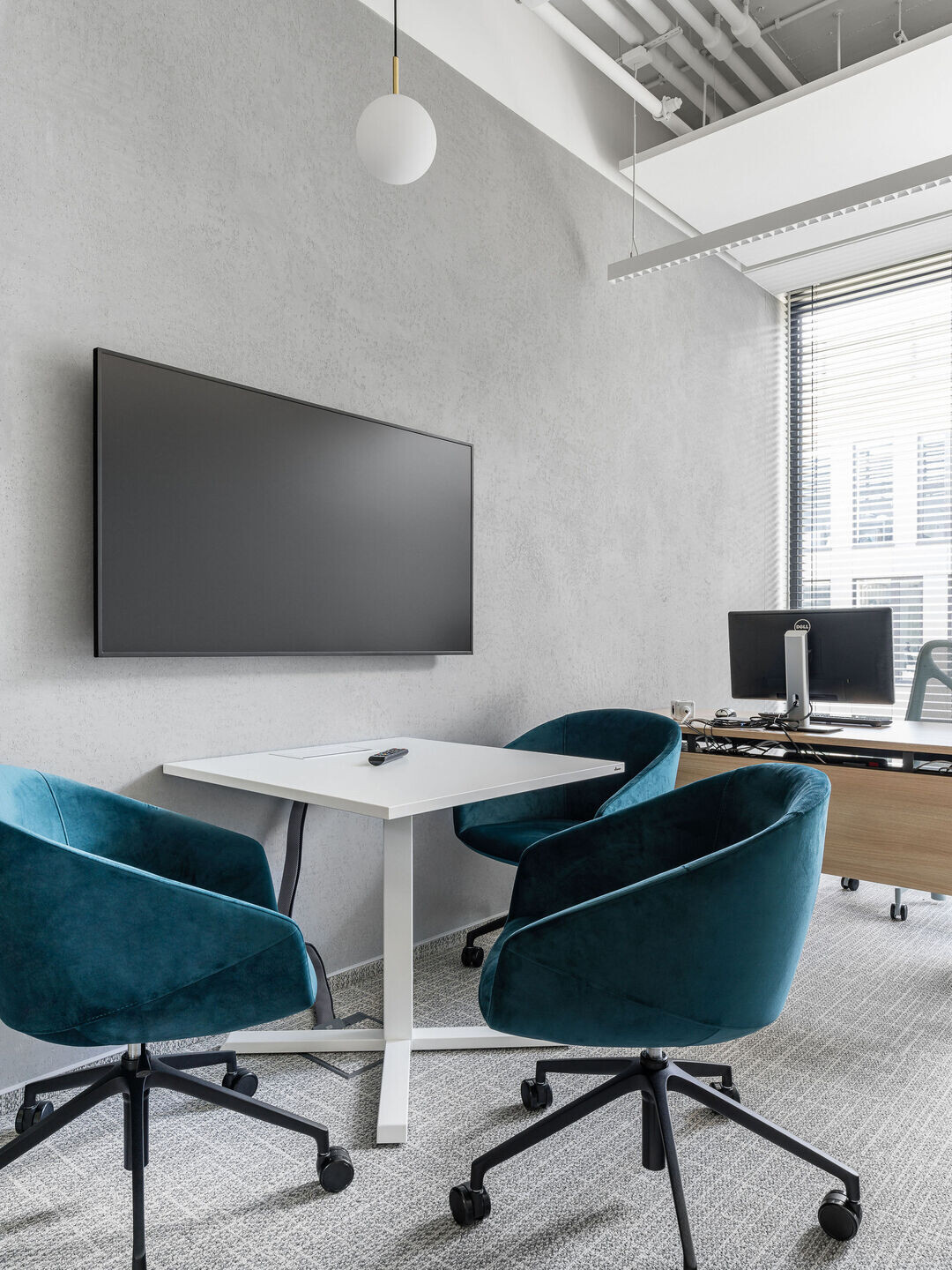 Office layout
The spacious reception area is adjacent to two conference rooms partitioned by a retractable wall laminated in wood. Further, in the centre of the office space plan, we installed a baby care room, as well as a large kitchen. It is a pass-through space, which accentuates its value as an open place meant for all employees.
The kitchen arrangement is augmented by wooden furniture, a retro-style modular velour seating system designed along with one of the walls, and lots of vibrant greenery.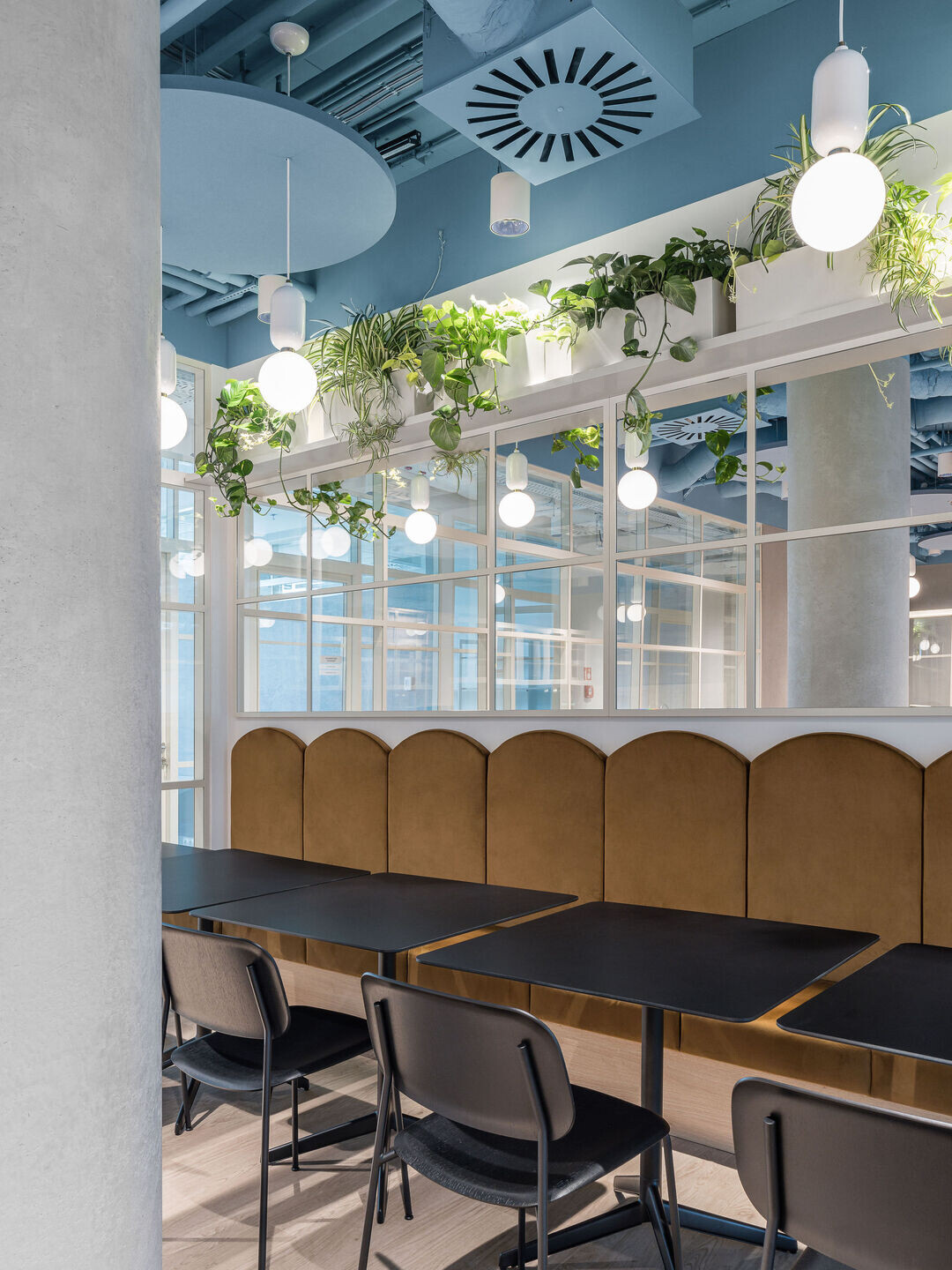 Around it, we arranged workspaces – offices. Each of them, except for the CEO's room, is designed in the same way, for the sake of design consistency and equality among employees. In addition to desks and chairs, there are shelves for storing documents and personal belongings, as well as a small meeting space.
Main theme – glazing and borrowed lights
Our intention was to connect the offices in such a way that the employees felt socialized, which was quite a challenge due to the clearly separated spaces:
We decided to go ahead with the idea of 'opening up' the offices with borrowed lights (glazing in a wall section). In STADA's office, we placed them at a height of 240-300 cm. Optically, they connect the offices with each other, and moreover, they let in additional light. This solution brought a bit of lightness and sense of unity with the whole office, which was very much appreciated by our Client - explains architect Martyna Bosek.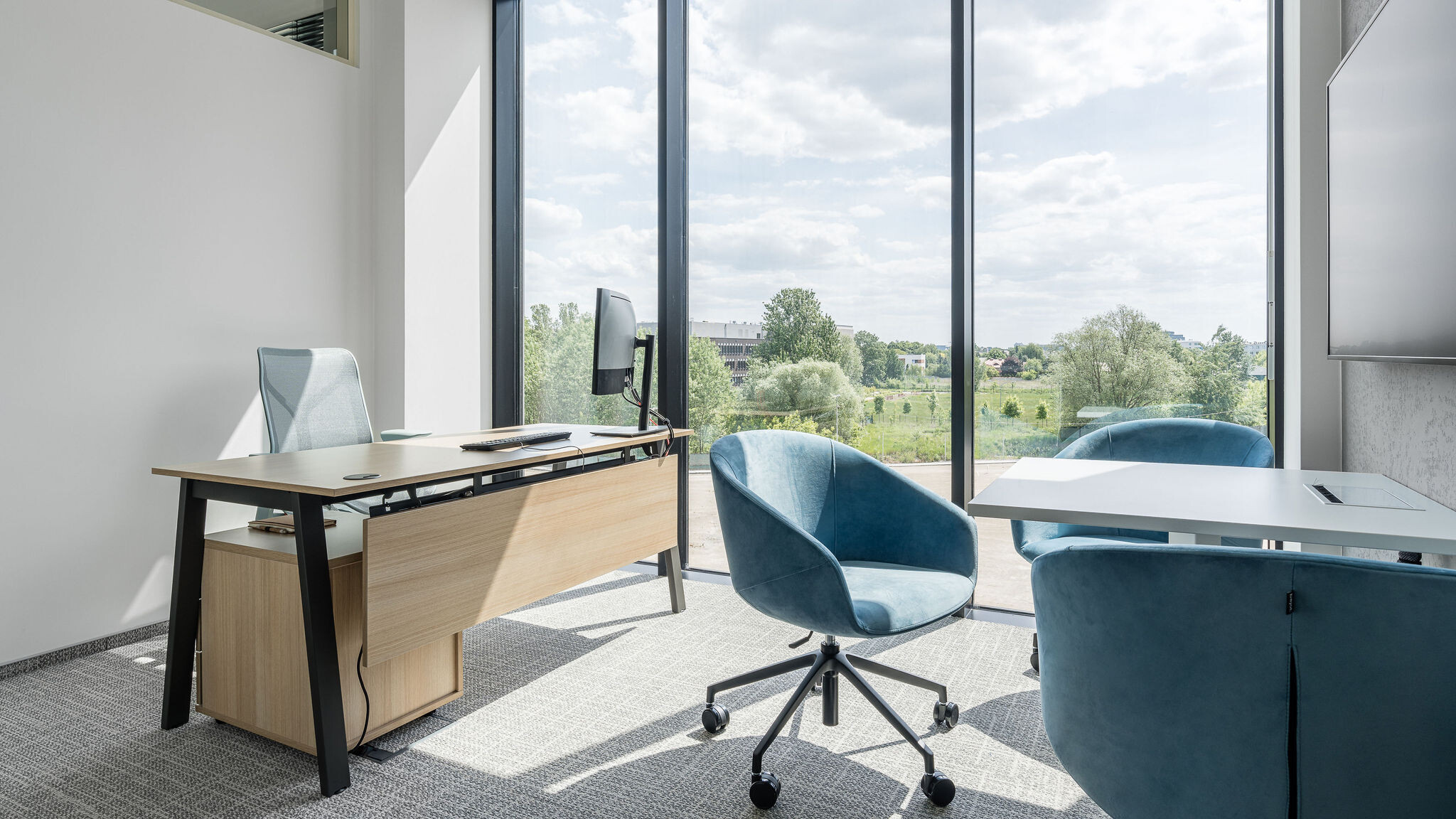 We had yet another idea to go off the beaten track of closed offices, which has also turned into a leading theme of the office; glazing. Each workroom has a glass wall with muntins in a warm oyster white colour, unusual for this decorative element. Thanks to this solution, employees will not get the feeling of being separated from the rest of the people working in the office.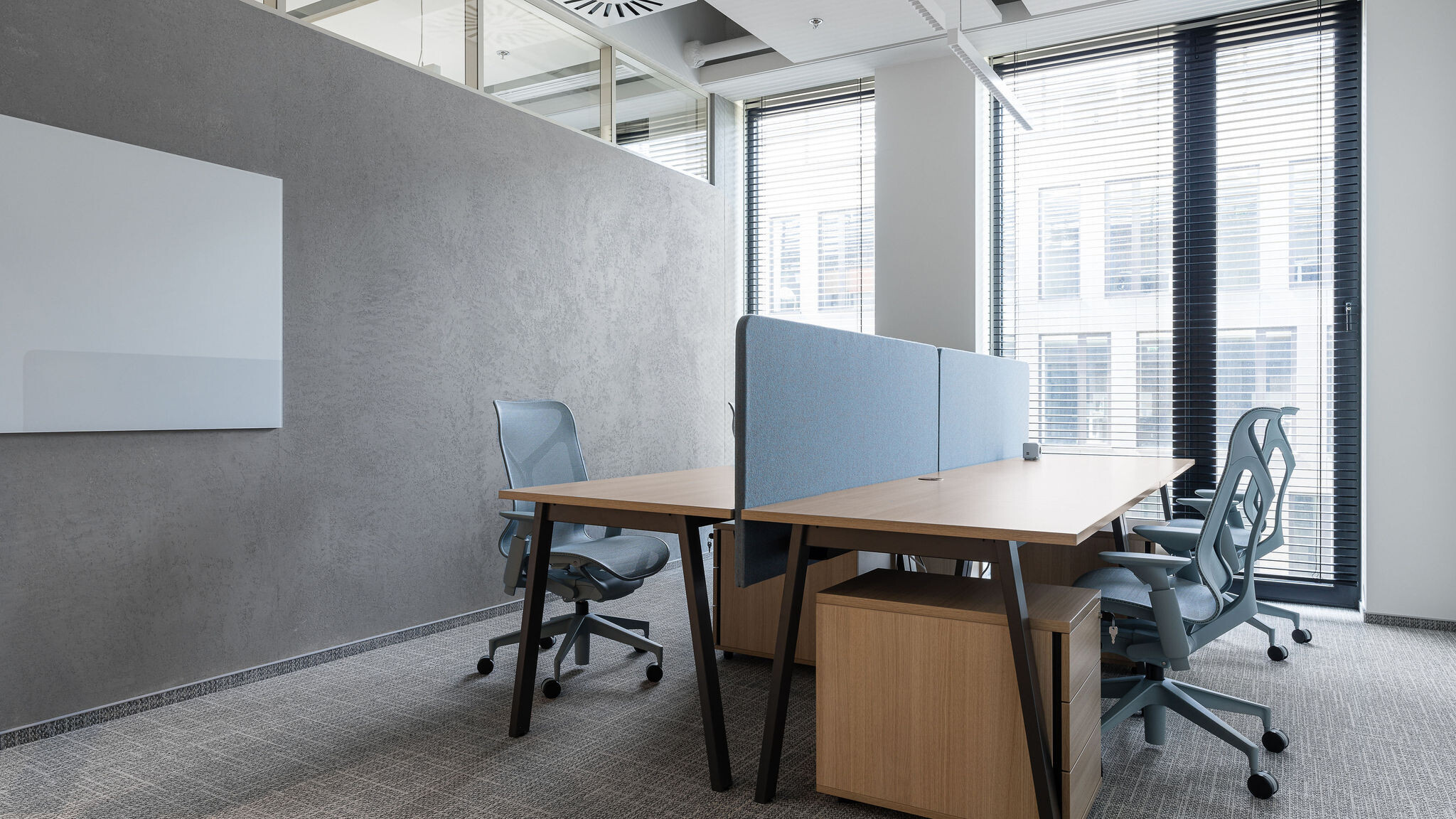 Ergonomic work conditions
STADA's Warsaw office is a space favouring everyday work not only in terms of well-balanced interior design. The utmost importance was also attached to the quality of furnishings delivered to this space. There are furniture pieces made by top-class companies, which delight not only with their design but also with their ergonomics.
The entirety is topped off with classic ergonomic designs and high-end office furniture, i.e. by Herman Miller and MUUTO. We also succeeded in selecting intriguing and coherent furniture, which lends a kind of chic and friendly mood sense - adds architect Konrad Krusiewicz, founder of The Design Group.
In the conference rooms and offices, professional conference, teleconference, sound and audiovisual systems were designed. Their asset is an extremely intuitive operation.
The interiors of Stada's seat are tailored to the employees and their needs. The office not only impresses with engaging interior design solutions so that they can feel at home but above all, it is a place that promotes focus and productivity.