Located in the underserved Crenshaw neighborhood in Los Angeles, the new Stella Middle Charter Academy was designed by Berliner Architects on an acre of formerly vacant land leased from the adjacent church. Programmatic elements for the 39,680-square-foot, 500-student facility include 21 classrooms, administration areas, a gym, a synthetic-turf playing field, and a 134-space parking lot shared with the landowner church.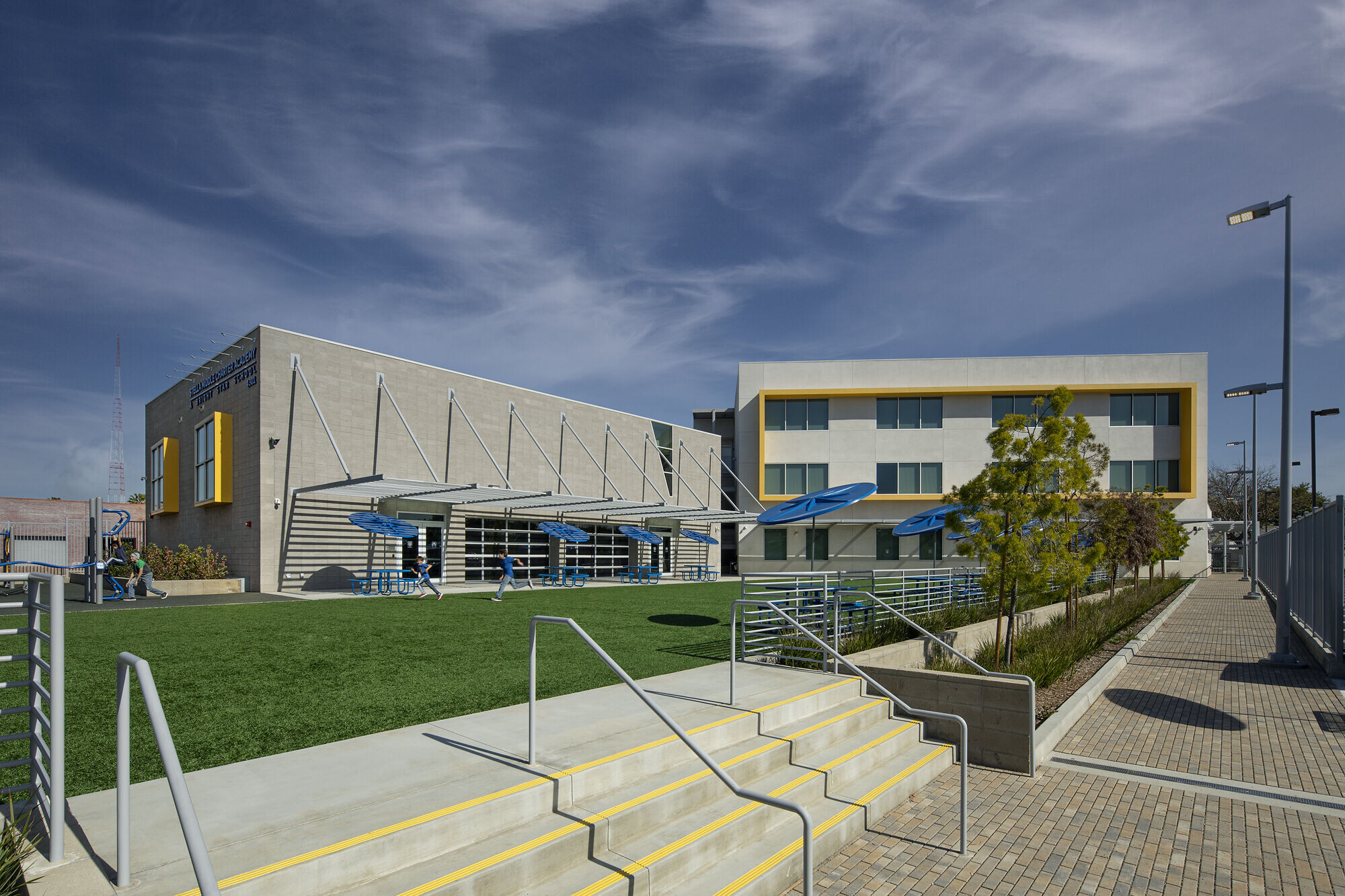 Stella was carefully sited on the lot. The front entry is on Martin Luther King Blvd., a main thoroughfare, with a tree-shaded walkway leading to the front door. Outdoor learning spaces are located along the walkways. The gym is accessed from the front entry, allowing it to be used for church and community events when the rest of the school is closed.
The three-story school is oriented north-south, providing natural light in the classrooms and views from most classrooms of the Baldwin Hills to the south and Hollywood Hills to the north. Natural light also fills circulation spaces, minimizing the need for electric light. The use of LED lighting and high-efficiency HVAC units allows the building to exceed California's strict Title 24 energy requirements.The classrooms are organized around a wide corridor that serves as both circulation and collaboration spaces.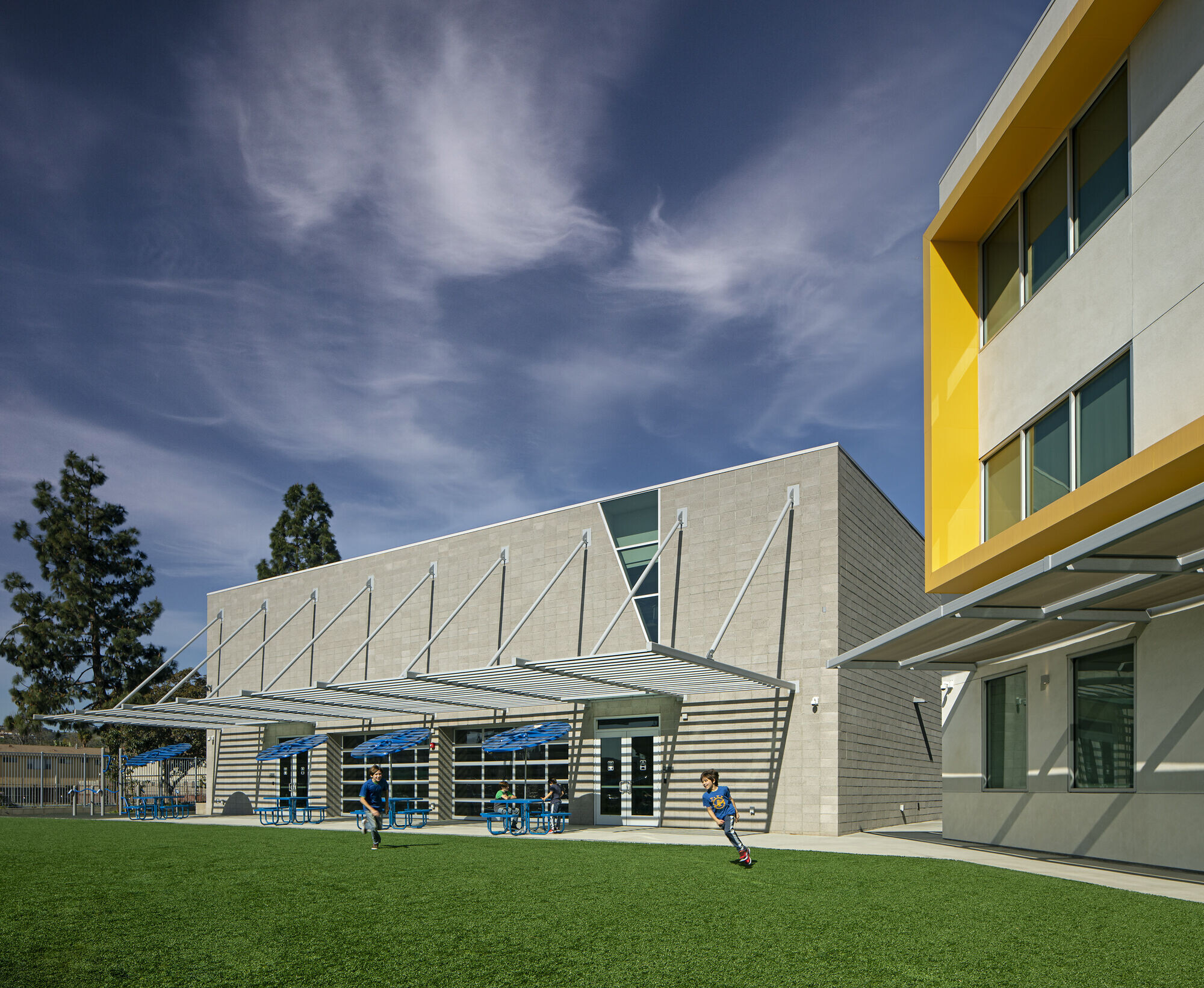 One of Stella's most innovative aspects is single-occupancy, gender-neutral restrooms. Berliner Architects designed the private stalls to open to the hallway, preventing the need for a separated space. This socially conscious approach accommodates all students, and mitigates bullying that can occur in traditionally designed school bathrooms.
The one-story gym accommodates a basketball court and is also used for a multitude of activities for the school and church.Two large glass garage doors along the east façade open up to a shaded lunch area and playfield beyond, allowing activities to flow from inside to outside. The large shade canopy is cantilevered off the gym building to eliminate columns that would otherwise be adjacent to the playfield.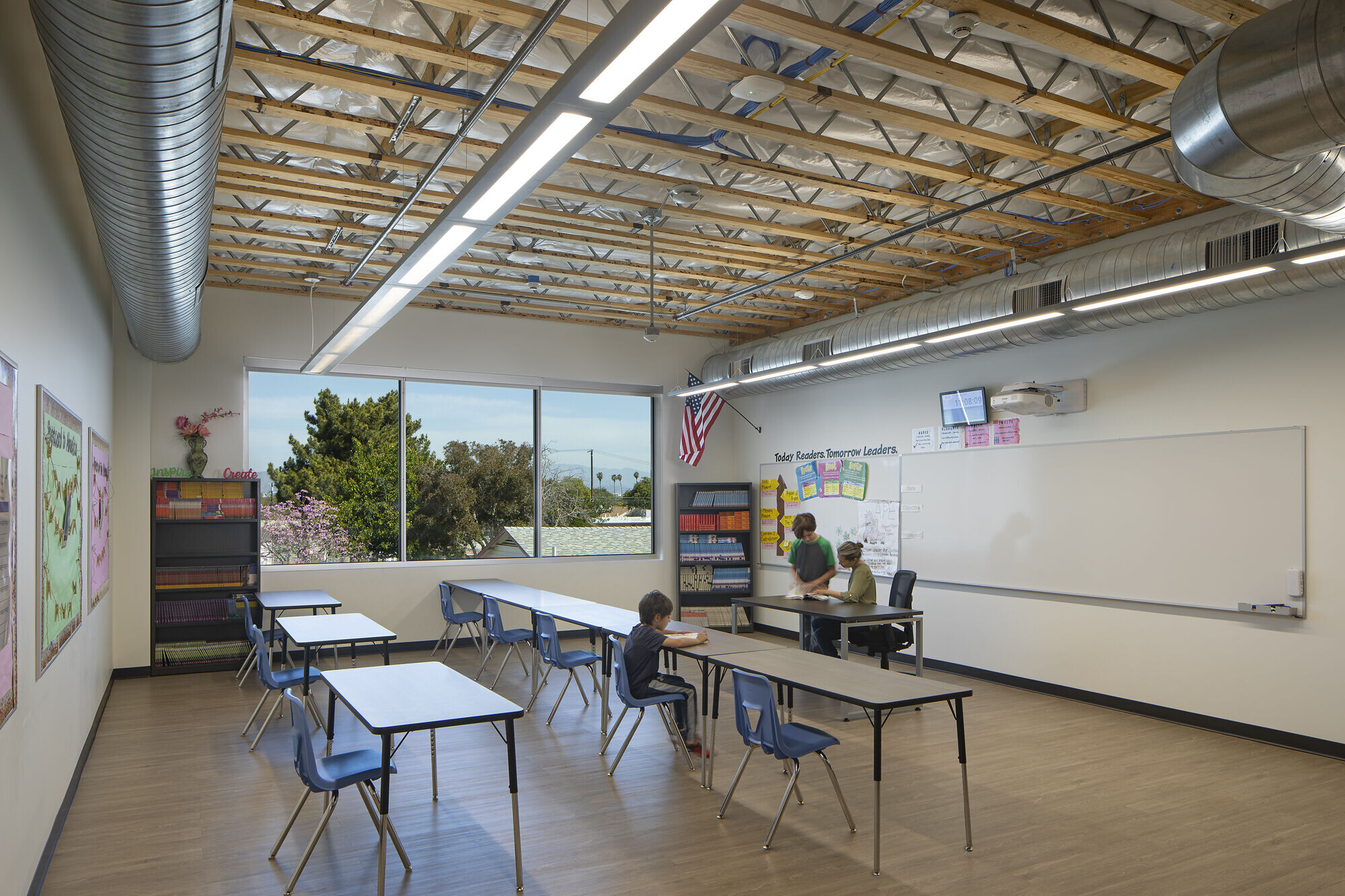 Interior materials include wood-like flooring, exposed wooden trusses, and warm colors, all used to create a home-like feel and increase student comfort. Exterior materials are shot-blast concrete block laid in a stack bond for the gymnasium and painted plaster and metal for the classroom building. Materials and colors were selected to provide a warm and uplifting aesthetic.
Stellais the newest of multiple collaborations between Berliner Architects and Bright Star Schools, a Los Angeles organization that empowers communities by creating tuition-free public education options in underserved areas. Hrag Hamalian, Executive Director of Bright Star Schools, elaborates, "A school is a building with tomorrow inside. Stella Middle Charter Academy campus is a place where our students dream big dreams and realize them. The space was meticulously designed to house our excellent academics, inclusive support, and rich life experiences while serving as a constant reminder to our students that everything they can imagine is within their reach."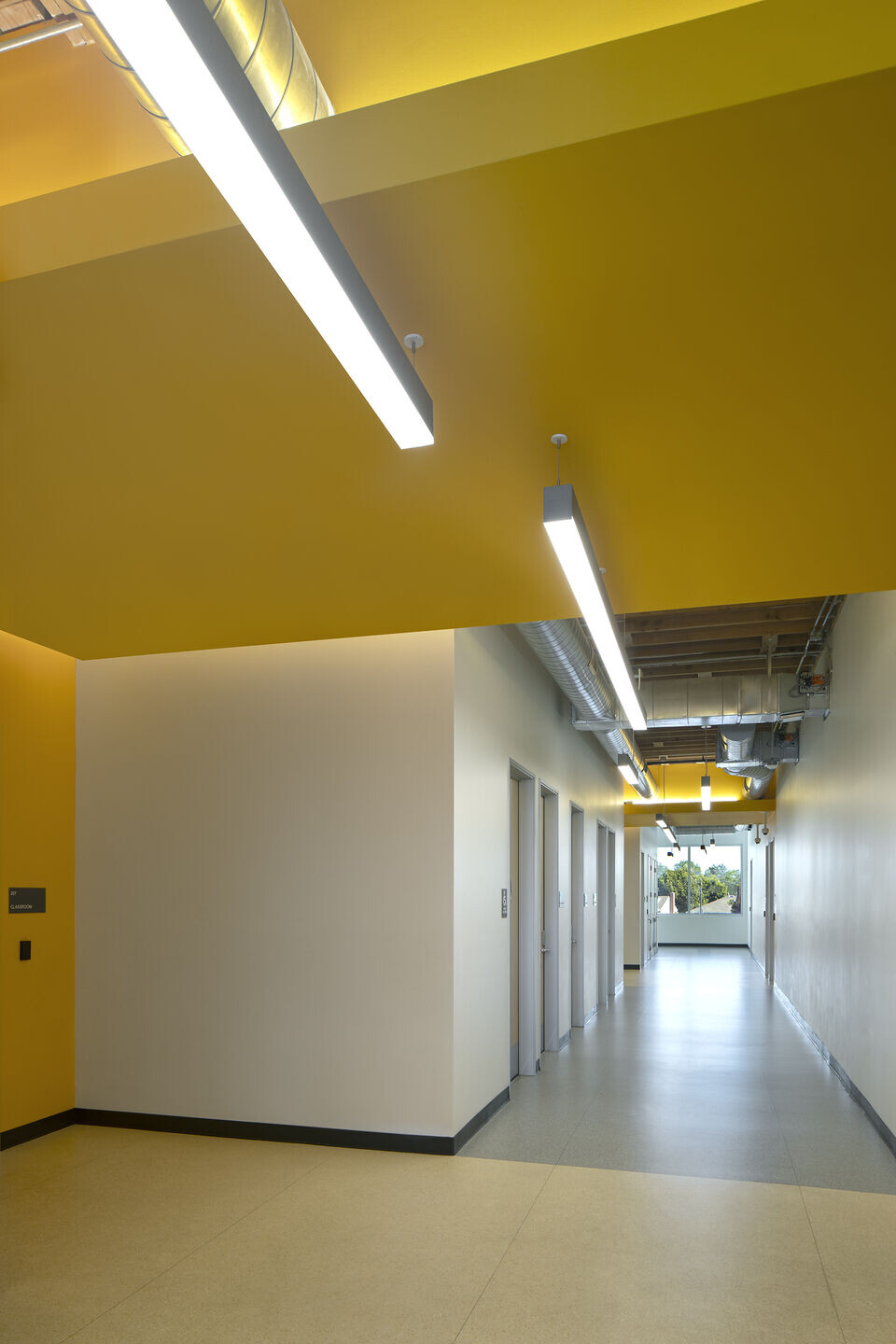 Material Used :
1. Facade cladding: Concrete masonry (gym) – Angelus Blocks, plaster (main building) – La Habra stucco, treated with anti-graffiti paint
2. Paint: PPG Fall Gold, PPG UFO
3. Flooring: Johnsonite wood-look sheet vinyl (gym);Tandus Centiva carpet in offices and Music classroom; Nora rubber flooring, Bentley Mills, Azrockvinyl tiles in classrooms and hallways
4. Windows: Vetro Solarban, Optigray
5. Storefront:
Arcadia AC-2, Crossville, Daltile base ceramic tiles, Crossville wall tiles