The house is located in the suburbs of Athens, at the foothills of Mount Hymettus. It hosts a family of six members. The characteristics of the location, the bioclimatic approach, the limitations to build only up to 92sqm, but also the functional needs of the family, led to the creation of a compact volume, properly sculpted externally and internally.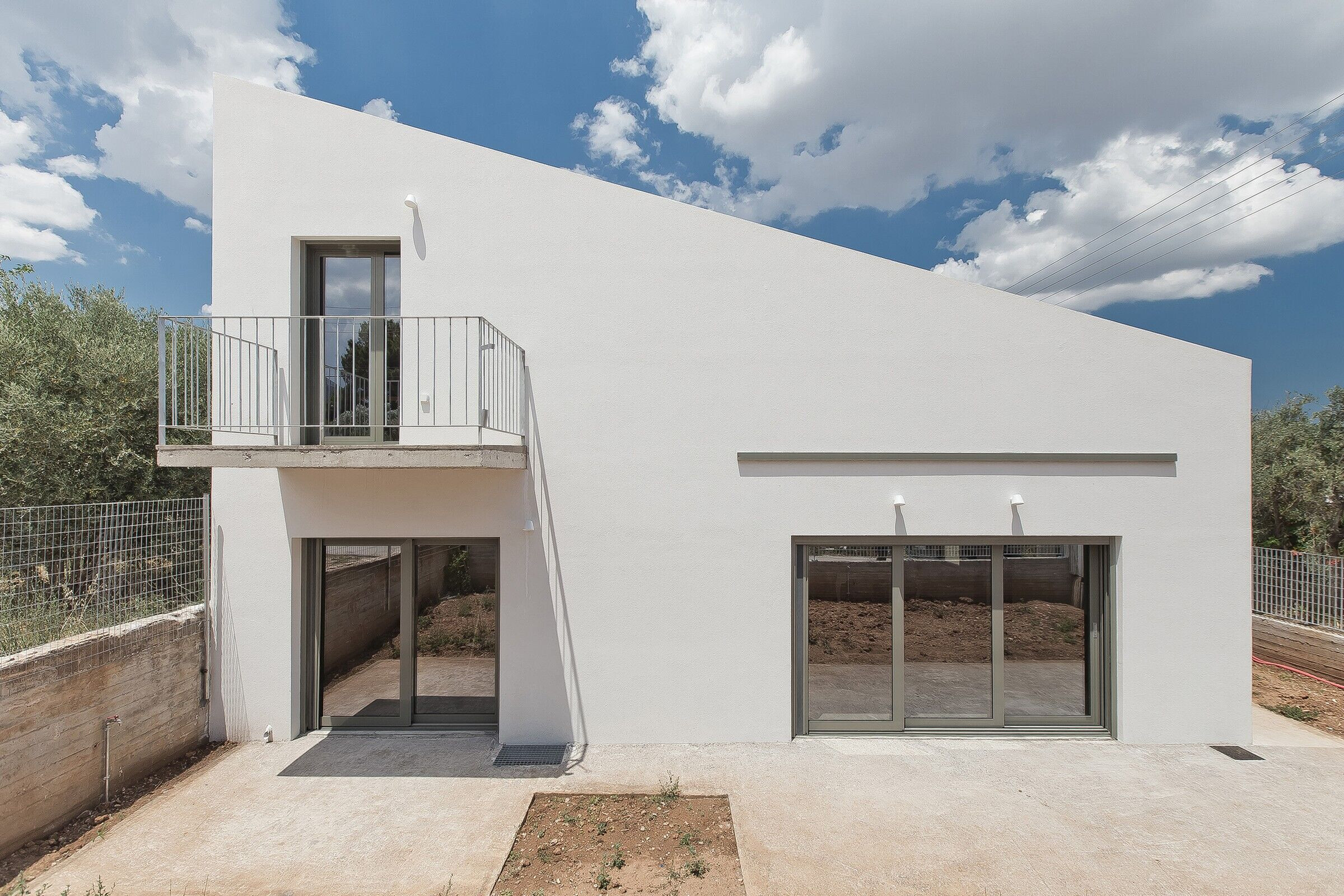 A. Idea
The composition of the spaces and the functions is developed within a monolithic volume and it is organized in collaboration with the structural analysis. Therefore the central living room is organized in relation to a "T" shape of two load-bearing beams that distribute the functions of living room, dining room, kitchen, staircase and bedrooms on different sides. At the same time the different materiality of the visible beams of the "T" separates the levels and the common areas from the private spaces of the house. In addition, the sense of monolithicity is enhanced by a single folded roof that unifies the whole space internally, while externally it communicates with the single ridge of Hymettus. The solid volume is partially negated by the revelation of the building's system both at the entrance, with the beam that projects the balconies of the floor, as well as with the existence of the corner window.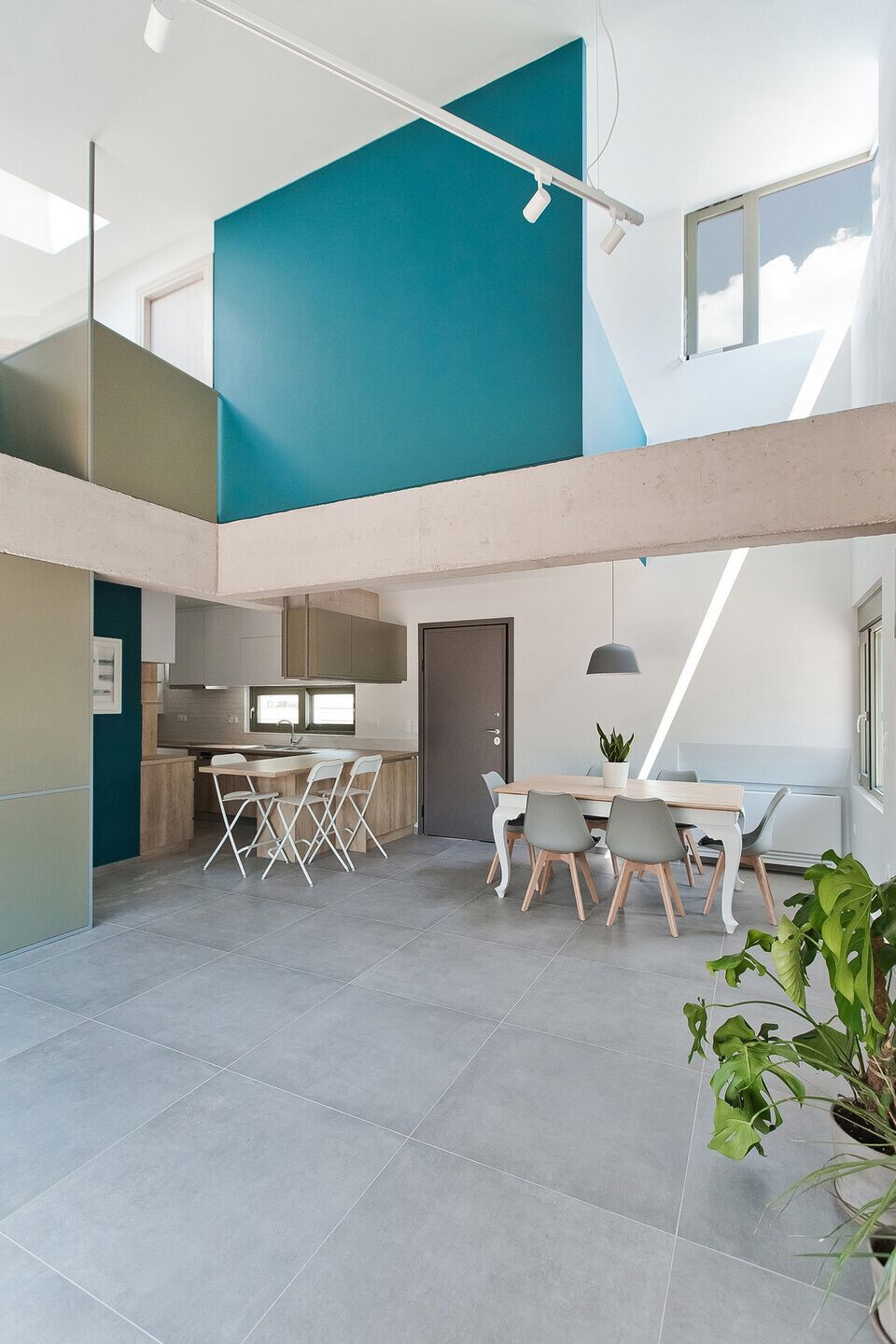 B. Design
The target is the optimal use of the limited space of the floor plan, in order to better serve the needs of the resident family. In this direction, a single living space is created on two levels -living room with loft, dining room and kitchen- suitable for all common uses of the house, which communicates visually and functionally with the outdoor space. This possibility expands functionally the activities of the ground floor in the uncovered and planted area of the plot and creates pleasant living conditions. The rest private areas are separated from the public ones on the same level and on 1st floor through the curtain-staircase.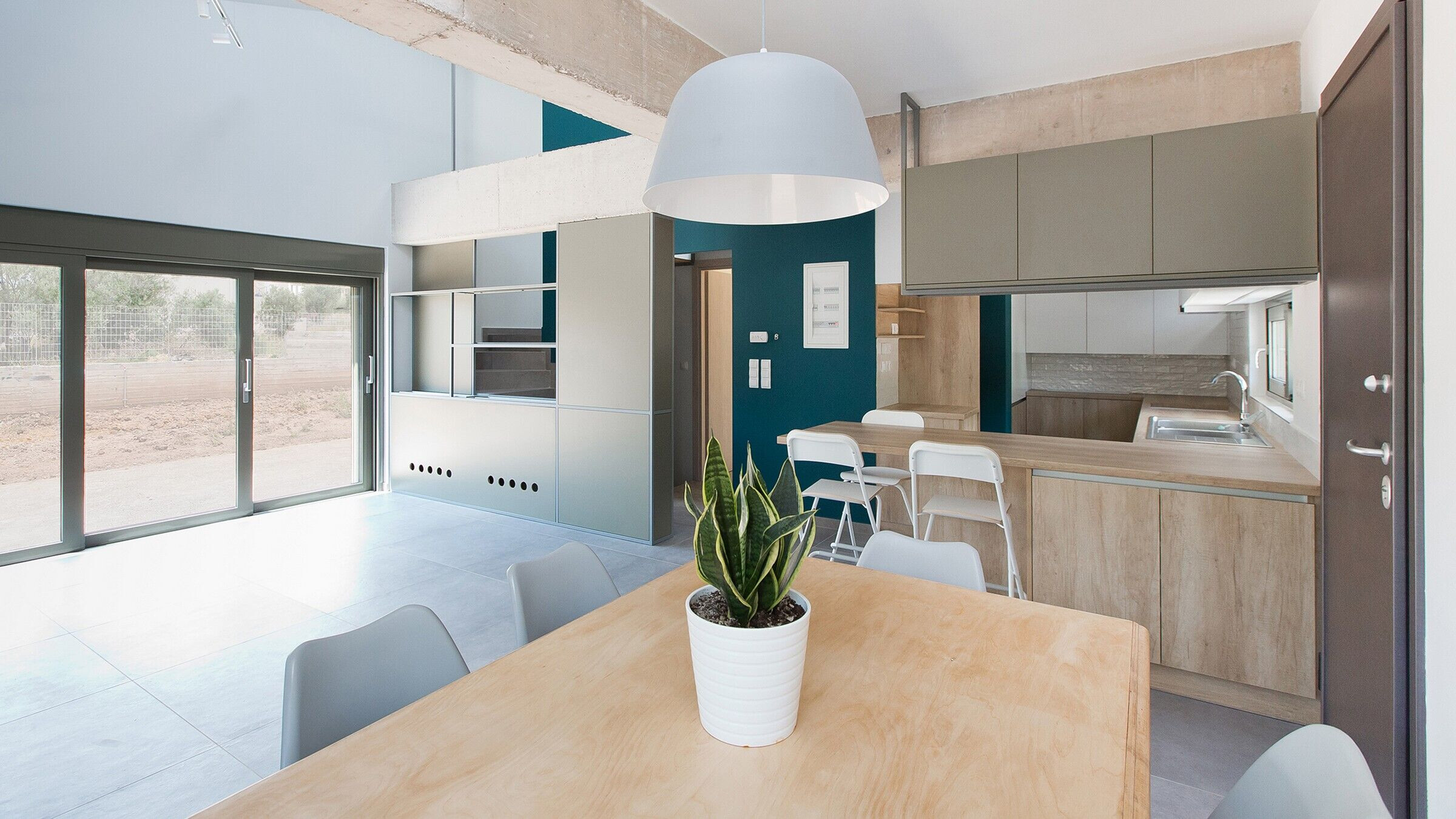 C. Bioclimatic Approach
The architectural study uses the local data of the plot, and it presenting a special care for the passive - bioclimatic operation of the shell and it creates a dialogue with the surrounding area of the mountain Hymettus. Initially, the house is situated on the plot according to the optimal orientation. Appropriate shading systems are used with movable awnings, canopies and pergolas. At the same time, openings are placed in a way that they facilitate natural ventilation, but also in order to use the light for direct solar gains. The outdoor area of the plot is planted with deciduous trees that offer shading and a pleasant microclimate, while the pergolas and the fence of the plot receive climbing plants. In addition, a thick of thermal facade is installed in order to minimize thermal losses. The low energy consumption of the building is achieved by installing active heating systems like fireplace, air conditioning with central heat pump and installation of solar panels on the roof.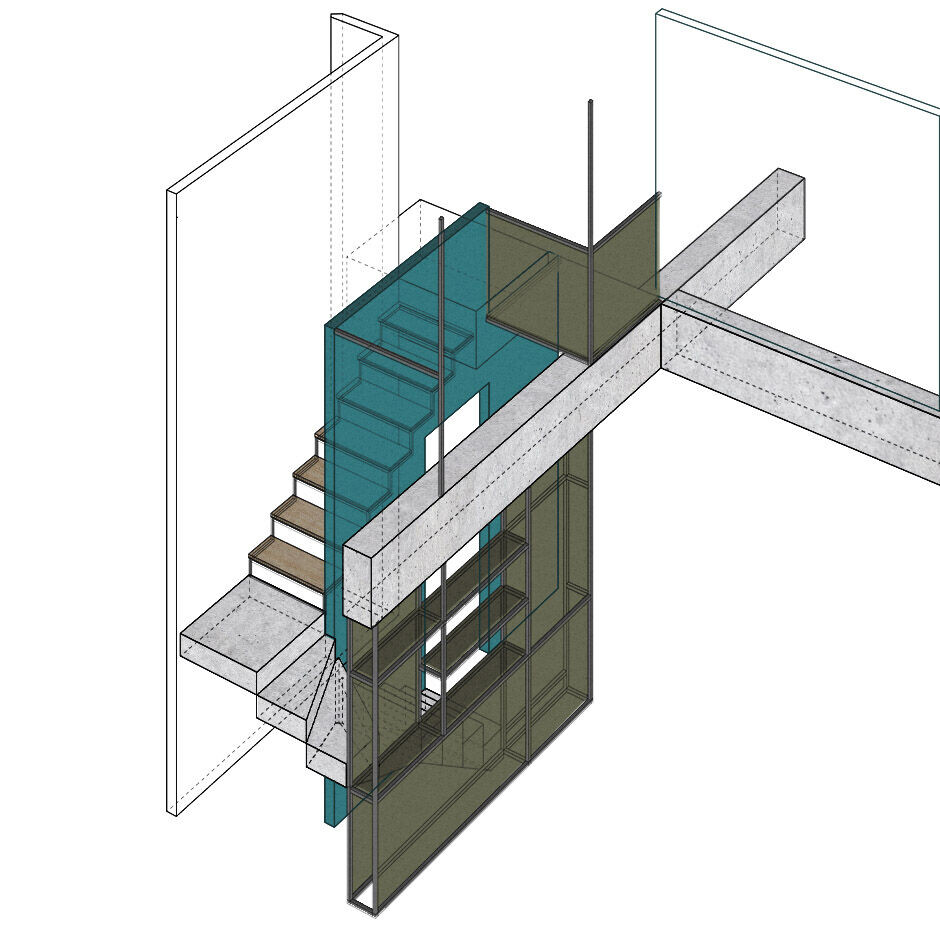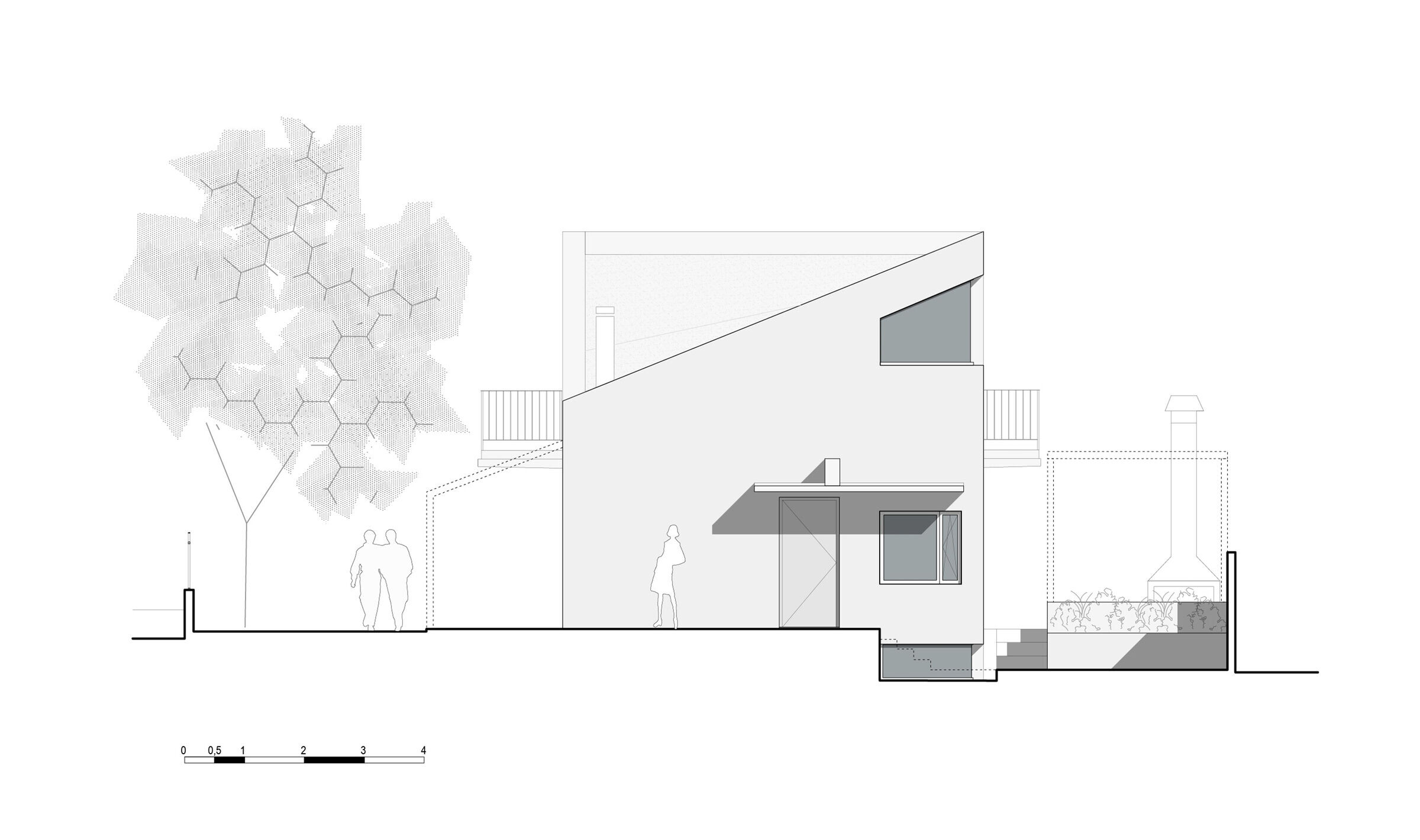 Material used :
1. Exterior walls - XALKIS SA
2. Exterior walls coating - MAPEI
3. Thermal insulation - MAPEI
4. Waterproofing products - FIBRAN
5. Soundproofing products - MONOSIS KATSAROS
6. Window panels - ETEM, ALUMINIUMART
7. Interior - Exterior Lighting - ACA LIGHTING, VIOKEF
8. Interior walls - KNAUF
9. Heating systems - RHOSS, ARISTON
10. Hygiene ware - IDEAL STANDARD
11. Electrical instalation - TEM
12. Wood structures - STYLEWOOD